SAN FRANCISCO ART GALLERIES - OPENINGS
COHEN RESE - MARTIN LAWRENCE - GIANT ROBOT
WHITE WALLS - SHOOTING GALLERY - CHRISSY BEE
08.11.07
(with assistance from Jessica Whiteside)
Cohen Rese Gallery: Donna McGinnis - From Landscapes to Abstract.
Comment: Here's one you don't see everyday. Donna McGinnis presents two diametrically different styles of work-- abstracts and landscapes-- both tasteful, soothing, and easy on the cerebellum in terms of expository. The upshot? Makes no difference whether you prefer your subject matter identifiable or otherwise-- there's something for you here.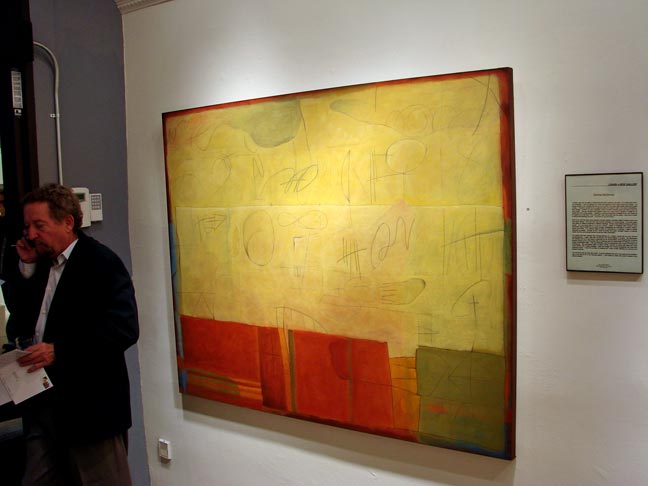 Art.


Art.


Art.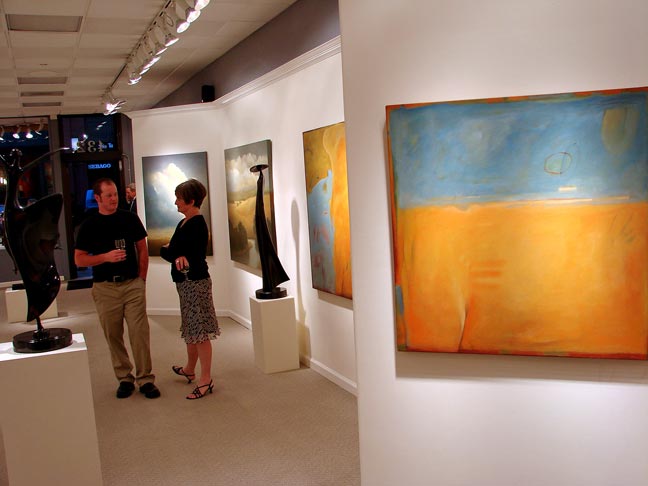 Art.


Art.


***
Martin Lawrence Galleries: Influence of the Spanish Masters.
Artists: Joan Miro, Pablo Picasso, Salvador Dali.
Comment: Big names; little oeuvres; often excised from limited edition books and portfolios. The good news is the prospectus attests that all works in the show are documented, which is nice to know because you don't want to buy art without a Green Card, and then have the authorities arrest, detain, and deport it.
Art.


Art.


Art.


Art.


Art.


Art.


Art.


***
Chrissy Bee: Group Show.
Artists: Jeben Berg, Cymes, Renos, Erik Alday & Brian Tarpey.
Comment: Five local artists, a variety of styles, urban in tone, generally commendable, reasonable prices-- most under $500
Art.


Art.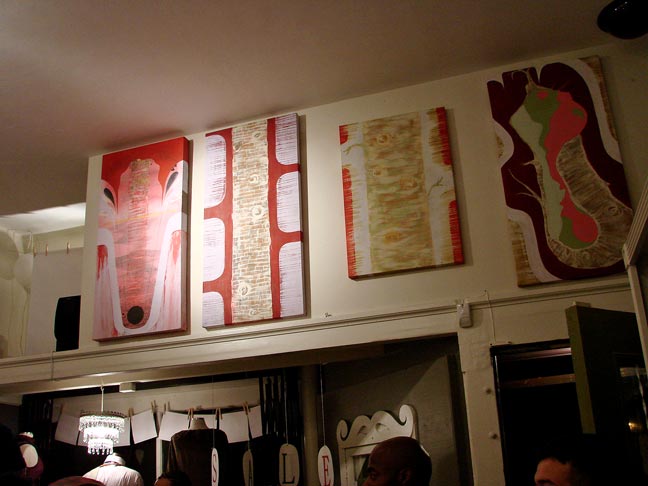 Art.


Art.


***
Giant Robot San Francisco: Jack Long - Ever Green.
Comment: Los Angeles artist Jack Long tells me his careful chimeric oil on wood paintings represent aspects of an imaginary reality, and he paints them so well, imaginary verges on real. Like 'em-- especially the small ones-- splendidly packaged satisfaction. Small paintings often yield small payoffs, but not here.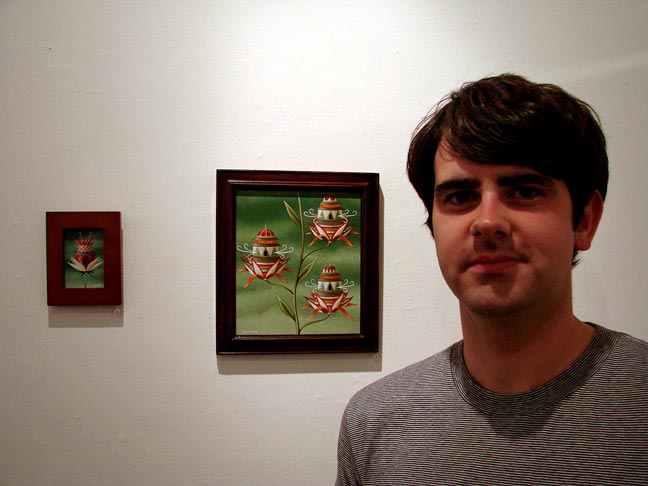 Jack Long - art.


Art (nicely done - like it).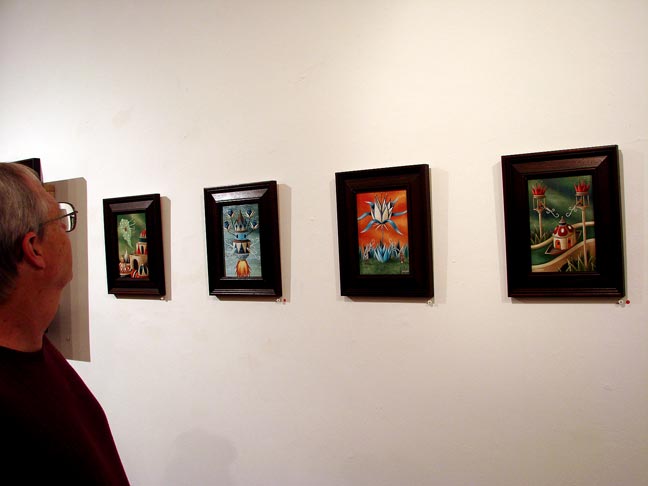 Art.


Art.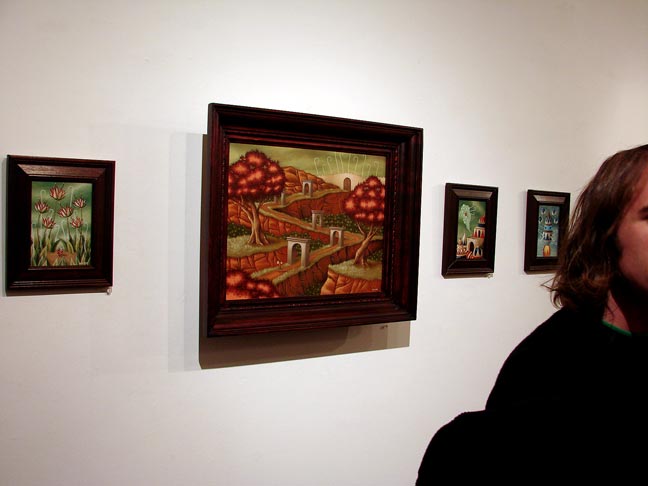 Art.


***
The Shooting Gallery: Yumiko Kayukawa - World Wide Enemy.
Review by Jessica Whiteside: Yumiko Kayukawa was born in the small town of Naie in Hokkaido, Japan, and currently resides in Seattle, Washington. Yumiko's paintings are influenced by her experience in both cultures. Her style is a combination of Japanese symbols, cutsie Japanese girls, and cuddly animals with an American pop culture edge.
Her new solo show at the Shooting Gallery is an amazing display of her work, and there's no doubt how much her work is loved as the show is almost completely sold out. The girls in Yumiko's paintings are mystifying and beautiful. Their sweet faces stare out of colorful canvases with a combination of sexy but innocent charm that is always appealing. If you like comic book style Japanese anime, cute animals and pretty girls, you will love this show.
Comment by AB: Yumiko Kayukawa's apparently autobiographical artworks (most feature strikingly Yumiko Kayukawa-esque heroines) are not only technically superior, but they're also superbly composed, channelling you into fascinating fantastical realms where even danger is a delight. The show's practically sold out. Big surprise.
Art.


Art.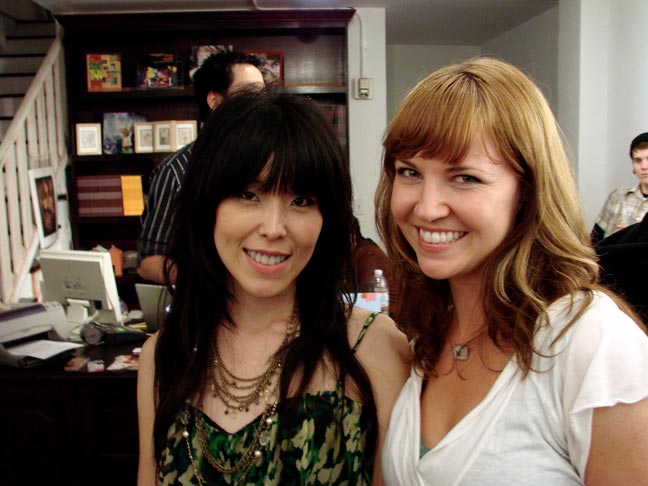 Yumiko Kayukawa - Jessica Whiteside.


Art.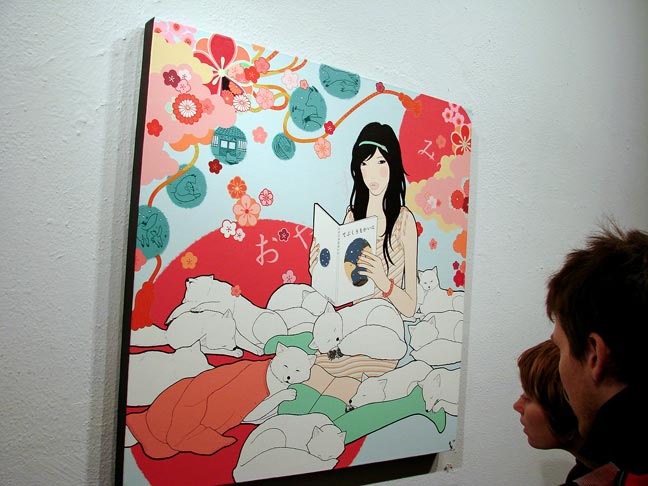 Art.


Art.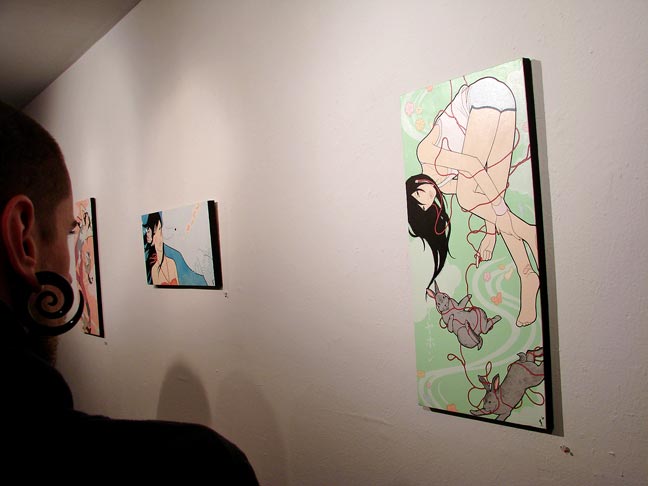 Art.


Art.


Art.


Yumiko Kayukawa - art (photo c/o Jessica Whiteside).


Overview (photo c/o Jessica Whiteside).


***
White Walls Gallery: Jeremy Fish - Sink or Swim.
Review by Jessica Whiteside: Jeremy Fish's reception at White Walls gallery draws a massive crowd of fans and collectors to see this extensive display of his immaculately crafted work. Jeremy Fish is a rising star among lowbrow artists from the bay area. He is an illustrator as well as a fine artist and has done everything from skateboard art to vinyl toys. Jeremy is inundated with adulators all evening so it's pretty much impossible to get a word with him.
His current show includes paintings, drawings, screen prints, and sculpture-- all characteristically rendered in his illustrative ink style. A large number of his paintings are painted on wood, custom cut into vignettes with meticulous precision, demonstrating the amount of time, labor and careful planning Jeremy puts into his work. Using a variety of symbols Jeremy tells stories and experiences from his life with imagery that is somehow cute and creepy at the same time.
Comment by AB: The show may be titled "Sink or Swim," but it's definitely "swim" for me. Jeremy Fish here positions himself among that upper echelon of artists who can fill a large space with quality compelling work (as opposed to filling it with some good work and cramming the rest with hastily contrived crap). Plus he sends the message that there's plenty more where this comes from AND throws down the challenge to any other gallery out there-- "If you want it, I'll bring it."
Art.


Art.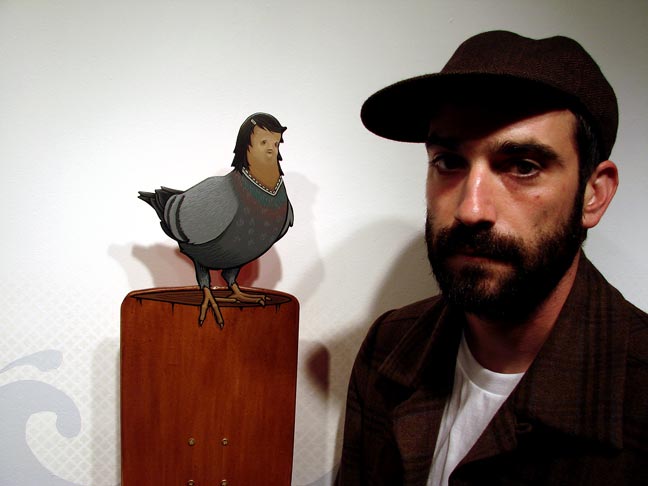 Jeremy Fish - art.


Art (love the frames).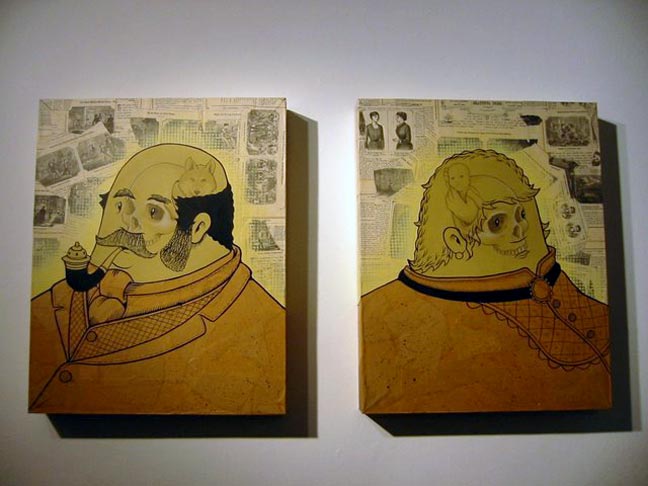 Art (photo c/o Jessica Whiteside).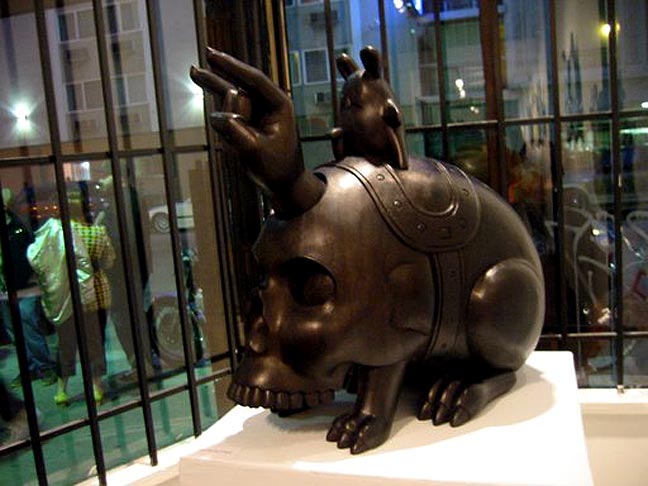 Art (photo c/o Jessica Whiteside).


Art.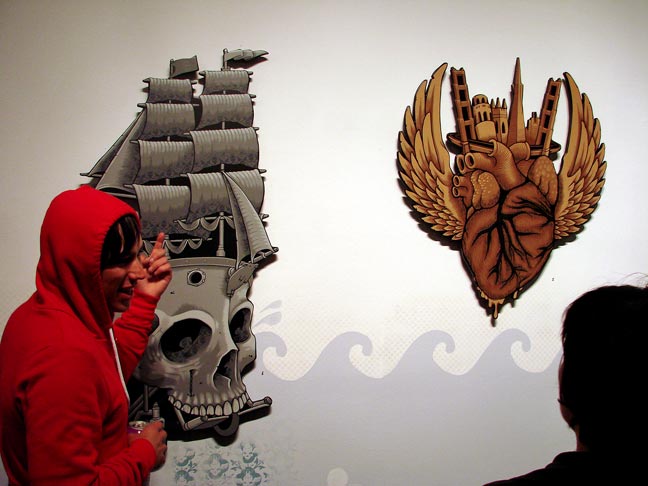 Art.


Art.


Art.


Art.


Art (photo c/o Jessica Whiteside).


***