SAN FRANCISCO ART GALLERIES - OPENINGS
ENCANTADA GALLERY - ROOT DIVISION - ARTISTS ALLEY
GALERIA DE LA RAZA - GALLERY WITH PRETENTIOUS SOUNDING NAME
WHITE WALLS - SHOOTING GALLERY - MOLLUSK SURF SHOP
GARAGE BIENNALE - MILLION FISHES - POST TOOL BUILDING
08.12.06
Artists Alley: Grand Opening Show.
Artists: Wesley Buckingham, Catherine Merrill, Sara Waugh, Feng Jin, Zanne Christensen, Mary Corey March, Rachel Sager, Tom Curtis, Steven Guy Bilodeau, Allan Friedlander, Anne Karin Glass, Mary Delave, Cary Friedman, Marilyn Kuksht, Leonard Breger, Liz Breger, Marietta Cohen, Alice Heimsoth, Nathalie Whisman, Michele Logan, Larry Lurie, Mary DeLave, Ethel Jimenez, Uri Friedman.
Comment: Grand opening of this pay-to-play venue. The large gallery is nicely laid out with each artist's work show in an alcove-like space. Wide range of art; good location near the Hayes Street corridor (meaning probably a fair amount of foot traffic); could evolve into a viable option for artists. We'll see what happens...
Art.


Art.


Tom Curtis - art.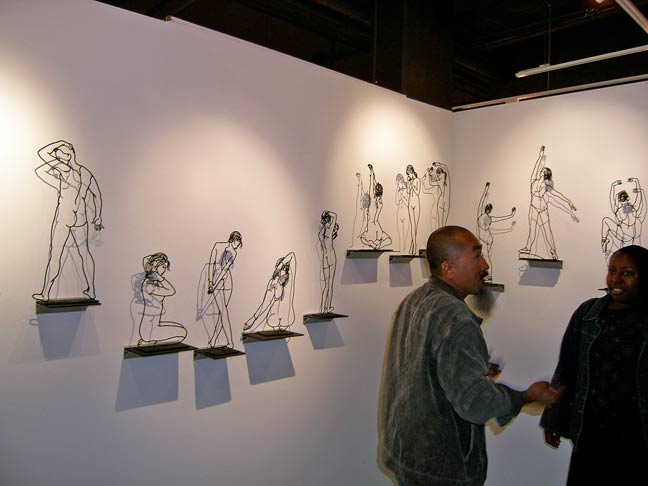 Art.


Art.


Tunes.


Turnout partial.


***
Encantada Gallery: Eugene Rodriguez - Flood, A Series of Paintings Reflecting Our Time.
Comment: Encantada Gallery is an all-purpose venue offering exhibitions, lectures, poetry readings, and workshops. Plus they've got a gift shop. This time around, they show two series of paintings by writer, film maker, and artist Eugene Rodriguez. Rodriguez tells me that each series consists of paintings done from stills from one of his films. One film concerns the aftermath of a fictitious world war (or maybe not so fictitious considering the way international relations have been going lately); the other film tells the tale of an encounter between two men in a restroom. Good show; plenty to think about; multi-talented dude; definitely worth a look. Rodriguez is lecturing at the gallery on August 19th.
By the way, a great way to get a free website with an instant Internet profile (of sorts) is to set up shop on MySpace like Encantada has. More and more galleries are doing it (as is everybody else).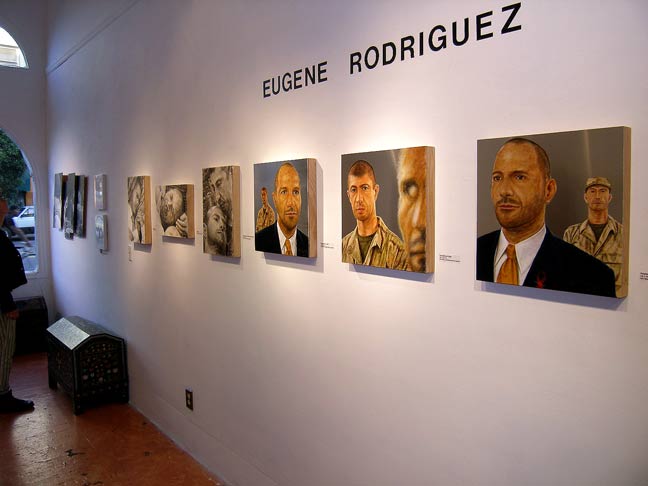 Art.


Eugene Rodriguez - art.


Art.


Gallery.


***
Root Division: Boombox.
Comment: Root Division provides studios, event space and production facilities for artists and the community. Root Division's artists offer free art classes to low-income children, facilitate adult classes, and also design and produce events-- like Boombox. No list of artists available, sorry.
Art.


Art.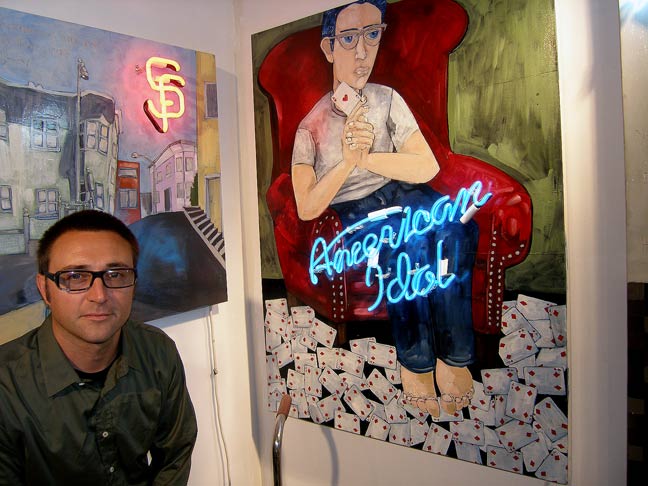 Michael Krouse - art (he also organizes the shows).


Art (itsy-bitsy neon macaroni-esque art, right).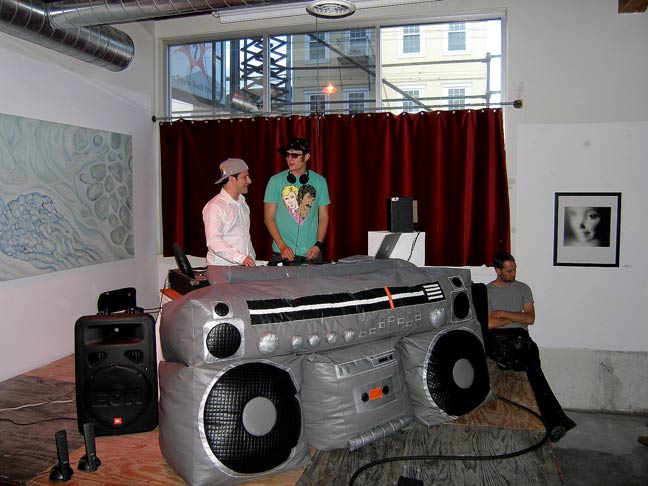 Tunes.


***
Galeria de la Raza: African by Legacy, Mexican by Birth - Photography by Ayana V. Jackson and Marco Villalobos.
Comment: Talk about something that was totally not on my radar (but now it is), this exhibition documents, through text and images, current and historical circumstances of Mexican citizens of African descent. Admirable eye-opener of a show, although the writing's a tad florid for my tastes. Co-sponsored by The Mexican Museum and the Caribbean Cultural Center/African Diaspora Institute.
Photography.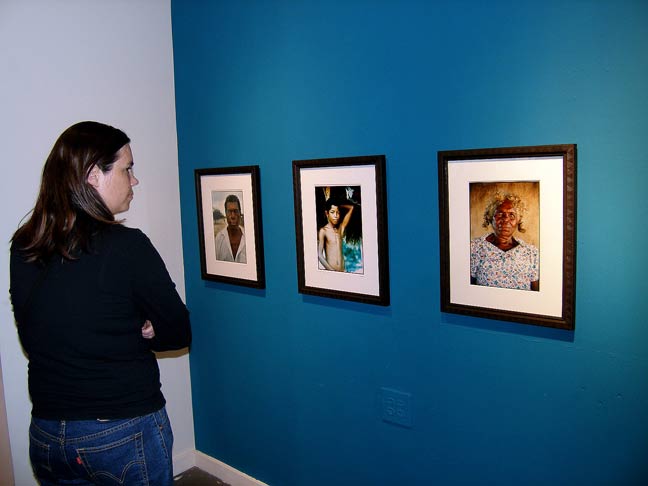 Photos.


Images.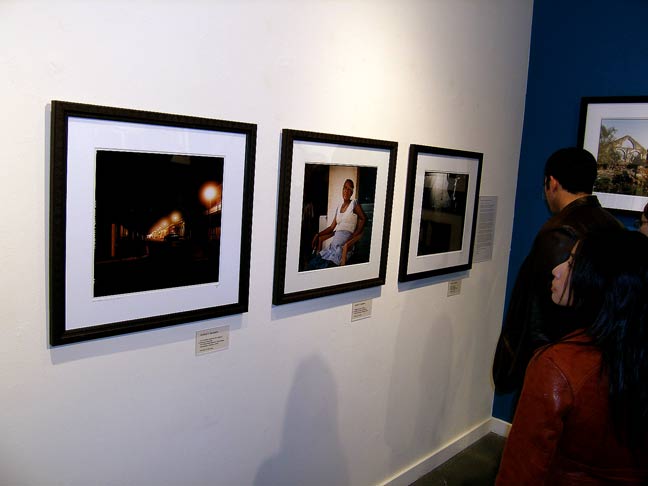 Photographs.


Photos.


***
Gallery With Pretentious Sounding Name: Grand Opening - Group Show.
Artists: Steven Hight, Clint Imboden, John Sheridan, Sara Waugh, Charles Webb, Karen Gutfreund, Stephanie Mufson, Renata G, Emily Lounsbury, Dana Robson.
Comment: Owner Neel Eargood tells me that the purpose of his gallery is to offer accessible and affordable art to a wide range of people-- collectors as well as individuals who just plain like art and wouldn't mind owing some. He's somehow managed to cram a load of respectable reasonably priced art into a fairly small space. Worth a look. One modestly confusing aspect of the gallery may be finding it; the address is on O'Farrell Street while the entrance is on Polk Street across from the AMC Theater complex parking garage.
Art.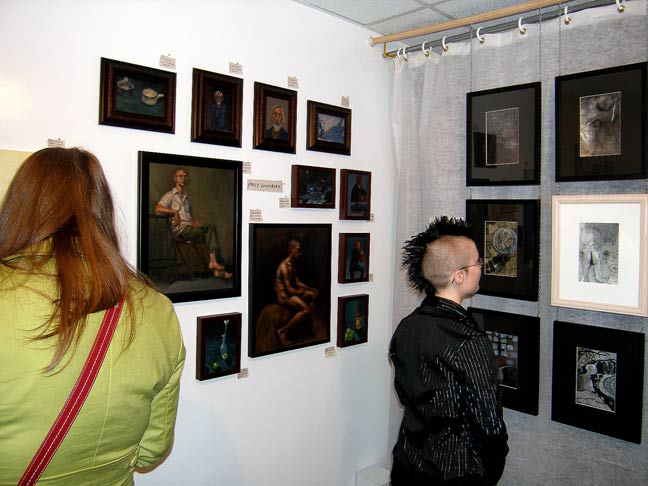 Art.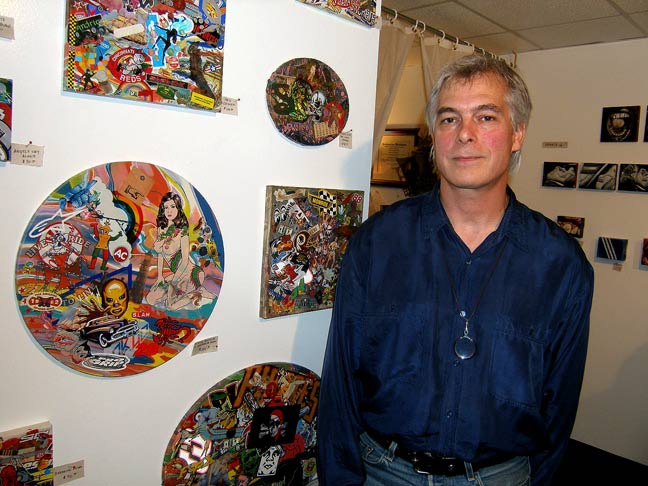 John Sheridan - art.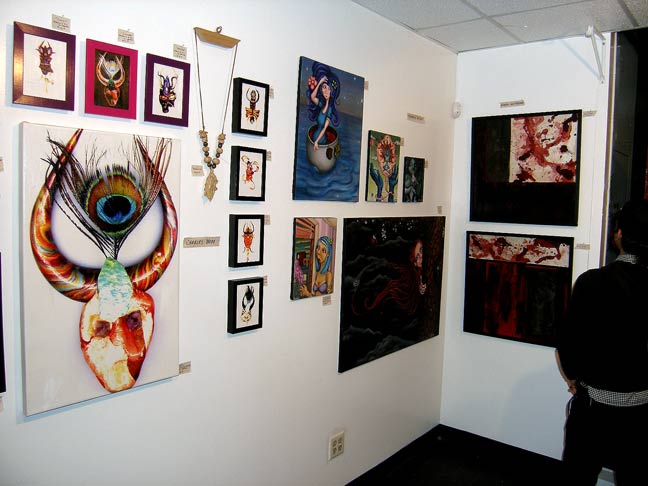 Art.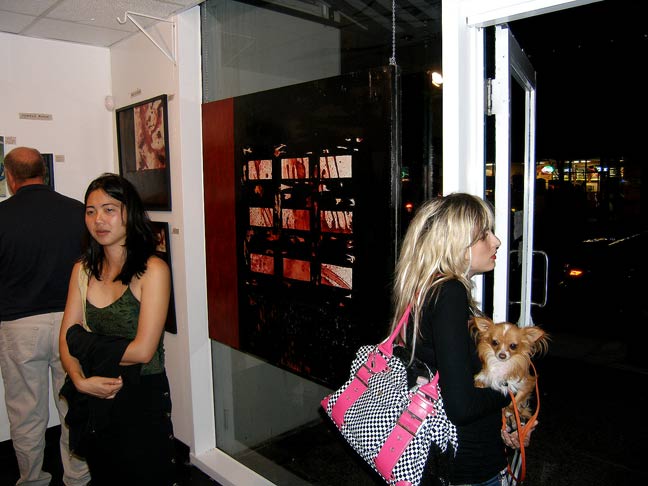 Arf.


***
White Walls Gallery: Mike Giant & Mike Davis - New Works
Comment: High lowbrow meets able urban in this talented Tenderloin face-off. Mike Davis lets loose with a barrage of turbocharged Boschian imagery dappled with bellicose overtones, a number of his paintings sporting choice custom frames. Meanwhile, Mike Giant does the two-fer with a set of halcyon pen and inks, mostly pre-tagged cityscapes and corporeal tattooscapes, and a satisfying series of somber ominous black brown letter paintings.
Art (Mike Davis).


Mike Davis and Dad.


Art (Mike Giant).


Mike Giant - art.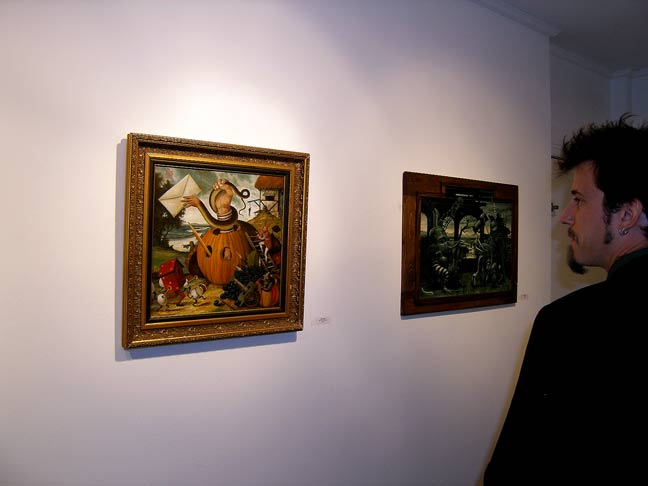 Art (Mike Davis).


Art + Frame (Mike Davis - nice).


Art (Mike Giant).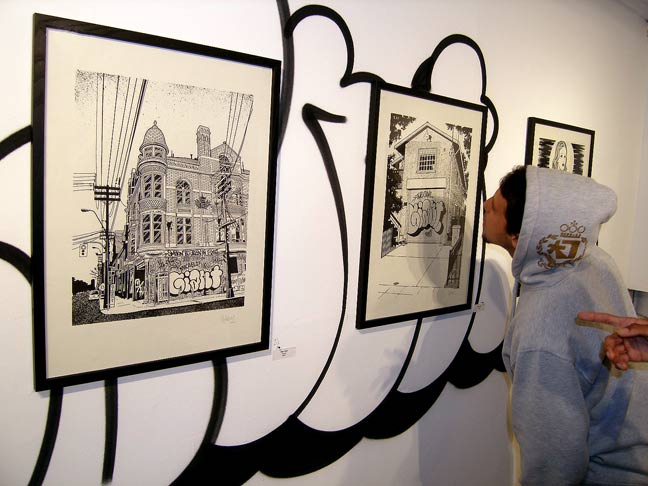 Art (Mike Giant).


Art (Mike Davis).


Art (Mike Giant).


Mike Giant can signing.


***
The Shooting Gallery: Tangle in Tin World - Paintings by Eric Joyner.
Comment: It's metaphoric mayhem in paintings and drawings as Eric Joyner conjures an epic encounter between Red States and Blue States, respectively robotically anthropomorphized into the squared circle, toe-to-toe, and dukin' it to the death. Yes, there's a knock-out, but the victor and vanquished are cleverly disguised as a black and white drawing. So you're gonna have to wait until Election Day and the last chad standing to find out who controls the guns and money for another two years. Joyner's paintings make perfect gifts, by the way, for that special politico (or political headquarters), and extra added bonus-- they'll never go out of style. It's art for everyone (except maybe the Greens).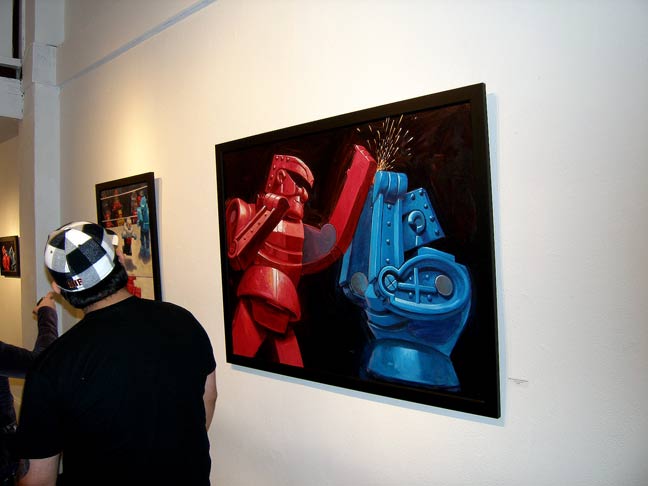 Art.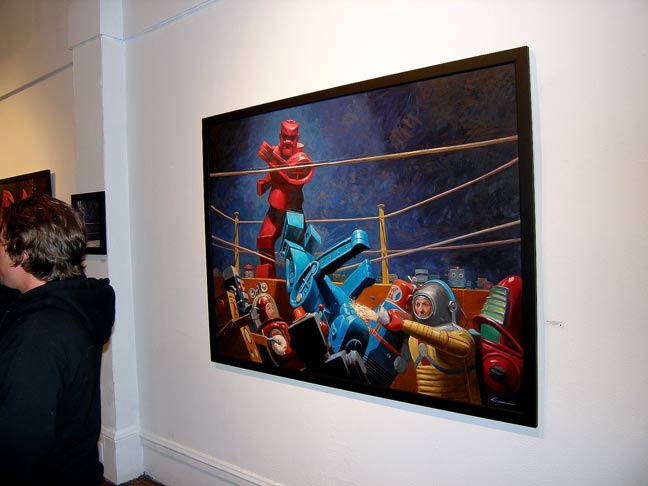 Art.


Art.


Art.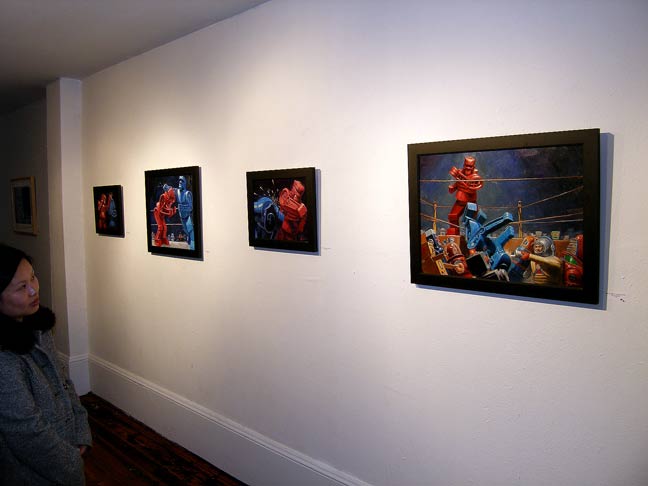 Art.


***
Mollusk Surf Shop: Nick Allen - Wave Photographs.
Comment: Mollusk is more a state of being than a surf shop, fashion boutique or gallery, certainly with respect to their openings. You got art in the back room, live music up front, and manifold mingling everywhere else. Nick Allen, tonight's headliner, photographs waves from within. He tells me he plys his trade by getting out there in the water, waiting until the moment a wave is about to crest over his head, and then taking the picture. Not being particularly wave savvy, I'm hazy on the precise logistics, but I'm gonna go with wet. Anyway, the results are refreshingly independent from your typical mainstream fare, trending almost entirely abstract at times. Good show; go see.
Nick Allen - photo.


Photography.


Nick Allen - photographs.


Photos.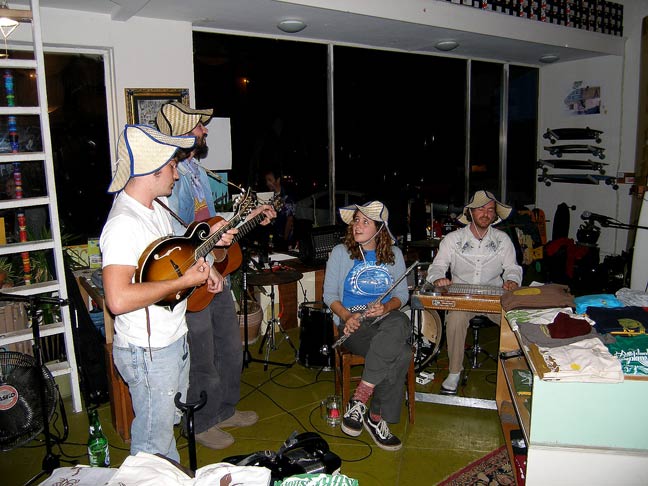 Tunes.


Ambience.


***
Post Tool Building, 13th Street & South Van Ness: Matt Furie, Dan Nachtrab, Joe Neff.
Comment: I'm not sure what this is-- looks more like an art party. But Matt Furie's in it and I like his art so I go. Furie draws and paints these amiable Sasquatch-esque fur-clad characters in various shapes and sizes engaged in various activities. But he's not there and I wanna take his picture but he's not there so I look around and find a dude who says he knows Matt Furie and I ask him to stand in for Furie and he says OK so I take his picture instead so it looks like I took Matt Furie's picture when I really didn't. Erk.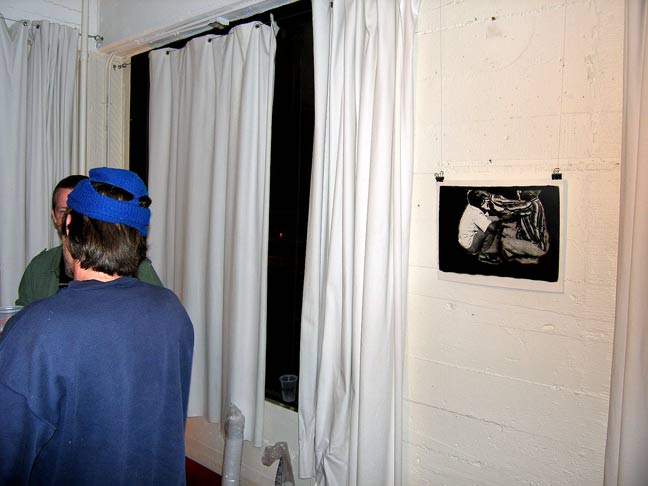 Art.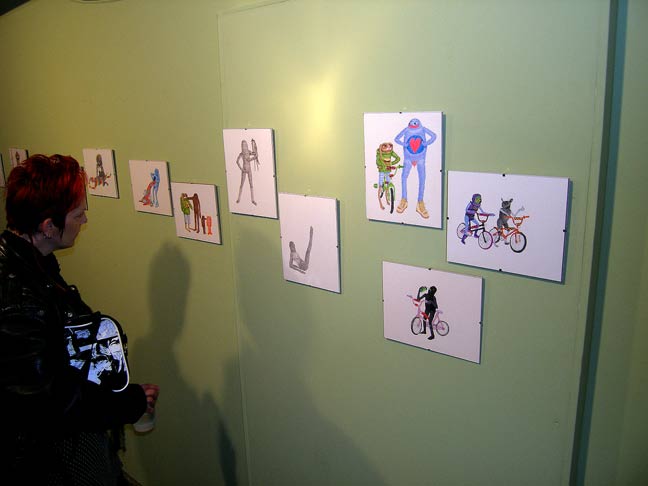 Art (Matt Furie).


Art.


Matt Furie understudy - art (Matt Furie).


Art.


***
Addendum:
Joyce Grimm trots out Stephanie Syjuko's personal belongings at
The Garage Biennale.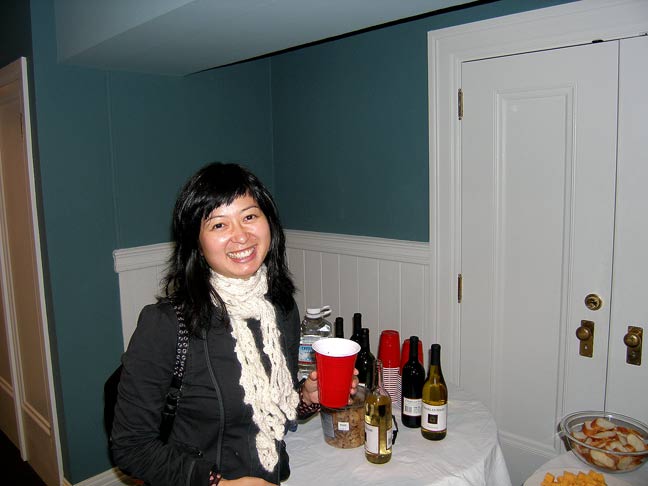 Stephanie Syjuko at The Garage Biennale.


The Garage Biennale garage.


Trey Gossett - art at Million Fishes Arts Collective
group show of artists from Empire Squared Art Collective.


Jesse Wiedel - bottle painting at Million Fishes.


One more from Empire Squared show at Million Fishes.
Empire Squared is headquartered in Eureka, California.


***