SAN FRANCISCO GALLERY OPENINGS
LUGGAGE STORE - PATRONS OF ART - MIXEDUSE
BOONTLING - AUTO 3321 - MAMA BUZZ CAFE
FINGERHUT - BLUE CUBE - HARVEY'S
BELCHER STUDIOS
08.12-13.05
The Luggage Store Gallery: Short Cuts 4 - Thick Lens.
Artists: Becca Baldwin, Shara Hughes, Eunah Kim, Alexis Knowlton, Shaun Leonardo, Aaron Poser, Jordan Stein,Katie Vida, Brook Budner, Mayme Donsker, Matthew Trygve Tung.
Comment: Short Cuts, now in its fourth year, provides young artists and curators with opportunities to see what running a real art gallery is like including selecting exhibitable art, setting up and publicizing shows, taking shows down, and doing all the other day-to-day drudge that art dealers do to keep their missions afloat. The Luggage Store is unquestionably San Francisco's premier in-the-trenches gallery for bringing promising new art and artists to the fore. Owners Laurie Lazer and Darryl Smith have major experience, discriminating radar for the good stuff, they know how the business works, they understand the intrinsic essential beyond-monetary values of art, and they give way more than they take-- which is, at least in my opinion, just about everything that advancing the cause of art is about.
Art.


Art.


Art (I like it).


Art.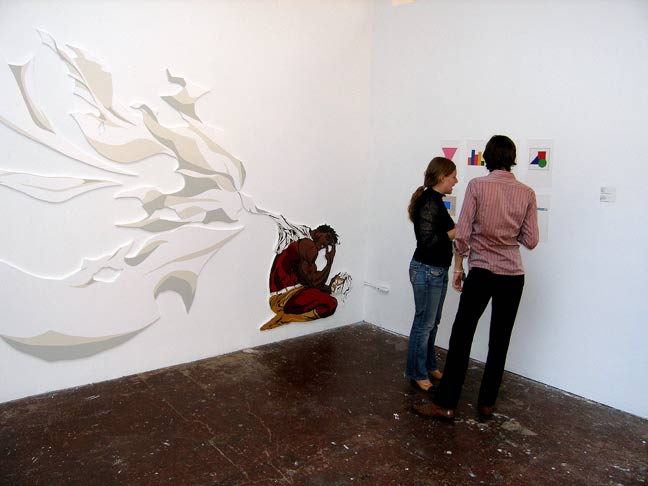 Art.


Turnout.


***
Patrons of Art Gallery (aka Melting Point): Nils Krueger.
Comment: Sculpture by Nils Krueger, much of which blends abstract, figural, and anatomical elements. Krueger lives and works at the gallery location, and also rents the main exhibition space of the building to other artists under the name Melting Point Gallery. He produces a wide range of work including indoor, outdoor, oversized, and pedestal sized. From the looks of things, he can probably satisfy your sculptural requirements, whatever they are.
Sculpture.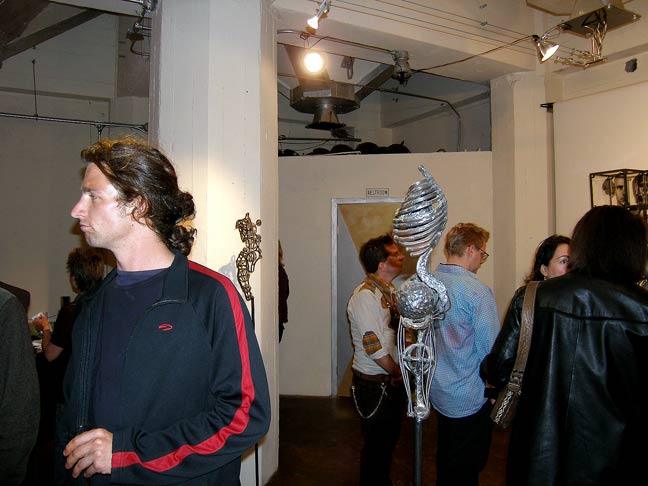 Sculpture.


Nils Krueger (left).


Patrons of Art CEO James M. Cloer.


Sculpture.


Sculpture.


***
mixedUSE: Peace Train - Banners For Peace - Ross Holzman.
Every once in a while I get blindsided by a good one. Ross Holzman paints and makes collages on canvas, the collages on display here being pro-peace anti-war compositions directly relating to the War in Iraq. Possibly self-taught, although I didn't ask, he proficiently professionally aesthetically clips, cuts, colors and reconfigures newspaper and magazine articles about America's Iraqi adventures into visually engaging stand-alone works of art. I assume he can do this with whatever subject matter he chooses, and I also assume that we'll be seeing his work at galleries in the not-too-distant future.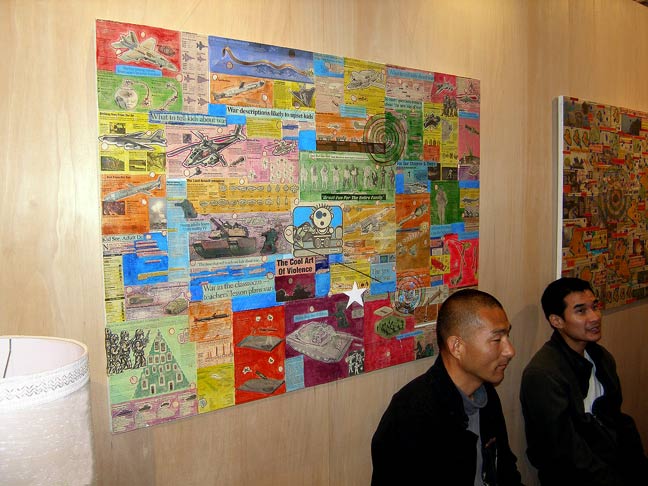 Art.


Art.


Ross Holzman - art.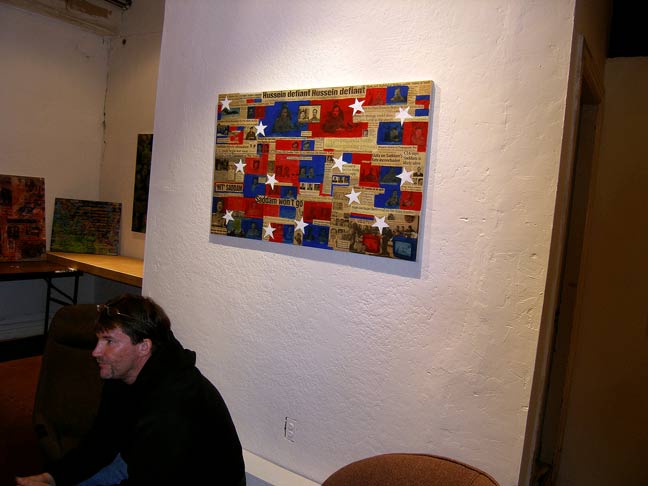 Art.


Art.


***
There's still time to catch a few shows in Oakland. Wanna go? OK.
***
Boontling Gallery, 4224 Telegraph Avenue, Oakland, CA 94609; 707.980.1060: Bruk Dunbar and Adam 5100.
Comment: I just saw Adam 5100 at a one-day group show last week, gave his stencil a "pick" of show, and here he is again. I'm gettin' that itchy twitchy feeling in my cosmic art bunion that it's nigh on time for a gallery to give this dude a solo. He's good. Meanwhile, Bruk Dunbar makes funky fun wall ceramics, including a series of vertical backhoes (now where else are you gonna find that?). On the walls beneath some of her pieces, she paints joined pipe segments to look like root patterns. Strange stuff, but well-done and promising.
Art (Bruk Dunbar).


Art (Adam 5100).


Bruk Dunbar - backhoe ceramic art (lost left face-- sorry).


Art (Bruk Dunbar, left - Adam 5100, right).


***
Auto 3321: Sound and Vision.
Artists: Joshua Blake,  Shannon Corr, Hoyt Fay, Uri Korn, Billy Kroft, Ross Peacock,  Suzy Poling, Matthew Reamer, Cyrus Tilton, Nathan Tilton, Tracy Timmins
Comment: Photographs mostly, my favorites being a double line of rock band images along the rear left wall and a series of wedding reception images along the rear right wall. Live music in the basement which means that you get a free foot massage while enjoying the art. Auto 3321's always worth a look if you're in the neighborhood.
Photography.


Photos.


Photographica.


Photographs.


***
Mama Buzz Cafe and Gallery: Ian Greeb.
Comment: Missed the opening, but I'm driving by Mama Buzz and the lights are on and people are there and the door is open so I slip on in to find a zany crackerjack installation of foam character sculptures by Ian Greeb. Several musicians are in the gallery packing up their instruments (probably wondering who's the dood with the camera); the lady on the cafe side is closing the place down, she gives me the shoo, so no chance for questions.
Art.


Art.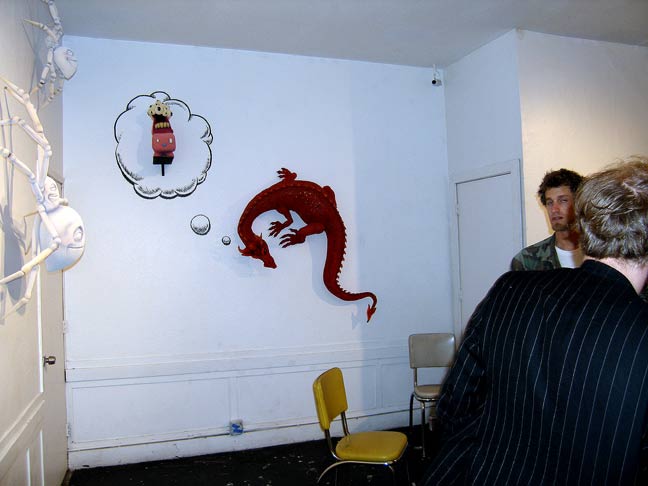 Art.


***
Meanwhile, the following evening back in SF....
***
Jack Hanley Gallery: Mathew Sawyer - Martin Lawyer & the Terrible Truth (at 395 Valencia gallery); Dear New Girl or Whatever Your Name Is (at 389 Valencia gallery).
Artists (Dear New Girl): Calef Brown, Kevin Christy, Christian & Rob Clayton, Shelly Dick, Jim Drain, Marcel Dzama, Leif goldberg, Leah Hayes, Jason Holley, Misaki Kawai, Taylor McKimens, Jacob Magraw Mickelsoon, Mark Miller, Paper Rad, Martha Rich, Jonathan Rosen, Leanne Shapton, Michael Shaub, Joel Smith, Rachell Sumpter, Gary Taxali, Esther Pearl Watson, Justin Wood, more.
Comment: Among other escapades, Mathew Sawyer makes what you might call "intervention art," creative acts of trespass on the realities of others, that in effect alter or change, however imperceptibly, the course of their lives (sort of an exceedingly benign and personal version of Punk'd). For example, he scribbles sentences on scraps of paper, then slips them into pockets or handbags when nobody's looking. Or he takes, alters, and returns a piece of someone's mail before they open it. Or he borrows a pair of parked shoes, paints on the souls, and reparks them before owner returns to put them back on. As for art, he's pretty slick with a scanner, scanning up some intricately gratifying well-balanced collages, one of which includes autobiographical information that he's applied to slices of toast. I can always count on Jack Hanley for a show-and-tell that gently and intelligently expands my realm of art.
At 389 Valencia, a group show in conjunction with the release of the McSweeney's publication Dear New Girl or Whatever Your Name Is, which in addition to the art, is also notable for its clear concise perfect single-sentence raison d'etre. Behold the brilliance: "(Art) inspired by notes confiscated during 1999-2002 from school districts in and around Los Angeles." See how easy that is? Spare the innards; sport the essence.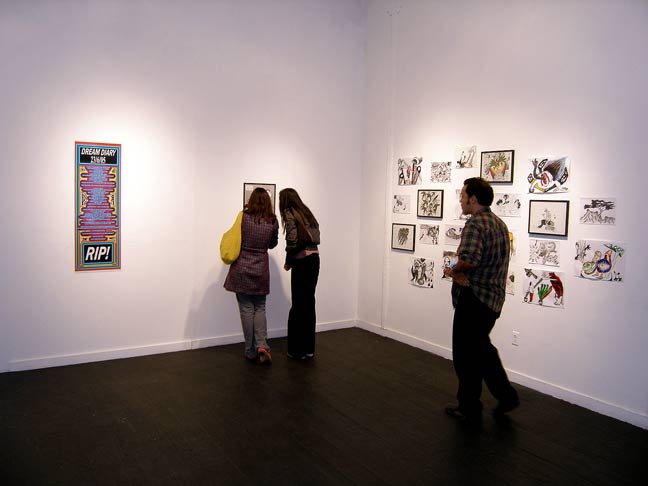 Art (Mathew Sawyer).


Art (Mathew Sawyer) - like it.


Jack Hanley (center) - Mathew Sawyer (right).


Art (Mathew Sawyer).


Art (Mathew Sawyer).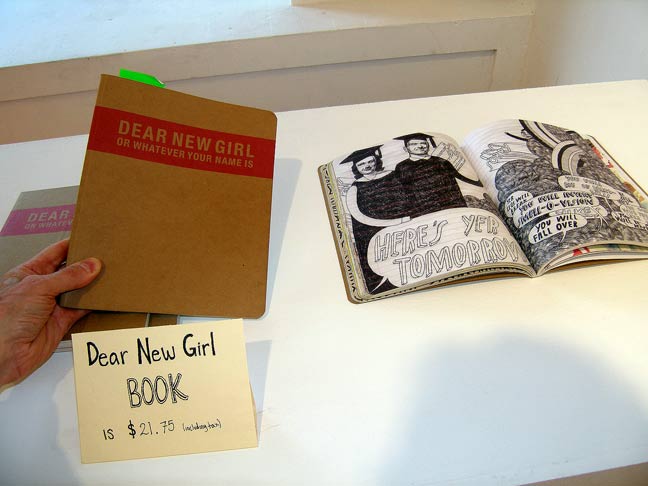 Book art (Dear New Girl).


Art (Dear New Girl) - like it.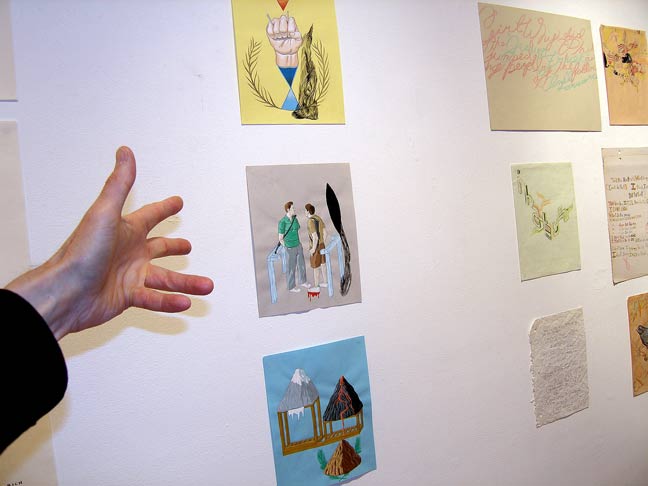 Art (Dear New Girl) - like it.


Art (Dear New Girl).


***
Griffin Davis at Belcher Studios: Emerge.
Artists: Rene Capone, Nina Gabelko, Phillip Hua, Matt Lewandowski, Zoe Martell, John Paul, Jennifer Roszell.
Comment: Abstract extravaganza, a portion of the proceeds to benefit Art for Healing.
Art.


Art.


Art.


Art.


Art.


Art.


Art.


Arena.


***
Harvey's, 500 Castro Street, San Francisco, CA 94114; 415.431.HARV: Danyol.
Comment: Painting and collage by Danyol-- his debut show. Eminently affordable; nothing over $500, prices starting under $100.
Art.


Danyol (foreground) - art.


Art.


Venue.


***
Fingerhut Gallery of Sausalito: The Art & Spirit of Janis Joplin.
Comment: The entrance is cordoned off with velour traffic control ropes, forcing you to pass directly in front of a desk where two gallery employees are seated. "Are you on the guest list?" I'm not. "Will you please fill out this card?" They hand it to me and I don't feel like "No, I'd rather not" is an option. The colossal nerve of these galleries-- interrogating you at the door, then requesting (more like requiring) personal information-- name, address, phone number. And that's not all. Once inside, you're eyeballed constantly by hovering "sales consultants." This is what most people think art galleries are like-- uncomfortable, pressurized, intimidating, and prying. Can you imagine enduring this sort of ordeal at any other retail establishment?
Entrance.


Gauntlet.


Art.





Art.



***

Addendum: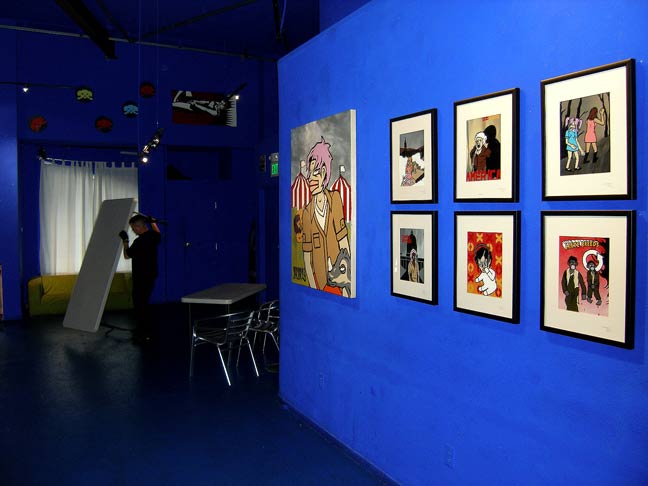 Setting up for Aqua vitae at Blue Cube.


Brandin Becker (curator) and art at Blue Cube.