SAN FRANCISCO ART GALLERIES - OPENINGS
WARNOCK FINE ART - CREATIVITY EXPLORED - SPACE
ROSS MIRKARIMI - CHINESE CULTURE CENTER
SECESSION ART AND DESIGN - ARSPACE - BACKSTAGE SALON
08.16-17.07
Warnock Fine Arts: Figura Humana - Three Perspectives.
Artists: Peter Boiger, Otto Aguilar, Fernando Reyes.
Comment: Three distinct takes on the figure with respect to style as well as medium by sculptor Peter Boiger, woodcut artist Fernando Reyes (whose appealing atypically colored woodcuts receive the distinction of being my personal favorite), and painter Otto Aguilar.
Art (Fernando Reyes - nice).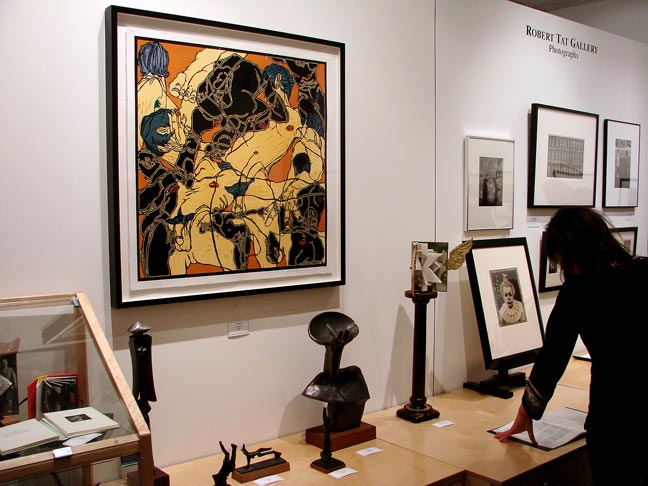 Art (Fernando Reyes).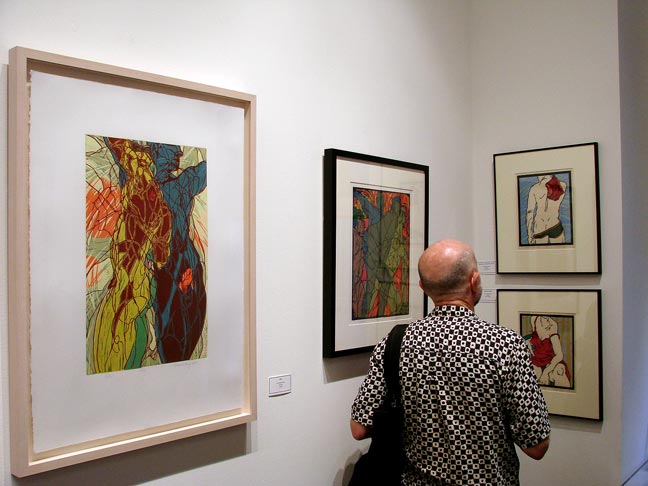 Art (Fernando Reyes).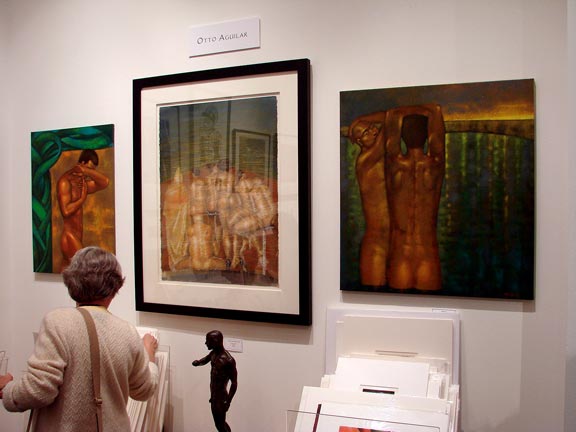 Art (Otto Aguilar).


Art (Peter Boiger).


***
Creativity Explored: Transmissions.
Artists: Rosemary Calafransesco, John Miller, Hector Lopez, Chris Lawson, Theo Callozzo, Art Horton, Weslie Raudez, Patricia Hefner, Walter Kresnik, Linda Cooper, Melvin Roscoe, Kelly Clark, Kori Girard, Michael Hall, Julia Lowrey Jones, James Montgomery, Eric Boysaw, Bridgett Macy, Yolanda Ramirez, Ramona Shaddix, Daniel Green, SBTT, CE, Vincent Jackson, Steven Geeter, Jimbo thornton, more.
Comment: Opening events are perenially festive at Creativity Explored, this one being no exception, with the center presenting the results of a "first ever" collaborative mail art exchange between its artists and artists with developmental disabilities from Alabama who make their art at a place called Studio by the Tracks. All art was stamped, postmarked, and sent directly through the mail with no protective wrappings, mainly works on paper, but also, remarkably, a handful of sculptural pieces. Good show; definitely worth a visit. The best part? Affordable!! Truckloads under $100. And for those of you who can't get enough, meet artists and buy more art in the large main studio facility directly behind the gallery.
Mail art.


Art.


Art.


Art.


Art.


Art.


Art & artist in the back studio.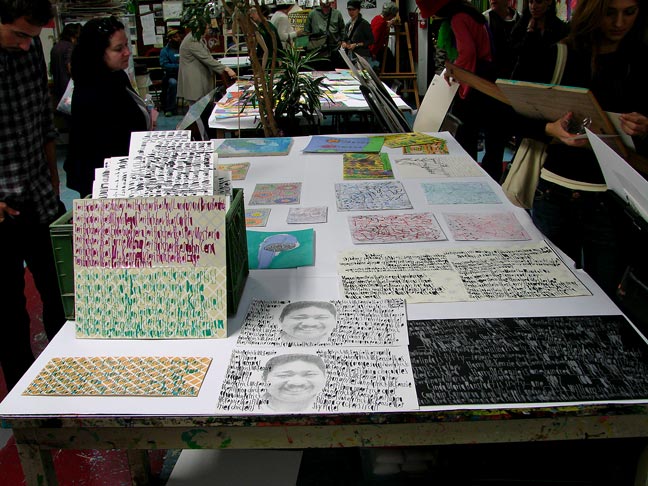 More art in the back studio.


***
Yelp presents at Space Gallery: Collective - Yelpers' Reflections on City Life & Community.
Artists: Howard Chambers, Benjamin Hebel, John Mavroudis, Kevin Simpson Andy Reed, Jennifer Simpson, Rebecca Meredith, Lenea Maibaum, Todd Berman, Tim Van, Kai Haley, Amy Martin, TL Cheung, David Kim, Colin Stjolt, Alyssa Cambell, Shayna Cohen, Amy Wright, Rachelle Cohen, Ian Moore, Mona Brooks, Ravi Subramanyan, Jason Arnold, Eric Brooks, Jeff Singer, Lena Reynoso, Alice Stribling, John Mavroudis.
Comment: Meandering group show presents a little of this and a little of that, here, there and everywhere, the common denominator being that all artists are Yelpsters. They stop me at the door and rough me up a bit, asking if I'm on the list (I doubt it), if I RSVP'd (which I didn't because I didn't know you had to), so I'm ready to ramble-- one less show to cover-- but gallantly retrench and mention an artist's name and it's a match and I get in and we all live happily ever after.
Art.


Art.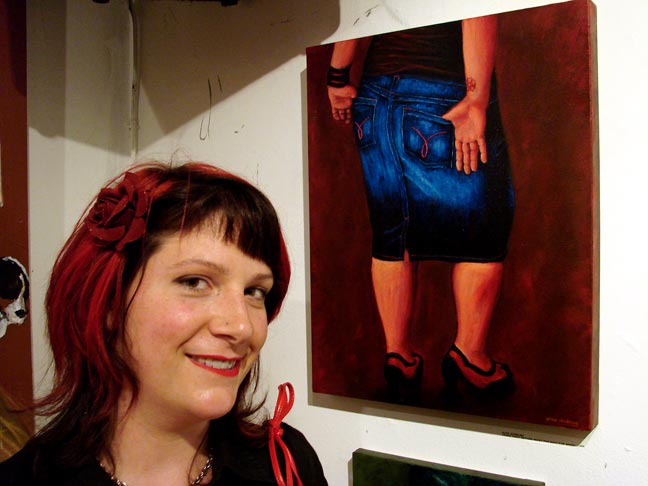 Alice Stribling - art.


Art.


Art.


Art.


Art.


***
Supervisor Ross Mirkarimi: Prophecy.
Artists: Richard Akers, Chema Gonzales, Robert Hernandez, Roberta Loach, Diana Marto, Carlos Loarca, Irving Norman, Alfredo Paz, Clayton Thiel.
Comment: A sampler plate of the show currently on view at SomArts main gallery. For more information about "Prophecy" at SomArts, check the First Thursday August 2 reviews, scroll a little more than halfway down the page.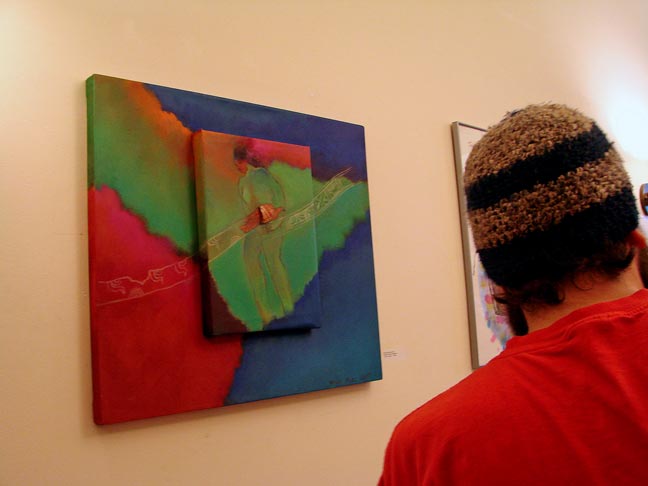 Art.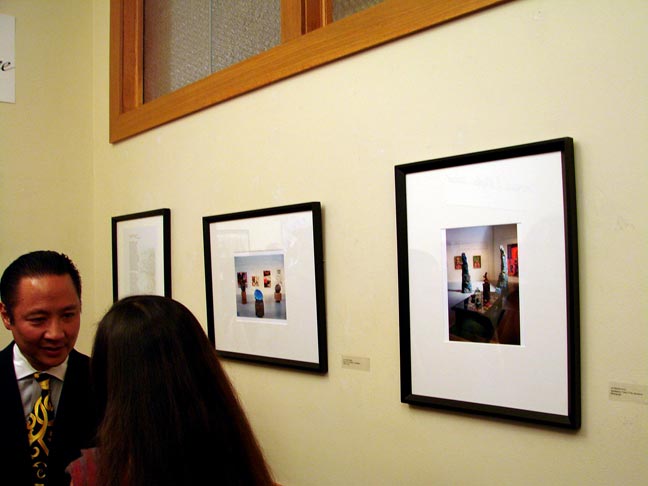 Art.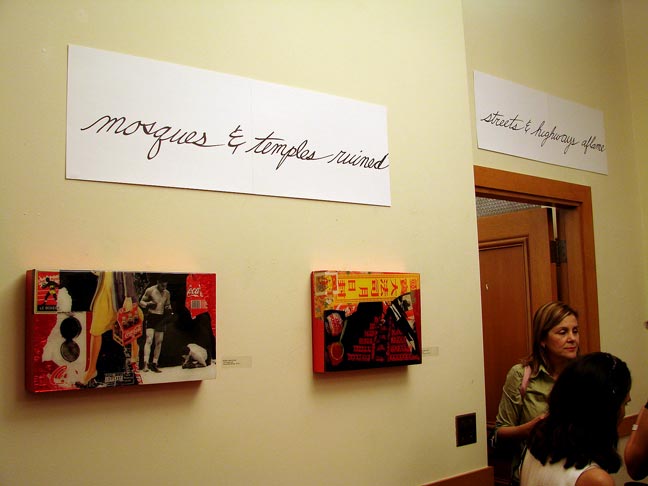 Art.


Art.


Art.


***
Chinese Culture Center of San Francisco: Cheers to Muses - Contemporary Works by Asian American Women Artists and Writers.
Artists/writers: Terry Acebo Davis, Susan Almazol, Olivia Boler, Ann Carli, May Chan, Lenore Chinn, Shari Arai DeBoer, Lydia Nakashima Degarrod, Naoko Haruta, Nancy Hom, Kay Kang, Machiko Kondo, Amy Lam, Summer Mei Ling Lee, Sharon Leong, Genny Lim, Christina Mazza, Vanessa Merina, Melani Nagao, MariNaomi, Norine Nishimura, Anh-Hoa Thi Nguyen, Suzanne Onodera, Barbara Jane Reyes, Cynthia Tom, Sue Tom, Anna X.L. Wong, Flo Oy Wong, Nellie Wong, Debbie Yee .
Comment: Combination art exhibit and release of the book by the same name-- Cheers to Muses. The event, presented in conjunction with the Asian American Women Artists Association is a substantial and genuinely impressive array of art in a variety of mediums, styles, and subject matters-- commendably all-inclusive-- from traditional to urban to lowbrow and more. Soundly satisfying show. Worth a look. The Chinese Culture Center, by the way, is located on the third floor of the 750 Kearny Street Hilton Hotel, and they've got an excellent gallery space.
Here we are.


What it is.


Art.


Art.


Art.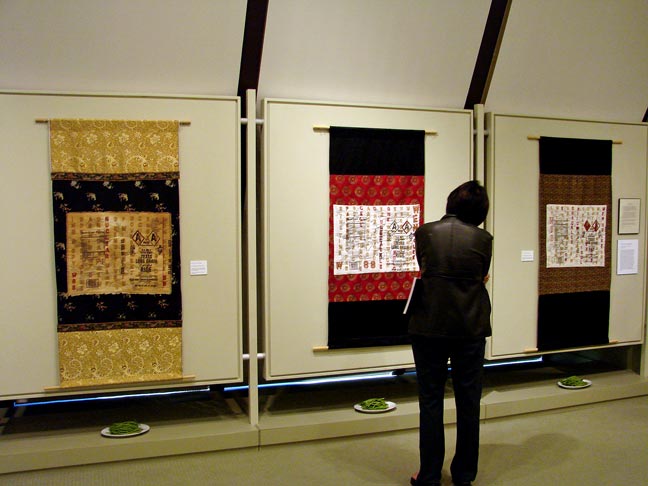 Art.


Art.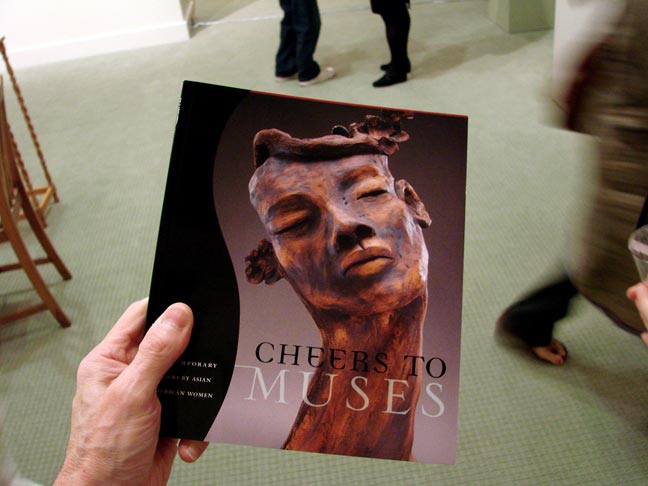 And don't forget the book.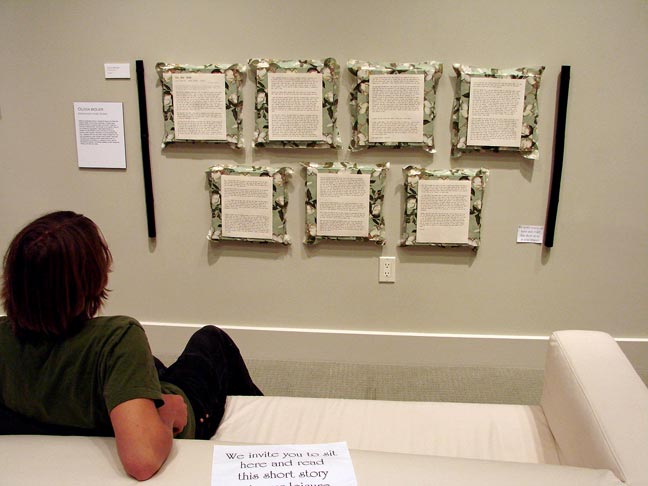 Art.


Art.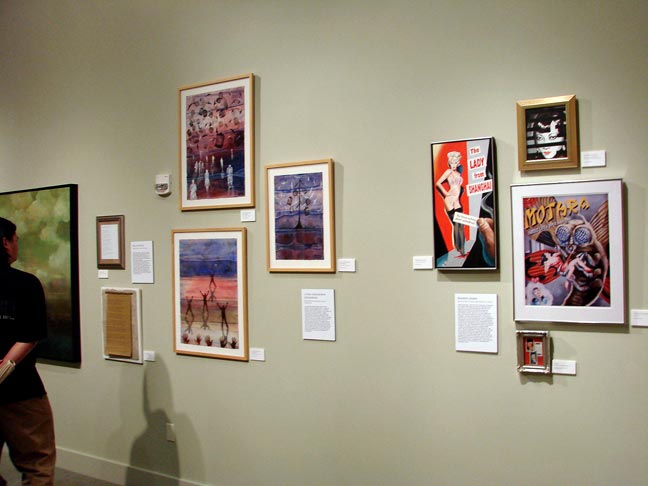 Art.


Art.


Art.


Art.


Art.


Art.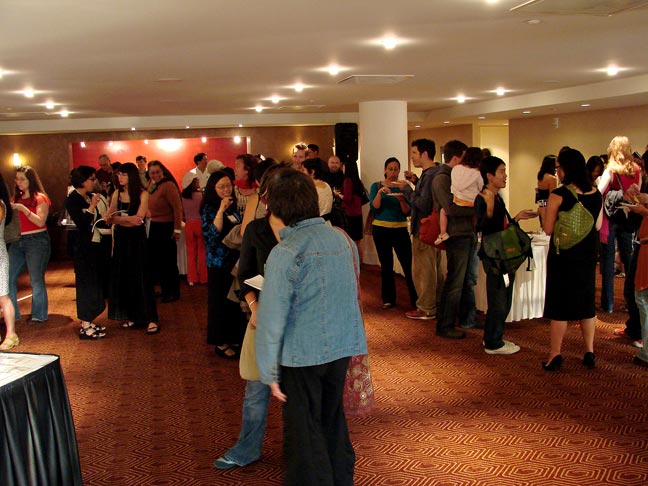 In the lobby.


***
Secession Art and Design: Grand Opening.
Comment: Art by Heather Robinson, fashion by Allma, and jewelry by Twelve Designs Modern Vintage Jewelry headline the grand opening of this Outer Mission space (formerly Levy Art & Architecture). According to the prospectus, "Secession Art and Design is a gallery for up-and-coming artists and designers to showcase their work while supporting the local independent community." So there you go.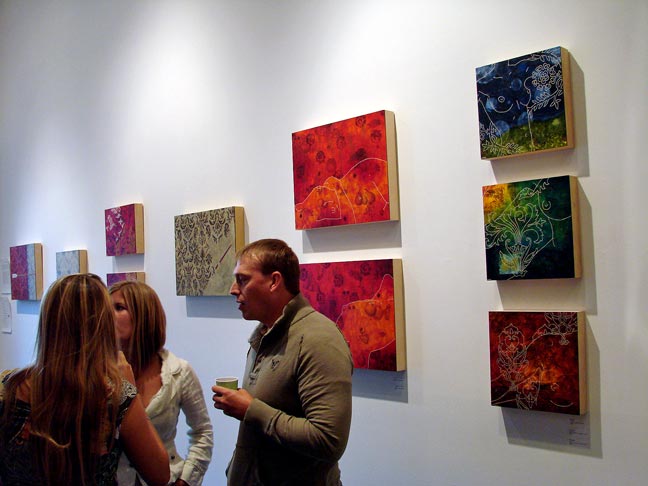 Art.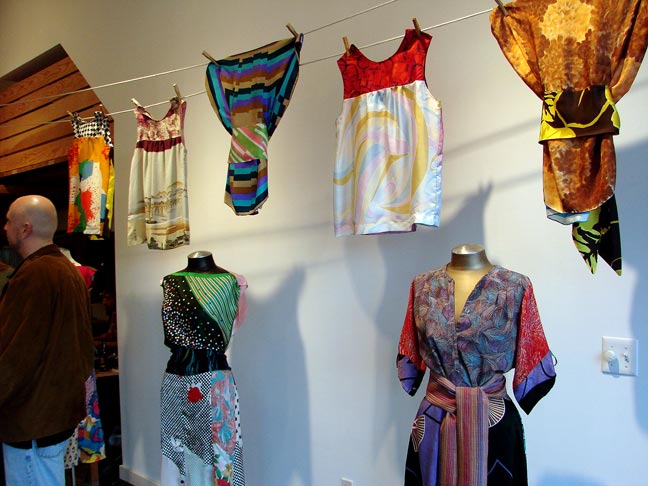 Fashion.


Vintage jewelry.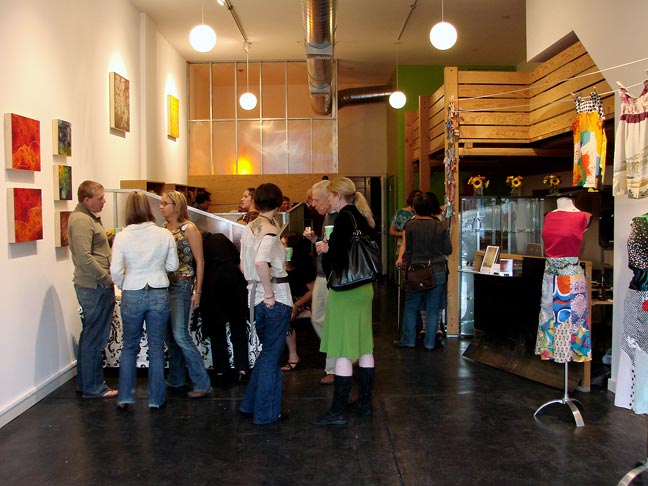 In.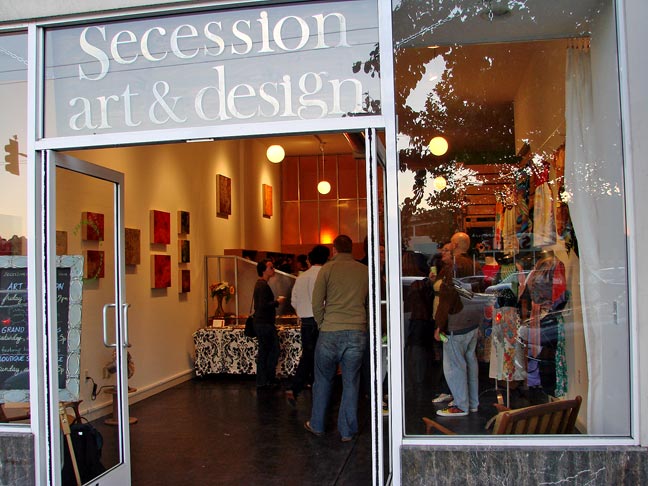 Out.


***
Arspace Gallery: Monsters in Arspace.
Artists: R. Kuszyk, Sto, Matt Furie, Johnerick.
Comment: As near as I can tell, this wigged out wierd-a-rama Brooklyn/San Francisco collaborative contusion predominantly revolves around a cleaved up monster, the wood framed paper mache carcass of which occupies the center of the main gallery, the paper mache poo of which is heaped in the gallery's left rear corner, the head of which is painted on a wall as you enter the gallery, and if you wanna scope the carcass from the inside, you enter through it's asshole. And there's art for sale, and beer, and stuff.
Here we are - cleaved carcass art.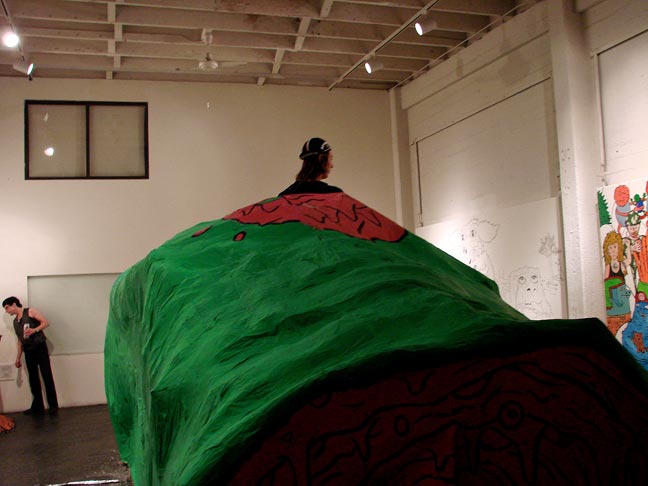 As you might expect, cleaved carcass doubles as lookout tower.


Brad K. Alder demonstrates fundamentals of anal egress.


Art.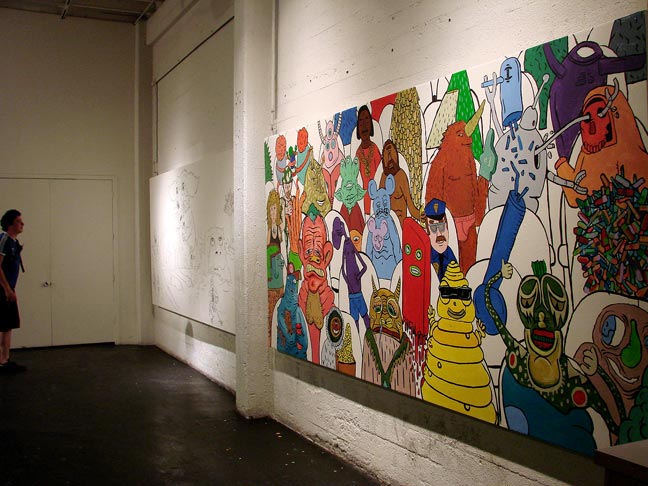 Art.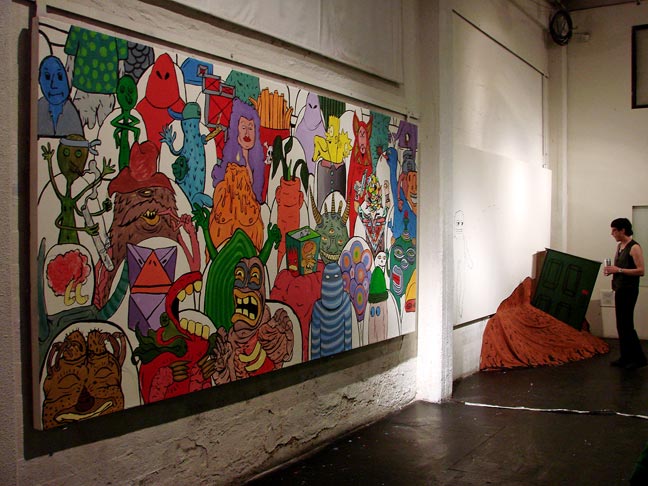 Art.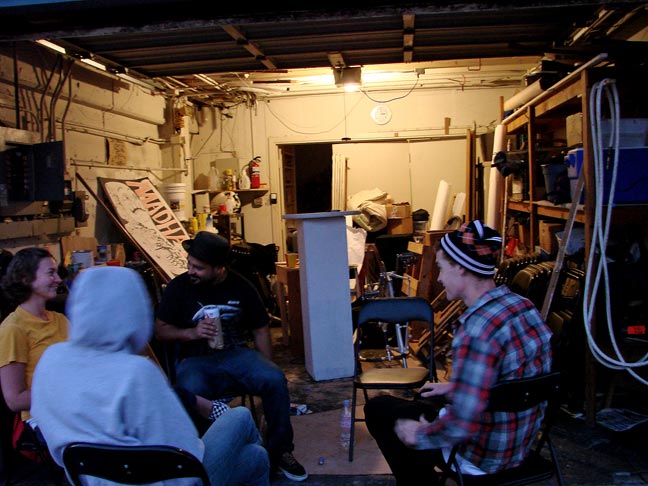 Out front relaxing on the veranda.


***
Addendum: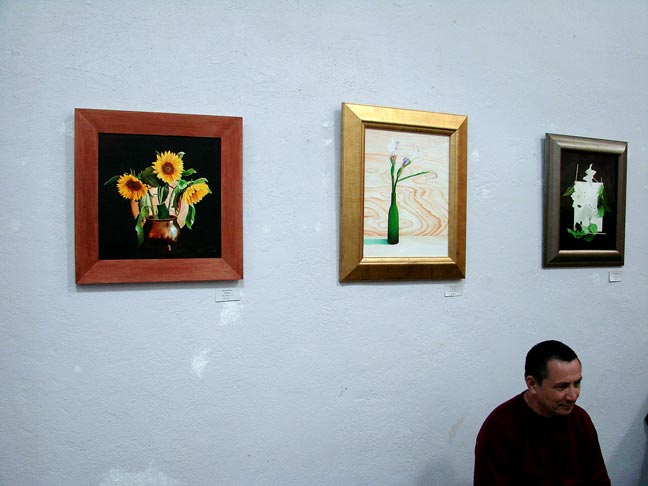 Group show at Backstage Salon, 2134 Polk St., 415.775.1440 .


Another From Backstage Salon.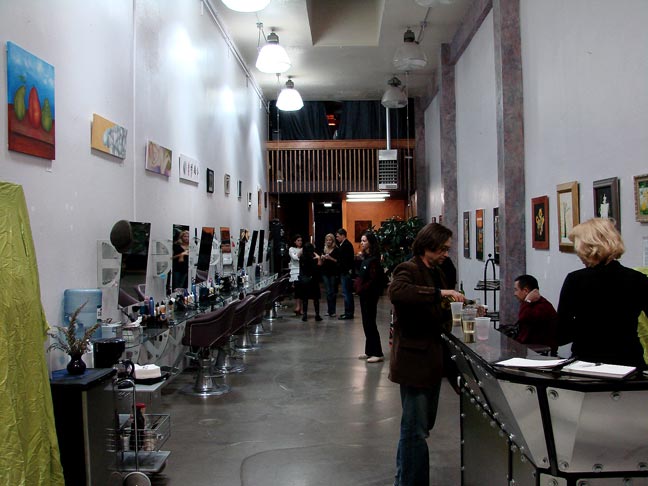 Last one from Backstage Salon group show.


***