SAN FRANCISCO ART GALLERIES - OPENINGS
THOREAU CENTER - ARTHAUS - EMBARCADERO AUTO
CREATIVITY EXPLORED - LIVE WORMS - BUCHEON GALLERY
BACK TO THE PICTURE - ELEANOR HARWOOD GALLERY - TRIPLE BASE
SOAP GALLERY - GERAS TOUSIGNANT - CITY PICTURE FRAME GALLERY
SUPERVISOR ROSS MIRKARIMI
08.17-18.06
Thoreau Center for Sustainability: Spencer Brown - Inconvenient Hikes.
Comment: Spencer Brown tells me he travels to really remote biologically and geographically sensitive places (he's got a degree in Environmental Studies), takes hikes, takes pictures during those hikes, then exhibits the results at venues like the Thoreau Center so we can see where he's been-- perfect for me since I prefer room service to roughing it. His engaging, aesthetically satisfying, educational images remind us to be ever vigilant about maintaining the health of our environment.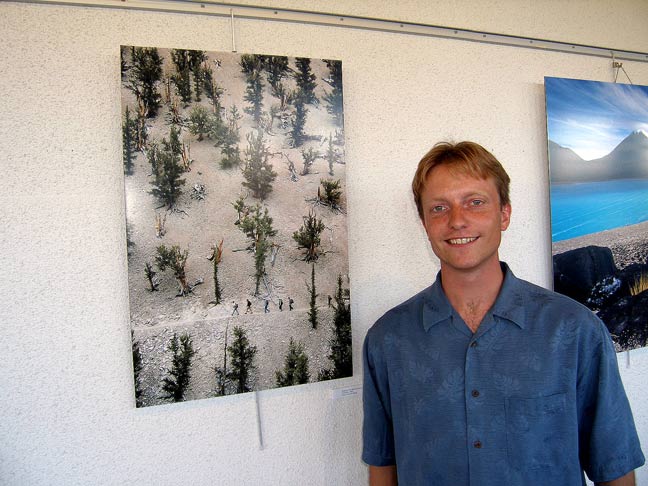 Spencer Brown - photography.


Photographs.


Spencer Brown - photo.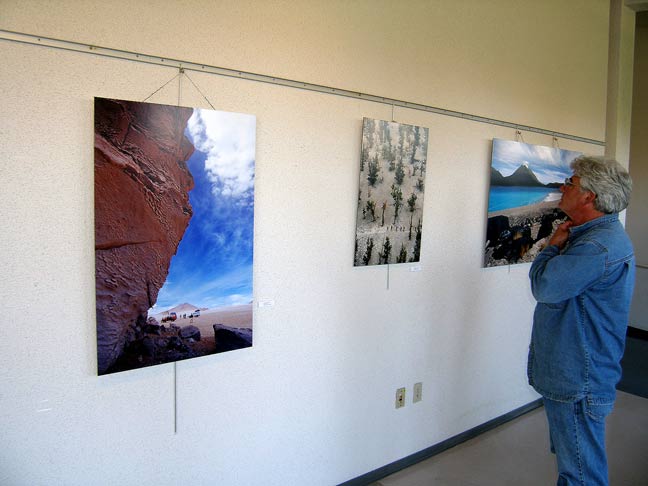 Images.


***
ArtHaus: Ricardo Carbajal Moss - The Cherry Paintings.
Comment: Tasteful accomplished appealing trompe l'oeil paintings, some with gold leaf, all conscripting cherries for focal points. Ricardo Carbajal Moss, formerly of San Francisco, now lives in Switzerland.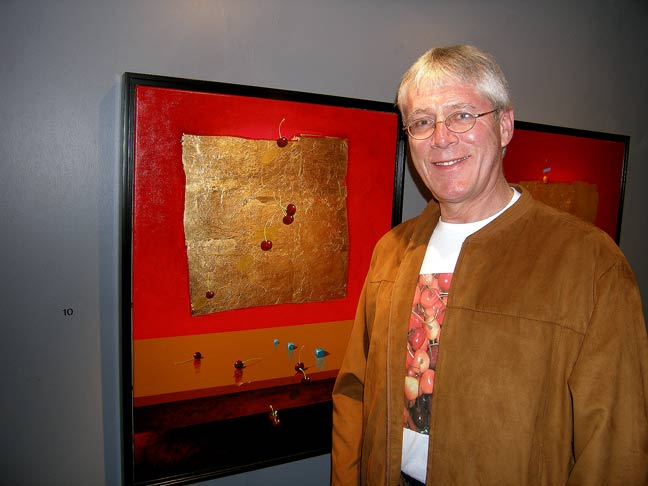 Ricardo Carbajal Moss - art.


Art.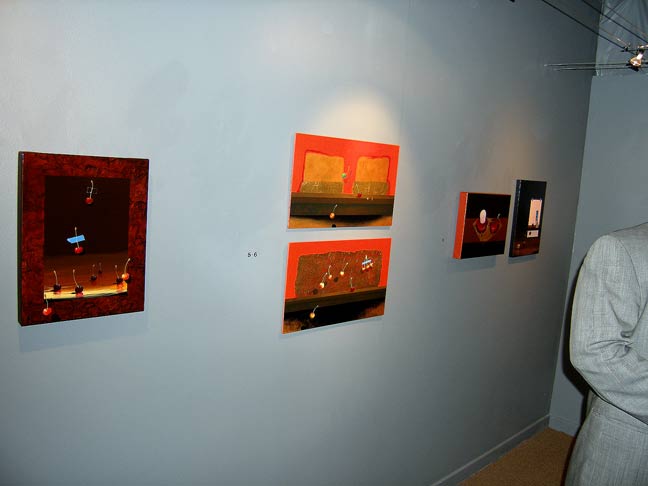 Art.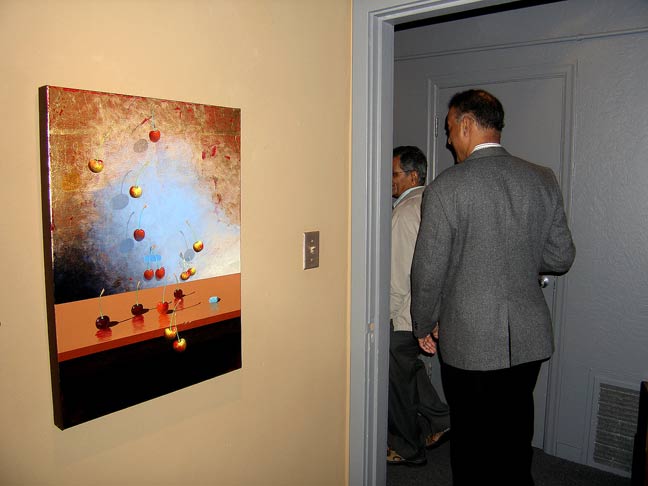 Art.


***
GarageGallery at Embarcadero Auto: GarageGallery Salon #2.
Artists: Suzun Hughes, Warren Travis, Flicka McGurrin, Dorothy Lefkovitz, Chuck Peterson, Victoria Sanchez.
Comment: More fun than a barrel of monkeys-- an art opening at a Saab showroom and repair facility at 655 Bryant St. There's art, burritos, tunes, poetry reading, cars, car people, art people, tons of people, dogs, beverages, plus my favorite-- a Rube Goldberg track lighting system powered by a car battery sitting on the floor and featuring bare wires. Shocking, isn't it? The best part of this vehicular hoedown is that the art's entirely respectable. GarageGallery belongs on every inveterate artster's convivial carousal list.
Art (Warren Travis - only $800 each).


Art (Suzun Hughes).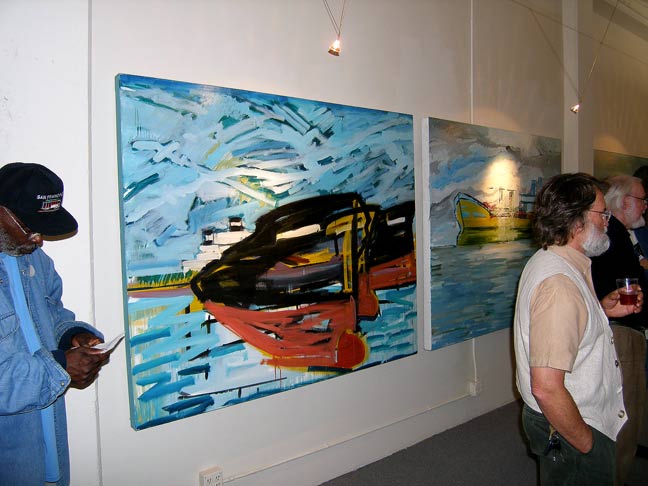 Art (Flicka McGurrin).


Tunes.


Ingestibles.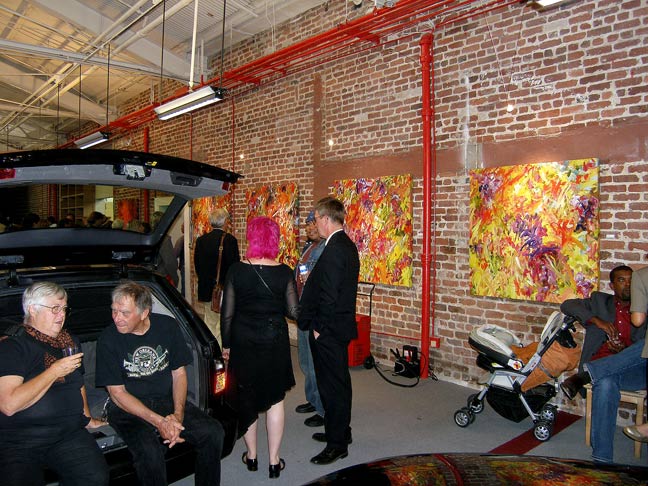 Tailgating.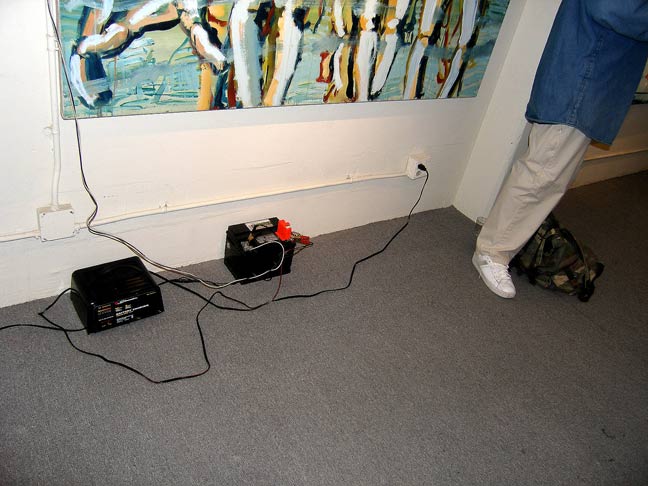 Track lighting power hub.


Showroom.


Repair shop.


Art (Suzun Hughes).


***
Creativity Explored: Michele Kunard and Tony Gomez - Solo Duet.
Comment: Michele Kunard and Tony Gomez have known each other and made art together for ten years. Both individual and collaborative works are included in the show. Nothing priced over $300; most under $150. Plus there's always oodles of art by all Creativity Explored artists for sale behind the gallery in the studio area.
Art (Michele Kunard and Tony Gomez).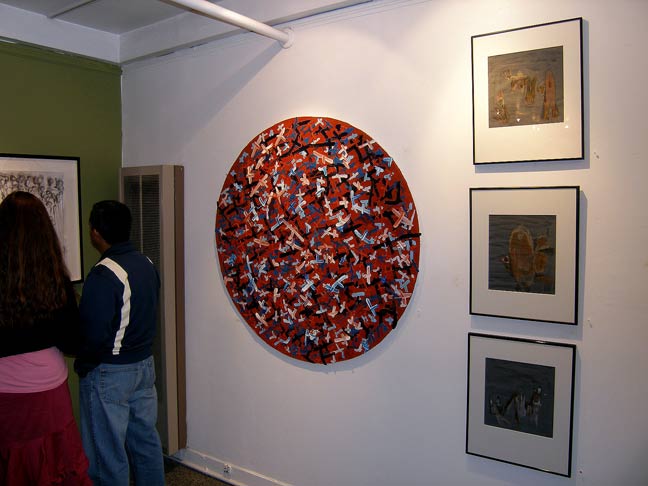 Art (Michele Kunard and Tony Gomez).


Art & artist (left) in the studio. Priced about $15-$20. Nice.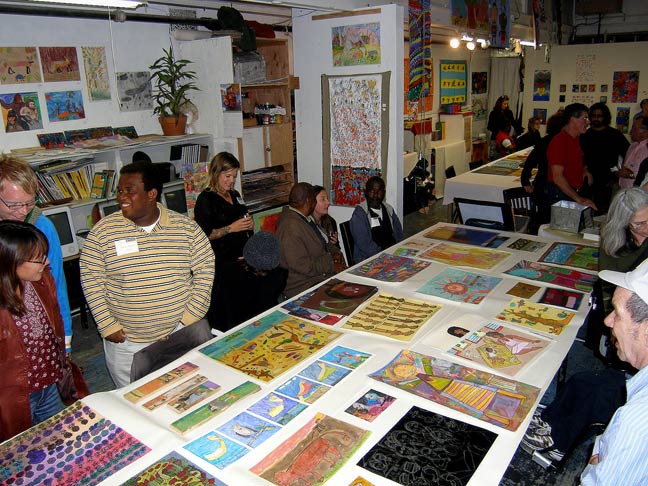 More art in the studio.


Art (Michele Kunard and Tony Gomez).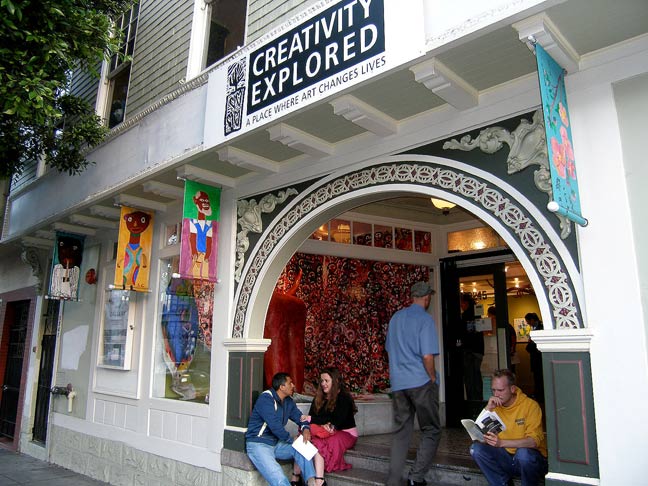 Out front.


***
Live Worms Gallery: Colin Snapp.
Comment: I careen into Live Worms to discover Colin Snapp in the middle of the gallery in the middle of hanging his show (which opened about two hours ago). Snapp tells me he's recently graduated from SFAI with a degree in film, he began painting two weeks ago, he's never painted before, he's rented Live Worms for the night, and he's giving himself and his poppin' fresh oeuvre a formal debut before moving back to the San Juan Islands (off the coast of Washington). It's that simple and no more complicated. He also tells me Live Worms Gallery rents for $150 a night. Great space; great deal. Go for it.
Colin Snapp and his wall of art.


One more - this time from the opposite direction.


Back to work for Colin Snapp.


***
Bucheon Gallery: Summer Group Show.
Artists: Ethan Murrow, Clayton Llewellyn, Michael Johnstone, Julie Chang, Steve MacDonald, David Faulk, Terri Saul, Scott DeBie, Jacqueline Cooper, Lucho Pozo, David McDermott, Kirsten Tradowsky, Jason Wright, Jim Damron, Seth Michael Forman.
Comment: Group show, nice selection. I'm partial to several very competent works on paper by Clayton Llewellyn.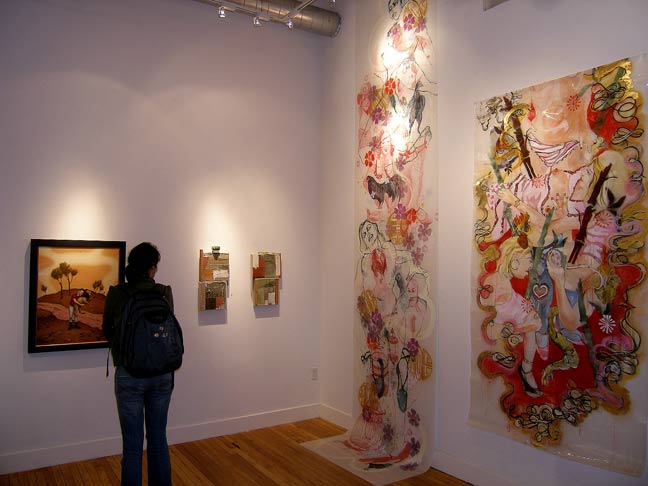 Art.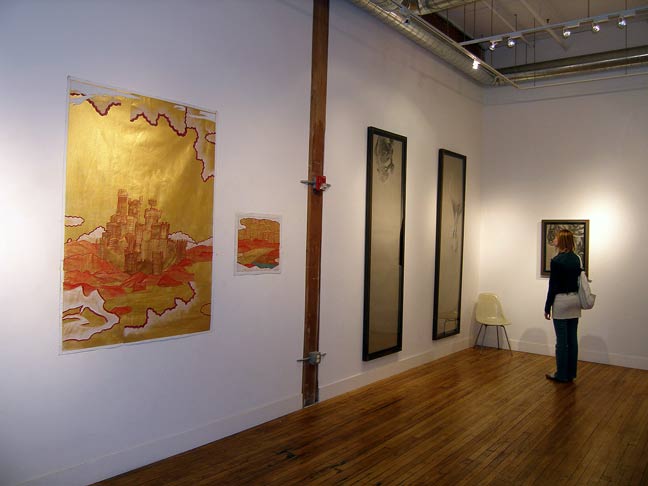 Art.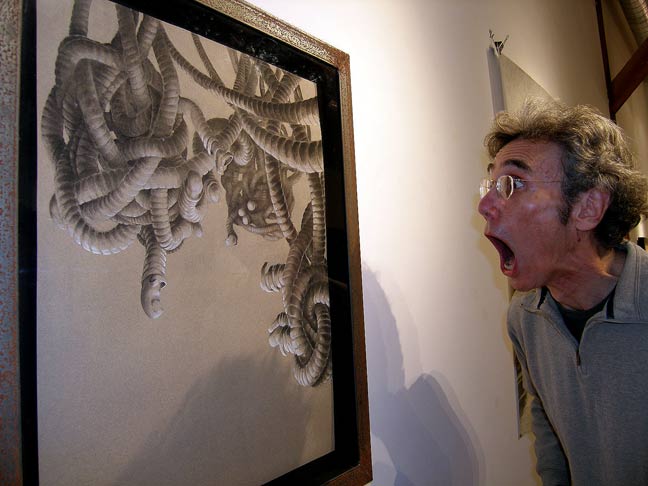 Snakes on a Plane! Oh My! (Clayton Llewellyn - like it).


Art.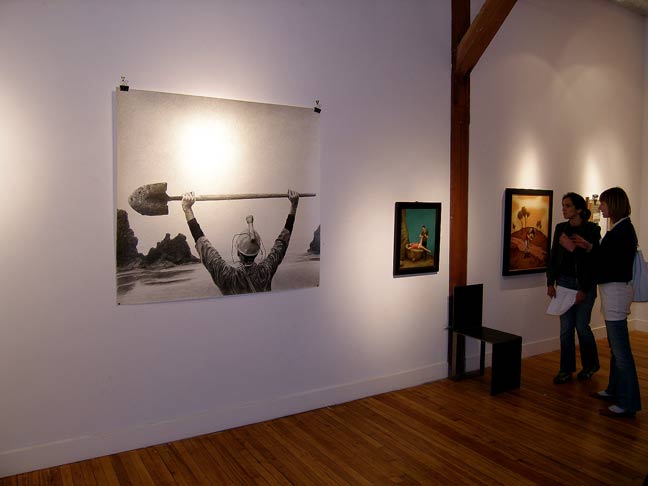 Art.


***
Back to the Picture Gallery: Summer Tales.
Artists: Alexandra Blum, Raymond Martinau, Aylin Beyce, Michael Roman, Arnoldo, Anna Simson, Heidi Alexander, Kevin Fox.
Comment: Group show curated by Calixto Robles. And the winner is Michael Roman for his silkscreen prints, and especially for his kick-ass homemade hoodies (only $69 buys you the ultimate urban fashion statement totally coated in silkscreen).
Michael Roman (left) - fashion & screen prints (like 'em).


Calixto Robles - curator.


Raymond Martinau - art.


Art - fashion.


***
Soap Gallery: The Brilliance of the All Knowing - Nature and the Human Condition.
Artists: Andy Vogt, Barbara Garber, Brian Caraway, Bert Bergen.
Comment: According to the dossier, the idea of the show is to make art that emanates from a "collective meditation on the human condition and its relation to nature." Hmmmm. I hope the artists didn't feel too constrained by those guidelines. Anyway, the prices are real reasonable with just about everything under $400, most under $200. Not bad for the quality. Those of you fortunate enough to be imbued with discretionary capital might consider throwing a little at the meticulous clean-line Andy Vogt salvaged wood wall sculptures.
Art.


Andy Vogt - art.


Soap Gallery co-owner Lisa Mendelson sends her regards.


Brian Caraway - art.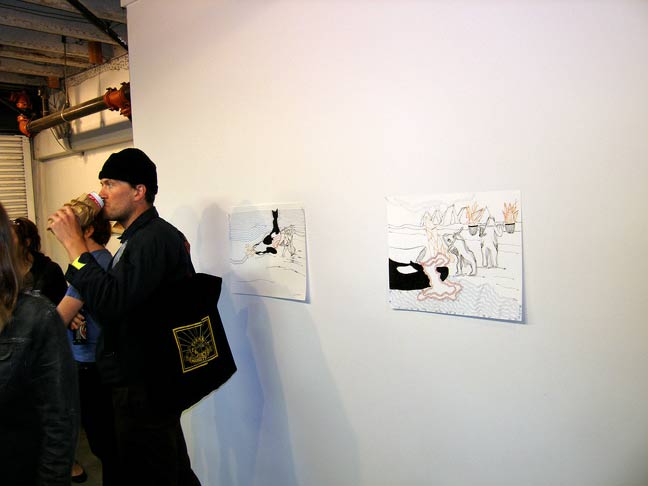 Art.


Occurrence.


Thoroughfare.


***
Eleanor Harwood Gallery: Jamie Berger Presents Bo's Arts- The Book & Powerpoint Presentation.
Comment: It's a release party for Bo's Arts, a book by Jamie Berger about how a bunch of artists portray a dog named Bo, the concept stemming from a 2004 Adobe backroom gallery show entitled Visual Interpretations of a Soft Dog. Eleanor Harwood Gallery isn't officially open for art business yet; the inaugural show's in September, I think. Stay tuned.
Arf-a-bilia.


Eleanor Harwood & her gallery-to-be.


***
Triple Base Gallery: Todd Bura - Mighty Pretty Rain Crow.
Comment: Tiny drawing extravaganza (or to be more precise, an extravaganza of tiny drawings), the premise being that curator Dina Dusko is allowed to select art of her choice from the Triple Base flat files and make a show out of it. So she chooses Todd Bura drawings, watercolors, and pinpricked patterns on found paper.
Todd Bura - art.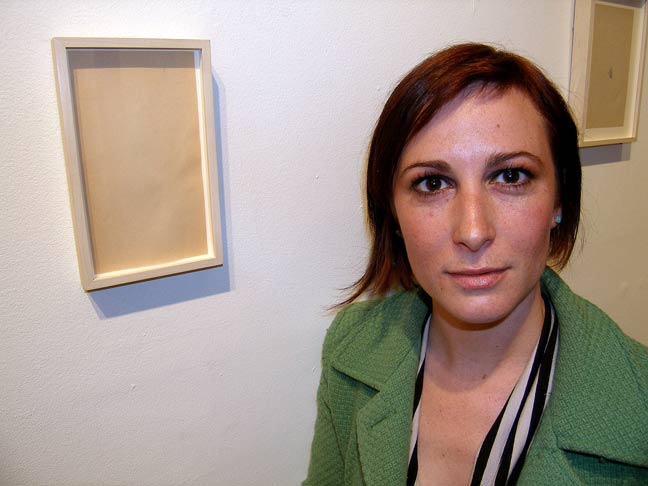 Dina Dusko (curator) - art.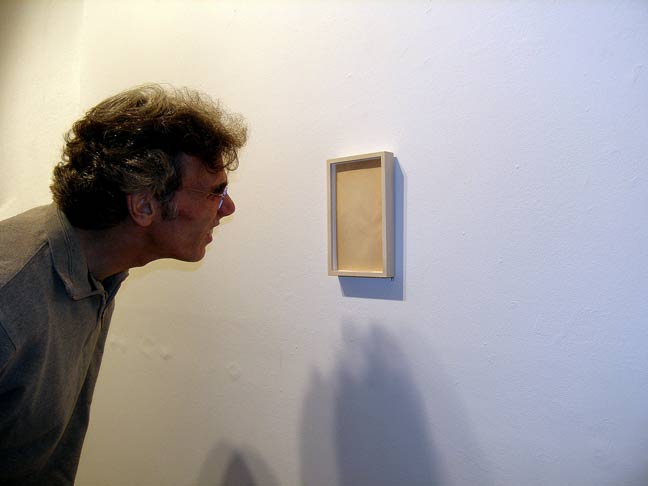 Me - art.


Them - art.


***
Geras Tousignant Gallery: Fresco - New Works by Daniel Tousignant.
Comment: Daniel Tousignant paints in a variety of styles and subject matters, notable because one series of paintings can be so remarkably distinct from the next that you have difficulty believing they're all by the same artist. Tonight's featured series recalls the good old days when Greeks and Romans ruled the earth. Special added bonus-- prices are quite reasonable considering the size and quality of the work. Low thousands gets you some serious acreage.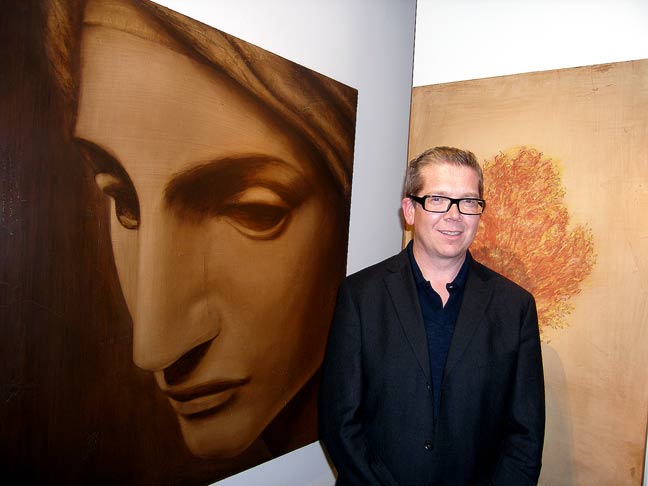 Daniel Tousignant - art.


Art.


Art.


***
Addendum:
Kim Frohsin mosaics at
CPF Gallery.


Joel Putnam figure paintings at CPF (City Picture Frame) Gallery.


One more from City Picture Frame Gallery.


Art by children participating in District 5 art programs
at the office of Supervisor Ross Mirkarimi.


One more from Supervisor Ross Mirkarimi at SF City Hall.


***