SAN FRANCISCO ART GALLERIES - OPENINGS
STUSSY - 111 MINNA - FEMINA POTENS
08.18.07
Reported by Jessica Whiteside)
Stussy San Francisco: Ben Frost - At Your Convenience.
Comment: Ben Frost covers every inch of every canvas with masses of explicit pop icon imagery including everything from iconic Disney cartoon characters to pinups. What makes his work so interesting are the comments he makes about the desensitization of our culture. Ben is very candid about his work, and the reaction it gets from different types of people. For instance, at one show he had in Australia, a man slashed his painting with a knife believing it to be morally offensive.
After talking with Ben I find out that he is mainly concerned that people take the time to understand his work. Simply taking it at face value leaves open the possibility to be offended. Yes, Ben takes cute cartoon characters and morphs them into sexual or violent natured creatures, but ultimately, his message is about the death of childhood and the loss of innocence by a media saturated world.
The work is definitely worth checking out. I wish I could have gotten a closer look at the work though-- the works are kind of high up on the walls due to the limitations of the space. Or maybe Ben just wanted to protect his work from any possible slashers! Just kidding Ben. The show is curated by Andres Guerrero of White Walls Gallery.
Art.


Ben Frost.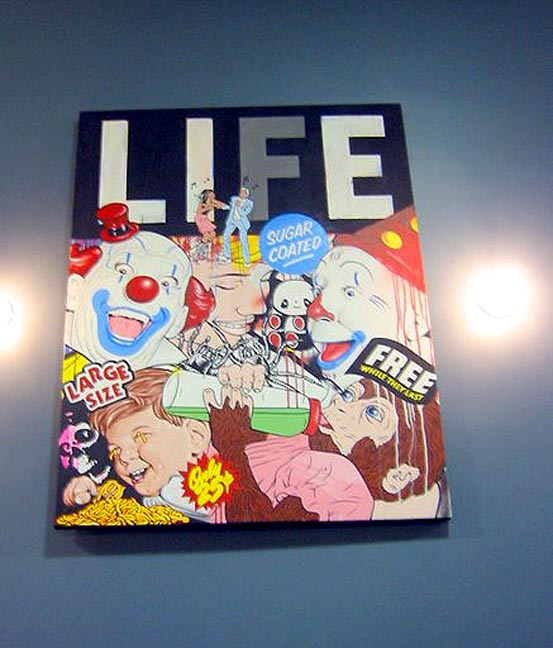 Art.


Ambience.


***
111 Minna Gallery: Collabo Tour 07.
Artists: Sever, Revok, Ewok, Yes 2, Bates, Esteme, Persue, Snow, Serch, Totem 2, Kacao 77, Aroe, Rime.
Comment: Overall this is an interesting show of work featuring a number of famous graffiti artists from The Exchange and Seventh Letter Crew. The show is mostly photographs of work done in public spaces, but includes original work as well. It's not as presentable as it could be due to the fact that it's temporarily installed over all the art from the Fecal Face show, and I'm a little disappointed that no female graffiti artists are represented. Nonetheless, it's appealing to see, and the best part of all is a huge graffiti mural on a Minna Street wall that's been painted by the participating artists. Even though the show is no longer up, the mural is a new permament fixture on the street, and it's pretty awesome.
Art.


Art.


Art.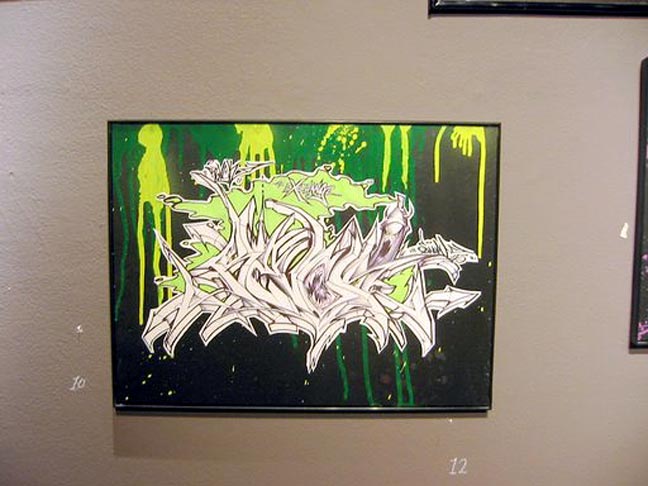 Art.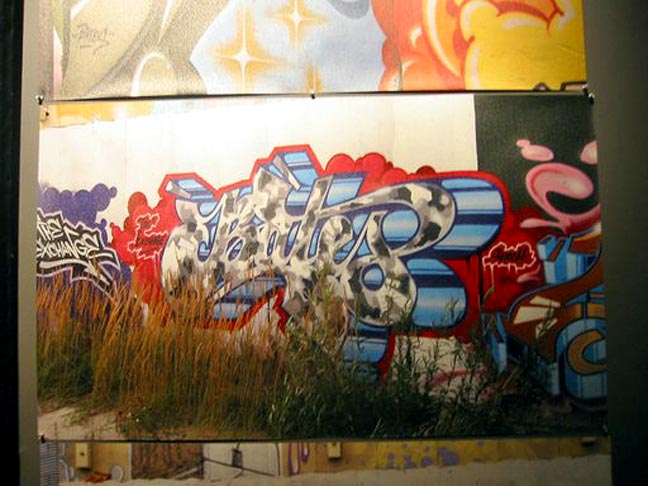 Art.


Art.


Schwagabilia.


***
Femina Potens: I Like Long Walks and Sci-Fi Movies.
Artists: Eliot K. Daughtry, Francesca Berrini.
Comment: I attend the Grand Opening of Femina Potens at their new space in The Castro, tonight featuring an open mic for erotica stories, and artwork by Ellot K. Daughtry and Francesca Berrini. The stories are a riot to listen to, and the readers are quite charismatic and funny. The smallish space is packed for the readings which makes it somewhat difficult to get a closer look at the art work. In any event, it's nice to see a gallery focused on supporting women artists, and active in the feminist community.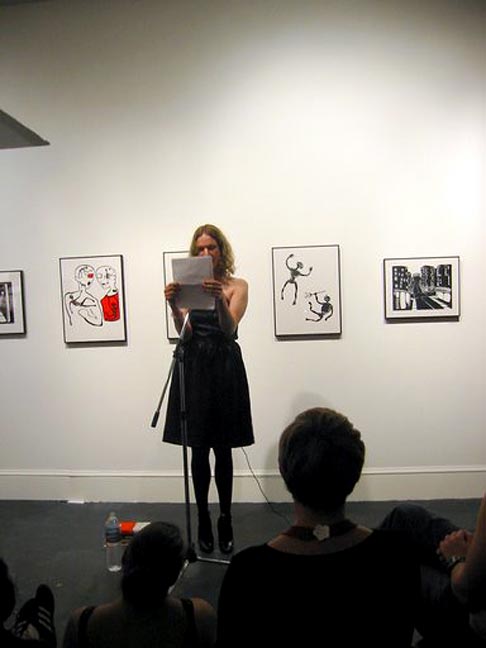 Art + erotica reading.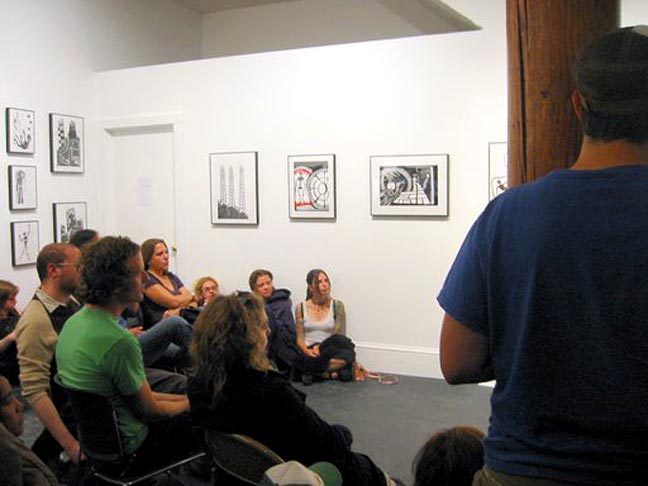 Art - erotica reading attendees.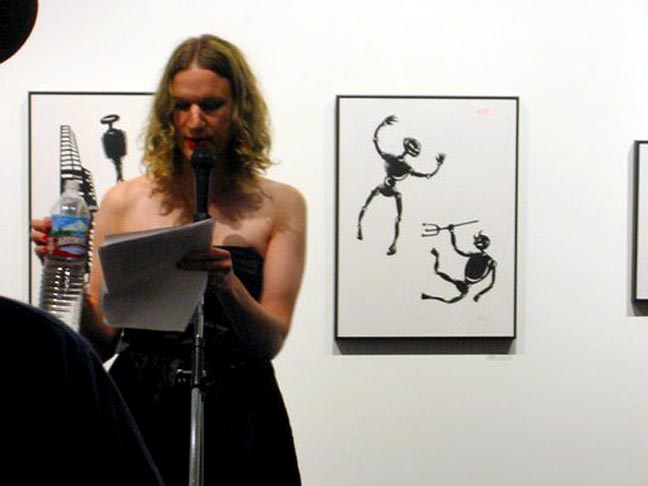 Art + erotica reading.


Art - erotica reading attendees.


***