SAN FRANCISCO ART GALLERIES - OPENINGS
LITQUAKE - BOOKED
ARTWORKSF - ONE NIGHT STAND
08.21-23.06
Litquake: Booked - A Benefit for Litquake.
Honorary guest authors: Daniel Alarcon, Robert Mailer Anderson, Clark Blaise, Peter Coyote, Beth Lisick, Bharati Mukherjee, ZZ Packer, Ishmael Red, Mary Roach, Deborah Santana, Amy Tan, Michelle Tea, Tobias Wolff.
Comment: Litquake is an annual event-- the authors & writers equivalant of a film or music festival-- celebrating the San Francisco Bay Area's rich literary scene. This year's Litquake runs from October 6-14, and features readings, lectures, panel discussions, performances, themed events, and more, headlined by approximately 350 local authors. If you read, write, aspire to write, or love readers or writers, Litquake is not to be missed. Tonight's event, Booked, is an official fundraiser for Litquake (most Litquake events are free to the public). Literarial luminarial glitterati in attendance (in addition to the honorary guest authors noted above) include Phil Bronstein (SF Chronicle editor), Ben Fong Torres (author, writer, columnist), Leah Garchik (SF Chronicle society scribe), Craig Newmark (Craigslist), and many more.
You don't see much art at literary events (so I took pictures of people instead), but one piece I zero in on is an original silkscreened broadside advertising a Richard Brautigan reading of "Trout Fishing in America" at San Francisco's Unicorn Bookshop circa 1967. It was donated by Brautigan's daughter, Ianthe, and sold at the silent auction for $200-- a bargain considering its rarity.
Ianthe Brautigan - vintage Richard Brautigan broadside bargain.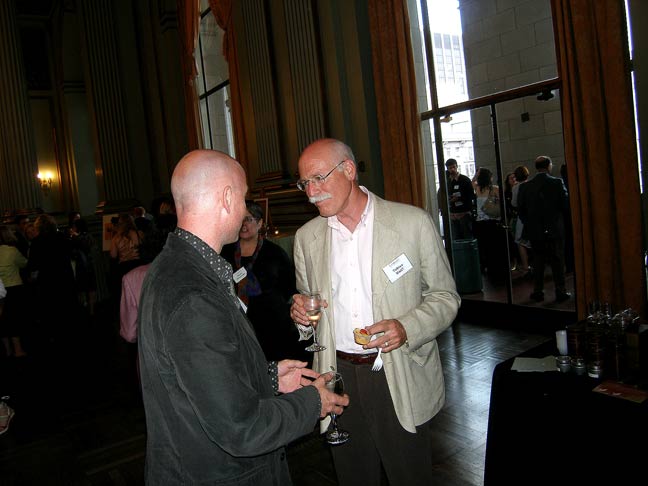 Memoir and short story maestro Tobias Wolff, right.


Short story writer ZZ Packer, center.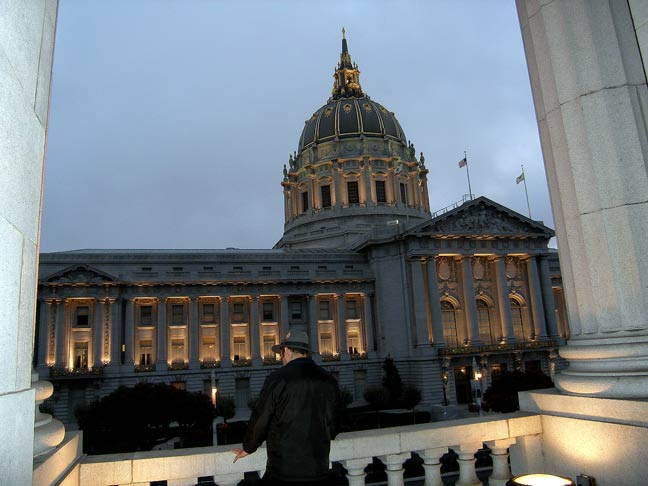 Quick breath of fresh air.


SF Chron editor Phil Bronstein (white shirt).


Novelist Amy Tan, right.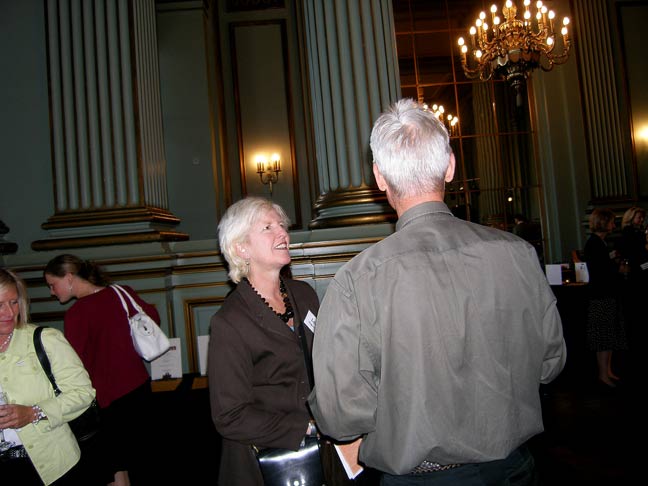 SF's chief chronicler of swank affairs Leah Garchik, left.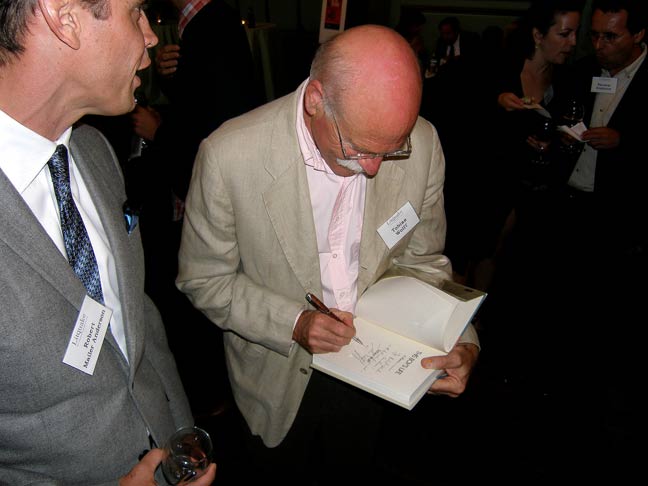 Tobias Wolff (right) certifies a title page.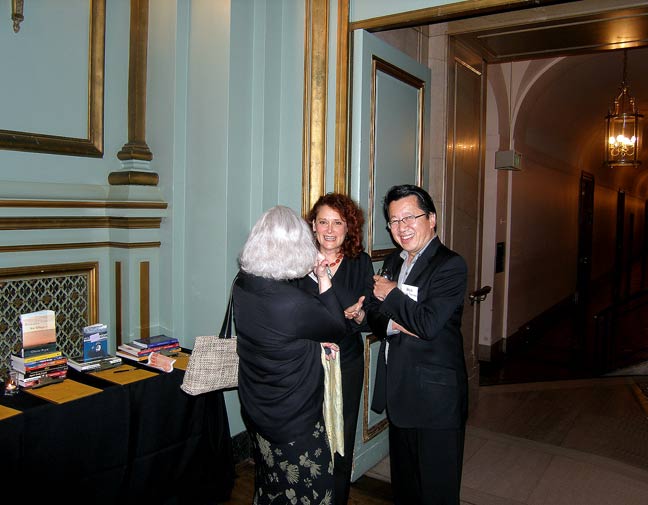 Former Rolling Stone Magazine editor etc Ben Fong Torres (right).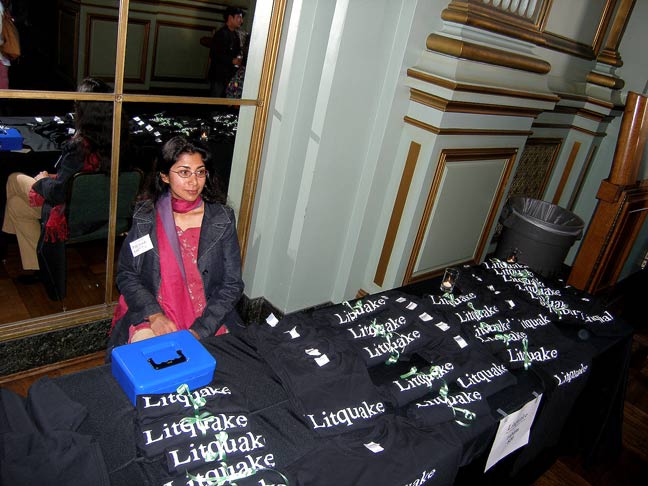 Official Litquake gear.


***
ARTworkSF: 9th Annual One Night Stand.
Artists: Eric Stampfli, Ericka Yanina, Harvey Weinman, Robert Gepford, Catherine Merrill, Big Al Lopez, Andrew Juris, Richardo Angel Norte, Vivian Giourousis, Teresa Moore, Jennifer Morris, Heather Hanan, Jennifer Mack, Maria Bartola Mejia, Alisa Lowden, Michael Childs, Scott Tracy, Suzun Hughes, Aisjah Hopkins, Natasha Dikareva, Maja Saphir, Stephanie Cunningham,Taiko Fujimura, Christine Cianci, Jamie Erfurdt, Geoffrey Rosenblatt, Jeff Codori, Shawna Scarpitti, Dan Cope, more.
Comment: ARTworkSF's annual One Night Stand is without doubt one of San Francisco's most delightfully wiggy wildside artistic adventures. Amusement options include live nude drawing, a man and woman covered in paint rubbing themselves into absolute abstraction, a live bondage demonstration with brightly colored ropes, occasional wandering naked people, the opportunity to recieve a Geisha-style spanking administered with your choice of flogger (including a long-stemmed flower, wooden spoon, etc.), loads of erotic art, readings, performances, music, astrology, costumery, comradery, and most importanty-- a safe secure gentle congenial comfortable place to express yourself and your sexuality and/or sensuality however you choose to do so.
Art.


Art.


Rope art.


Live drawing.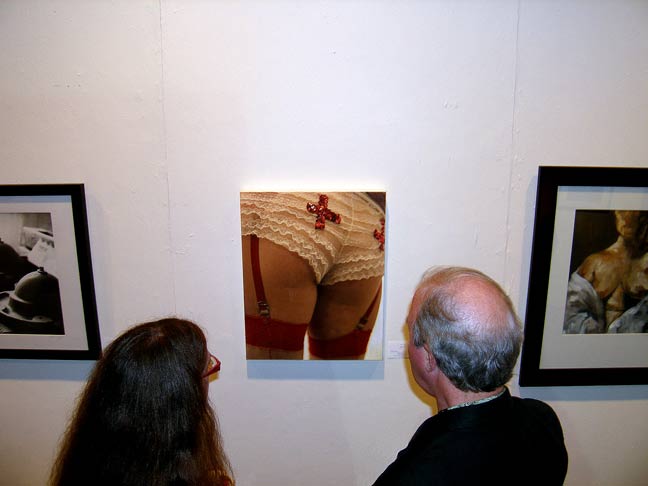 Here's a scene you don't see all that often.


Partners in paint.


Not sure.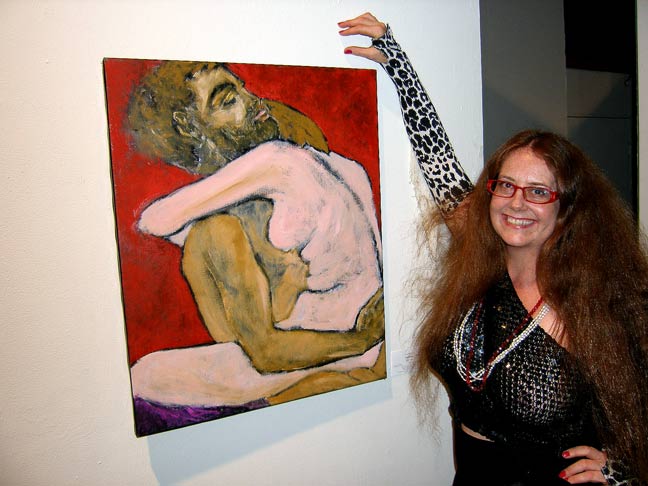 Jamie Erfurdt - art.


Floral flogging.


Next?


Art.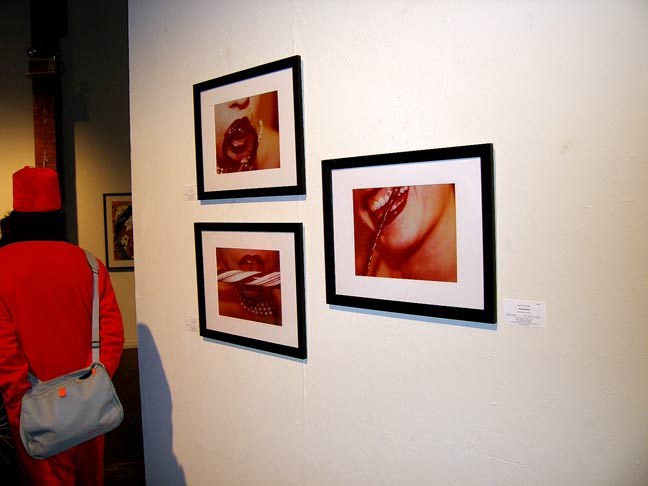 Art.


Art.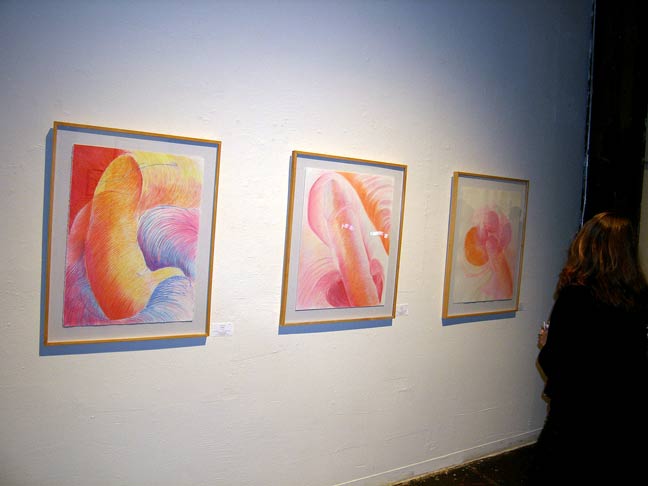 Art.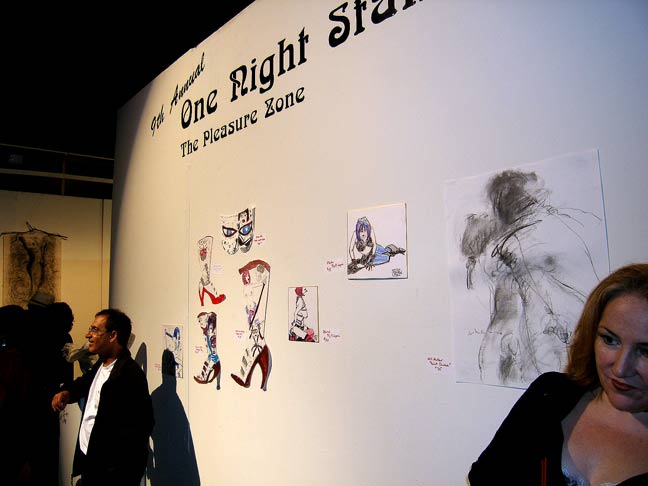 What it is.


Johnny Davis, event organizer (left).


***