SAN FRANCISCO ART GALLERIES - OPENINGS
GOOD VIBRATIONS - TIMBUK2 - MICHAEL THOMPSON FRAMING
08.23.07
Good Vibrations Gallery,1620 Polk Street Store: Debra Walker - Fruit, Another Luscious Moment.
Comment: Debra Walker knows art, as evidenced by the quality of her paintings of fruit embodying a notably diverse array of sizes, subjects, and mediums. And she knows politics, as evidenced by the turnout for her show, including State Senator Carole Migden, Supervisor Tom Ammiano, former Supervisor Harry Britt, and ancillary activist luminaries too numerous to mention. Walker is a rare talent, experienced and accomplished not only as an artist, but also in the realm of governmental affairs, making time in her life to advance the political and social causes of others with an admirable caliber of legislative finesse.
Art.


Art.


Art.


Art.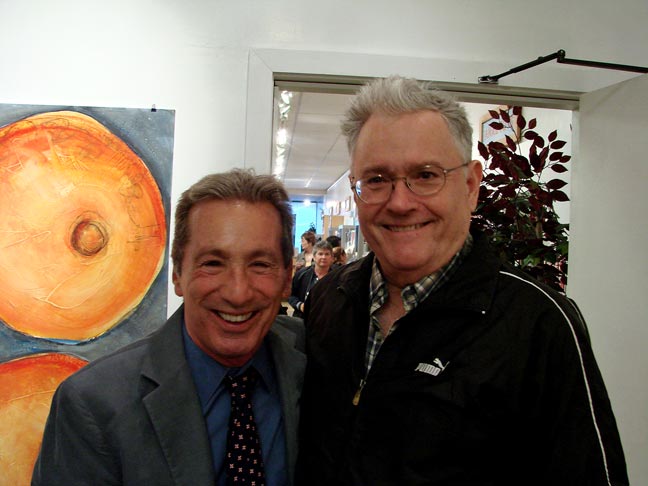 Supervisor Tom Ammiano - former Supervisor Harry Britt.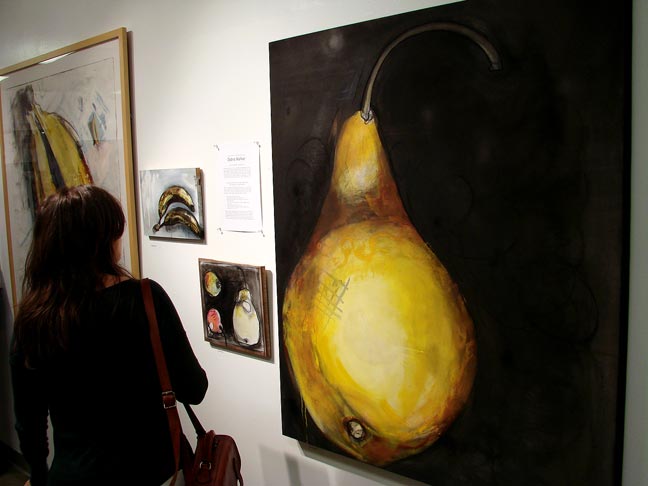 Art.


Art.


Tasty.


Art.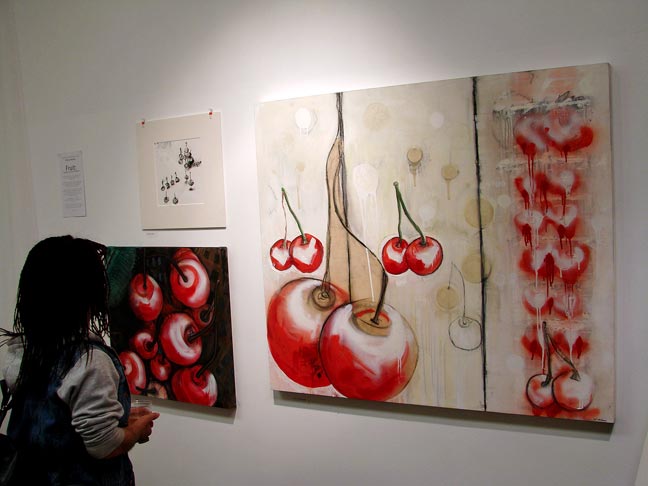 Art.


***
Tumbuk2: Benny Gold Limited Edition Messenger Bag Release Party.
Comment: In a fit of brilliance, complicated by the fact that I know absolutely nothing about the designs of Benny Gold going into this, I shoot a variety of bags by a variety of artists currently being showcased at the Hayes Street Timbuk2 store, none of which turn out to be by Benny Gold. Erk. So here's a link to Benny Gold's Red Tartan Limited Edition line, one of his designs being released here tonight. Timbuk2 began manufacturing quality bicycle messenger bags right here in San Francisco in 1989, and they continue to do so today, ultimately shifting the idiom from utilitarian to fashion statement (with utilitarian applications). Healthy turnout for tonight's event, by the way, and a slick showroom to shop. Always remember-- supporting our innovative creatives keeps San Francisco on the vanguard.
Messenger bag art.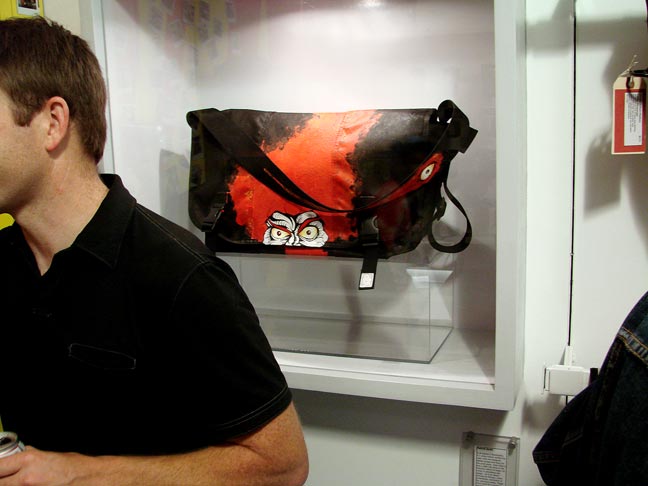 Messenger bag art.


Attendees.


Messenger bag art.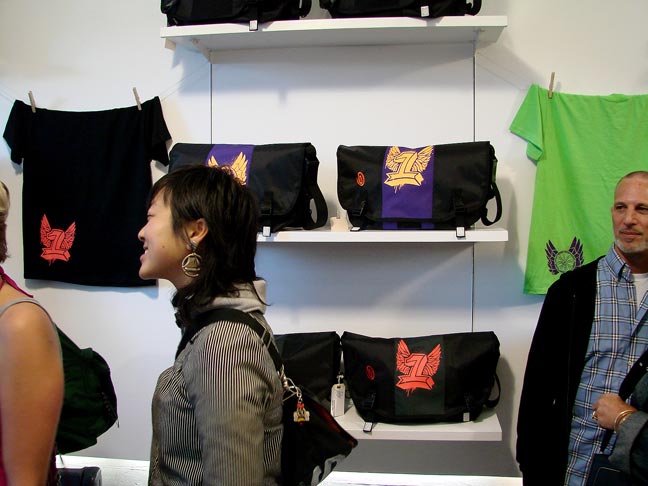 Messenger bag art & fashion.


Tunes.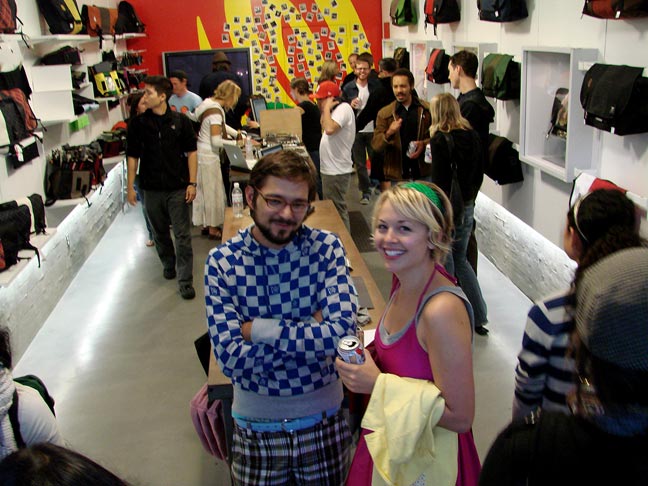 Aerial.


Door delta.


***
Michael Thompson Framing: Fundraiser for Camp Okizu Featuring the Art of John Van Hamersveld.
Comment: Camp Okizu serves families throughout Northern California impacted by childhood cancer, tonight with big help from a show and sale of art by noted poster artist John Van Hamersveld. Hamersveld's numerous cudos span nearly forty years and include the design for The Beatles "Magical Mystery Tour" album cover, the poster for the movie "The Endless Summer," and a bevy of iconic psychedelic rock show posters for legendary artists like Jimi Hendrix, Cream, and The Jefferson Airplane. Highlighting the event is an auction for a mint copy of "Magical Mystery Tour" signed by Hamersveld. Great cause; great artist; great party.
Art.


Art.


Signed Beatles Magical Mystery Tour album to be auctioned.


John Van Hamersveld - poster art.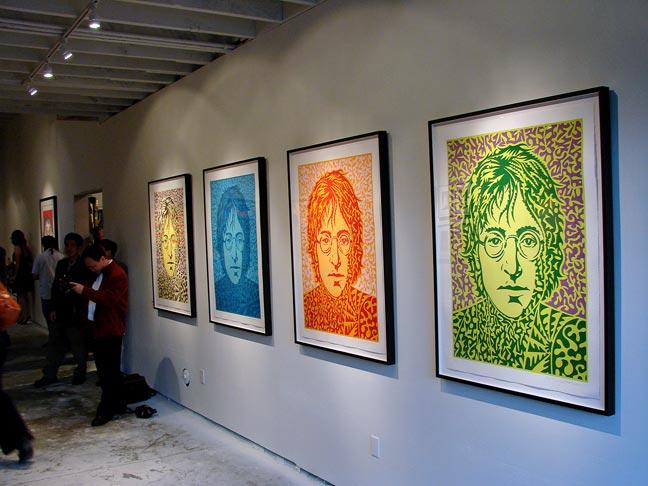 Art.


Art.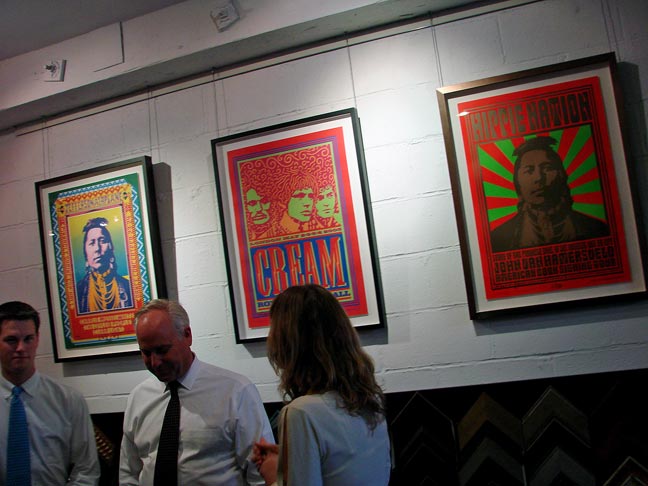 Classic poster art.


John Van Hamersveld autographs posters as they sell.


Classic poster art.


Turnout partial.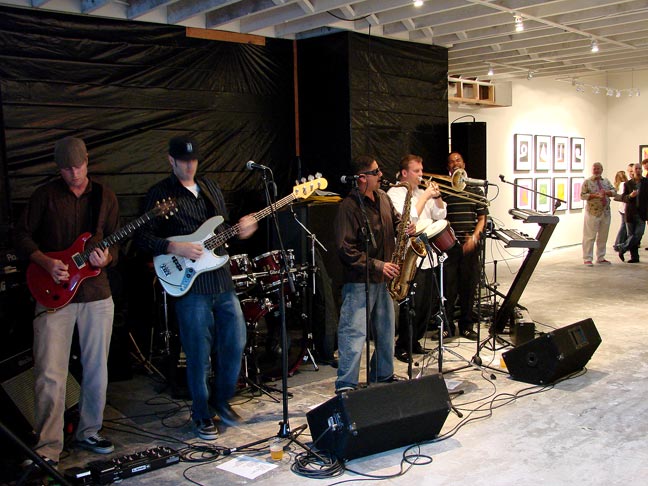 Tunes (these dudes are good).


Location.


***