SAN FRANCISCO ART GALLERIES - OPENINGS
PING PONG - MICHELLE O'CONNOR - ASPECT GALLERY
SPACE GALLERY - ORANGE PHOTOGRAPHY
08.24.07
Ping Pong Gallery: I Walked Through Seven Sad Forests.
Artists: Brian Wasson, Casey Logan, Theresa Ganz.
Comment: Three artists make art about human impact on earth's fragile environment including global warming, changing weather patterns, depletion of natural resources, species extinction, and miscellaneous additional catastrophic stuff like that. The message, of course, is that things aren't getting any better-- only worse-- and time to act is running out, that is if we expect to survive.
Art.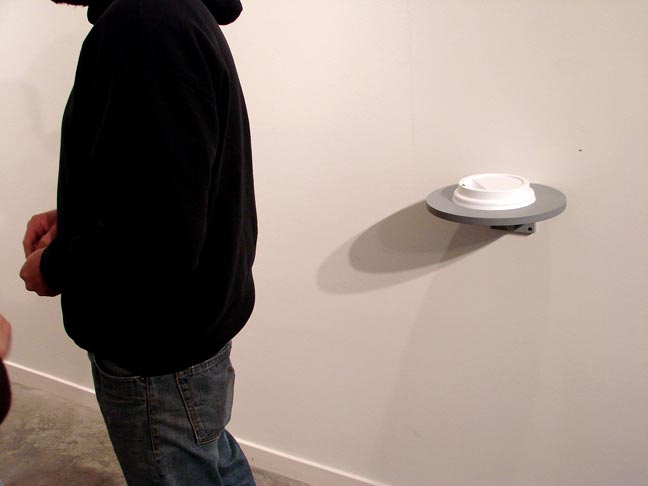 Art.


Art.


Do-it-yourself detritus art. Cut along dotted lines, crumple center, create waste, proudly display your impending landfill on wall. So simple; so effective. Like it.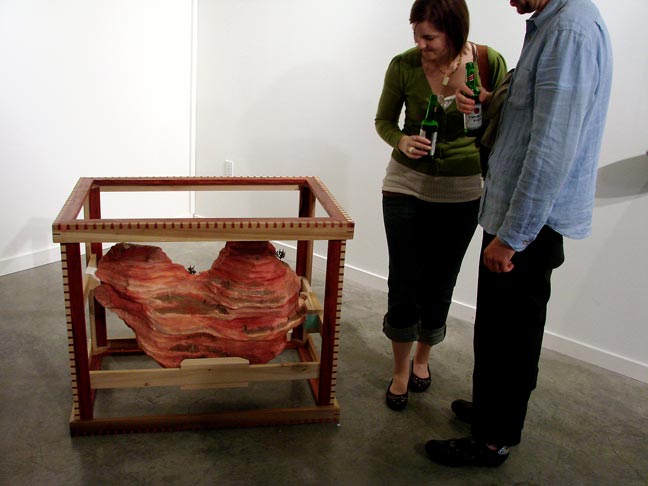 Erosion art.


Art.


Art.


***
The Michelle O'Connor Gallery: Conditions Are Perfect.
Artists: Kevin Haas, Chason Matthams, George Pfau.
Comment: Three-person show features the kaleidoscopic photography of Kevin Haas, complicated paintings by Chason Matthams ranging from curious to bizarre, and my cull for contender, layer paintings by George Pfau. Pfau paints a painting, then layers translucent fabric over it, then paints another painting over that-- kinda like a Big Mac or a Club Sandwich. Anyway, the surface layer tends to represent the face value of whatever issue a particular painting parses, while the lower layer deals more with the underlying undercurrents of said issue. And special added bonus-- it's good art-- maticulously executed. So you got proficient captivating visuals liberally seasoned with brain food, which can mean only one thing-- somebody give this dude a spin. Pretty good show all the way around.
Art (Kevin Haas).


Art (Kevin Haas, I think).


Art (George Pfau).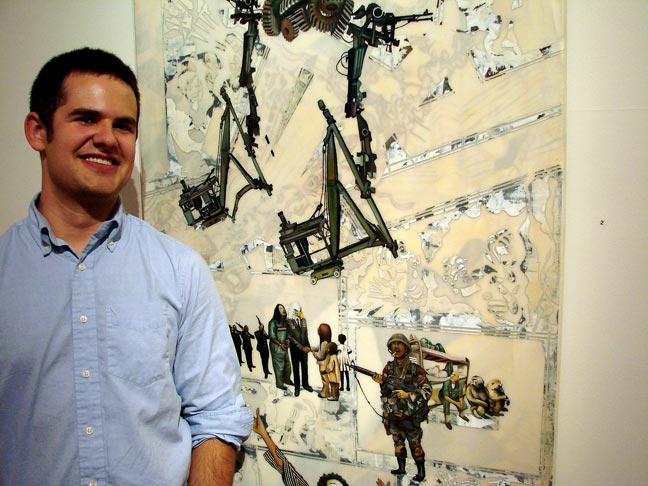 George Pfau - art (like it).


Art (Chason Matthams).


Art (Kevin Haas).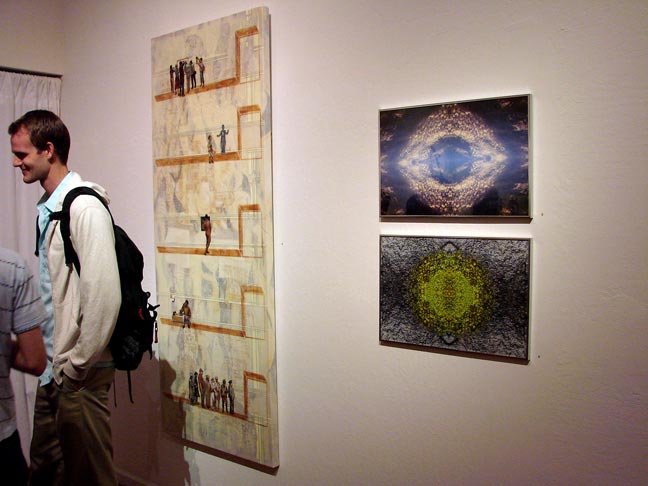 Art (George Pfau, left - Kevin Haas, right).


Art (George Pfau).


Art (Chason Matthams).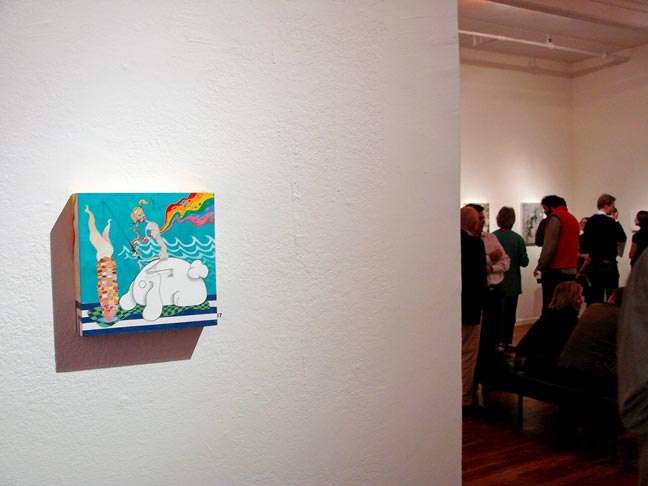 Art (Chason Matthams).


Art (Chason Matthams).


***
Aspect Framing & Gallery: Celebration of the Human Body.
Artists: Galina Milton, Thalia Stratton, Mark Boyle, Irina Milton, Kumara, Marion Wickstrom, others.
Comment: Journeyman figure painting, classic to contemporary, by artists from San Francisco to Seattle.
Art.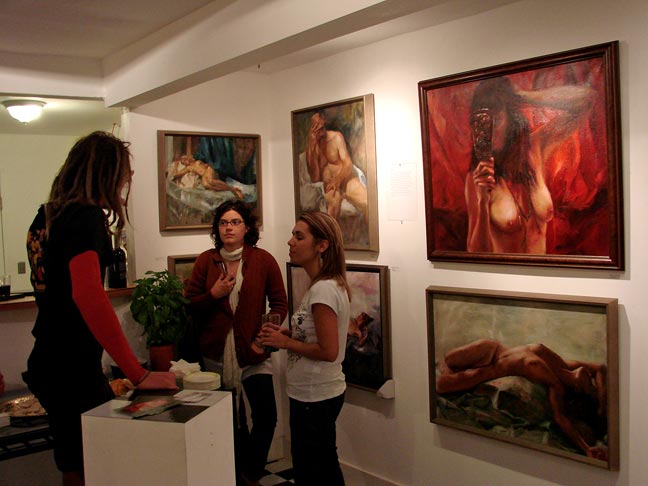 Art.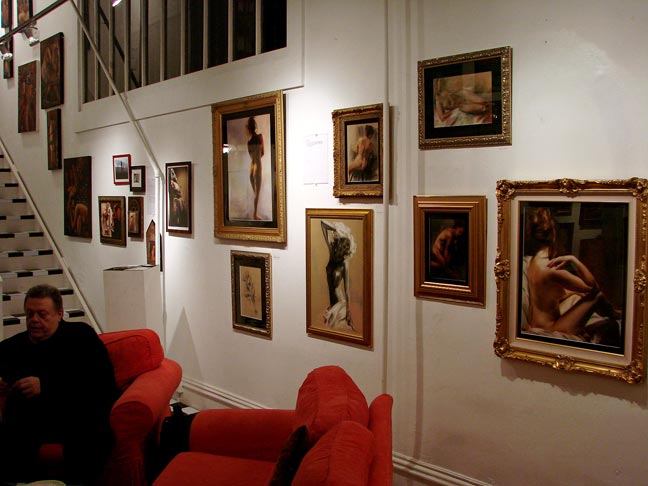 Art.


Art.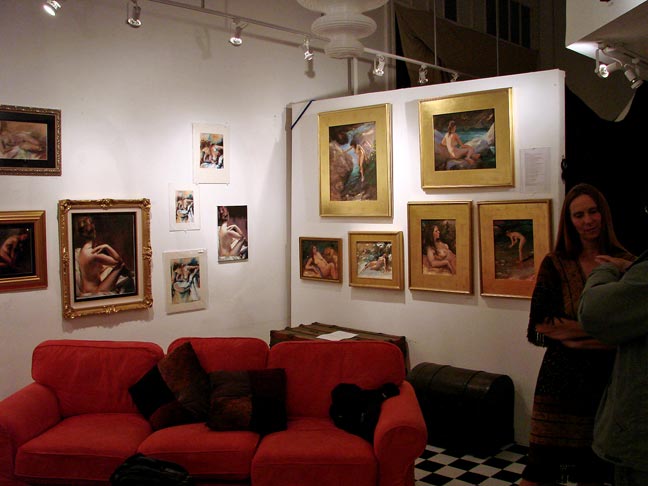 Art.


***
Space Gallery: 3rd Annual Graphic Content T-shirt Exhibit Reception.
Artists: Plenty.
Comment: Tons of T-shirts by local (and some not so local) designers are available for perusal and purchase at this donnybrook of a fashion event featuring rabid patrons rifling and ripping their favorite Tees off the racks. Certainly one of Space Gallery's most anticipated and successful annual events.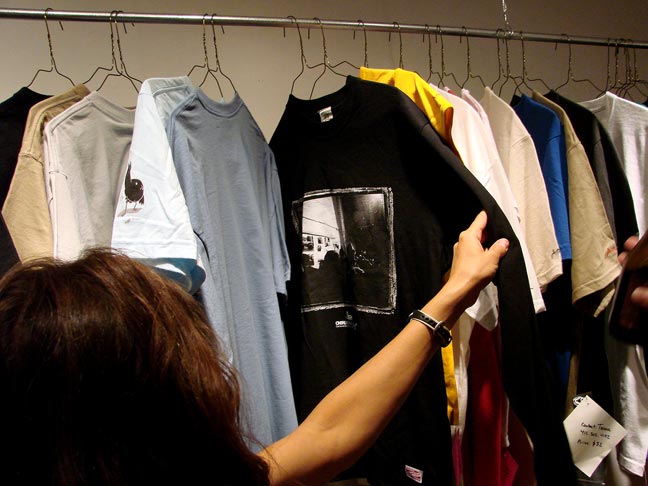 Panning.


Sifting.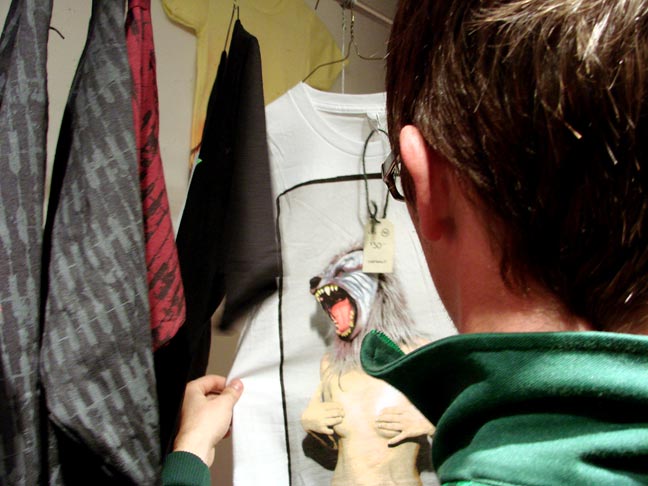 Assessing.


Designer DJ Zezinho + fashion, in town from Rocinha, Brazil.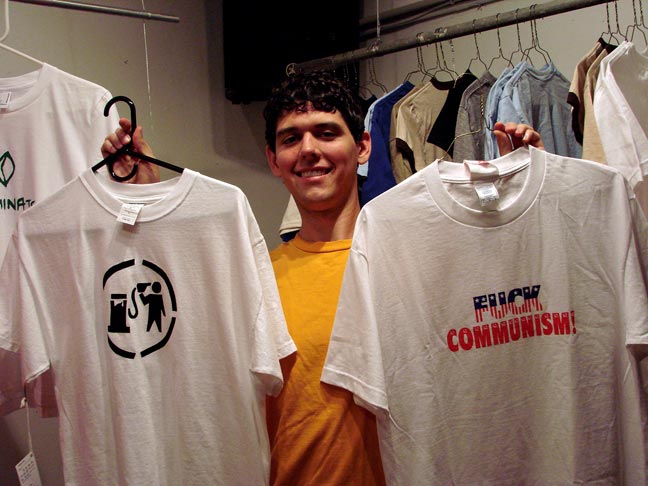 Dude contemplates possible purchase.


Fashion.


***
Addendum:
6th Anniversary party at Orange Photography.


Another from Orange Photography.


And one more from Orange Photography.


***