SAN FRANCISCO ART GALLERIES - OPENINGS
GARAGE BIENNALE - ARTSF
BROWN BEAR - RED INK STUDIOS
08.25.07
Red Ink Studios: The Collective Show.
Artists: Brad K. Alder, Ryan McJunkin, Alexandra Chowaniec, Jennifer Poon, Keef Ward, Angela Willetts, John Smiddy, Aondrea Maynard, Emily Wright, Sarah McMenimen, Syd Buffman, Kelly Beile.
Comment: Exhibit of current work of the Red Ink Studios artists-in-residence. Special-- 10% off any work purchased within ten days of the opening, but just between you and me (shhhhh), I bet they'll extend the deadline to appropriately deferential supplicants. Then again, I could be wrong. Wouldn't be the first time; that's for sure.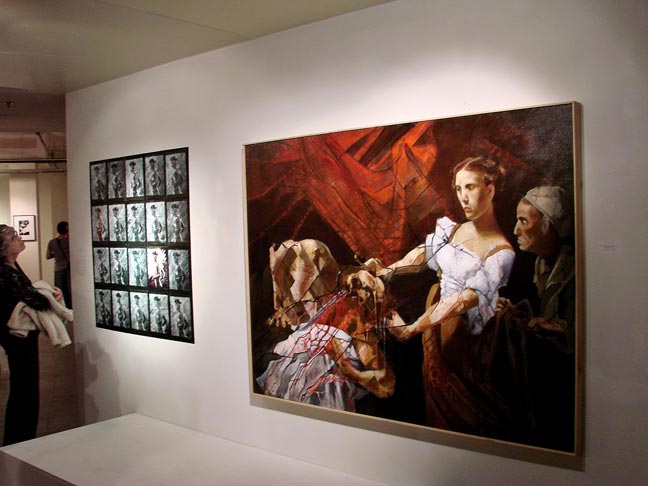 Art.


Art.


These are kinda interesting.


Art.


Not sure.


Art.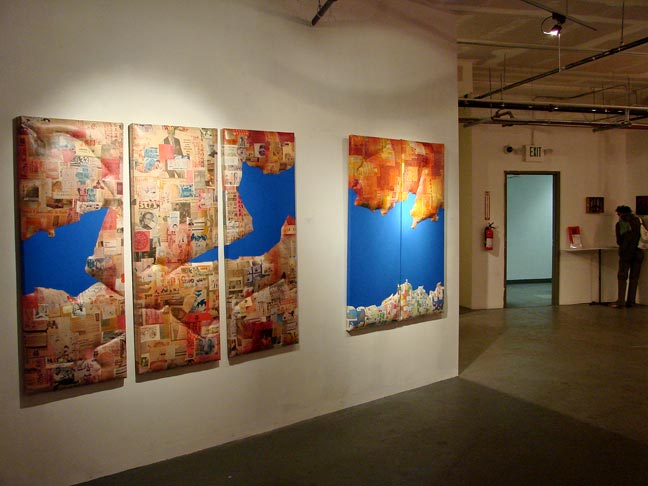 Art.


***
Brown Bear: Sara Thustra - Coffee, Cupcakes, and Dinner.
Comment: Sara Thustra eschews the technicalities of your standard art opening, ramping it instead into the realm of experience, providing not only a musical performance, but also a full dinner to all who attend. Not surprisingly, Thustra has garnered himself a rather ardent entourage, pretty much all of whom faithfully appear whenever and wherever a relevant event is at hand. As for the art, Thustra typically creates works on paper in limited edition-- text, prints, and more, correlated, and bound with hand-sewn bindings. Tonight's engaging offering is available for $50, I'm told, and I'd advise a purchase. In addition, he presents several paintings and a sculpture. Sara Thustra rules his realm, relentlessly baffling the status quo, and you can't say that about too many artists these days.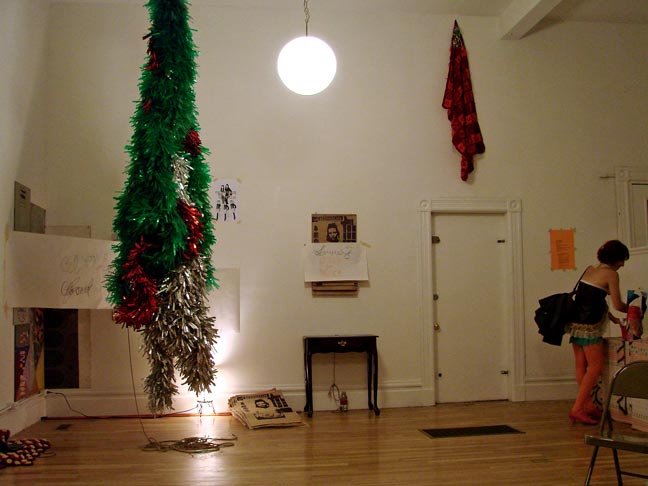 Before the performance.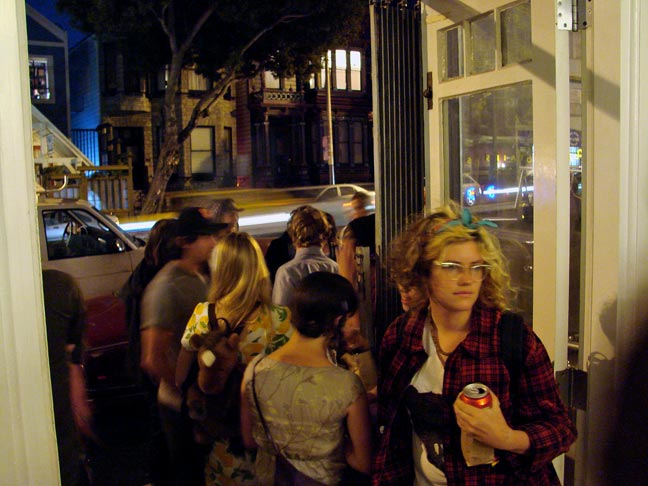 Coming in for the performance.


Performance.


Performance cont.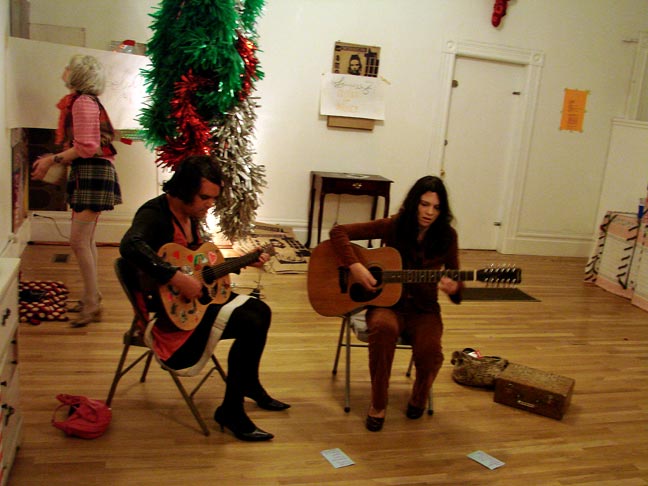 Performance cont. (like 'em).


Audience appreciating performance.


Performance complete. Time for dinner...


... and dessert.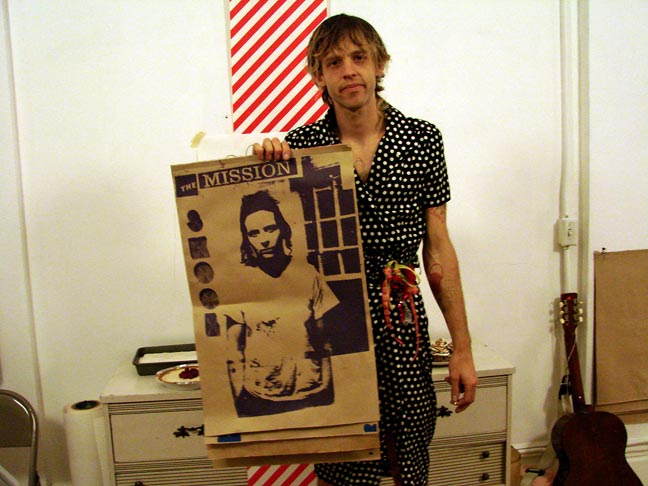 Sara Thustra - limited edition art.


Art.


Art.


Art.


Art.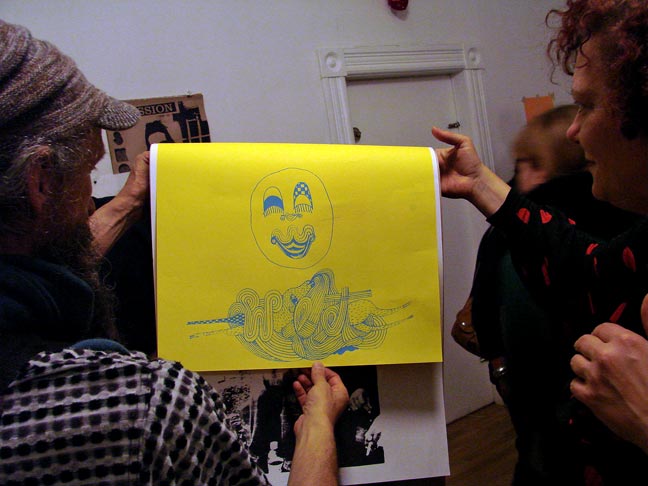 Art.


***
Garage Biennale: Food for Thought.
Artists: Terri Cohn, Barbara Garber, Bryan Hewitt, Laura Parker, Vita Hewitt.
Comment: Art and performance about food. I belly up to Laura Parker's "Taste of Place" bar where I am instructed to swirl a wine glass full of liquified soil, inhale the bouquet, and then sample produce grown in that soil in attempts to "taste" that bouquet in those samples. And yes, I can. There's something I'd never thought about-- that produce actually assimilates the "flavor" of the soil it is grown in. Ahhh... the educational perks of art. Nicely done, Laura Parker. Additional activities include Barbara Garber proving that seven people cannot simultaneously sip tea from conjoined septuplet cups, a subterranean mushroom installation, baking your own bread, and making coleslaw with a 2X4.
Hmmm. This looks interesting. Let's have a look.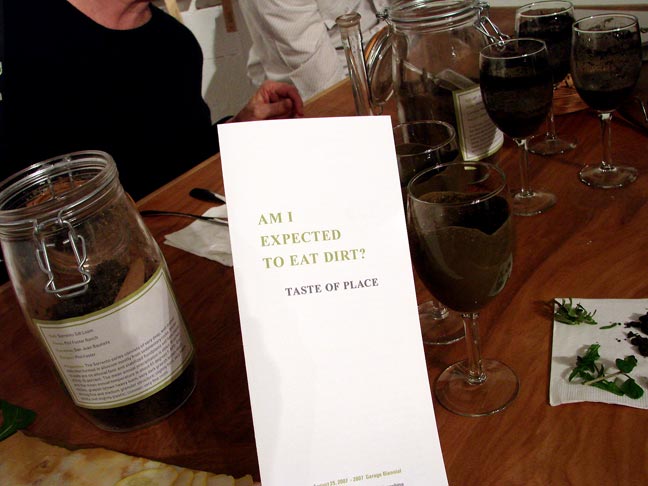 Literature explains "dirt tasting."


Dirt sniffer sniffs dirt.


Conjoined septuplet cups (right foreground) - slaw stand (left rear).


Barbara Garber debriefs on conjoined cup slip-up.


Subterranean shroom installation.


***
ArtSF: People That Hate People... That Paint People - An Evening of Art, Noise, Blood, and Burlesque.
Artists: Steven Johnson Leyba, KayTwo, Kasper, Amelia Lewis, Tom Curtis, Sharon Curtis, Chris Trian, Eirik, Robert Bowen, Satyr, Salem 632, Alix Pola, Joe Twisty, Allysun Dutra, more.
Comment: As you might surmise from the show's title, the art on display is not necessarily pretty, but it is pretty good. Always remember-- it takes precisely as much talent to make art that's pretty as it does to make art that's not pretty.
Art.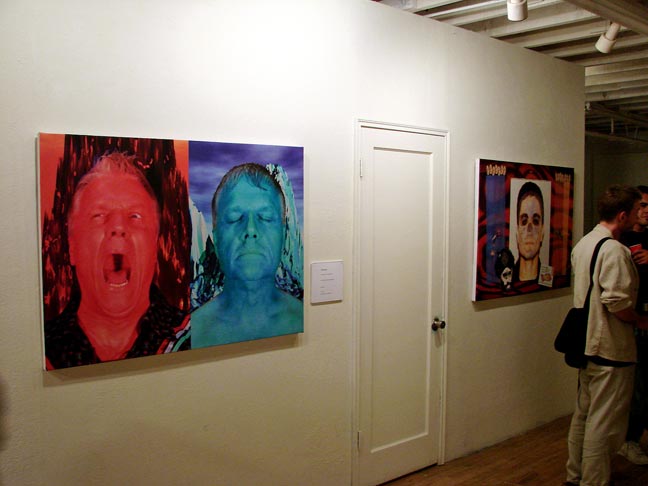 Art.


Art.


Art.


Art.


Art.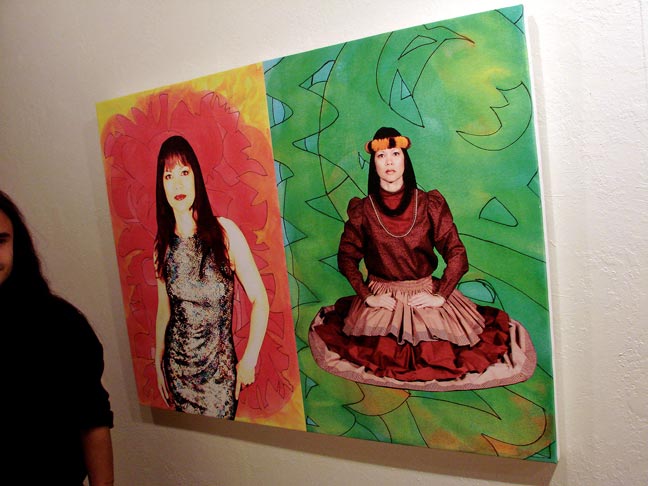 Art.


Art.


Art.


Art.


***