SAN FRANCISCO GALLERY OPENINGS
ARTS COMMISSION - SPACE 743
MIXEDUSE MODERN- WAREHOUSE 1310
BUILDING 239A FORT MASON - PURPLE SKUNK BOARDSHOP
08.26.05
San Francisco Arts Commission Gallery: Midori Harima - Circumstantial Message.
Comment: 155 Grove shows can only be viewed from the street because the building needs retrofitting-- that's the gambit. Midori Harima works the setting with a clean competent orderly sculptural installation that "explores the surface as a layer that coexists with fundamental contradictions." Uh, OK. Her art is installed behind a translucent paper screen, so you can't see it during the day unless you look under the screen. But you can see it at night. I ask Harima about the see/no-see nature of her art, and get no answer I can hang a hat on (if I wore a hat, that is). When you make art, you have to think about the logistical idiosyncracies in advance-- not when some dude hits you up on the street for an expository. Another unintelligible coup for the SF Arts Commission.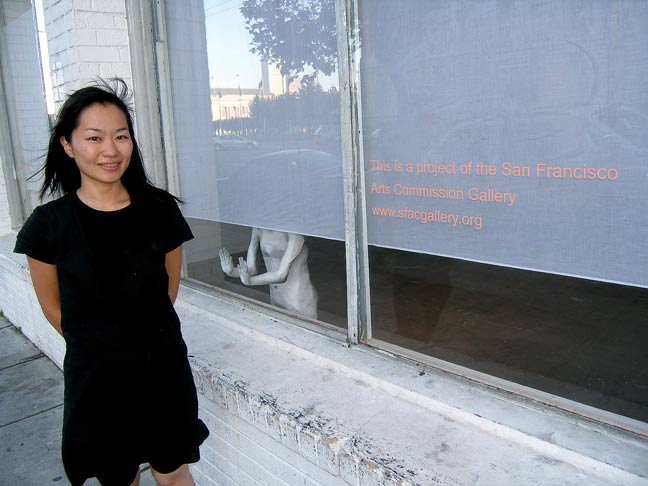 Midori Harima out front.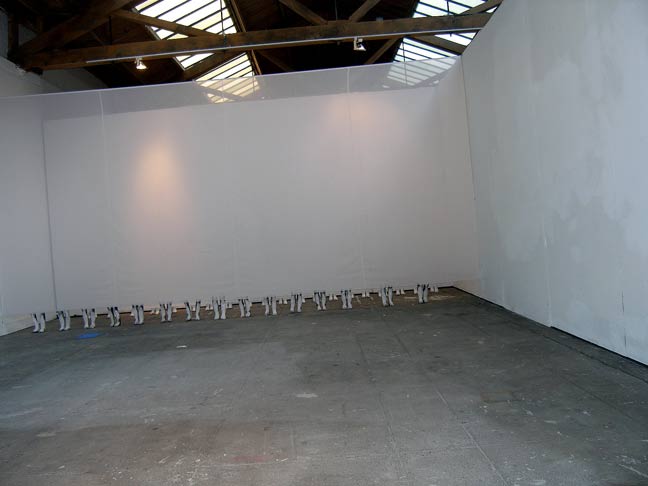 Looking under the screen, through the window.


He doesn't get it either (I overheard the conversation).


***
Space 743: It's All the Same.
Artists: Leigh Barbier, Drew Bennett, John Blackett, Mitchell Durkee, Barbara Florez, Joyce Fujiwara, Georgia Hodges, Jane Grimm, Carol Koffel, Nora Kruys, Michelle Leshner, Joanna Mendicino, Beth Ozarow, Joslin Pollard, Dan Solliday, Wendy Testu, Derik Van Beers, Jade Zabrowski.
Comment: Group ceramics show (plus a few paintings). Over 30 ceramic artists have studios at Space 743, also known as The Clay Studio. 18 of those artists are exhibiting tonight. The Clay Studio, in existence for nearly 20 years, is pretty much of an all-purpose full service ceramics/clay/pottery facility providing studio space, classes, gallery space, and plenty of opportunities for ceramic artists to share in the creative experience.
Art.


Art.


Art.


Art.


Art.


Art.


Planar.


***
Warehouse 1310: Come Clean.
Artists: Ramses, TxuTxo Perez, Andrew Putman, Marcus Civin, Ye Rin Mok, Walter Sulenta.
Comment: Here's the statement-- "Come Clean will examine the duality of human nature. It will explore the hiding of, exposing, discovering, and even coping with secrets and double lives. It will look at the many ways in which individuals are made up of contrary emotions and desires, and the ability we have to create parallel worlds." Clear, succinct-- I get it.
Now I'm gonna tighten it just a tad to show you how editing can make a good statement even better-- "Come Clean examines the duality of human nature, how we hide, expose, discover, and cope with secrets and double lives. It explores our contrary emotions and desires, and our abilities to create parallel worlds." A skilled editor works wonders with words, turns babble into beauty. People don't buy what they don't understand, and an editor helps more people understand what you write better. End of commercial.
Meanwhile, back at the show... Mixed bag; cherry exhibition space; miniature chocolate cupcakes; 3 rank freeloaders; and a naked guy in a mask (apparently a living breathing example of duality).
Art.


Art.


Art.


Art.


Art.


Art.


Art.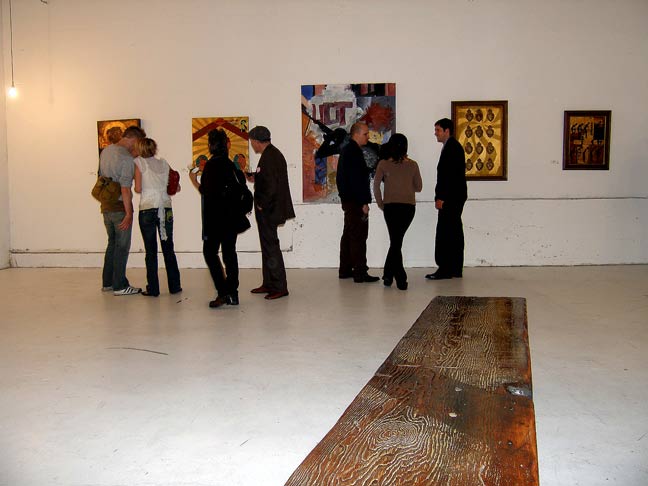 Art.


***
mixedUSE: Tim and Anna - Misuse - Mixeduse - Tim Sullivan, Anna Maltz.
Comment: MixedUSE continues to pulse with respectability, this time trotting out the antic Seventies-infused camp of Tim Sullivan and a wiggy headwear romp-- cranial canopies variously knit, cut, glued, and constructed by Anna Maltz. One of the more intelligent shows I've been to lately. Brain food good.
Art (Anna Maltz).


Art (Tim Sullivan).


Tim Sullivan - art.


Anna Maltz wears art.


Anna Maltz eyeball.


Anna Maltz - art.


Art (Anna Maltz).


***
Building 239A, Fort Mason: Let's Start a Fire.
Artists: Behida Dolic, Melissa Gahagan, Jennifer Marshall, Melissa McLean, Sarah Schlader, Casey Jex Smith, Jordan Stein, Irwin Swirnoff, Paul Wackers.
Comment: Recent SFAI Masters graduates, I think, curated by Jordan Stein.
Art.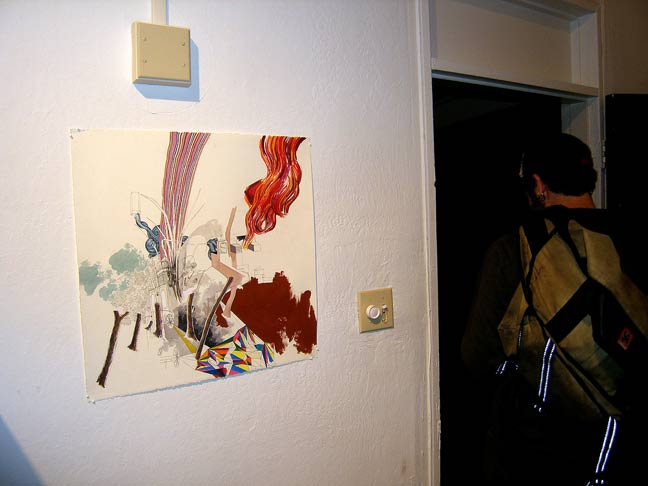 Art.


Art.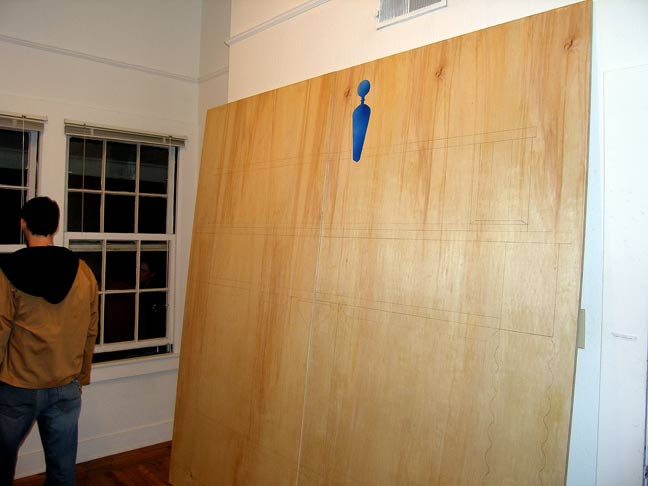 Art.


Structure.


***
Purple Skunk Boardshop: Skate or Die in San Francisco.
Artists: Andrew Pommier, Andy Jenkins, Andy Mueller, Brian Barneclo, Greg "Pnut" Galinksy, Joe Kral, N8 Van Dyke, Ferris Plock, Porous Walker, Sirron Norris, Ando, Arlo C. Jamrog, Ben Loiz, Bob Kronbauer, Bryan Collins, Chuck Anderson III, Craig Metzger, David Williams, Derrick Hodgson, Donald H. Pendleton, Dustin Amery Hostetler, Erik Reponen, Harsh Patel, Ian Johnson, Jemma Hostetler (nee Gura), Jessey White-Cinis, Jimmy Walker, Justin Harder, Justin Thomas Kay, Katsuo, Leri Greer, Liza Oesterle, Mark Andrew Penxa, Matt Desmond, Matt Dobson, Matt Owens, Michael Sieben, Mike Maxwell, Milano Chowkwanyun, Nate Hooper, Nate Dan Dyke, Nick Pritchard, Patrick Jilbert, Patrick Phegley, Patrick Riley, Peter Reid, Richard Salcido, Scott Barry, Steven Harrington, Thomas Brodahl.
Comment: Fifty artists are invited to make art on blank skateboards, the only rule being that every opus have a skull in it. 23 of the 50 boards are up for auction, 100% of the proceeds going to the Faribault Skatepark Association for a skatepark currently under construction in Faribault, MN, Joe Kral's hometown. Jumbo superstoked crowd, copious sidewalk spillage, refreshments galore, and plenty of good art.
Art.


Art.


Art.


Art.


Brian Barneclo (shown) and Greg Galinsky cover the Datebook.


Art.


Art.


Art.


Art.


Art.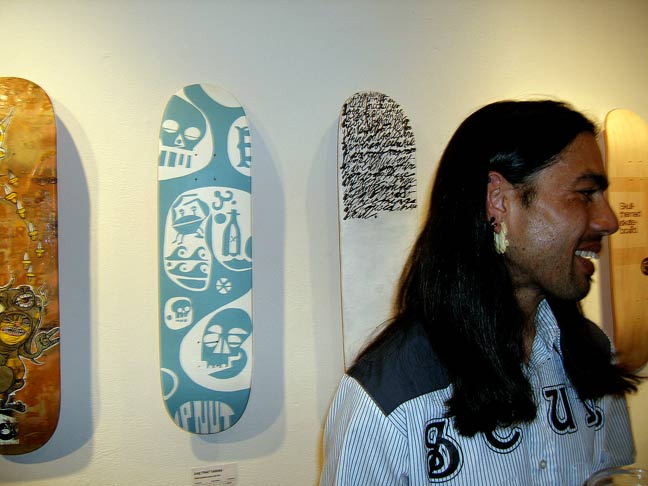 Art.


In.


Out.