SAN FRANCISCO ART GALLERIES - OPENINGS
LIMN GALLERY- CHARLES CAMPBELL GALLERY
LINCART - ARSPACE - GIANT ROBOT
08.26.06
Limn Gallery: Jyrki Riekki - Faustian Thirst; Bedtime Stories - Group Show.
Artists: Jyrki Riekki, J.D. Beltran, Lynn Criswell, Davis & Davis, Dane Howard, Evri Kwong, Michael McConnell, Brian McDonald, Lisa Solomon, Marta Thoma.
Comment: Limn swaps their typical clean-line ethos for a tumultuous saunter through the socio-politico-psychologico-cataclysmico commentario of Finnish artist Jyrki Riekki. I ask Riekki what the deal is with his apocalyptic predilection 'cuz he seems like a perfectly affable fellow, and he tells me he practices what he calls "creative violence" or in other words, just because you paint it doesn't mean you go out and do it.
It's kinda like Sigmund Freud's concept of sublimation where you channel what would normally be a destructive activity into a constructive one. I'll explain. Let's say you're a single dude here in America with an erection, but instead of having sex (which is bad unless you're married), you shoot bullets out of a gun (which is good no matter what). You essentially sublimate your sex drive by allowing a gun to take the place of your penis. So now, for example, you can go to Iraq and use your sublimated sex drive to help win the War on Terror. Isn't that marvelous?
Meanwhile back at Limn, the other half of the gallery is a group show about various facets of childhood, from dreams and fantasies to the impending implications of maturity.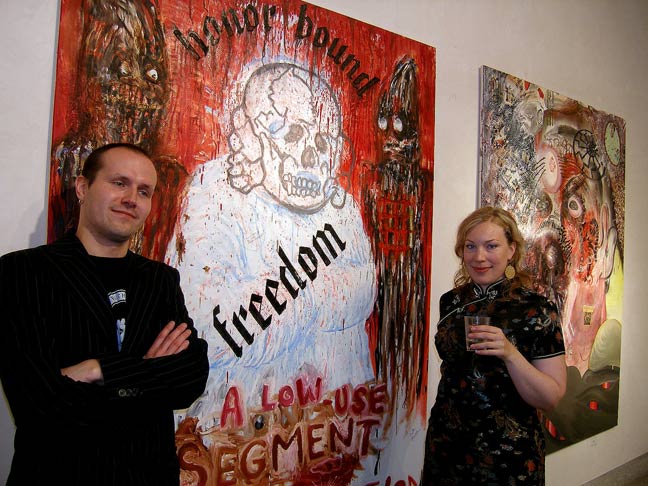 Jyrki Riekki - art - significant other.


Art (Jyrki Riekki).


Art (Jyrki Riekki).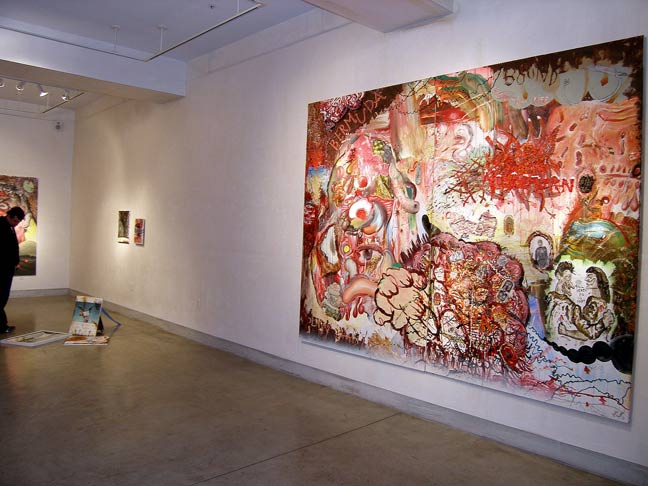 Art (Jyrki Riekki).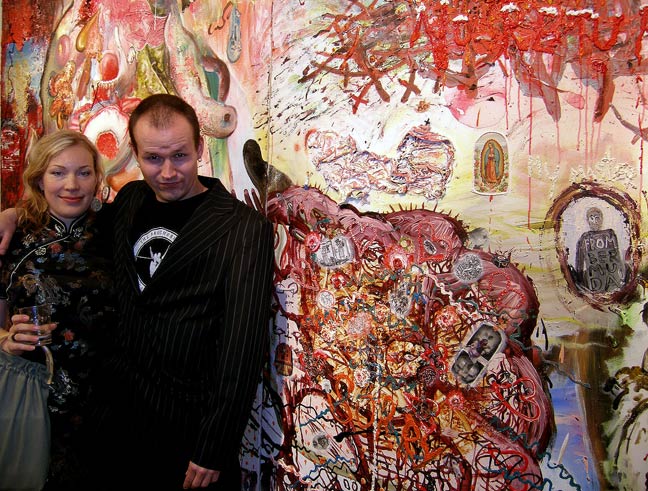 Significant other - Jyrki Riekki - art.


Art (group show).


Art (group show).


Art (group show).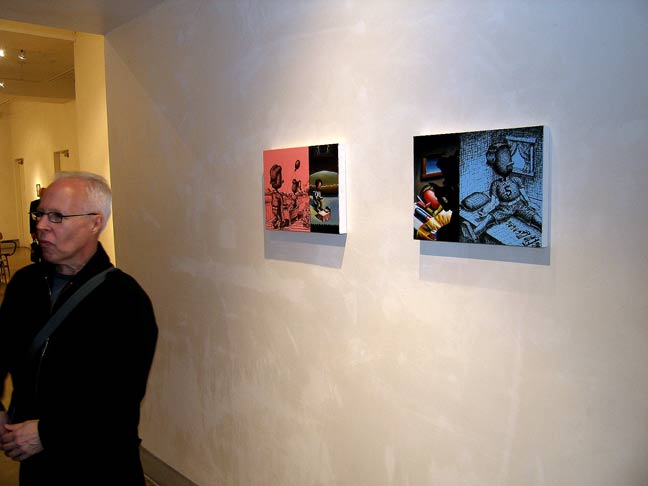 Art (group show).


Art (group show).


***
Charles Campbell Gallery: Modern Masters.
Artists: Stanley Mouse, Bill Weber aka El Gallo, Jason Griego, Nano Lopez, Bruno Aguirre.
Comment: Charles Campbell Gallery generously makes their space available to five career artists who show at various locations in the North Beach area with some regularity. Wanna meet 'em? OK. Here you go...
Nano Lopez - sculpture (like it).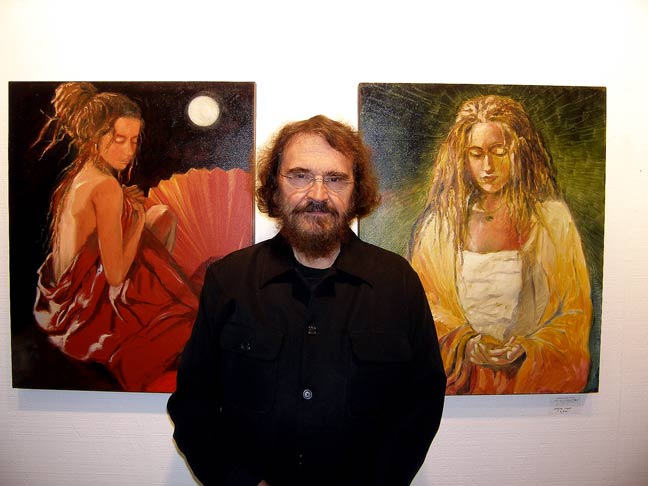 Stanley Mouse - art.


Bill Weber (aka El Gallo) - art.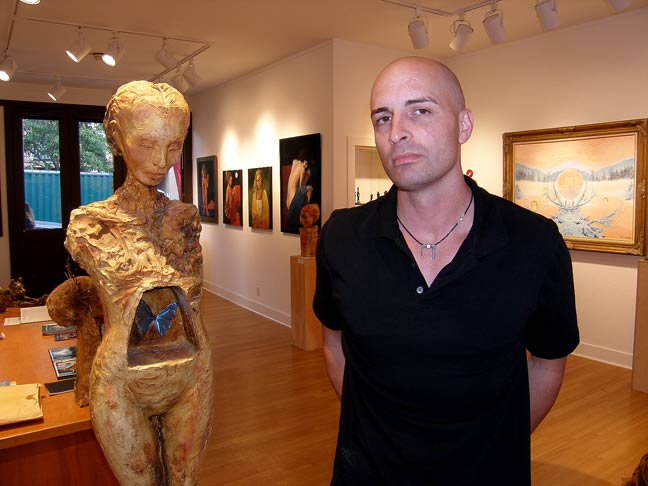 Jason Griego - ceramic art.


Bruno Aguirre (showing only his good side) - art.


More of Bruno Aguirre's good side - art.


Charles Campbell Gallery byway.


***
Giant Robot: Heisuke Kitazawa - We're Going to Miss You - PCP (aka Heisuke Kitazawa).
Comment: Heisuke Kitazawa tells me that in addition to making original art, he designs sets and characters for video games, does commercial illustration, magazine illustration, produces picture books, designs CD covers, and more.
Heisuke Kitazawa - art.


Art.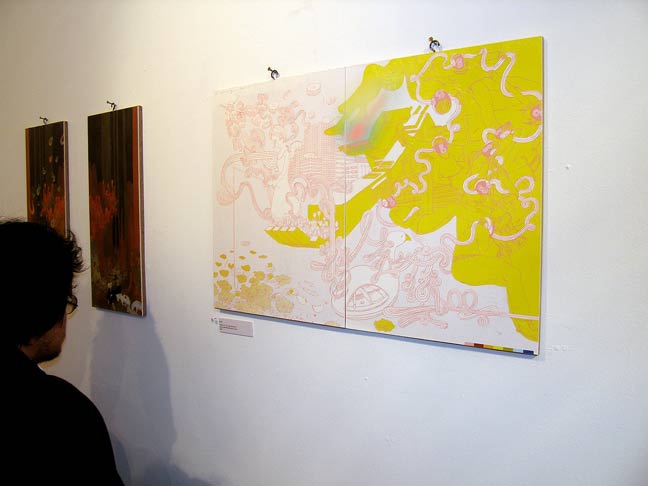 Art.


Art.


***
Lincart: Teenage "Punk" Band Extravaganza.
Bands: Hi Ho! Silver, The Guitarfish, TSA, Tinkture, First Amendment.
Comment: Lincart goes retro-Punk audio with an evening of live tunes for teens (complete with bona fide teens), the event conceived and produced by Roisin Isner of the band Tinkture. The sole admonition to those in attendance from Lincart owner/artist Charles Linder is no slam dancing near the art.
Tunes.


Teens.


Fashion.


Audience (pre mosh pit).


Charles Linder - thermometric fishing lure art ($6500).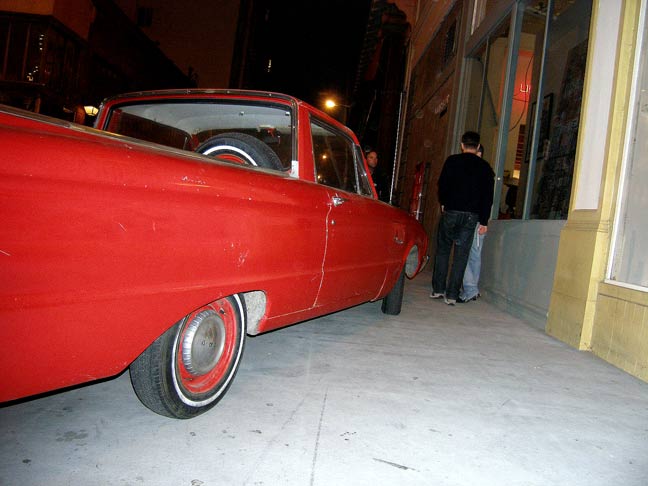 Out front.


***
Arspace: Get Off the Phone.
Artists: Will Hamersky, Marcus Murray, Darren Villegas, Ian "Fathead" Hill, Ade Lun Sec, Nic Hill, Rene Fressola, Trevor Ito, Dave Hardy, Zen Ten.
Comment: A meditative ode to that ubiquitous self-actualizer for obnoxious people, that ticket to taking your private life public, that reality distractor, and especially that road hazard, the cell phone. The other night, I'm driving behind a car that randomly stays stopped when a traffic light turns green, and alternatively slows down and then speeds off way too fast, all for no apparent reason. So I pull up alongside to see what the deal is, and it's some blowjob trying to drive and type into his Blackberrry at the same time.
Art.


Art.


Will Hamersky - Marcus Murray - collaborative art.


Trevor Ito - art.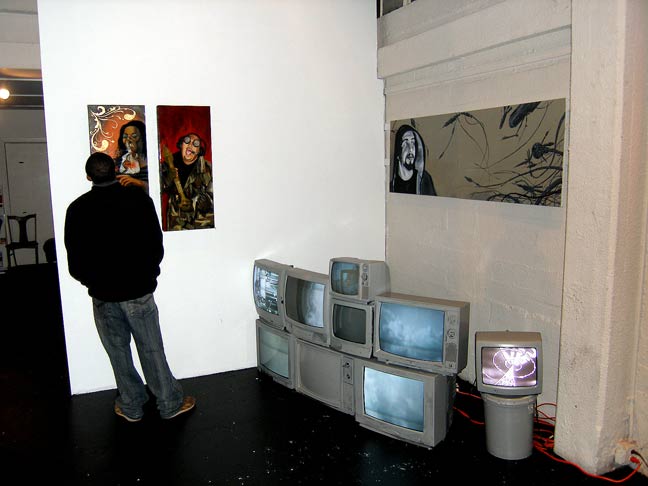 Video art (Nic Hill).


Art (Rene Fressola).


Assemblage art (Dave Hardy).


Art (Trevor Ito).


***