SAN FRANCISCO ART GALLERIES - OPENINGS
MARKET STREET GALLERY- ANAR
CELLSPACE - SPACE
08.31.06
Market Street Gallery: Retrospective Show and Auction to Benefit the Estate of Roger Licot.
Comment: Roger Licot's paintings are about half industrial, half erotica (cropped anatomical close-ups). The art's good; the opening bids are exceptionally reasonable, most well under $100. Attendance is light and I can't imagine that everything sold, so if you like what you see, inquire at the gallery. I'm sure they'll be able to set you up with something. The auction also includes a number of works donated by other artists.
Art (Roger Licot).


Art (Roger Licot).


Art (Roger Licot).


Art (Roger Licot).


Art donated by other artists.


***
CELLspace Gallery: First Buannual Cellspace Student Gallery Showcase.
Comment: Work by students who take art classes at CELLspace; also some work by instructors. The art's mainly stencils and photo-transfers.
Art.


Art.


Guillermo Godinez (artist/instructor) - art.


Art.


***
Anar at Hayes Valley Market, 580 Hayes St.: Anar-t Show of Emerging Iranian-American Artists.
Artists: Priya, Gelareh Rouesari, Aidin Massoudi, Amir Esfahani, Mashid Modares.
Comment: Edifying entertaining atypical show featuring the work of emerging Iranian artists. According to Anar's website, their mission "is to cultivate the next generation of leaders who will serve as vital representatives for the Iranian-American community in professional, civic and cultural circles alike." One little blip here-- the prices for several artists would certainly not be considered commensurate with their status as "emerging." Remember kids-- art prices are not pulled out of thin air. Once you set it, you gotta defend it. Art is not worth whatever you feel like it's worth just because you say so. That's not the way things work in the art biz.
Art.


Art (kinda like it).


Art.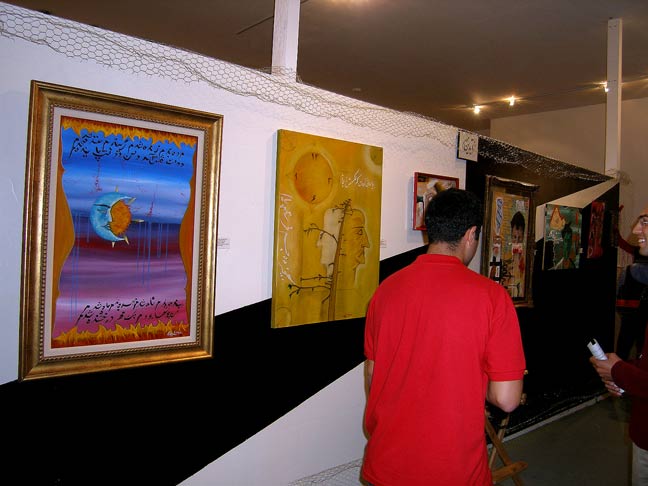 Art.


Fashion.


Art.


Art.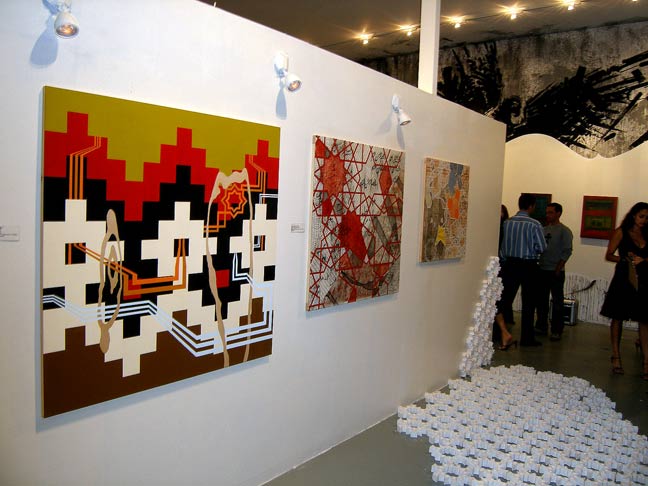 Art.


Art.


Art.


Overhead.


***
Space Gallery: Love and Hate - Versus Magazine SF Issue 005 Release Party.
Artists: RonnieBuders, Byron Brown of Virgin69, Emily Hughes.
Comment: Versus Magazine SF is "an independent lifestyle, music, art, and fashion publication focused on San Francisco and the greater bay area."
Art.


Art.


Art.


Art.


Art.


***