SAN FRANCISCO ART GALLERIES - OPENINGS
OXENROSE SALON - DAVID CUNNINGHAM PROJECTS - 301 BOCANA
MISSION CULTURAL CENTER - BERNAL BUBBLES - D-STRUCTURE
ASPECT GALLERY
08.30.07 - 09.01.07
Oxenrose Salon: Dustin Aksland & Mathew Scott - S.O.S., A Collection of Photographs.
Comment: Slice of life imagery, trending pensive, at times approaching melancholy, with Dustin Aksland addressing the matter more from the landscape perspective while Mathew Scott angles more toward personality studies, however each appear to do both.
Photography.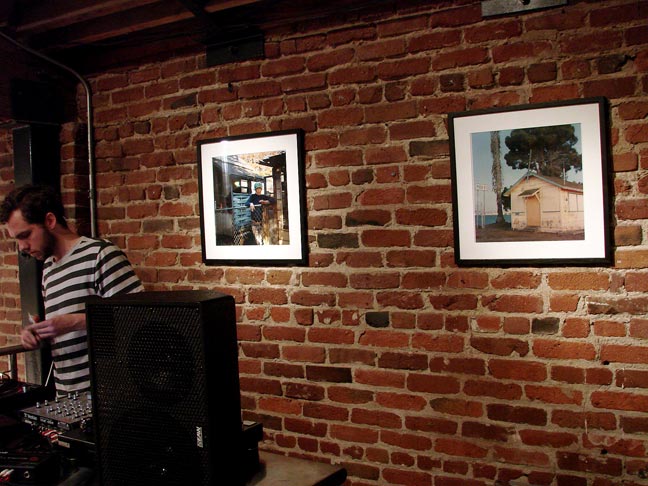 Photos.


Images.


Photographs.


Photography.


Photographica.


Venue.


***
Mission Cultural Center for Latino Arts: Calixto Robles - Creating New Roots.
Comment: Impressive Calixto Robles retrospective fills the main gallery, the best display of his art I've seen so far, and recommended viewing for all. Yes, dear artsters, he hauls out the good stuff for this one-- paintings, prints, the works. Robles never strays far from his Oaxacan roots, yet his art mystically embodies the essentials of the Latino-Americano ethos about as effectively as that of any artist out there.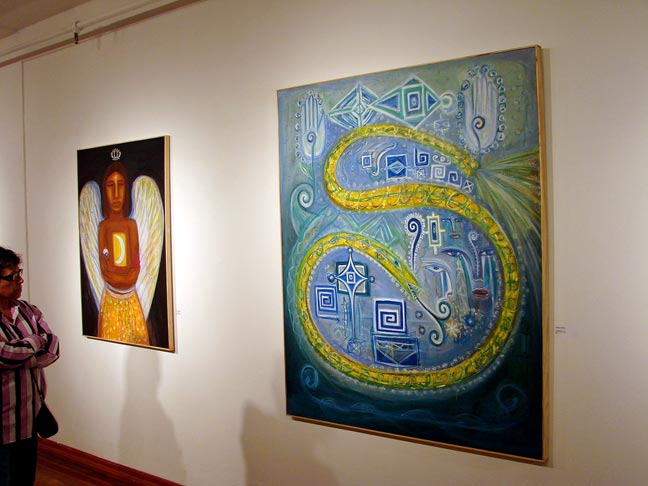 Art.


Art.


Art.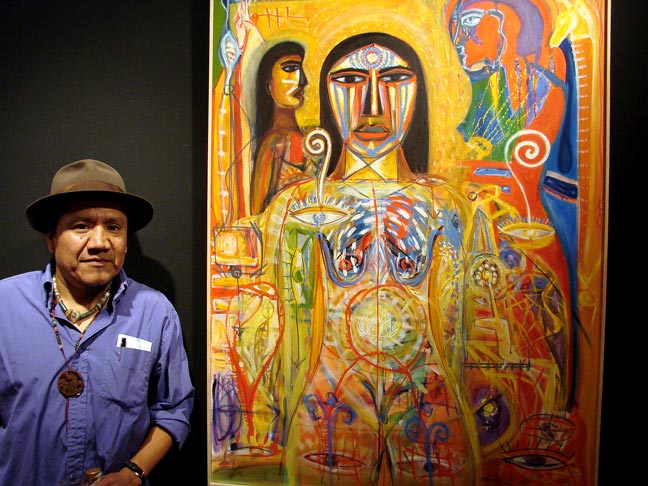 Calixto Robles - art.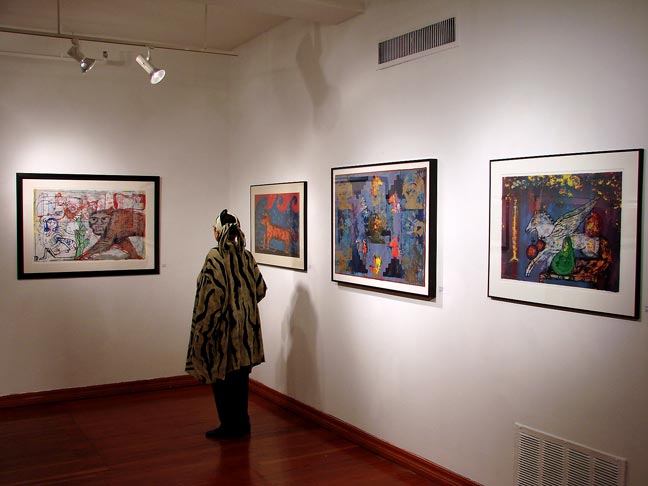 Art.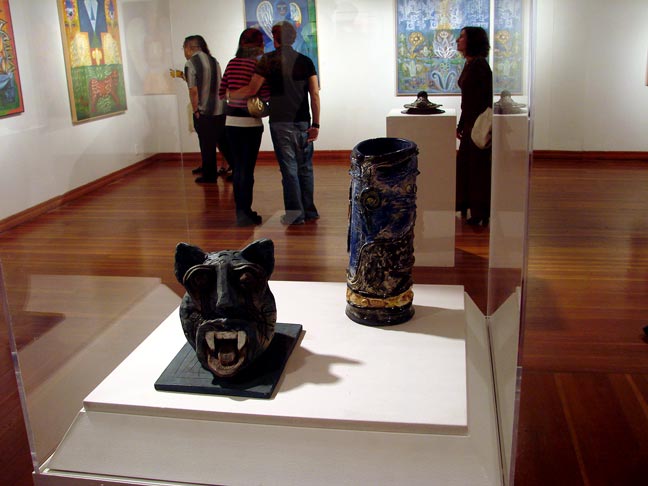 Art.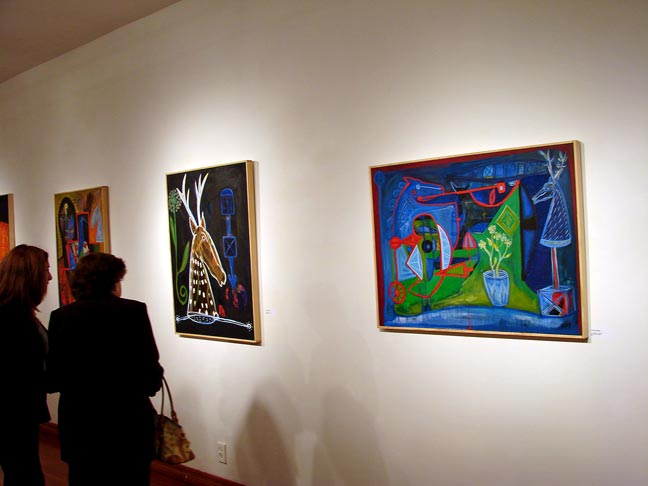 Art.


Art.


Art.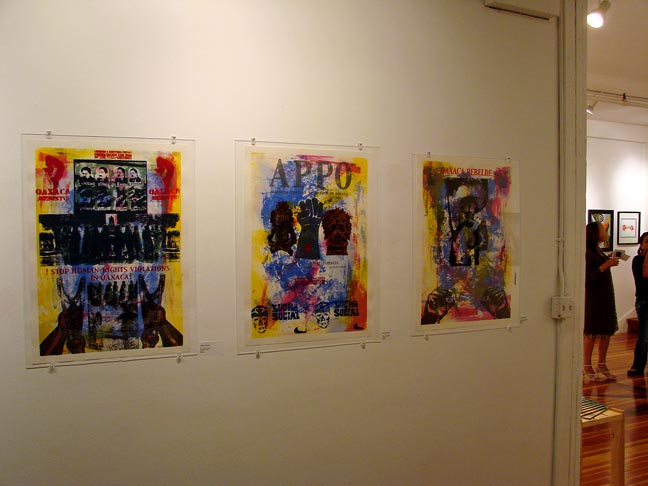 Art.


Art.


Traditional Oaxacan music.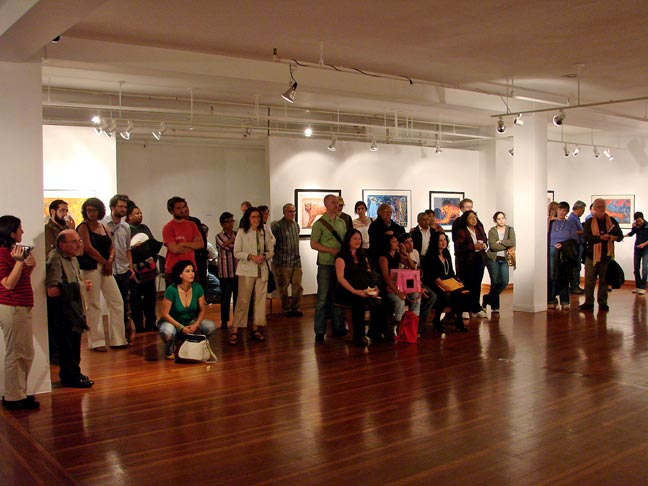 Appreciating traditional Oaxacan music.


***
301 Bocana Gallery: James Orlando - Our Dreams Will Take Us Home.
Comment: A curious agglomeration of art by James Orlando and art that's been collected by James Orlando, the art that's by James Orlando being about James Orlando's collecting of art. The term "art" is interpreted rather broadly, and the process of collecting advanced as an exercise in self-awareness. The basic idea is that the art, objects, arrangements, and assemblages on display here are presented as vehicles or means to contemplation, introspection, understanding, and actualization of the artist and collector aka James Orlando. The individual works are each accompanied by healthy explanatory, so make sure you bring enough change for the parking meter.
Art.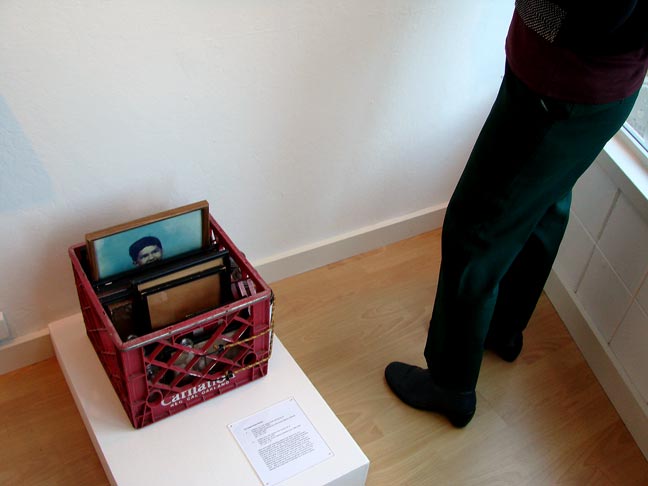 Art.


Art.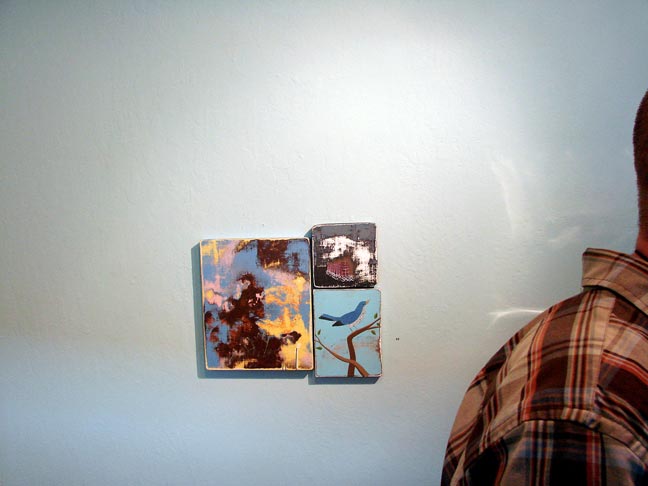 Art.


Art.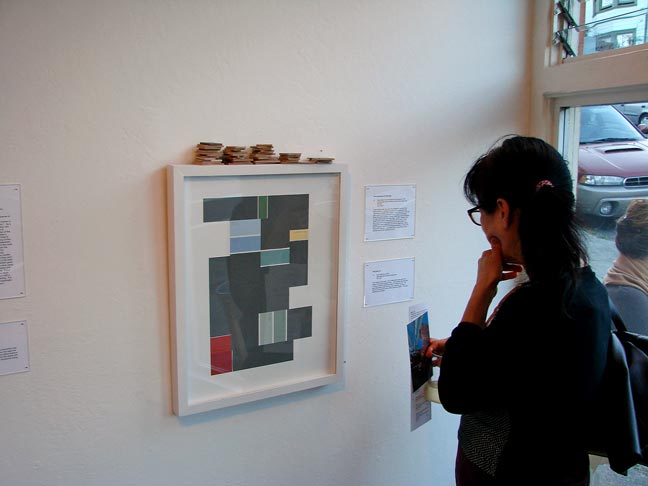 Art.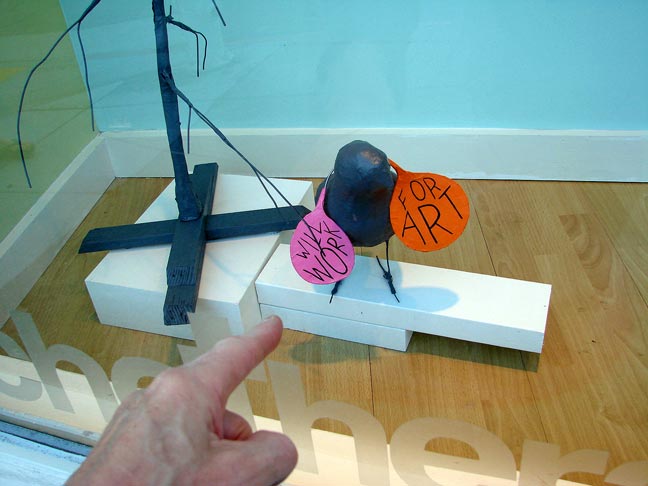 Art.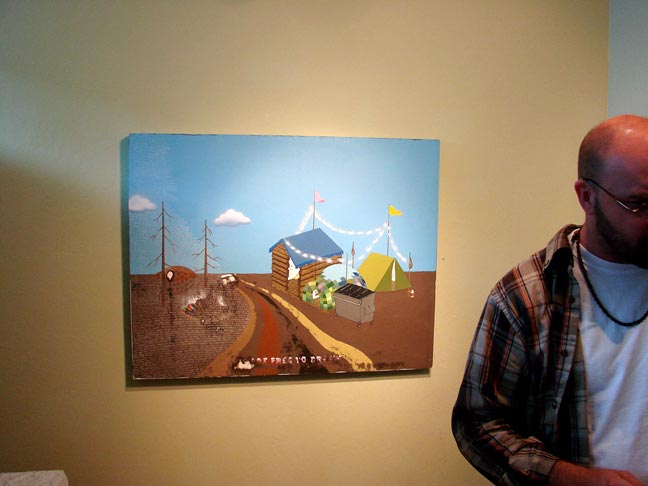 Art.


***
David Cunningham Projects: Strange Weather.
Artists: Evan Bovenzi, Lauren Davies, Liz Hickok, Chris McCaw, David Maisel, David Maxim, Joan Perlman, Simon Reilly.
Comment: First things first-- this is grand opening of David Cunningham Projects, a gallery situated in a remodeled street-level garage of an old Victorian on Folsom Street. The space is so superbly spiffed, you walk in and feel like you're at one of them fancy schmancy downtown galleries. If you're gonna do it, do it right-- and this is about as right as it gets. Don't believe me? Go and see for yourself.
As for the inaugural show, it's tight, well-scripted, and precisely like the title says-- all about weather-- variously atypical looks at the earth, the environment, where we've been, and where we're going. The works range from serious to amusing, the amusing segment anchored by Simon Reilly's campy video of a faux Mt. Vesuvio eruption and Liz Hickok's Palace of Fine Arts JELL-O quake.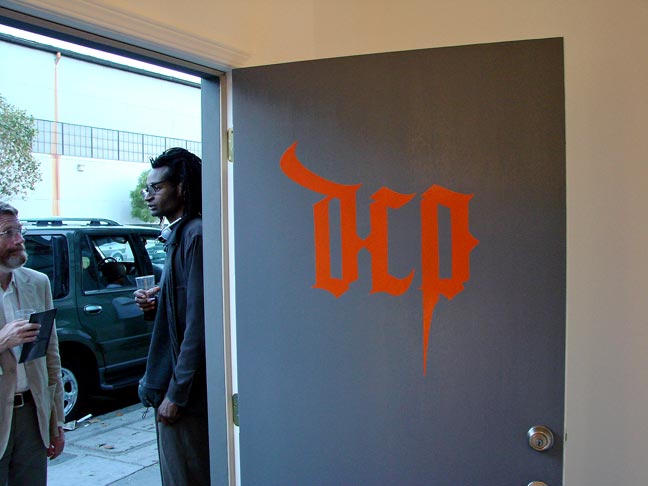 Here we are.


Art (Eva Bovenzi).


Art.


Art.


Art.


David Cunningham.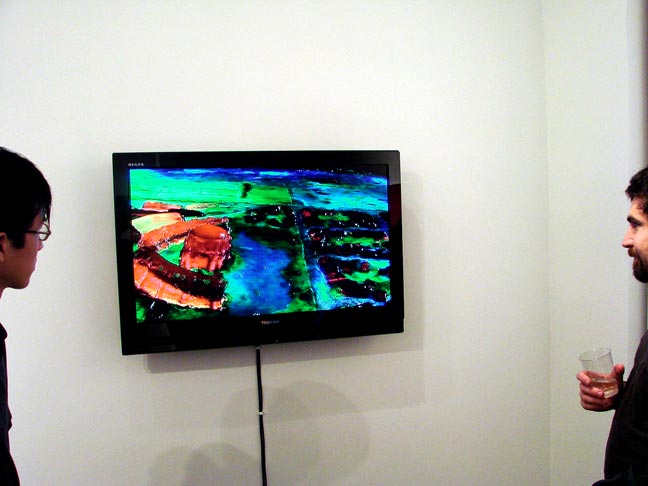 Art (Liz Hickok).


Eruption art (Simon Reilly - like it).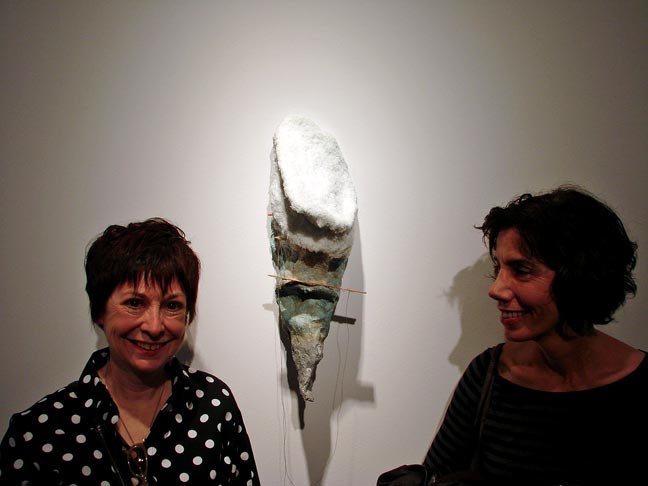 Lauren Davies + art & Eva Bovenzi.


Art.


Art.


Art (Eva Bovenzi).


***
Aspect Gallery: The British Rock Artists Group.
Artists: Rhys Wootton (aka - Rhyfer Ink), The Pinch, Adrian Day, Jamie Mcgregor, Matthew Douthwaite, Ben Duarri (aka the screen prince), Dan Johnson aka t[error]ist?, mongsterr, Sam Chivers, Jemma Treweek, Steven Croft (aka Crofty), Mark Hooley, others.
Comment: Presented at Aspect Gallery under the auspices of Chuck Sperry and Ron Donovan's Firehouse Kustom Rockart Company, B.R.A.G., or the British Rock Artists Group, is a Brighton (UK) based collective of poster artists, currently numbering about 20 active members. Tonight's show presents an plethora of posters created by group members, and also celebrates the release of six brand new limited edition silkscreen posters commemorating the Summer of Love 40th Anniversary Festival, held at Speedway Meadow in Golden Gate Park on September 2, 2007. The six posters are available for $30 each or $100 for all six; get 'em while they last.
Rock art.


Poster art.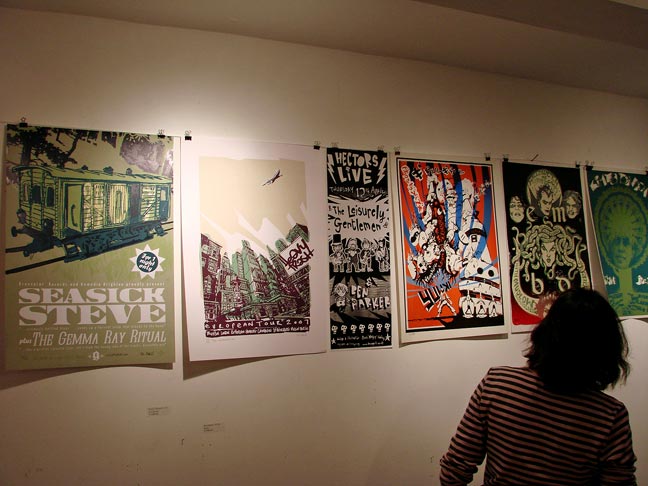 Rock poster art.


mongsterr sports his Summer of Love Festival poster.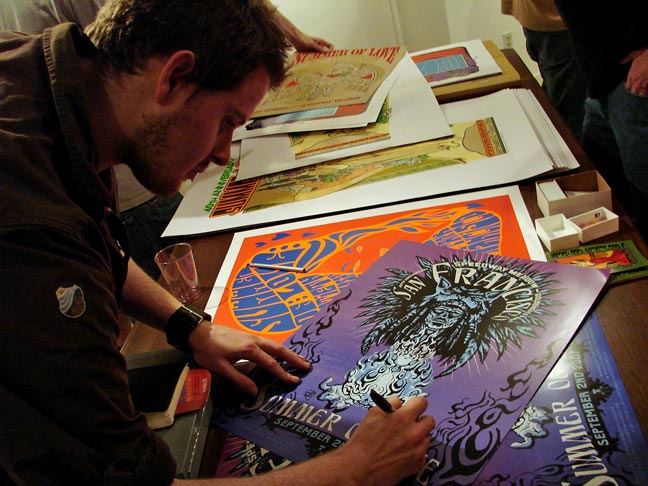 Artist signs his Summer of Love poster.


I can't believe I missed this show!


Tonight's players.


***
D-Structure: Joshua Lawyer - Strive for Wind.
Comment: New paintings and installations by Joshua Lawyer, urban twinged animation-esque portrayals seasoned with a sprig of lowbrow, line the walls of this recently opened Lower Haight fashion axis. Wicked T selection, by the way.
Art.


Art.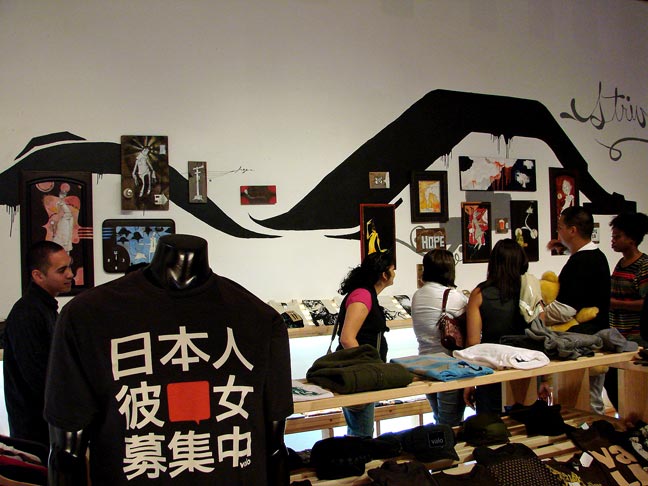 Art.


Art.


Literature.


Art.


Floor plan.


What it is.


***
Bernal Bubbles: Annie Sprinkle and Beth Stephens - The Love Art Laboratory Project.
Comment: Here's something you don't see everyday, even here at the intergalactic headquarters for consenting adults, emancipated Ess Eff. Two people in a long term committed relationship dedicated to spreading the word about everything love spread it tonight at Bernal Bubbles-- living love, showing love, the art of love, the joys of love, making love, funny love, technicalities of love, racey love, radiating love, propagating love. Not surprisingly, Double B (Bernal Bubbles-- get it?) is SRO, with overflow turnout soaking up the suds 'o luv on a mini Jumbotron at the real estate office next door. Basking in the aura of love occasionally gets me thinkin' about the opposite end of the continuum, people who dedicate their lives to hate-- living hate, teaching hate, intensifying hate, spewing hate, spreading hate. Who do you think is more courageous-- lovers or haters? Legitimate question. Easy answer.
Laundromateer Ray Beldner introduces featured guests.


Beth Stephens and Annie Sprinkle.


Oratorial of love in progress.


Meanwhile, over at the real estate office...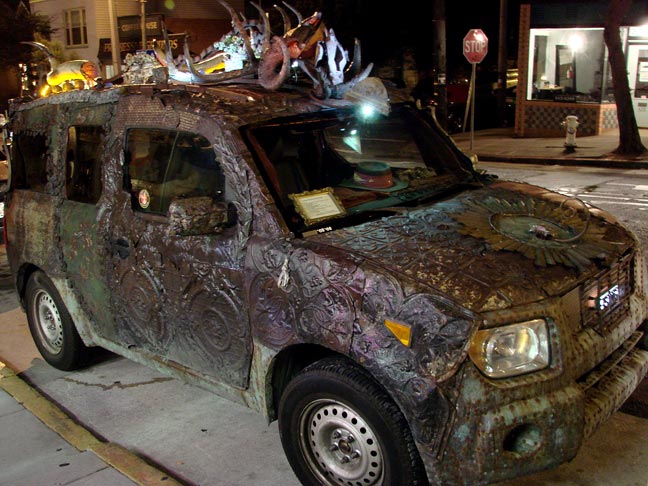 Vehicular articide out front.


***