SAN FRANCISCO ART OPENINGS
ARTWORKSF - DOLBY CHADWICK GALLERY
NEWMARK - HANG ART - 111 MINNA
FIFTY24SF - SPRINGER-CROKE - RPS GALLERY
LIVE WORMS - GIANT ROBOT
08.31-9.03.05
Comment: Let's call this one "First Thursday Lite" plus a Labor Day Weekend miscellany. But first, please pray, donate, and lend emotional support to the victims of Hurricane Katrina. And remember-- San Francisco's only a shake away from being in the same stew that New Orleans and the Gulf Coast are in now.
ARTworkSF: 8th Annual One Night Stand.
Artists: John Abrahamson, Roger Licot, Fima Gelman, Catherine Merrill, Dimitri Kourouniotis, Fernando Reyes, AnneKarin Glass, Imelda Picherit, Eric Paulson, Ginny Fang, James Albert, Adrienne Skye Roberts, Vera Costa, Victor Barbieri, Eric Stampfli, Alisa Lowden, Emily Hung, Erin Schroeder , William Ulrich, Jeff Codori, Karen Gutfreund, Ericka Yanina, Tim Falls, Michael Kovach-Long, Al Lopez, Al Schulte, Maja Saphir, Sandi Kovach-Long, Paige Tuhey, Stephanie Cunningham, Scott Smitherman, Lawrence Lui,Stephen Wanat, Scott Tracy, Heather Hanan, Aisjah Hopkins, Dan Cope, Jamie Erfurdt, Lisette Lugo, Maggie O'Brien, Bruce Meisner, Ian Hart , Robert Gepford, Patrick McMchon, Teresa Moore.
Comment: This is one of the more eccentric campy free-spirited safe-sexed erotica events San Francisco has to offer and, as we all know, San Francisco offers plenty in this regard. Festivities include a gallery full of erotic art, nude paint wrestling, a bondage sampler, an opportunity to be spanked by an artist wielding a little tiny paddle, a fashion show, music, performances, dancers, fetishists in fetish wear, nudes, nude nudes, and naked nudes. This year's One Night Stand occupies larger quarters (which is good)-- SoMarts Gallery-- and benefits San Francisco Sex Information (which is also good because you can never have too much safe sane consenting sex).
Art.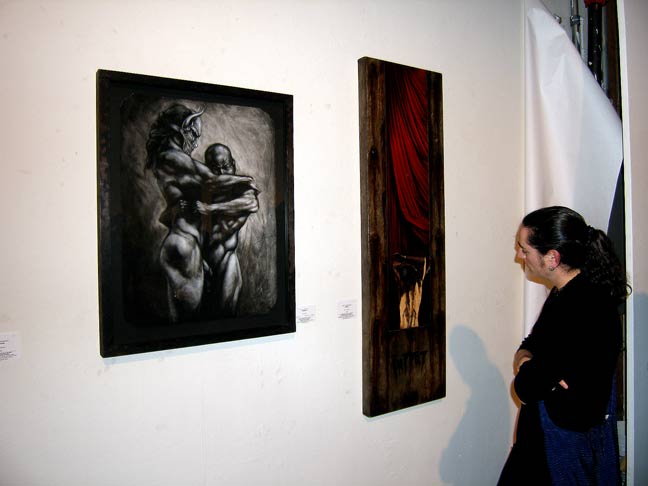 Art.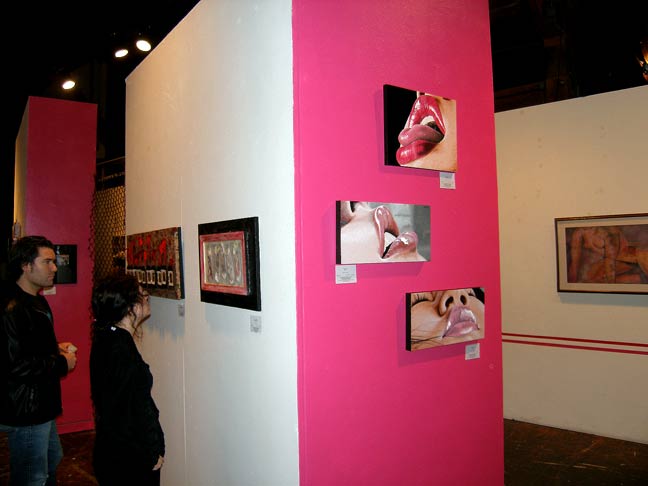 Lip gloss art (I like 'em).


Large metal vagina art (ouch).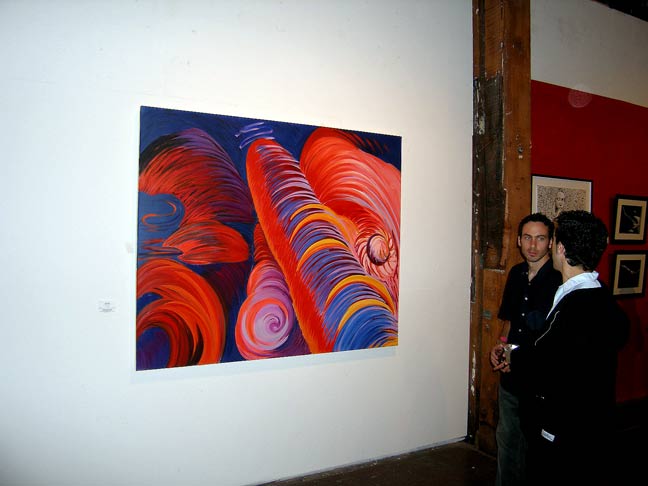 Art.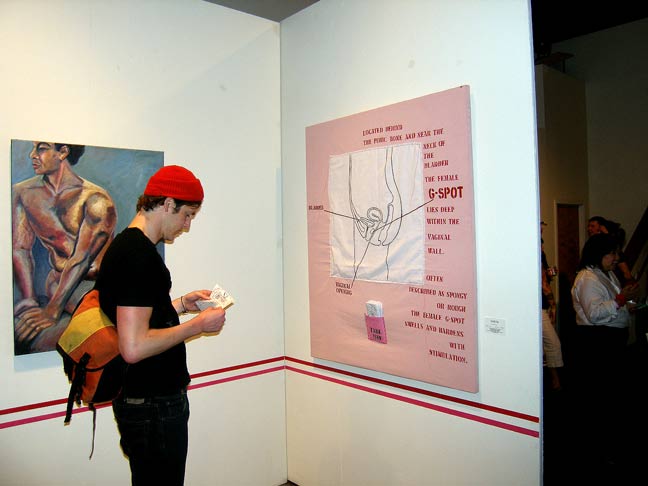 G-Spot art.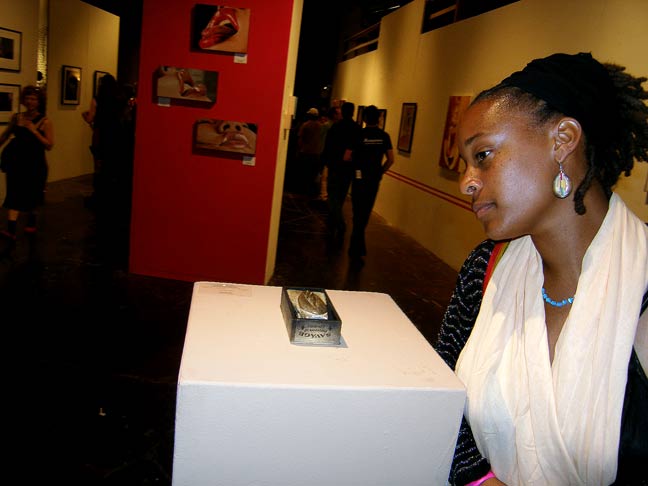 Benign vagina in a box art.


Corporal punishment with an itty bitty paddle.


Art.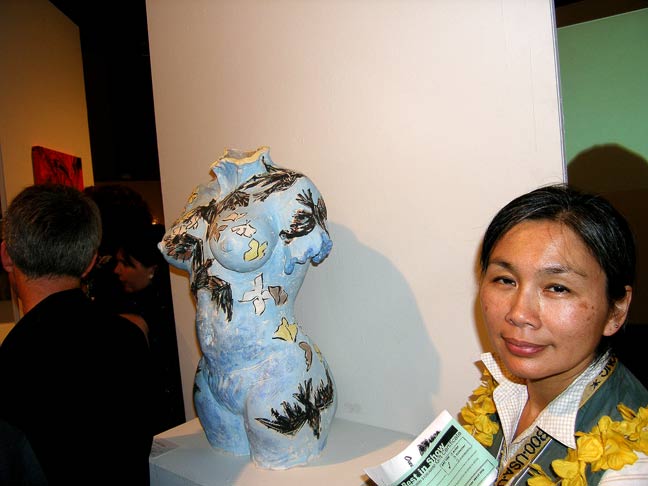 Art.


Art.


Naked painted couple rub.


***
Dolby Chadwick Gallery: Ada Sadler - Recent Paintings.
Comment: Ada Sadler paints chairs. She probably explains it more complicated than that, but as far as I'm concerned, she paints chairs. For the most part, they're ordinary, older, office or waiting room kinds of chairs. But wait; there's more. Sadler arts 'em up with atmospherics, tones, and emotion. From the titles, the chairs appear to be actual chairs Sadler sees at places she visits. She paints 'em about as good as they can possibly be painted-- maybe better. I applied my seasoned jaded jaundiced critical nit-picking eagle eye close-in on these sitters, and I gotta tell you-- them brushstrokes are near perfect. In fact, the paintings are so elegantly elementally challenging in their flawlessness that they get the rare and highly coveted "How Do Dey Do Dat?" Award. Magic with paint. Don't believe me? Check it out.
Seating art.


Seating art.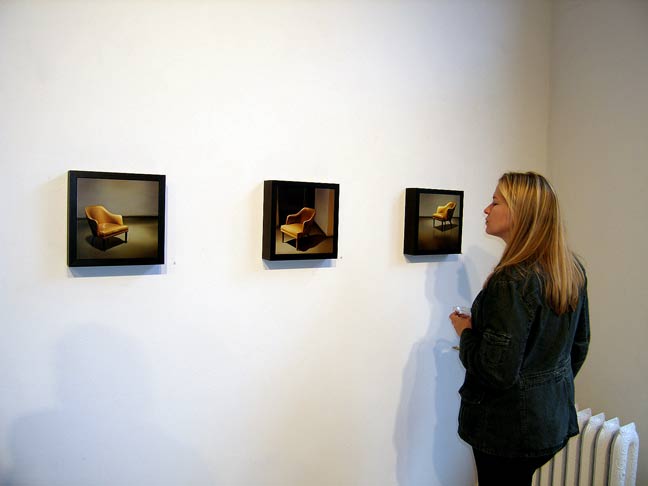 Seating art.


Seating art.


Seating art.


Seating art.


Seating art.


***
Newmark Gallery: In the Studio with Larry Morace and Anna Conti.
Comment: Combination art show and lecture (a little light on the art part and I didn't stay for the lecture) at the Campton Place Hotel. Excellent location for an intimate art event, by the way.
Art.


Art.


***
HANG ART and HANG ART Annex: Brian Ida - City or Nature - Reverence and Esteem (HANG ART); Laughing Out Loud (HANG ART Annex).
Artists: Brian Ida, David Fullarton, Josh Keyes, David Lippenberger, Mark Soderstrom, DAVe Warnke.
Comment: In the back room of the main gallery, Brian Ida paints smooth rock and architectural form compositions, some of which imbed or superimpose related images. The front of the gallery is a rotating show of work various artists. Tonight, most of the action's across the street at the HANG ART Annex with colorful upbeat DAVe's, strange long faces by David Lippenberger, and my favorites-- urban and rural scenes applied to polyhedral forms that float against white backgrounds by Josh Keyes (looks like he's preppin' for prime time).
Art (Brian Ida).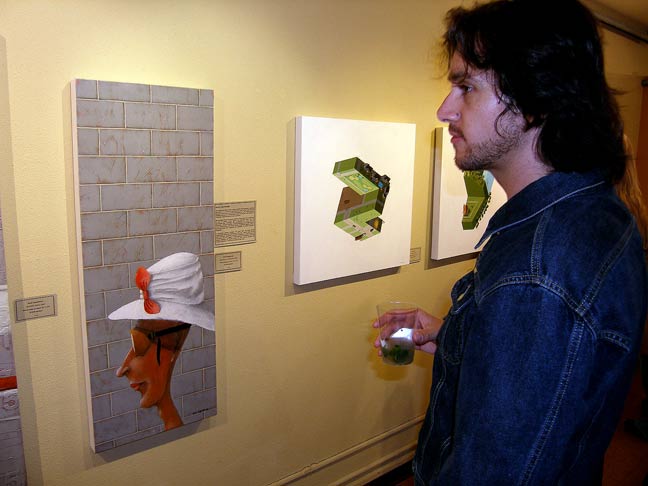 Art (David Lippenberger left - Josh Keyes right).


Art (DAVe).


Art (Brian Ida).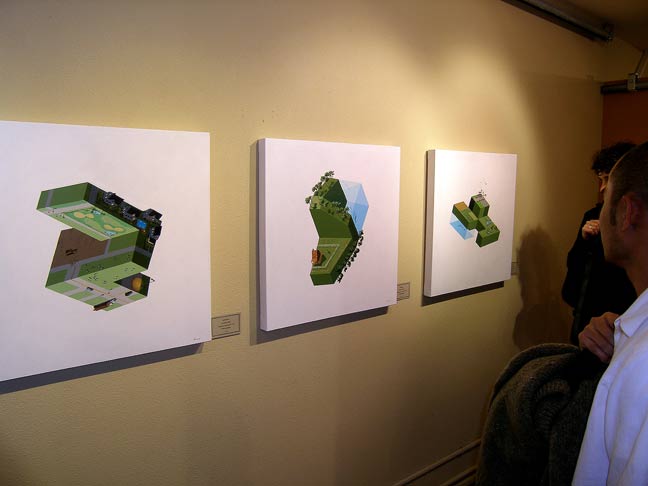 Art (Josh Keyes- like 'em).


Art (David Lippenberger).


Art (David Lippenberger left).


Art (David Fullarton left - David Lippenberger right).


Main gallery main floor-- group show.


***
The I Don't Know Gallery: John Mancini.
Comment: Here's a brain trust at work-- open a beautiful gallery space on Sutter St. (the 400 block, I think), then don't announce your openings (I happened to see this one on the way to HANG ART and walked in). Then show bright Europeanesque landscapes by artist John Mancini, but instead of putting out announcements with contact information for the gallery, put out a stack of announcements for a show Mancini had in 1999 at a place called Gallery Europa in Palo Alto, a gallery that appears to longer exist or have a working website or a working phone number. Duh. Next time try thinking.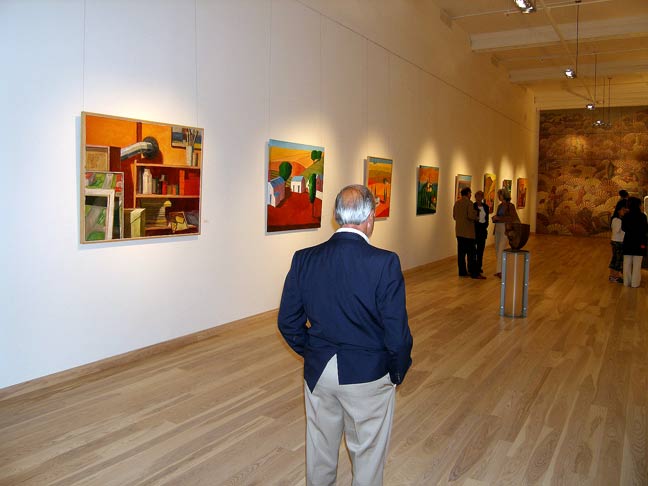 Art.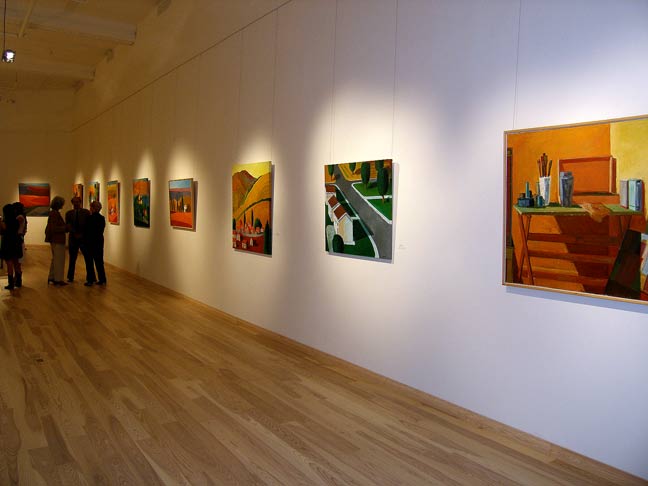 Art.


Art.


***
111 Minna Gallery: 5 1/2 Years of Fecal Face Dot Com.
Artists: Hey kiddies-- when there's a big group show like this, can somebody kindly do reviewers like me a major ferkin' favor and list the artists in cut-and-paste format on a website somewhere (not only as an image of the announcement) so that we don't have to type every single name? Thanks. Now for the list-- typed a letter at a time by ME-- Brad K. Alder, Kelly Tunstall, Bigfoot, Kiry Byron, Sacha Eckes, John trippe, Anthony Skirvin, Mat O'Brien, Charlie Callahan, Dave Shubert, Alika Cooper, Sam Flores, Tara Lisa Foley, Daniel Tierney, Ted Pushinsky, Kyle Ranson, Jeremy Fish, Mars-1, Chris duncan, Rebecca Miller, Oliver Halsman Rosenberg, Vincent Perea, Richard Hart, Isaac Randozzi, John Casey, David Franklin, Aiyana Udesen, Paul Urich, Matt Irving, Elizabeth Romero, Rick Mar, Nathan cordero, Matt Furie, John groshong, Ray Potes, Porous Walker, Ferris Plock, Mike Park, Daren Robinovitch, Dave Potes, Brian Barneclo, Stefan Simikich, Zenaida Sengo, Adam Schwarcz.
Comment: The pinion point for what can legitimately be characterized as quintessential San Francisco art of the moment (as well as the past several years) has got to be Fecal Face. If Fecal Founder, Low Gallery Domo, and all around art dude John Trippe keeps this shit up, he's destined to become a seminal figure in San Francisco art history (he's already a significant one). So here's a show celebrating the Fecal Era, all it stands for, and all those artists who help make Fecaldom (and San Francisco) one of the most progressive, creative, nonjudgmental, welcoming, accepting, visually fresh, and all 'round appealing lifestyle options on the face of this planet.
Wanna help with captions? Please email. Thanks.
What it is.


Art (Chris Duncan).


Art (Dave Potes down left - Brian Barneclo up right).


Art (I like that pink one).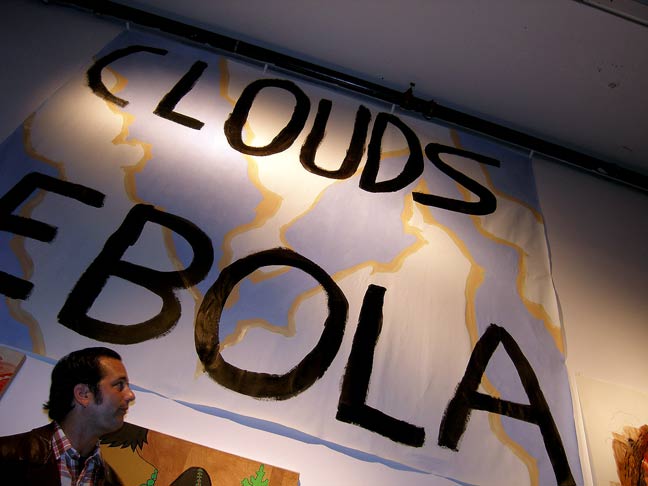 Big art (Brad K. Alder).


Art (Kelly Tunstall).


Art.


Art (Mars - like it).


Art.


Art (Bigfoot).


Art.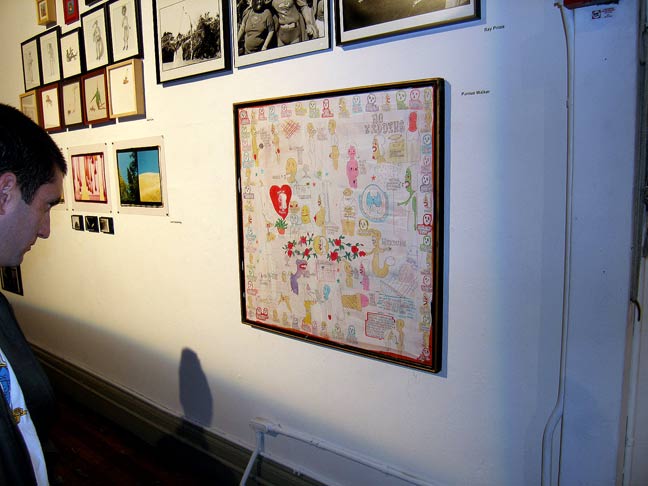 Art.


Art (Sacha Eckes - left).


Art.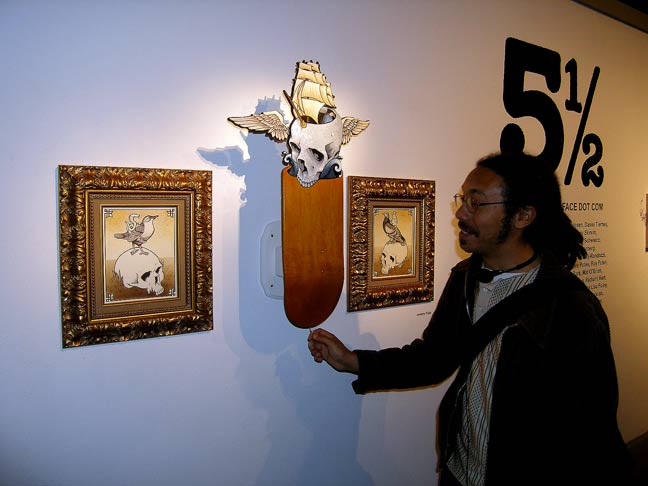 Skateboard skull sconce art.


***
Fifty24SF Gallery: Coro.
Comment: Among other accomplishments, Coro designs sets for video games (if I remember correctly). And he can also paint-- versitilically well. He shows all kinds of paintings and drawings here, the most compelling being small format still-lifes of single objects set and shadowed against plain backdrops. I see a lot of still-lifes-- good ones-- and the difference between Coro's and most of the rest is that his objects appear to hold personal meaning, meaning which comes across in the art. Still-lifes by other artists may be painted as well or even better from technical standpoints, but you often get the feeling that the artists paint them mainly because they can-- which is not much of a justification for painting anything-- unless, I suppose, they consider making art to be a masturbatory indulgence.
Art.


Art.


Art.


Art.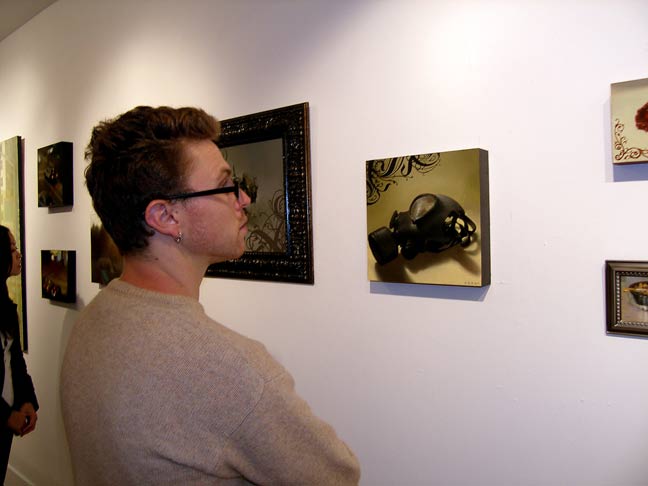 Art.


Art (Director Ben Belsky).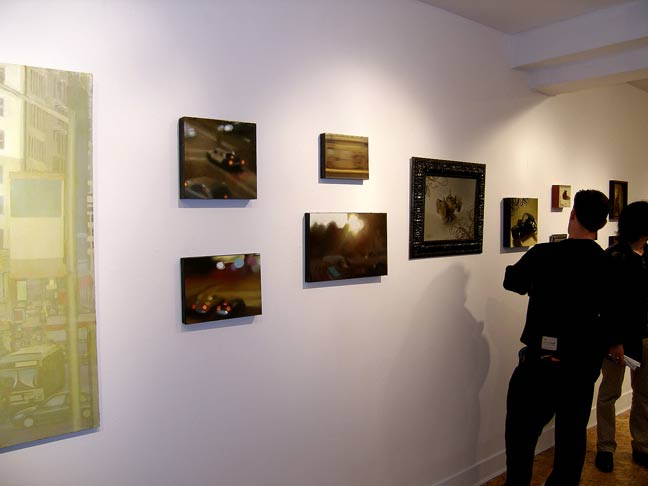 Art.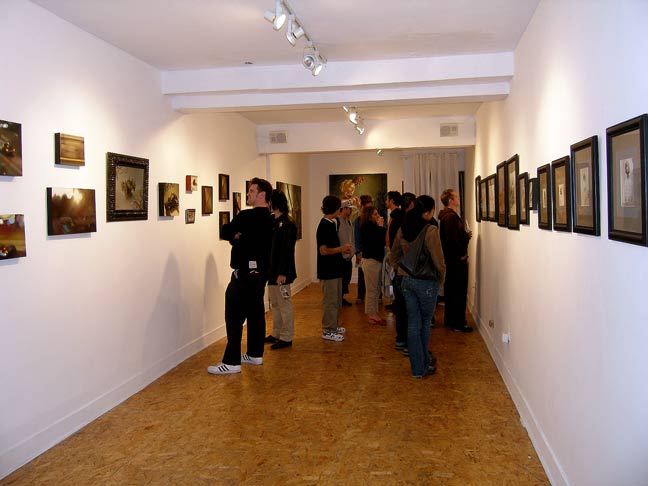 Situation.


***
Oakland quickie...
***
RPS Gallery (Rock-Paper-Scissors): New Mexico Montage.
Artists: Violette Alby, Bob and Patti Allalunis, Daniel Blais, Carl Burrows, Barbara E. K. Jenike, Robert "Raw Dirt" McCormic, Uncle Donnie Newman, Kathi Pease, Will Powers, Ruth Salomeh, Jean Whettnall, Mary Whitkop.
Comment: Folky funky self-taughty art by New Mexico artists who "live off the grid." Selection includes paintings, wearables, quilts, assemblage, ceramics, carvings, more. Worth a look-- art like this doesn't travel here often.
Art.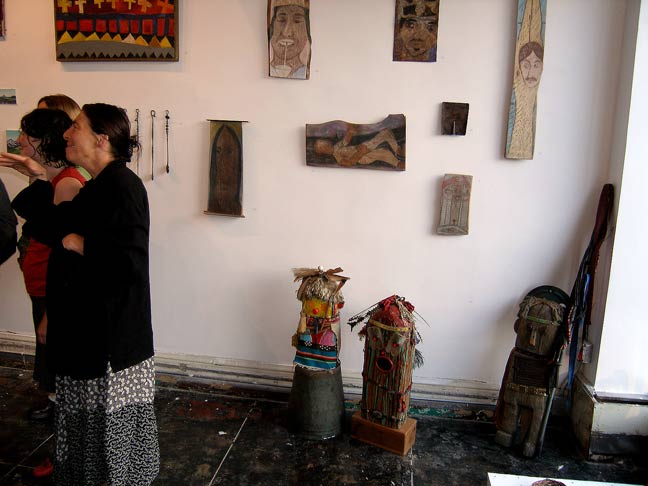 Art.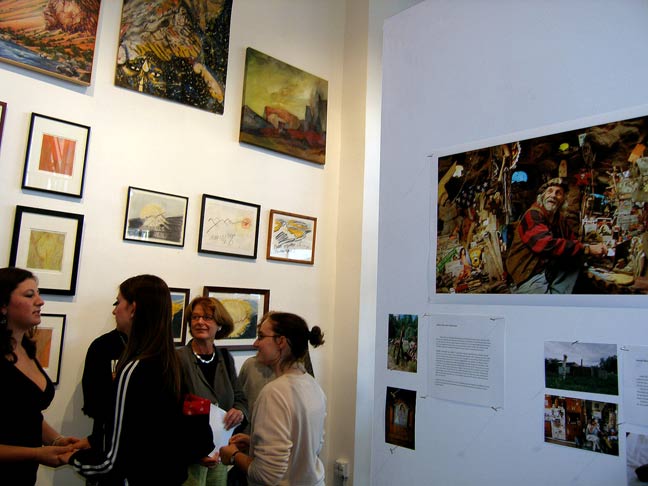 Art.


Art.


Streetside.


***
Back to SF.
***
Springer-Croke Fine Art: Ginny Parsons, Zahava Sherez.
Comment: Painting, sculpture, vino, cheezo. Gotta run. Ta-ta.
Art.


Art.


***
Live Worms Gallery, 1345 Grant Ave., San Francisco, CA 94133; 415.474.5411: Flicka McGurrin.
Comment: Painter Flicka McGurrin also owns the Pier 23 Cafe. She creates art with free spirited flair; she's a classic vibrant colorful San Francisco character like you don't often see anymore, like they for sure don't make anymore.
Art.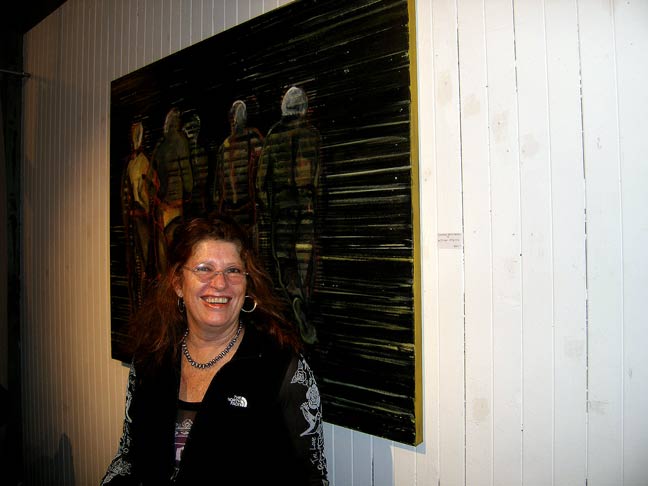 Flicka McGurrin - art.





Art.



***

Giant Robot: Some Total - Craig Dransfield, Maya Hayuk, Brian Holderman.

Comment: Craig Dransfield, Maya Hayuk, and Brian Holderman designed, built, and painted a large skate track in Pittsburgh, PA; this show germinates with that. The way it works is that each of the three makes a batch of art independently of the others, then they bring it all to Columbus, OH, then restyle each other's contributions to unify and harmonize the array, then ship it off to Ess Eff, then hang it at Giant Robot, and then you go see it. Most priced $50-$300.
Art.


Art.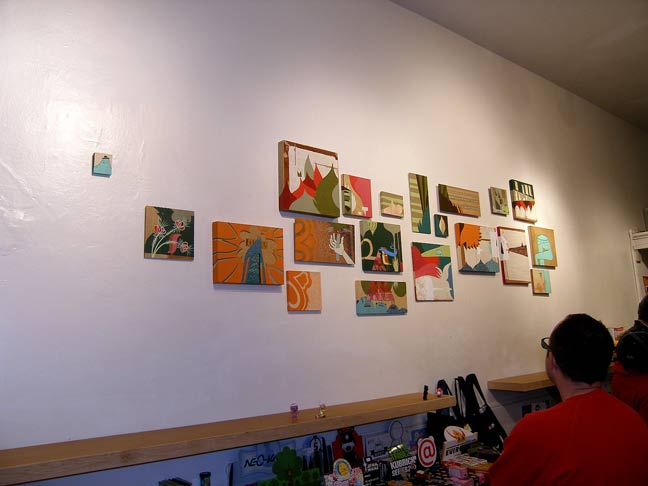 Art.