SAN FRANCISCO ART GALLERIES - OPENINGS
LINCART - BUCHEON - JACK HANLEY
RATIO 3 - AMPERSAND - PING PONG
SILVERMAN - AFTERMODERN - GALLERY THREE
MINA DRESDEN - MICAELA - MELTING POINT
111 MINNA - CONTRABAND
09.07.07
Lincart Gallery: Bob Van Breda - Widgets; Michael S. Moore - Landscape Paintings.
Comment: Michael S. Moore paints up a tall wall of diminutive oblong desert watercolors as well as larger desert paintings on canvas, all looking sparsely similar until you close in. Suddenly there's plenty to compare, contrast, and dissect-- perspective, time of day, temperature, weather conditions, and the like. For those of you who already have a desert but no art to put in it, Bob Van Breda deftly mocks up a series of "pencil sculptures," perfect for your desktop, or if you want one for your desert (or other open space), he'll reproduce it for you king size. The desktop versions run $200-$800. Not a bad deal.
Pencil art (Bob Van Breda - nicely assembled).


Pencil art (Bob Van Breda).


Pencil art (Bob Van Breda).


Desert watercolor wall (Michael S. Moore).


Art (Michael S. Moore).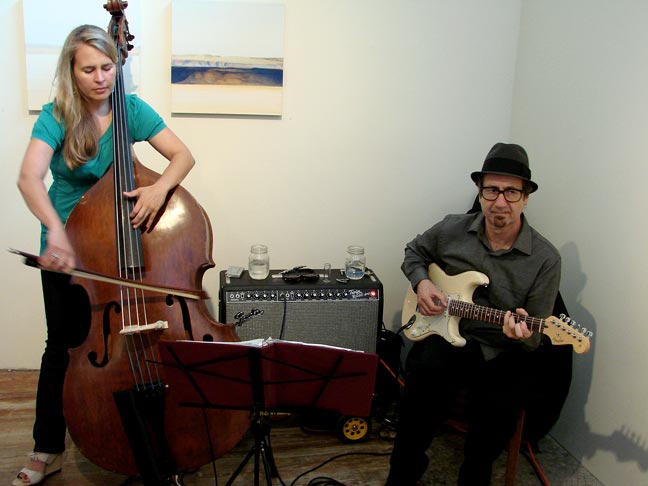 Tunes.


***
Bucheon Gallery: Serena Cole and Grant Barnhart - Recent Work.
Comment: "Story paintings" might appropriately describe the richly woven intrigues of Seattle artist Grant Barnhart, every composition promising a tale to be told. Barnhart likely tells those tales well too, whatever they may be, but tonight's too much of a whirl to lounge around and listen. Serena Cole, meanwhile, offers up a sumptuous selection of her signature siren portraits.
Art (Grant Barnhart).


Art (Grant Barnhart).


Art (Grant Barnhart).


Art (Serena Cole).


Art (Serena Cole).


***
Jack Hanley Gallery: Djordje Ozbolt - Meetings with Remarkable Men.
Comment: According to the briefing, "Meetings with Remarkable Men" is inspired by the book of the same name by Georges Ivanovitch Gurdjieff. And the portraits are purported-- again referencing the briefing-- to "range in style from expressionist and gestural to academic and restrained." To me, they look more like unremarkable portraits of wicky wacky weirdos, but seeing as Ozbolt's got a reasonably rousing rap sheet and at least one painting's already sold, I'll reserve judgment until the balloting is officially over.
Art.


Art.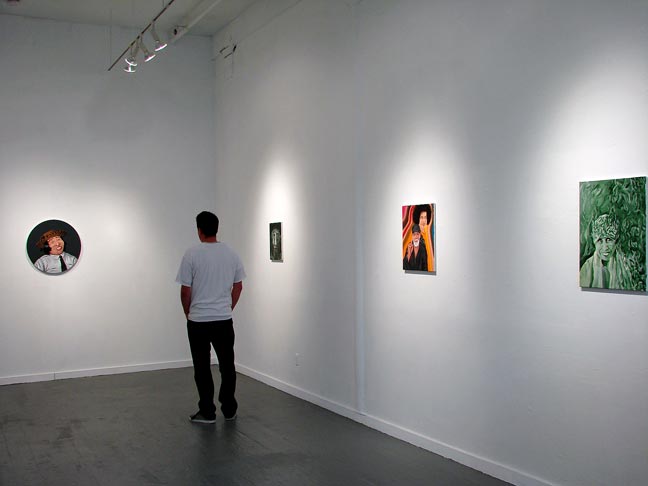 Art.


***
Mina Dresden Gallery: In Real Time.
Artists: Diane Feissel, Michelle Muldrow, Juliette Lemontey, Michael Schoenig, Tessa Merrie, Chris Leib.
Comment: Group show of work by artists currently and formerly of Studio 212, headquartered at 1890 Bryant Street Studios.
Art.


Art.


Art.


Art.


***
Ratio 3 Gallery: Alpha.
Artists: Jose Alvarez, Sam Gordon, Robert Gutierrez, Jordan Kantor, Ruth Laskey, Barry McGee, Ryan McGinley, Takeshi Murata, Mitzi Pederson, Ara Peterson, Ben Peterson, Jonathan Runcio.
Comment: Big news here. Chris Perez finally takes his Ratio 3 Gallery public, opening a 2000 square foot walk-in venue near 14th and Mission. All I can say is it's about time. You see, Perez has no shortage of good art to show so he can use all the exhibition space he can get. Don't believe me? The gallery's arted to the rafters for his inaugural Alpha event-- every piece worth seeing. Check it out; you won't be disappointed.
Art.


Art.


Art.


Art.


Art.


The basic idea.


Art.


Chris Perez - art.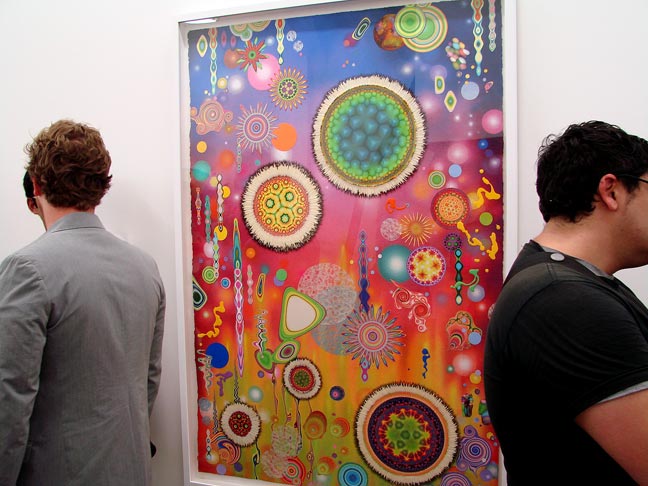 Art (pick - the closer you get, the better it looks).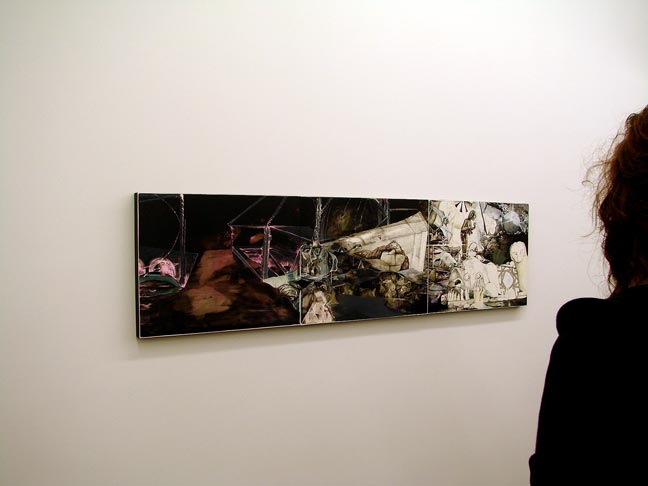 Art.


Art.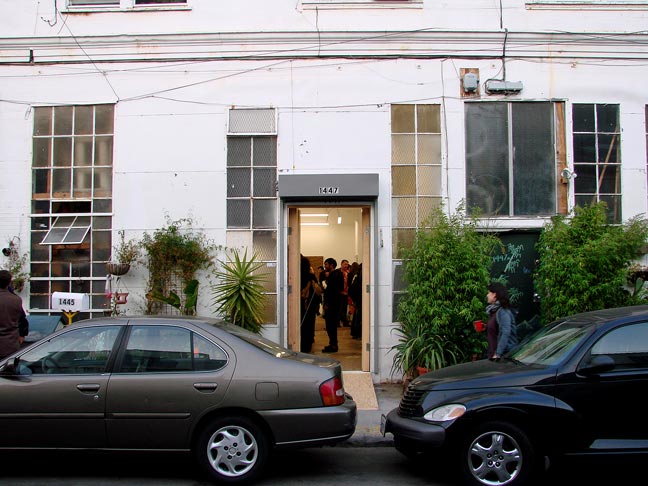 Frontal.


***
Ampersand International Arts: David Fought - 3 (5)wires and 5 (3)sides; James Sansing - Seeing Darkly.
Comment: Two main ingredients in James Sansing's rich imposing jet black topographic abstractions are graphite and concrete. Sansing tells me they're not that heavy-- he builds them out over fabricated foundations (if I remember right). In complete contrast, David Fought's delicate lineal bent wire wall works and soft-toned cylindrical ceramic sculptures gently entice your attention.
Art (David Fought).


Art (David Fought).


James Sansing - art.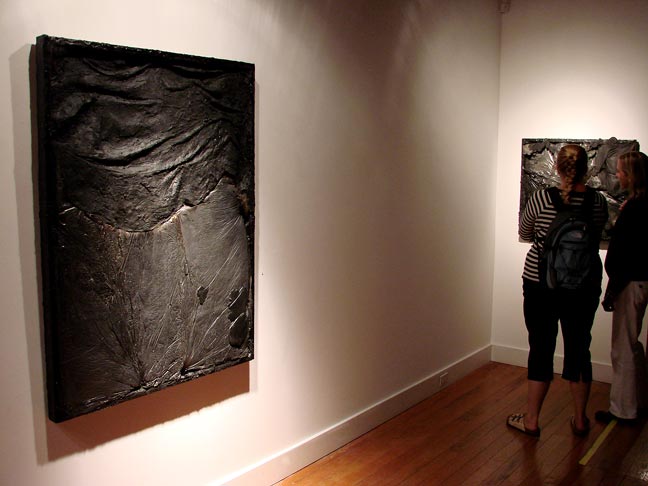 Art (James Sansing).


***
Ping Pong Gallery: Amanda Curreri - Make New Friends.
Comment: Amanda Curreri's art demonstrates myriad ways to make new friends, her novel methodologies incorporating objects and ideas as diverse as cast gilded plaster record players, T-shirts, mirrors, Gilda Radner, and more.
Art.


Art.


Amanda Curreri.


***
Silverman Gallery: Double Resonator.
Artists: C.P. Badger, Robert Smithson, La Monte Young:
Comment: Experimental musician C.P. Badger constructs three arrestingly elementary harmonic devices, drumlike in appearance-- small, medium and large-- each comprised of a wooden frame holding two sheet metal panels, bent semi-circular and facing one another. With a mechanism similar to that of stringed instruments, the metal panels can be tuned to resonate in infinite harmonic combinations, the resulting resonation mimicking the aftermath of hitting a gong, except the sound remains constant and never fades. The aural upshot is almost like being temporarily suspended in some sort of meditative nirvana. Special bonus-- the devices run entirely on 9-volt batteries (no pesky wires or plugs), Badger tells me, and that all three are prototypes. They range in price up to $5000 if my memory serves me correctly-- a small price to pay for instant inner peace. Some of the more satisfying kinetic sculpture I've seen. In fact, I'm gonna cough up an uncommon other-than-First-Thursday Pick for C.P. Badger, and worth experiencing. Also in the show are some tasty works on paper by Robert Smithson-- something you don't get a chance to see every day.
C.P. Badger - art.


Photography (also by C.P. Badger).


Art (C.P. Badger).


Art (Robert Smithson).


***
Aftermodern Gallery: Charles Anselmo - Deconstructions; Havana/New Orleans.
Comment: Charles Anselmo documents the decline sides of Havana and New Orleans, his work ever so vaguely hinting at what life might once have been like based on what it is now. Your job is to sift through the rubble. And he does it the old fashioned way-- with real film and a real camera-- not those synthetic cameras they have now. What's that? You wanna know how he can travel to Havana? He's one of only a handful of Americans who hold legal visas. Even so, he tells me, traveling to Cuba from America is no easy task.
Photo.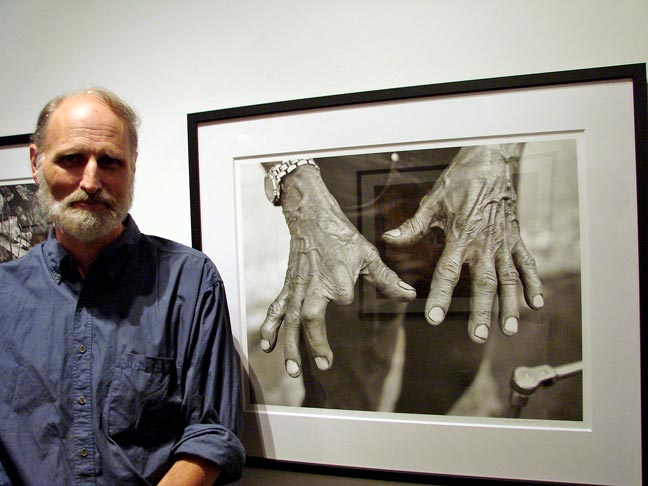 Charles Anselmo - photography.


Photograph.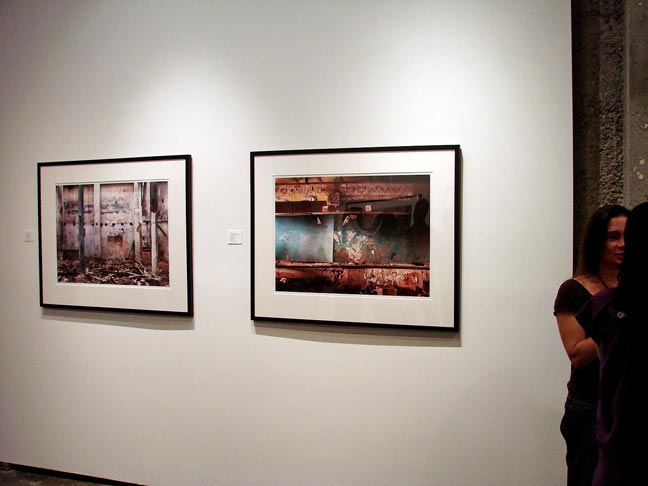 Photos.



Photography.


***
Gallery Three: Kevin E. Taylor.
Comment: Grand opening of an intimate (some would say cozy) art space owned and operated by Justin Giarla of The Shooting Gallery. The inaugural show features painterly mix & match combinations of creatures and people by Kevin Taylor, encompassing realms of imaginative realities transiting from romantic to grotesque.
Art.


Art.


Kevin E. Taylor - art.


Art.


Venue.


***
111 Minna Gallery: Strange Beasts Art Show.
Artists: Rob Reger, Buzz Parker, Greg Bianchini, Tim Biskup, Brian Brooks, Dan Donahue, Sacha Eckes, Grace Fontaine, David Gardner, Fawn Gehweiler, Maya Hayuk, Jenny Lens, Jason Mecier, Adele Mildred, Mike Moon, Turo Scissorhands, J. Shea, Winston Smith, Noel Tolentino, Nix Turner.
Comment: A celebration of the culture of Emily Strange, half the gallery devoted to the art of Strange creator Rob Reger and Emily illustrator Buzz Parker, the other half chocked with homages by a variety of devotee artists. Plus there's Strange live bands and miscellaneous additional Strange amusements.
Art.


Art.


Art.


Art.


Art.


Art.


***
Melting Point Gallery, 1340 Bryant Street, San Francisco, CA 94103; 415.769.2939: Nine Eleven Squared - Art Against Empire.
Artists: Roberto Arroyo, Alfonso Jaramillo, Alvaro Lagos, Ariel Lopez, Yael Martinez, Dennis Maxwell, Mabel Negrete, Pescador, Loreto Sanhueza, Rafael Sanhueza, Indira Urrutia.
Comment: America has no exclusive on 9/11; Chile has one too-- September 11, 1973-- when Augusto Pinochet came into power in a military coup backed by the United States. Tonight, Chilean artists, writers, and musicians "honor and support the social movements that struggle against tyranny around the world and work toward a more socially equitable and sustainable future." Activist art. Sounds good to me.
Art (like it).


Mind control art.


Mind control art controls a mind.


Art.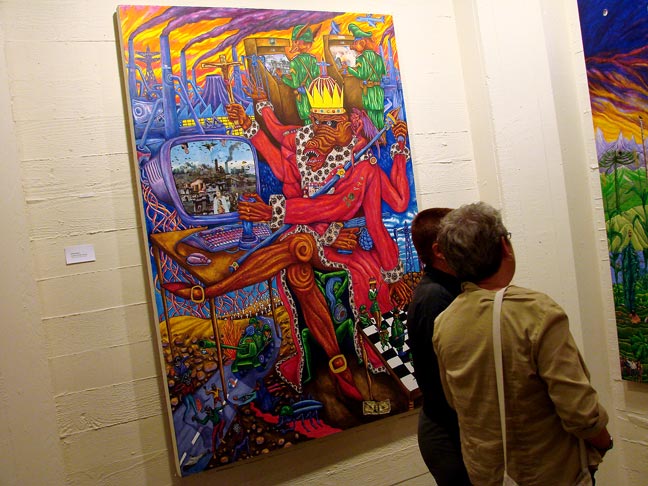 Art.


Art.


Lively live music and poignant visuals out back.


***
Contraband Gallery, 360 Fifth Street, San Francisco, CA 94107; 415.577.8990: Pete Doolittle - This Time a Charm.
Comment: Pete Doolittle tells me this is Contraband Gallery's third show. The rambling ad-lib space, located along a dog-eared strip of Fifth Street, comprises several artist studios and a large front room which serves as the gallery. In addition to Doolittle's art, the evening's bohemian fare includes live music, fashion, psycho-psychedelic light show, live painting, a panoply of libational concoctions, and general merrymaking.
Pete Doolittle - art.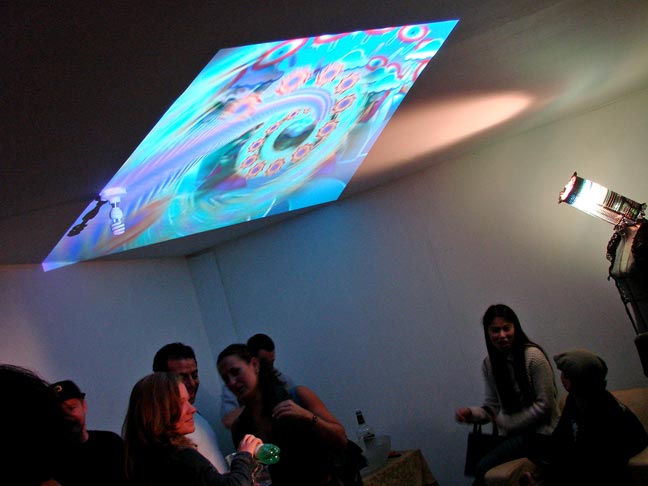 Light show.


Live painting.


Tunes.


***
Addendum: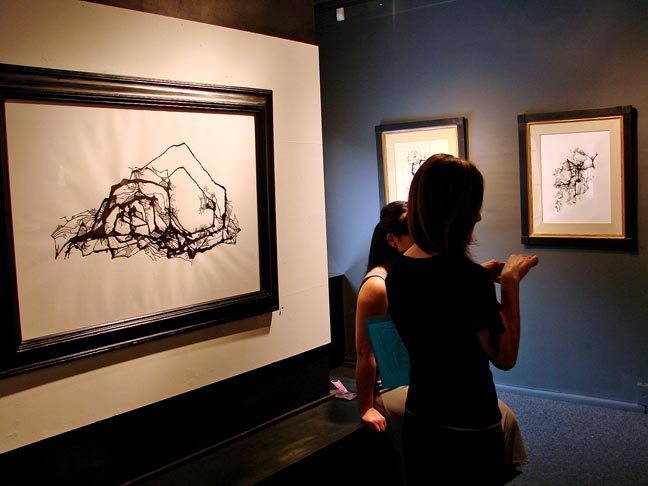 Peter Foucault and Scott Kiernan at Micaela Gallery.


Scott Kiernan aka the ZENITH FOUNDATION - Peter Foucault.


One more Peter Foucault and Scott Kiernan at Micaela Gallery.


***