OAKLAND EAST BAY ART GALLERIES OPENINGS
FIRST FRIDAY OAKLAND ART MURMUR
09.07.07
REVIEWS AND IMAGES BY CAMILLE MOTTA
Johansson Projects: Amanda Hughen and Mike Meyers - Painting and Sculpture.
Comment: For the love of paper... and wood... and shadow... and structure... and ellipses...  and other sorts of dots on paper-- please see the photos. As usual, a lovely presentation by some very talented artists.
What it is.


Art (Amanda Hughen).


Art detail (Amanda Hughen).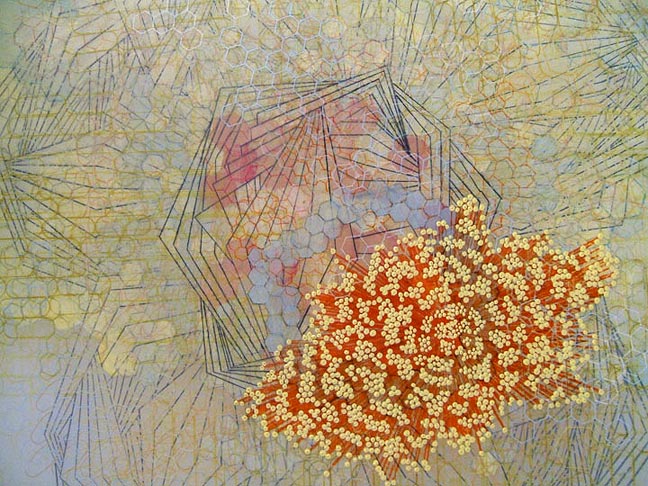 Art detail (Amanda Hughen).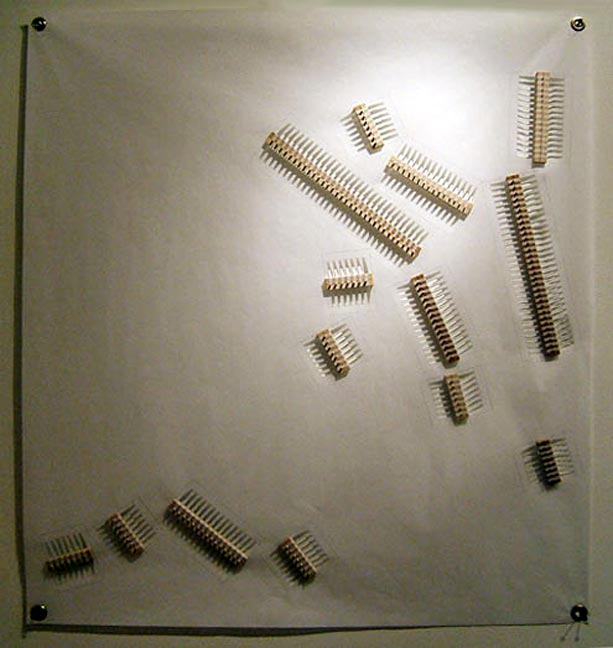 Art (Mike Meyers).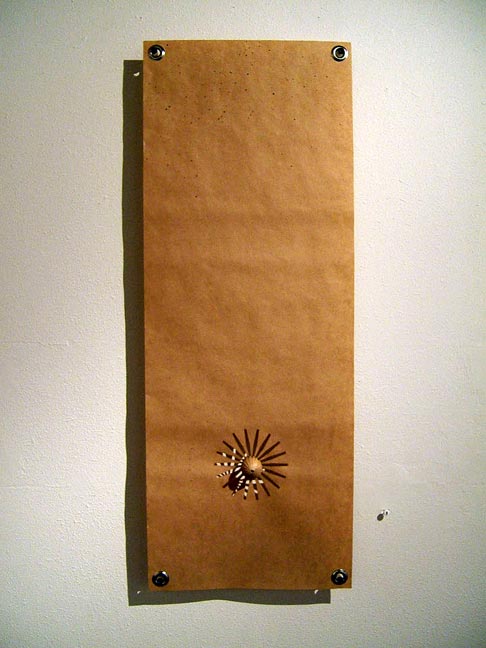 Art (Mike Meyers).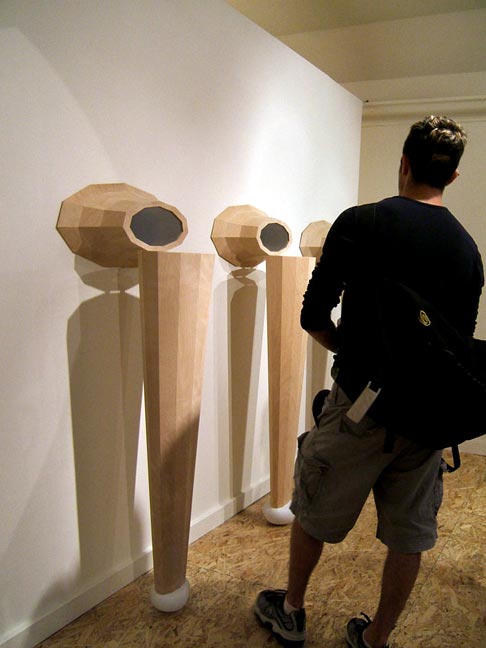 Art (Mike Meyers).


Art (Mike Meyers).


***
Ego Park: Timothy Brown - Place/Setting, New Work.
Comment: Sandwiches in lucite-- YES! Dinner is served! This, to my ears, is the most talked about show in the area tonight. I hear some people talking about these cartographic pieces over a beer, and they are WOW-ed. Not only does Timothy Brown present an entire dinner table with plates of food, utensils and wine glasses-- all forever preserved as sculpture in what appears to be clear acrylic-- but he also includes decomposition of common items such as a sandwich (its layers suspended), and a spoon that isn't a spoon (reduced to a few pieces of wire to delineate its shape).
What it is.


Dinner party art.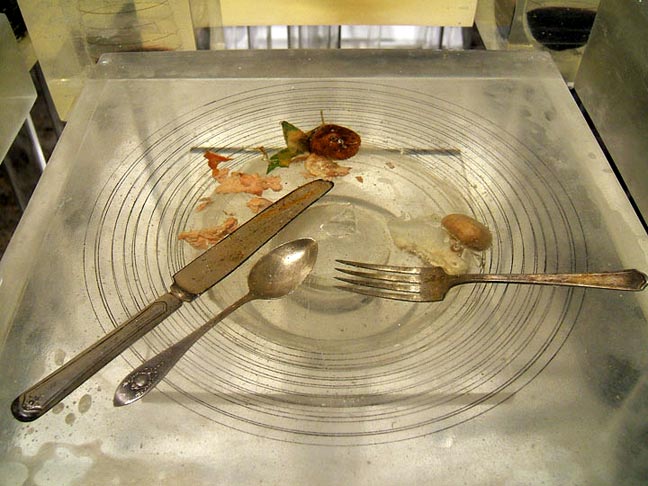 Art.


Art.


Art.


***
Estaban Sabar Gallery: Full Frontal - A Male View of the Male Figure.
Artists: Kamal Al Mansour, Terry Furry, Ross Kennedy, Marty McCorkle, Russ Osterweil, Fernando Reyes.
Comment: Esteban Sabar does it again. Curator Carl Wolf compiles some great local talent under the umbrella of a very compelling, engaging, and very sexy subject matter-- mostly male nudes by male artists. Once again, the rooms of the gallery are presented with the viewer in mind, making it easy for one to enjoy the work and giving each artist an individual space within which to convey their messages. The show has been extended until October 15th and is worth the gander.
Terry Furry has the entire back room and his paintings display masterful brush and color technique. They are risque, due to the lounging nude subject matter, but are not lewd or rude, probably because of the delicacy of his treatment. Notable are 2 canvases that, hanging next to each other, directly speak of his treatment of line and color for the same subject matter (in this case, a crotch shot in tighty-whities). I personally love the details in the hands of one piece, hence my detail shot below.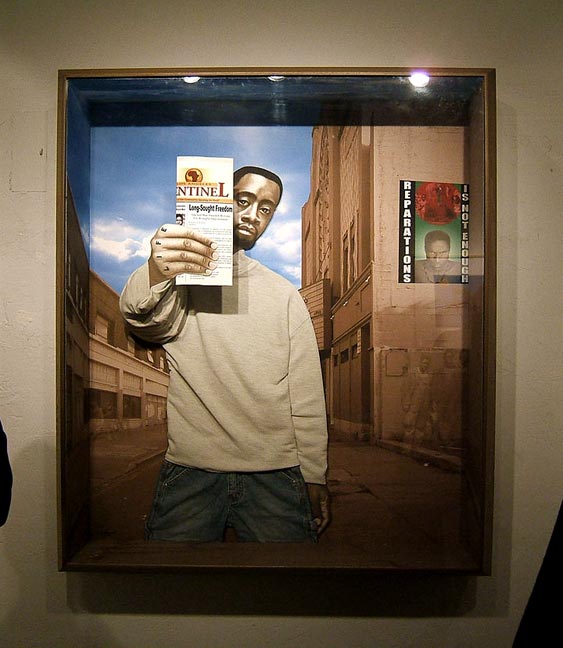 Art (Kamal Al Mansour).


Art (Terry Furry).


Art (Terry Furry).


Art (Terry Furry).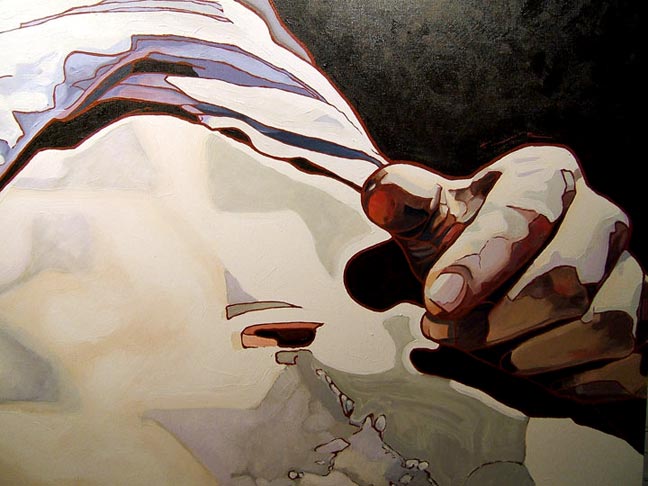 Art detail (Terry Furry).


***
Rock Paper Scissors Collective: Dirty Drawings by Dirty Drawers.
Artists: Andy Hartzell, Brian Kaas, Calvin Wong, Daria Tessler, Eli Bishop, Francoise Vigneault, Fred Noland, Gene Yang, Jared Katz, Jesse Reklaw, Joe Sayers, John Isaacson, Jonas Madden-Connor, Josh Frankel, Julia Wertz, Lark Pien, MariNaomi, Mark Haven-Britt, Matt Leunig, Melanie Lewis, Rina Ayuyang, Trevor Alixopulos, Vanessa Davis.
Comment: Mainly illustration and cartooning type art. I thought it might be fun if they had 30 artist make dirty work, as it rhymes, but there's my 2 cents for ya. Doesn't it roll off the tongue so sweet-- 'Dirty Drawings by Dirty Drawers, Art by Dirty (Thirty) Artists'? Maybe next time. Most subject matter is blatantly scatological and sexual, much of it telling tales in storyboard fashion. They had a great turnout and as usual, prices for art, zines and the other "art-wares" they make available are very affordable.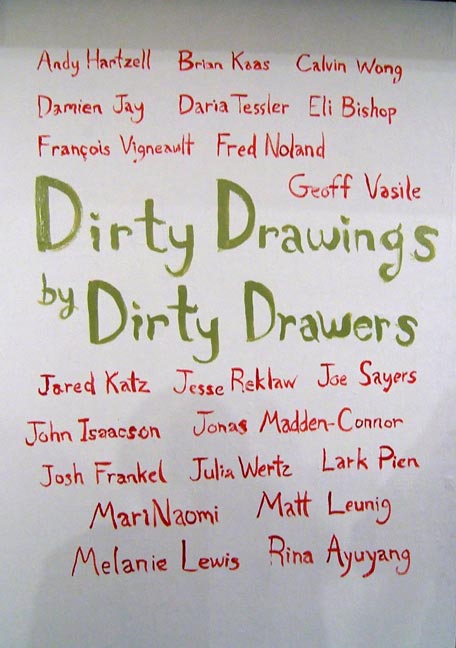 The basic idea.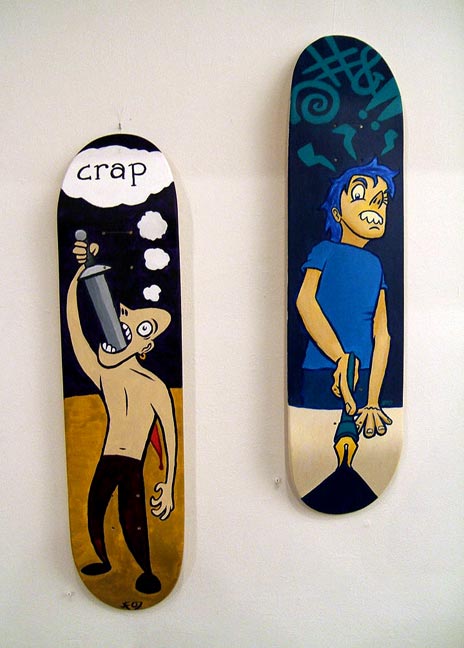 Art.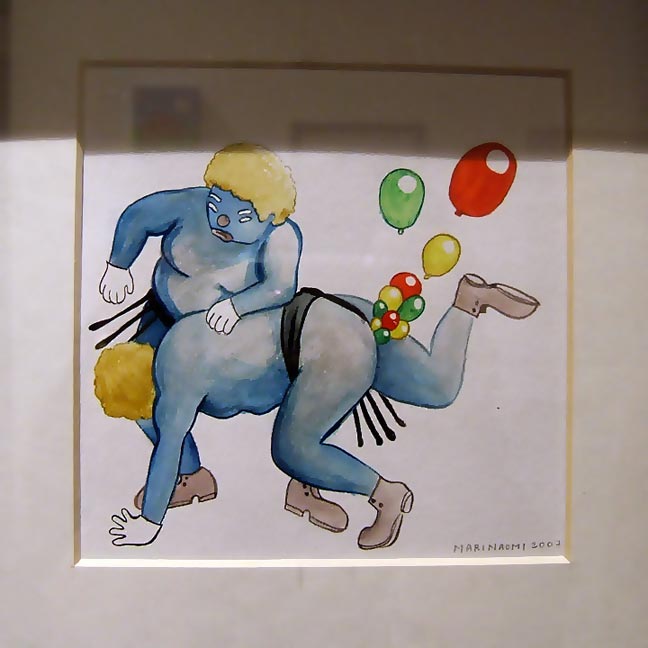 Art (MariNaomi).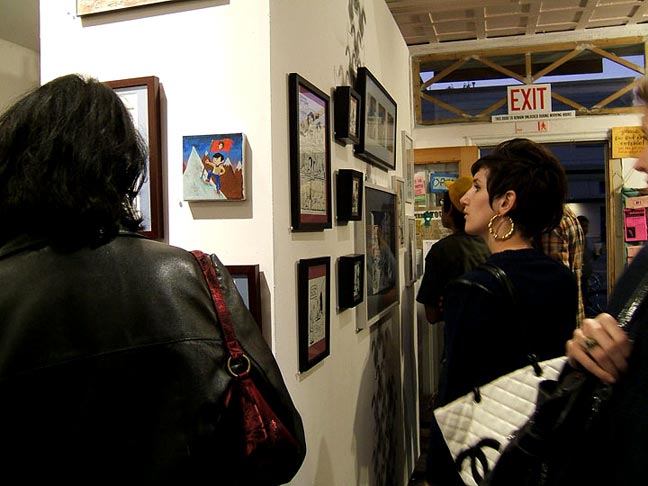 Ambience.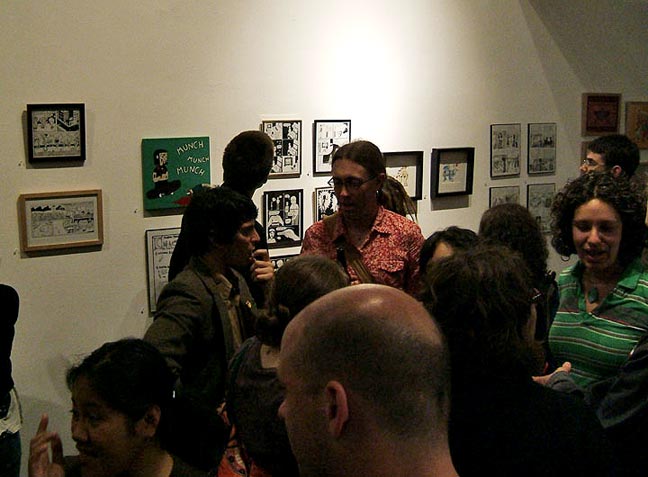 Relative density.


Out front.


***
Intermission at 23rd Street & Telegraph Avenue: Tape Man on the Corner.
Comment: Guy is standing on the corner of Telegraph and 23rd Street for a very short period of time, maybe 15 minutes tops. He's dressed in a suit and covered from head to toe with what looks like strands of videotape, achieving a hairy ape-tape effect. He then proceeds to jump around wildly in place while rubbing himself all over with what I think is a video cassette tape, and at the same time, grunting. When he's done spazzing out, he throws the tape into the street and stomps down 23rd. As he does, a man walking by asks him if he can take a picture with him or of him; the ape-tape man just scoffs as he continues stomping down the street. Humph! REAL ART!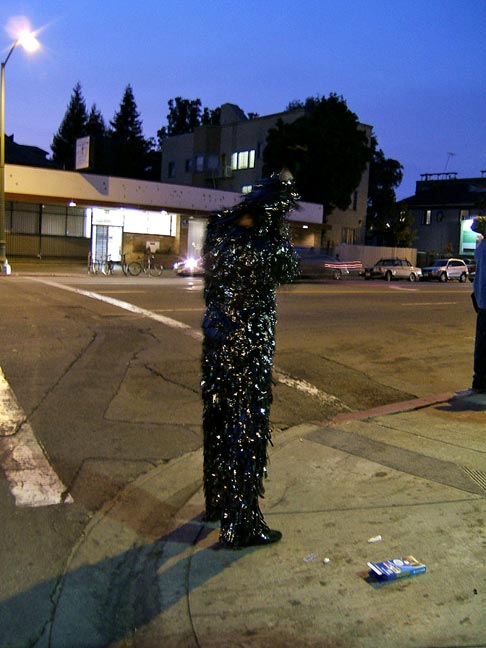 Tape man at rest.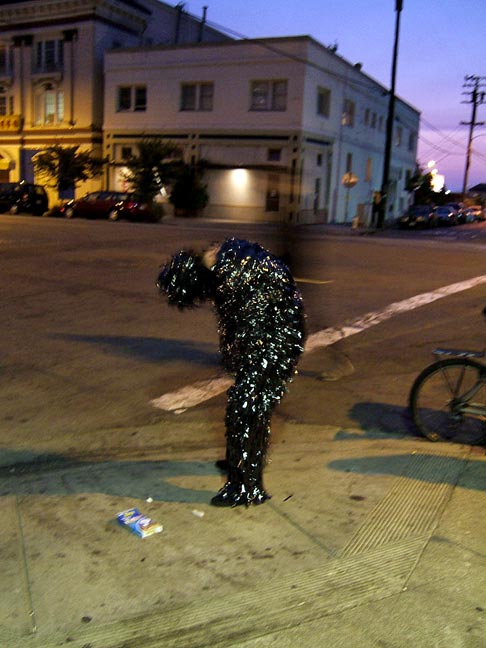 Tape man in motion.


***
The Moon: Grand Opening Party.
Artists: Cassidy Wright, Cory Gunter-Brown, Sasha Solomon, Gailan Trezise.
Comment: "To the moon Alice!" --Jackie Gleason on the Honeymooners, every episode, or nearly... This new space on 25th Street, just doors away from 21 Grand, has a tiny little atelier as their front room which includes sweet handmade collectibles, jewelry and clothing, and a full gallery room down a long hallway. 3 women are co-owners; Cassidy Wright, Cory Gunter-Brown and Sasha Solomon. One of them, I'm told, creates dresses out of crocheted table linens, and these fabrics line the brick front room's industrial windows. A couple examples of very artistic fashion designs are donned by manequins in the main gallery, and are very compelling. I'm told they've made wedding dresses also, from the same crocheted linens, for various clients.
The delicacy and curiousity of the items available are charming, as are the people present, tonight being their grand opening party. Beautiful and strange are a few tiny paper sculptures by Gailan Trezise, delicately illustrated with colored pencils and standing roughly 6" high at their tallest. They occupy a glass breakfront in the front room, each shelf reading as an installation in itself. There are also some entertaining collage shadowboxes that make use of images by the masters, hearkening to art of days gone by, as if paying homage.
Headquarters.


Owners.


Fashion.


Art.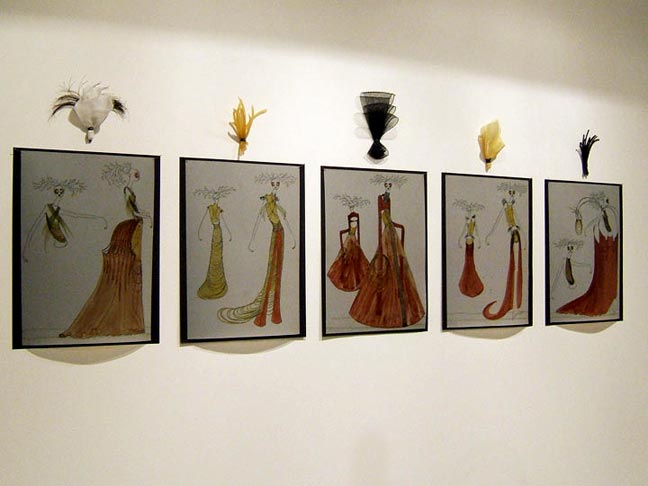 Fashion art.


Art (Gailan Trezise).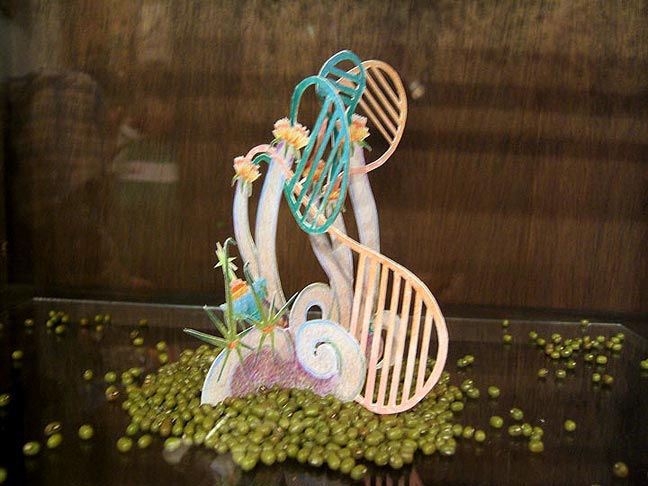 Art (Gailan Trezise).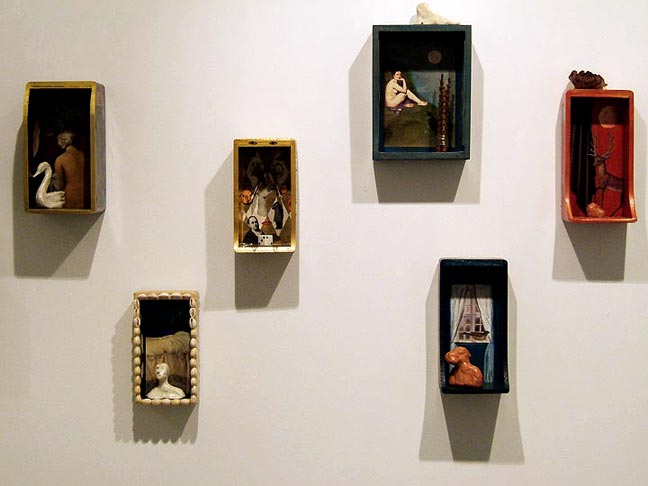 Art.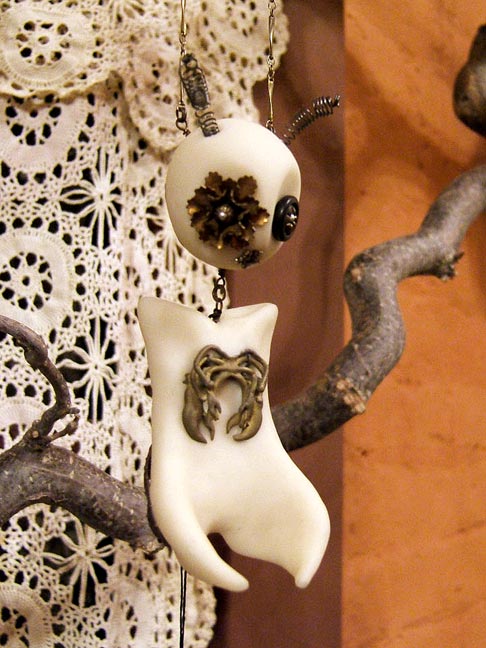 Art.


Long view.


***
21 Grand: Seam-ingly-- Textile Installation by Sarah Wagner and Photographs by Cynthia Yardley.
Comment: Spellbinding installation; tonight's the closing party, sorry. Woven photographs of clouds and massive burlap whorls that culminate into pods and leaves and huge white flowers fill the room. The complete takeover of the gallery in such a balanced manner impresses. You could almost dismiss it, it feels that good in here... airy, but SO much work! Check out the photos.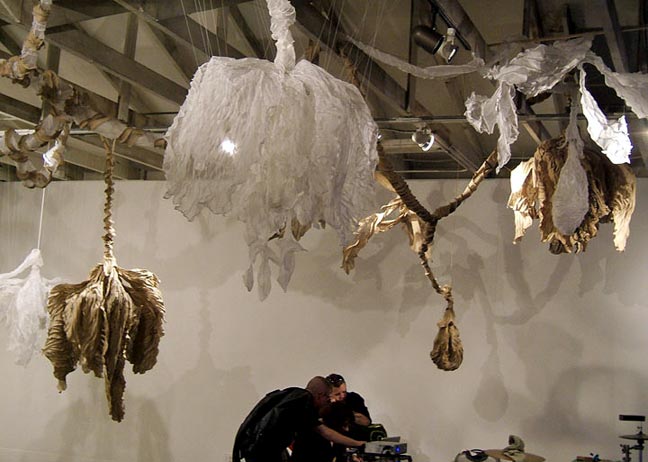 Art (Sarah Wagner).


Art (Sarah Wagner).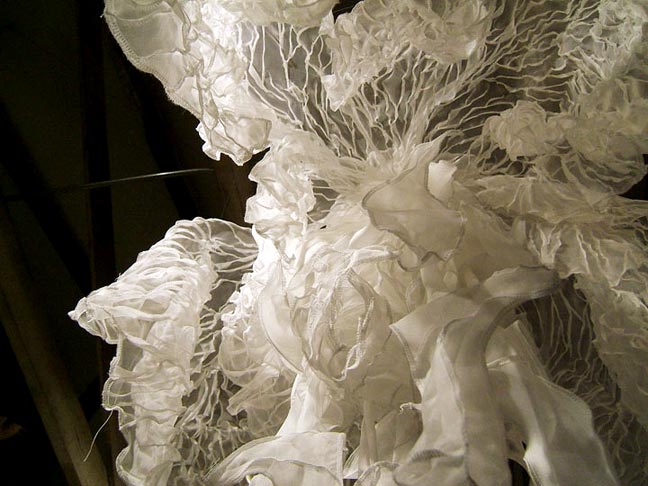 Art detail (Sarah Wagner).


Art (Cynthia Yardley).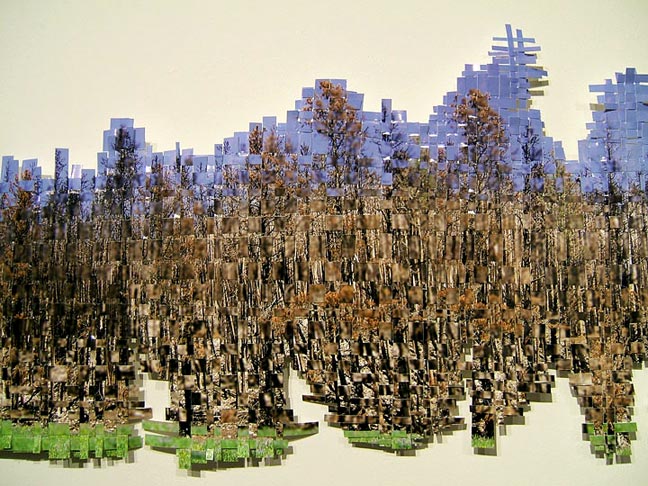 Art detail (Cynthia Yardley).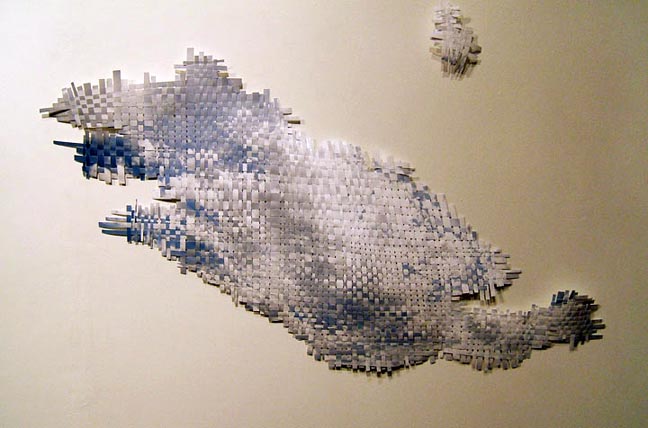 Art (Cynthia Yardley).


Art detail (Cynthia Yardley).


Art overview.


***
LoBot Gallery: A Benefit for the Bay Area Girls Rock Camp.
Comment: There's live music, live music, live music, and live music, food, beer, prizes, a video interviewer for broadcasting to the web, asking interviewees to demonstrate their best booty shaking techniques. They are in actuality those who I arrive with, and are called Know Productions. Just for laughs, here's a link to the varieties of strangeness they're capable of dishing up.
The bands include, Little Teeth, Shitstorm, The Insides, Evil Wikkid Warrior, Yes Please, The As Ifs (graduates of Portland's Rock 'n' Roll Camp for Girls!). As for the art, since there's only a few leftover pieces from the last show, "Mystical Enchanted Forest" in the main galleries, I shoot 2 paintings in LoBot's bathroom for your viewing enjoyment. Sorry they're blurry! That's a late night for you!
And then there's always the swing... gotta love that swing! And it goes SO well with all the FABULOUS MUSIC that they have moving through their space. Thank you LoBot, your space rocks it!
Ambience.


Essence.


Video interview.


Bathroom art.


Bathroom art.


Swing.


***