***
SOMArts Gallery: The Annual Murphy & Cadogan Contemporary Art Awards Exhibition.
Artists: Fatema Abdoolcarim, Teresa Baker, Dan Battle, Mika Boyd, Tristan Cai, Ji Eun Chun, Amber Crabbe, Missy Engelhardt, Seamus Harte, Nancy Ivanhoe, Beckey Kaye, Amber Fawn Keig, Sahar Khoury, Jesus Landin-Torrez III, Keegan Luttrell, Yan Yan Mao, Elizabeth Moran, David Olsson, Kate Short, Dimitra Skandali, Dawn Weleski, Michal Wisniowski, Momo Yao.
Comment by AB: The Murphy & Cadogan Fellowships, administered by The San Francisco Foundation, are awarded to promising young artists who are in their final year of MFA study at regional art schools and universities. And that's who's exhibiting here tonight. Worth checking out.
Installation by Kate Short - visually gratifying, typical nebulous soundtrack.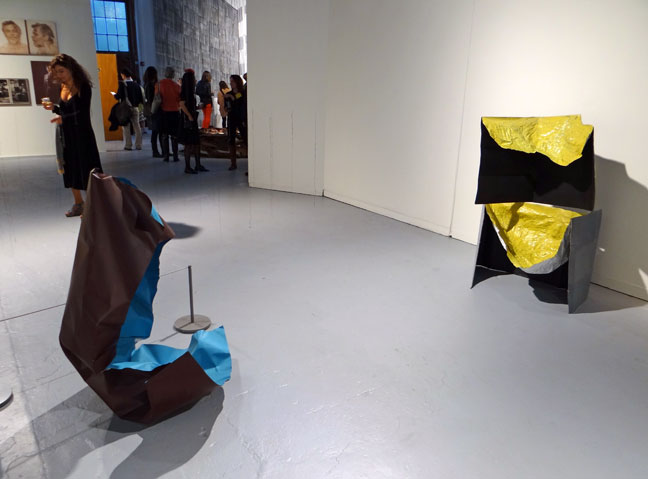 Sculpture by Ji Eun Chun at SOMArts Gallery.


Interesting take on painting by Teresa Baker.


Small works on paper by Momo Yao at SOMArts Gallery.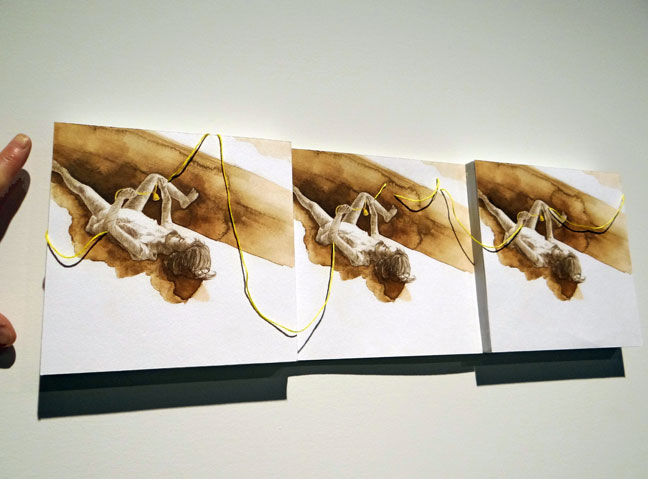 Art by Momo Yao in above image closer.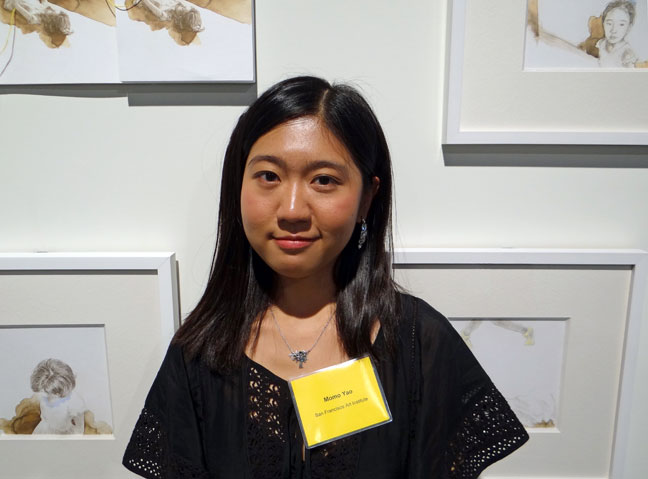 Momo Yao and her art at SOMArts Gallery.


Miniature artifact art by Yan Yan Mao.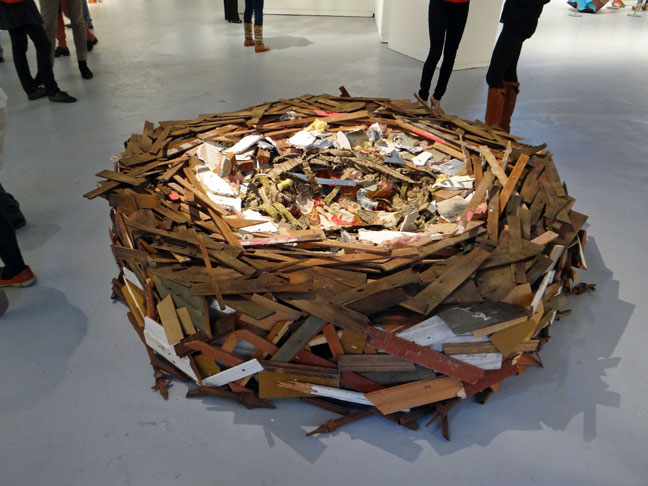 Sculpture by Beckey Kaye at SOMArts Gallery.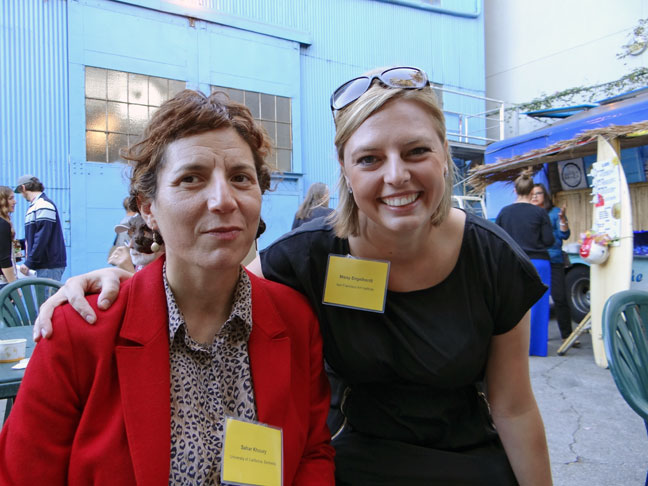 Artists Sahar Khoury and Missy Engelhardt outside in the patio.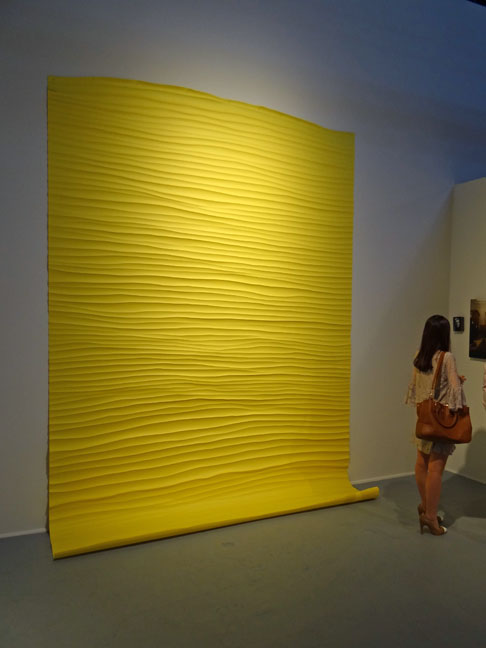 Folded paper art - Murphy & Cadogan awards show at SOMArts Gallery.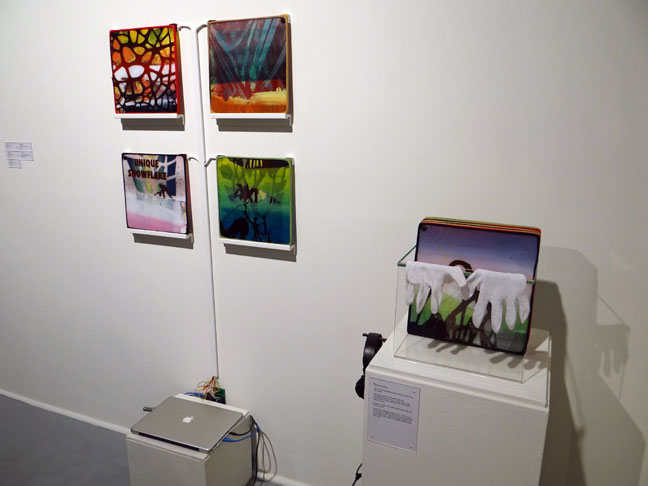 Combination visual/digital art.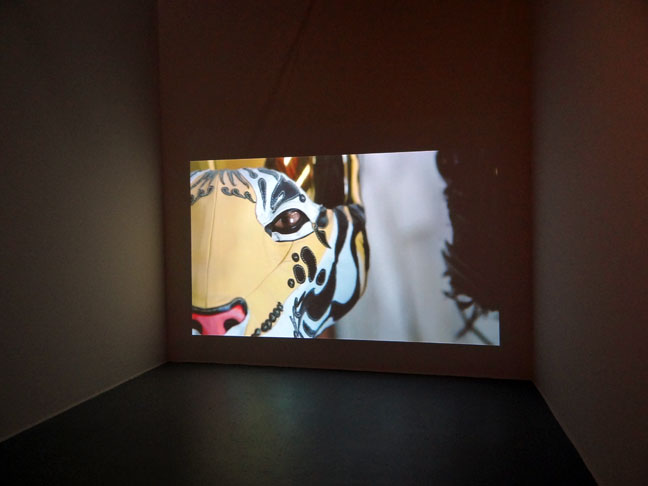 Video art at SOMArts Gallery.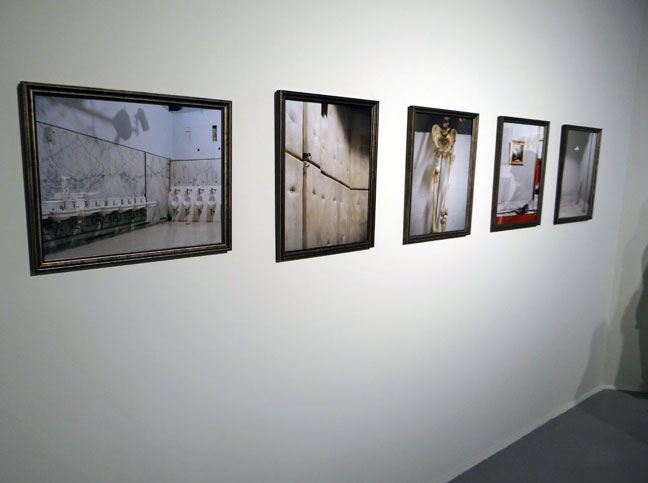 Photography at SOMArts Gallery.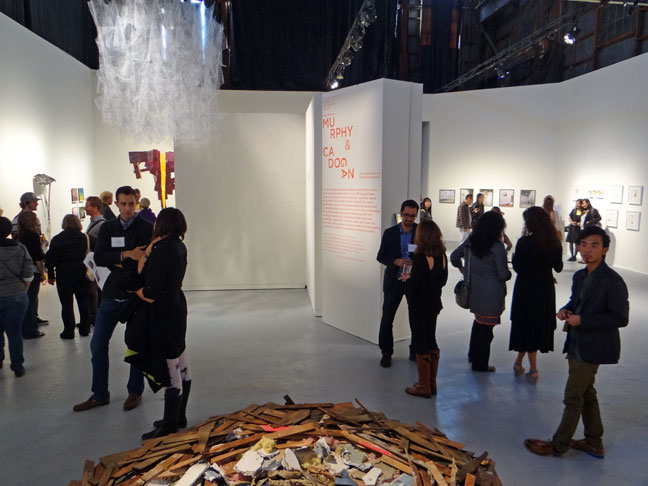 Layout - Murphy & Cadogan awards exhibition at SOMArts Gallery.


***
Electric Works: Geometria Concretus - Lucy Puls.
Review by Maria Medua: Lucy Puls' new work on view at Electric Works takes as its subject matter homes that have been foreclosed on by the banks and summarily stripped bare of any valuable contents by the former residents or subsequent vandals.
At first glance, the viewer may think that Puls is a photographer. Each piece in the show begins with a photograph that she took inside an empty house in cities like Vallejo, Antioch or Berkeley. The photographs are color ink-jet prints mounted to aluminum panels. Puls rests each photographic panel on a piece of cast resin that acts as a shelf.
Each view is tightly cropped to a detail, a corner where the ceiling and walls meet for example. The images are turned in different directions. While the views are recognizable, it takes a moment to orient yourself-- the floor is not where it should be, the window has been turned sideways and light streams in as it does on a morning when you wake up with a wicked hangover. Puls then adds and subtracts from these images. She favors removing the pigment from certain areas of the prints, creating white dividing lines that section the images into geometric shapes. These lines are prominent and similar to chalk lines. She also adds to the surfaces either by painting sections with gouache (opaque watercolor) or carefully applying crisp segments made of thinly cast polyurethane. By obscuring the images with mixed media, the panels become less pictorial and integrate well with the cast resin supports she has designed.
There is a lot of art work around about abandoned real estate, but this work is unique because Puls, a sculptor, not a social documentarian, engages the viewer in the subject with a deep understanding of space.
Puls calls the current series of work "Geometria Concretus" and geometry does rule the picture plane. She is quite successful at making us more aware of her central concern, which is not just the mortgage crisis per se, but our relationship to objects in general. She says the work is about what we discard. Her visual language is so astute that we arrive at that conclusion without any heavy-handed rubric.
Her choice to have each panel lean against the wall on cast polyurethane supports implies that objects occupy space only temporarily, nothing fixed or permanent binds them to the wall. In Puls's work both the subject matter-- vacant buildings stripped to just the walls, ceilings and floors-- and her created objects, photographic images transformed by mixed media, denuded to reveal a base of white paper, call to mind the famous piece by Duchamp, "The Bride Stripped Bare by her Bachelors, Even." In part, the comparison could hold because the Duchamp piece actually looks like a glass window frame from a building somewhere, and more so because it has been posited that the Duchamp piece is about (unconsummated) desire. Ironically, "Bachelors" also famously shattered in transit following a showing at the Brooklyn Museum.
As in the images Puls has laid out before us, frustrated desires and broken windows might seem the norm. She purposefully interprets our current conditions in the making of concrete objects that have the ability to speak to turbulent times and fragile circumstances. This gives voice even to mere objects while it is up to us to decide if they may or may not be heard.
Art by Lucy Puls at Electric Works.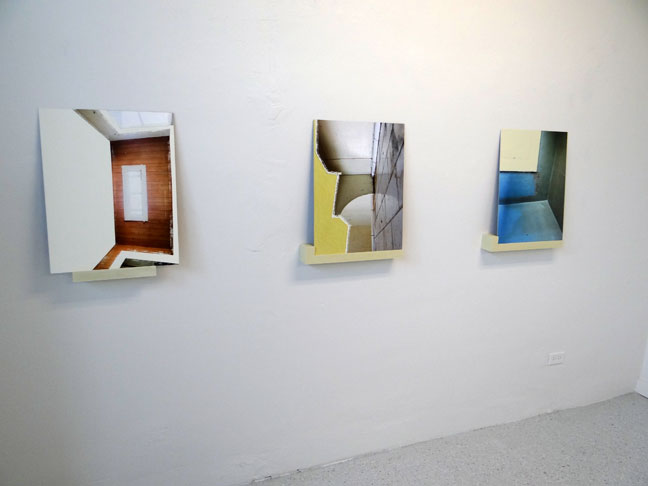 Lucy Puls art.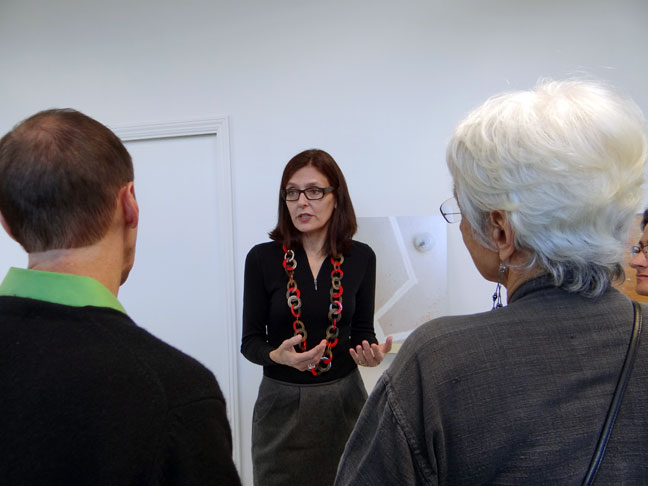 Lucy Puls discusses her art at Electric Works.


Art by Lucy Puls.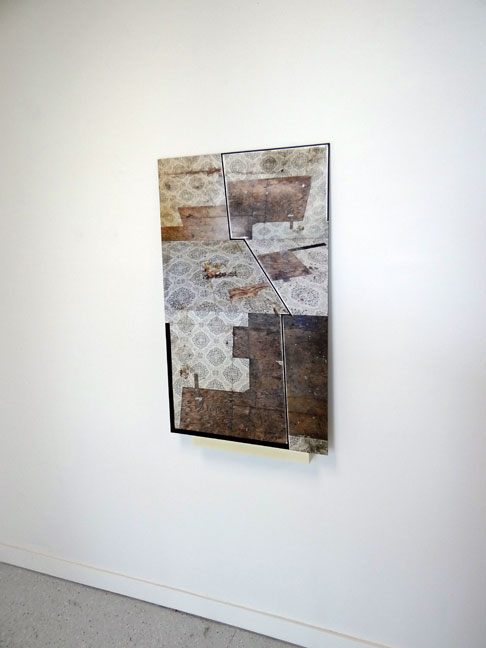 Lucy Puls art at Electric Works.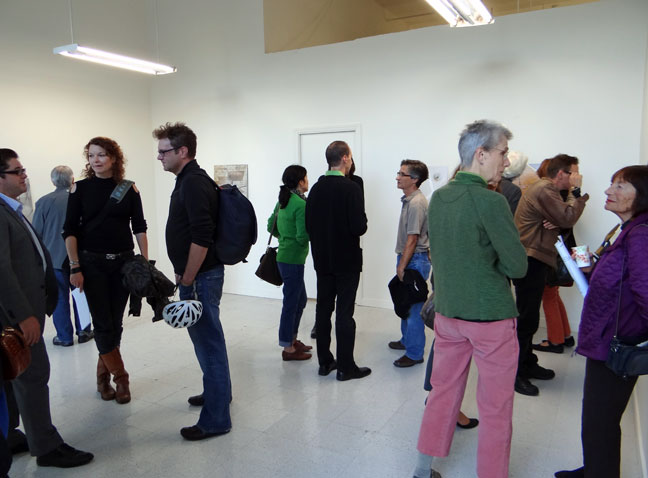 Demographics - Lucy Puls art show at Electric Works.


***
Center for Sex and Culture: Tough Love - A Half-century of Masculine Homoerotic Imagery from the SF Bay Area.
Artists: Chuck Arnett, Mike Caffee, Mark I. Chester, Jok Church, The Hun, A. Jay, Dennis Kennedy, Jim Leff, Less Jojo Mendoco, Jeremy Novy, Olaf, Michael Palmer, Rex, Eric Robinson, Michael Rosen, Sarge, Uyvari, Zach, more.
Comment by AB: Fascinating survey of half a century of homoerotic art in The Bay Area. Nothing's off limits here. Stop on by and have a gander.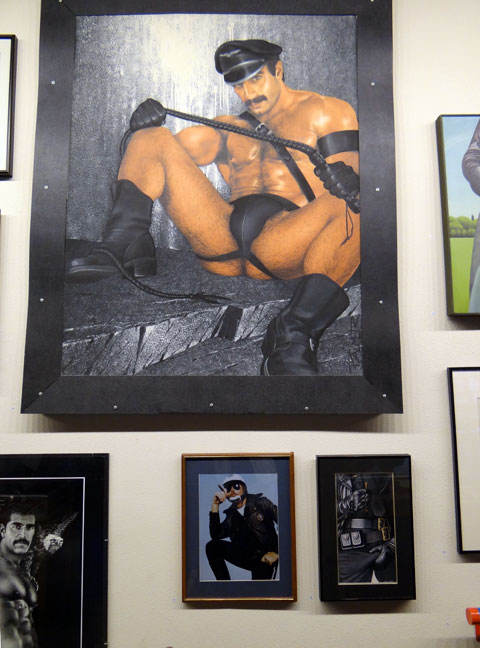 Vintage homoerotic art at Center for Sex and Culture.


Photography.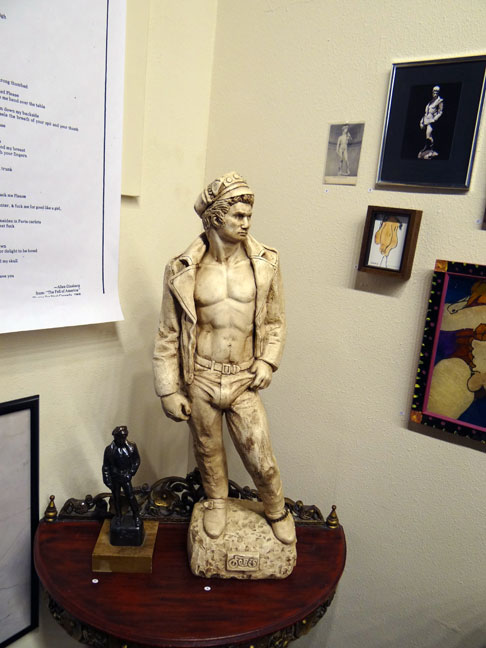 Sculpture at Center for Sex and Culture.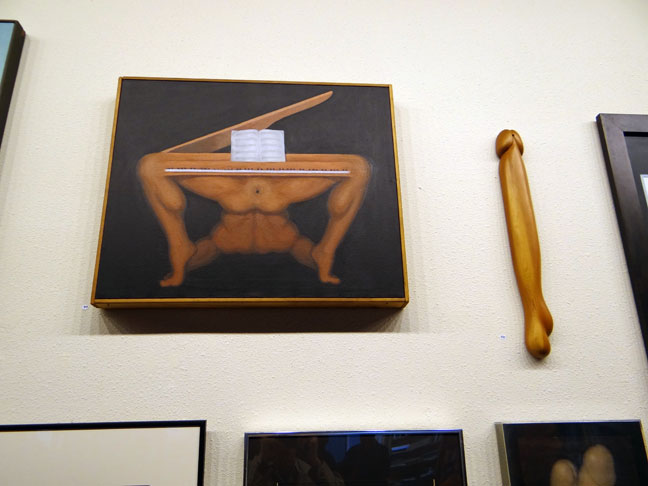 Inconceivable ass piano art (love it).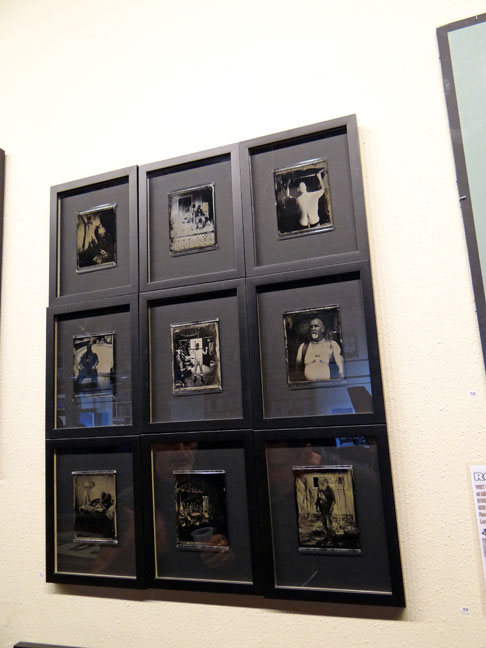 Tintype erotica at Center for Sex and Culture.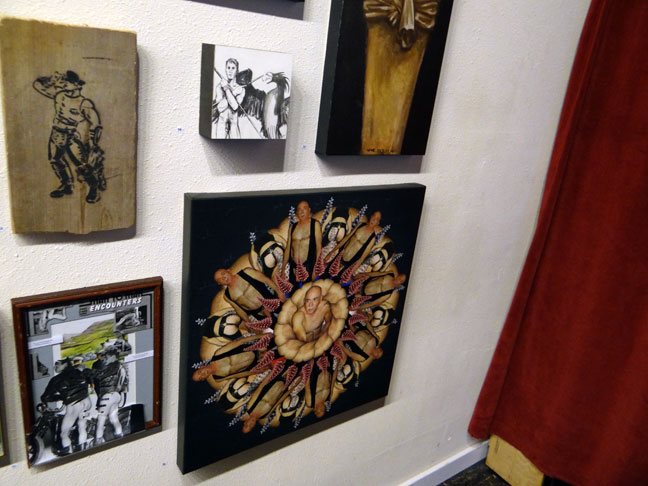 Homoerotic art survey at Center for Sex and Culture.


Circumstance - survey of homoerotic art at Center for Sex and Culture.


***
Mark Wolfe Contemporary Art: Coming Up Roses - Sarah Thibault.
Comment by AB: Sarah Thibault whips up her own unique take on floral still-life painting, accented with garish sculptured vases and topped off with a trippy kaleidoscopic chandelier.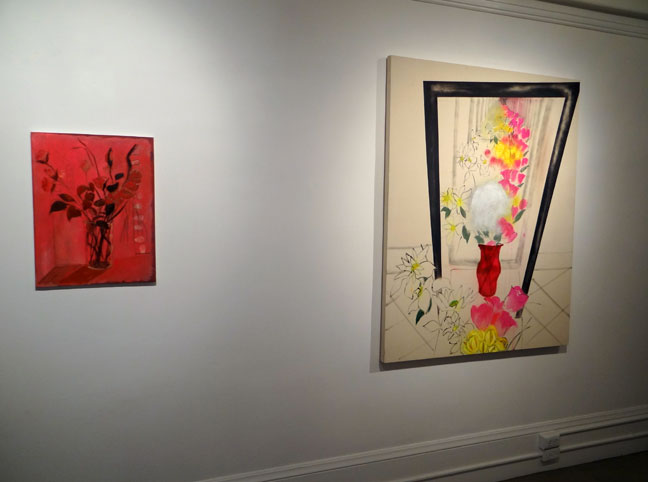 Still life art by Sarah Thibault at Mark Wolfe Contemporary Art.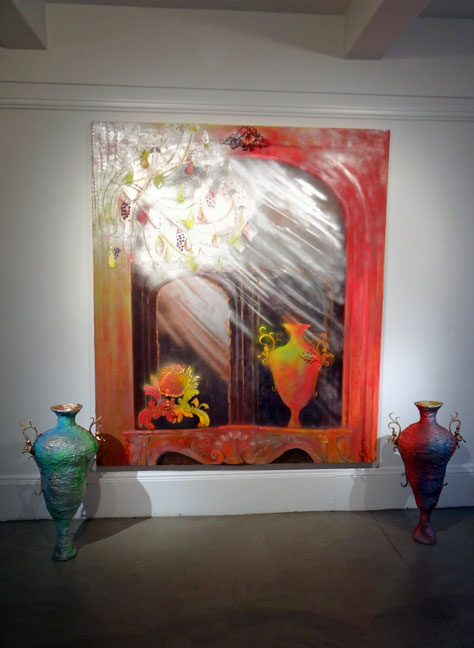 Art by Sarah Thibault.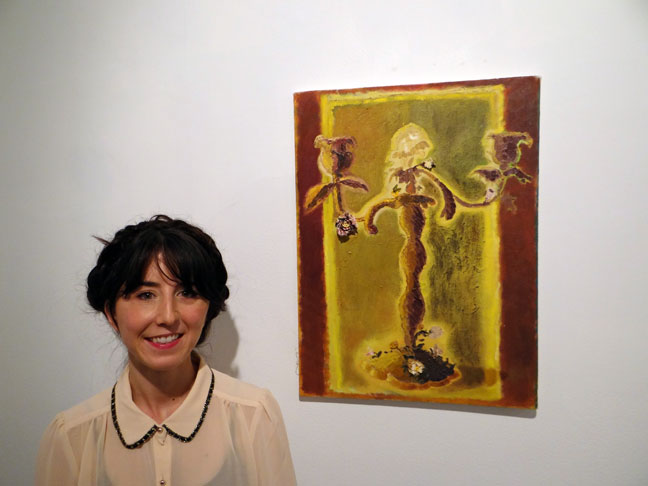 Sarah Thibault and her art at Mark Wolfe Contemporary Art.


Flamboyant chandelier art by Sarah Thibault.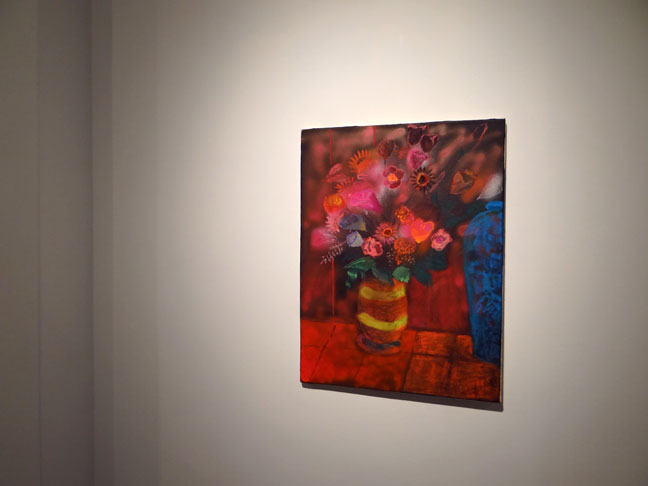 Art by Sarah Thibault at Mark Wolfe Contemporary Art.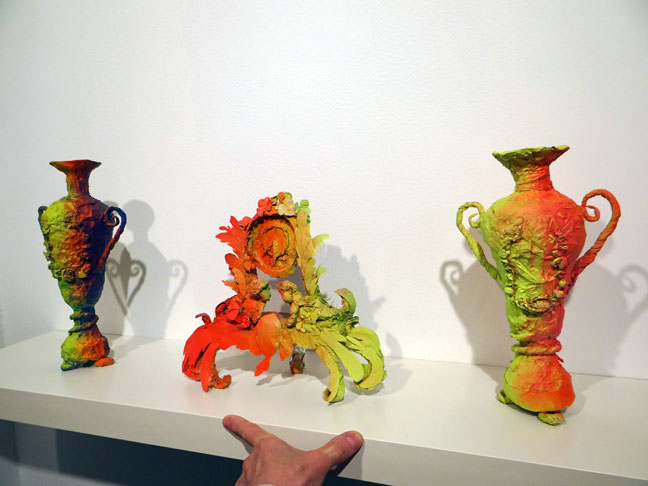 Ostentatious DayGlo sculpture by Sarah Thibault.


***
John Pence Gallery: Still Life/Trompe L'Oeil.
Artists: Juliette Aristides, Noah Buchanan, Tony Curanaj, Adam Forfang, Carin Gerard, Justin Hess, Tara Keefe, Sarah Lamb, Kate Lehman, Jeremy Mann, Edward Minoff, Jacob Pfeiffer, Nicholas M. Raynolds, Randall Sexton, Jason Toney, Anthony Waichulis, Will Wilson, William Bartlett, Jacob Collins, Carl Dobsky, Greg Gandy, Russell Harris, Lance Hewison, Douglas Flynt, Dean Larson, Steven J. Levin, Aron Meynell, Michael Molnar, Ted Polomis, Travis Schlaht, Chris Thomas, Peter Van Dyck, Slade Wheeler.
Comment by AB: My favorite show of the year at John Pence gallery-- superb still-lifes and trompe l'oeils, the best executed with such virtuosity that they'll blow your mind, aka you can't even believe they're paintings. Definite go-see.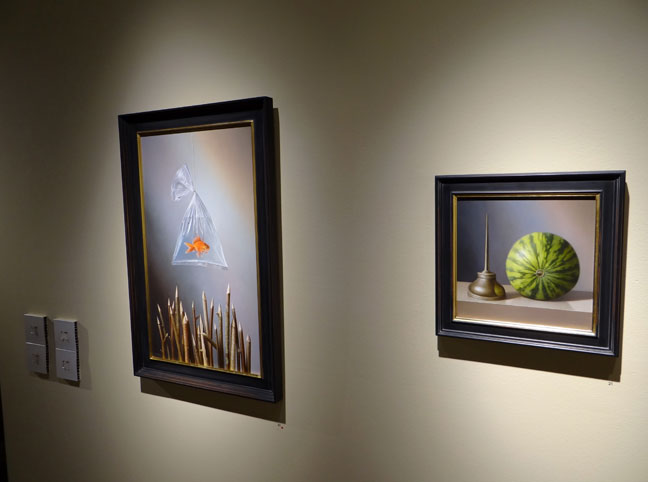 Goldfish in peril art by Jacob Pfeiffer (left) at John Pence Gallery.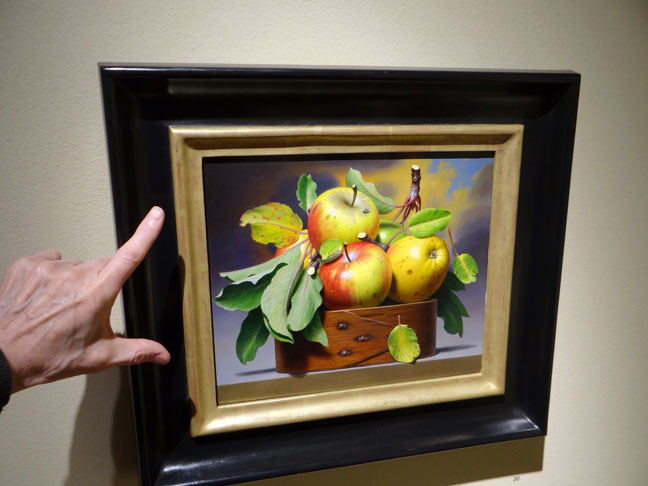 Stunningly superb apple still life painting by Will Wilson (like it).


Vintage bottle opener art by Russell Harris at John Pence Gallery (like it).


Pinkie cam detail of art by Russell Harris above (yep, it's a painting).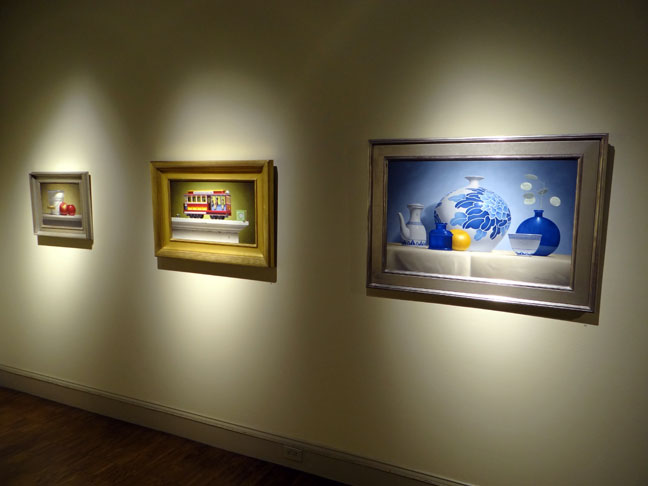 Art by Ted Polomis (right) at John Pence Gallery.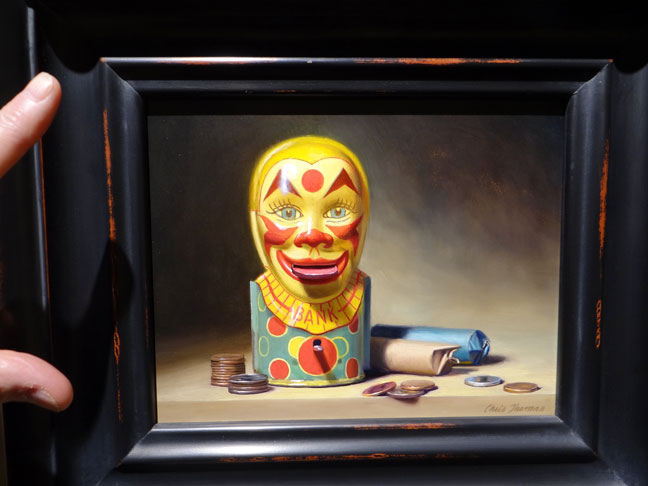 Chris Thomas antique bank art.


Art by Greg Gandy at John Pence Gallery.


Slade Wheeler art at John Pence Gallery.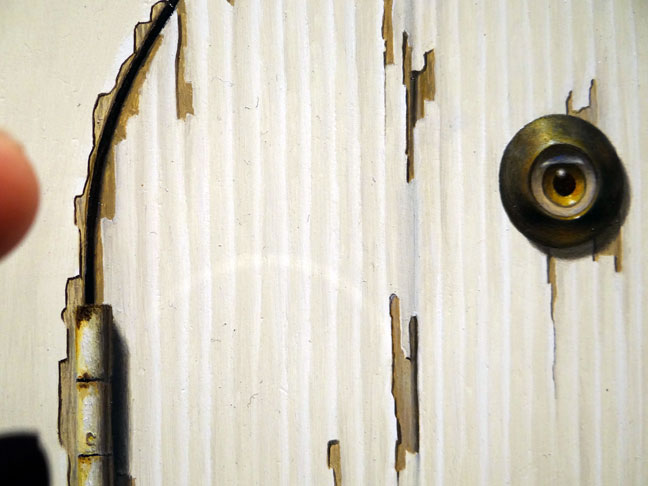 Pinkie cam detail of Slade Wheeler art in above image (like it).


Floor plan - still life & trompe l'oeil art show at John Pence Gallery.


***