SAN FRANCISCO ART GALLERIES - OPENINGS
JOHN PENCE - LUGGAGE STORE - CALIFORNIA MODERN GALLERY
GALLERY 16 - RATIO 3 - MICHELLE O'CONNOR
THE LAB - ELEANOR HARWOOD GALLERY - TRIPLE BASE
MOLLUSK SURF SHOP - HOUSE OF HENGST - MISSION 17 GALLERY
SOUTHERN EXPOSURE
09.08.06
John Pence Gallery: Hugh Shurley - New Mixed Media Collage; Carl Dobsky - Recent Oil Paintings.
Comment: Hugh Shurley combines vintage and contemporary elements to create engaging enigmatic photo collages that look dreamily timeless rather than distinctly old or new. Tricky. The compositions at first appear straightforward, but then you start to look, to discover layers, shreds, chards, and colors-- they won't give themselves away unless you're willing to commit. Nice. Priced $1250-$3250. In the back gallery, Carl Dobsky shows competent atmospheric quietly anomalous cityscapes, figural works, and still lifes. Most priced in the $2000-$4000 range.
Art (Hugh Shurley).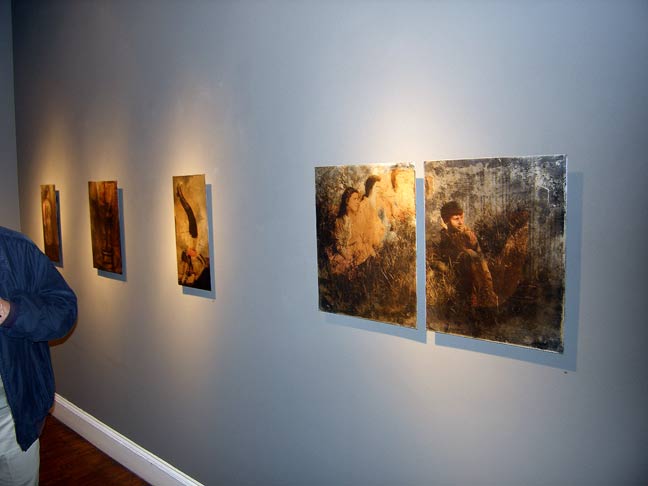 Art (Hugh Shurley).


Art (Hugh Shurley).


Art (Carl Dobsky).


Art (Carl Dobsky).


Art (Carl Dobsky).


Rear gallery partial - art (Carl Dobsky).


***
Luggage Store Gallery: The Amber Room - Hidden Treasures, Baroque Manias, and the 8th Wonder of the World!
Artists: Won Ju Lim (Los Angeles), Liu Ding (Beiijing), Shirley Tse (Los Angeles), Wang Wei (Beijing).
Comment: The show's title references the original Amber Room, commissioned in 1716 by Fredrick I of Prussia as a gift for Peter the Great, so preposterously opulent that it got dubbed the Eighth Wonder of the World, and here interpretated and elaborated on by four Asian and Asian American artists. Their art's far from preposterously opulent, but it's certainly satisfying enough to qualify as eminently adept. I gotta go with Wang Wei's rugged roofed winding walkway fashioned from everyday construction scaffolding, and a series of conjoined colored panels, courtesy of Liu Ding, sporting the word "forevermore," each letter composed of small circular holes, each hole inset with a lens, so you can look out onto Market Street (or wherever). Special added bonus-- those of you who like meanings, evocatives, suggestions, inferences, analogies, parallels, and related species of cognitive cabbage with your art will find no shortage of it here.
Bright shiny reflective art (Won Ju Lim - like it).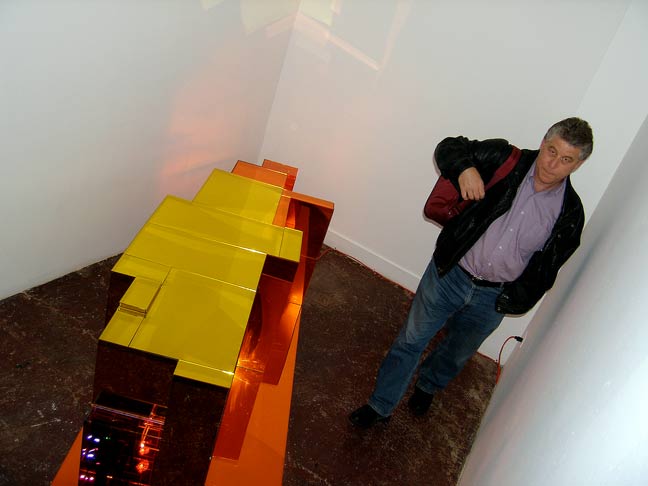 Art (Won Ju Lim).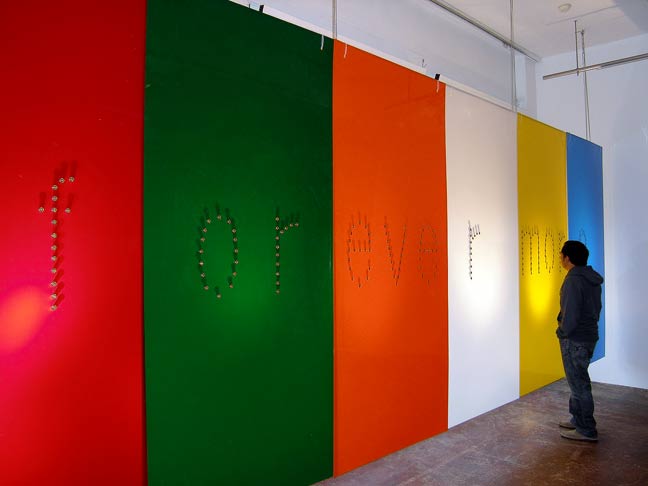 Art (Liu Ding - like it).


Art (Wang Wei - like it).


Art (Wang Wei).


Art (Wang Wei).


Art (Shirley Tse).


***
California Modern Gallery: Bay Area Figurative Now.
Artists: Mark Harris, Andrzej M. Karwacki, Priya Love, Mark Seely, Peter Z. Jones, Dylan H. Anderson.
Comment: From the title, I thought the show would have something to do with the Bay Area Figurative School of painting from the fifties, but no. It's six local artists with different takes on presenting and/or manipulating animate form in their art-- sometimes human, sometimes not, sometimes somewhere in between.
Art (kinda like that spooky one on the left).


Art.


Art.


Mark Seely - charcoal art.


Art.


Art.


***
Gallery 16: Charles Linder - Crazy Horse, New Dreams and Wishes Come True.
Comment: First things first, Gallery 16-- now that you're chillin' in the Baseball Ghetto, you gotta get yourself a San Francisco Giants schedule, study it assiduously, and make sure none of your openings coincide with Giants home games (like this one does). Deference is in order seeing as they schedule their season long before you schedule your openings. In other words, I have to park across some stranger's driveway because all available street parking is long gone, sprint around the corner to execute an excessively frenetic assessment of your show, and then peel outta there before the authorities can nab my ass and cart me off to the calaboose.
So OK. Tonight's omnibus is a high camp smorgasbordic saunter through Charles Linder's artlook on life, the pinnacle of which is a shot-up 1965 Ford Mustang car-cass Linder likely discovered cluttering up the desert while extant on one of his periodic urban exiles. Now repainted in celibate white, fitted with a lone bucket seat, pedestalled, ensconced in aesthetic incongruity-- and for sale-- it awaits an oasis in which to live out it's canny in-car-nation.
Car carcass art.


Charles Linder chats with his personal progenitorial dyad.


Art.


More spent ammo art.


Art.


Tunes.


***
Ratio 3 Gallery: Robert Lazzarini - Sewer Covers.
Comment: Robert Lazzarini procures a New York City sewer cover, unilaterally decrees it to be a paradigm for art, and out pop two regenerations as weird wavy sculptures (like looking at the cover through moving water) plus a series of dissective gridlike drawings that translate the pattern of the original. The most enlightening moment of the evening for me is when I ask Lazzarini how he acquired his prototype, and he tells me he bought it used for $160. I didn't know you could buy used sewer covers. See how art educates us?
Art.


Art.


Robert Lazzarini.


Art.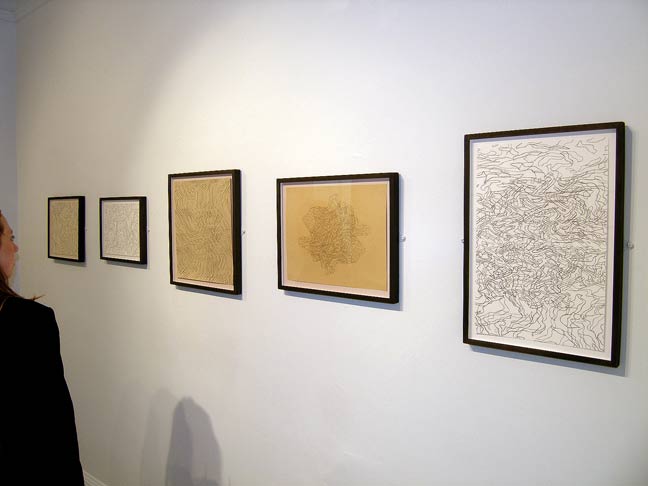 Art.


Mantlepiece.


***
Michelle O'Connor Gallery, 2111 Mission Street, San Francisco, CA 94110; 415.990.7148: Home Ec - New Work by Sarah Applebaum, Elide Endreson, Sherry Koyama, Christina La Sala, Julia Petho, and Allen Stickel.
Comment: Sarah Applebaum's deliriously circuitous carnival of crochet meanaders along the floor and up the walls in a riot of colorific convolution. Applebaum tells me she snags the component parts at various secondhand stores and sales around town, then sews 'em into wacky psychedelic macrosms that surely were never meant to be. But now they are and I love it. Oh-- almost forgot. She also crafts a crocheted octopusian megasweater for six, joined at the cuffs-- a perfect excuse for feeling up your friends. It's like playing Twister without rules.
Sarah Applebaum - crochet gone wild.


Art (Sarah Applebaum).


Sweater hockey for six.


Sherry Koyama - ersatz cake art.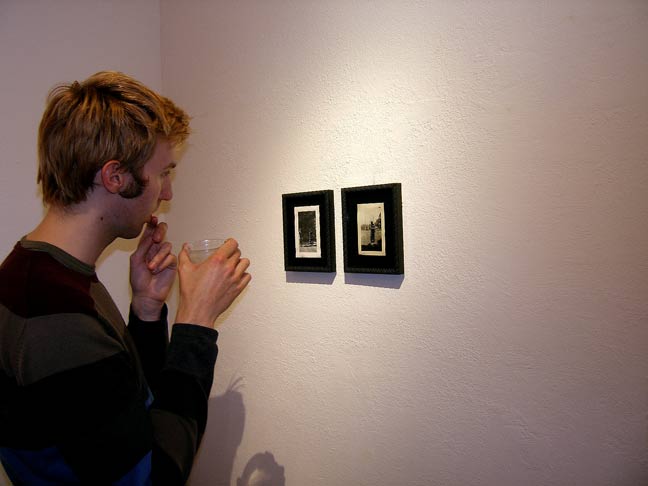 Art.


Art.


Art.


Art.


***
The LAB: Some Assembly Required.
Artists: Roger Bisbing, Marcus Civin, Yoon Cho, Nancy Elliott, Taro Hattori, Jesse Houlding, Peter Kimmel, Nicholas Knight, Steve Lambert, Francis McIlveen & Yuki Maruyama, Dan Nelson, Zefrey Throwell, Lindsey White, Edmund Wyss.
Comment: The LAB's "first-ever juried exhibition." I get there smack in the middle of Dodecadiscoteca, a strange turntabular performance featuring 14 people operating 12 vintage portable record players, complete with conductor, playing everything from classic rock by Kansas to Sousa's Stars and Stripes Forever to the theme song for Chariots of Fire, all in wiggy close-but-no-cigar synchronicity, and subtly seasoned with pseudo priggishness. Unfortunately, that means the lights are out and I can't really see anybody else's art. Oh well.
Dodecadiscoteca performance.


About half of the audience.


Miniature open air lecture hall art.


Video art.


Art.


***
Eleanor Harwood Gallery: Emily Prince - Familiar.
Comment: Curious diagrammatic drawings of familiar objects arranged, associated, affiliated, and positioned in varying degrees of unfamiliarity with respect to one another.
Art.


Art.


Eleanor Harwood emulates Wonder Woman in the wet bar.


Art.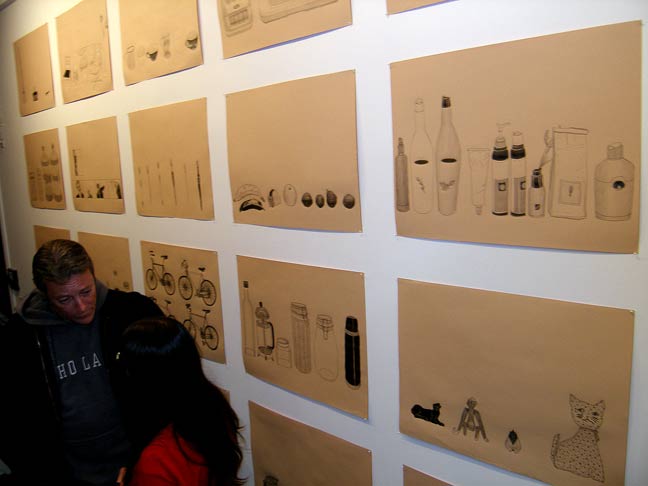 Art.


Tunes.


Turnout.


***
Triple Base Gallery: Kottie Paloma - In the Valley of the Sun.
Comment: I'm searching for a word to describe Kottie Paloma's art besides "good," which it is, and then I find it-- right there in the press release-- harsh. I mean we all know it's a red-ass world, right? So OK. You get all "real" about life with your art and the next thing you know, you sound kinda like George Bush getting all "real" about his pathway to peace-- war. Who do we hate today? Who do we kill today? Who do we eliminate today? (Anything but look in the mirror, right Mister President?) You think you're solving problems, but all you really do is miff the contrarians, and the next thing you know, it's H-bombs for everybody.
Maybe try a different tact and see what happens. Like maybe this... Who do we try to live with today? Who do we try to understand today? Who do we try to make peace with today? I'm not sayin' paint daisies for the rest of your life, but you gotta remember-- the more you think it, the more you feel it, the more you say it, the more you art it, THE MORE YOU BECOME IT. So ask yourself, "Is this who I really wanna be?"
Art - like it.


Reading area with artist books on tape.


Chris Corales - Kottie Paloma - collaborative art.
(Corales made it; Paloma signed it.)


Art.


Art.


Plushie firearm art - like it.


Art.


Not sure.


***
Mollusk Surf Shop: High Waters - Artwork by Jeff Canham.
Comment: Jeff Canham's clean gloss component-part art combines letters, numbers, and decorative elements into fluid progressions with oceanic overtones. Canham's a relatively recent transplant from SoCal, a former art director for a surfing magazine, and a professional sign painter who, by astute application of his considerable commercial skills, elevates the commonplace to fine art (not many artists work both sides of the issue with his degree of finesse). Music is courtesy of Peggy Honeywell and Gojogo (go to the website-- have a listen-- they're good).
Art.


Art.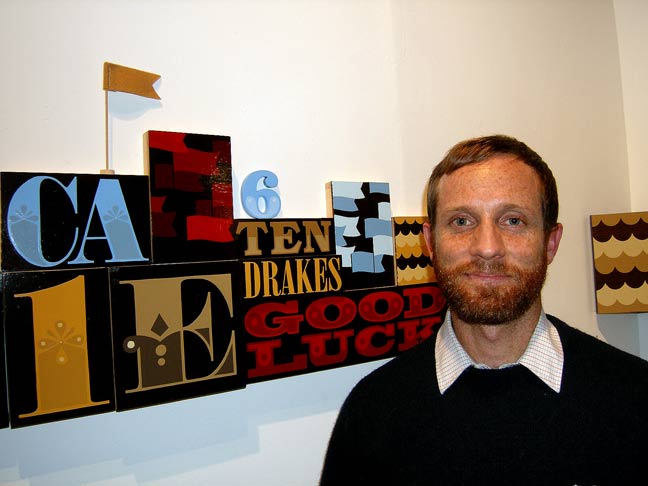 Jeff Canham - art.


Art.


Tunes.


Attendance figures.


***
Addendum: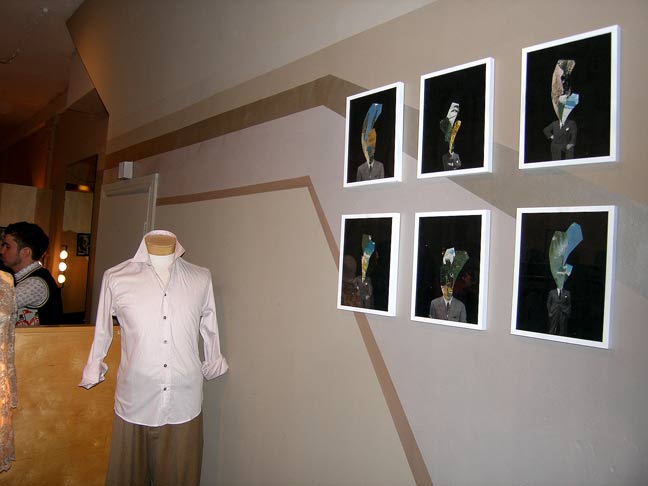 Jeff Page collages at House of Hengst, 924 Valencia St.


Jeff Page at House of Hengst.


One more from Jeff Page at House of Hengst.


Anna Maltz and Haden Nicholl investigate art and madness
at Mission 17 Gallery.


One more from Mission 17 Gallery.


Not much art; gobs of people as Southern Exposure
announces a year of off-site art projects.


***