SAN FRANCISCO ART GALLERIES - OPENINGS
BRAUNSTEIN/QUAY - HOSFELT - CATHARINE CLARK
CHANDLER - MISSION 17 - LITTLE TREE - RECEIVER
TRIPLE BASE - ROOT DIVISION - WHITE WALLS
09.08.07
Braunstein/Quay Gallery: Patricia Tobacco Forrester - Observed and Invented.
Comment: The "Observed" part of the show's title refers to Patricia Tobacco Forrester's use of fragments of actual plantscapes from various geographic locations including "Chile, Costa Rica, Brittany, upstate New York, California's Napa Valley, and her home in Washington, DC" in her art. For the "Invented" part, Forrester energizes those fragments up with vibrant colors and uncharacteristic vegitational density. Her resulting watercolor compositions straddle abstract and actual, are not easily identifiable in terms of location, and thereby allow viewers to enjoy the outcomes from an unencumbered medley of aesthetic perspectives.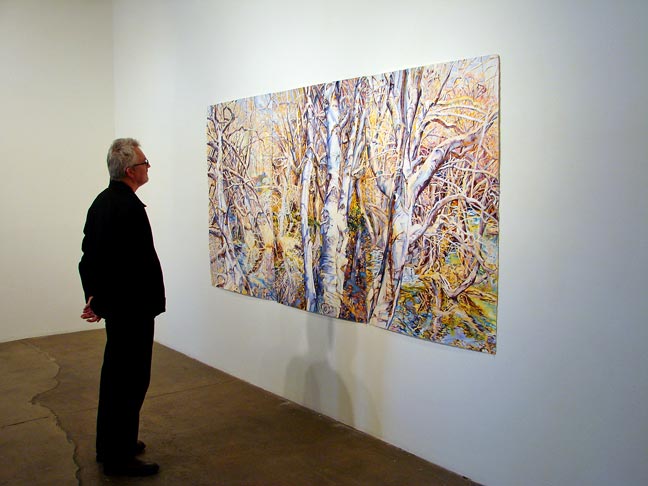 Art.


Art.


Art.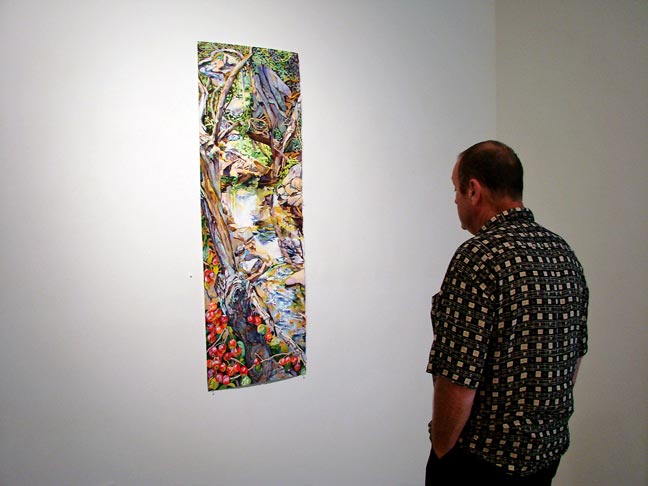 Art.


Art.


***
Hosfelt Gallery: Nicole Phungrasamee Fein - Materialize; Nelleke Beltjens - Complex/Incomplete Completion.
Comment: Dutch artist Nelleke Beltjens goes postal with a draftsman's rapidograph (a very fine-tipped pen) on expansive white paper surfaces generating extravagantly labyrinthine patterns that, when taken in total, might be described as controlled randomness. According to the disclosure, "time spent with Beltjens' work reveals that 'something' only exists in relationship to 'nothing' and that what isnšt there is at least as important as what is." I'm gonna chew on that cud for a while and get back to you.
Nicole Phungrasamee Fein, meanwhile, proffers sensitive steady-hand color band watercolors offset by stuffed stitched sewn framed standing fabric sculptures, the overall effect trending serene and meditative. Good show on both counts.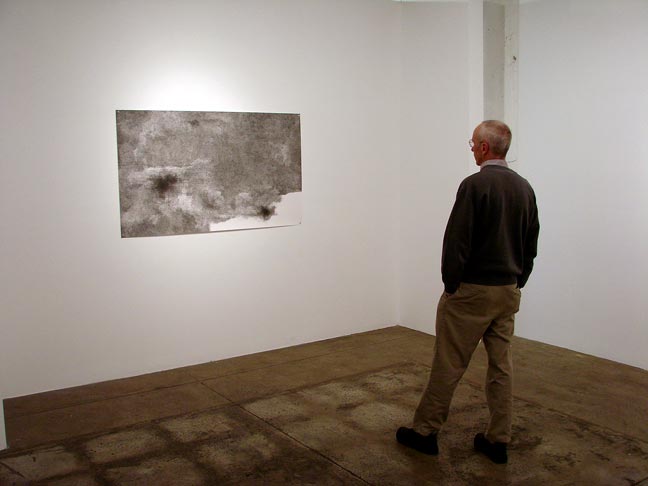 Art (Nelleke Beltjens).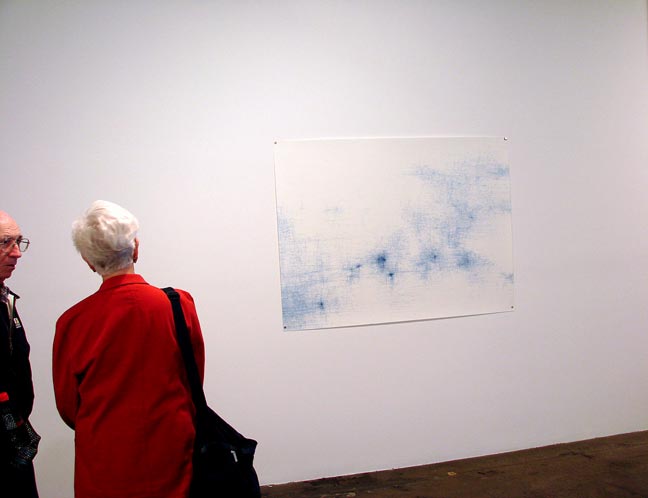 Art (Nelleke Beltjens).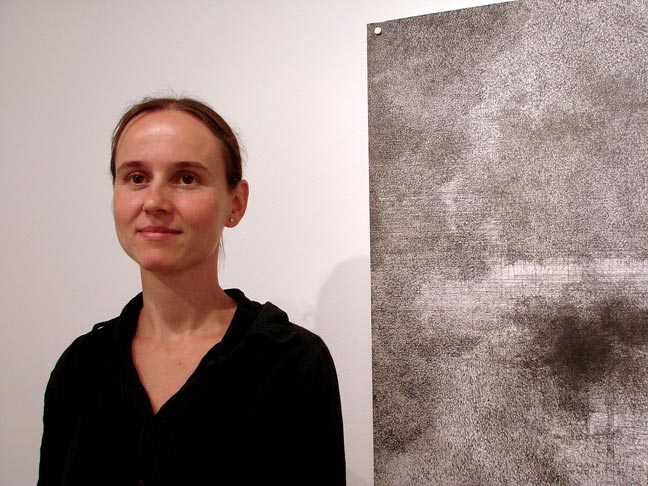 Nelleke Beltjens - art.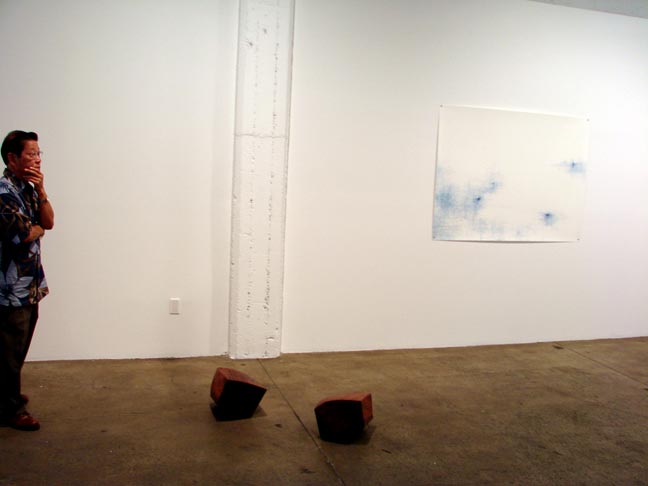 Art (Nelleke Beltjens).


Art (Nicole Phungrasamee Fein).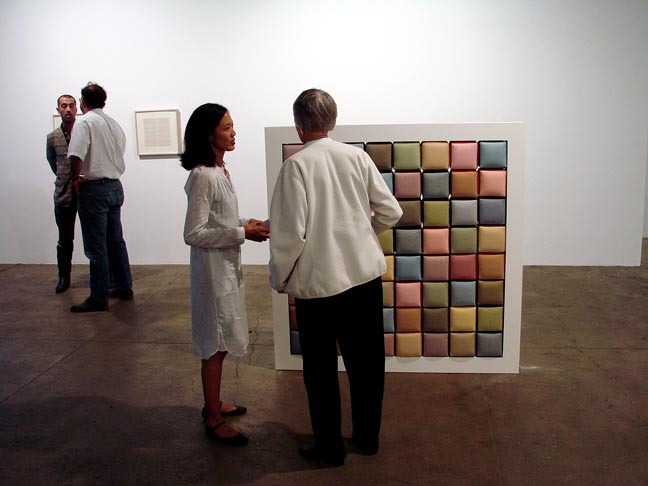 Art (Nicole Phungrasamee Fein).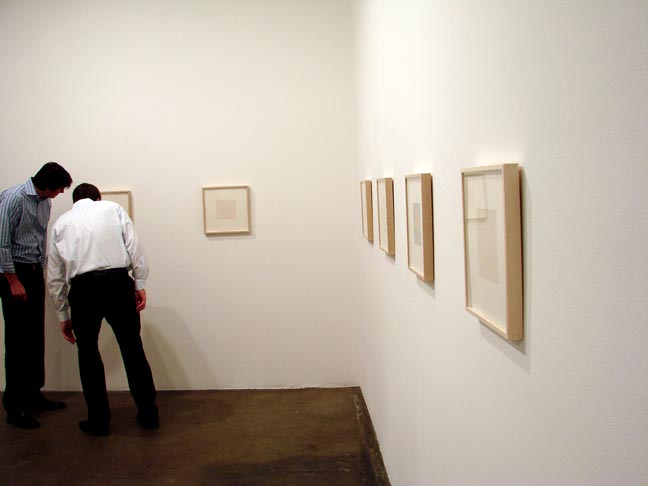 Art (Nicole Phungrasamee Fein).


Art (Nicole Phungrasamee Fein).


Art (Nicole Phungrasamee Fein).


***
Catharine Clark Gallery: Sandow Birk - Depravities of War.
Comment: Sandow Birk addresses social and political issues through art as effectively as any artist out there, his brilliance being that he presents his perspectives in ways resembling those of reporters, rather than of ideologues with an agenda (though he clearly has an agenda). Plus special added bonus-- it's compassionate and considerate enough for you to hang in your house. Provocative more so than polarizing, his paintings, prints, and drawings tend to keep viewers in the game, particularly on a contempletive level, particularly swing voter types who might still be on or in the vicinity of the fence about whether or not our Iraq adventures were such a good idea. Birk's art essentially says, "Here's the way it is; you decide." Smart.
On a technical note, his large-scale woodblock prints originate after a series by Jacques Callot (1592-1635) which subsequently inspired a series by Goya (1776-1828), while his works on canvas are more reminiscent of nineteenth century Salon painting, the specific style of which is occasionally referred to as Bourgeois Realism. Superior show; go see.
What it is.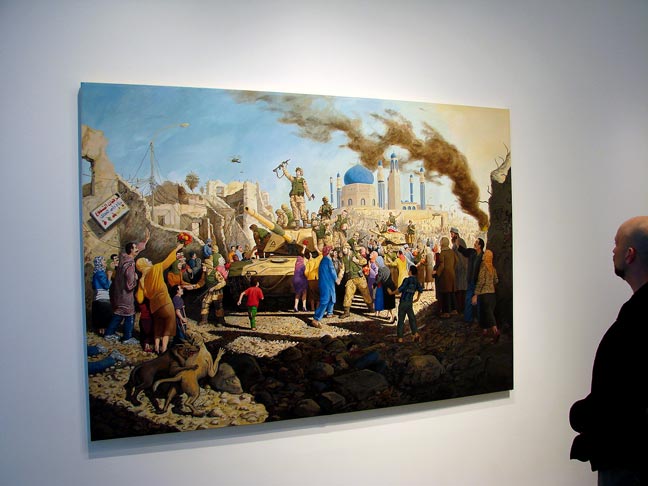 Art.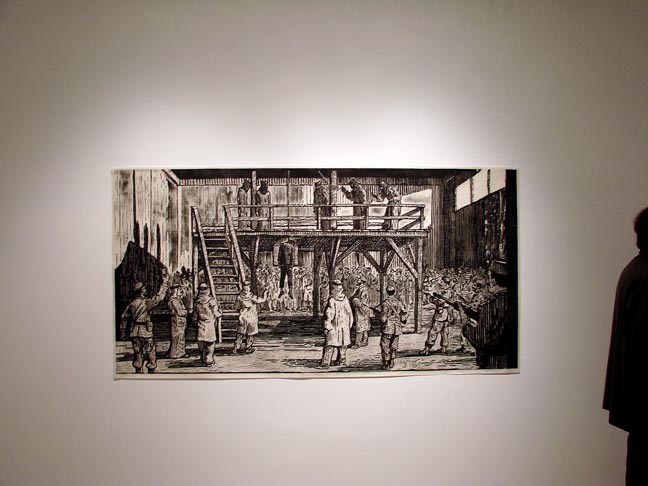 Art.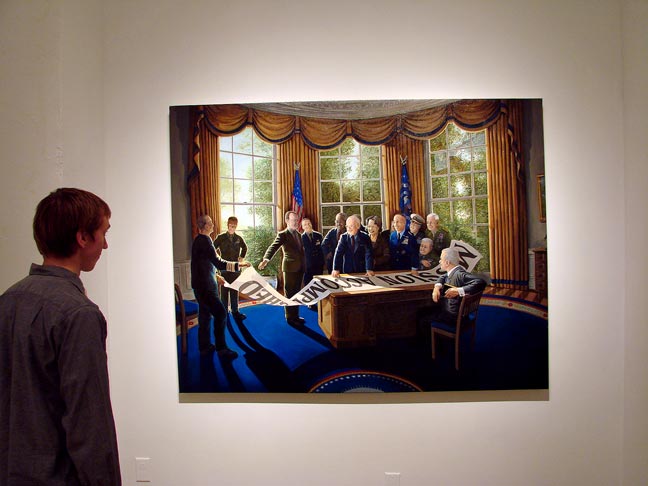 Art.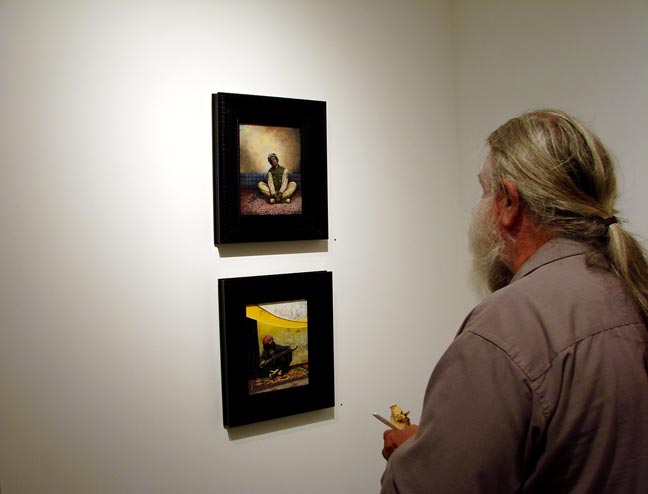 Art.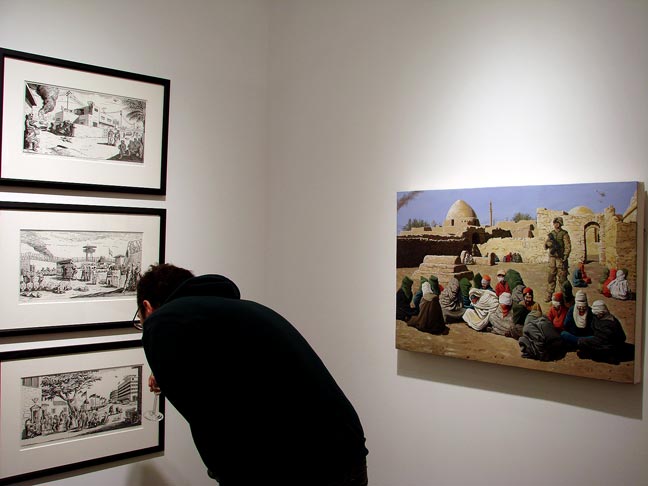 Art.


Art.


Art.


Art.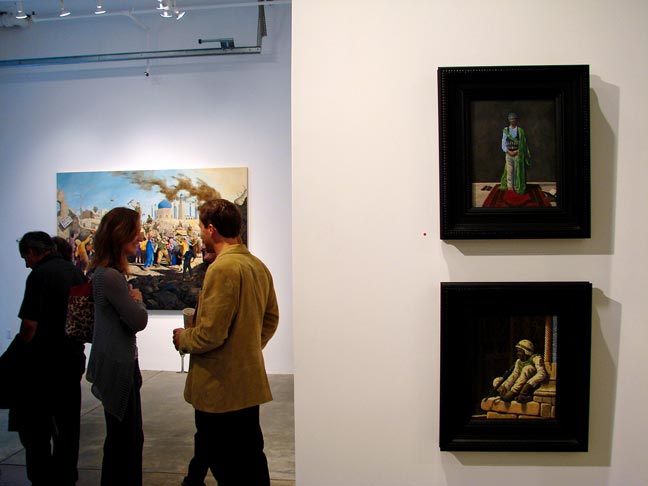 Art.


Art.


***
Mission 17 Gallery: Gigi Janchang - Above Under Glass.
Comment: Gigi Janchang horizontally splits the gallery in two by constructing a five foot laminated saftey glass ceiling over pretty much the entire space that you're forced to walk under when you enter the gallery. At the far end of the ceiling, stairs lead to a narrow platform at "glass ceiling level" where you can overlook the ceiling. Video monitors are embedded at various intervals around the sub-ceiling walls of the gallery and beneath the viewing platform. And that, as they say, is that.
Plexi ceiling from above (lights reflected from Mission 17 ceiling).


Plexi ceiling from below.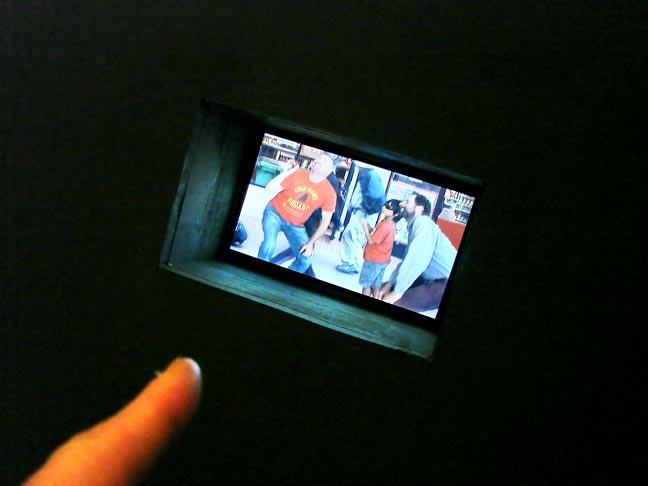 Wall monitor with video.


Platform at back of gallery.


Monitors mounted beneath platform floor.


Interesting bent nail sculpture.


***
Little Tree Gallery: Brian Wasson - This Shit.
Comment: Brian Wasson elevates the ordinary into art. This time around, his precision computer-crafted models include a scale model lawn sprinkler that works, and plus-sized crushed plastic beer cup and tape cassette (complete with magnetic tape). Also on display are five striped polo-style shirts, impeccably mounted and distorted over stretched canvases.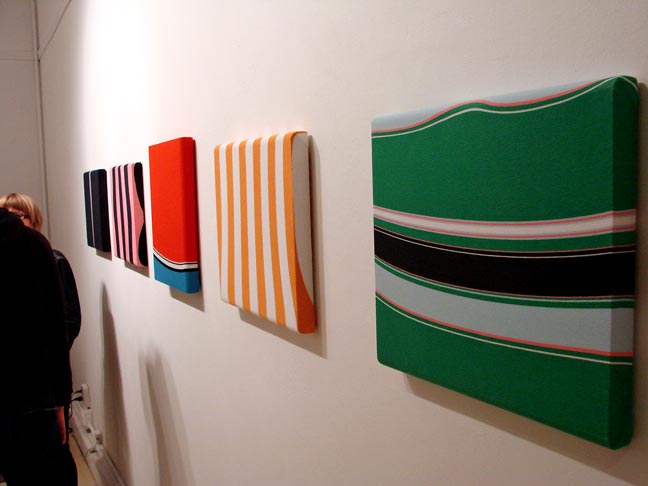 Stretched polo-style shirt art (like it).


Art.


Art.


Art.


***
Receiver Gallery: Nancy Chan & Olivia Park - In The Time It Takes.
Comment: Sumi ink paintings on Arches watercolor papers by Nancy Chan portray two people, Annie and Michael, as they lie next to each other in different positions. The deliberate absence of backgrounds requires you to focus on the nuances of the relationship between the two. Olivia Park's obsessively intricate and diminutive drawings and constructions mainly play off her attitudes and outlooks on life, like for instance a composition consisting of hash marks totaling the number of days she has left to live according to average life expectancy data for her demographic. Interesting show.
Art (Nancy Chan).


Nancy Chan - art.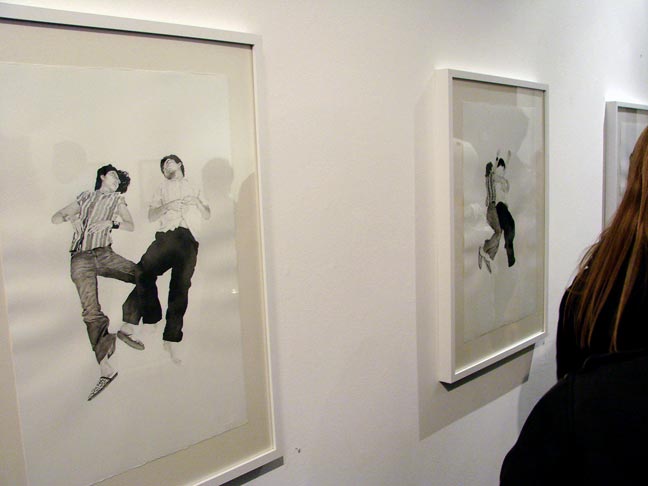 Art (Nancy Chan).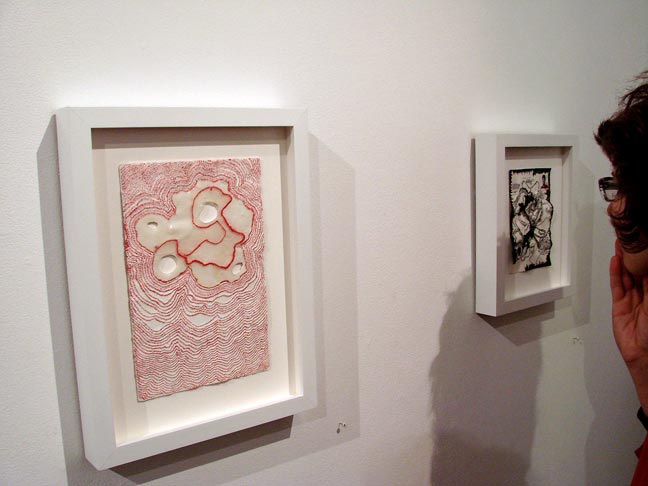 Art (Olivia Park).


Olivia Park - art.


Art (Olivia Park).


Art (Olivia Park).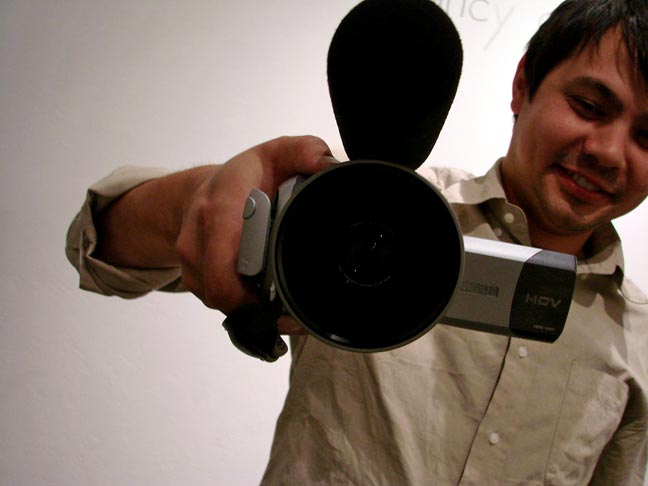 Gallery owner Jafon Hakkinen documents show.


***
Triple Base: Jay Nelson and Bryson Gill - Double Blind.
Comment: Two artists explore the outer limits of abstraction with admirable acuity.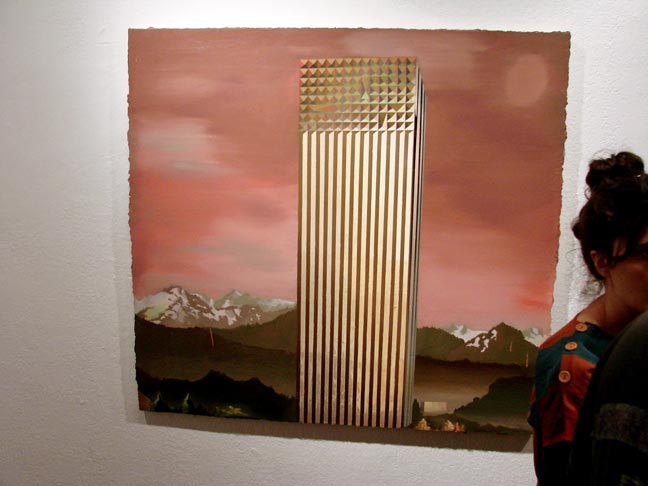 Art (Bryson Gill).


Art (Bryson Gill).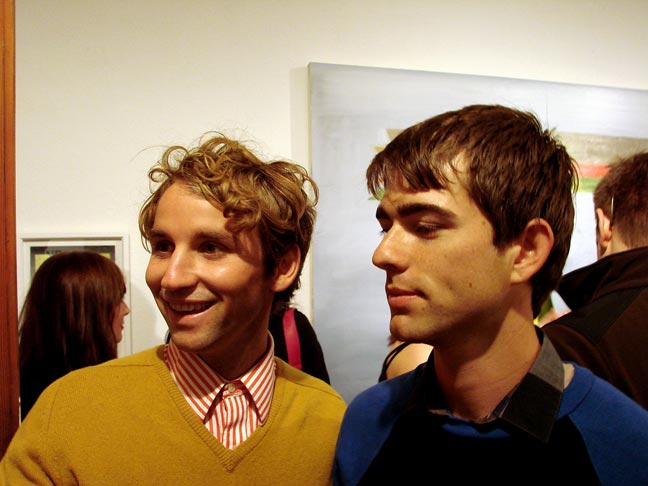 Jay Nelson - Bryson Gill.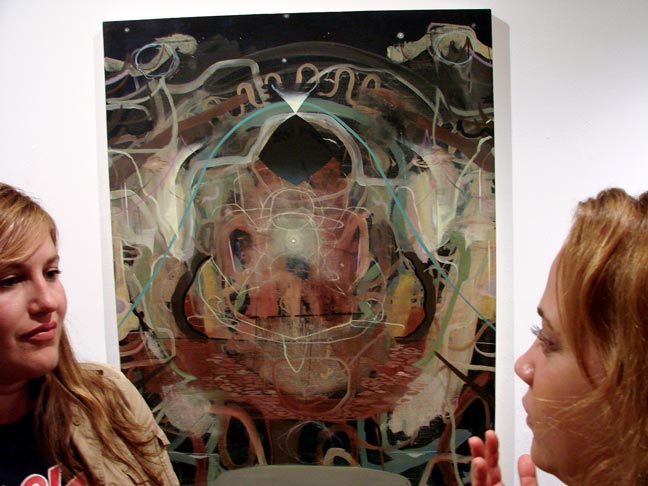 Art (Jay Nelson).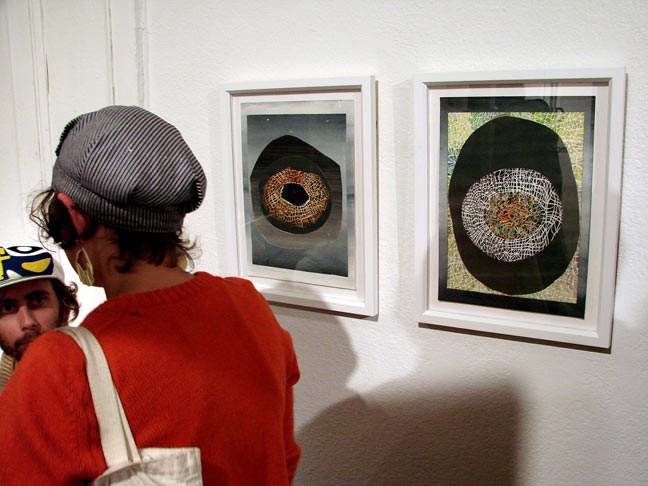 Art (Jay Nelson).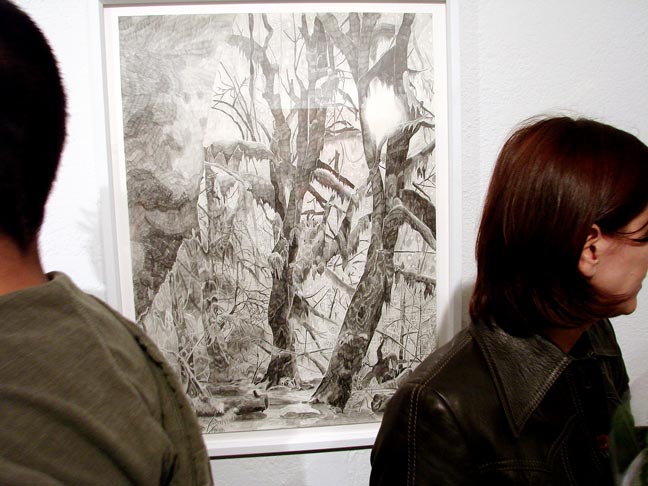 Art (Jay Nelson).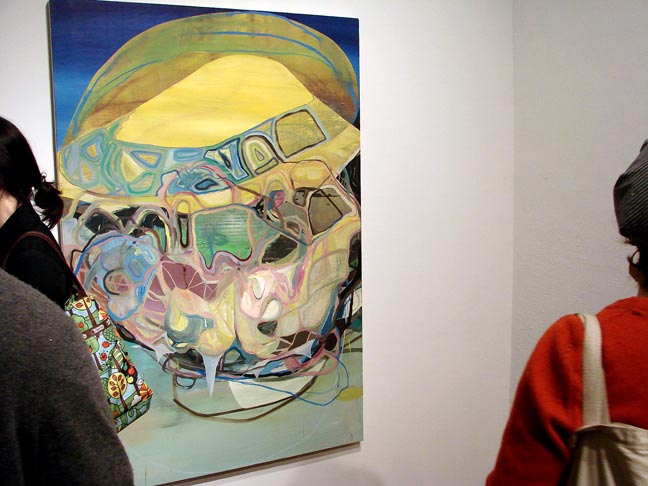 Art (Jay Nelson).


***
Root Division: Introductions 2007.
Artists: Christopher Ashley, Amanda Boehm, Jeff Eisenberg, Joel D. Frudden, Jose Guinto, Jessalyn Haggenjos, Barbara Holmes, Andrew Kleindolph, Conrad M. Meyers II, Jessie Paige, Aaron Rosenstreich, Vanessa Woods.
Comment: It's kinda like an MFA show except with more experienced artists and vetting (juried by Gregory Lind, Jessica Hough, Dana Hemenway). With respect to tonight's fare, I continue to enjoy the electronic escapades of Andrew Kleindolph-- consummately crafted, aesthetically gratifying, entertaining, and engaging. Maybe somebody give this dude a show? Or a part of a show? Or a test drive? The rest of the art's pretty good too. Tomorrow's pros today.
Art (Jessalyn Haggenjos).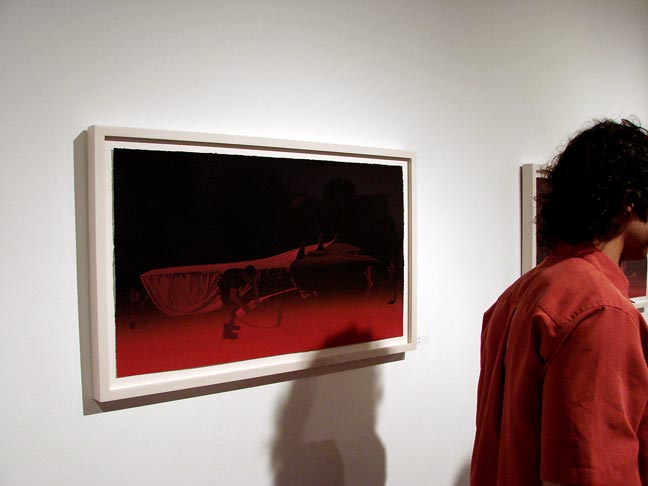 Art (Joel D. Frudden - kinda like these).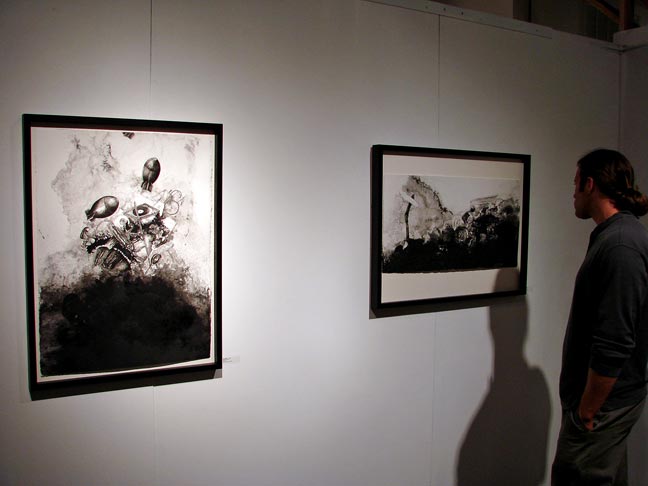 Art (Jose Guinto).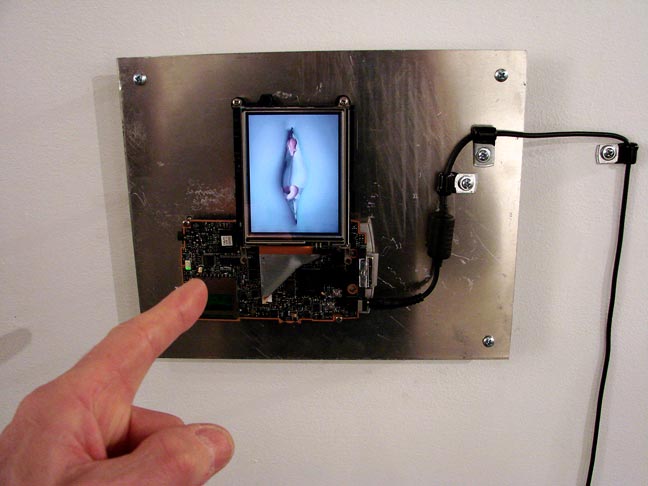 Art (Conrad M. Meyers II - like it).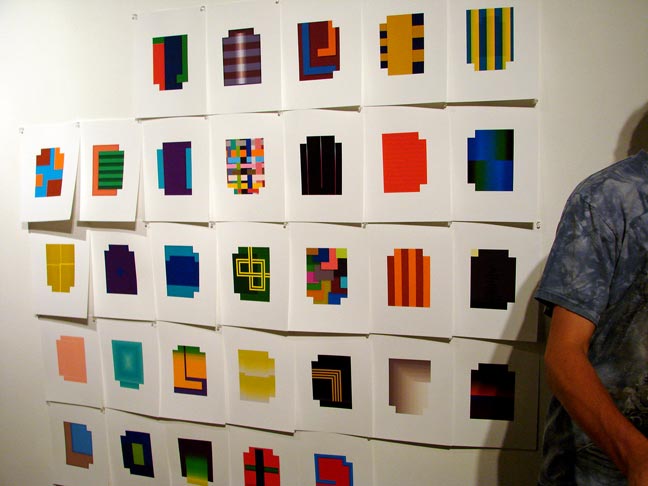 Art (Christopher Ashley).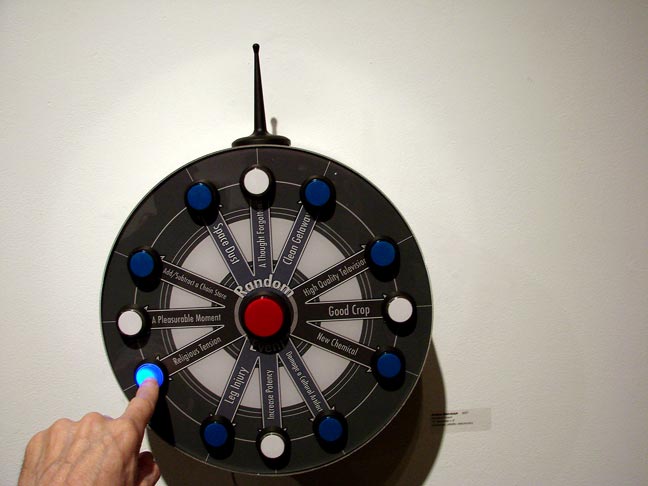 Art (Andrew Kleindolph - like it).


Art (Andrew Kleindolph - like it).


Art (Jessie Paige).


Art (Aaron Rosenstreich).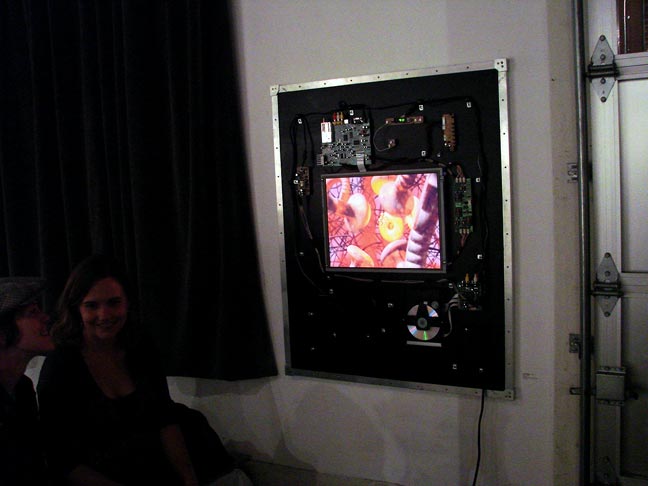 Art (Conrad M. Meyers II).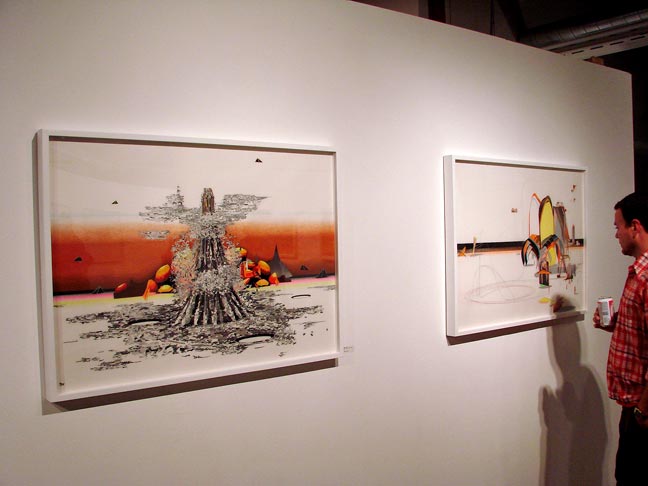 Art (Jeff Eisenberg).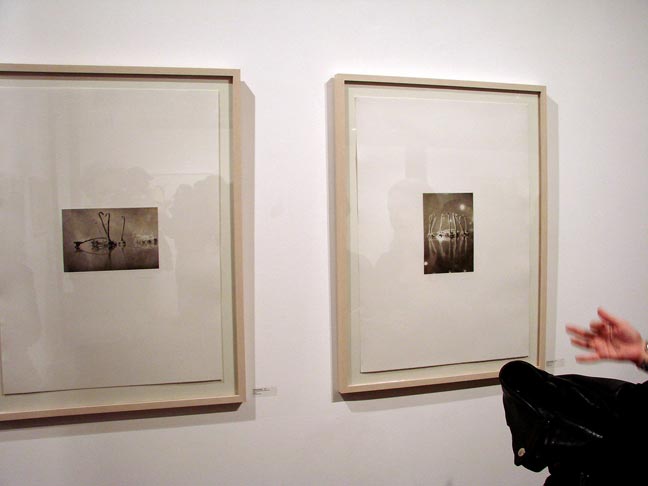 Art (Amanda Boehm).


Arena partial (art - Barbara Holmes).


***
White Walls Gallery: Richard Colman - The Ghost.
Comment: Complicated kaleidoscopic blends of fact, fantasy, allusion, intensity, action, adventure, uptown, downtown, and more mark the art of Richard Colman. He's one of those practitioners whose work is so unrestricted and appeals in so many ways, it garners adherents from all sides of the tracks.
Art.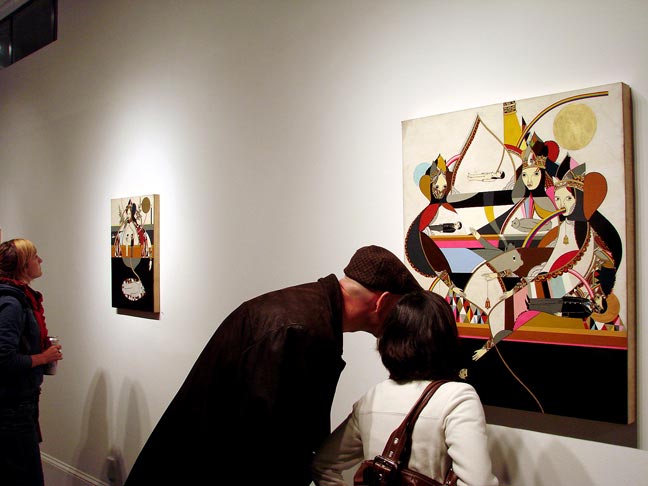 Art.


Richard Colman - art.



Art.



Art.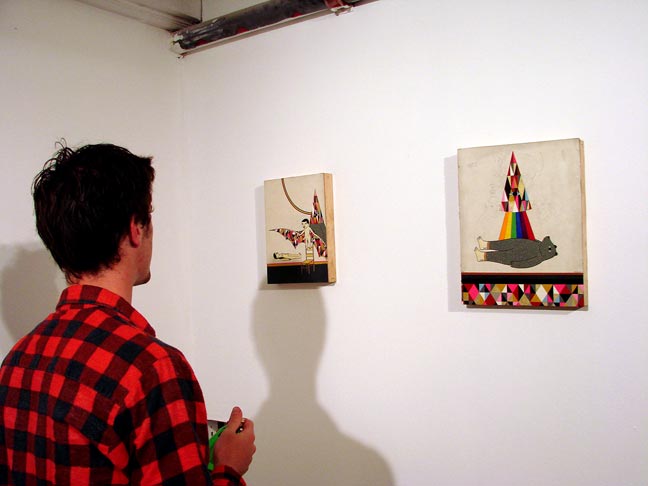 Art.



Art.



Attendance figures.


***
Addendum: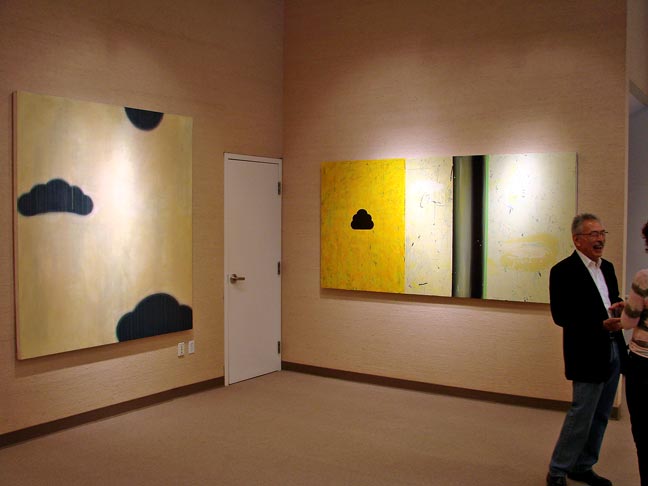 Robert Katsusuke Ogata & art at Chandler Fine Art.


One more from Robert Katsusuke Ogata at Chandler Fine Art.


***