SAN FRANCISCO ART GALLERIES - OPENINGS
AFTERMODERN - W.E.T. STUDIOS - JACK HANLEY GALLERY
ENCANTADA - LITTLE TREE - RECEIVER GALLERY
A.MUSE - ROOT DIVISION - WHITE WALLS GALLERY
FRANKEE UNO - SPACE GALLERY
09.09.06
Aftermodern Contemporary Fine Art: Nostalgia.
Artists: Andrew Phares, Lauren Gibbes, Lisa Kokin, Lisa Solomon.
Comment: Four artists examine old stuff from contemporary perspectives. One of my favorite artists, Lisa Kokin, uses synthetic sinew to thread various found objects into marvelously complex, remarkably sturdy hanging assemblages. Her art is so uncommon and uncommonly dedicated I really think she deserves more attention, especially locally. I would imagine you art dealers likely counter that her work's not that easy of a push down collector alley, and you're likely right. But hey-- sometimes that shouldn't matter.
Art (Lisa Kokin - like it).


Art.


Lauren Gibbes - art.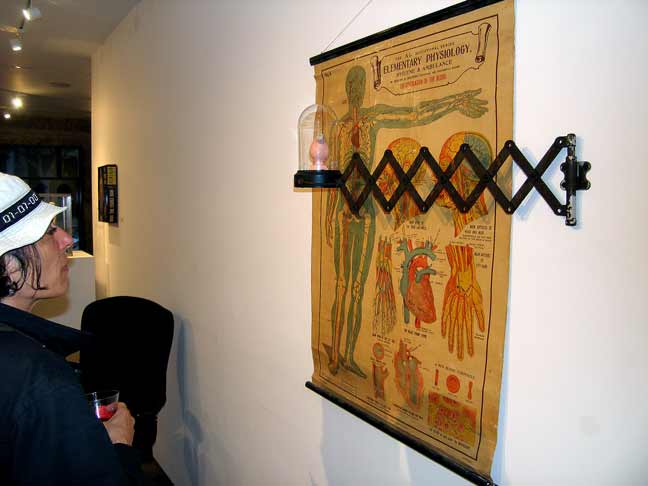 Art (Andrew Phares).


Art (Lisa Kokin).


Art (Lauren Gibbes).


Art (Andrew Phares).


***
W.E.T. Studios: Javad Tanha.
Comment: This hallucinatory interlude careens in from outta nowhere-- I find myself a large stark concrete room with a vintage curved wooden ceiling, lights low, delightful people, quiet conversation, seating areas, plenty of fresh art, complete buffet being served, and all less than a half block from Giants Stadium. Marin resident and featured artist, Javad Tanha, tells me he paints his highly detailed compositions in translucent paints on clear tempered plastic, then frames and lights them from behind, creating stunning stained-glass effects.
Art.


Art.


Javad Tanha - art.


Ambience.


***
Jack Hanley Gallery: Donald Urquhart - No Axe to Grind.
Comment: Scotland-born Donald Urquhart treks all the way from his current digs, London, to observate on life in America, and to politely remind us, in chaste black & white, that our dear President and his bellicose buds are held in exceptionally low esteem by just about everyone on the face of this planet. Of course here Urquhart's preaching to the choir. Kansas, are you listening? Wyoming, do you care? Mississippi, what ever happened to that good old Southern hospitality? Hopefully, one election day in the not-too-distant future, you red states are gonna wax benign, ameliorate your politics, and realize that with haters at the helm, we don't exactly generate a whole lotta love.
Donald Urquhart - communique art.


Art.


Art.


Art.


Donald Urquhart poses the question.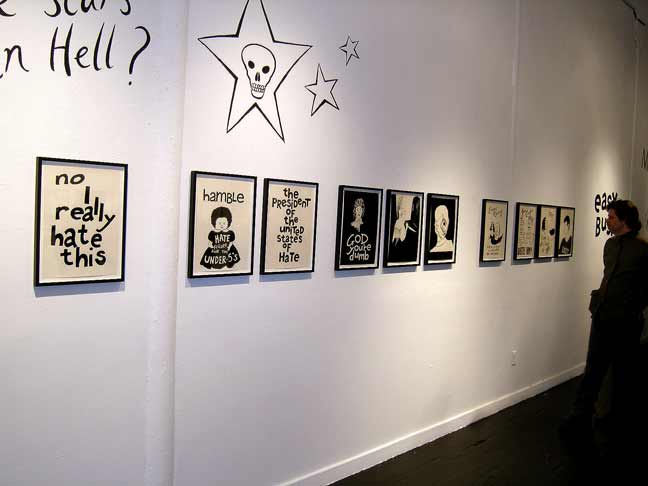 Art.


***
Encantada Gallery: John Aragon - You Say Tomato, I Say Tomahto... Let's Call the Whole War Off.
Comment: Sculpture, assemblage, and kinetic works by John Aragon. The centerpiece for the show is a mechanical American flag / skull and cross-bones combination-- comprised entirely of red, white, and blue plastic bottle caps strung and hung in strands from a metal frame-- slowly rotating around an oval track. The flag likely represents how we see us while the skull and cross-bones represents how the rest of the world sees us. Makes sense, right? And it ain't likely to change as long as our brilliant leaders continue to promise and deliver more war for everybody.
Mia Gonzalez (Encantada owner) - John Aragon.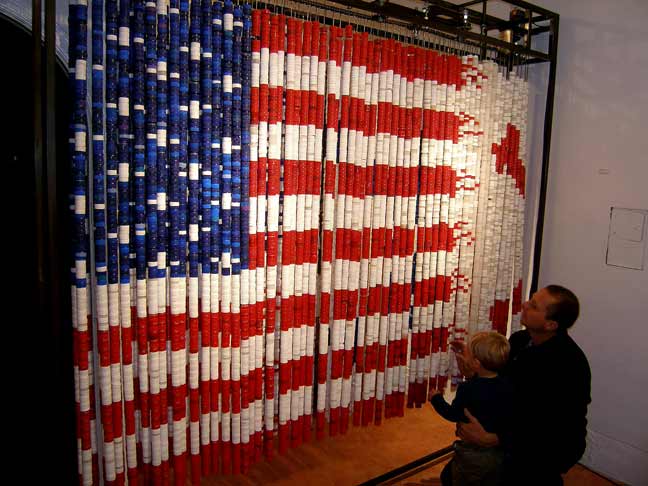 "Here comes the skull, son."


Art.


Art.


***
Little Tree Gallery: Haden Nicholl - Improvising in the Field.
Comment: Haden Nicholl's petroglyphic paintings and drawings show common household items that can be used to wreak various forms of havoc including elimination, annihilation, immolation, demolition, disfiguration, and other fun stuff like that. Each piece of art comes with complete easy-to-follow instructions on how to make its mojo work. Me? I'd rather collect stamps.
Haden Nicholl - incendiary art.


Art.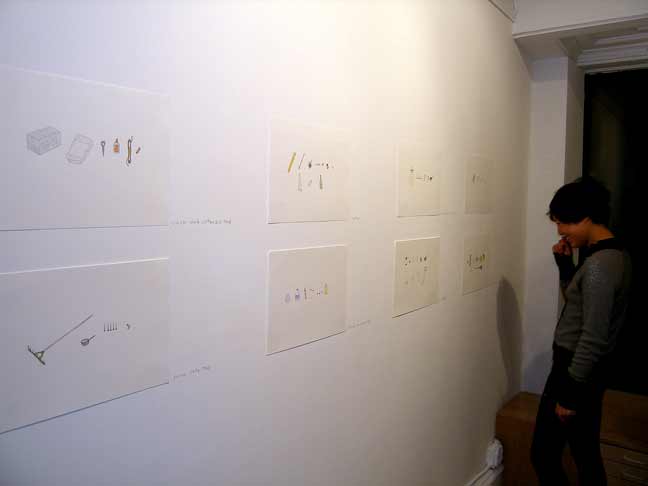 Art.


Art.


***
Receiver Gallery: Inhabitation Modification - Multimedia from Darin Bendall, Ian Cheng, Alex Munn.
Comment: According to the briefing, the art's supposed to "challenge the way the earthly macrocosm can be understood." So OK. How? You can't just declare shit; lofty flibberflabber requires elaborate elucidation. Anyway, the art's worth a look, particularly a wall of refrigerator magnets, each with a different scene on it. You can arrange 'em however you want, kinda like the storyboards writers and directors used to map out plot lines for film, TV, and theater way way back in the good old days before computers.
Video art (Alex Munn - kinda like it).


Artist - art.


Art (Darin Bendall, I think).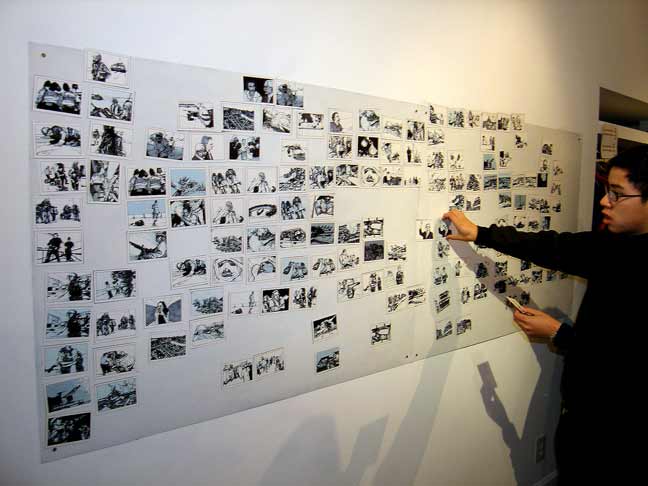 Storyboard art (Ian Cheng, I think).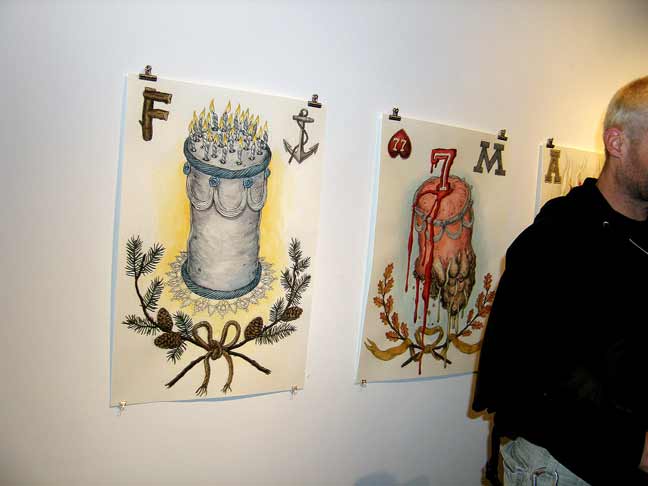 Art (Alex Munn - kinda like it).


***
a.Muse Gallery, 614 Alabama St, SF, CA 94110, 415.279.6281: Floating Riddles of Time... Natasha Dikareva - Sculpture, Installation; Vladimir Dikarev - Paintings, Drawings.
Comment: All in the family and all uplifting. Graceful, sensitive ceramic, bronze and mixed media works by daughter-in-law Natasha Dikareva ably offset complex accomplished surreal-esque paintings and watercolors by father-in-law Vladimir Dikarev.
Art.


Art.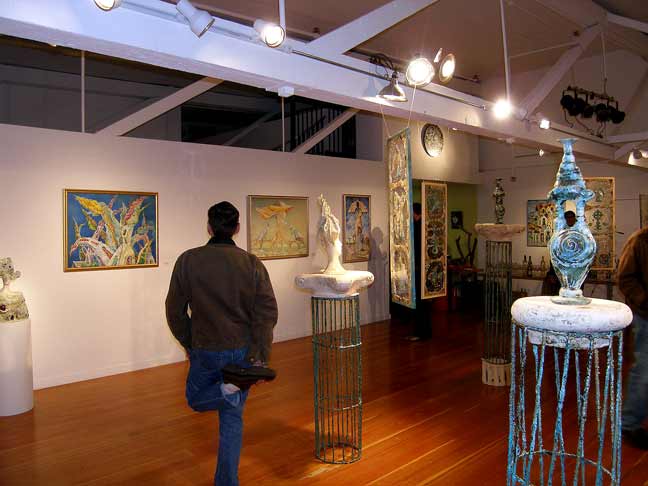 Art.


Art.


Art.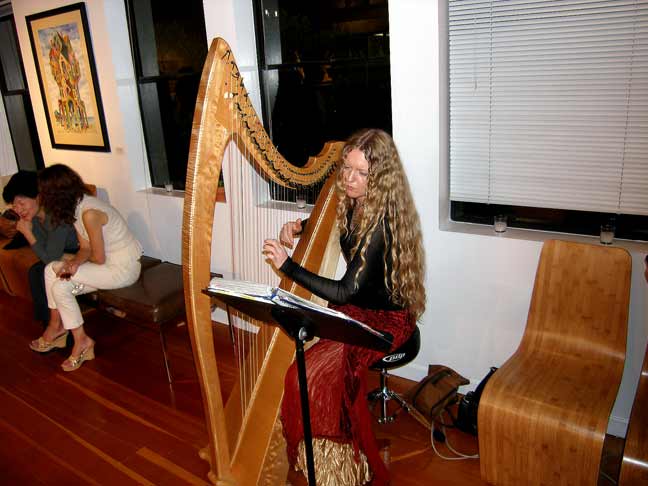 Tunes.


***
Root Division: It's Only Rock 'N' Roll - One Night Only.
Photographers: Jim Marshall, Robert Altman, Brad Elterman, Jenny Lens, Jim Jocoy, Ruby Ray, Theresa Kereakes, Drew Wiedemann, Jeff Spirer, Paul Eric Felder, Daniel Nolan, more.
Comment: Root Division wends documentary with an extensive rock 'n' roll photographical extravangaza-- really. Tons of images, up down and everywhere, mostly excellent, many cathected, heavy on Punk, but plenty for everyone, even codgers like me. And the music's excellent, and the crowd's got a pulse, and a number of the photographers roam the room unconstrained, but they've name tags on so none of 'em can get too far without tipping off the authorities. And all kinds of cool shit like that. Is it still cool to say cool? Doubt it. But this sure is. Plus for you value buyers, I saw an abundance of images for under $200, and many for under $100.
Wall of Punk (Jenny Lens).


Refreshment center.
(Check that back wall for Raymond Pettibon's - $$$)


Photography - Jim Jocoy.


Ruby Ray - photographs.


Son of Ruby Ray sports Ruby Ray T.


Jenny Lens.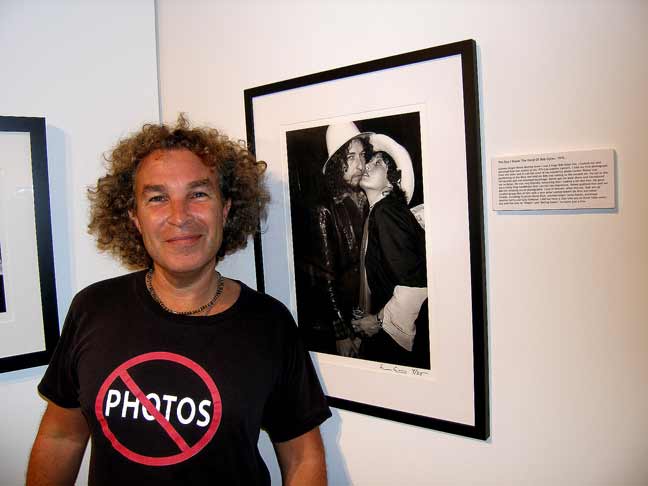 Brad Elterman - photograph.


Photos.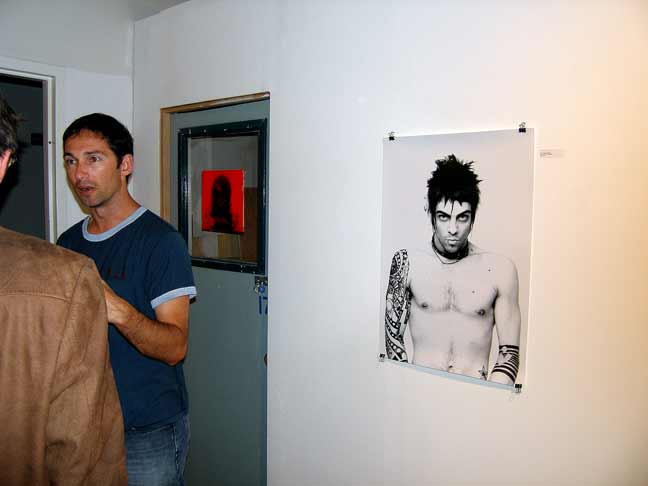 Photos.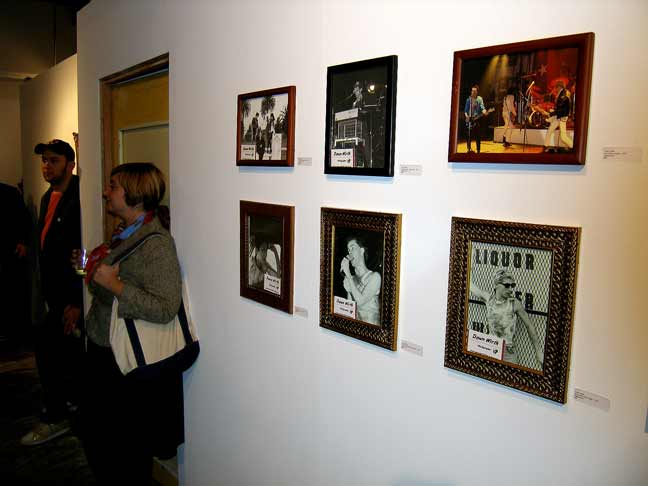 Photos.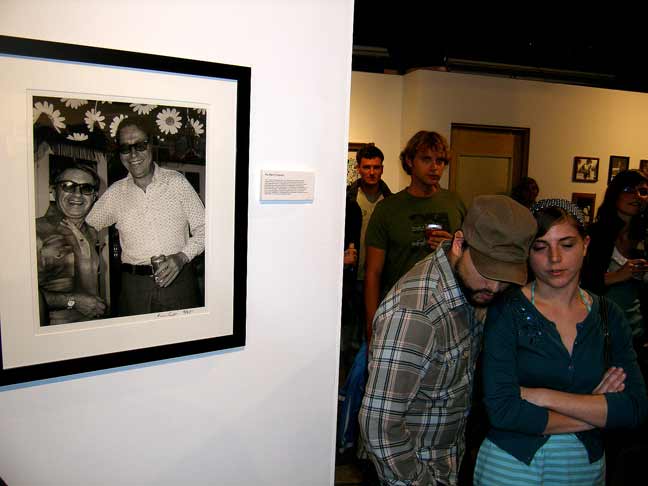 Photo (Brad Elterman).


Photos.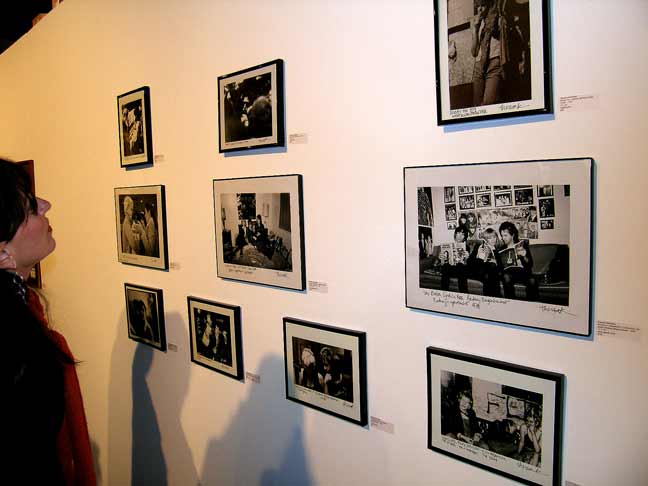 Photos.


Wall of Punk (Jenny Lens).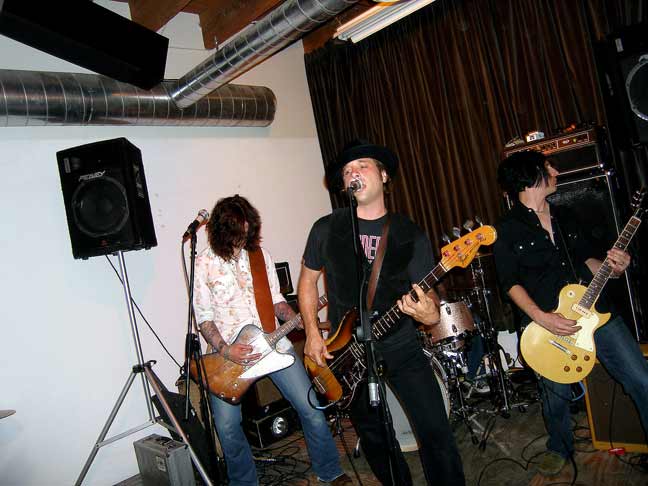 Tunes.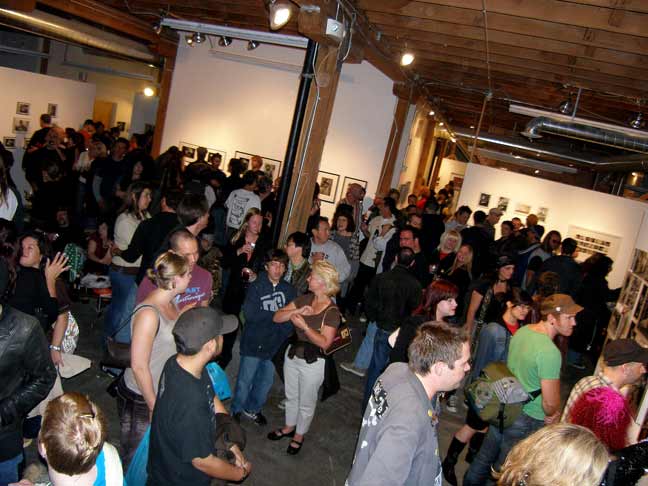 Turnout.


***
White Walls Gallery: Brett Cook (Dizney) - Reflections.
Comment: Brett Cook aka Dizney installates the gallery to the brim with an astounding amassment of autobiographical, observational, philosophical, and editorial assessments from every pore of his existence, unconditionally revealed for all to survey. You can easily spend a day basking in Cook's incisive revelations, and I can assure you that by the time you're done, you'll be taking a long hard look at yourself (in case you need help, the show's got plenty of mirrors). This is a major departure for White Walls, a major endeavor for Brett Cook (or any artist), and well worth the safari for you provincials. Try it; you'll like it.
Brett Cook - art.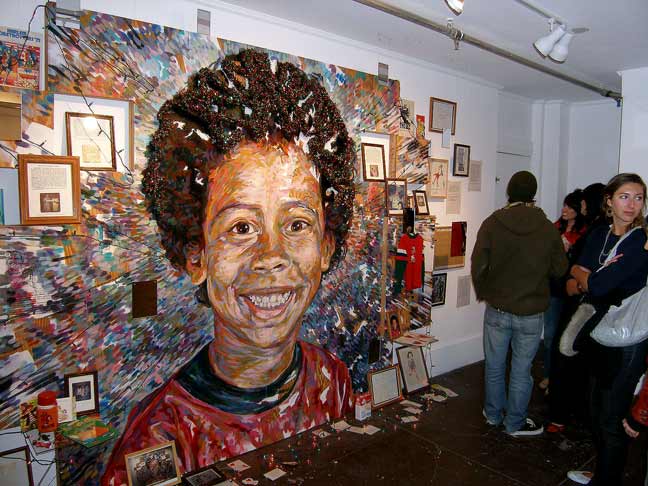 Autobiographical art.


Autobiographical art.


Art.


Art.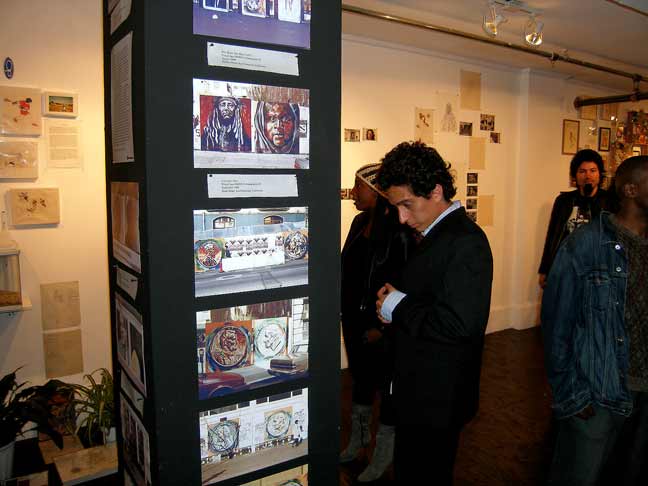 Art.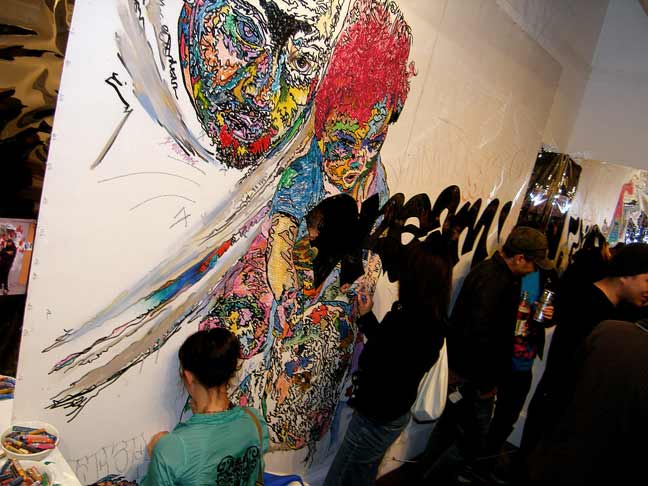 Participatory art.


Art.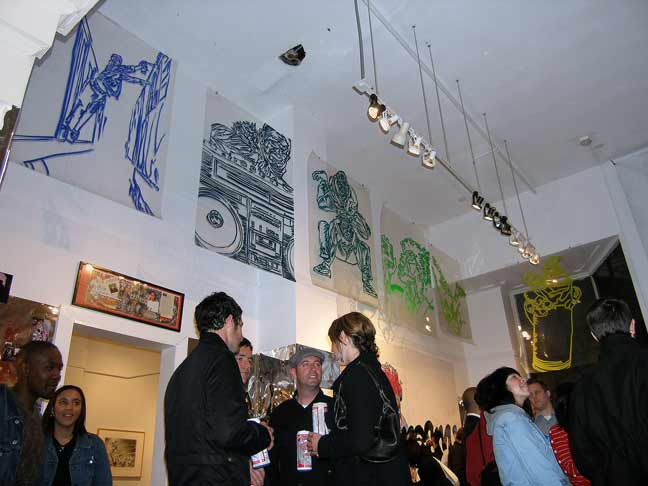 Art.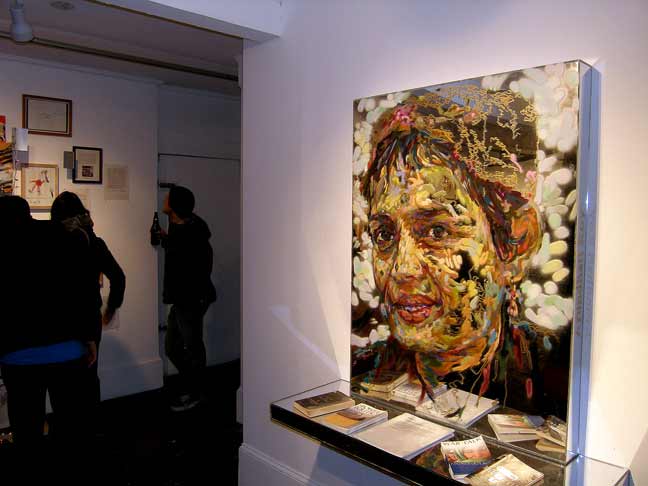 Art.


***
Frankee Uno: $teady Flow - Graffiti Art by Joe Joe Webb.
Comment: Joe Joe Webb temporarily migrates from LA to serve up a platter full of urban including skateboard decks, paintings on canvas, paintings on velvet, and hand-embellished digital prints mounted on wood (most priced well under $100-- good value). According to Webb's fact sheet, his work has appeared on CSI: NY, Everybody Hates Chris, and the music videos of P. Diddy, 50 Cent, Snoop Dogg, and others.
Joe Joe Webb - art.


Art.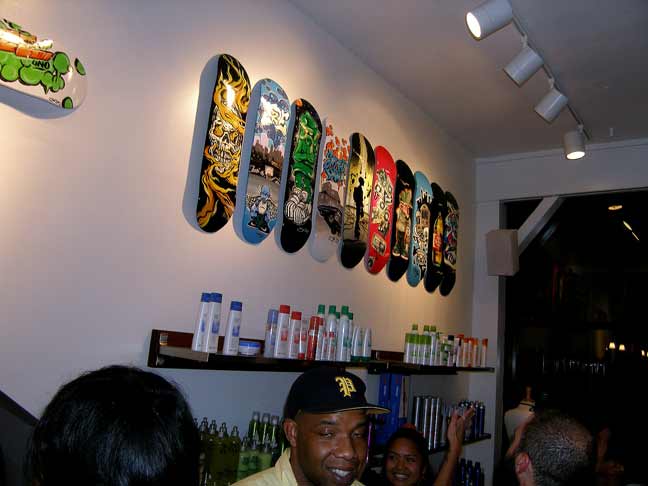 Art.


Art.


Joe Joe Webb - art.


Art.


Art.


***
Addendum: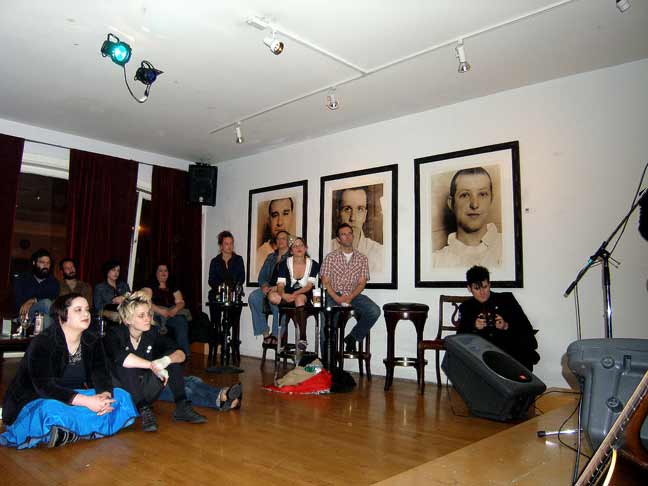 Benefit to free the West Memphis Three
at Space Gallery.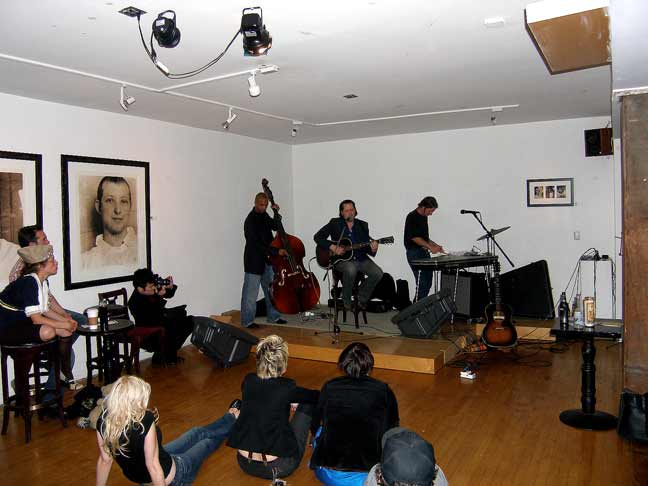 One more for the West Memphis Three at Space Gallery.


***