***
Refusalon at the JW Marriott Hotel: Group Show.
Artists: Rik Richey, Adam Gale, Joseph Delappe, Dimitra Skandali, Avi S. Ravitzki, Hanh Tran, Tristan Cai, Ben Eine, Orly Maiberg, Feng Jin, Jonathon Keats, David Molesky, Charles Linder, Andrej Larson, Stephanie Close, Jeremy Cline, Shmulik Krampf, Davide Fuin, Peter Voulkos, Nathan Oliviera, Paul Cezanne, Wayne Thiebaud, Pino Signoretto.
Comment by AB: This eclectic group show features the textile art of Uri Tzaig produced in collaboration with the Bedouin women of the Negev Desert. The fare ranges from whimsical to urban to classic. A great setting for a gallery; more hotels should think about doing this.
Textile art by Uri Tzaig at Refusalon, JW Marriott Hotel.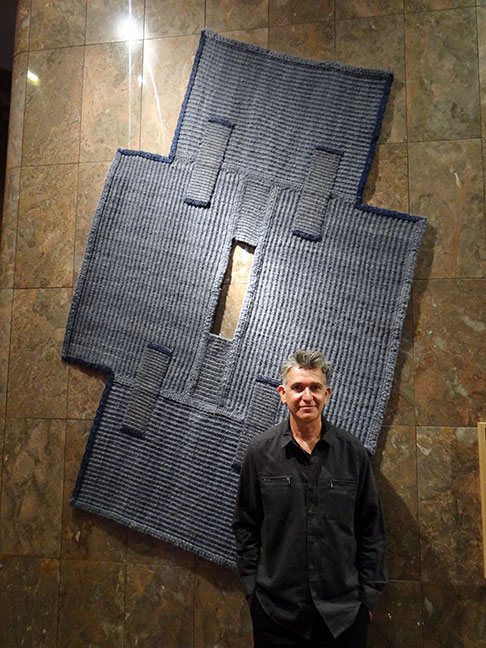 Uri Tzaig and his textile art at Refusalon, JW Marriott Hotel.


Bottle tower art by Charles Linder.


Glass sculpture by Pino Signoretto, seaweed sculpture by Dimitra Skandali.


Dimitra Skandali woven seaweed sculpture in above image closer.


LOVE art by Ben Eine & whimsical tennis ball sculpture.


Glass art by Shmulik Krampf.


***
RayKo Photo Center: I Feel Lucky - Photographs by Frank Yamrus; Me, Myself, and I; The Easiest Season.
Photographers: Elisabeth Ajtay, Stephanie Brunia, Brittney Cathey-Adams, Marna Clarke, Bryon Darby, Ryan Darley, Michael Darough, Susan DeLeo, Marcus DeSieno, Nicholas Eyes, Emily Fava, David Gardner, Jennifer Georgescu, Shawna Gibbs, James Gilmore, Steffanie Halley, Susan Hyde Greene, Rachael Jablo, Carter Johnston, John Kobeck, Claire Laude, Lucille Lawrence, David Lykes Keenan, Tommy Matthews, Roberta Neidigh, Mimi Plumb, Michelle Rogers Pritzl, Liz Steketee, Zachariah Szabo, Dana West, Christine Collins, Sean Dana, Susanna Frohman, David Gardner, Noelle Swan Gilbert, Jesse Hitchens, Colleen Mullins, Jackson Patterson, Clinton Perry, Dane Pollok, Nicolo Sertorio, Zachary Siddle-Manas, Judy Walgren, and Riley Zaronsinski.
Comment by AB: This month's three-fer, a solo self-portrait show of work by Frank Yamrus, a group portrait show juried by David Hilliard, and an APA SF (American Photographic Artists San Francisco) group show juried by Ann Jastrab, coalesce into a diluvian deluge of photographs by profuse oodles of photographers. Pick and choose what works for you... that is, if you don't drown in it all first.
Self-portrait photographs by Frank Yamrus at RayKo Photo Center.


Portrait photography group show.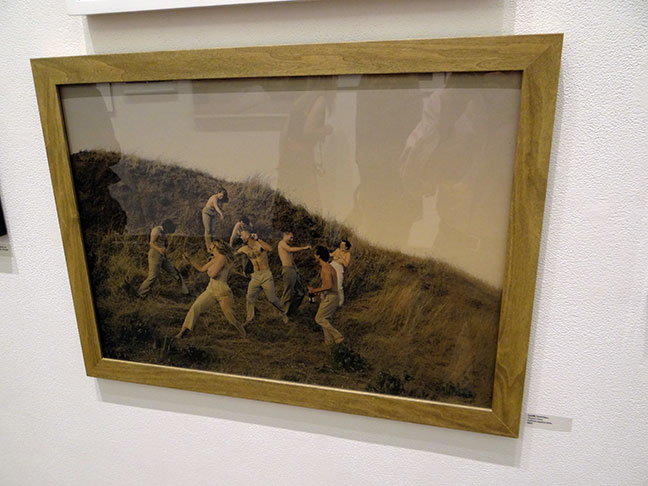 Photograph in above image closer.


Portrait photographs.


Small photography by Elisabeth Atjay.


Photograph by Liz Steketee.


Portrait photography group show.


Most interesting piece in the show - photograph by Swan Hyde Greene.


Pinkie cam detail of photo by Swan Hyde Greene in above image (nicely done).


Stephanie Halley portrait photograph.


Attendance at the portrait photography group show, RayKo Photo Center.


Photographs by Jesse Hitchins.


Jackson Patterson summertime photography (left).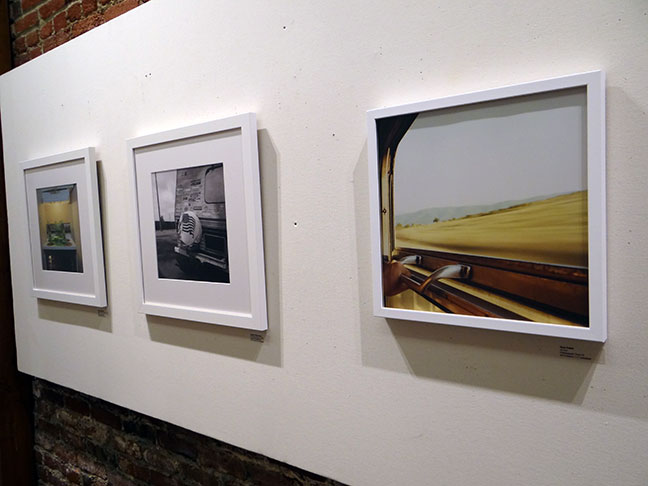 Photographs by Dane Pollok.


***
Coalition on Homelessness at SOMArts: 11th Annual Art Auction - Transforming Art into Action... Many Voices, One Community.
Comment by AB: "The Coalition on Homelessness is a grassroots social justice effort seeking to foster the active participation of homeless and formerly homeless San Franciscans in the struggle for economic and social justice." Over 120 works of art are up for auction tonight in support of the cause. Celebrity auctioneer, Aaron Peskin, has a natural talent for wringing bids out of the audience while keeping them simultaneously entertained. One SF fundraiser that's always worth attending.
Coalition on Homelessness annual art auction fundraiser at SOMArts Gallery.


Art up for auction - framed art by Leslie Morgan, left.


Art by Sean Murdock (left & right) - Gabrial Riddle (center).


Auctioneer Aaron Peskin taking bids (he's good).


Standing room only at the auction.


Ceramic art by Ahmet Ustunel.


Green art by Txutxo Perez - art by David Young V (upper right).


Sauce bottle art by Ed Gould, Santa art by John Waters & Phil Pasczzo.


Prismatic art by John Kuzich.


Coalition on Homelessness annual art auction fundraiser at SOMArts Gallery.


***
The Popular Workshop: The Sea Project - Opening Night & Book Release Party.
Comment by AB: These photographs have been selected from among 10,000 images submitted from 37 countries around the world, all courtesy of The Sea Project, sponsored by Sperry Top-Sider. The best of the best have been released as a limited edition book, To All Who Call the Sea Their Muse.
Photographs of the sea at The Popular Workshop c/o Sperry Top-Sider.


Sea photography closer.


Photographs related to the ocean.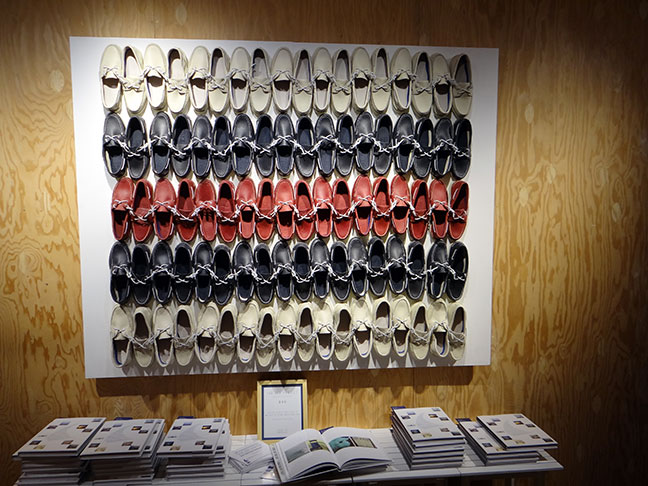 And now a brief word from our sponsor, Sperry Top-Sider.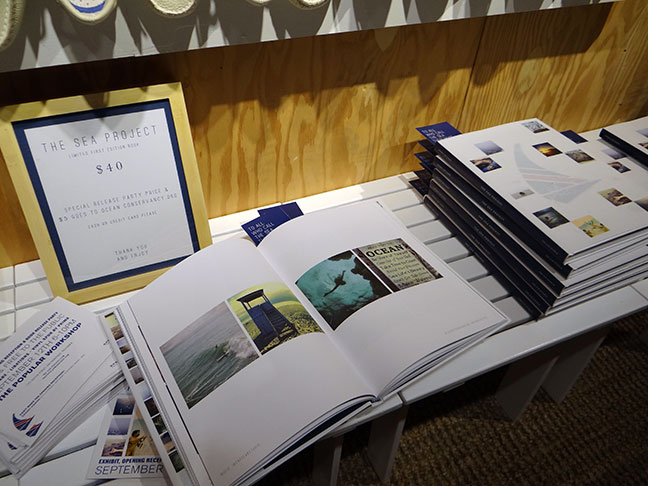 Limited edition book of ocean-related photographs.


Ambiance - photography of the sea group show at The Popular Workshop.


***