SAN FRANCISCO ART GALLERIES - OPENINGS
LIMN - BLOOMINGDALES - SOMARTS
HAMBURGER EYES PHOTO EPICENTER
09.13.07
Bloomingdales San Francisco presented by ArtHaus: Artrageous.
Artists: Rex Ray, Adam Kurtzam, Jess Johnston, Marc Lambrechts, Jan Blythe, others.
Comment: Combination art show and fundraiser, I think, the art on display at various locations throughout the second floor, and the fundraiser consisting of fashion drawings by noted designers. The ambience? Tony and drinky and fashionably phun.
Chrome foot vase art.


Art.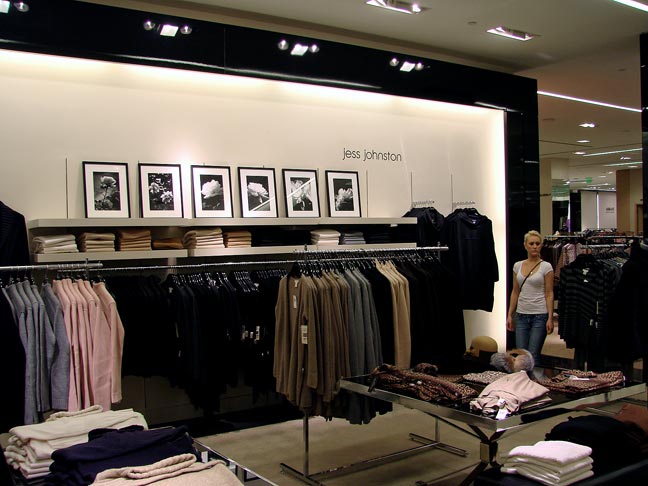 Art.


Bidding.


Beverages.


***
Limn Gallery: The Gao Brothers; Xiao Zhuang, Gong Jianhua, Zhang Xianyong - The Passage of Time.
Comments by Uba Owl: Very interesting exhibition of Chinese artists working in photography. No wonder Chinese art is so hot! Photographs by Xiao Zhuang depict life of ordinary people. Looking at his black and white images of Shanghai alleyway scenes, one feels like an intruder into times long gone. Taken between 1966 and 2007, they span the era of the Cultural Revolution to the present day. Zhoang Xianyong lives and works in Shanghai. His photographs are carefully staged tableaux. They are inspired by Western art and Chinese theater, and by combining them both, Xianyong creates intriguing images that mix time and space. The Gao Brothers make highly political art (their father was shot during cultural revolution), and very often depict images of Mao in a negative way. Their mediums includes documentary and staged photography, performance, and computer-generated art. Their most recent work, Miss Mao, is a fiberglass Mao bust sculpture, with breasts and a Pinocchio nose.
Comments by AB: The Gao Brothers, Gao Qiang and Gao Zhen, twenty-year vets of the art game, are here at Limn for their for their first Ess Eff solo. According to the fact sheet, the two through their art "have been exploring the profound changes faced by China," which prompts me to wonder whether any contemporary Chinese artist isn't currently exploring the profound changes faced by China? Seems like that's the deal at every show I go to. But no biggie.
The Gao Brothers' oeuvre is relatively racey, especially for China, for example when they engage naked people or mess with Mao, but that doesn't seem to have stopped them from garnering an international reputation, plus a big fat survey of their ouevre. This show is no exception-- mostly photography with a dash of sculpture-- as it certainly doesnt tread lightly in it's creative takes on China today. And the good news? All of it's excellent.
Meanwhile, photographs in the righthand sector of the gallery include documentary images illustrating the propagation of Maoism from 1966-1976 by Xiao Zhuang, Shanghai alley photos by Gong Jianhua, and elaborate staged genre tales by Zhang Xianyong. Perfect complement to the Gao Brothers. Limn retains its undisputed title as best purveyor of contemporary art from China.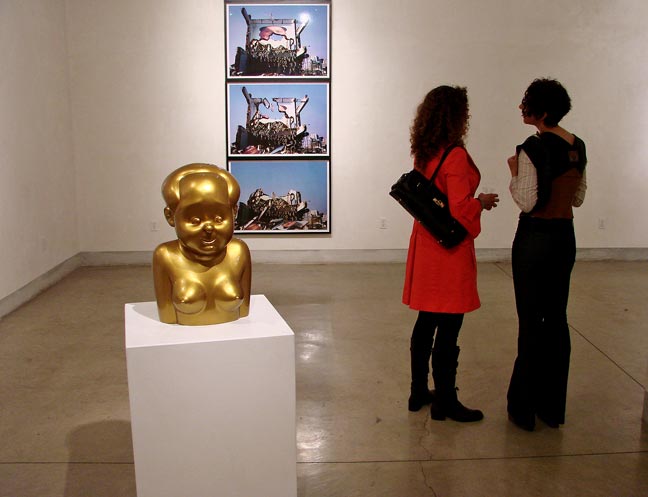 Art (Gao Brothers).


Art (Gao Brothers).


Art (Gao Brothers).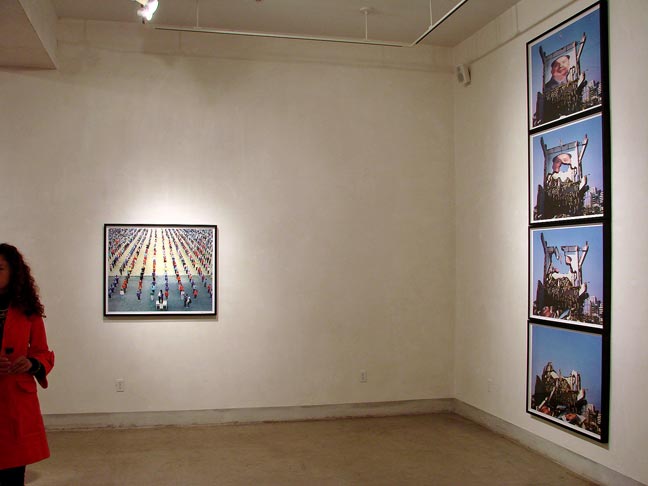 Art (Gao Brothers).


Literature.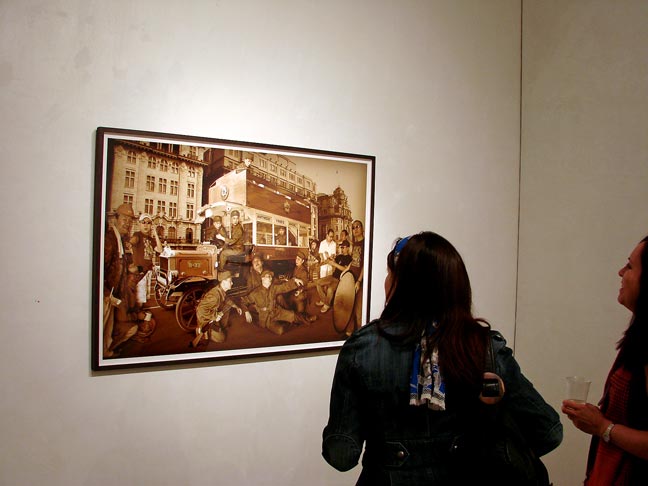 Photography (Zhang Xianyong).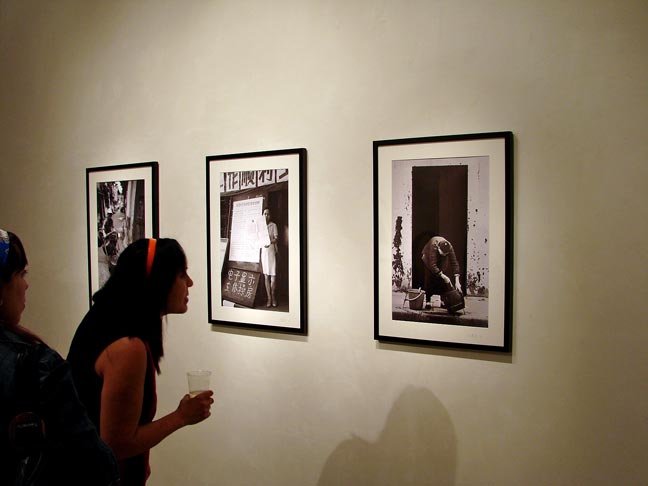 Photography (Gong Jianhua).


Photography (Xiao Zhuang).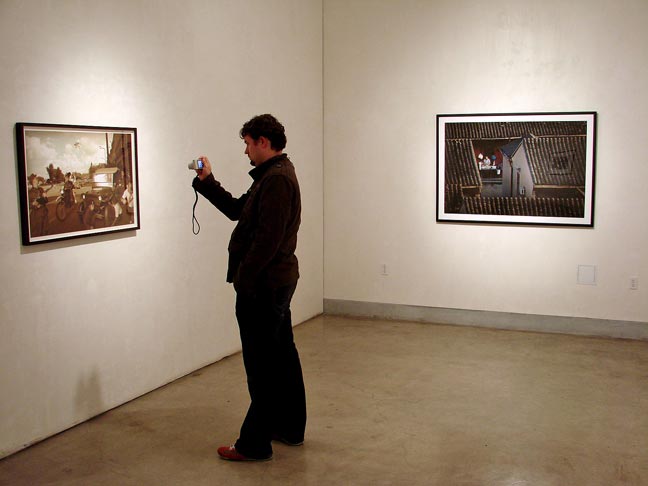 Photography.


***
SomArts Cultural Center: Street Sheet 10th Anniversary Art Exhibition and Auction.
Artists: Loads.
Comment: The Street Sheet turns 10; the Coalition on Homelessness turns 20. Tonight both celebrate with an art auction to benefit the Coalition on Homelessness, San Francisco.
Art.


Art.


Art.


Risley Sams conducts live auction.


Auction turnout.


***
SomArts Cultural Center: Winds of the East.
Comment: Paintings by Sharad Sovani of India; elaborate batiks by Izuoka Yoshiyuki of Japan. I missed the opening, but since I'm here for the Coalition on Homelessness auction, I'll document the incident. Here you go... Oh. Almost forgot-- Yoshiyuki's batiks are atypically impressive and pleasurably priced.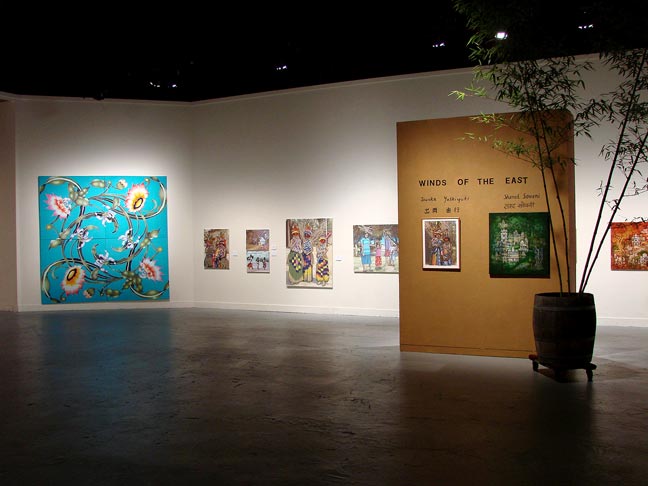 Intro.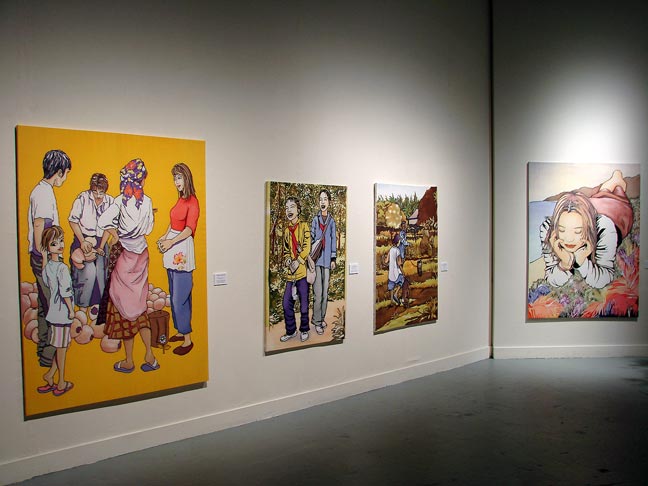 Batik art (Izuoka Yoshiyuki - like 'em).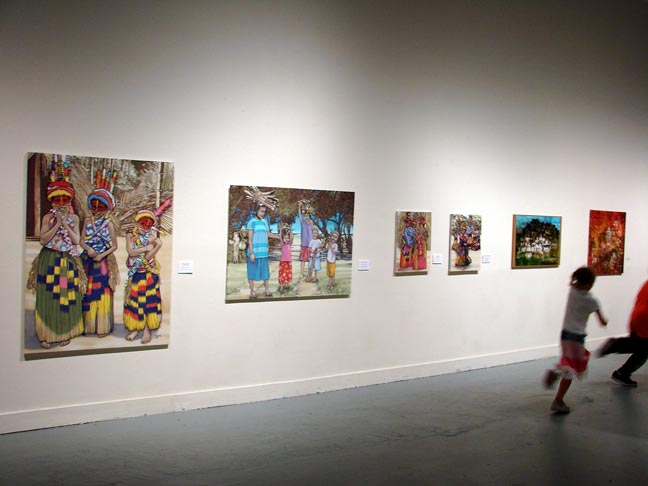 Batik art (Izuoka Yoshiyuki).


Art (Sharad Sovani).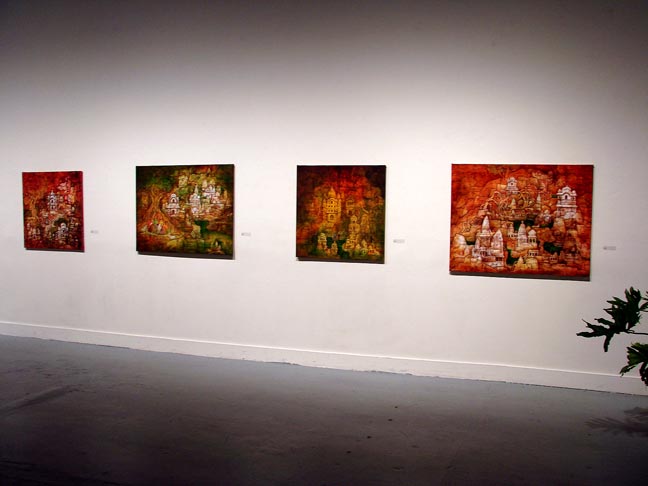 Art (Sharad Sovani).


***
Hamburger Eyes Photo Epicenter: Jason Roberts Dobrin - Nightmare Status.
Comment: With classic Hamburger Eyes flair, veteran Burgerman Jason Dobrin serves up a smorgasbord of barrel-bottom grit. It's not always pretty, but it's always pretty real. Dobrin publishes up a limited edition zine in 150 copies to accompany the show.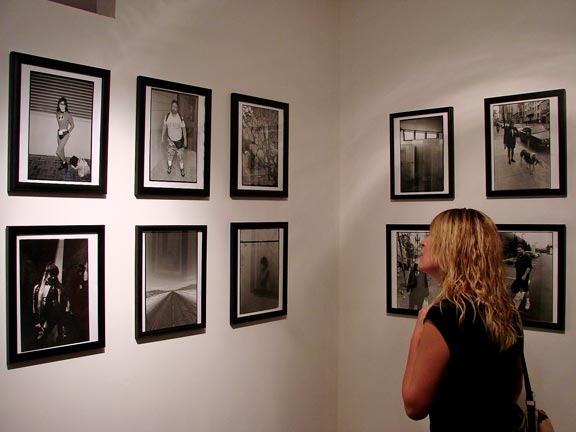 Photography.


Photos.


Jason Dobrin - limited edition zine.


Photographs.


Images.


Hamburger Eyes schwagabilia - buy now.