CAIN SCHULTE - MODERNISM - RAYKO

CALIFORNIA COLLEGE OF THE ARTS

CERAMICS ANNUAL OF AMERICA - COALITION ON HOMELESSNESS

09.13.12 Part II

(with assistance from Brandi Lee, Maria Medua and RWM)



Need help either valuing or appraising your art? Click Here.
***
Cain Schulte Gallery: Uncharted.
Artists: Luca Antonucci, Grisha Bruskin, Mark Fox, Sid Garrison, Katie Holten, Linda Karshan, Rebecca Lowry, Jenny Odell, Justin Quinn, Ed Ruscha, Owen Schuh, Hadieh Shafie, Jessica Snow, Amber Stucke.
Review by Maria Medua: "Uncharted" on view at the Cain Schulte Gallery is an exhibition that considers the concept of mapping in the work of 14 artists.
Minnesota-based artist Justin Quinn uses lead type (individual components of the system of movable type used for letterpress) and carbon paper (paper coated with ink or pigment in wax) to create compositions on paper that call to mind the Mesoamerican pyramids. Quinn spent a lot of time with the letter "A"; spacing it across the paper just so, until he was satisfied. The first letter in our alphabet, the uppercase "A" is by itself a tiny ascendant monument to literary potential. Quinn previously explored a chapter in Melville's Moby Dick in a series of drawings and prints that utilized only the letter "E" in a loose spiral. Here, his four small works on paper (As The Age of An Oak, First Carbon Towers, Small Star Tower, Abracastupid) are hung in a vertical stack that further emphasizes his interest in making a "tower."
Irish artist Katie Holten shows her shadow drawings which are outlines of twigs done in pencil and ink that chart a shadow's progression in a span of time. The marks are subtle and fine, as though they were made by a machine, like those from an electrocardiogram (EKG).
Sid Garrison's February 7 colored pencil drawing on paper might also be time-based artwork given that it took roughly three weeks to complete. Repeating mark upon mark, he produces something like a topography that might be describing another place, another time, or even a type of human energy-- the kind that demands to be contained in permanent physical form.
Jessica Snow's two acrylic works on paper delight the eye with vivid hues and offer a painter's take on the integration of design and color. In some regard her work is the show's outlier; happily these pieces take us far away from data points and graphs.
As the organizers of Uncharted promise, the works do "explore visual and conceptual organization." One can't help but think the curators were influenced by the artist Sol LeWitt, who has made many drawings that begin with a set of written instructions to be carried out by assistants. LeWitt means to imply that virtually anyone can complete the work.
All maps and charts are instructions for how to repeat an experience such as a journey across an ocean or a trek through a territory. They are sheets of paper full of expectancy. Mere diagrams of places we are unfamiliar with, we use them to plan our route and ensure that the trip is free of delays or trouble.
Uncharted, aptly named, succeeds in fascinating us with marks, lines and outlines that describe places we really can't visit-- Melville's fictional ship the Pequod, ten minutes ago when the sun was casting a shadow in this or that direction, or the high point of our most energetic day. It comes as a great surprise to fall in love with the map itself and forget about a specific destination, unless of course we are already there.
The works by Owen Schuh, Jenny Odell, Mark Fox, Ed Ruscha, Grisha Bruskin, Amber Stucke, Hadieh Shafie, Lucca Antonucci, and Linda Karshan-- are also intriguing and should not be missed.
Review by Brandi Lee: Ed Ruscha's reliefs on handmade paper are impressively crafted. The lighting emphasizes their texture and form. The sculptural mountain-like ridges rise from the wall, while the few roads recede into the darkness of shadow. Amber Stucke's mixed media works, inspired by symbiosis, are fascinating. A combination of medical, botanical, and whimsical illustrations, their detail is impressive.
Art by Amber Stucke at Cain Schulte Gallery.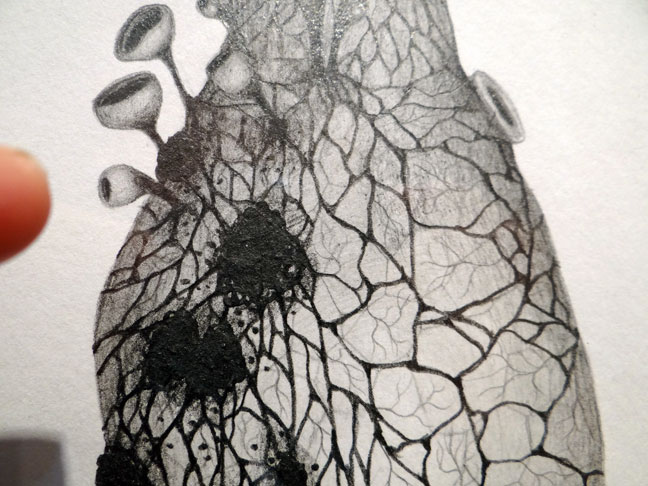 Pinkie cam detail of Amber Stucke in above image.


Hadieh Shafie art at Cain Schulte Gallery.


Art by Sid Garrison (left) - Ed Ruscha (right).


Detail of Sid Garrison art above at Cain Schulte Gallery.


Detail of Ed Ruscha art above (image c/o Brandi Lee).


Sid Garrison (left) & his art (image c/o Maria Medua).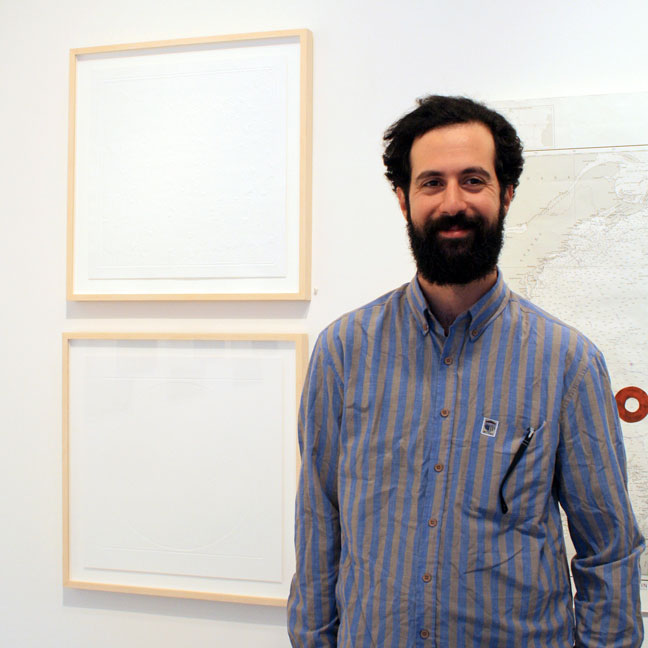 Lucca Antonucci and his art (image c/o Brandi Lee).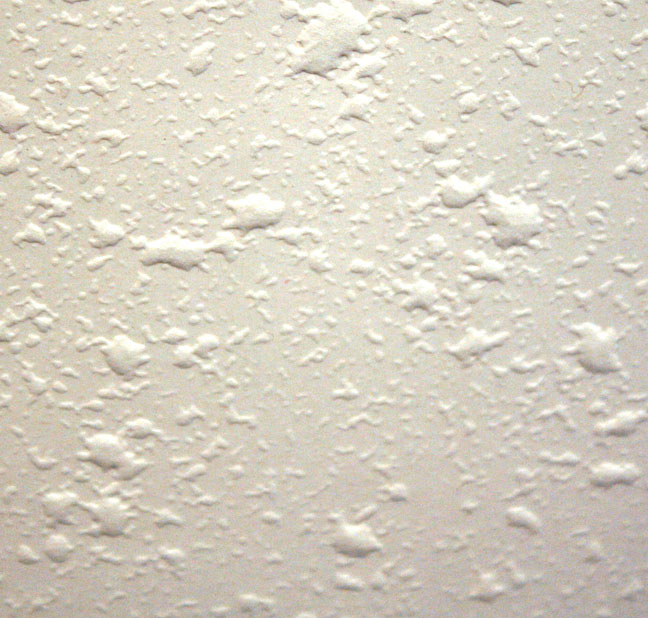 Lucca Antonucci art above closer (image c/o Brandi Lee).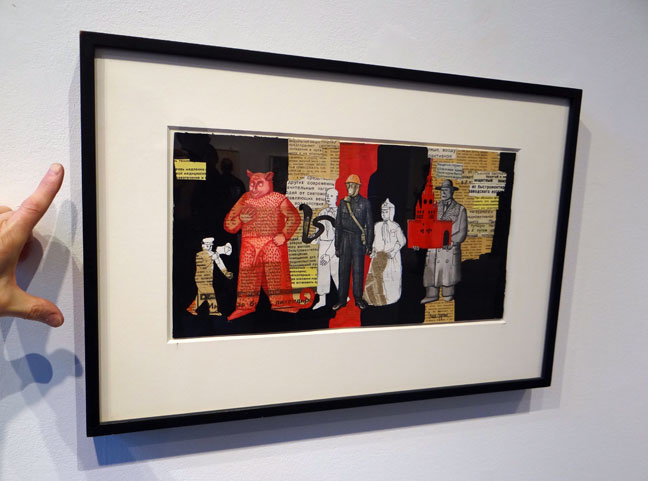 Art by Grisha Bruskin at Cain Schulte Gallery.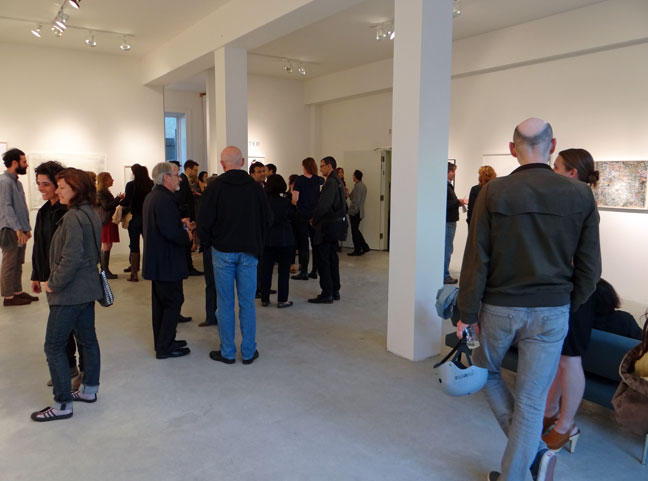 Playing field - group show at Cain Schulte Gallery.


***
Modernism Gallery: Charles Arnoldi - New Paintings; Catherine Courtenaye - Recent Paintings.
Review by Brandi Lee: This month's opening at Modernism showcases the cool masculine and angular paintings of Charles Arnoldi and the warmer feminine gestural pieces by Catherine Courtenaye. Arnoldi emphasized his linear compositions with hard edges. In contrast, Catherine uses soft arabesques with semi-transparent glazes to all but eliminate any edges. A few geometric patterns in Courtenaye's work subtly nod to Arnoldi's work. When asked about her work, Courtenaye reveals the use of brayers along with etching ink for the lettering. She gathers historical excerpts and diary entries from across America and incorporates them into her already calligraphic-feeling compositions. Take your pick from among the many dichotomies present at this show-- male/female, soft/hard, warm/cool, thin/thick, curvy/straight or passive/aggressive.
Review by RWM: The blues, here sophisticated and erudite. Great shapes and emotions. Abstract but expressive.
Comment by AB: Catherine Courtenaye is a bona fide connoisseur and collector of vintage ornamental penmanship (look it up), the techniques and flourishes of which she incorporates into her paintings. She is the only person I will ever speak with on the face of this or any other earth who actually knows who Charles Paxton Zaner is (look him up).
Art by Charles Arnoldi at Modernism Gallery.


Charles Arnoldi art.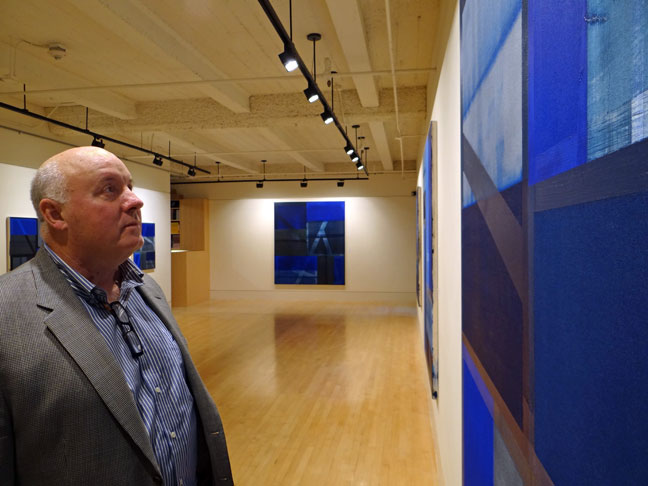 Artist Mark Stock observes art by Charles Arnoldi at Modernism Gallery.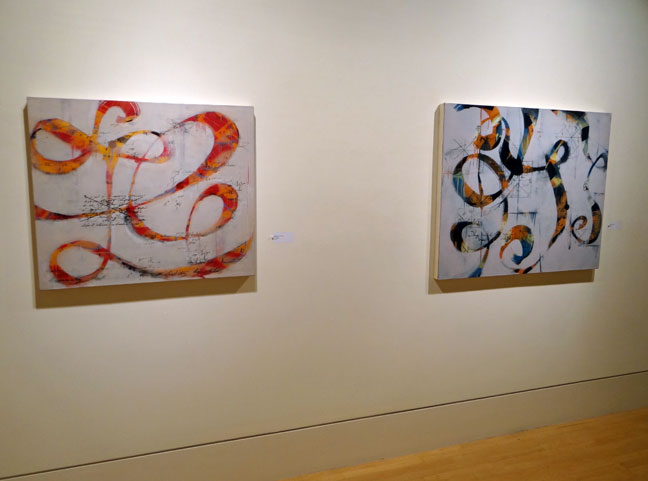 Calligraphic art by Catherine Courtenaye at Modernism Gallery.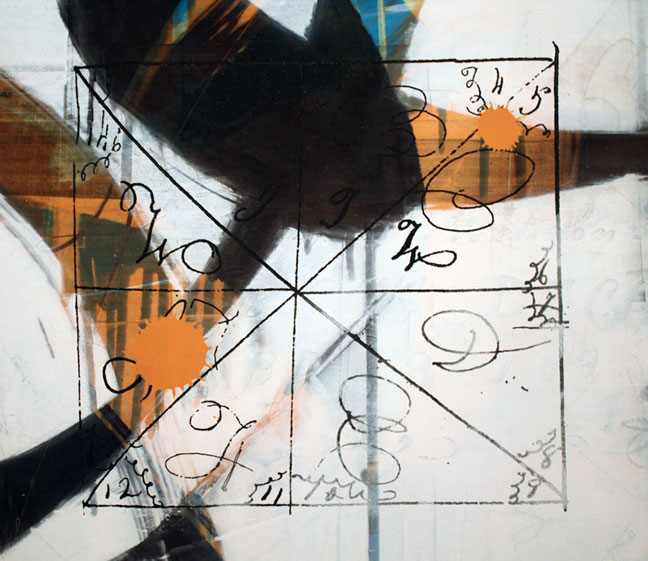 Detail of Catherine Courtenaye art (image c/o Brandi Lee).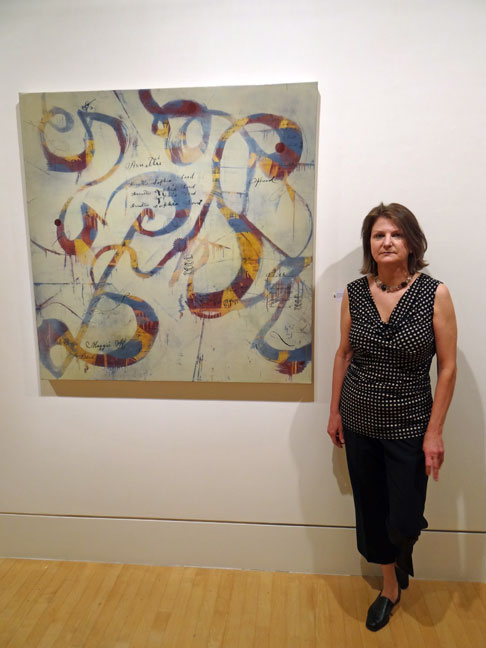 Catherine Courtenaye and her art at Modernism Gallery.


Calligraphic art by Catherine Courtenaye closer.


Art by Catherine Courtenaye at Modernism Gallery.


***
RayKo Photo Center: Lydia Panas - The Mark of Abel.
Review by RWM: Attitude, but so what. Not everybody likes a camera. These people at least chose to pose even though they may have dreaded that decision during the process. And at least the photos were not taken by some stranger with brain tumors protruding.
Comment by AB: Night of the Living Dead lite. One or two photos in the show, maybe, but all of them? Save me! Diane Arbus done did dat already anyway.
Photography by Lydia Panas at RayKo Photo Center.


Zombieland lite - photographs by Lydia Panas.


Lydia Panas and her photography (at least somebody's smiling).


Photographs by Lydia Panas at RayKo Photo Center.


Can't get enough? Take it home with you. Literature by Lydia Panas.


Long view - Lydia Panas photography show at RayKo Photo Center.


***
California College of the Arts: When Attitudes Became Form Become Attitudes.
Artists: Simon Fujiwara, Claire Fontaine, Natasha Wheat, Jennifer Allora and Guillermo Calzadilla, Abraham Cruzvillegas, Claire Fontaine Michael Elmgreen and Ingar Dragset, Nicolas Bacal, Ryan Gander, Jennifer Allora & Guillermo Calzadilla, Walead Beshty, Renata Lucas, Adriana Lara, Tim Lee, Carey Young, and many more.
Comment by AB: Inspired by the exhibition "Live in Your Head - When Attitudes Become Form," presented at Kunsthalle Bern, Germany, this version proposes a wide range of addendums to conceptualism and its cognitive compadres. Tape measures, neon, desk lamps, a battering ram, blue jeans, chards of broken glass, heavy rope, mirrors and much more-- medium has no bounds as this show encompasses it all. The explanations for the individual artworks are in large part compos mentis, comprehensible and thought-provoking as well. Art for the astute. Recommended.
Endless loop video of a man falling up a set of stairs by Tim Lee.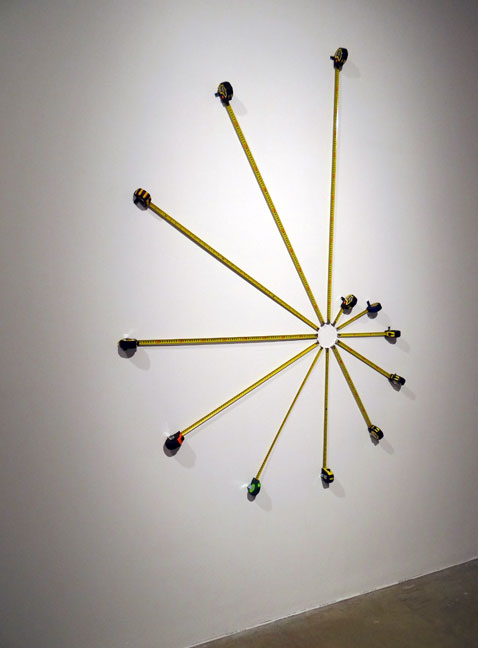 Tape measures proportional in length to the numbers on a clock - Nicolas Bacal.


Nicolas Bacal art above closer at California College of the Arts.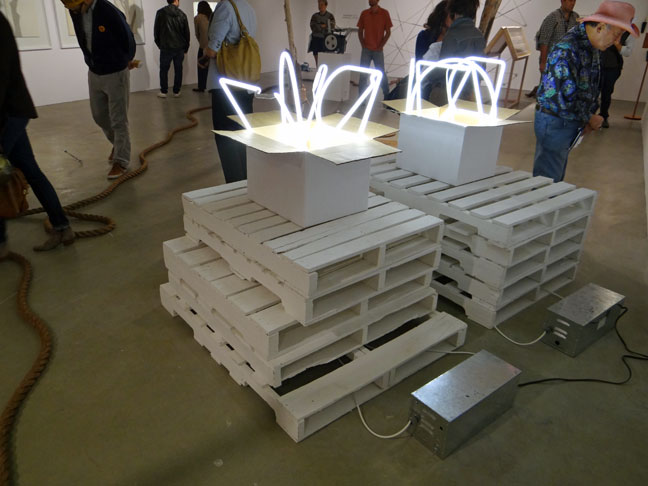 Boxed letters spell "Be Oblivion" - art by Natasha Wheat.


Glass fragment frame by Marcelo Cidade at California College of the Arts.


Blue jeans still-life art by Michael Elmgreen and Ingar Dragset.


Suspended (neutered) battering ram by Claire Fontaine.


Art - group conceptual show at California College of the Arts.


Chemical reaction art (if I recall correctly).


Split-screen video by Jennifer Allora & Guillermo Calzadilla.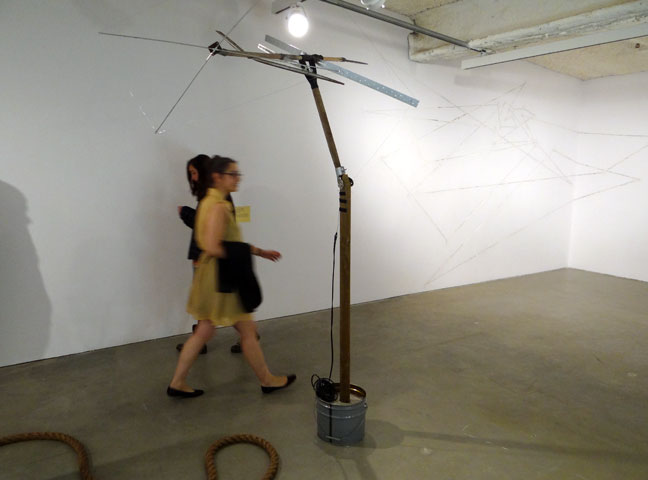 Art/installation at California College of the Arts.


Art from group conceptual show at California College of the Arts.


Art/installation.


Long view - group art show at California College of the Arts.


***
Ceramics Annual of America at Fort Mason Center: Third Annual Ceramics of America 2012 Exhibition.
Artists: Bill Abright, Amber Aguirre, Steven Allen, Wesley Anderegg, Merry Arttoones, Lucy Beazley, Cindy Billingsley, Jennifer Brazelton, Angela Brickner, Bruce Cadman, Lisa Clague, Michele Collier, Shenny Cruces, Martha Daniels, Javier del Cueto, Natasha Dikareva, Jeffrey Downing, Lynda Draper, Carol Fergoso, Linda Fitz Gibbon, Allesandro Gallo, Jon Gariepy, Maurizio G Rivera, Tebby George, Dina Gewing, Arthur Gonzalez, Ray Gonzales, Becky Grant, Michelle Gregor, Stephi Gruenberg, Bryan Higgins, Liz Howe, Ryan Hurst, Damien Jones, Francisco Jimenez, Michael Keighery, Joe Kowalczyk, David Kuraoka, Chris Kanyusik, Carmen Lang, Rodrigo Lara, Anontio Lawson, Seungwon Lee, Elizabeth Levine, Diane Levinson, Eusebio Lozano, Rene Martucci, Kathryn McBride, Jane McDonald, Zhang Ming, Paul Moran, Tomoko Nakazato, Kevin Nierman, Kathy Pallie, Virginia Rigney, Lisa Rienertson, Gail Ritchie, Gregory Roberts, Cybele Rowe, Juan Santiago, Bar Shacterman, Tiffany Schmierer, Barbara Sebastian, Nancy Selvin, Leslie Smith, Vipoo Srivilasa, Shannon Sullivan, Glenn Takai, Claudia Tarantino, Yoshio Taylor, Derik Van Beers, Jenni Ward, Cindy Williamson, David Zdazil, Jin Zhenhua, Guangzhen Zhou.
Review and images by Brandi Lee: The Fort Mason Festival Pavilion is literally packed with every type of ceramic one can imagine-- and more. Ranging from life-sized human forms and abstract wall decor, to traditional ceramic vessels and impressive animal likenesses, this show has something for everyone.
Artist Hijiri Yahagi's life-sized porcelain dolls hang from strings and immediately demanded attention. The cracked-glaze skin underneath the smooth high-gloss finish is a beautiful combination. Bill Albright's series of animals are cleverly assembled from seemingly random organic pieces of ceramic, while still retaining the silhouette and feel of the intended animal. A nice touch is the negative space which allows not only the viewer look through the piece, but to let in light which illuminated the voids.
At first glance, Spring Montes's piece, "Straddling the 405" looks out of place at a ceramics show-- looking more like feathers. A gentle fan is mounted underneath the piece blowing (what I imagine are) thousands of tiny pieces of colored ceramic mounted on wire. You don't have to be an artist to appreciate the time and effort it took Spring to make each individual piece, and then assemble them together.
Eusebio Lozano's vessels are delicately crafted and gracefully glazed. The understated style highlights the medium with a touch of color that only adds to their beauty. The earthy hues seem to dance across the porcelain like smoke.
Finally, Evan Hobart's hybrid creations are as dynamic and interesting from afar as they are up close. Animal and dinosaur skulls morph into oil tankers, cities, or oil plants. Each piece is rife with precisely crafted buildings, cars, fire engines and even miniature stop signs. Evan's work is rich with metaphors about extinction cycles, oil dependency, and Man's relationship with the environment. The artist also presents a series of 'core samples' further showcasing his skill, and underlining his concept. Fresh off a residency in Alberta, Canada (an oil production region), Evan talks about his passion for the environment and explains that he uses his art to express his worries about the future.
All in all, the Ceramics Annual of America is a diverse and talent-filled show.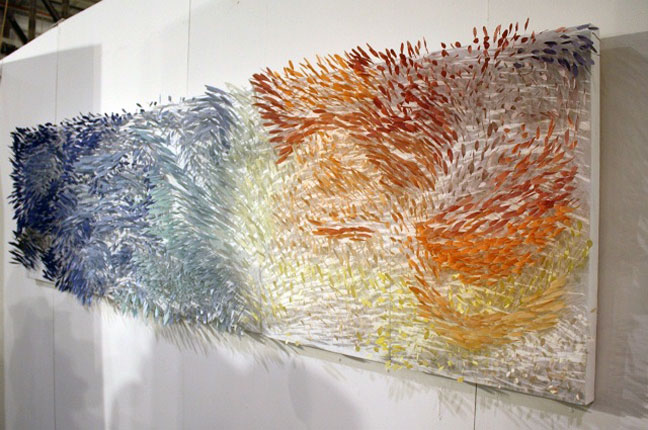 Mixed-media ceramic art by Spring Montes at Ceramics Annual of America.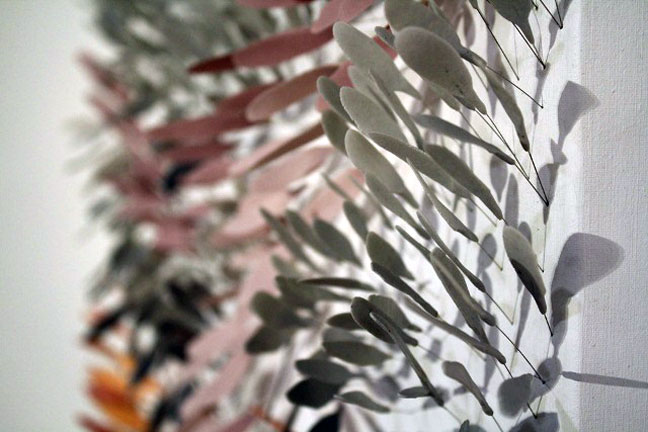 Spring Montes ceramic art in above image closer (priced $19500).


Art by Eusebio Lozano at Ceramics Annual of America, Fort Mason Center.


Eusebio Lozano ceramic art in above image closer.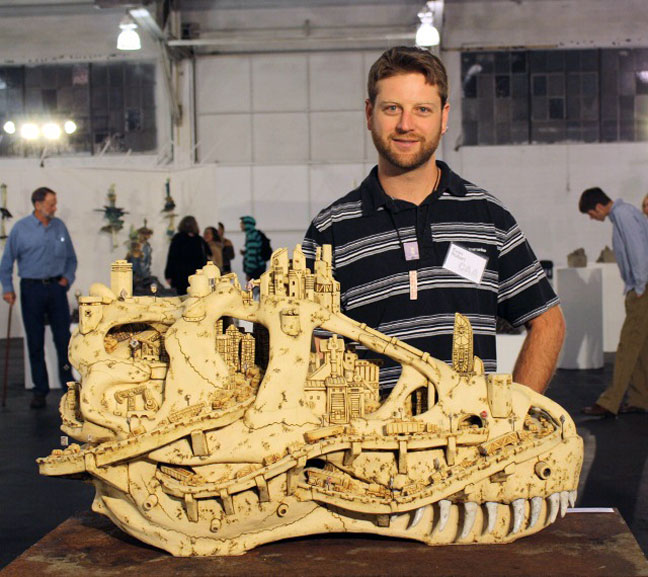 Evan Hobart and his ceramic art at Ceramics Annual of America 2012.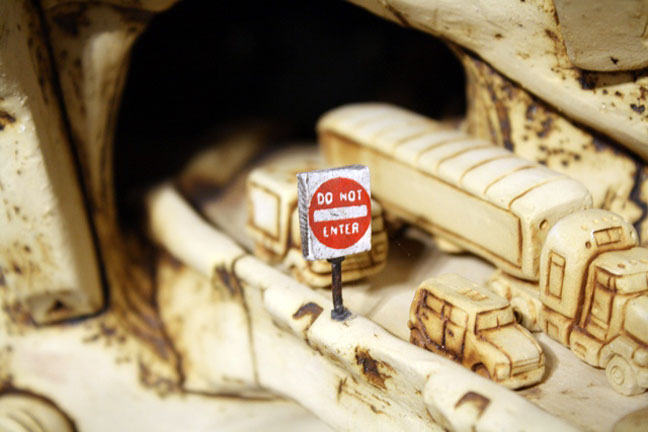 Detail of ceramic art by Evan Hobart.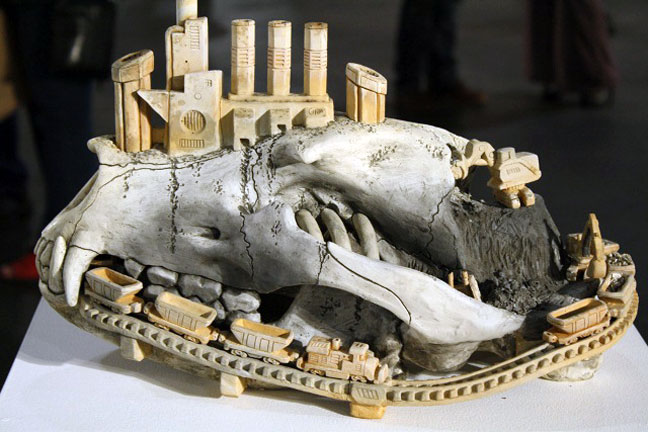 Ceramic art by Evan Hobart at Ceramics Annual of America, Fort Mason Center.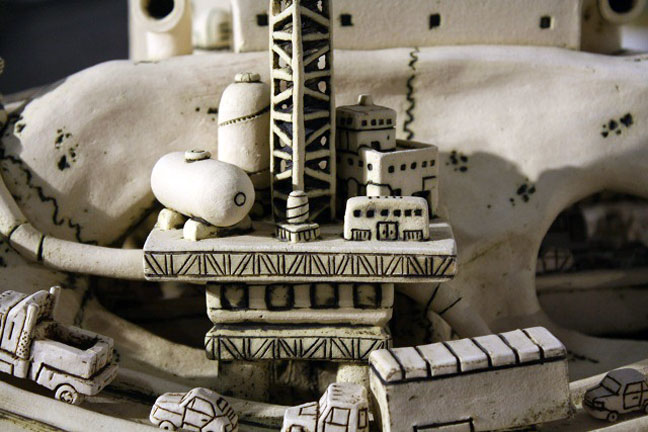 Detail of Evan Hobart ceramic art.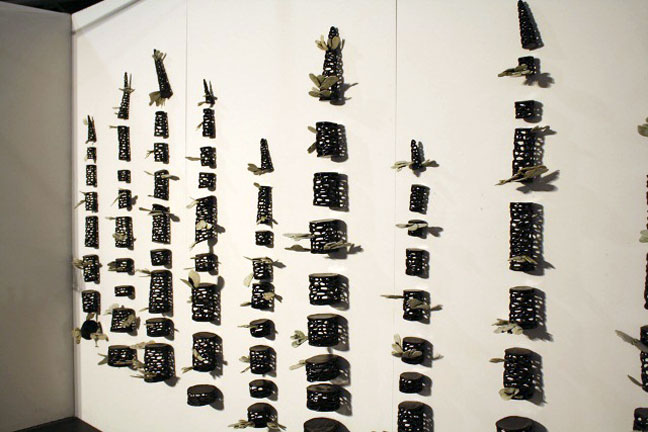 Art by Jenni Ward at Ceramics Annual of America, Fort Mason Center.


Jenni Ward ceramic art in above image closer.


Hijiri Yahagi ceramic art at Ceramics Annual of America 2012.


Detail of art by Hijiri Yahagi in above image.


Bill Abright ceramic art at Ceramics Annual of America.


Situation - Ceramics Annual of America 2012 at Fort Mason Center.


***
The Coalition on Homelessness at SOMArts Gallery: Art Auction '12.
Artists: John Baldessari, Tamar Assaf, Brett Amory, T.W. Five, Mike Giant, Serge Gay Jr., John Wehrle, Ehren Tool, Deborah Lyons, Donna Rodriguez, Iain Barnes aka 5, Brigitte Carnochan, Patrick Piazza, Emory Douglas, Mark Bulwinkle, Tyrell Collins, Favianna Rodriguez, Art Hazelwood, Liz Maxwell, Doug Minkler, Shankar Ramamoorthy, Melanie Cervantes, Ed Gould, Janet Seifert, Scott Williams, many more.
Comment by AB: Tonight's annual auction fundraiser celebrates 25 years of service to the community by The Coalition on Homelessness.
Art up for auction at Coalition for the Homeless.


Coalition for the Homeless auction art at SOMArts Gallery.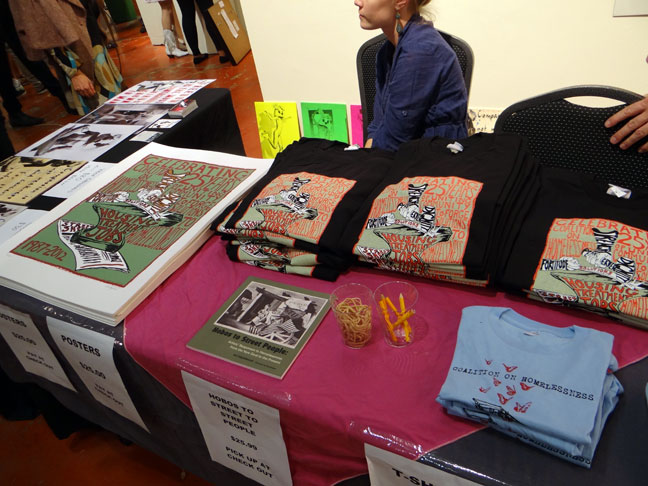 Support the cause - Coalition for the Homeless annual auction.


Edible protest art c/o The Great Tortilla Conspiracy.


Art at auction to support Coalition for the Homeless.


Coalition for the Homeless annual fundraiser auction at SOMArts Gallery.


***