SAN FRANCISCO ART GALLERIES - OPENINGS
YERBA BUENA CENTER FOR THE ARTS - THE LAB
REPORTED BY KATHRYN WARD
09.14.06
Yerba Buena Center for the Arts: Sampling Oakland.
Artists: Jason Blalock, Bruce Busby, Tara Daly, Marcel Diallo, Erik Groff, Jeff Hull, Irresistible Small Creatures, Veronica de Jesus, Zack Johnson, Keba Konte, Mads Lynnerup, Githinji Mbire, Letitia Ntofon, Eesuu Odundid, Lucrecia Troncoso, Matt Volla, Jake Watling.
Comment: This show gives you a great sense of the art scene in Oakland and inspires you to get yourself over there for First Fridays to see what is really going on. Within the exhibition there is a website, Oakland Spaces, created by Jason Blalock, Leah Messinger and City Qui that highlights six artist-run spaces in Oakland. The stories told on this website create a great context for the show and remind me why I am interested in this thing called art.
Deoderant by Lucrecia Troncoso.


Black Dot Collective.


Creativity Enhancement Shelter #BMCD 702, 2002 by Bruce Busby.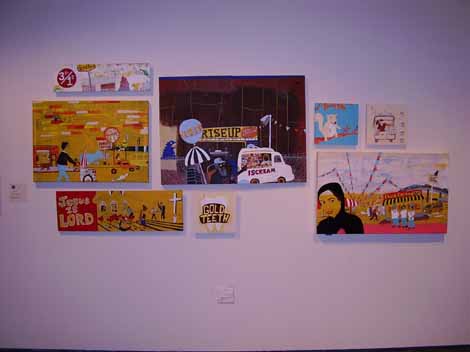 Art (Jake Watling).


Car by Mads Lynnerup.


A Handful of Some Pretty Special People by Veronica De Jesus.


Untitled (landing) by Zack Johnson.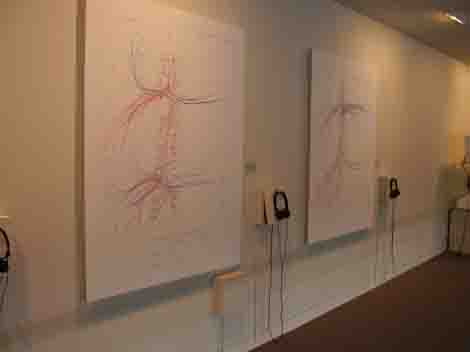 Bartology by Matt Volla.


Art (Jake Watling).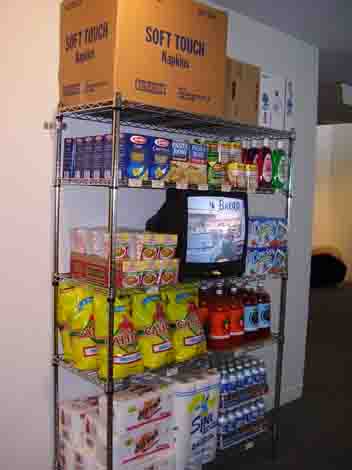 Shopping Cart by Mads Lynnerup.


Secret Museum of Mankind by Irresistible Small Creatures.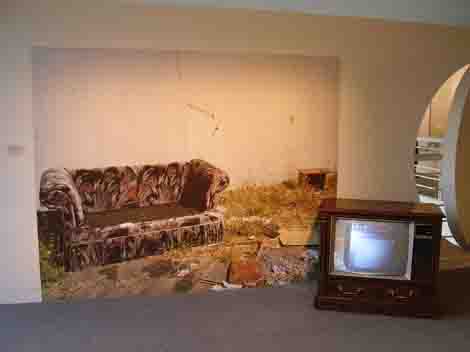 TV-Monitors by Mads Lynnerup.


***
The LAB: Some Assembly Required.
Artists: Roger Bisbing, Marcus Civin, Yoon Cho, Nancy Elliott, Taro Hattori, Jesse Houlding, Peter Kimmel, Nicholas Knight, Steve Lambert, Francis McIlveen & Yuki Maruyama, Dan Nelson, Zefrey Throwell, Lindsey White, Edmund Wyss.
Comment: See below.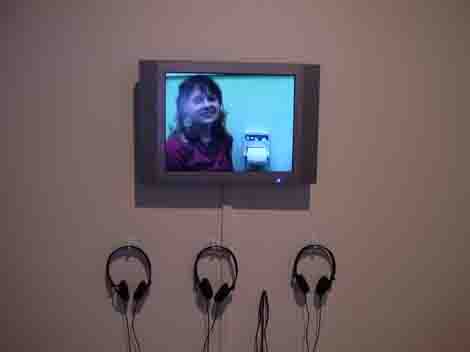 Maidenhead Voyage Into Dark Waters by Zefry Throwell.

This is a great DVD where people tell their stories about their "first time."





The Cone of the Known by Jesse Houlding.

This is a projection which changes shape. Reminds me a little of a screen saver or something from the Museum of Jurassic Technology.





Simmer Down Sprinter by Steve Lambert.

Described as a video game prototype. Looks like a promising experience.


Dodecadiscoteca by Dan Nelson.


I think this goes with Dodecadiscoteca.


Council 2 by Roger Bisbing.


Urban Treasure by Peter Kimmel.





Beaut Brute II by Taro Hattori.

This one needs a little explanation. There is what looks like a disassembled gun which is all mirrored laying on a fur covered conveyer belt made from white vinyl leather. Also, hanging on the wall are grape vines made in shiny silver material.





Accu Vote ­ TSX by Lindsey White.

I really enjoyed this DVD by Lindsey White. This is a promotional video for the Accu Vote ­ TSX which is a highly technical and precise voting machine. I laughed my butt off while watching this very low tech video which explains the virtues of this very ³high tech² card board voting machine.


Public Transcription of War and Peace by Marcus Civin.


Public Transcription of War and Peace by Marcus Civin.


Art (Edmund Wyss).


Art (Edmund Wyss).


Alter Ego Fuck by Yuki Maruyama and Francis McIlveen.


***