SAN FRANCISCO ART GALLERIES - OPENINGS
CELLSPACE - MODERNISM WEST
HACKETT- FREEDMAN - JOHN BERGGRUEN
THOREAU GALLERIES - PALANCO GALLERY
9.14-15.05
Modernism West: Paint Moves by Naomie Kremer.
Comment: According to the announcement, the event is "A site specific installation of four painting animations with an accompanying audio installation by composer Paul Dresher." The "painting animations" are basically fragmented abstracts; the fragments spritz and spurt about in choreographed randomness on large video screens. One spritzy spurty fragment looks like a person peddling a bicycle, enough so that I think it was deliberate. I didn't check to see if any of the other fragments look like anything-- you'll have to do that yourself. Anyway, Modernism West, the Western outpost of Modernism Inc. on Market St., is pretty new and headquarters itself out of a spacious high-ceilinged shindig suite at the back of Foreign Cinema (as if Foreign Cinema couldn't get any better than it already is).
Art.


Art.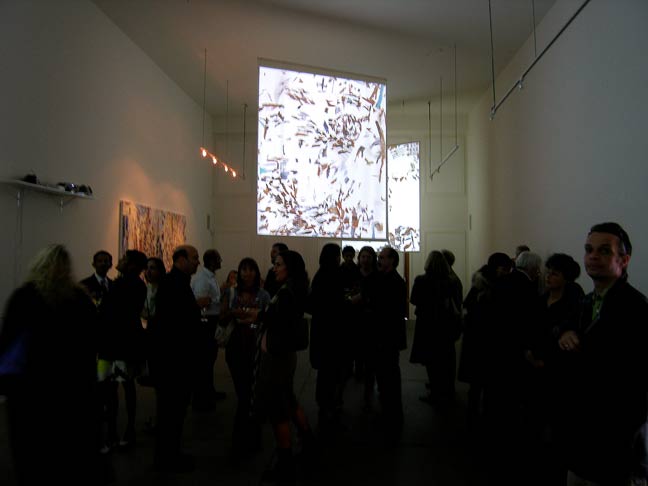 Art.


Art.


Art author, columnist, prognosticator Richard Polsky & friends.


***
Crucible Steel Gallery at CELLspace: Close - Klos.
Artists: Krescent Carasso, Monica Crawford, Trish Tunney, Rebecca Volinsky.
Comment: This is one of those relatively uncommon better-than-expected shows; all the art's competent + it's got potential + I like it. Three strikes and you're in. Bargain alert-- Monica Crawford's series of airy cilium abstracts on white backgrounds look an awful lot like that highfalutin downtown gallery art, but for less than a tenth the price-- $375 per canvas. And that's not all. Her compositions continue right around the edges, and I'm a big fan of artists who take care of their edges rather than let 'em hang out there ugly because they think no one's looking (boy, are they wrong). You've probably figured it out already, and you're right-- I'm an Edge Man.
Art.


Trish Tunney - photography.


Rebecca Volinsky - art.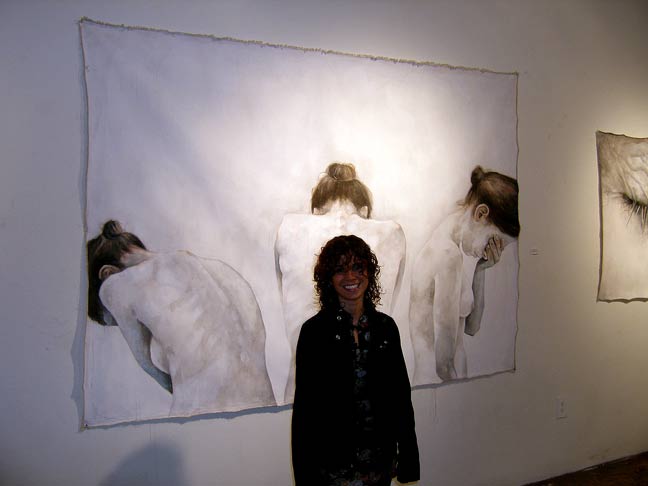 Krescent Carasso - art.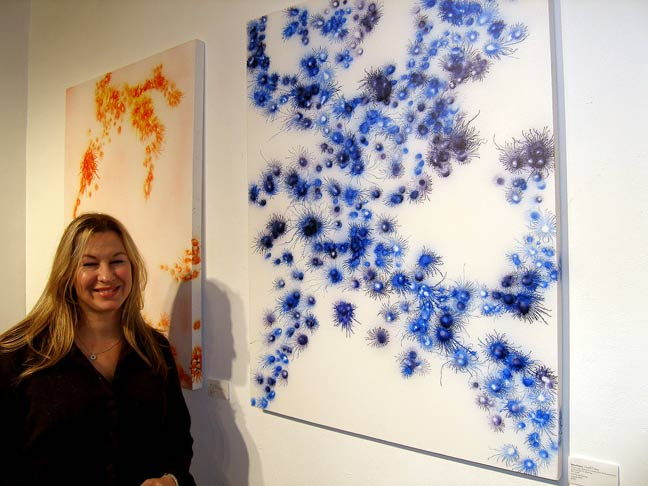 Monica Crawford - art.


Director accesses bowels - art.


Art.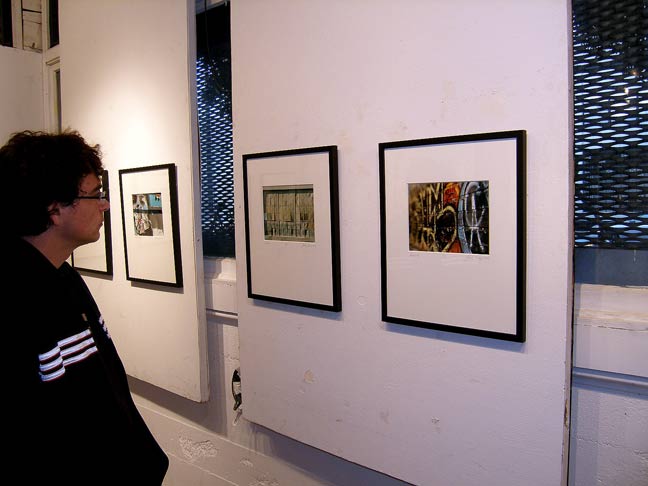 Photographs.


Art.


***
Hackett-Freedman Gallery: Gustavo Ramos Rivera - The Poetics of Painting - Paintings, Monotypes, and Collages, 1981-2005.
Comment: Big bright abstracts, three decade survey, paintings and monotypes. Gustavo Ramos Rivera will be having a retrospective at the San Jose Museum of art and the San Jose Institute of Contemporary Art in 2006. Prices top in the vicinity of $50K.
Art.


Art.


Art.


Gustavo Ramos Rivera (center right).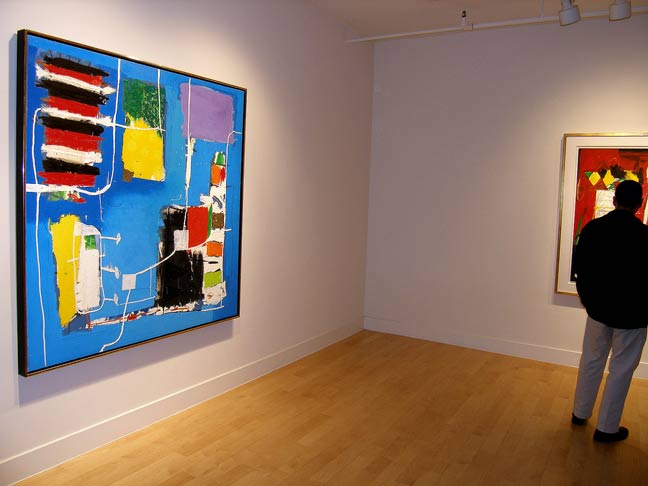 Art.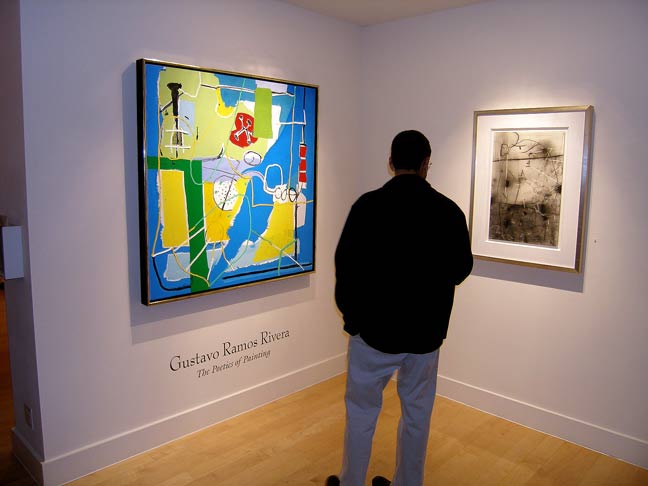 Art.


***
John Berggruen Gallery: Joel Shapiro - Sculpture and Drawings; Isca Greenfield-Sanders - Sky of Blue, Sea of Green.
Comment: The Joel Shapiro selection runs the dimensional gamut including cogent clean constructivist bronzes for conventional collectors, and for more intrepid patrons, concise chaotic painted wood convocations, some incorporating wire, some suspended from the ceiling. For those who prefer wall art to pedestal art, Shapiro frosts the amalgam with uncomplicated pastel and chalk drawings on paper. Sculptures priced around $25K.
Upstairs, Mathematics/Painting double-degreed Isca Greenfield-Sanders takes a series of vintage fifties/sixties beach vacation slides she found at a yard sale, manipulates them in Photoshop, prints the reconfigurations on rice paper, and further augments them with oil paints and watercolors. So is it art? You betcher ass. Go see. Prices average mid-thousands.
As an aside, I'm a huge fan of telling it simple so that we all understand. Explanatory statements on the John Berggruen website are about as good that gets.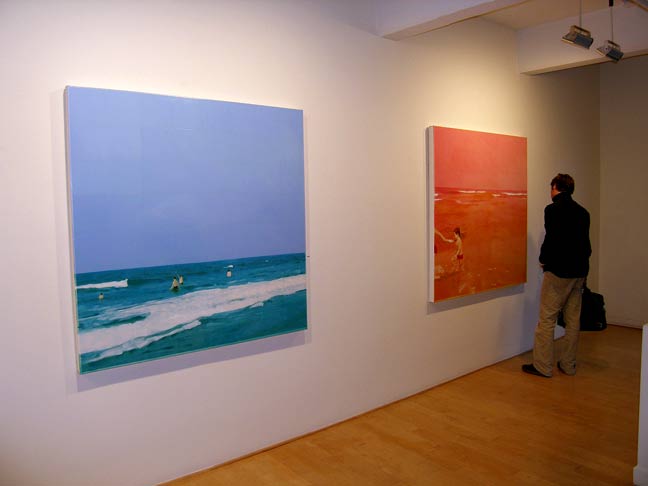 Art (Isca Greenfield-Sanders).


Art (Joel Shapiro).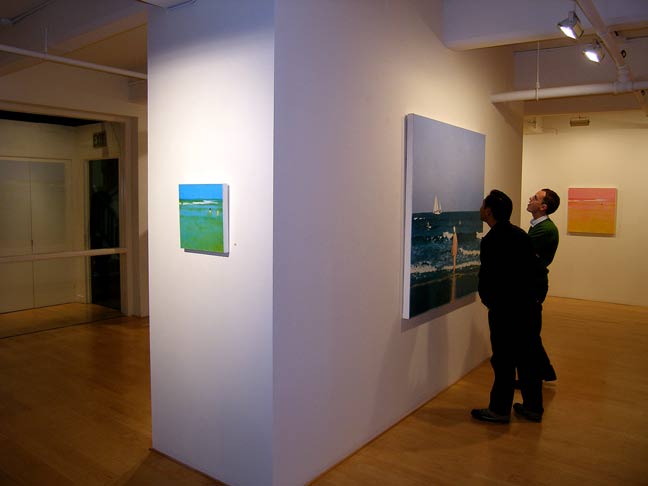 Art (Isca Greenfield-Sanders).


Art (Joel Shapiro).


Art (Isca Greenfield-Sanders).


Art (Joel Shapiro).


Art (Isca Greenfield-Sanders).


Art (Joel Shapiro).


Art (Joel Shapiro).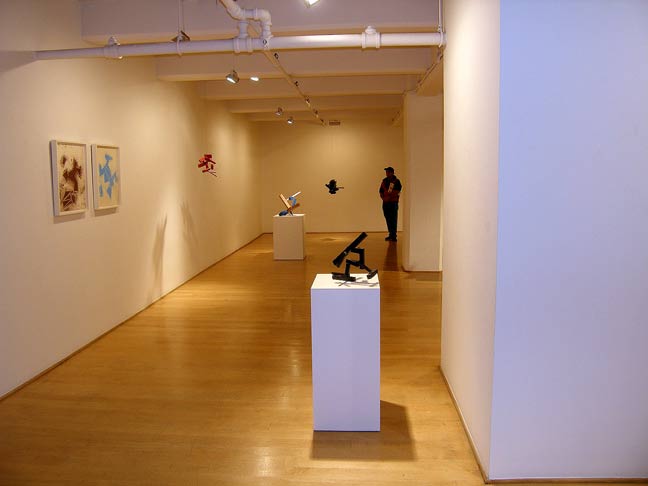 Art (Joel Shapiro).


Art (Joel Shapiro).


***
George Krevsky Gallery: East Coast/West Coast, Four Modernist Women.
Artists: Theresa Bernstein, Ruth Gikow, Lelen Ludwig, Dorothy Winslade.
Comment: Mid-century social realist, regionalist, semi-abstract melange.
Art.


Art.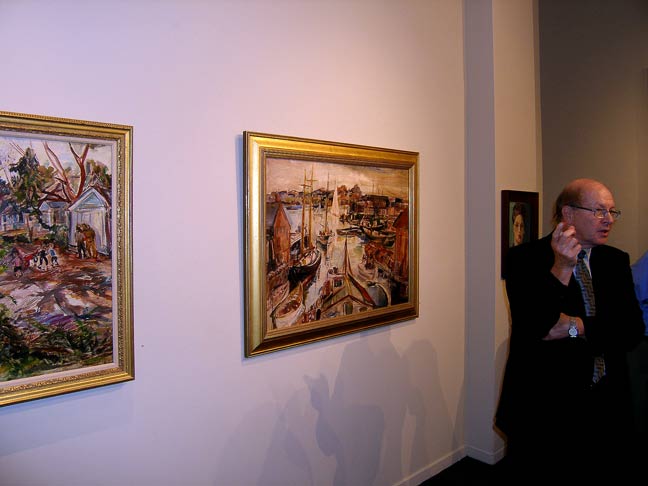 George Krevsky - art.


Art.


Art.


***
Thoreau Galleries at the Thoreau Center for Sustainability: From the Cubberley Art Studios, A Sustainable Cultural Community for Artists.
Artists: Robert Bush, Sharon Chinen, Ulla de Larios, Ken Edwards, Marguerite Fletcher, Peter Foley, Mano Gen.z, Inge Infante, Michael Pauker, Nancy White.
Comment: The Cubberley Community Center art studios were established in Palo Alto in 1989, and the artists showing here at Thoreau Galleries are from there. Cubberley is billed as "a sustainable cultural community for artists"-- I'm not sure what that is, but it sounds good. The Thoreau Center, named after American writer and naturalist Henry David Thoreau, advocates living in harmony with nature, incorporating sustainable "green" building principles, and historic preservation. Can't argue with that either.
Art.


Art.


That old Frame-With-No-Art-In-It trick.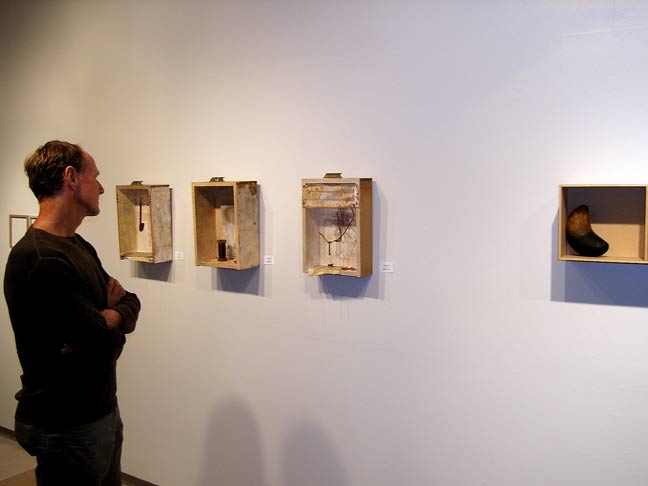 Art.


Art.


***
Polanco Gallery: Hablamos de Solo Uno - We Are Talking About Just One, Recent Paintings by Patricia Torres.
Comment: The show of the night as far as I'm concerned. Mexico City artist Patricia Torres paints up a provocative sensual commentary on women, domesticity, sexuality, society, taboo, and dialogue (or the lack thereof). Her paintings exemplify three essentials that make art work-- penetrating insight, the courage to express oneself, and the technical ability to materialize that expression into art. Prices reasonable, topping out in the low thousands (if I recall correctly). These are good.
At this writing, the Polanco Gallery website is nonfunctional so here's the contact info-- Polanco Gallery, 393 Hayes Street, San Francisco, CA 94102, 415.252.5753.
Art.


Art (note the edges).


Patricia Torres - art.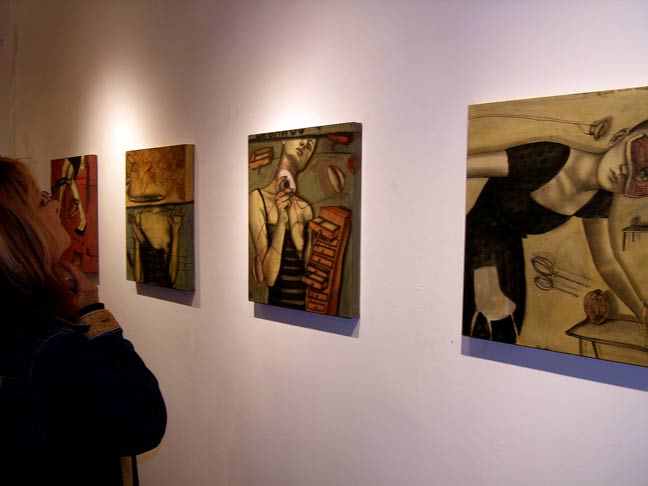 Art.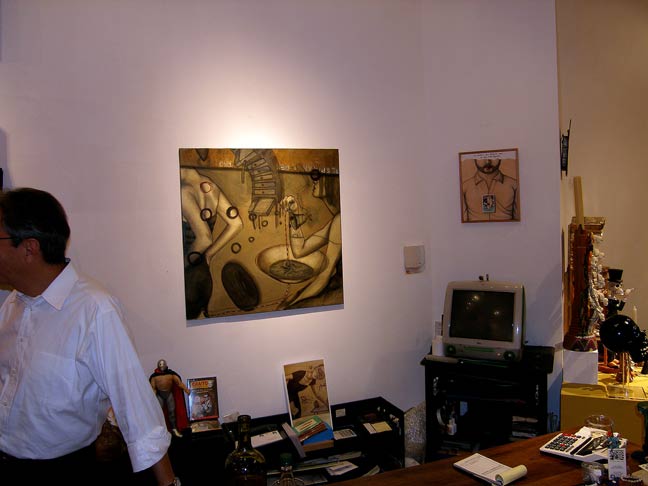 Art.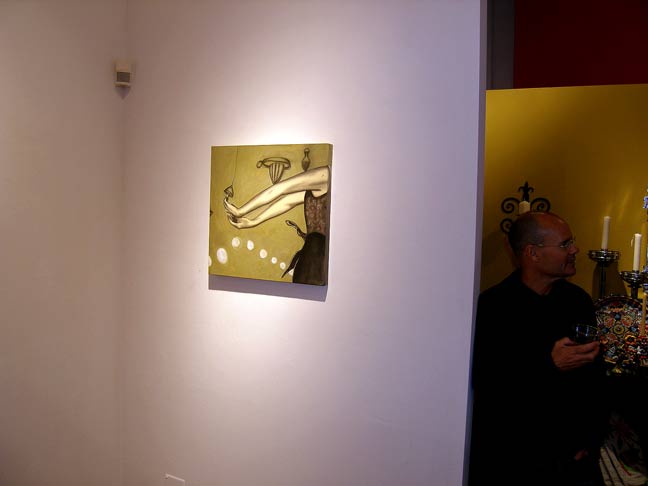 Art.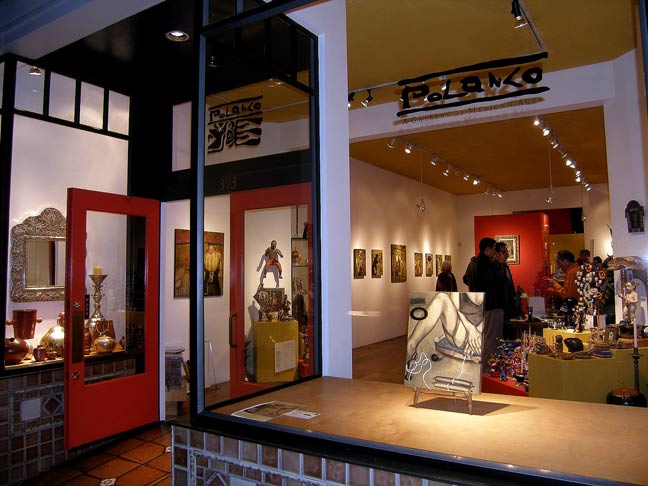 Overall.