SAN FRANCISCO ART GALLERIES - OPENINGS
BUCHEON GALLERY - AMPERSAND INTERNATIONAL ARTS
PING PONG GALLERY - SUPERVISOR ROSS MIRKARIMI
HARDWARE STORE GALLERY - DRUGSTORE GALLERY
LABYRINTH (MARKET STREET CORRIDOR GALLERIES)
09.15.06
Supervisor Ross Mirkarimi: It Won't Hurt.
Artists: Alika Cooper, Sacha Eckes, Rachell Sumpter.
Comment: According to the handbill, the art is about ironies, social truths, uneasy relationships, and stuff like that. Of interest is a curiously agreeable selection of urban-tinged Eskimo/Laplander treatises by Rachell Sumpter. I go to Sumpter's website to get the lowdown on the essence, and find a link to an article on Nordic Colonialism which comments on, among other things, the subjugation of indigenous peoples in the Lappish territories. Maybe that's it. Anyway, for you value buyers, Sacha Eckes and Alika Cooper have plenty for sale under $500.
Art (Rachell Sumpter - like it).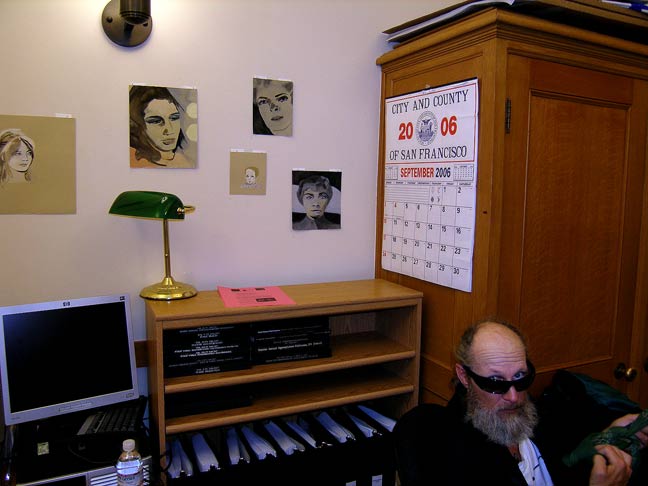 Art (Alika Cooper).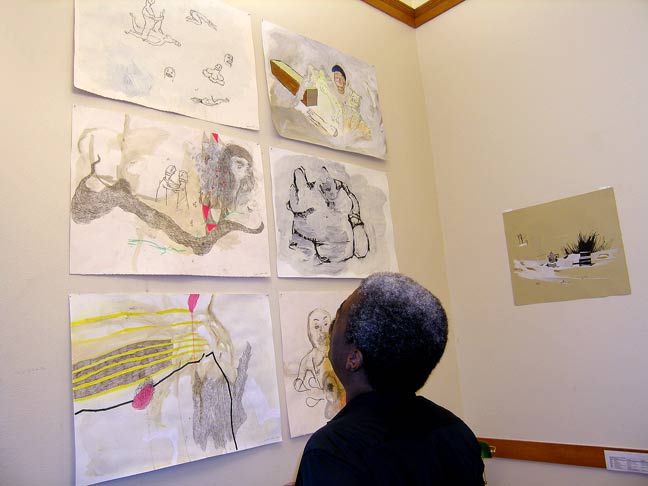 Art (Sacha Eckes, 6 on the left).


Art (Rachell Sumpter).


Art (Sacha Eckes).


Art (Alika Cooper).


Art (Rachell Sumpter).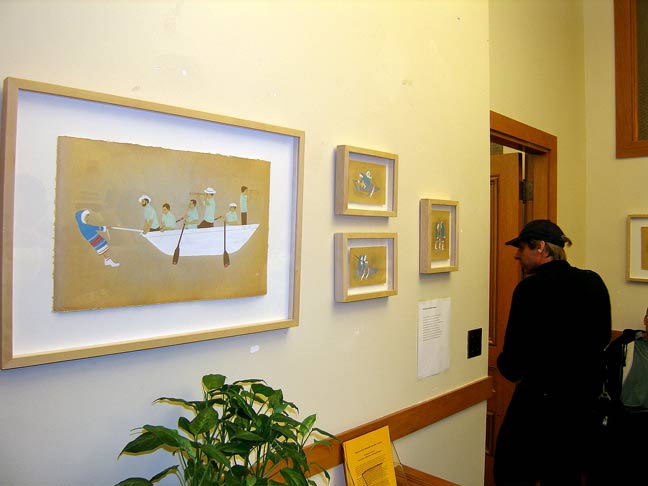 Art (Rachell Sumpter).


Art (Sacha Eckes).


***
Bucheon Gallery: Harris Diamant - Eye witness, New Drawings and Sculpture.
Comment: The iconoclastic art of New York artist Harris Diamant makes its West Coast debut here at Bucheon. Diamant's work, mainly various representations of portrait heads, appears naive from a compositional standpoint, but then again, it's so meticulously finished and he's so skilled in various mediums including assemblage, metalwork, painting and drawing on mylar, wood carving, and especially gold and copper leafing, you can't really pigeonhole his dealie-bob-- which is good. Atypical and worth a look.
Art.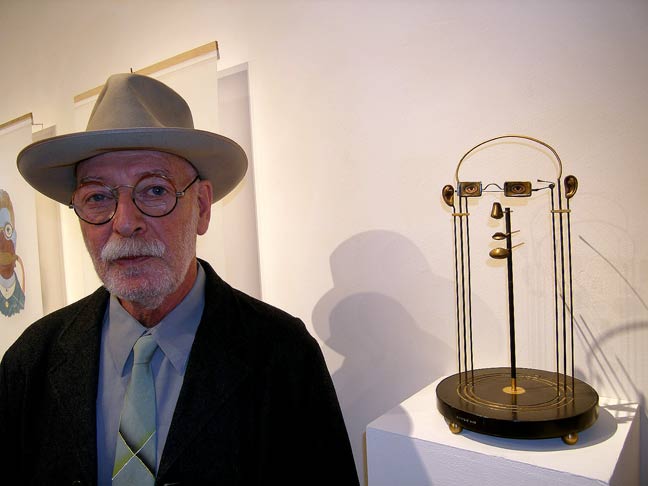 Harris Diamant - art.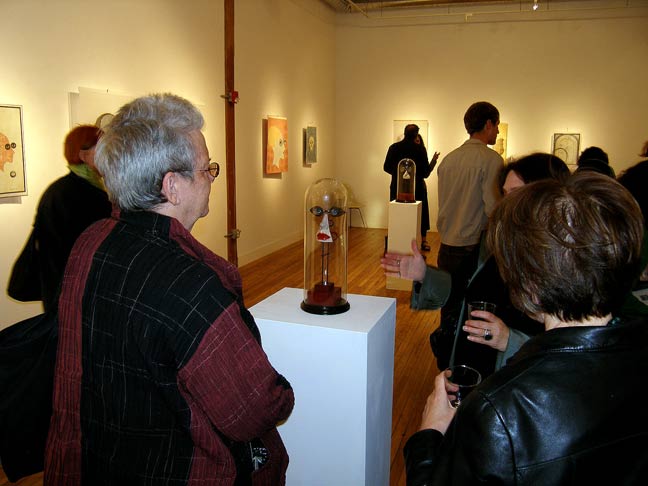 Art.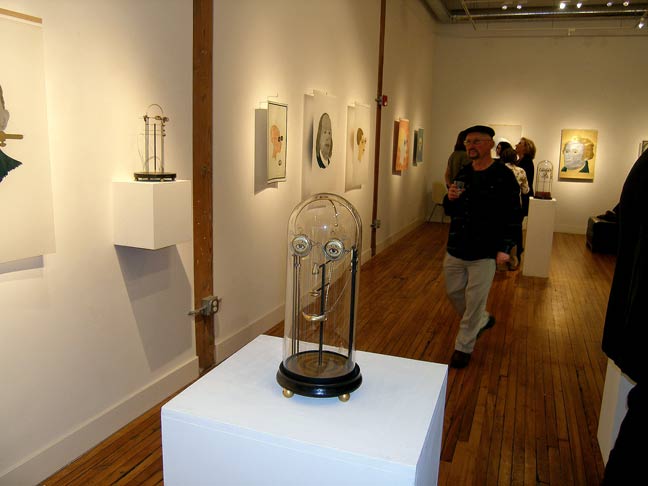 Art.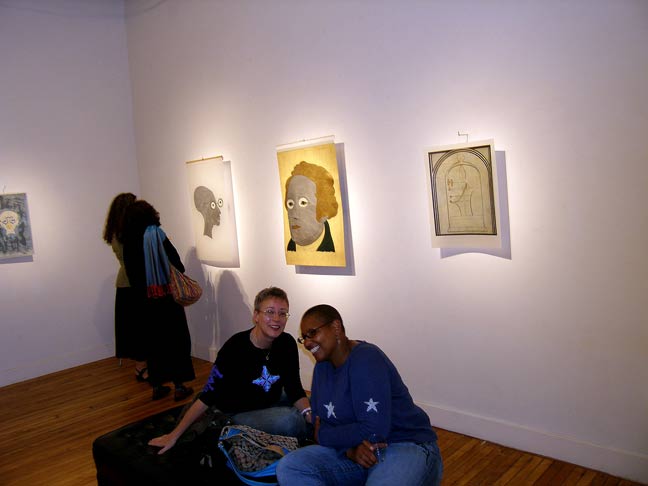 Art.


Art.


Art.


***
Ampersand International Arts: Firmament - Amanda Hughen and Arngunnur Yr.
Comment: The art looks like landscapes, seascapes, layerscapes, skyscapes, cloudscapes, and the like, which makes sense seeing as the show's called "Firmament." And it's all well done. Beyond that, the syllabus boggles me, so I'll quote a couple of passages and let you sort it out. "Bridging the natural and the artificial, contemplative and subversive, (Amanda Hughen and Arngunnur Yr) forge the edge that is both a boundary and starting point, the path of egress into the unknown." "Defined by the conceptual framework, Firmament continuously reveals the artists' ongoing investigations and process - forming and re-forming, much like the landscapes that the artists create."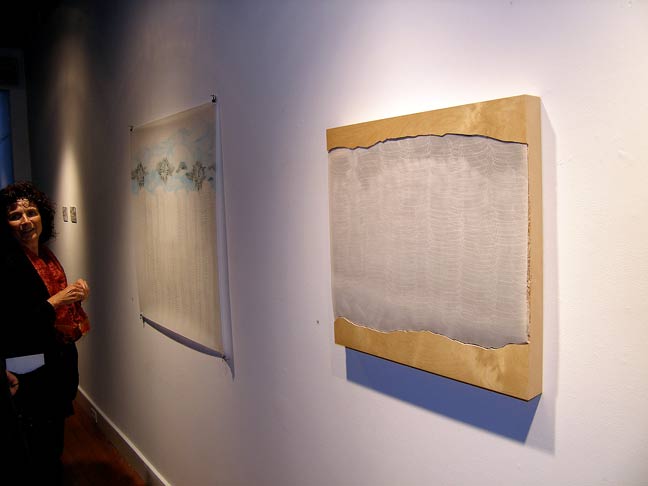 Art.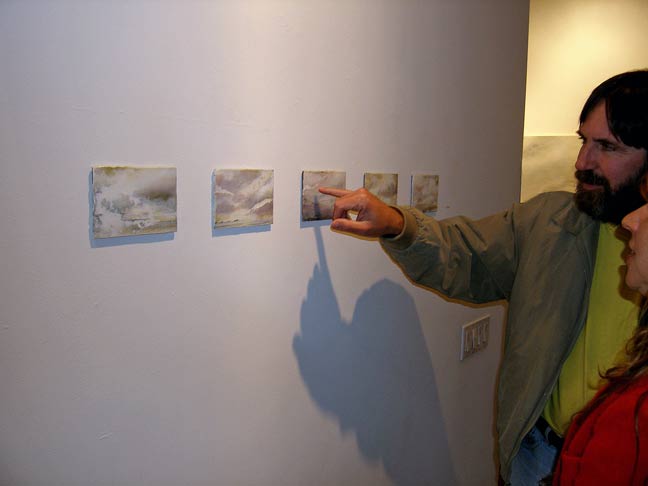 Art.


Art.


Art.


Art.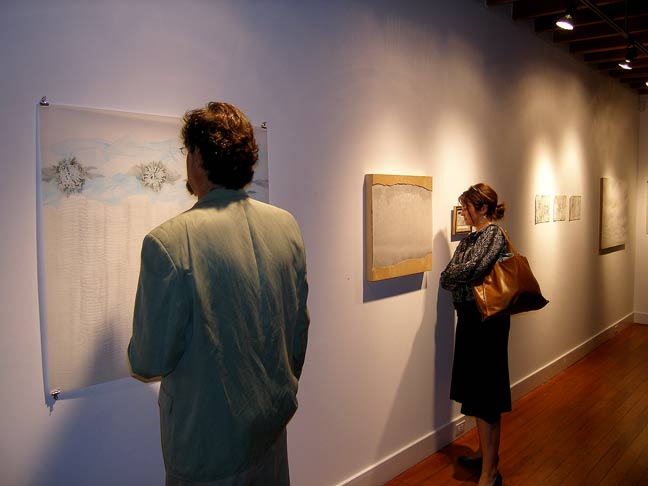 Art.


***
Ping Pong Gallery: Daniel Tierney - Bringing the Feral Fight Home, A Collection of Paintings, Drawings and Sculptures.
Comment: Damn. Two in a row with statements that stump (and right around the corner from one another, I might add-- Ampersand Intl. Arts and Ping Pong Gallery). I read the perspectus and am clueless. But I like the art. There's tape, watercolor (or maybe marker), digital prints with various collaged overlays, assemblage, spray paint (I think), and more. What at first seems discordant comes together exceptionally well in edgy satisfying abstraction. I think the dude's got a future, especially once he figures out how to explain himself. Interesting show; go see.
Art (like it).


Art.


Daniel Tierney - art.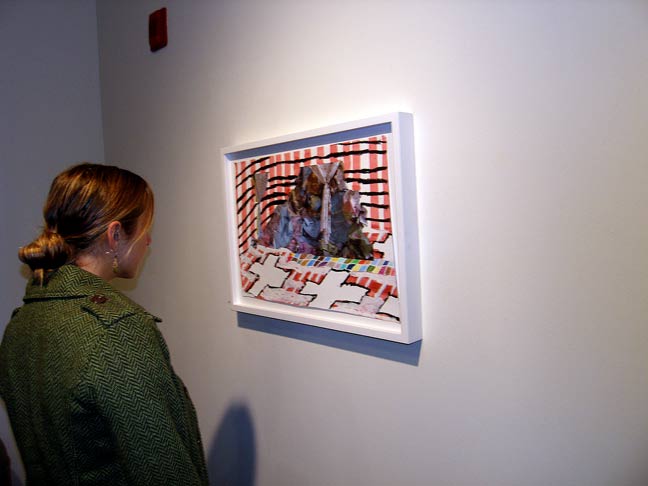 Art.


Art.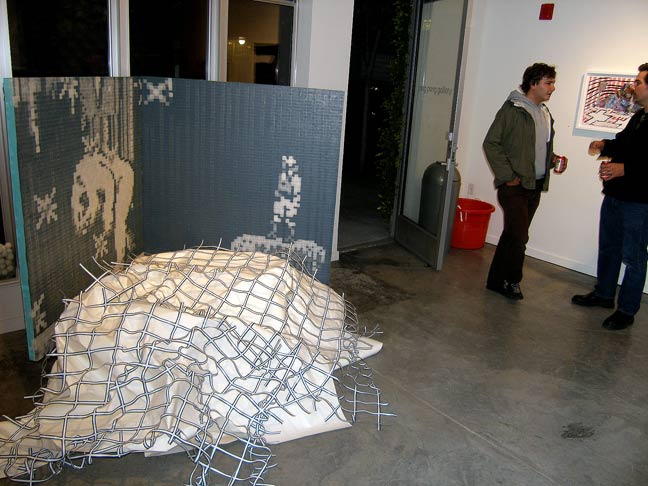 Art.


***
Hardware Store Gallery: The Red Sweaters Deployment Project - A Collaborative Installation Inspired by Soldiers Lost in the War in Iraq.
Comment: The Red Sweaters Project, conceived by Nina Rosenberg, has as its current goal to knit one small red sweater for each soldier killed in the War in Iraq. As of this writing, the project website lists the current death toll at 2703 soldiers, and the current sweater total at 2415. Anybody can knit a sweater; the more knitters and different knitting techniques, the better. Here at the opening, the sweaters are chained together and hung row by row, back and forth across the gallery ceiling, cascading to the floor, and stretching across the front windows. In the center of the gallery is a large oval table where people knit new sweaters. How long and how many we'll be knitting is anybody's guess at this point.
Partial body count art.


Partial body count art.


Mounting body count art.


***
Drugstore Gallery: Foundling's Home - Art by Cat Levy and Sarah Miller.
Comment: Delightful idiosyncratic assortment of portrait paintings by Cat Levy, and sculptural mixed media wall hangings by Sarah Miller.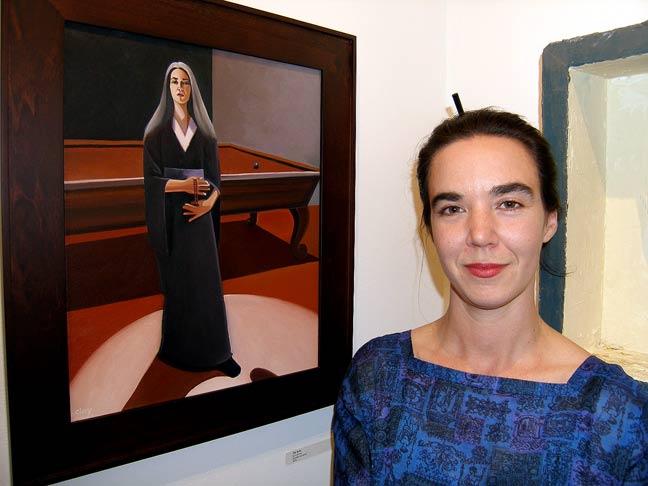 Cat Levy - portrait of Cat Levy.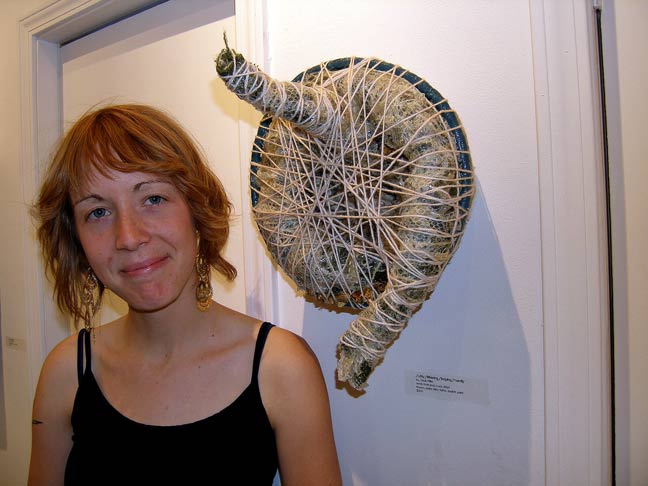 Sarah Miller - art.


Art.


Art.


Famed intergalactic dissident Frank Chu relaxes signless.


Two sitters re-enact poses beside respective portraits.


***
Red Ink Studios, OnSix Gallery, The Seneca Hotel (34 Sixth Street), The Luggage Store Gallery, Art Engine, Steven Wolf Fine Arts, California Modern Art Gallery: Labyrinth - Towards a Communal Network of Artists and Galleries Downtown.
Artists: jason adams, brad k. alder, knowles allen, amanda beane, teddi bennett, beth moore, erin brookey, curtis burbick, monica canilao, john casey, N8 castro, serena cole, shannon corr, david derosa, eve ekman, joel elrod, shepard fairey, david faulk, stefan fitzgerald, chris fitzpatrick, jana flynn, sarah foster, matt furie, ryan furtado, patrick griffin, aziz habibi, nicole hagen, heather hannoura, vera hollins, joe jagos, camille johnson, daniel johnston, michael johnstone, billy kroft, leslie kulesh, bridget lacey, lasso collective, chris lindig, rogelio martinez, massan, jason mcafee, jeremiah nadya, anne faith nichols, shay nowick, official tourist, michael page, kottie paloma, hilary pecis, russ pope, elizabeth raab, natasha robinson, reuben rude, catharine ryan, moses saarni, judith scott, sham, deena shapiro, corey smith, cameron soren, marnie spencer, derrek snodgrass, tiffany star, jason storey, sweet cicely, jai tanju, ed templeton, thin ice collective, judith thomas, zefrey throwell, jacob tillman, tracy timmins, stephen tompkins, dave uzzardi, gustavo venegas, casey watson, kathryn williams, paul wingert, katy zaugg, more.
Comment: One huge-ass art party. I vibrate between Red Ink Studios and OnSix Gallery having already seen the shows at most of the other participating galleries, except for Hamburger Eyes at Steven Wolf, but it's too far to walk. I check out the Seneca Hotel, ask several people to point me in the direction of the so-called art, and each one points in a different direction. I never found the art. Incidentally, this is the final art show for OnSix, but by no means the last we'll hear from artist/curators Chris Fitzpatrick and Sham.
At OnSix Gallery: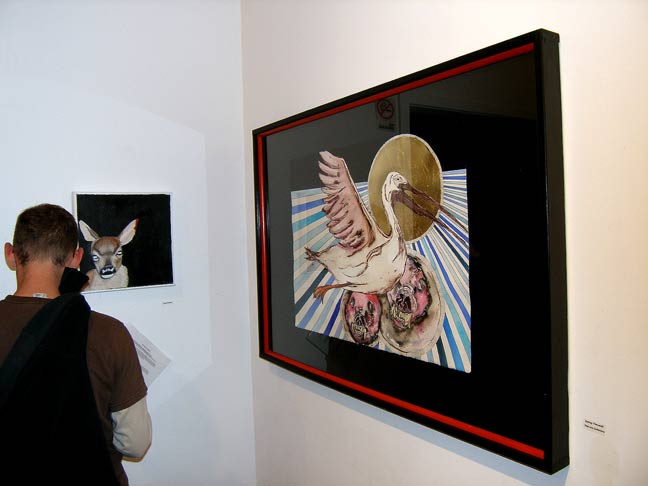 Art.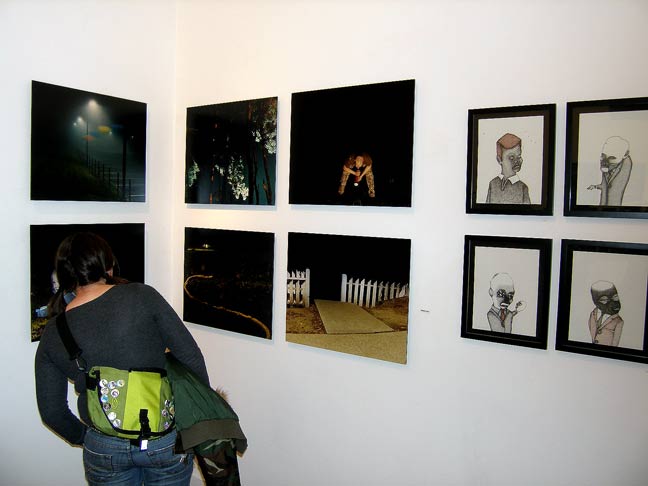 Art (like those nighttime photos).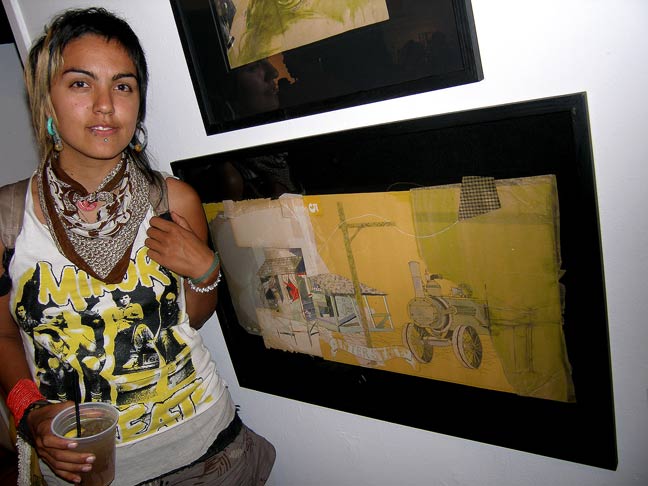 Monica Canilao - art (handworked digital prints).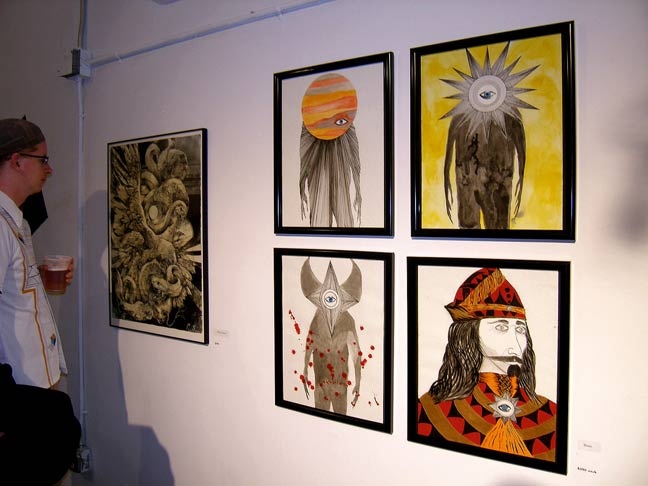 Art (Sham, 4 on the right).


Art.


Art.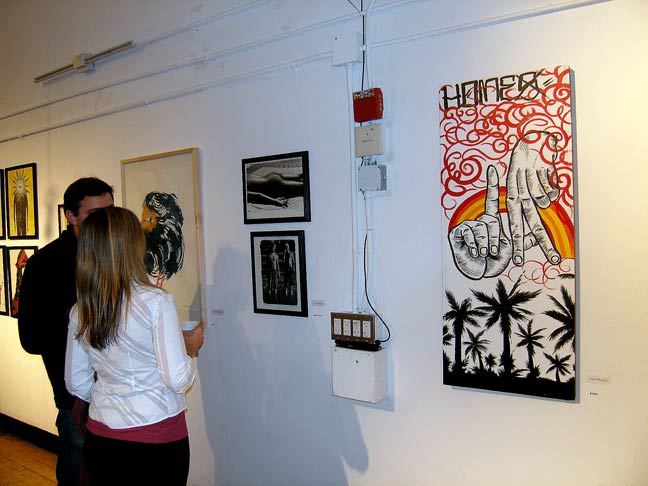 Art.


Art (Chris Fitzpatrick).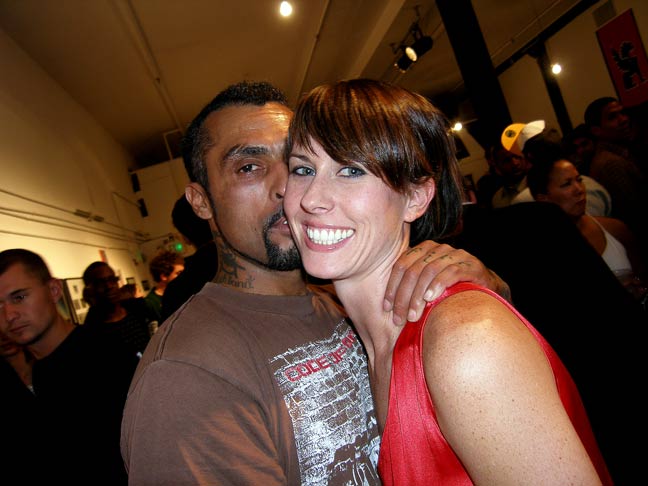 Sham & affiliate.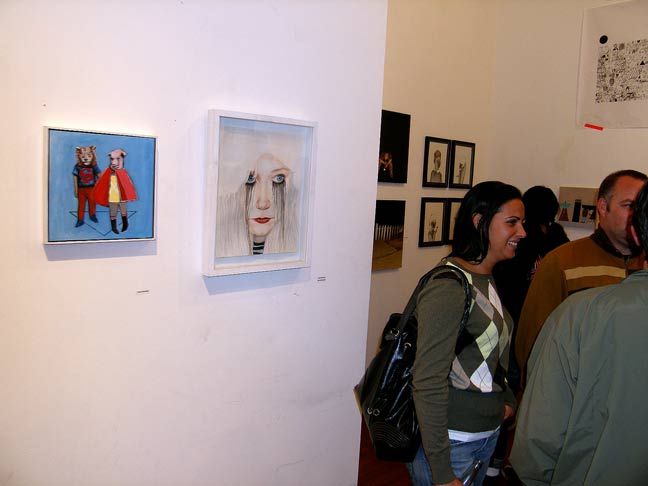 Art.


Art.


Art.


Brendan Nakahara of LASSO collective & Joey.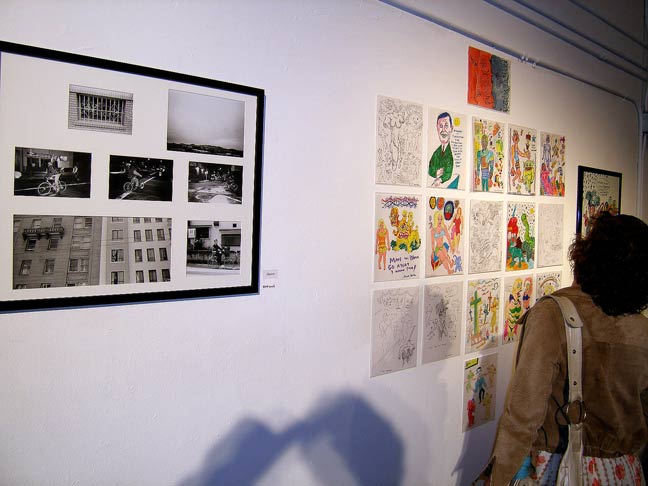 Art.


At Red Ink Studios: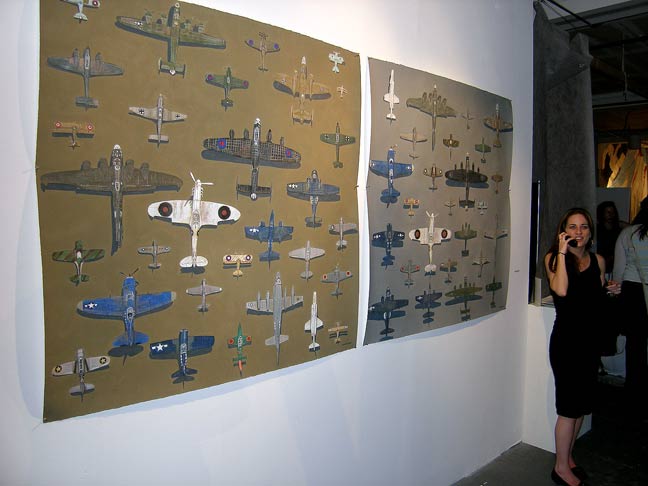 Art.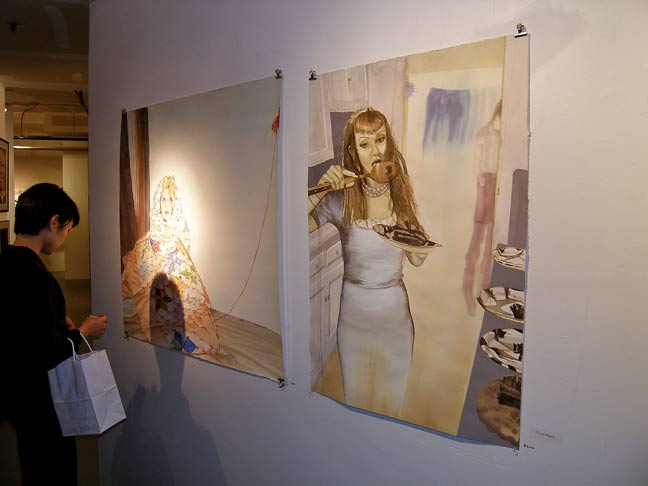 Art.


Art.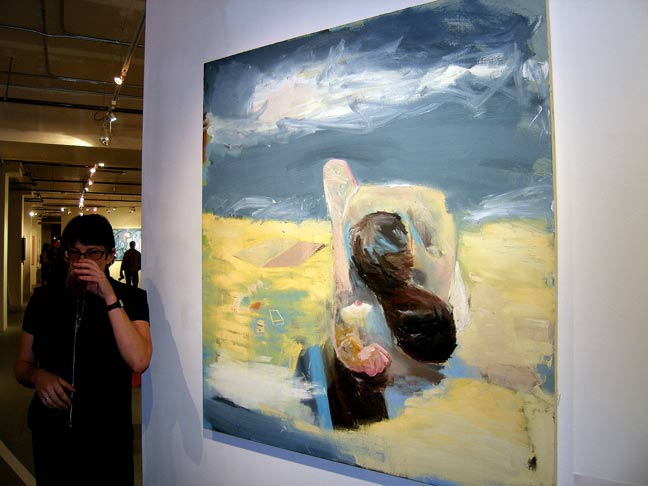 Art.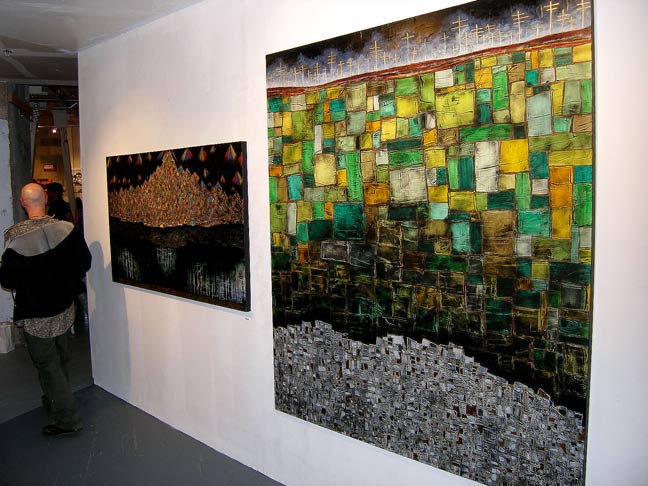 Art (kinda interesting).


Art (trash bag dress art is kinda curious).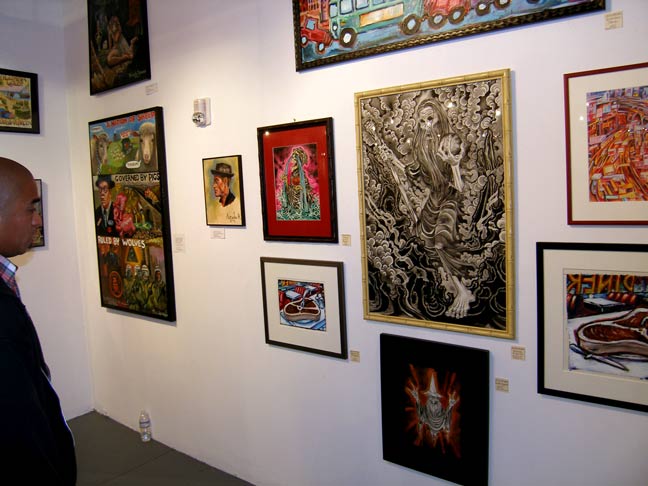 Art.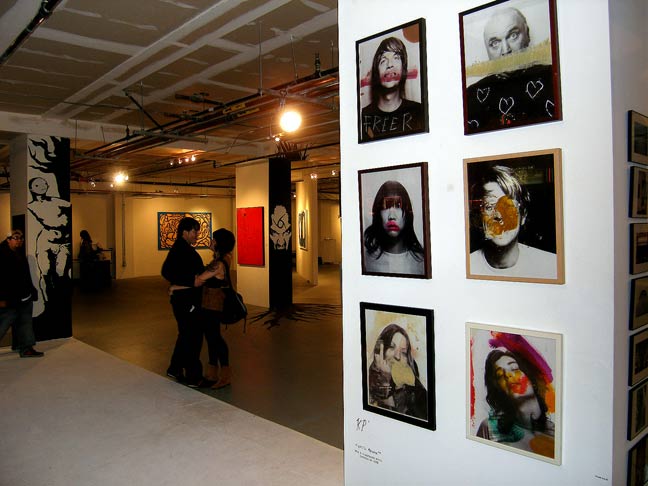 Art.


***