SANDRA LEE - JACK FISCHER - W HOTEL - RAYKO PHOTO

SF20 MODERNISM SHOW - ALTERED BARBIE

SFMOMA ARTISTS GALLERY - PRO ARTS (OAKLAND)

09.16.10

(with assistance from RWM, Clare Coppel, and DeWitt Cheng)


***
Sandra Lee Gallery: Profound Intimacy - James Watts.
Review by RWM: Profound but not necessarily idyllic connection here with the natural world. James Watts has perfected techniques of portraying decay, rot and corrosion, reminding us of what the outdoor world at times has in store for those unprepared. His creative process combines matter from the wilds into unexpected permutations as well. The work on display reminds us never to dismiss the fresh air, plants or birds that fly freely by.
Art by James Watts.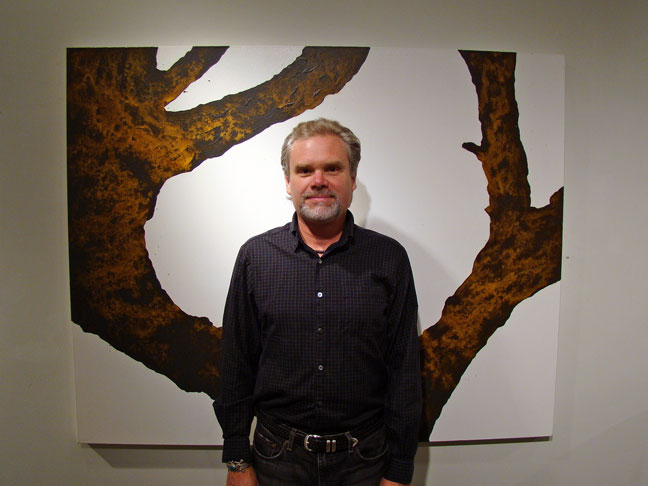 James Watts and his art.


Art by James Watts.


Sculptural piece in above image by James Watts, side view.


Tunes + art by James Watts.


***
Jack Fischer Gallery: Inez Storer - Missives From the Parallel World.
Comment by AB: Experience Inez Storer's unique reality here. I'm certain that if you ask, she'll regale you with tales from fantastic chimerical realms far and away beyond the beyond.
Art by Inez Storer.


Art by Inez Storer.


Inez Storer and her art.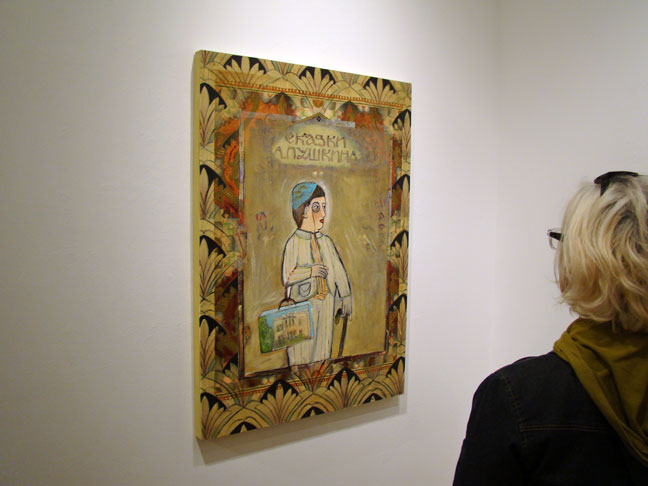 Art by Inez Storer.


Inez Storer art.


***
McKinley Art Solutions at W Hotel: Brian Barneclo - New Work.
Review by RWM: The Retro is cool here with designs one may recall from antics of the past. Pleasing decorative use of contrasting colors and designs combine to engender the most pleasent moods.
Brian Barneclo and his art.


Art by Brian Barneclo.


***
RayKo Photo Center and Gallery: 1000 Cameras - Jo Babcock; Faith - Christopher Churchill, Jennifer Hudson, Dave Jordano, Eben Ostby, Bill Vaccaro; Marketplace Artists - Kurt Manley, David Becker and Philipp Striebe.
Review by Clare Coppel: "Faith" is a photography exhibit about religion and its related personal beliefs. Gorgeous black and white prints by Christopher Churchhill. Also at Rayko, artist-in-residence Jo Babcock displays some of the literally hundreds of pin hole cameras he has made from donated items like cans, suitcases, cigarette packs, and yes, even other cameras. Also on display in the gallery are graphic local (and not local) landscapes by Kurt Manley, David Becker, and Philipp Striebe.
Review by RWM: Philip Striebe's exploration of the connection between "civilized" culture and nature is fascinating here. One cannot help but revel in the tenacity of the weeds, even as the built up environment results in crowding and pollution. The sea is even compromised as captured by his camera, the human footprint alarmingly apparent. Nature is commodified and subjugated as evidenced even by a picture of a bird on a truck. The world is overun with humans and only remains are what we have left for our dens.
Comment by AB: In the front gallery, Jo Babcock conclusively proves that you can make a camera out of just about anything. Along the left side gallery, old time religion and the Glory of God reign supreme.
Pinhole cameras by Jo Babcock.


Jo Babcock pinhole cameras closer.


Pinhole camera by Jo Babcock really close (image c/o Clare Coppel).


Photographer Jo Babcock and his pinhole cameras.


Pinhole photography by Jo Babcock.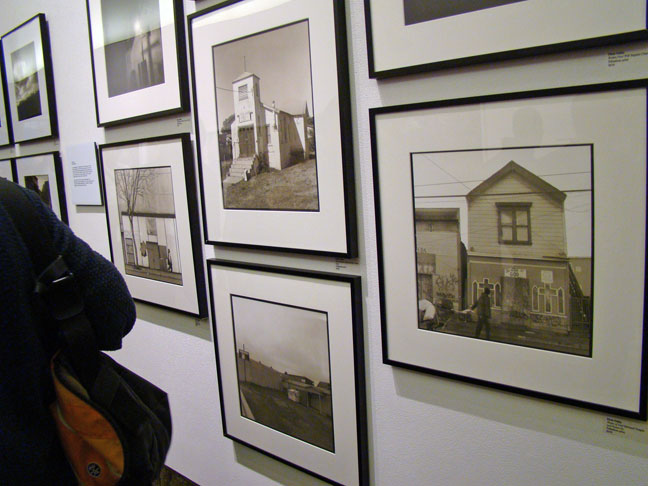 Photography from group photo show "Faith."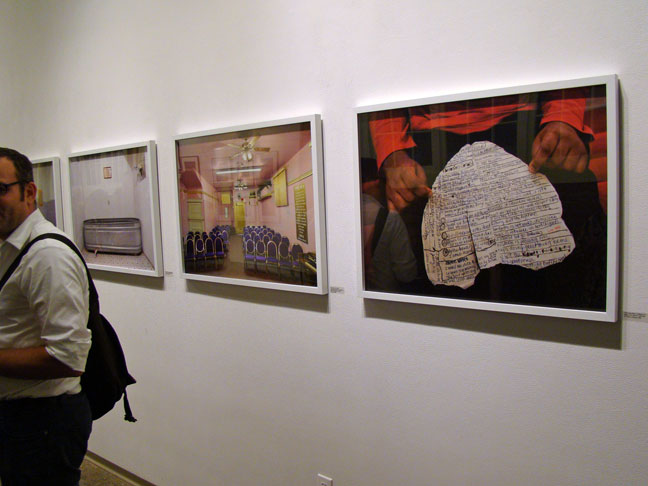 Photographs focusing on "Faith."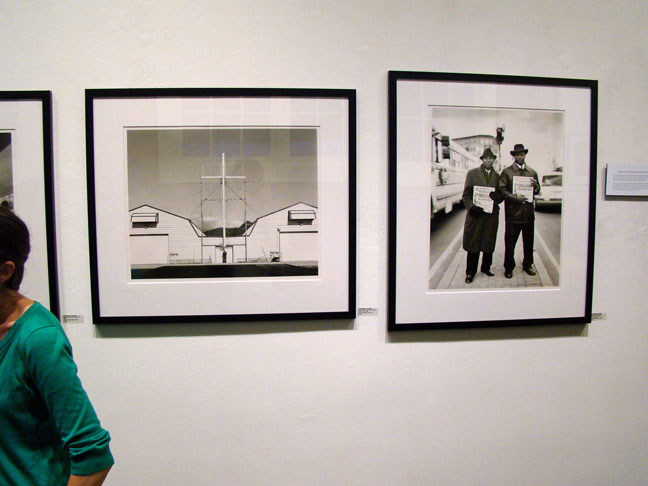 Photography about "Faith."


Philipp Striebe and his photographs.


Hopper-esque photography by Kurt Manley.


Hopper-esque photo by Kurt Manley in above image closer.


David T. Becker photograph (image c/o Clare Coppel).


***
SFMOMA Artists Gallery: Male Preserve - Clare Rojas.
Comment by AB: Clare Rojas's contracts on men and gender objectification in general are wickedly wonderful. Plus bask in her improved and updated translations of geometric abstraction. Not to be missed!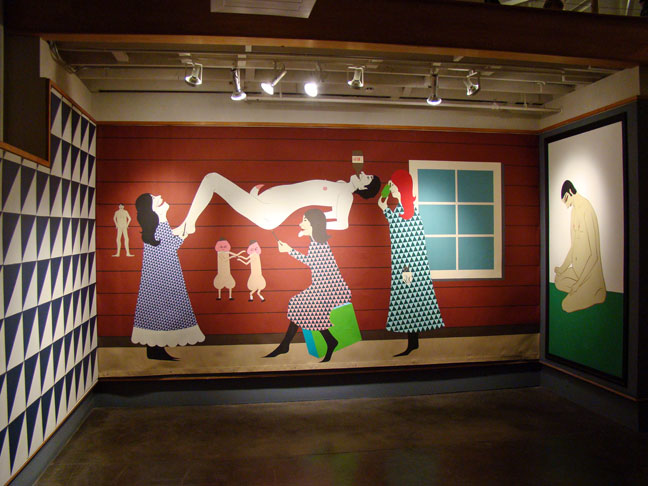 Art by Clare Rojas (like it).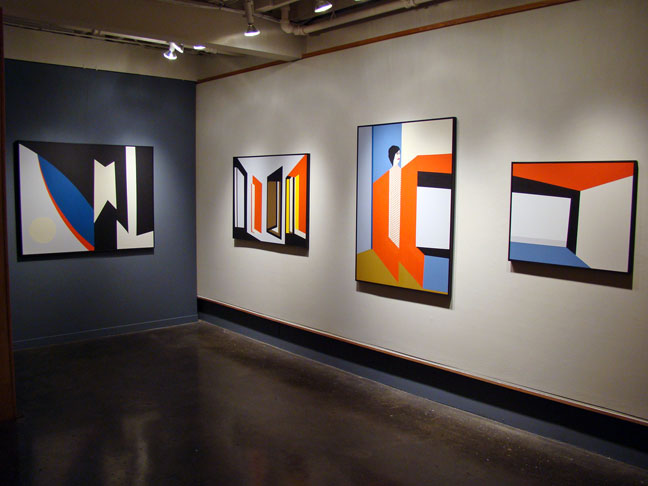 Clare Rojas art (like it).


Clare Rojas and her art.


Art & installation by Clare Rojas.


Clare Rojas art.


Art by Clare Rojas.


Video art by Clare Rojas.


***
Festival Pavilion at Fort Mason: San Francisco 20th Century Modernism Show & Sale.
Exhbitors: 20th Century Interiors, Altman Siegel Gallery, Artefact Design & Salvage, Battersea, Bridges Over Time, Domont, Dragonette Ltd., Fraenkel Gallery, Ratio 3, Hedge Gallery, Hostler Burrows, Jeffrey Spahn, Leadapron, Ma(i)sonry, March, Mark McDonald, Meier/Ferrer, Monument, Nexxt20, Noho Modern, Off the Wall, Peter Pap Oriental rugs, Percy's Silver, Planetglass.net, R 20th Century, Reform, Robert Bowman Gallery, The Silver Fund, Silverman gallery, Todd Merrill & Associates, Jeffrey Winter Fine Art, Dennis Clark Fine Art, more.
Comment by AB: The best in vintage and contemporary modern design, and fine and decorative arts are on exhibit here at Fort Mason this weekend. Acquisition options include Postwar furnishings, original art, posters, ceramics, silver, sculpture, rugs, tapestry, glass, lighting, photography, jewelry, industrial design, and more. Don't miss next year's.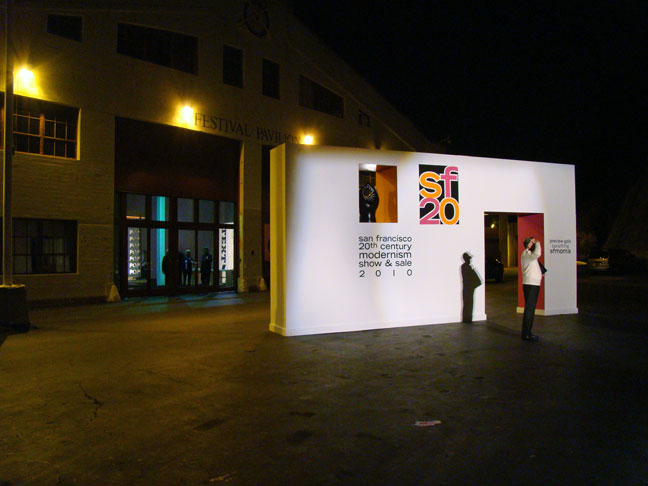 SF20 - San Francisco 20th Century Modernism Show & Sale.


Furnishings and decorative arts.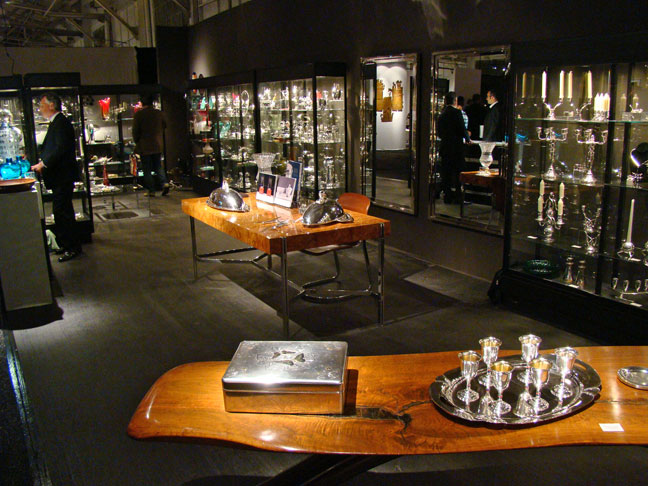 Silver.


Furnishings, decorative and fine arts.


Vintage jewelry.


Fine art.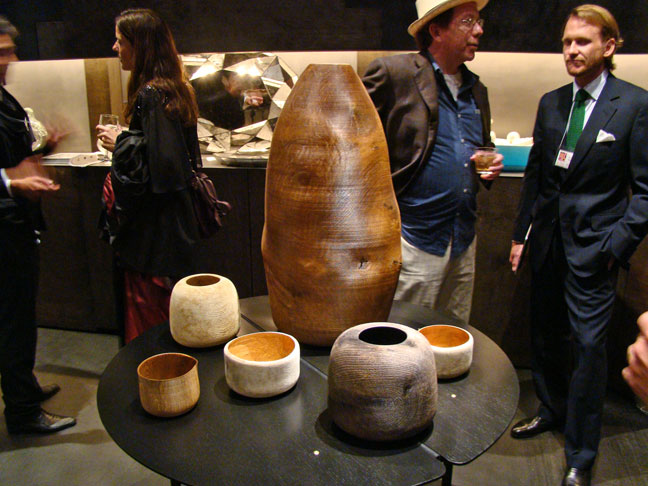 Accomplished turned wood works at Hedge Gallery.


Remarkable "woven" ceramics at Hedge Gallery.


Fine and decorative arts.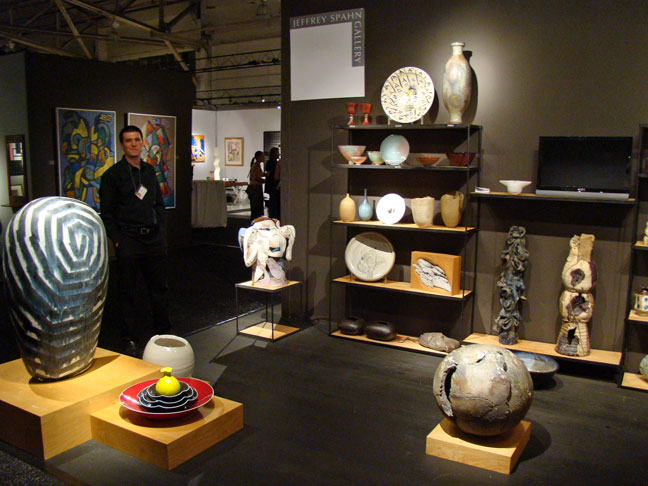 Postwar ceramic arts at Jeffrey Spahn Gallery.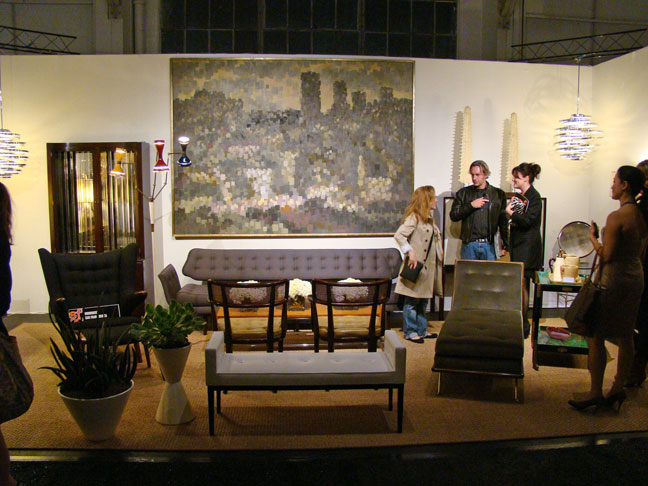 Furnishings and decoration.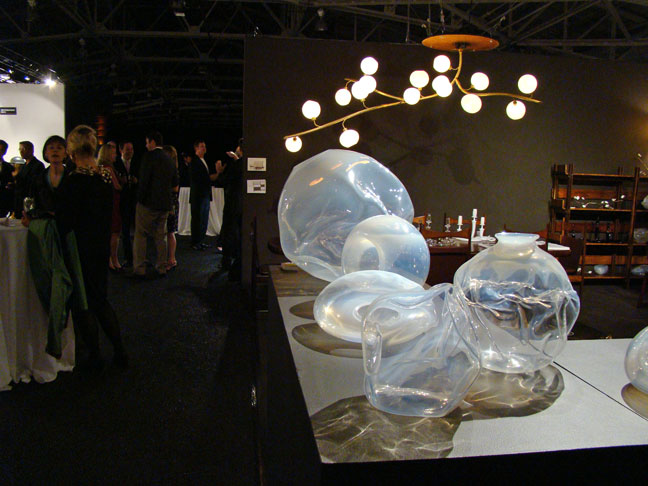 Glass and lighting.


***
50 Shotwell Studios: The 8th Annual San Francisco Altered Barbie Exhibition.
Review by RWM: You have probably met her before. Here she is again-- Miss (or Ms.) America, but now also Ms. Multicultural, Political, Pansexual, and just about anything else you can think of. The Barbie Nation is once again on the march and on display for the discerning viewer. Profound exploration of genealogy, multiple personalities, proclivities of every ilk, and wigged-out wackiness of the highest order.
Here we are - the 8th Annual Altered Barbie extravaganza.


Life-sized Barbie welcoming committee.


Tree of Barbie art.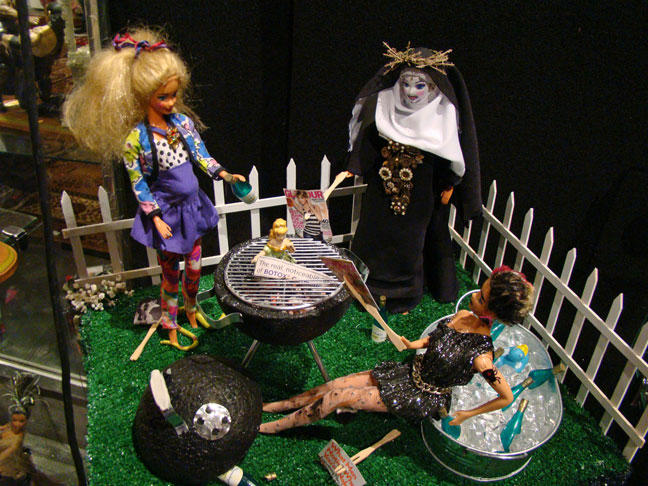 Throwing a Barbie on the barbie art.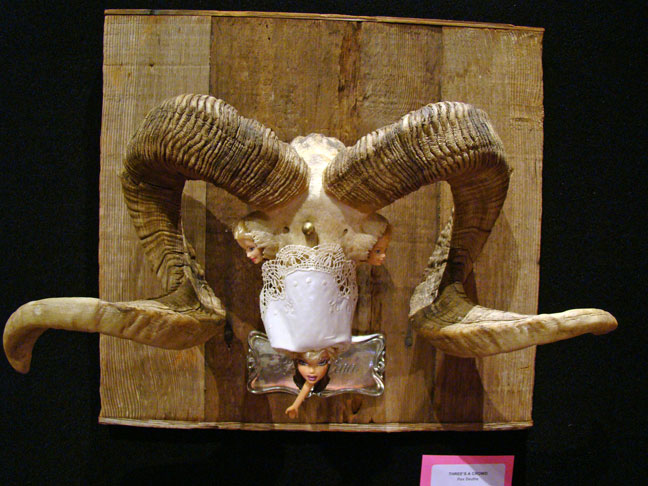 Manly Barbie art for the trophy room.


Fried Barbie and Spider Barbie art.


Proud-of-who-you-are Barbie art.


Appropriately attired for the occasion.


Frolic, merriment & jocularity c/o Radio Fantastique - excellent.


***
Pro Arts: Concept + Craft.
Artists: Mung Lar Lam, Jessica Martin, Anna Van Mehrtens, Caroline Seckinger, Patricia Thomas, Alicia Woods.
Review by DeWitt Cheng: Guest curators Danielle Fox and Alice Lehrer (Slate Art and Design) select six artists who have invested the traditional women's media of weaving, spinning, embroidery, stitching, ironing and basket-making with ideas derived from contemporary art practice-- abstraction, minimalism, process, and conceptualism. The works thus collapse the old hierarchical division between art and craft. Nicely displayed post-feminist (?) show, with excellent writeups on the pieces for XY types.
The Wedding Bowl-- Caroline Seckinger made out of hammered aluminum with rabbit skins and wedding dresses.


Ironing by Mung Lar Lam (left), made with US camouflage-colored cloth (ironed into triangular creases resembling those on folded flags?); Patricia Thomas's mohair/wire hats and crowns, and matrimony-themed wall sculpture, "Death Bride" (right), made of rose branches, tulle and thread.


Patricia Thomas - "Death Bride" & Jessica Martin - "Nest," wire, wax and thread.


Co-curator Danielle Fox.


Caroline Seckinger with Patricia Thomas's "Kingdom Done," brass chandelier with steel, black yarn and gold-colored thread.


Detail of "Kingdom Done."


Alicia Wood with "Cycladic I," "Cycladic II" and Pink Phoenician," coiled baskets made from scavenged cassette tape wrapped over fiber optic cable.


Detail of "Pink Phoenician."


Caroline Seckinger's "Sleeping Beauty," made from unwrapped, and spool-wound sections of Christo's/Jeanne-Claude's 1976 Sonoma County "Running Fence."


Anna Von Mertens' "A sunrise you might see...," a traditional handmade quilt of dyed, stitched cotton that is based on computerized astronomical calculations.


***