SAN FRANCISCO ART GALLERIES - OPENINGS
THE GROTTO - MUSEUM OF CRAFTS + DESIGN - W HOTEL
MERIDIAN - PAUL MAHDER - LOST ART SALON
09.19-20.07
The San Francisco Writers' Grotto: Lynn Rubenzer - Porthole.
Comment: Strange places, faces, and creatures in painting and sculpture as experienced through the "porthole" perspective of Lynn Rubenzer.
Art.


Art.


Lynn Rubenzer - art.


Art.


Art.


***
San Francisco Museum of Craft + Design: M. Lee Fatherree - Evidence of Artists at Work, 1978-2007.
Comment: M. Lee Fatherree is best known as a photo-documentator of works of art, a service he performs for museums, catalogs, collectors, institutions, archives, artists, and so on. You would surmise that since he photographs works of art for a living, he has occasion to be around artists, and you're right. He does. And here's the proof-- intimate unguarded glimpses of a number of the Bay Area's most prominent creative practitioners of the past 50 years, photographed over the past 30 or so, including Robert Arneson, Robert Hudson, David Ireland, Manuel Neri, Jay DeFeo, Joan Brown, Viola Frey, and more-- plus a sampler plate of their art. A newly released book of Fatherree's portraits of artists accompanies the exhibit and is available for purchase at the museum.
Photos of Jay DeFeo - Sculpture by Manuel Neri.


Viola Frey studio photo.


M. Lee Fatherree in the act of inscribing.


Robert Arneson studio photo + Robert Arneson art.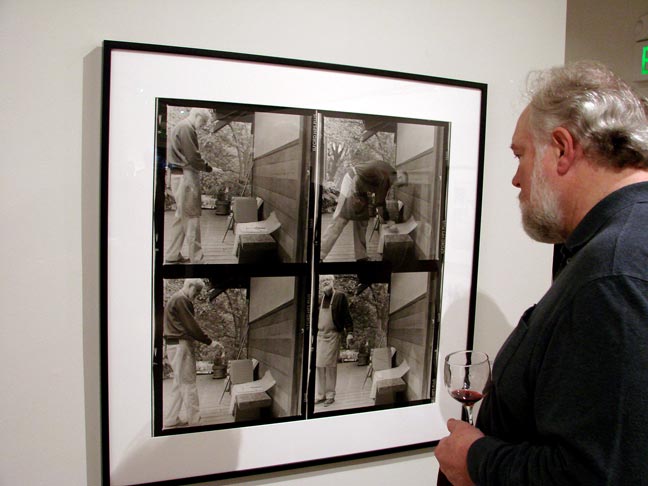 Photograph.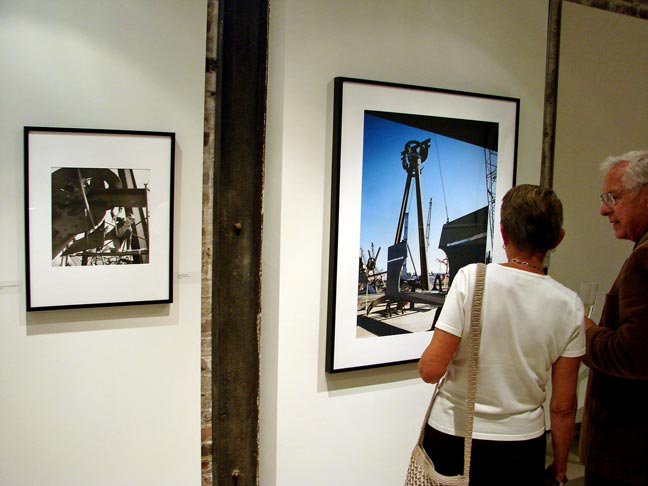 Mark di Suvero studio photographs.


Photography.


Images.


***
Meridian Gallery: Robert Colescott - Troubled Goods, A Ten Year Survey (1997-2007).
Comment: First things first. Meridian Gallery has relocated from its relatively dingy digs on Sutter Street to a magnificent Powell Street manse, the former home Harcourt Gallery. Second things second. The deal is that since Meridian scores itself a mansion, the official christening has got to be with manse-worthy art, namely that of internationally renowned Oakland-born artist, Robert Colescott. According to a Meridian operative, someone on the gallery's board knows Peter Selz who knows Colescott or something like that, so everybody inveigles everybody, and there's all kinds of goosing, and that's how your basic inaugural hoopla births into fruition. Turnout is relentlessly robust, the art ranges from sublime to indelicately relevant ($250K top out; most low to mid $10K's), as Meridian Gallery smartly saunters into its current incarnation.
Art.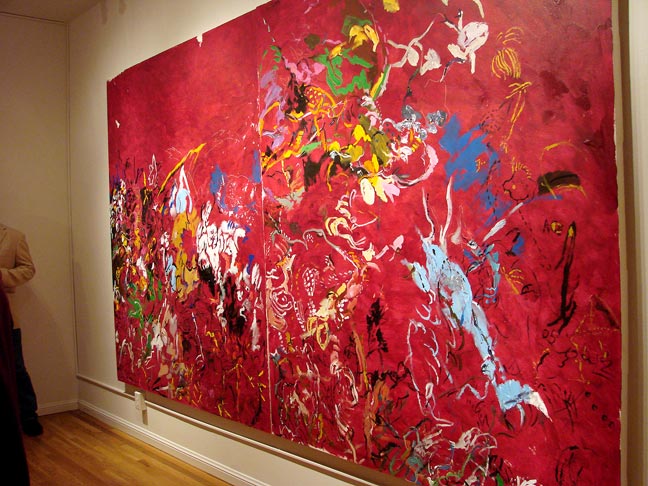 Art.


Art.


Art.


Literature.


Art.


Art.


Art.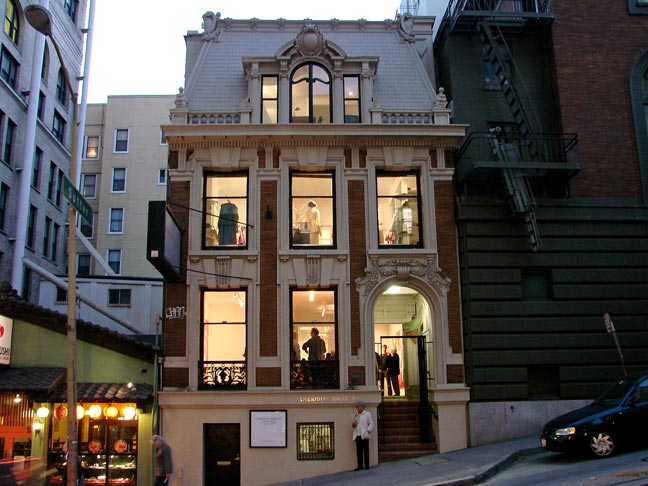 Digs (like 'em).


***
Paul Mahder Gallery, 3378 Sacramento Street, San Francisco, CA 94118; (415)474-7707: David Lee Baughan Sculptures.
Comment: Paul Mahder Gallery likely lacks the grounds to do justice to David Lee Baughan's heroic sculptures, so Mahder makes an arrangement to splay 'em out across the courtyard of Grace Cathedral, corner of California and Taylor Streets. Worth a perusal.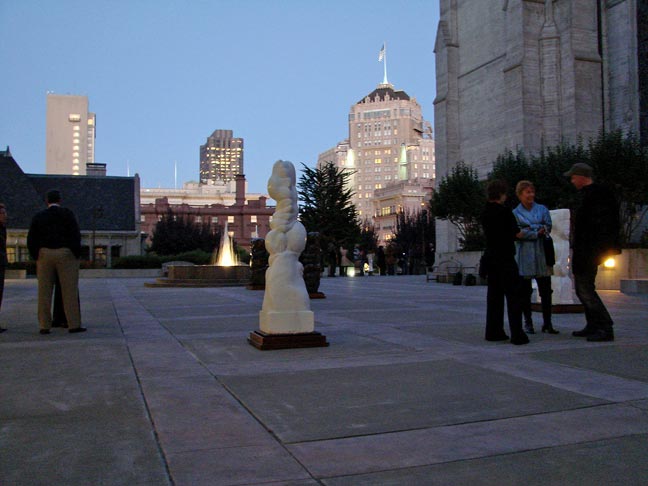 Sculpture.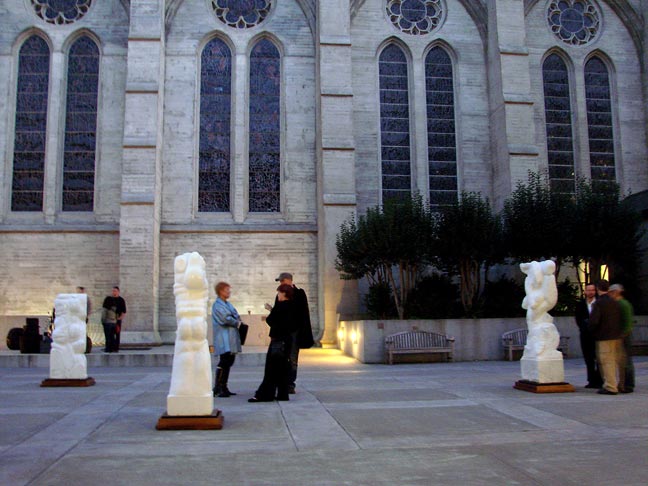 Sculpture.


Sculpture.


Sculpture.


***
Lost Art Salon: The New Yorkers.
Artists: Edith Bry, Karl Eugene Fortess, Richard Karwoski, Ellen Lome.
Comment: Lost Art Salon specializes in the excavation and revitalization of art by forgotten artists of days of yore. Tonight's fare reintroduces works by artists active in New York from the 1930's through the 1960's. The mode's always kicky at Lost Art.
Art.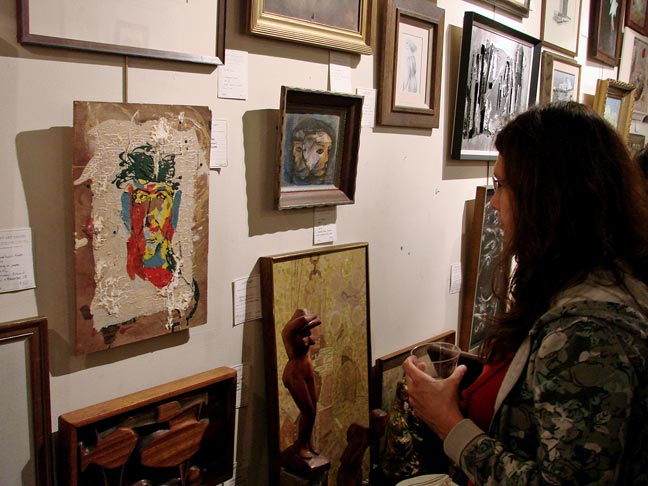 Art.


Art.


Essence.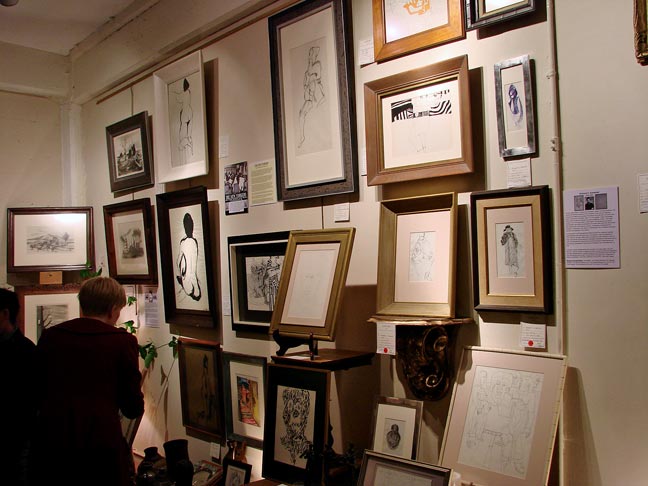 Art.


Art.


***
Addendum:
Greg Lamarche c/o Swindle Magazine at W Hotel.


Greg Lamarche collage art at W Hotel San Francisco.


Swindle Magazine scene at W Hotel San Francisco.


***