***
Artists: Sylvan Adams, Pilar Aguero-Esparza, Johane Amirault, Michael Azgour, Roberta Ahrens, Jody Alexander, Ben Alexy, Katherine Kerr Allen, Alexanna Alvarado, Juan Carlos Arujo, Jerry Ross Barrish, Dax Barker, Hildy Bernstein, Jude Bischoff, Charlotte Anne Blanc, Claudia Borgna, Andrea Borsuk, Rebecca Bui, Thai Bui, Barbara Boissevain, Shelly Bradbury, Natalya Burd, Mimi Cahalan, Jim Caldwell, Della Calfee, Ryan Carrington, Glen Carter, Sara Carter, Dotti Cichon, Brian Coleman, Kimberly Cook, Marc D'Estout, Laura Deem, Maren Deem, Dan Dermer, Kelly Detweiler, James Dewrance, Margitta Dietrick-Welsh, Christel Dillbohner, Scott Donschikowski, Nora Dougherty, Kathryn Dunlevie, Jessica Eastburn, Zach Eberly, Ken Edwards, Karen Ehlers, Christopher Elliman, Yvonne Escalante, Graciela Eulate, Ian Everard, Alexandra Frank, Gretchen Frank, Naomi Frank, Steve French, Sara Friedlander, Don Fritz, Daniel Garcia, Harriet Garfinkle, Mike Garlington, Werner Glinka, Bill Gould, Shelby Graham, Karen Gutfreund, Charlotta Hauksdottir, Jamil Hellu, Mauro Hernandez, Lisa Hochstein, Patrick Wädl Hofmeister, Bill Holloway, Evan Holm, D Hooker, Beth Howe, Jack Howe, Peter Inshaw, Josefina Jacquin, Jen Jennings, Robin Kandel, Pantea Karimi, Tobin Wynne Keller, Betsy Braun-Kernaghan, Joseph Kohnke, Keba Armand Konte, Susan Kraft, Melissa Kreisa, Leslie Lambert, Malia Landis, Robert Larson, Carrie Lederer, Katherine Levin-Lau, Kristin Lindseth, Oleg Lobykin, Michelle Longosz, Kresimir Luckars, Li Ma, Ron Magers, Shakun Maheshwari, Irina Malkmus, Victoria Mara Heilweil, Will Marino, Jasper Marino, Tony May, Victoria May, Clive McCarthy, Kyle Meredith, Shelly Meredith, David Middlebrook, Joe Miller, Harriet Moulton, Angelica Muro, Michael Napper, Mike Narcisco, Amy Nathan, Cindy Nelson, Cindy Newberry, Seneca Norberg, Philo Northrup, Michael Oechsli, Denise Olenak, Sean Orlando, David Pace, Rebecca Palmer, Nanda Palmieri, Gianfranco Paolozzi, Demetra Paras, Quinn Rene Peck, Jane Peterman, Archil Pichkhadze, Diane Pierce, Harry Powers, Lynn Powers, Sam Price, Ruth Priest, Gail Ragains, Sarah Ratchye, Beverly Rayner, Fanny Retsek, George Rivera, Dora Lisa Rosenbaum, Jay Ruland, Nancy Mona Russell, Chelsea Sammel, Joe Saxe, Biagio Scarpello, Tessie Barrera-Scharaga, Anne Marie Sconberg, Ron Seff, Rose Sellery, Nancy Sevier, Patty Sharky, Robbie Schoen, Sudnya Shroff, Chris Sicat, Linda Simmel, Ema Harris Sintamarian, Jim Skanberg, Jonathan Smith, Robynn Smith, Mary Souza, Richard Starks, Linda Steenkamp, D. Brent Stephens, Brian Taylor, Matthew Taylor, Anthony Texiera, Cherise Thompson, Tim Thompson, Brent Townshend, Camille Townshend, Lucy Traeger, Deborah Trilling, Sieglinde Van Damme, Adon Valenziano, Monica Van Den Dool, Cristina Velazquez, Wädl, Stan Welsh, Margaret Wherry, Wesley Wright, Shannon Wright, Carl Yoshihara.
Comment by AB: Anne Sconberg & Mark Henderson's Art Party began in 2007 when they converted their home into a gallery and invited friends and family to partake in a night of artistic and creative entertainment and experience. From that year forward, their party has grown and grown and grown. For this year's episode, the venue is the Santa Clara County Fairgrounds including a 30,000 square foot exhibition hall filled to the gills with art, more art in fact than you'll see at most major art fairs.
In addition to the art, activities on the grounds include art cars, fire, spoken word, song, dance, performances, fashion, film, food, beverage and more. Season the deal with at least several thousand revelers and you've got yourself a certified wingding. If Anne & Mark decide to have another go at it next year, which they most assuredly will, I highly recommend hightailing it on down to wherever they decide to throw it.
For those of you keeping score at home, all artists are selected by a jury consisting of Anne, Mark and others, and then invited to participate in the exhibition. There is no application process at this time. As for the art itself, if you can imagine it, you'll probably find it there-- one of the most diverse assortments I've ever seen on display at a single location. Believe it. All art is for sale and the show runs through September 25. See the Art Party website for details.
Here's just a small fraction of the art and activities...
Here we are - Anne & Mark's Art Party. Sculptures by Oleg Lobykin.


Oversized outdoor sculpture with the exhibition hall in the background.


My favorite art car - pie plates, flexible metallic ducts,
sheet metal roofing & disco balls.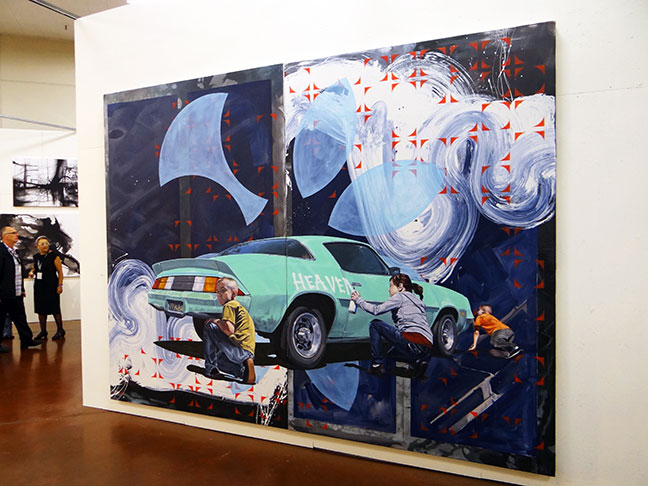 Art by Ben Alexy.


Sara Carter art.


Art by Zach Eberly.


A tiny little percentage of the art.


Sculpture by Wesley T Wright.


Sculpture in above image closer (nicely done).


Art by D Brent Stephens - only $500 each. Hop on it.


Mysterious suspended dresses by Deborah Trilling (kinda like 'em).


Pinkie cam detail of art in above image (practically abstract expressionist).


Li Ma and her elaborate hanging installation.


Good looking installation by Jody Alexander.


David Middlebrook and his sculpture at Anne & Mark's Art Party.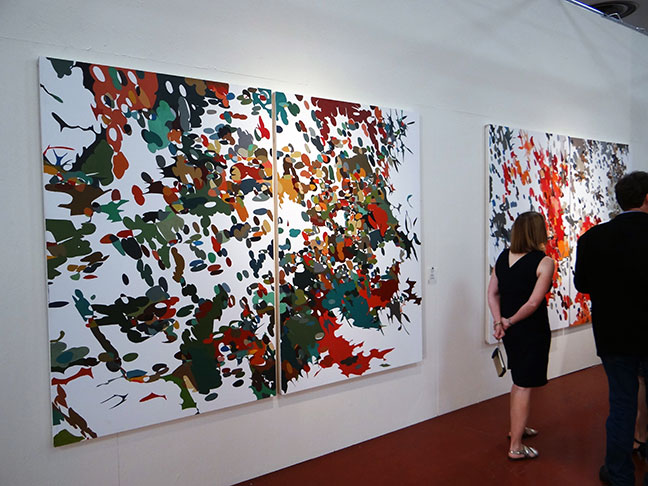 Art by Karen Ehlers.


Karen Ehlers and her art in above image closer.


Mike Garlington art (like it).


Dark art by George Rivera.


Installation by Tessie Barrera-Scharaga.


Tessie Barrera-Scharaga seated inside her installation pictured above.


Big gun sculpture by Richard Starks.


Jane Peterman art.


Participatory art by Christopher Sicat.


Christopher Sicat putting a graphite coating on a trunk.


Assorted revelers, L-R, Anouk Wilhelm, Isa Moe, Beverly Rayner,
Valerie Koehn, Jack Fischer.


Still-life photographs of trash and throwaways by Jamil Hellu.


Fire sculpture c/o the Flaming Lotus Girls.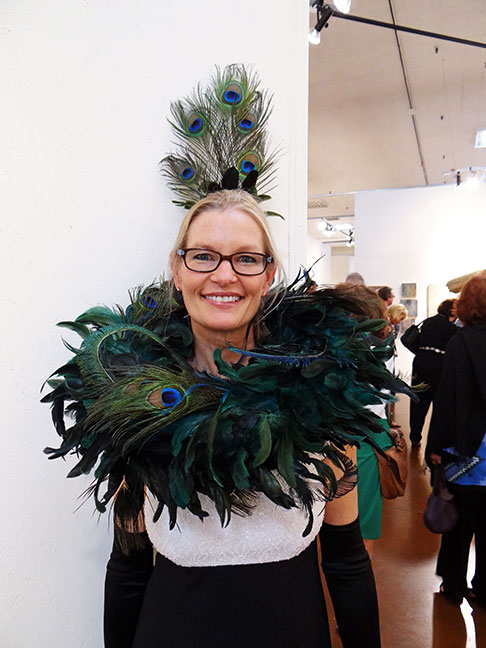 Holly Van Hart festooned in feathers.


Environmental installation by Shelly Bradbury and Ron Magers.


Kinetic sculpture with moving paintbrush by Biagio Scarpello.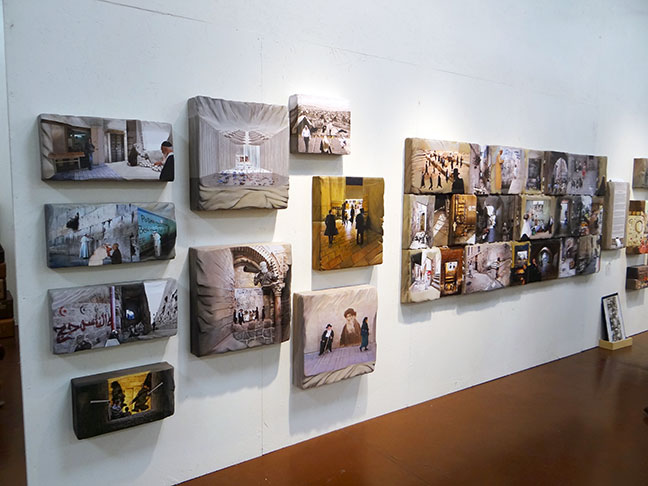 Photographs printed on wood by Sara Friedlander.


Your basic party goer tricked out in one of two fezzes on the premises.


Joe Miller installation.


Assemblage art by Jack Howe closer.


Textural art by Betsy Braun-Kernaghan - only $75. Such a deal.


Wood framed bicycle by Masterworks Woodcycles.


Your typical Anne & Mark's Art Party attendee.


L-R, art by Will Moran & Jason Arnold.


Multimedia art by Tracey Snelling.


Wood sculpture by Abel Gonzalez.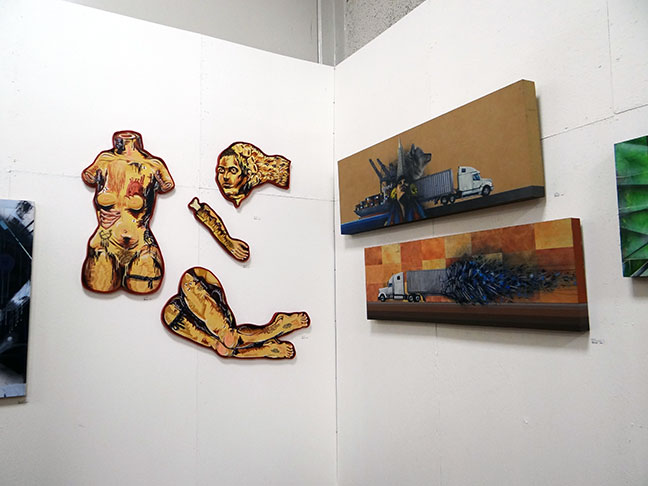 L-R, art by Nina Wright & Optimist.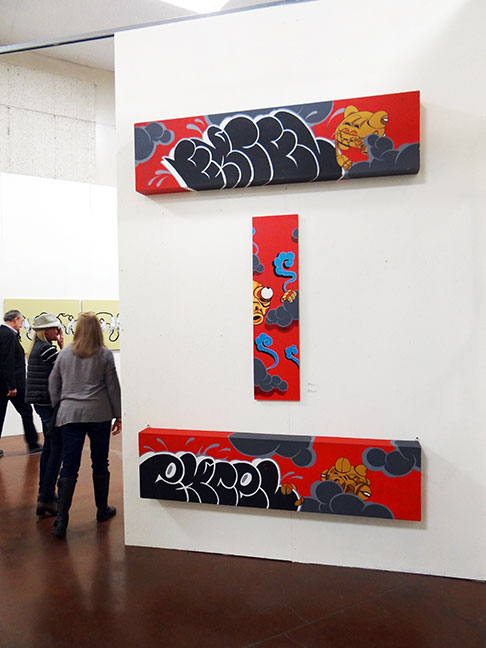 Paco Excel art.


Small format collage by Lisa Hochstein.


Sculpture by Adon Valenziano.


Pair of merrymakers.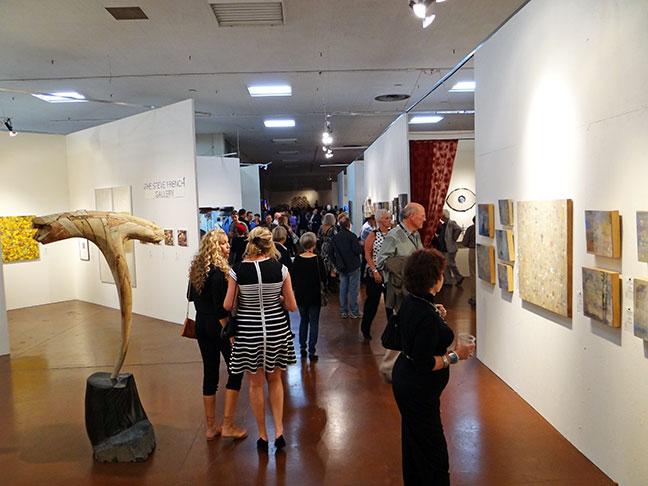 View along the halls at Anne & Mark's Art Party.


Nighttime view of the exhibition hall.


Fire performance. And Anne & Mark's Art Party goes on...


***