SAN FRANCISCO ART GALLERIES - OPENINGS
VIRGINIA BREIER - NORTH POINT GALLERY
FOTO GOURMET STUDIOS - PASQUALE IANNETTI
NEW LANGTON ARTS - SOAP GALLERY
FLUX GALLERY - AMARU GALLERY
PLAYSPACE - SEAM STUDIOS
9.21-22.05
Virginia Breier: Narratives in Clay.
Artists: Ben Belknap, Jane Burton, Nuala Creed, Jeff Downing, Don Fritz, Carrianne Hendrickson, Katina Huston, Susannah Israel, Jennifer Kenworth, Connie Kiener, Suzanne Long, Kicki Masthem, Amy Evans McClure, Tony Natsoulas, Armando Ramos, Karen Shapiro, Cynthia siegel, Derek Weisberg.
Comment: Isn't narrative art supposed to tell a story? The only story these ceramics tell is that they're ceramics, and that's about all anyone's gonna squeeze out of 'em. Style-wise, they trend naive, folky, funky, upbeat, optimistic, and humorous; in large part, accomplished work by experienced artists. And there's at least one of pretty much everything, from ceramic Chicklets and Monopoly to horse heads. Prices range $150-$5800.
Clay art.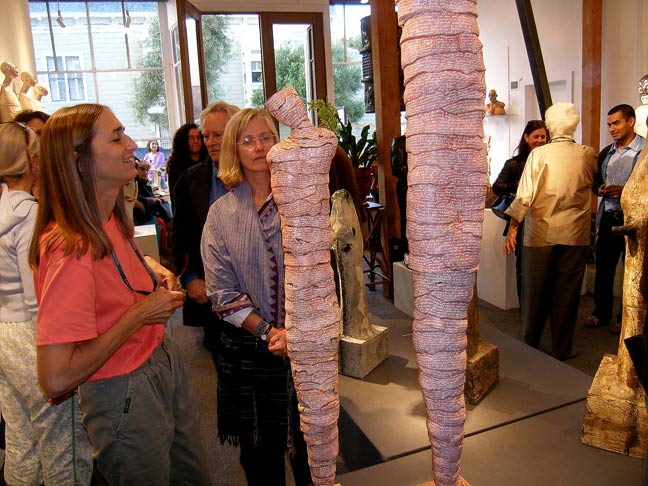 Clay art (like 'em).


Clay art.


Clay art.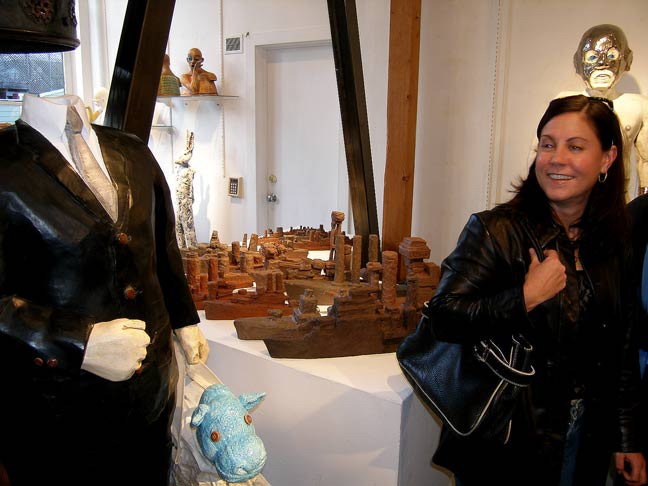 Clay art.


Clay art.


I'll lay odds this artist never saw The Godfather, Part I.


Clay art.


Outer.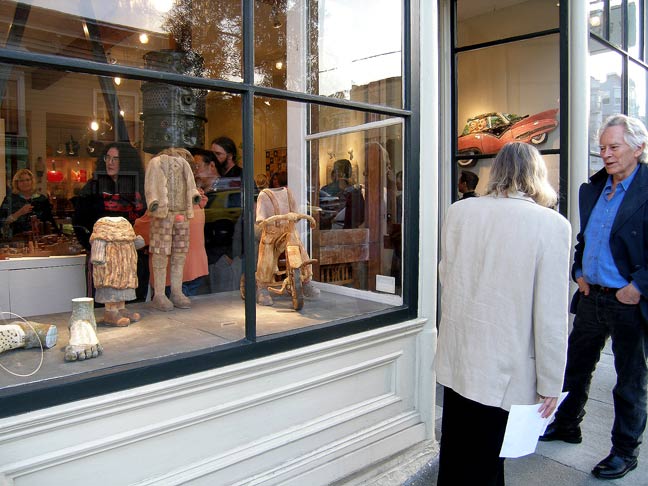 Outer other.


***
The North Point Gallery: L. P. Latimer (1857-1941), A Retrospective Exhibition.
Comment: Lorenzo Palmer Latimer was one of California's leading landscape painters, mainly in watercolors but also in oils, from 1880-1940. The show includes about fifty works, most on loan from museums and private collections. Gallery owner, author, and Early California Art authority Alfred C. Harrison, Jr. has written and published L.P. Latimer, California Watercolor Painter to commemorate the event (North Point Gallery, San Francisco, 2005; hardbound, dustjacket, 46 pages, 19 color plates). $35 at the gallery; $40 postpaid.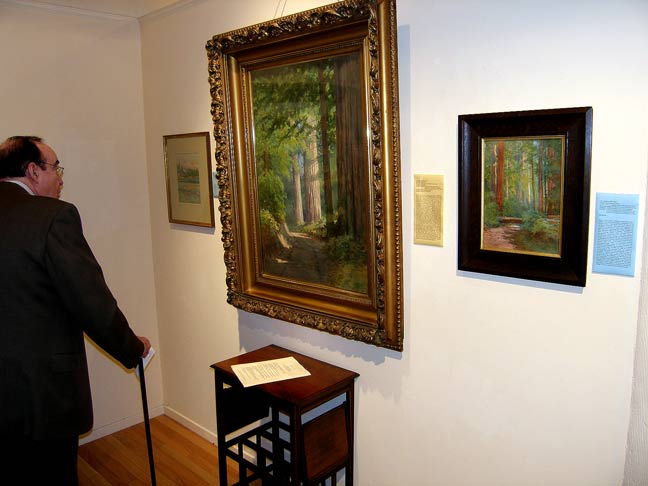 Art.


Art.


Alfred Harrison - progeny.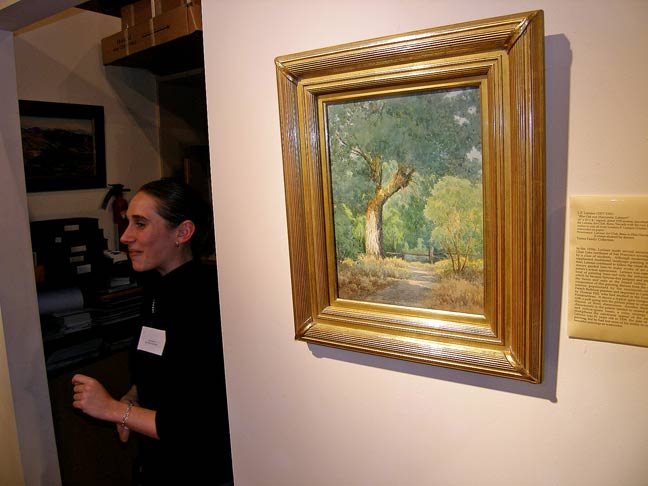 Art.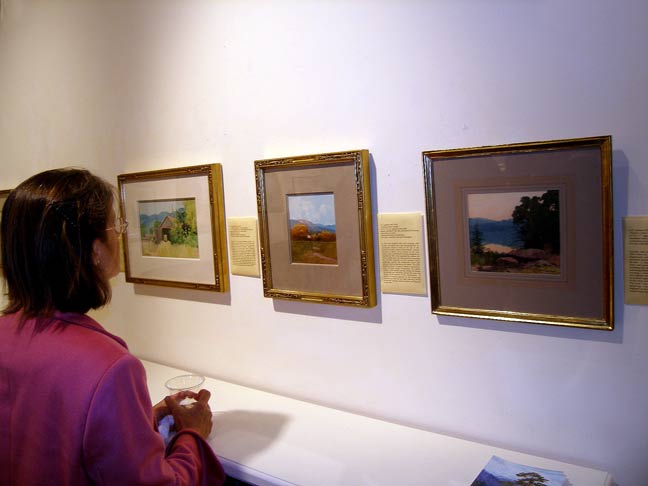 Art.


Art.


Altitudinary.


***
Foto Gourmet Studios, 2192 Folsom St., San Francisco, CA 94110: Group show celebrating San Francisco Fetish Week.
Artists: Paige White, Rich Boswell, Jason Felix, Tonya Silver, Larry Utley.
Comment: Well kiddies, it's time once again to whip out the hip boots and tutus for that internationally renowned clam and weiner show, the Folsom Street Fair. The week leading up to this monster confluence of erectilic engorgement features a plethora of pre-fair festivities including art events. This is a group show of fetish imagery, mainly S&M overtoned, including an eminently unsettling suicide series by Tonya Silver (I think). My favorites-- the odd figural fantasies of Jason Felix.
Photographs.


Photographs (Jason Felix - like 'em).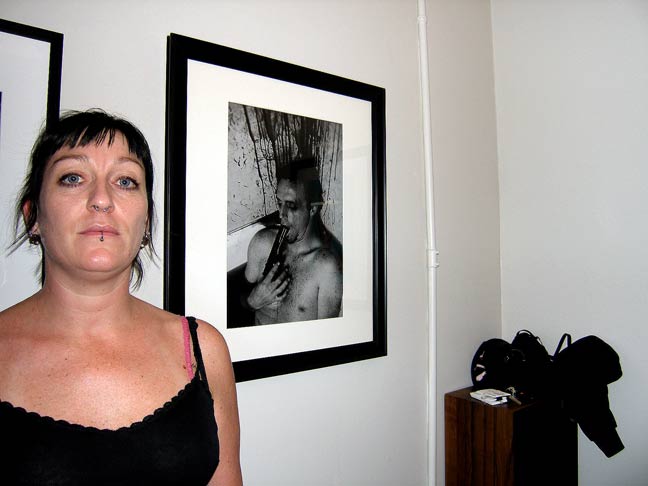 Tonya Silver - photography.


***
Pasquale Iannetti Art Galleries, Inc.: Pissarro - Four Generations.
Artists: Camille Pissarro, Lucien Pissarro, Georges Manzana Pissarro, Felix Pissarro, Ludovic-Rodo Pissarro, Paulemile Pissarro, H. Claude Pissarro, Lelia Pissarro.
Comment: Veteran art dealer Pasquale Iannetti assembles a most impressive selection of Pissarro family art. The gallery specializes in Modern Masters from impressionist to contemporary. Worth a visit.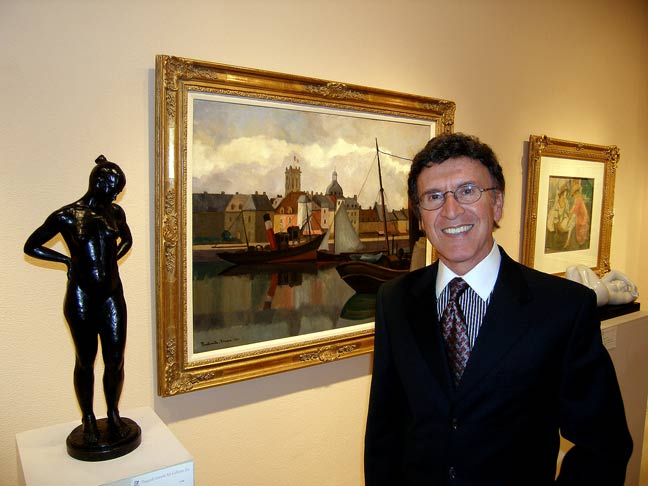 Pasquale Iannetti - art.


Art.


Art.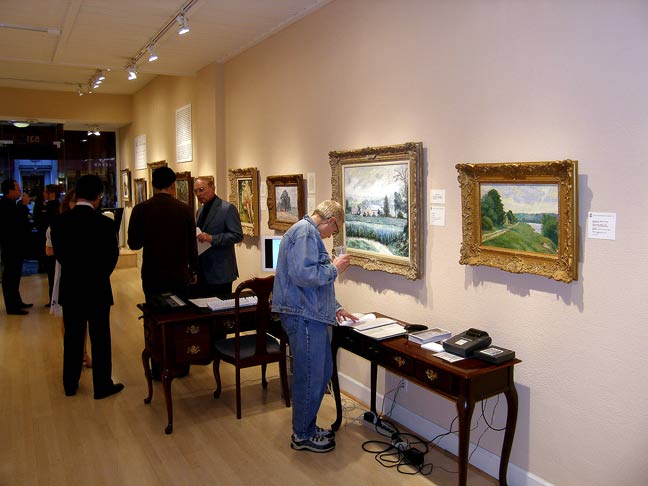 Gallery.


***
New Langton Arts: Trust Me - Tony Labat.
Comment: Thirty-year retrospective of video, installation, and stand-alone art by multidisciplinary talent Tony Labat. A catalog of the show is available from New Langton (Trust Me, Tony Labat, New Langton Arts, San Francisco, 2005; 200 pages, full color; $25, $19/members). Labat's art incorporates a robust cognitive component and requires a modicum of committment if you wanna "get it," more than I'm generally accustomed to ponying up (hey-- at least I'm honest), but the story behind show's title wins me. As legend has it, Labat received his first new work commission grant from the Langton curatorial committee in 1978 when, instead of submitting a formal proposal, he simply sent a dozen roses along with a note reading "Trust Me." (Must have been a lot of women on that committee). Only kidding!! Only kidding!! Back off.
Now don't all start sending flowers to New Langton Arts; derivative proposals do not get grants. The Tony Labat retrospective is one in a series of shows celebrating thirty years of experimental arts programs and productions from New Langton Arts.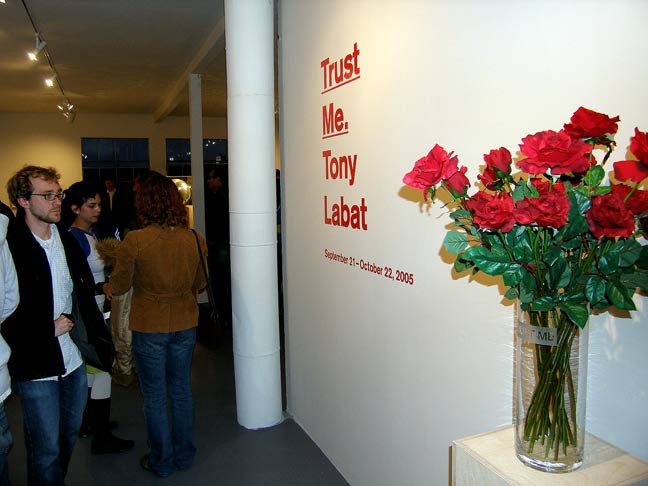 Start.


Art (like it).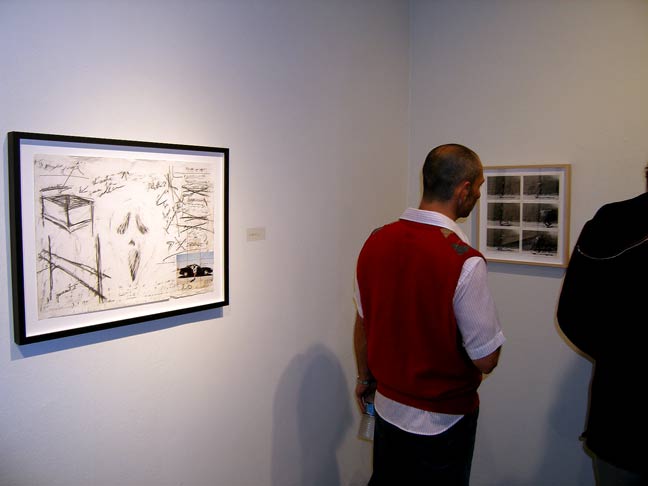 Art.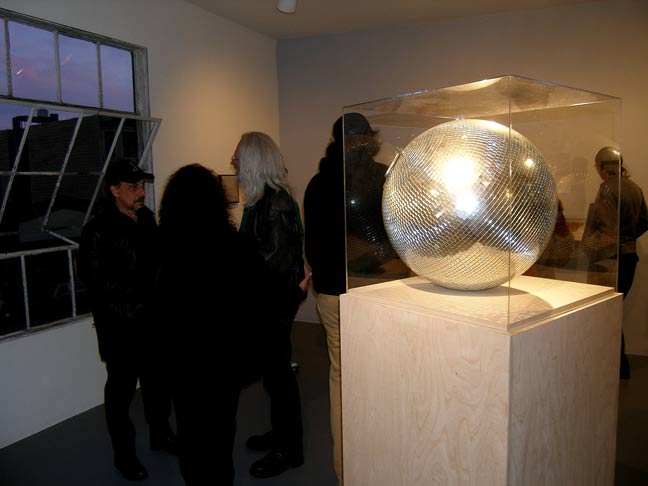 Art.


Art.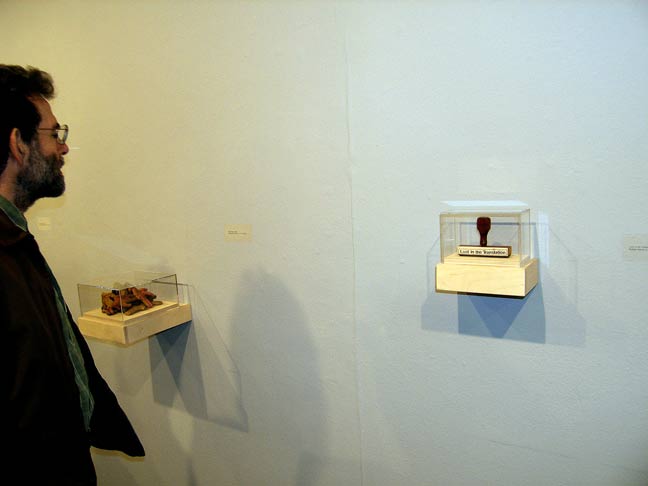 Art.


Found art collage (like it).


Art.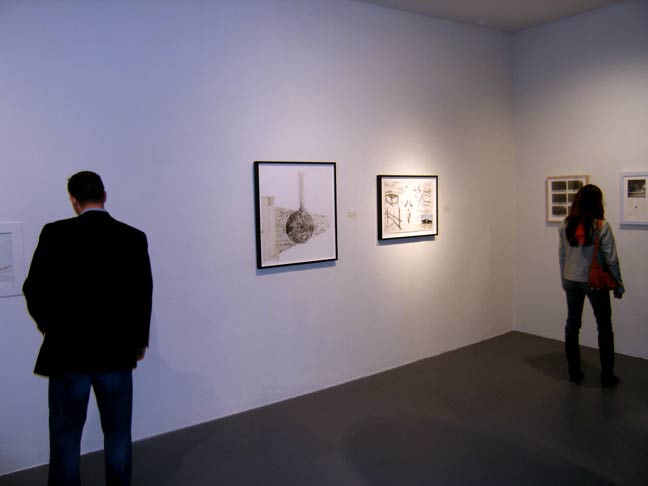 Art.


Peripheral.


***
Soap Gallery: Grand Opening - 3 Photographic Views.
Artists: Paula Periera, Lisa Mendelson, Dana Smith.
Comment: New venue opened by sisters Lisa and Eve Mendelson, owners of River Soap Company, to show emerging artists. Thank you Lisa and Eve; we're fully aware that you could have done plenty of other things with your time and money. The debut event presents a nice selection of photographs by three artist/photographers-- graffiti/word images from Paula Periera, abandoned pieces of furniture from Lisa Mendelson, and what appears to be digital collage with paint by Dana Smith.
Photographs.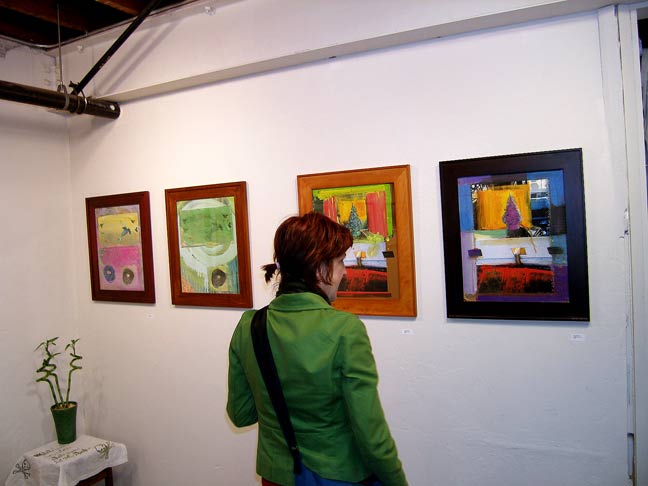 Photographic art.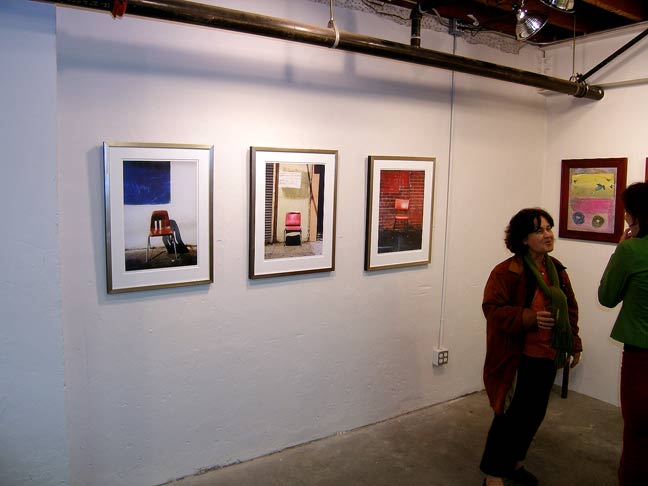 Photographs.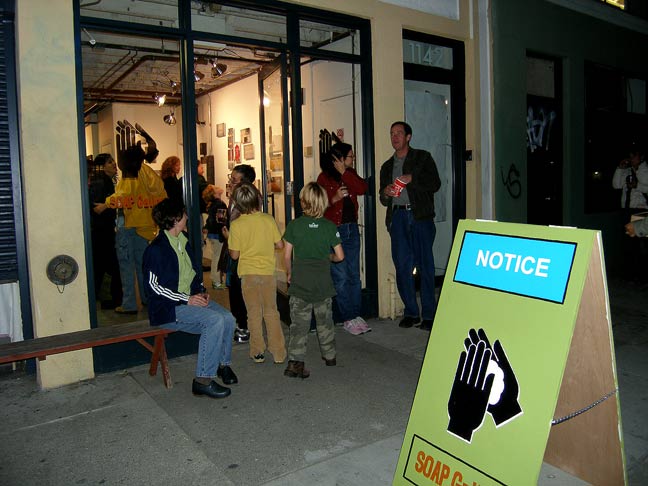 Milieu.


***
Amaru Gallery: Tabu - An Art Show.
Artists: Tony De Carlo, Hector Silva, Justin Hall, Clinton Fein, Keith Gaspari, James Bonafe, Ralfka Gonzalez, Adrian Ordenana, Jacob Lane Bagwell.
Comment: Another Folsom Street Fair coincident, mainly male erotica, to benefit Clinica La Esperanza, offering free and low-cost bi-lingual HIV/AIDS services to those in need in The Mission. Best of show is a tie between the sensationally lascivious ADULTS ONLY art of Hector Silva (a Latino Tom of Finland but better), and the kaleidoscopic reverial erotica of Tony De Carlo. Good show; go see; adults only.
Sometimes I balk at photographing certain shows, but if the art is good, it tells the truth, it's well intentioned, and it's on display at a San Francisco art gallery, I can't ignore it and still think I'm doing my (nonpaying) job.
Art (Tony De Carlo - like it).


Art (Hector Silva - like it).


Hector Silva - art.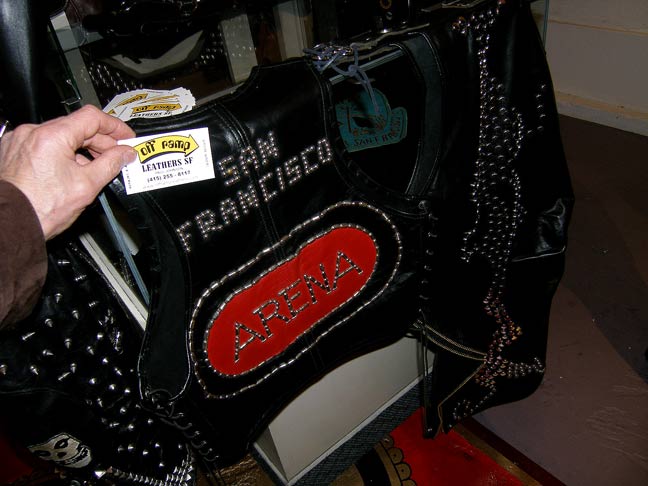 Wearables.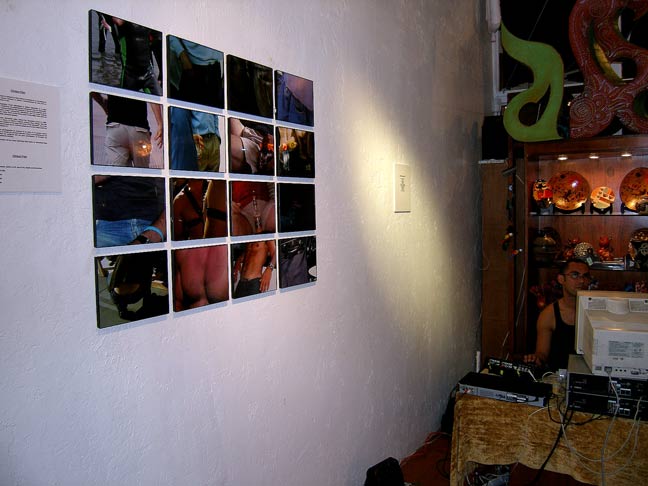 Art.


Amaru Gallery owner.


Art (Tony De Carlo).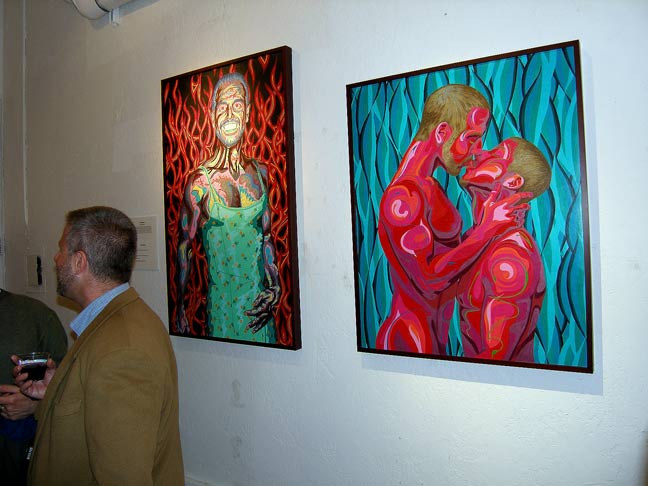 Art.


Art (Tony De Carlo).


Supporters.


***
Flux Gallery, Gallery FLUX: Bondage Rope Performance by Midori.
Comment: Yet another Folsom Street Fair tie-in, or in this case, tie-up, being a one-night ropework performance by author, educator, and Bondage Mistress Midori. The gallery is artfully lit and strung web-like for the show; diminutive Midori is nuancing the set (she'll be working in the front window-- no one allowed in the gallery). A respectable crowd is gathered on the sidewalk out front, milling about, occasionally jockeying for position, anticipating the moment. But I gotta go-- the show's a half-hour late already. You'll have to imagine what it was like, and from the look of things, I bet it was good.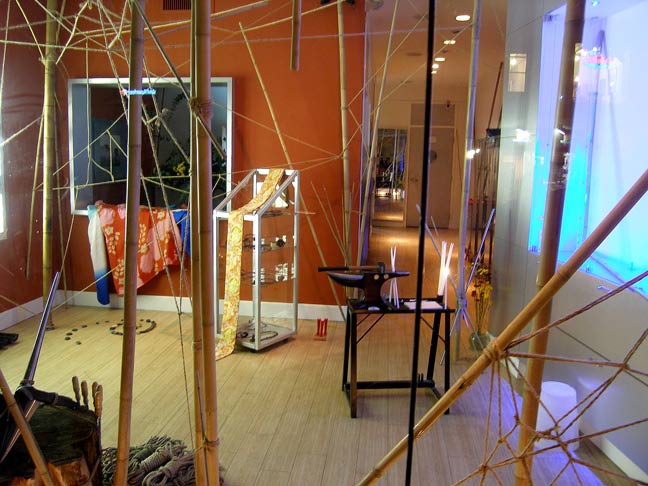 Interior without Midori.


Interior with Midori.


Waiting.


***
Comment: A brief update on that Simmons Gallery Peter Max show covered at the bottom of the September 16-17 reviews is that I walked by Simmons the other night and all trace of Peter Max has vanished. Plus, Peter Max isn't listed as an artist on the Simmons Gallery website. So now I'm thinking Max came to town with a bunch of sales goons and rented the gallery for the weekend to perpetrate his big-ticket tripe-drenched flimflam. I'll gladly stand corrected on this-- just email me the truth-- especially about those so-called "mixed media" "unique works" that look an awful lot like repro-prints of Max classics with a few brush strokes over top of 'em.
***
Addendum: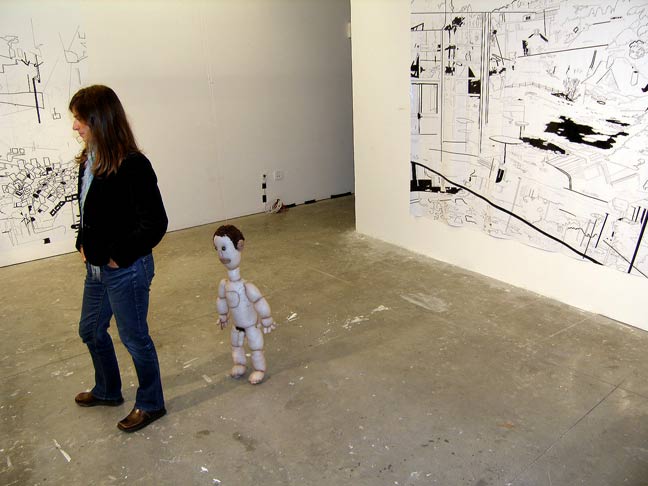 "Entangled Orbits - You Could Be Me" at PLAySPACE.


One more from PLAySPACE.


Mediterranean Villages by Steven & Cathi House, lecture and book signing,
at Topher Delaney's SEAM Studios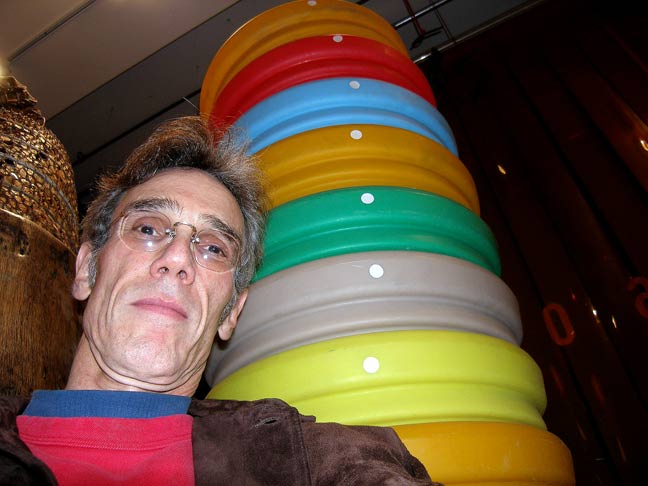 One more from SEAM.