MANHATTAN CHELSEA ART GALLERIES - OPENINGS
DAVID ZWIRNER - 2/20 - METRO PICTURES GALLERY
ANDREA ROSEN - STELLAN HOLM GALLERY - WHITE BOX
PEER GALLERY - RUSH ARTS - PRISKA C. JUSCHKA FINE ART
MATTHEW MARKS GALLERY - PAULABARR CHELSEA
09.21-22.06
General Comment: It may be near impossible to find a price list at a Chelsea gallery, but it's cake to find a press release. Every gallery everywhere should have a big fat pile of press releases in plain sight for anybody who wants one. You see, the difference between a show or artist statement and a press release is that a statement tends to be written for drivel junkies with art degrees who bask in blabber while a press release tends (not always, though) to be written for members of the press and other ordinary everyday human beings who just plain like art. The bottom line? Fewer people walk away clueless. Like it.
***
2/20 Gallery, 220 West 16th Street, New York, NY 10011; 212.807.8348 in conjunction with Peace One Day: Lynn Singer - Ancient Olympia, Peace Now.
Comment: Photographer Lynn Singer installs the gallery with images of the site of the first Olympics in 776 BC, an altar to the Goddess Athena, and connective diagramatics incorporating sacred geometry, calling our attention to the fact that during the Olympics, warring factions laid down their weapons, and suggesting that we consider the possibility (however remote it may seem at the moment) of world peace.
Lynn Singer - photography.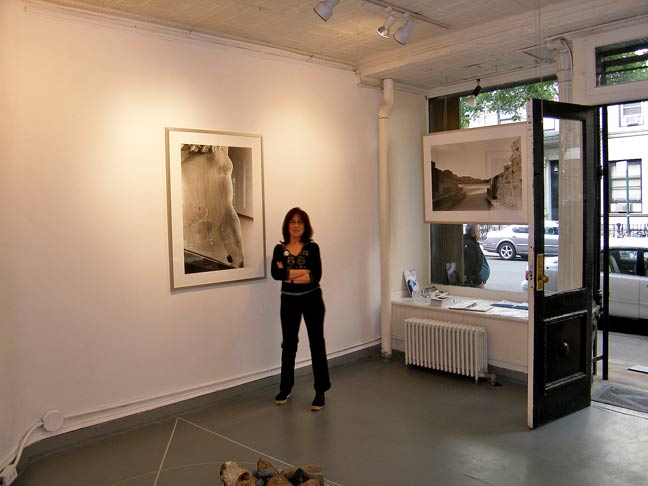 Lynn Singer - photography.


Installation art.


***
David Zwirner Gallery: Yutaka Sone - It Seems Like Snow Leopard Island.
Comment: Tonight's opening is for Yutaka Sone and Snow Leopard Island, but the expansive high-ceilinged museum-esque gallery is also running concurrent exhibitions of John McCracken's vintage minimalist sculpture (excellent), and naive-style cardboard constructions and works on paper of interiors, exteriors, and genre scenes by Swedish artist, Jockum Nordstrom. Anyway, Yutaka Sone here offers up an art island (14 feet in diameter) set atop a free-form plywood base. The topography includes hills and live plants, and according to the precis, has running waters just like a real island (which don't seem to be flowing at the moment). Nevertheless, it supposedly simulates the environment of the Snow Leopard, the idea being that you look at it and supposedly cogitate on our fragile kinship with various ecosystems. Maybe you do, maybe you don't.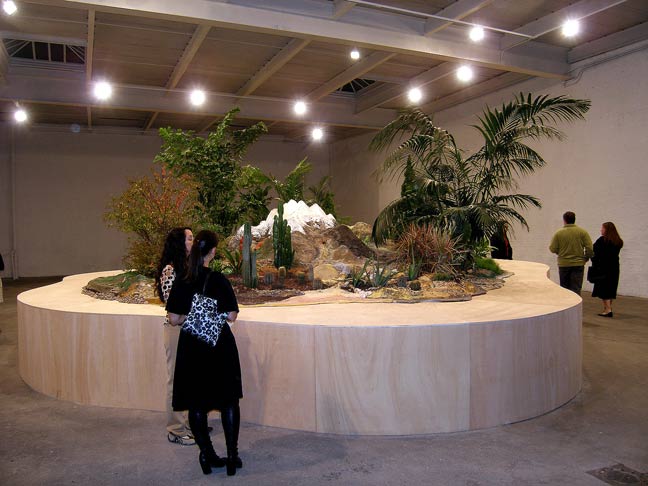 Island art (Yutaka Sone).


Island art (Yutaka Sone).


Art (John McCracken).


Art (John McCracken).


Art (John McCracken).


Art (Jockum Nordstrom).


Art (Jockum Nordstrom).


Art (Jockum Nordstrom).


***
Metro Pictures Gallery: Keegan McHargue - The Control Group.
Comment: Ambitious endeavor for San Francisco artist Keegan McHargue, "The Control Group" being an imaginary cast of characters McHargue paints into a variety of settings designed to reflect the theatrical nature of existence. Whatever they epitomize, the crisp color-rich chimerically architectonic compositions are oddly intriguing; some verge on mesmerizing.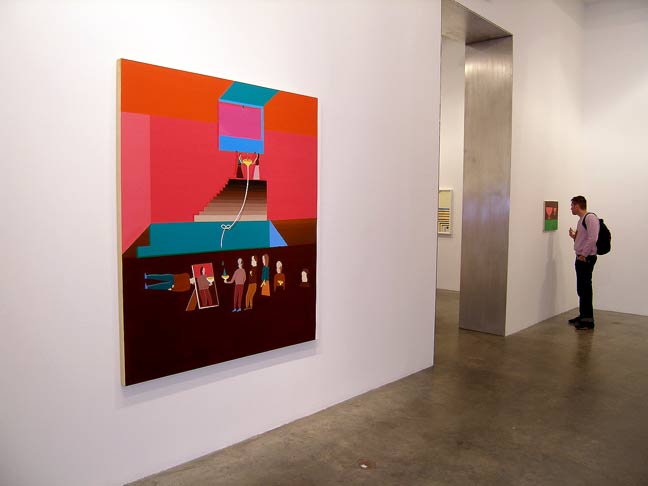 Art.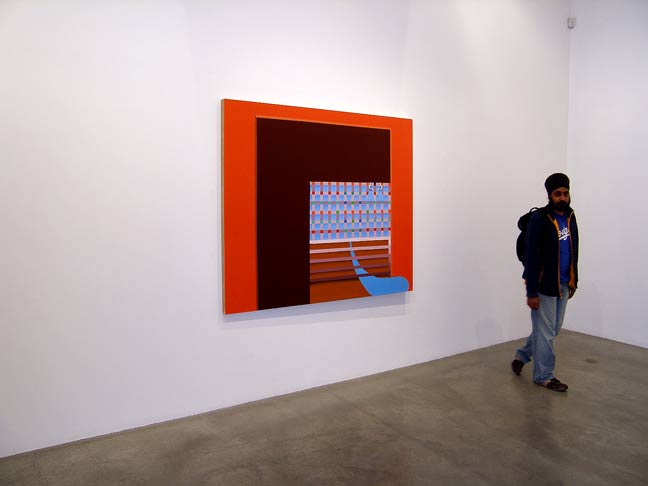 Art.


Art.


Art.


Art.


Art.


Art.


***
Andrea Rosen Gallery: Matthew Ritchie - The Universal Adversary.
Comment: The opening is packed-- unquestionably the most animated crowd of the evening. The show is a multimedia combination of paintings, a wall of backlit paintings on plexiglass (I think), sound, projection, and circuitous wooden latticework painted black, suspended ominously from the ceiling to create an effect as though the heavens are about to rip open in tornadic rage. A line of people extends around the back edge of the gallery, leading to a stairway and small catwalk where they can observe the installation from above. The paintings leave me mildly wanting, however the overall thrust is impressive and you certainly gotta respect the considerable logistical challenges that went into pulling this extravaganza off.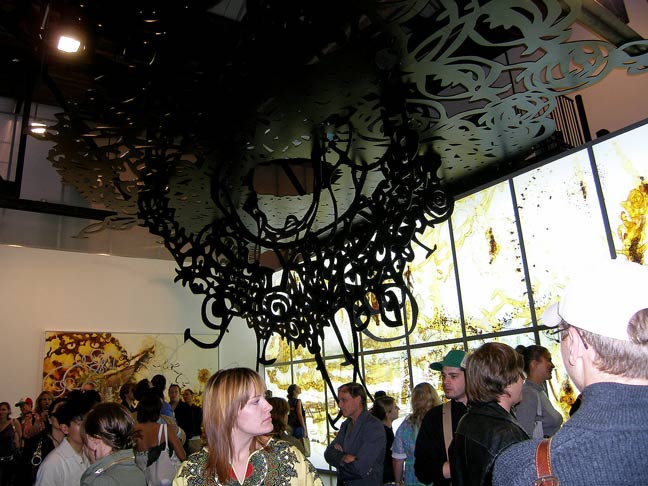 Art.


Art.


Art.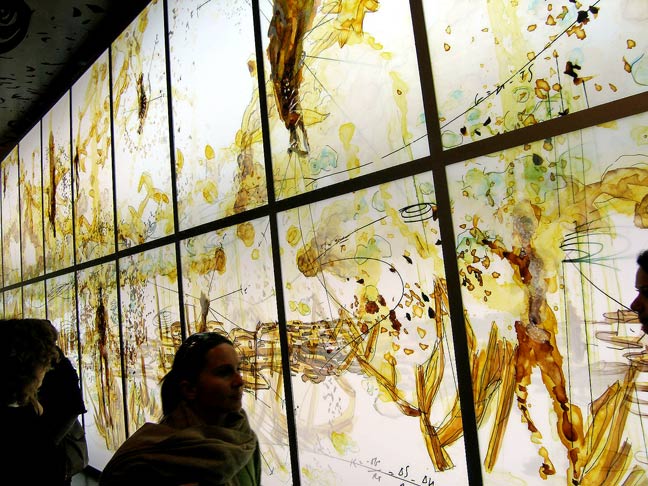 Art.


Art.


***
Stellan Holm Gallery: Martin Borowski - Visitation.
Comment: Martin Borowski's paintings of art museum interiors and of people in art museum interiors looking at and reacting around art capture the contemplative fluidity of these environments. Nicely painted as long as you scope 'em head on, but if you move to either side, you see the edges are plagued with periodic paint drips and other unsightly irregularities that mesh with the compositions to the tune of ZERO. Dude-- this is a Chelsea gallery, not open studios. Neatness counts.
Art.


Art.


Art.


Art.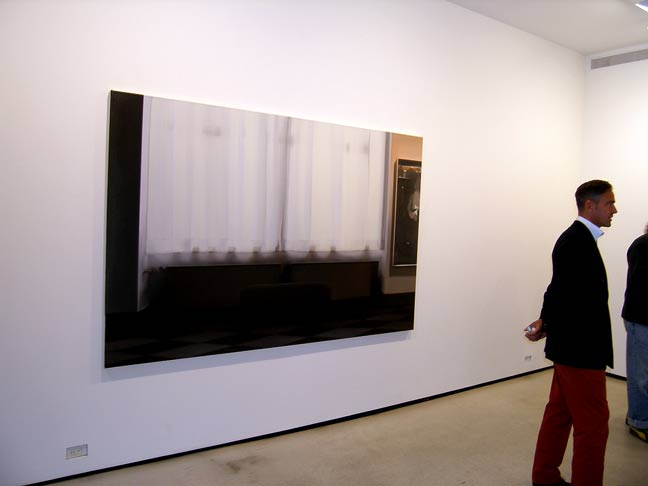 Art.


***
White Box: The Searchers.
Artists: Christina Battle, Sandow Birk, Jeremy Blake, Bill Davenport, Lynne Harlow, Matthew Day Jackson, Reuben Lorch-Miller, Mary Lucier, Wardell Milan II, Shaun O'Dell, David Rathman, Alexis Smith, Tracey Snelling, Lane Twitchell, Anna Von Mertens, Letha Wilson.
Comment: A saddle full of slants on the American West exploring traditions, symbols, values, beliefs, and attitudes from various perspectives including humorous, ironic, iconic, contradictory, and more-- the overall effect being kinda like an editorial roadshow peppered with scenic and picturesque commentary. The California contingent takes this exhibition opportunity seriously, enhancing the affair with capstone examples of their work.
Art.


Art (Shaun O'Dell, right).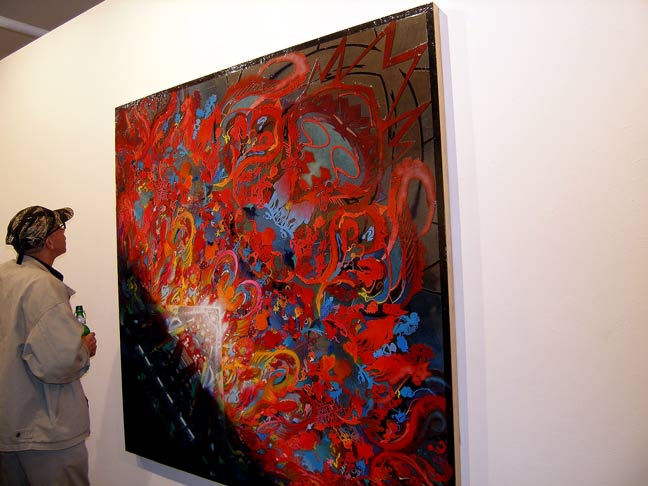 Art.


Art (Sandow Birk, right).


Art.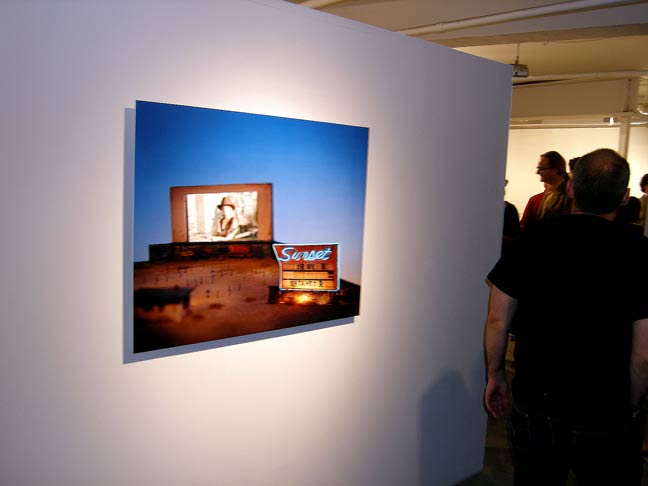 Art (Tracy Snelling).


Art (Anna Von Mertens).


Altitudinary.


***
Peer Gallery: Timothy Eugene O'Tower - Recently Uncovered Platinotypes and Stereo Views of the American West; (t)here - Group Exhibition of Environmental Views.
Artists: Chris Austin, Melissa Fleming, Michael Grimaldi, Sandi Haber Fifield, Jimmy & Dena Katz, Leah Oates, Junsik Shin, Alizabeth Towery, Terry Towery, Jason Wee.
Comment: According to the abstract, these platinotype photographs and stereo views are by nineteenth century photographer Timothy Eugene O'Tower, "historically significant and heretofore unknown" images recently rediscovered by Terry Towery in the family's "ancestral" California home. But no. They're spanking fresh-- fabricated, photographed, framed, and hung by Terry Towery who employs nineteenth century techniques to bewilder our sensibilities. If you zoom in close to try and figure out exactly where these so-called Western views might be, you realize that the details come off as more than a trifle unnatural and otherworldly. Spoof art. In the gallery's second room is a group show of landscape photographs-- soft and atmospheric for the most part-- all nicely done.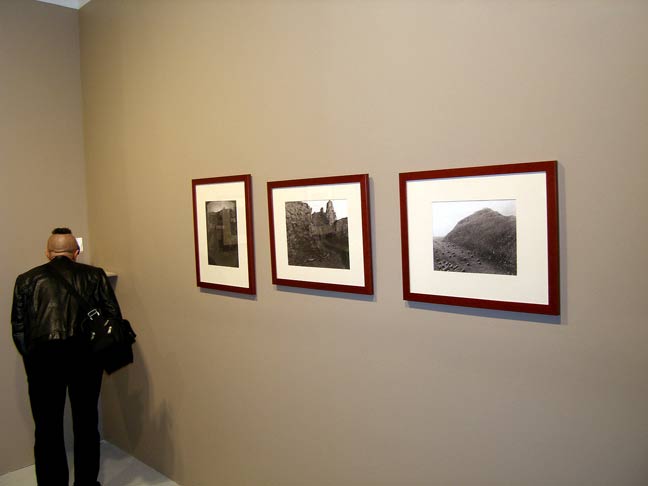 Photography (Terry Towery).


Photography (Terry Towery).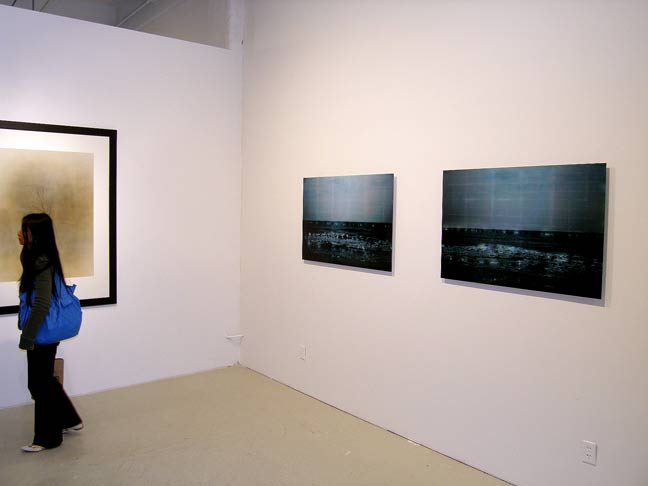 Photos (group show).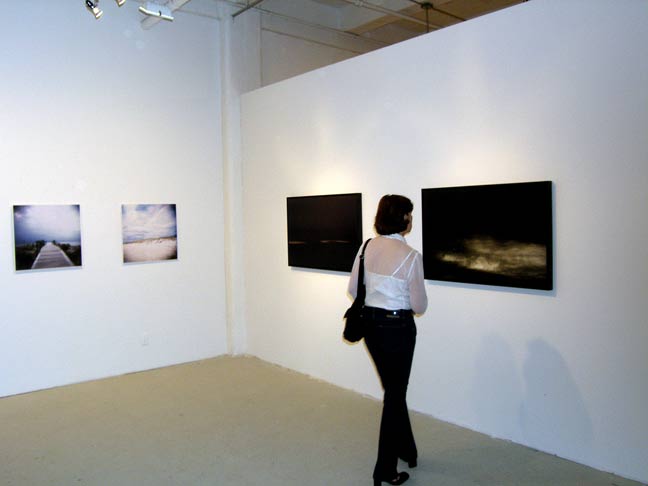 Photographs (group show).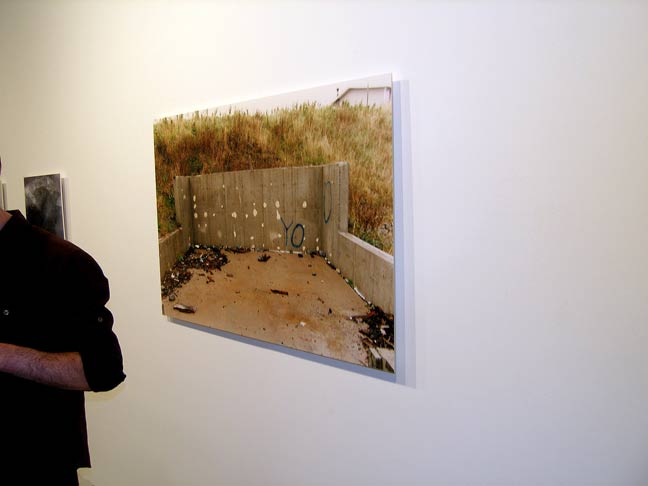 Images (group show).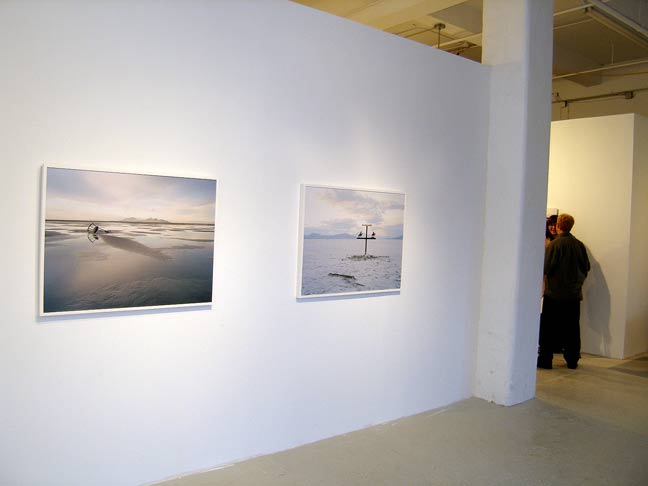 Photos (group show).


***
Rush Arts Gallery & Resource Center: Believe.
Artists: Jaishri Abichandani, Shelly Bahl, Mikal Levon Calloway, Onel Naar, Rashaad Newsome.
Comment: Five artists explore various aspects and significances of religion and spirituality in everyday life. I beeline straight across the room to an arresting array of fanciful fabric dolls created by Mikal (his card spells it Micheal) Calloway, beautifully crafted, and ranging in flavor from effigial to formal.
Art (Micheal Calloway - like it).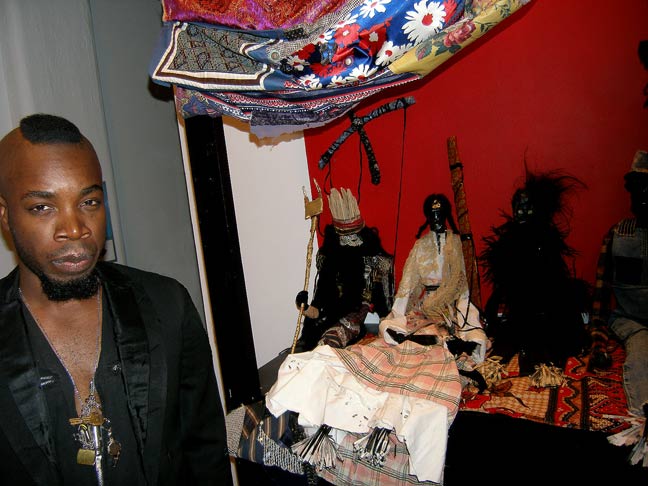 Mikal Levon Calloway - art.


Art.


Art.


***
Priska C. Juschka Fine Art: Gabriel Jones - Somewhere on Time 06.
Comment: Here's a gallery that embraces garble. I'm slogging through the syllabic sludge harking back to those fifties jungle movies where the safari dude sinks into the quicksand and the last thing you see is that desperate outstretched hand disappear beneath the muck. I am fully aware of the extent to which they champion cerebralism here in meta-analytical Eastcoastland, but remember those delightful Nike folks and their exhortation to "Just Do It?" You can only maul the neocortical synapses for so long before the eyeballs roll back and the connection deconsummates. If the art's any good, step up, can the pretense, and alert the masses.
So OK. Gabriel Jones photographs single figures in landscapes-- indefinite, improbable, inert, perplexing, and they got me right where they want me-- wondering what just happened and/or what happens next. I whip out the syllabus, get slathered with blather, and suddenly I don't care anymore. For instance, "Regardless of the images being replete with implied action, Jones does not disclose his own parabolic vision, but rather allows both the model and viewer to construct a subjective interpretation of the scene they have become a part of." Make my day-- disclose your parabolic vision.
Then there's an installation by Jade Townsend that looks like some kinda prison where you enter an apparent interrogation room through a hole in an ersatz brick wall, a fenced razor-wired yard out back-- and it's consummately convincing, and again I'm right there, captured, questioned, about to spill my guts-- then I peruse the pretext, and huh? Like, for example, "The various elements that this installation is comprised of conjure up an array of associations from our surroundings and open a critical dialogue with our constructed systems of reality." I suppose this is a mildly convoluted way of saying the art means whatever you want it to mean. Duh.
Sorry-- you waifed me. Twice. But I like the art.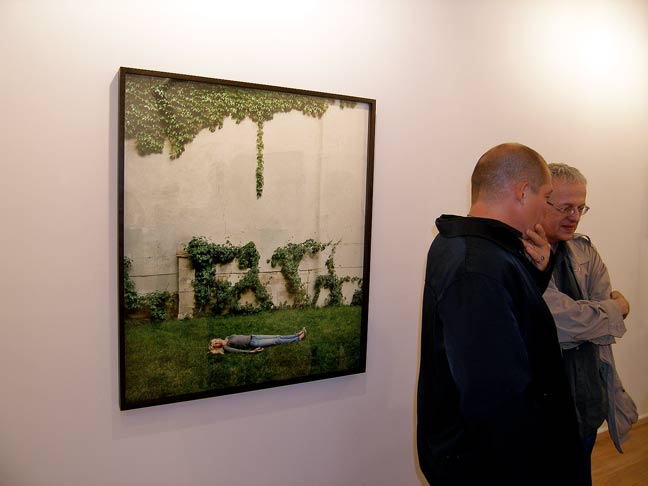 Photograph (Gabriel Jones).


Photography (Gabriel Jones).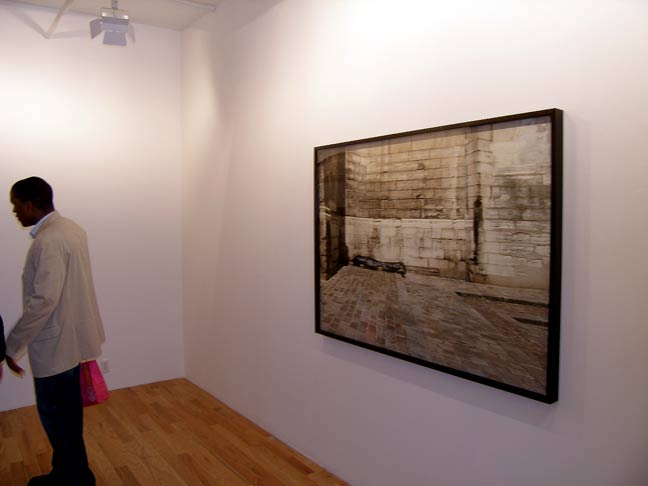 Image (Gabriel Jones).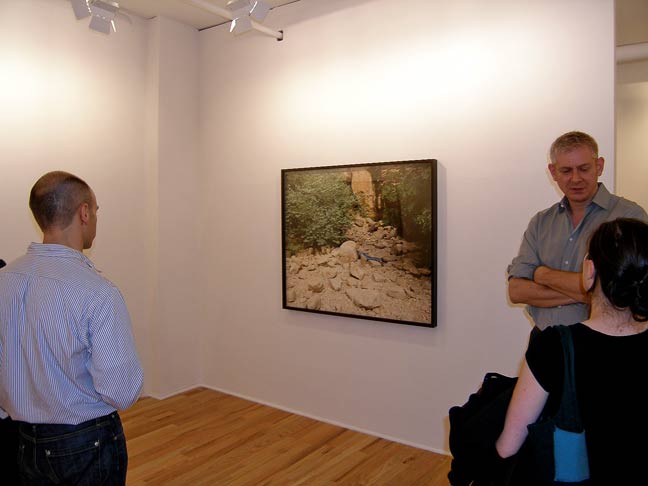 Photo (Gabriel Jones).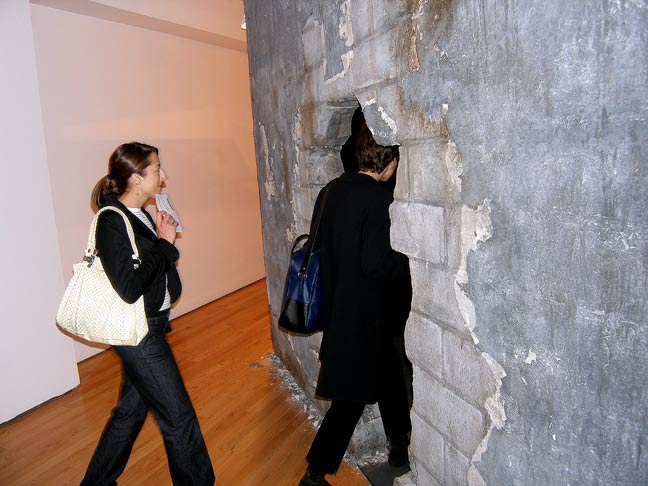 Installation art (Jade Townsend).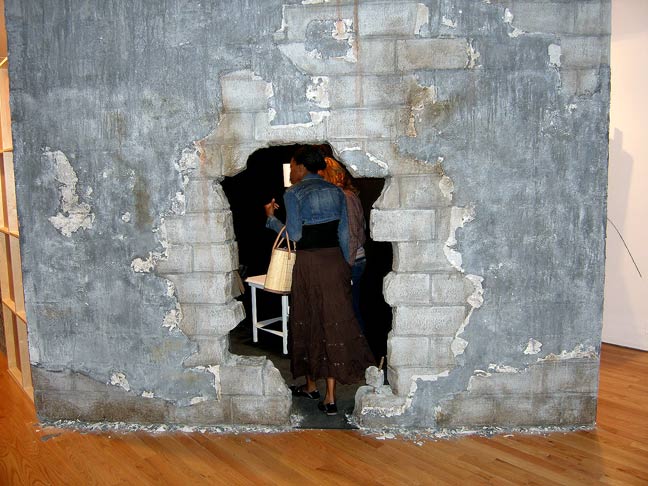 Installation art (Jade Townsend).


Installation art (Jade Townsend).


***
Matthew Marks Gallery: Ken Price - Sculpture and Drawings, 1962-2006; Small Sculpture - Group Show.
Artists: Katharina Fritsch, Robert Gober, Charles Ray, Peter Fischli, David Weiss, Vija Celmins, Jasper Johns, Ellsworth Kelly, Dieter Roth, Paul Thek.
Comment: I know you're thinking it, but I'm gonna say it. Los Angeles artist Ken Price's new sculptures look sorta like piles of poo-- at first glance and from a distance, that is. But then you get up close and personal and find yourself lost in Price's hypnotically intricate iridescent layered glazed sanded finishes. Now you pendulum back to when you first laid eyes on his effortless amorphous forms, this time appreciating them for the way they sport and celebrate their fantastic finishes, realizing that no others are more conducive to enhancing the overall effect than the ones Price has chosen. And we all lived happily ever after. Meanwhile, in the back room is a tight little retrospective of Price's earlier endeavors, mainly works on paper and a handful of sculptures.
At Matthew Mark's second gallery space is a show of small sculptures dating from the early sixties through the present including a small Jasper Johns bronze quietly immortalizing a light bulb, socket, and short length of wire, dating from 1960-61, and a simulated paint can complete with dents and drips, looking like it's ready for the dump, concocted by Robert Gober.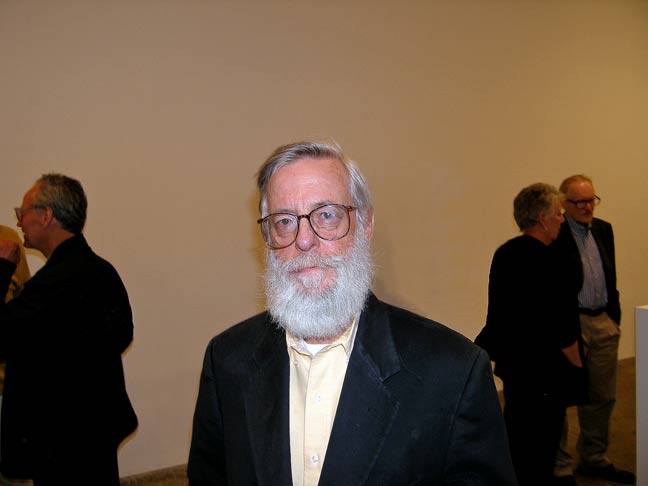 Ken Price.


Retrospective art.


Retrospective art.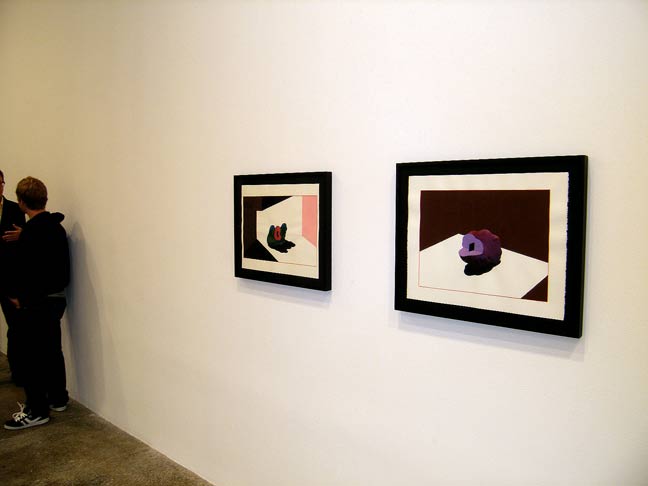 Retrospective art.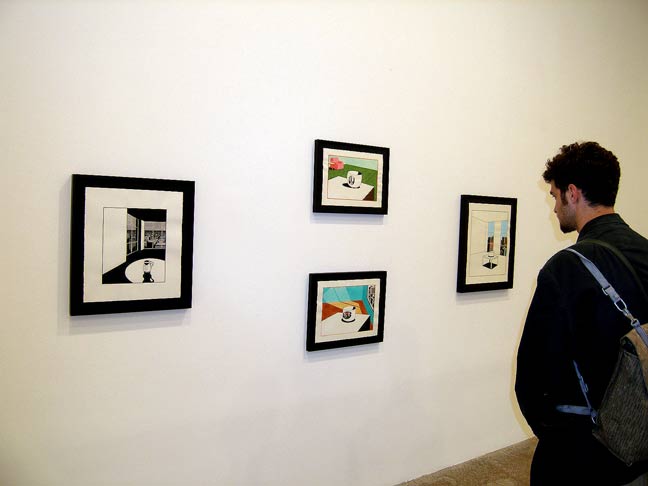 Retrospective art.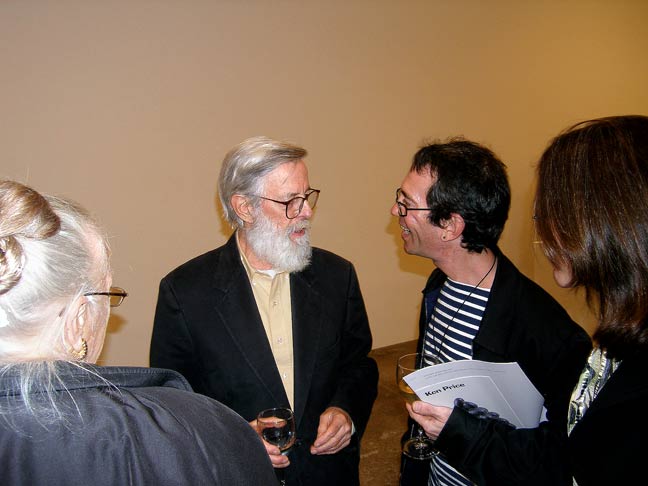 Ken Price and adulators.


Small sculpture show (Vija Celmins, right).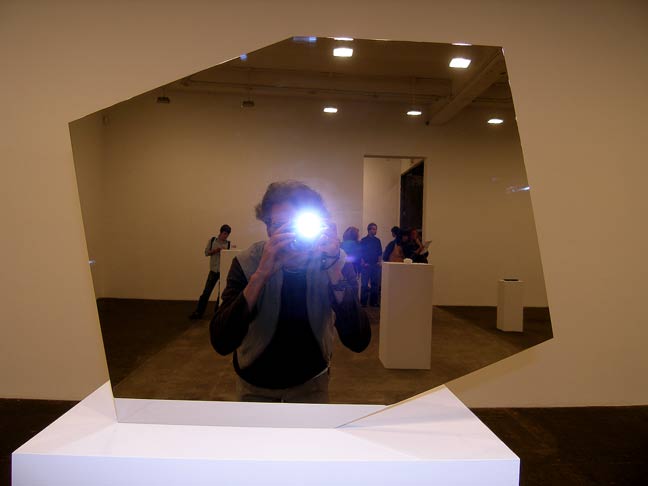 Small sculpture show (Ellsworth Kelly).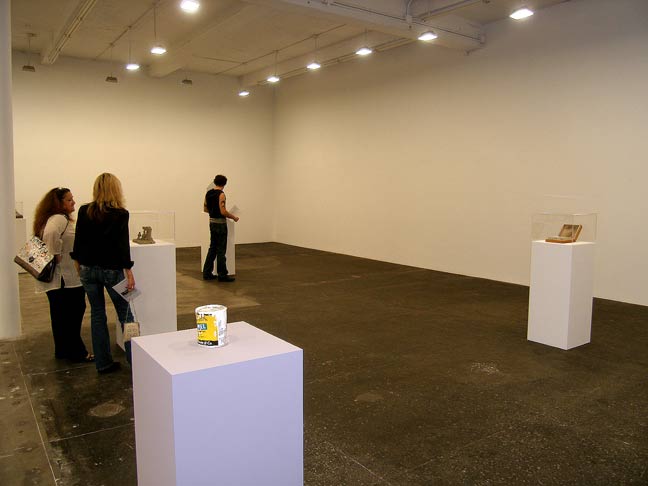 Small sculpture show (Robert Gober, foreground).


Small sculpture show.


***
Addendum: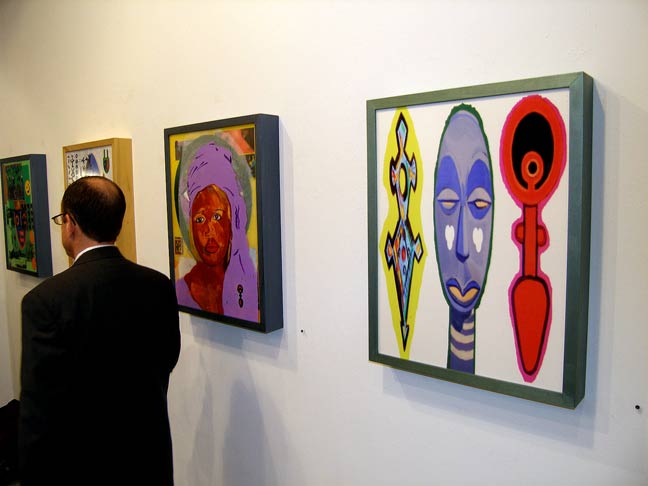 Marc Pollack at PaulaBarr Studio, Chelsea.


Marc Pollack plexi painting at PaulaBarr Chelsea.


***