SAN FRANCISCO ART GALLERIES - OPENINGS
PARKING DAY - ROSS MIRKARIMI - SOAP GALLERY
MARKET STREET GALLERY - AFTERMODERN - THE DUMP
2ND FLOOR PROJECTS - MELTING POINT - VARNISH
(With assistance from Chris Conroe and Ashley Harrop)
09.21-22.07
Parking Day: PARK(ing) Day 2007.
Comment: "Artists, activists, and citizens collaborate to temporarily transform parking spots into 'PARK(ing)' spaces," or in other words, temporary public parks, respectfully feeding the meters for one full day for their respective spots. In so doing, they remind the populace that it's not all about automobiles. The grand international tally for the event is 180 parking space parks in 47 cities, San Francisco leading the way with 58 parks, runnerup LA with 45, honorable mention to NYC with 25. The spot featured here, Supervisor Ross Mirkarimi's personal parking space directly in front of City Hall, is entitled "999 Bottles of Beer in a Wall" and presented by landscape architecture, environmental planning, and urban design firm, EDAW. Non-alcoholic beverages will be served.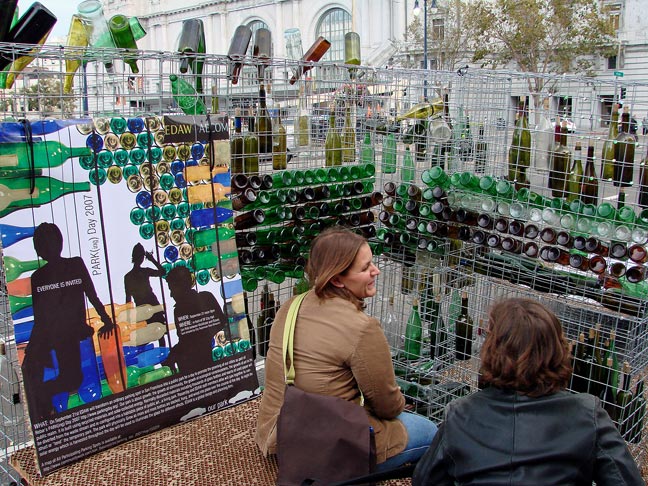 Parking space art.


Parking spot art.


Parking space art.


***
Supervisor Ross Mirkarimi: Korean Women Artists in Action.
Artists: Jia chang, Eun Sook Kwak, Ji Hae Kim, eDa (Okryun Yoon, Jiyeon Kim), SungKeum Ahn, Dai Sil Kim Gibson, Grace Yoo, Jung Hi Kang, Sojung Kwon, more.
Comment: Korean women artists address various issues from activist perspectives including civil rights, the peace movement, decolonization, women's liberation, diaspora, environmental issues, and more. Did I leave anything out?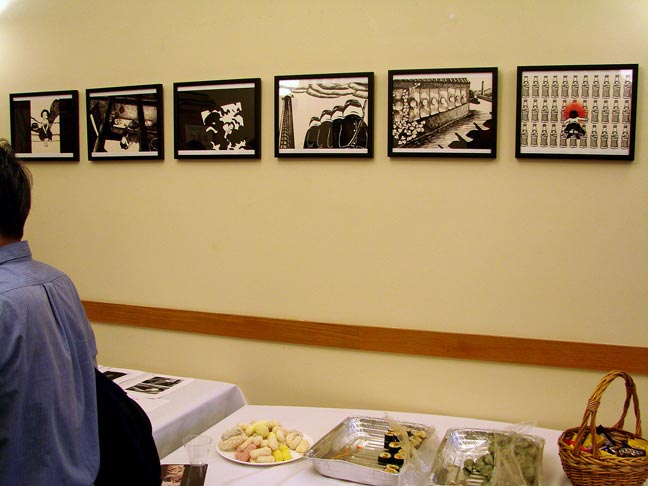 Art.


Art.


Art.


Supervisor Ross Mirkarimi, host.


***
Market Street Gallery: Oleg Malov & Brad Knipstein - Duality, Photography and Etching.
Comment: Looks like a group show to me, but apparently not. It's two artists. But it still looks like a group show, so I'm gonna re-christen it "Two Artists Present the Work of Ten." See if you don't agree...
Art.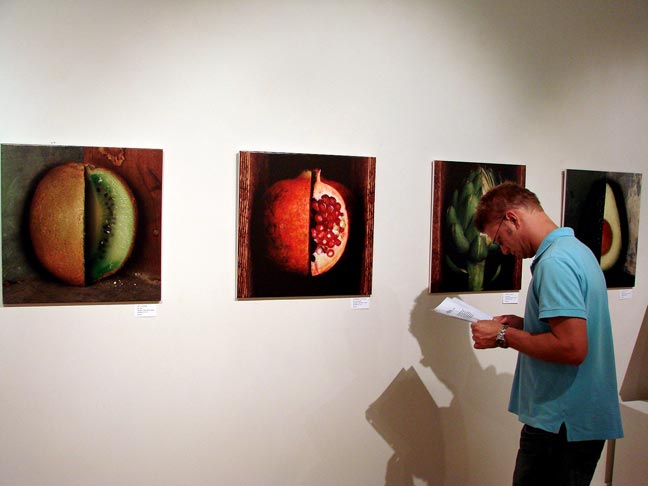 Art.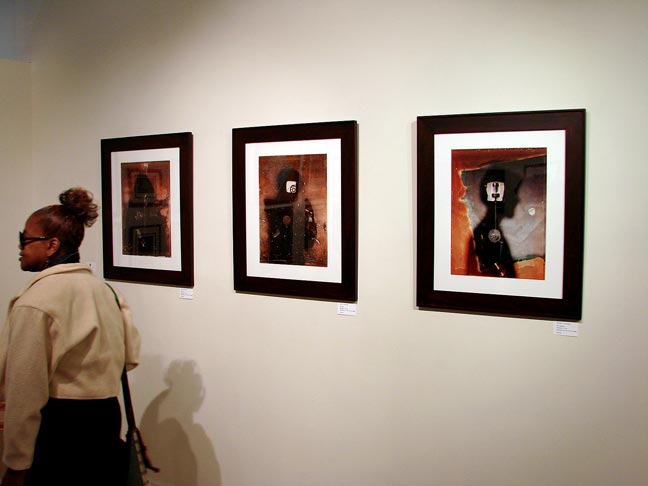 Art.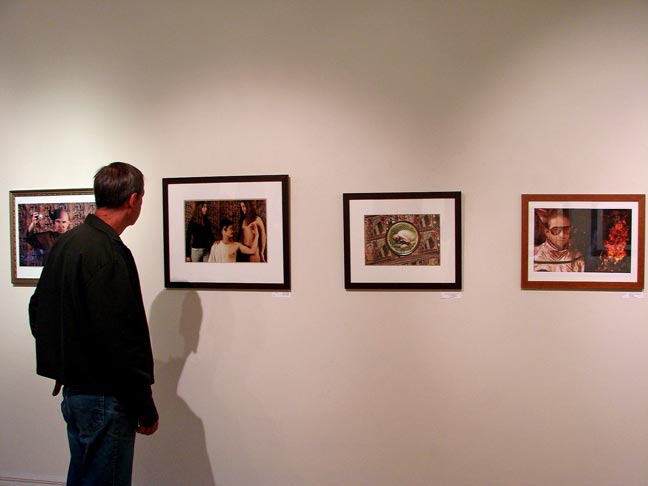 Art.


Art.


***
Soap Gallery: The Celebrity Show.
Artists: Eve Mendelson, Paula Pereira, Paul Wall, Carla Avitabile,Stephen Perkins, Jennifer Loveless, Sharon Wickham, Lisa Mendelson, Ashley Helvey, Elliot Ross, Barb Sizelove, Matthew Hughes Boyko, more.
Comment: Soap Gallery returns to the art stage after a relaxing haitus. Tonight's re-debut presents pot shot plays on public personas-- affable, wacky, obnoxious, evil, unchaste, ordinary, and more. Everybody's somebody here.
Art.


Art.


This one's rather curious.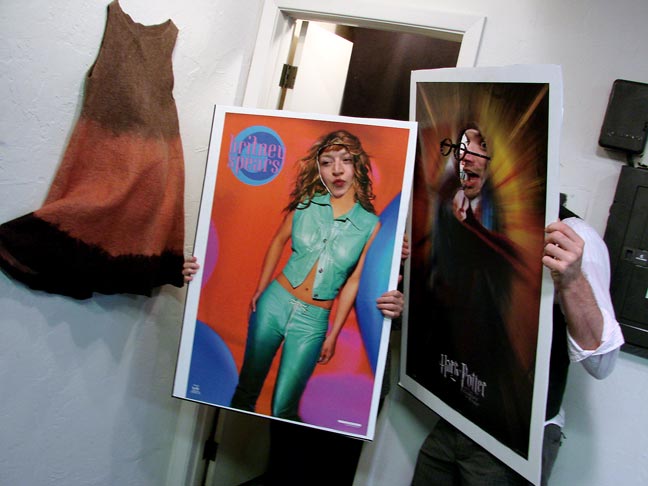 Be your own star art.


Art.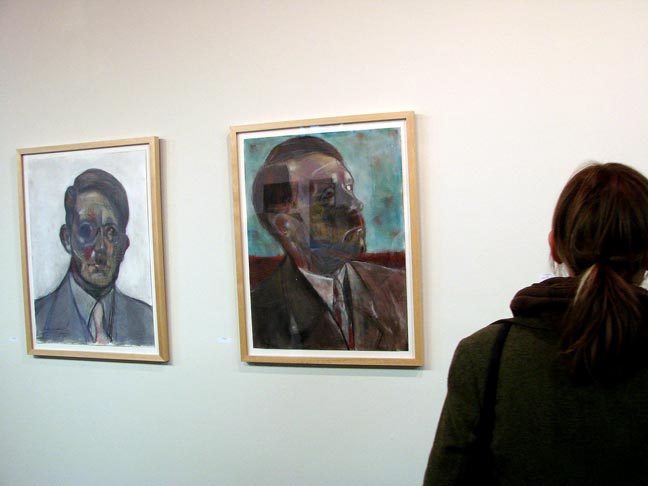 Art.


***
Aftermodern Gallery: Katie Humphries - Interiors.
Comment: Katie Humphries proficiently paints blips and beats of generic nondescript domestic interiors, mainly set at night. Any one of them could be pretty much any room in any home anywhere. There's no sign of life and barely an indication that the rooms are even lived in (you could almost call them still lifes). Humphries is pretty slick at replicating fabric, by the way, concocting considerably convincing quilts and curtain walls.
Art.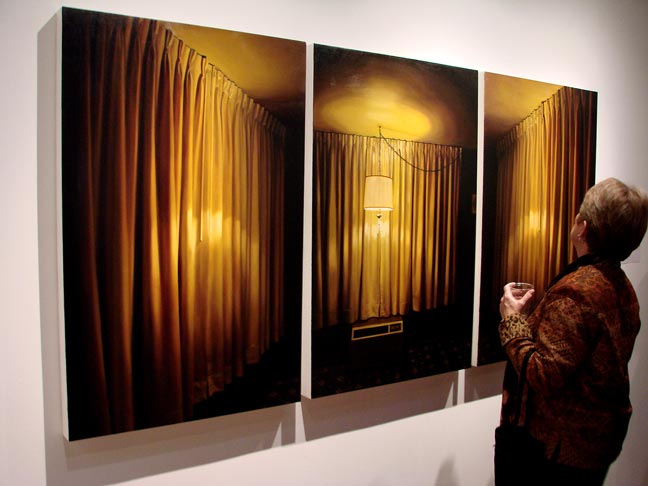 Curtain wall art (nice).


Art.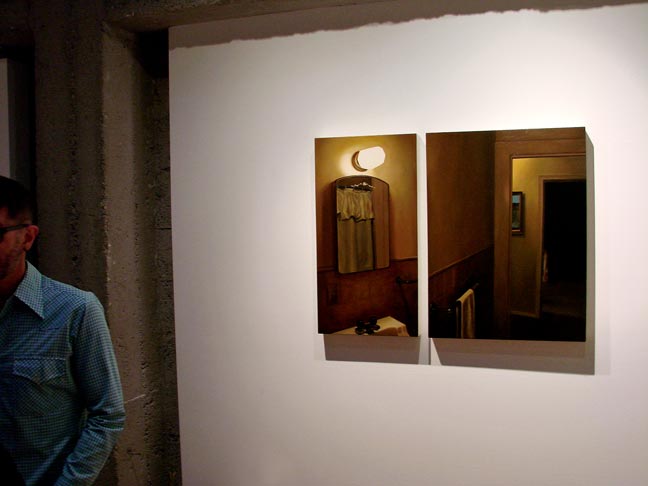 Art.


Kate Humphries - art.


***
Art at the Dump: Nemo Gould - Waste Deep; Micah Gibson - Casual Fridays.
Comment: Nemo Gould tells me his impressive kinetic electric mechanical Burner-esque sculptural assemblages are created entirely of salvaged recycled components, something you'll likely find hard to believe seeing as how he restores those components so pristinely that every artwork looks brand new (thanks in large part to heavy buffing, he reports). In the front room, Micah Gibson mocks up a nostalgic office cubicle, then festoons the walls with tight little collages-- effective, entertaining, attractively priced, and mostly sold. Good show; go see.
Corkscrew TV art (Nemo Gould - like it).


Art (Nemo Gould).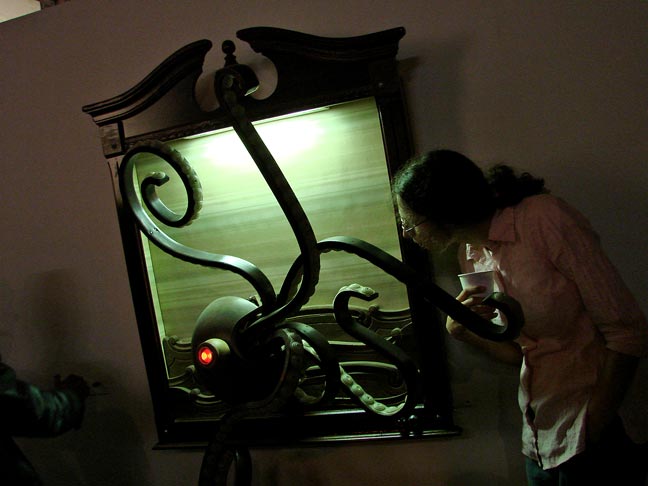 Art (Nemo Gould).


Nemo Gould - art.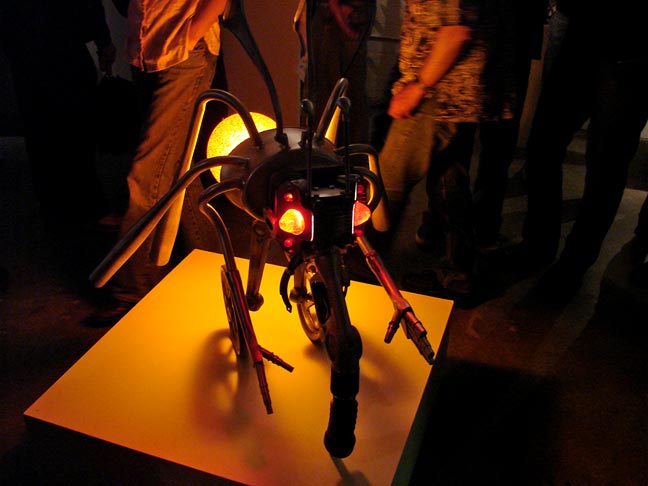 Art (Nemo Gould).


Art (Nemo Gould).


Art (Micah Gibson).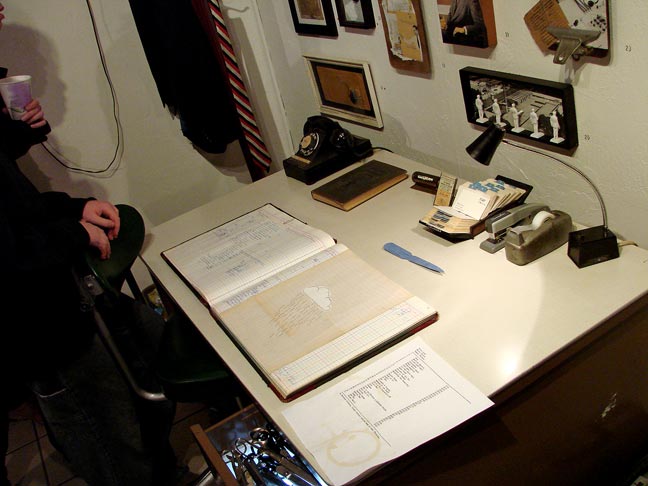 Art (Micah Gibson).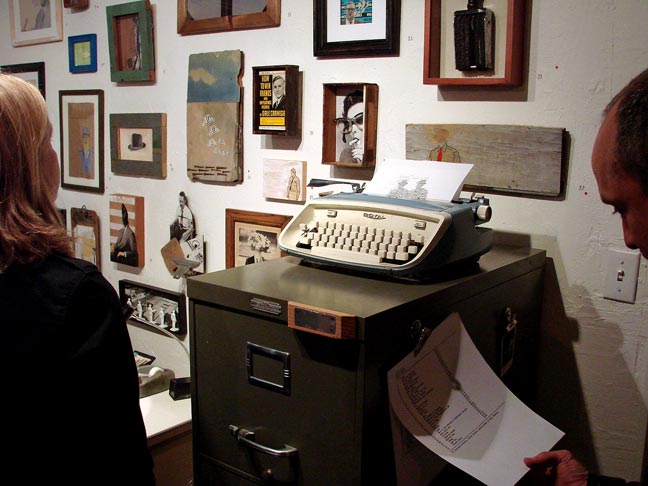 Art (Micah Gibson).


***
San Francisco State Fine Arts Gallery: Pacific Light - California Watercolor Refracted, 1907-2007.
Artist and art movements represented: Arts and Crafts (Lucia Mathews, Francis McComas and Chiura Obata); Early Modernist (Stanton MacDonald-Wright, Millard Sheets); WPA and WWII (James Fitzgerald, Edward Hagedorn, Miné Okubo, Andrée Rexroth); Post War Abstraction (Ruth Asawa, Sam Francis, Charles Houghton Howard,); Figuration (Robert Bechtle, David Hockney, Michard McLean, Nathan Oliveira, Wayne Thiebaud); Outsider (Martín Ramirez); Funk (M. Louise Stanley, William Wiley); Multiculturalism (Carmen Chang Dai-chien, Lomas Garza, Li Huayi, Judith Linhares, Richard Mayhew, Leslie Kenneth Price, Masami Teraoka, Brian Tripp); Contemporary (John Bankston, Gail Dawson, Susan Marie Dopp, Nicole Fein, Alicia McCarthy, Barry McGee, Julio Morales, Tucker Nichols, Brett Reichmann, Laurie Reid, Frances Stark, and Pamela Wilson-Ryckman).
Review by Chris Conroe and Ashley Harrop, SFSU students: An exhibition currently on display at San Francisco State University's Fine Arts Gallery through October 20, 'Pacific Light: California Watercolor Refracted, 1907-2007' counters any assumption that the viewer will only encounter prosaic scenes by unknown amateur artists. By surveying one hundred years of watercolor art in California, the exhibition demonstrates that watercolor painting needs to be taken seriously. From turn of the 20th century 'Arts and Crafts' painters such as Lucia Mathews to turn of the 21st Century 'Mission School' like Barry McGee, and everything in between, the show includes new definitions of watercolor that include works painted with the opaque watercolor known as gouache and very varied methods of applying paint. Two installations even include video components.
Curators at SFSU and in Sweden who organized the exhibition challenge common prejudices about watercolor in the prevailing art hierarchy. Their goal is to spotlight diversity of cultural approaches that run the gauntlet from elegant contemporary work by Li Huayi and Masami Teraoka that look like classic Chinese and Japanese painting to works by 'outsider' Martin Ramirez who was institutionalized for thirty years but is now recognized for his influential and original vision. Many of the works require focused attention to appreciate the artists' skills and intentions.
The SFSU Fine Arts Gallery is located on the main level of the Fine Arts Building on the San Francisco State University campus, at 19th Avenue and Holloway Streets in San Francisco, CA.
Art (James Fitzgerald).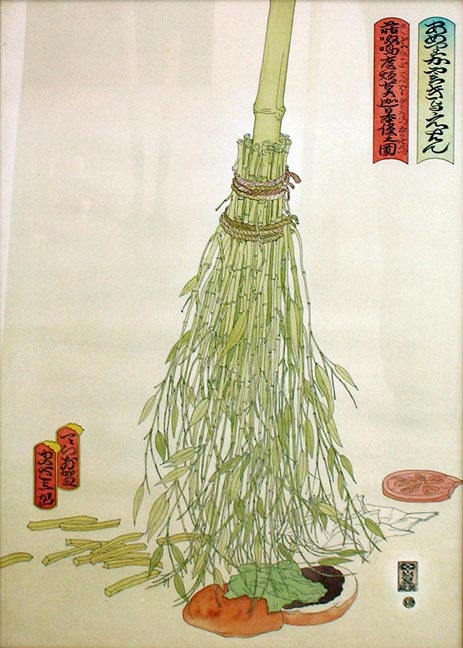 Art (Masami Teraoka).


***
[ 2nd floor projects ]: Gina Osterloh - Blank Athletecism.
Comment: Good art; heiroglyphic dossier. Unfortunately (or perhaps fortunately), I can't finagle myself a copy to quote from, so you'll have to take my word for it. Consequently, I'm rendered destitute in the comprehension department (not unusual for me) and petition Gina Osterloh for analytical assistance, which she benevolently provides. As near as I can tell, the essence of the evening's event seems to be sort of an inescapable ingestion/regurgitation past/present cyclically repetitive kinda deal that persists wallow-style ad infinitum throughout life (tenderly incorporating autobiographical references to the artist). Anyone care to score me on that? In other news, there's all manner of peppy inside-the-beltway artsters scurrying about, so you know you're in the presence of potential. With respect to generosity, Osterloh offers up complimentary small-format prints of one of her compellingly contemplative large-scale photographs, each print signed and numbered-- an admirable touch.
Art.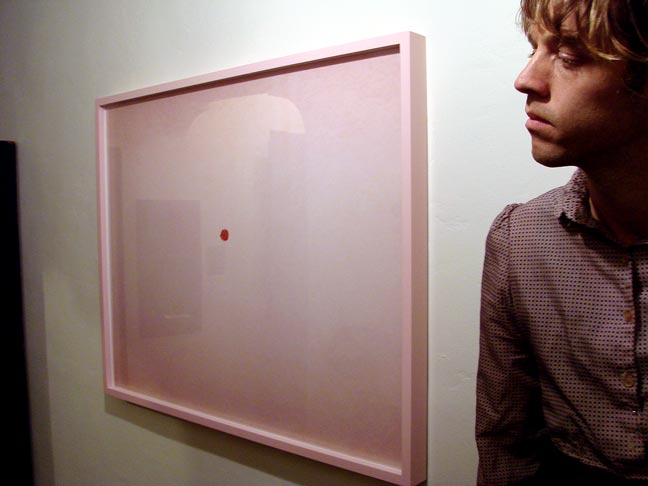 Art.


Gina Osterloh.


Art.


Art.


Complimentary art (like it).


Art.


***
Melting Point Gallery, 1340 Bryant Street, San Francisco, CA 94103; 415.769.2939: Old Enough to Buy Art.
Artists: Alan Babbitt, Kate Barerre, Rebecca Bazell, Maria Burtis, Carla Dal Mas, Todd Fonze, Ron Goldin, Gregg Gordon, Katie Ginder-Vogel, Monica Lee, Manlio Lo Cante, Jason Munn, J. Pouwels, Theodor Rzad, Tempe Sikora, Whitney Smith, La Donna Whitmer & Kathy Azada.
Comment: Affordable art for beginning (and seasoned) collectors by emerging artists, with a portion of the proceeds going to benefit the National Parkinson Foundation.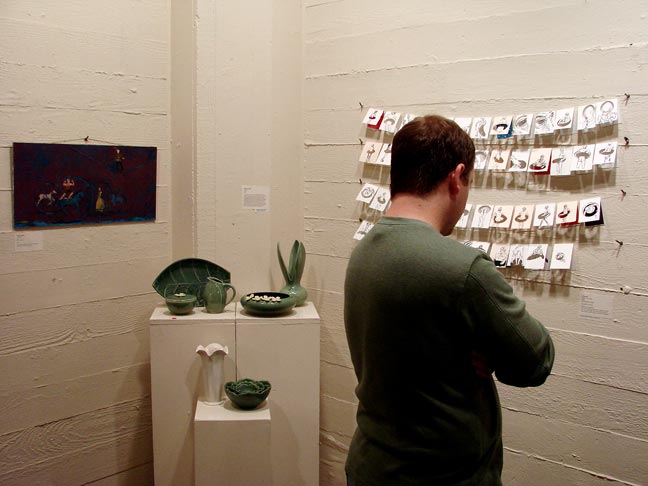 Art.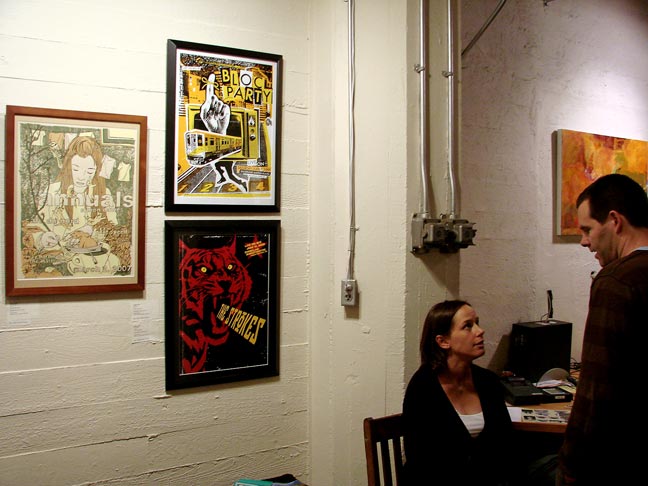 Art.


Art.


Art.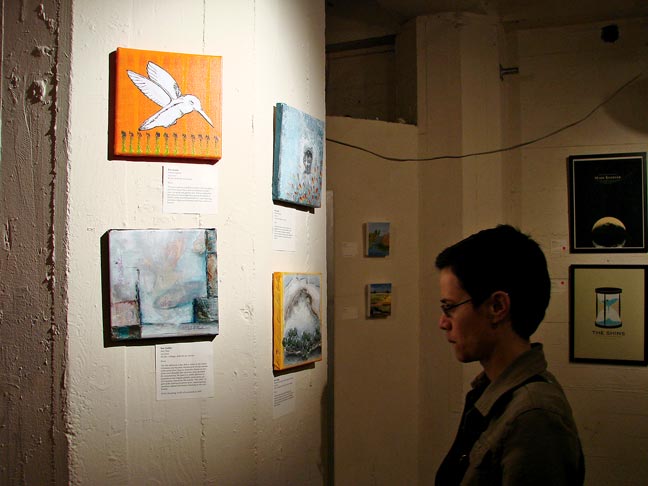 Art.


Art.


Art.


***
Varnish Fine Art: Fertile Ground.
Artists: Sarah Sohn, William Crump, Julia Marchand, Ryan Scully.
Comment: Art about "cycles of life and nature and our roles and experience as we relate to each other, our environment and even the forces beyond our control." That seems to cover pretty much everything.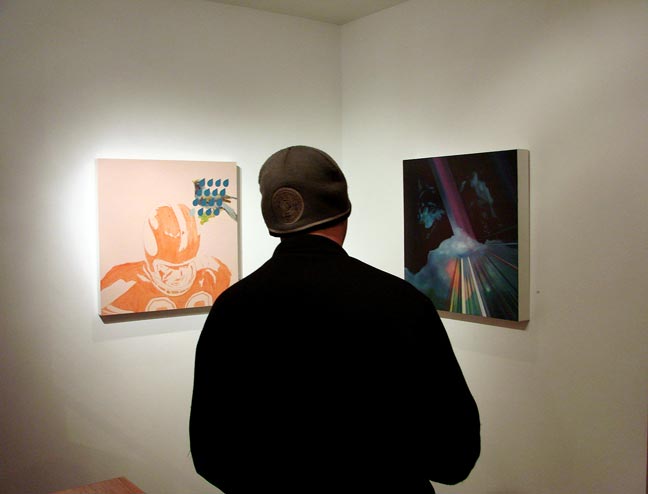 Art.


Art.


Art.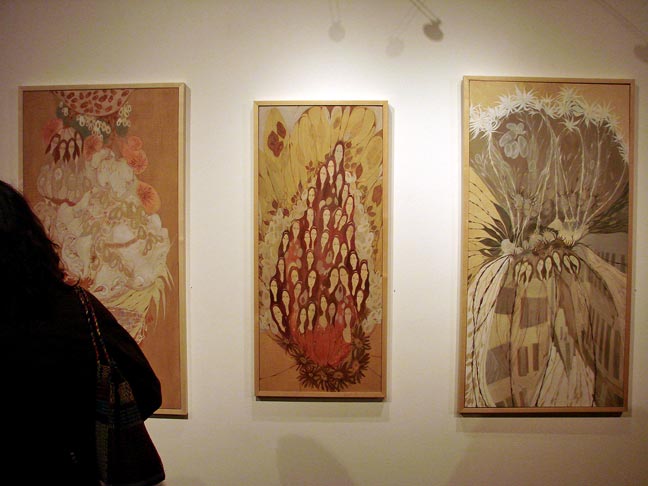 Art.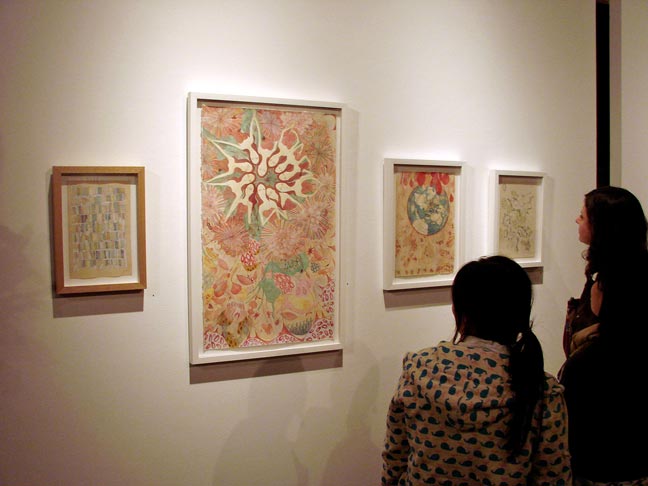 Art.


Art.



Art.



Turnout.


***