***

Get your art fix fast: Instagram @alanbamberger
***
Recology Artist in Residence Program: Miguel Arzabe - I Can't Make It by Myself; Sherri Lynn Wood - Afterlife; Kathy Sirico - Sugar Ghosts.
Comment by AB: In the front gallery, Miguel Arzabe presents videos, cuts pictures of famous paintings into strips and then weaves them into reconfigurations of the originals. For the finale, he live-pours a row of full paint cans down an angled sheet of canvas to a 33 1/3 rpm record player soundtrack. In the rear gallery, Sherri Lynn Wood takes quilting to a whole new level, sewing together everything from old jeans to reflective vests. My favorites are her unstuffed stuffed animal wall hangings, looking like satires on big game trophy rugs. In the annex gallery, Kathy Sirico paints, sculpts, conjoins and otherwise assembles rug, furniture and fabric throwaways.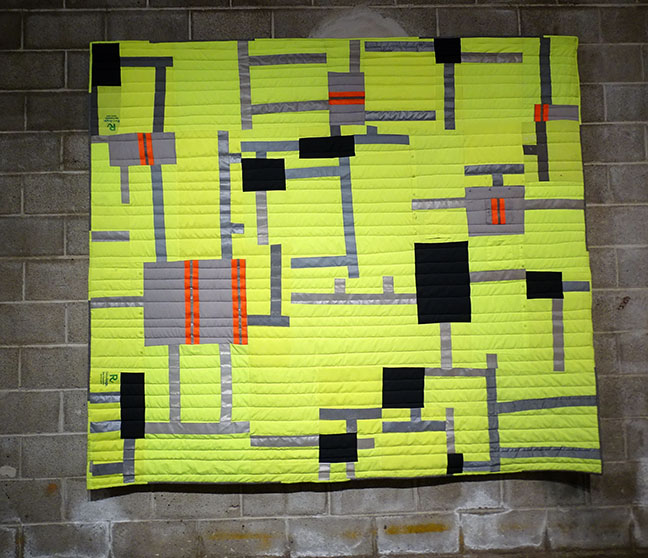 Reflective vest quilt by Sherri Lynn Wood at Recology Artist in Residence.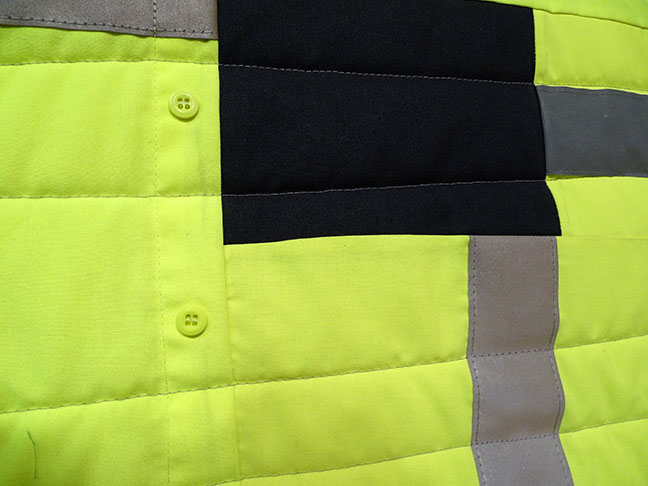 Quilt art in above image closer.


Stuffed coiled jeans by Sherri Lynn Wood.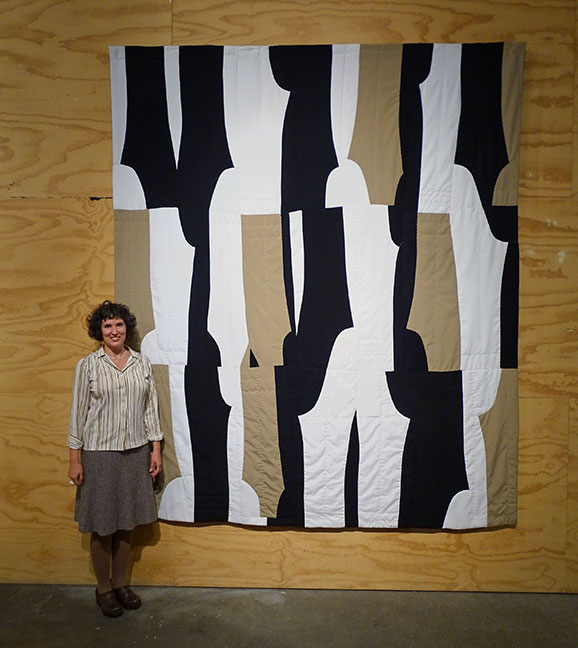 Sherri Lynn Wood and a jumbo sized quilt.


Wall-mounted unstuffed stuffed animal art by Sherri Lynn Wood.


Art in above image closer (like it).


Miguel Arzabe prepares for a live paint pour.


Paint pour in progress.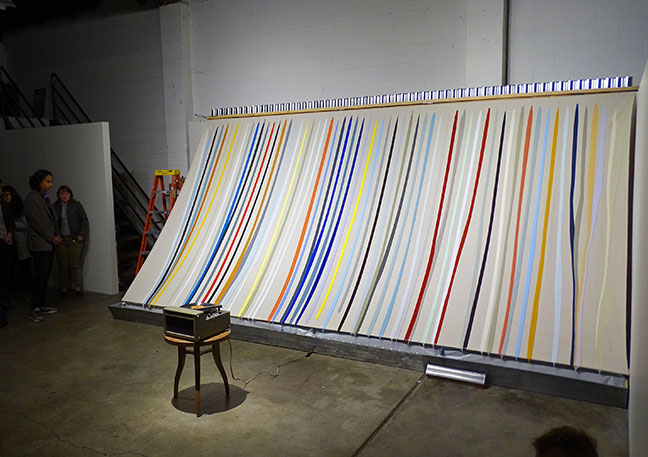 Paint reaches the bottom and drips into a trough.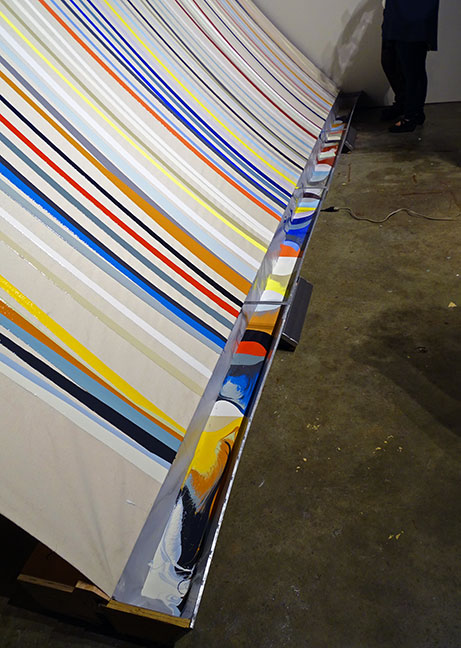 Paint pour denoument.


Woven illustrations of famous paintings by Miguel Arzabe.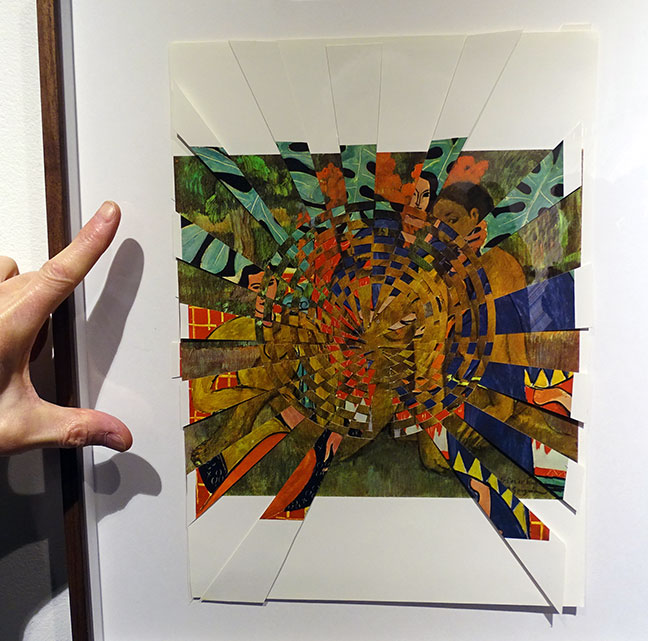 Art in above image closer.


Herniated armchair & painted cut carpet assemblage by Kathy Sirico.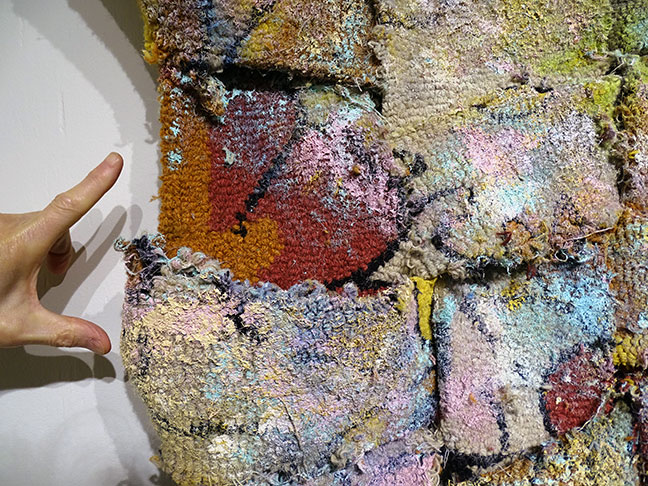 Art in above image closer.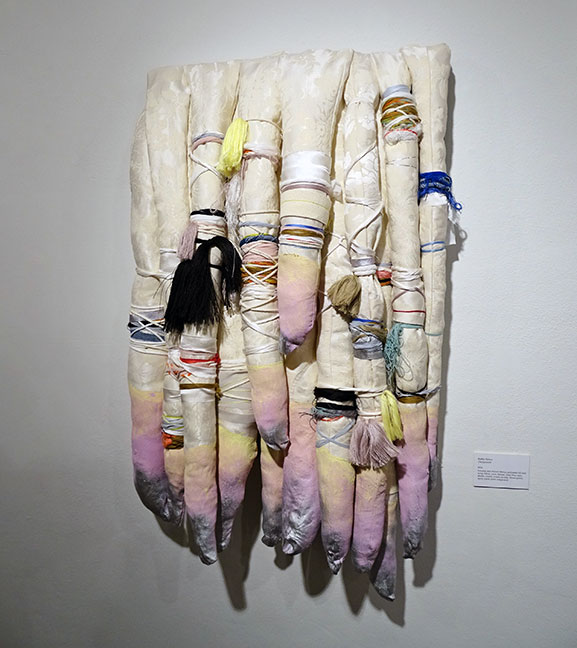 Thread, tassle & fabric art by Kathy Sirico.


***
Merchants of Reality: Jessy Gaumann - All We Have is Time.
Comment by AB: Jessy Gaumann makes art about the sea while at the same time, reminding us that we're just as responsible for sustaining the ocean life that helps sustain us.
Clamshell mandala by Jessy Gaumann at Merchants of Reality.


Seashell assemblage by Jessy Gaumann.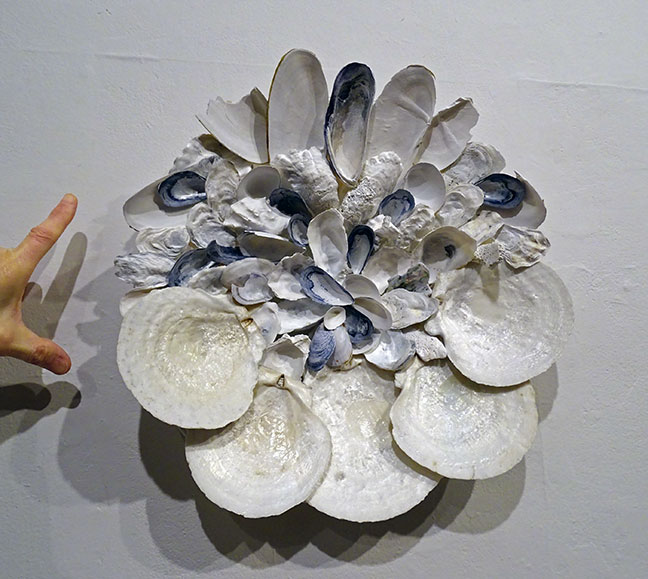 Ocean life art by Jessy Gaumann closer.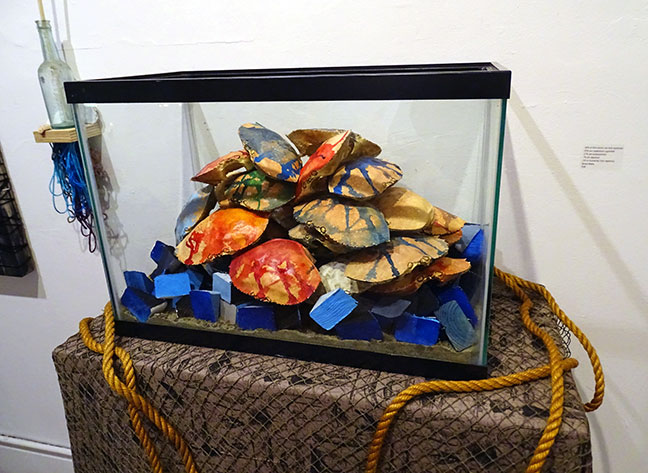 Art about exploitation and depletion of fish stocks by Jessy Gaumann.


***