SAN FRANCISCO ART GALLERIES - OPENINGS
MICHAEL MARTIN - FREY NORRIS GALLERY
CALIFORNIA INSTITUTE OF INTEGRAL STUDIES
LOUIS ARONOW GALLERY - EDO SALON
AXELLE FINE ARTS - DRUG STORE - NATIONAL PRODUCT
HAYES VALLEY MARKET - FRANKLIN BOWLES GALLERY
9.23-24.05
Michael Martin Galleries: Coming Together.
Artists: Annabel Daou, Henry Jackson, Robert Jessup, Jeffrey Lee, David Magnusson, Justin Quinn, Sally Packard, Rex Ray, Jeremy Red, Michael Roch, Steven Shores, James Sullivan, Tara Thacker.
Comment: The show's curated by Danette Dufilho of Conduit Gallery, Dallas, TX; that's all I know. There's no information on the Michael Martin website or anywhere on the net, for that matter. The art's pretty good, one of the better Michael Martin show's I've been to, and I'm sure if you call the gallery, they'll tell you why the artists are coming together, where they're coming together from, and what they're coming together for. Price range $250-$19.5K (for a cherry Rex Ray collage); most priced low thousands.
Art.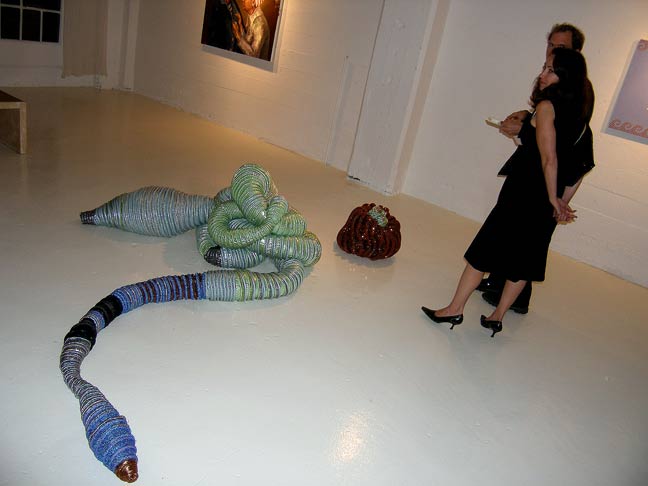 I have no idea what it is, but I like it.


Art made in part by using fire.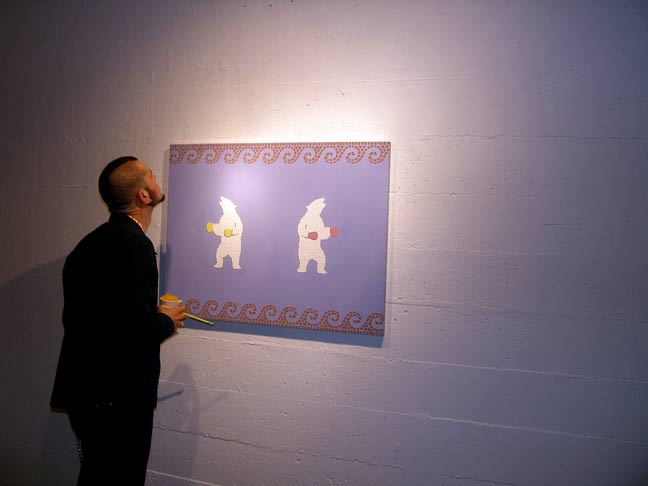 Art.


Art.


Art.


***
California Institute of Integral Studies: Inner Trees - Paintings by Luis Fernando Uribe.
Comment: Spiritual arboreal figural work by Colombia-born Luis Fernando Uribe. According to the liner notes, "Uribe has exhibited extensively throughout the world for more than 25 years. His work is preeminent in expression among today's contemporary Latin American art..." I did a quick online search and found little in the way of corroboratives. If you're gonna make statements like that, you gotta back 'em up with a big fat bulging juicy resume including names, dates, places, awards, accessions, commissions, literature, critical reviews, and facts, facts, facts.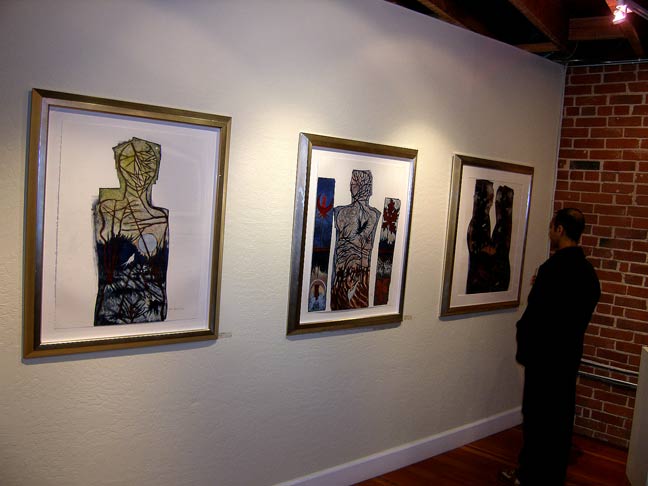 Art.


Art.


Art.


Art.


***
The Drug Store Gallery, 3149 Mission St., San Francisco, CA 94110; 415.282.0544: David Overstreet - Half Rack.
Comment: Formerly of Moscow, Idaho, San Francisco artist David Overstreet exlores gender, identity and beauty by, among other things, documenting himself in drag, and sewing, framing and hanging two huge pairs of men's briefs. The show's clearly explained, convincingly presented-- competent artful thought-provoking fun-- and with that level of cohesion, more's likely in the offing. Everything's affordable with prices starting well under $50. Even the giant undies are only $500, excellent value for the acreage (if Caldwell Banker was offering them as live/work lofts, they'd be $500K easy). Overstreet himself is bright, insightful, entertaining, and a nice person. Good show for the Drug Store.
David Overstreet - David Overstreet.


Art.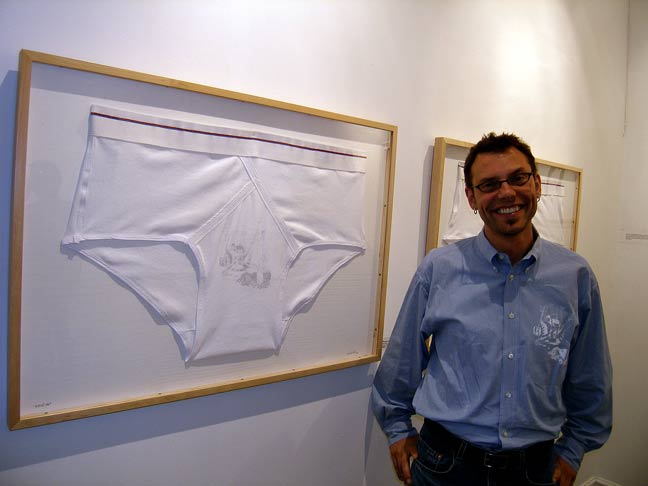 Behemoth drawer art (you should have seen the ones that got away).


Art briefs - $20.


***
National Product: Scenic Dive - New Art by Jill Bliss.
Comment: This is one of the oddest little shows I've seen in a while. The art is limited edition screenprints of undersea subject matters, unframed, free-hanging, most with stitched upper margins, composed of several overlaid sheets, some sheets with punched holes to heighten the effects. On the floor in the corner is a pile of "soft rocks." Overall, delicate soft presentation. Bliss has a respectable resume and gets her art out there in a variety of ways. She's got two websites here and here. Prices under $100.
Art.


Art.


Art.


***
Lewis Aronow Gallery: A Chance to Dream - Exhibition of Original Paintings by Daniel Merriam.
Comment: A gallery employee once told me, "No art sells itself," but after seeing these extraordinarily accomplished, technically impeccable, ultra-intricate, elaborately composed, fantastically luxurious, beyond imaginative Daniel Merriam watercolors, I'm revising that statement to "Almost no art sells itself." I can only marvel at the work, so I'm blathering to Merriam about how good his art is, and he's got this look on his face like "I hope this is over soon," when he tells me he's been criticized for being too good, like illustrator-good. The lame pathetic shit some critics come up with. "I'm sorry, Mr. Merriam, but your art's too good. We're not interested." Yeah, like that's gonna happen.
To set the record straight, Merriam does no illustration, only stand-alone works of art-- for the past twenty years. His most recent self-published book has sold 10,000 copies and is about to go into its third printing. If you wanna see what art school can't teach you, see this show. Priced $7500-$50K, most $8K-$12K, and worth it.
Art.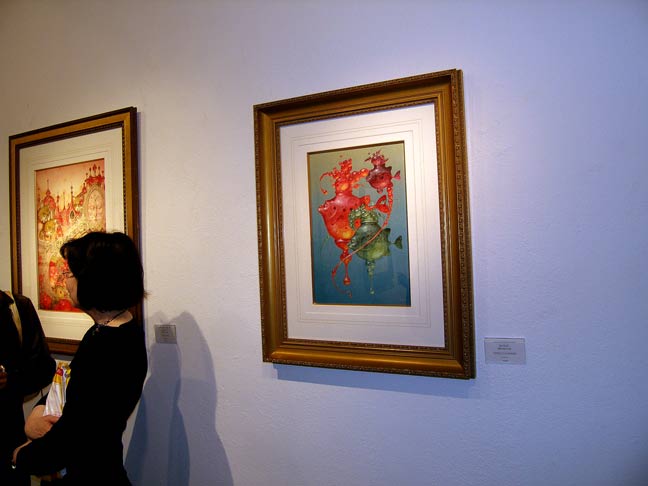 Art.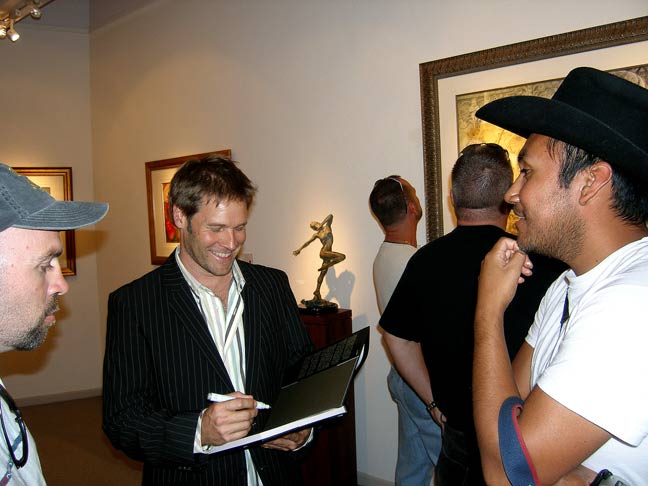 Daniel Merriam inscribes his book.


Art.


Art.


Art.


***
Axelle Fine Arts Galerie de l'Europe: Provence Enchantee - A Solo Exhibition Featuring New Works by Elisabeth Estivalet.
Comment: I love this. Axelle Fine Arts is pure Europe-- the art, the name, the atmosphere, everything-- so I'm reading the announcement, and trip over this-- "The president of Axelle Fine Arts discovered Estivalet's work in the fall of 1995 at a Las Vegas Trade Show." Here I am imagining he meets her in a fortuitous moment of happenstance while strolling the back roads of the picturesque French countryside on a perfect summer day. There goes that fantasy. As for the art-- bright sunny landscape palette paintings.
Art.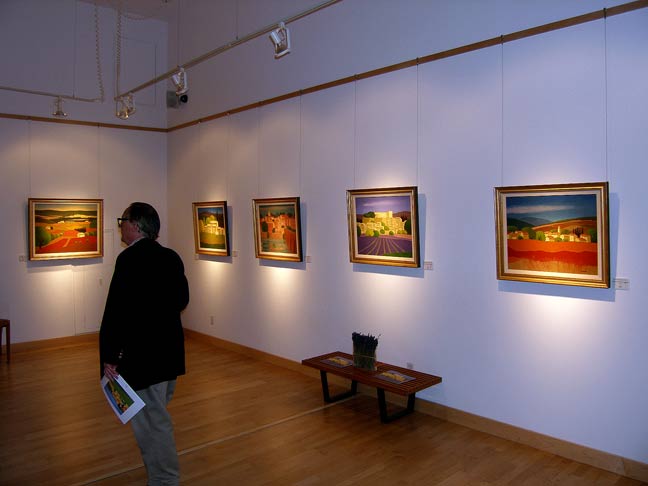 Art.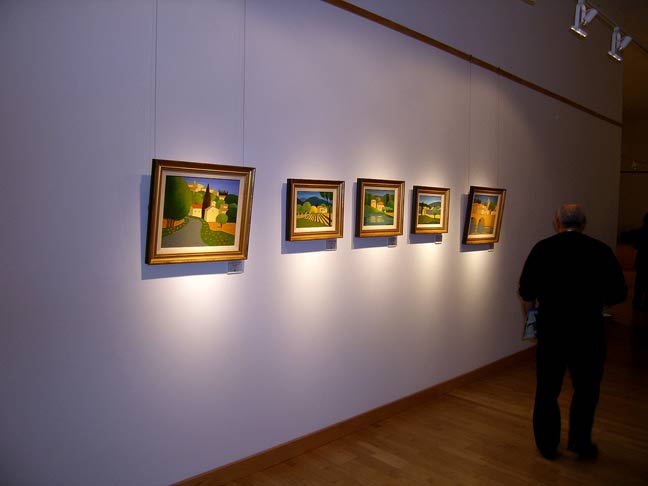 Art.


Outer.


***
Frey Norris Gallery: New Yorkers - Portraits by Harvey Dinnerstein.
Comment: Distinguished American artist Harvey Dinnerstein as been painting and exhibiting for fifty years, the pictures in this show dating from the late 1980's through the present. Yes, these portraits are extremely painterly, impactful and imposing-- most life-sized-- but the overriding message of the show is that no matter who we are or what we look like, we're all in this together. So let's be nice and cut the quibbling already.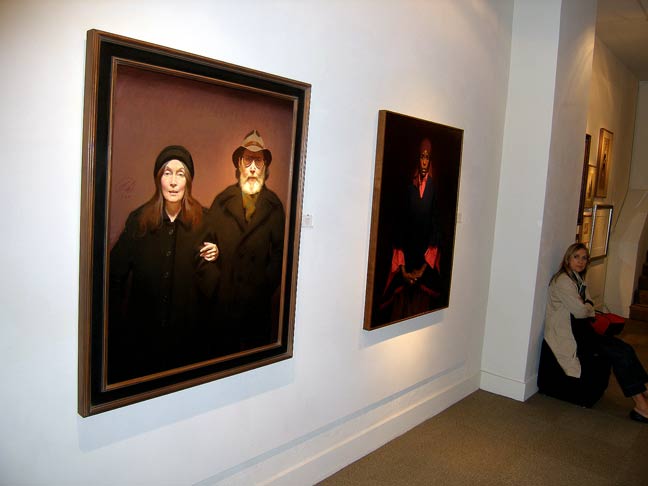 Art.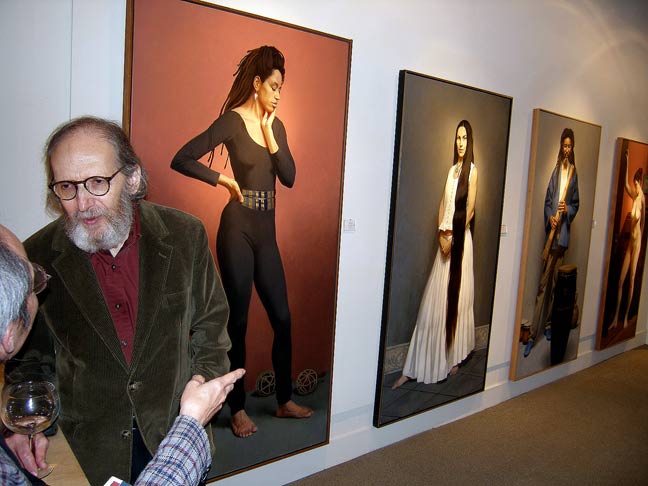 Harvey Dinnerstein - art.


Art.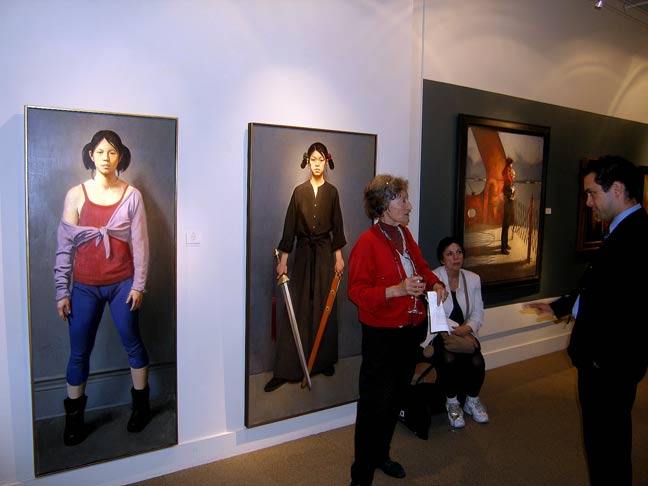 Art.


***
Franklin Bowles Gallery: Igor Medvedev - Escapes.
Comment: The explanatory quotes Igor Medvedev as saying "I don't paint what I see. I see what I paint." Does that mean he paints a painting and then sees it? "Oh look-- I just painted a painting, and there it is." Can't all painters see what they paint? I mean if you're a painter and you can't see what you paint, you're in trouble. OK. Enough already. Medvedev has lived and painted in San Francisco for fifty years, and he's still going strong. The gallery's crammed to the rafters with his dreamy Europeanesque landscape paintings, and the opening's packed. Red 'sold' stickers are everywhere. Franklin Bowles Gallery has been in business for over thirty years and they know how to move the merch.
Art.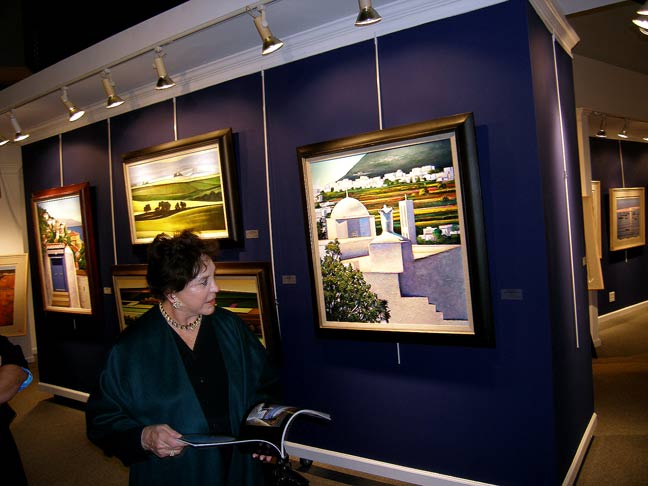 Art.


Igor Medvedev.


Art.


Tunes.


Big signs work good.


***
Hayes Valley Market, 580 Hayes St. @ Laguna: Black Market Auction - Fundraiser for the Independent School of Art.
Comment: The Independent School of Art is a "barter-based nomadic" experimental alternative to traditional art schools, operating without pesky encumbrances like buildings, degrees, or public funding. As you might surmise, they can use some bucks. So here's the deal-- a whole bunch of artists make copies of famous works of art by famous artists, and auction them off at Hayes Valley Market to benefit the Independent School of Art (ISA). Interesting concept, plenty of fun, good turnout, loads of copyright infringement, and one realization-- there's nothing like an evening of ersatz to instill instant appreciation and respect for why famous artists are famous.
The act of creating art is anything but traditional. You can never have too many innovative options for advancing the creative cause, so support the ISA, and let's see what happens.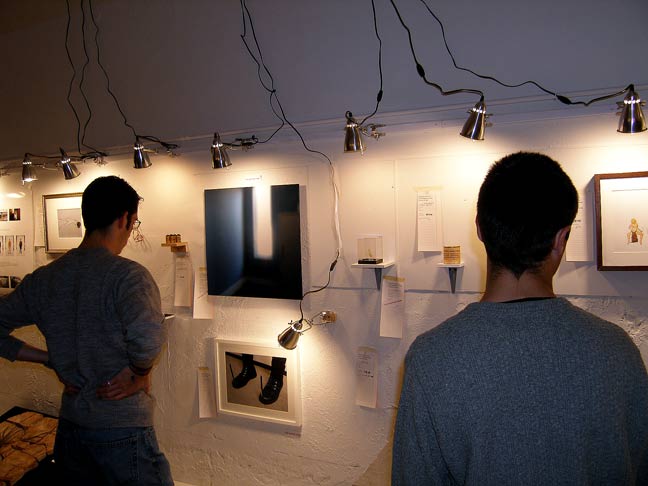 Art.


Art.


Matt Gonzalez and associate.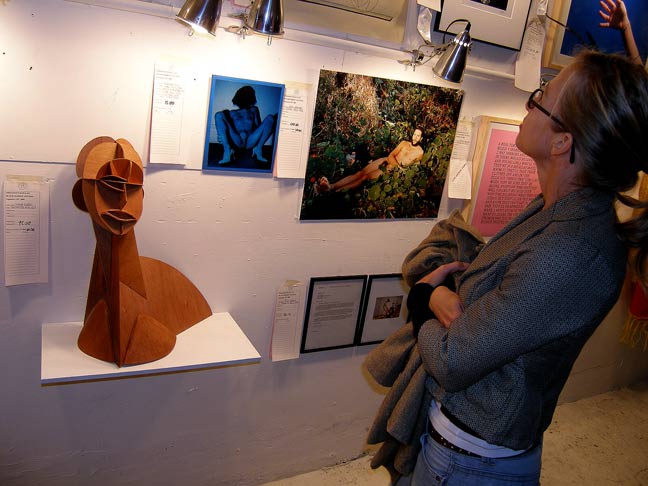 Brancwoozy.


Art.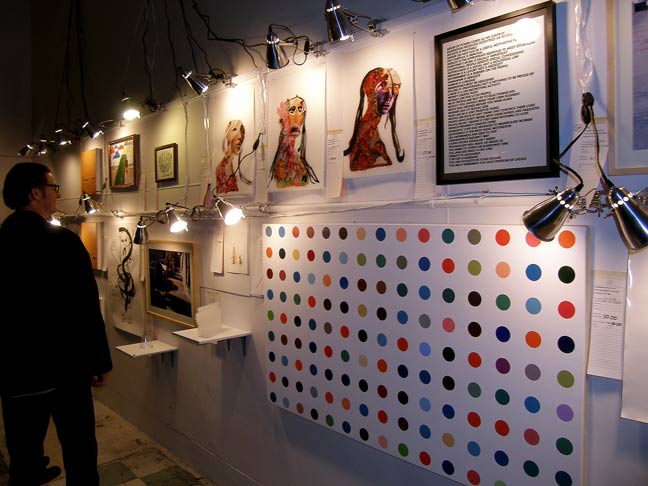 Art.


Art.


Left half.


***
A couple from the Lower Haight Art Crawl-- Hannah Stouffer at EDO Salon, 601 Haight St. @ Steiner; 415.861.0131.
Art.


Art.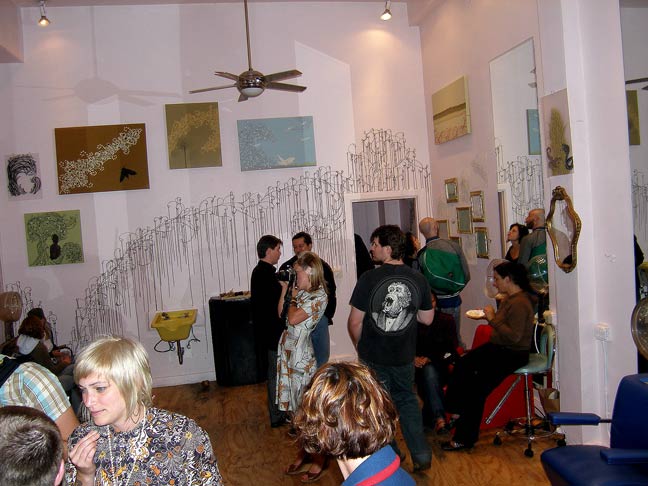 Art.