SAN FRANCISCO ART GALLERIES - OPENINGS
GEORGE KREVSKY - SCULPTURESITE - GENSLER
SOMARTS - FORT MASON HERBST PAVILION -
CHARLES CAMPBELL - LIVE WORMS
09.27.07
George Krevsky Gallery: Michael Kovner - New York Paintings.
Comment: Hopper-esque takes on New York City painted from the perspective of an outsider who's perhaps somewhat overwhelmed with the intense complicated monumentality of it all.
Art.


Art.


Art.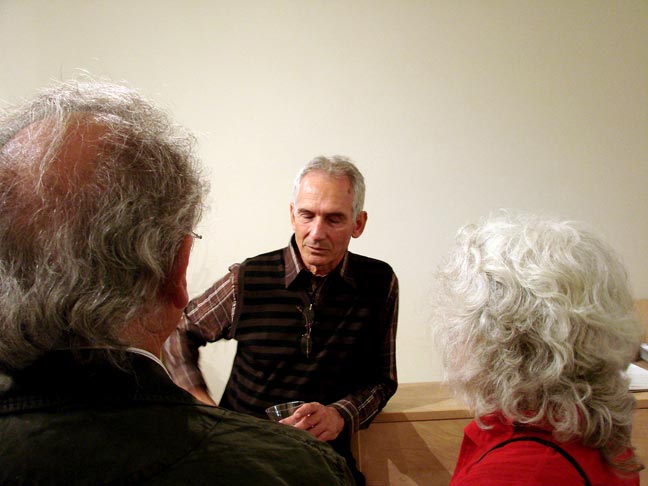 Michael Kovner.


Art.


Art.


***
Sculpturesite Gallery: Kathy Venter - One.
Comment: South African sculptor now living in Canada, Kathy Venter, presents four life-size figures and three torso studies of the same model, terracotta with gypsum cement applied to the surface.
Art.


Art.


Art.


***
Gensler San Francisco: Hadi Tabatabai - Darumi.
Comment: Limited edition book release and art show of work by Iranian artist Hadi Tabatabai, precision blends of architectural and minimalist elements in soft monotone shades in two and three dimensions. Of note are several "thread paintings," compositions incorporating what look like fine ink-line grids, but are actually perfectly positioned parallel and perpendicular lengths of thread.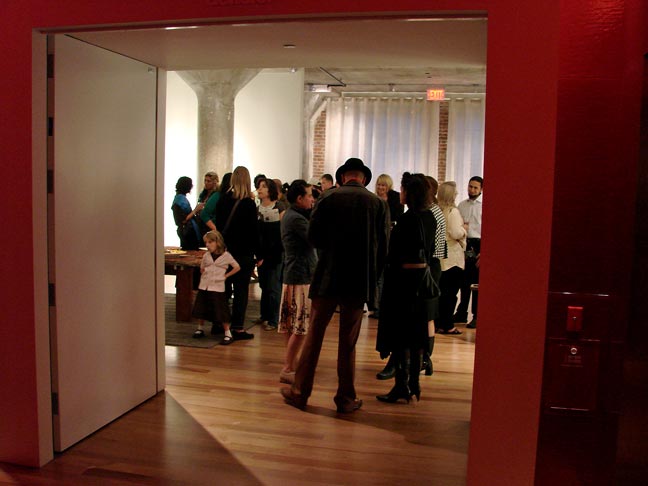 Here we are.


Art.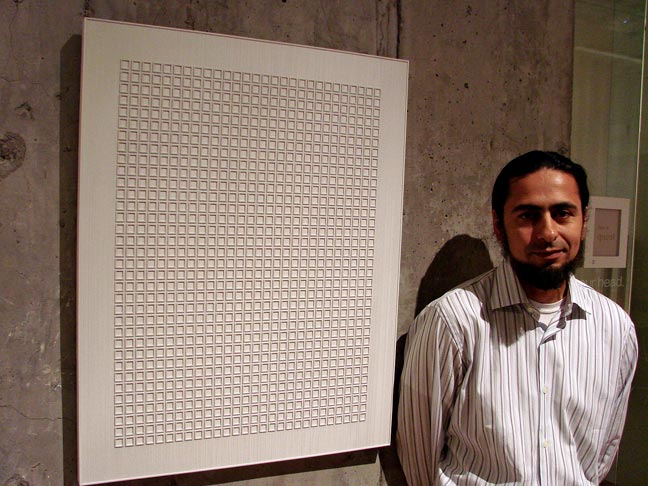 Hadi Tabatabai - art.


Limited edition book.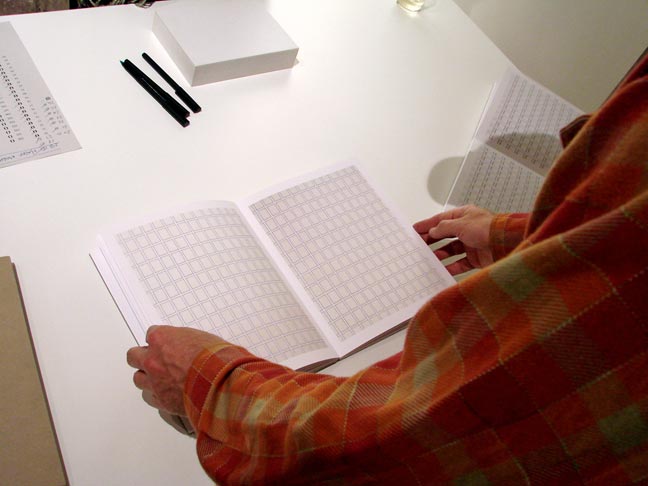 Interior of limited edition book.


Art.


Art.


***
SomArts Gallery: Uhuru Benefit Art Auction.
Artists: Numerous.
Comment: Art auction "fundraiser for the Uhuru (freedom) Movement, uniting African people worldwide to regain control of Africa and Africa's resources for the benefit of African people everywhere." To learn more, contact African People's Education and Defense Fund or the Uhuru African Liberation Solidarity Campaign.
The basic idea.


Art.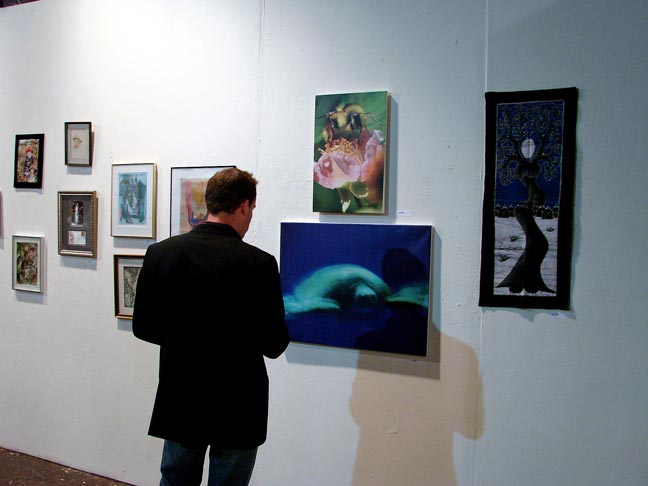 Art.


Art.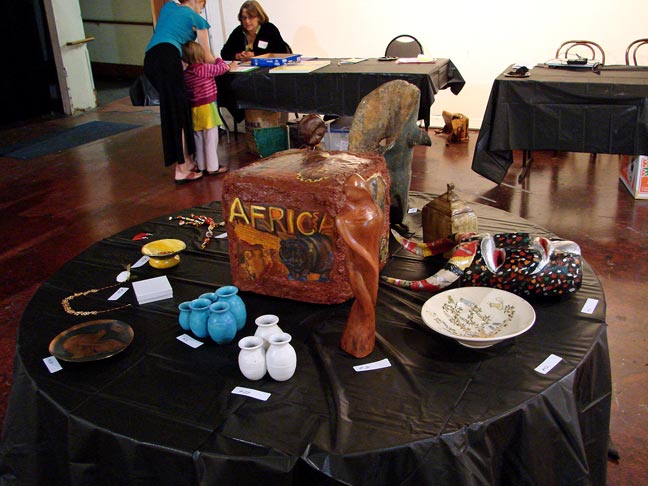 Art.


***
Herbst Pavilion, Fort Mason: Debut of Art International San Francisco.
Comment: A respectable cull from among America's finest dealers and galleries, many of those exhibiting here specialzing in antique and period art, however a healthy dose of contemporary works are also on display. For collectors, this is an uncommon opportunity to see so many quality works of art in one place, particularly of the vintage variety, dating from the 1700's through today, representing a variety of styles including Impressionist, Modernist, Romantic, Regionalist, Baroque, Neoclassicist, Postwar, and more. For artists, not only are shows like this educational from technical and historic standpoints, but perhaps more importantly, you get to see how dealers present art by artists who are no longer with us-- and perhaps incorporate some of those presentation points into your master plan (while you're still around to enjoy it).
Art.


Art.


Art.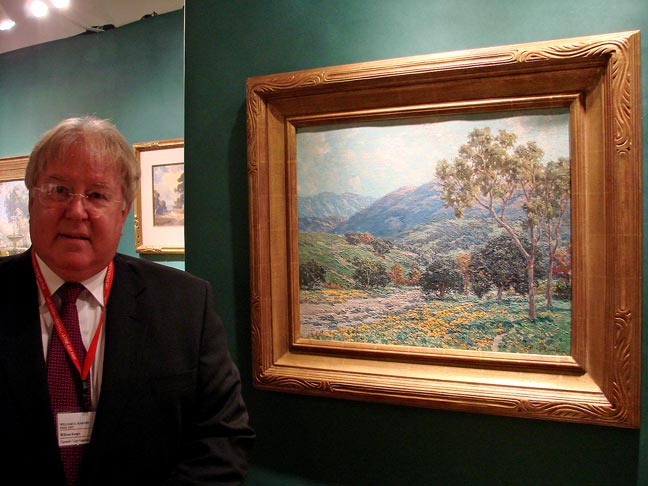 William Karges of William A. Karges Fine art, Carmel and Beverly Hills.
(Art - Granville Redmond - $650,000.)


Art.


Art.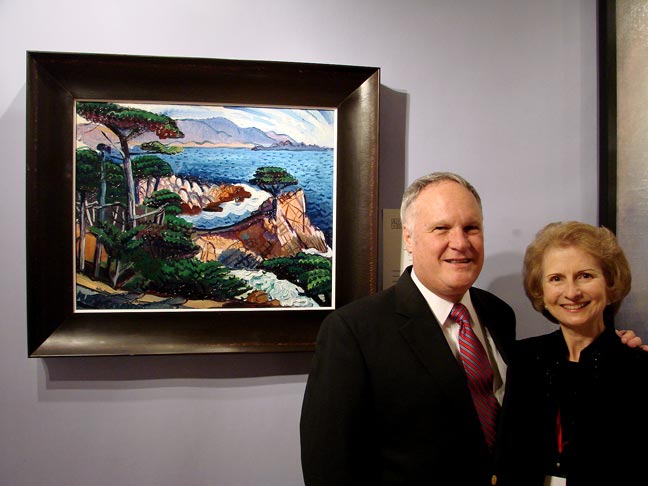 Mr. & Mrs. Jerome Adamson of Adamson-Duvannes Galleries, LA.
(Art - Warren Newcombe - around $30,000.)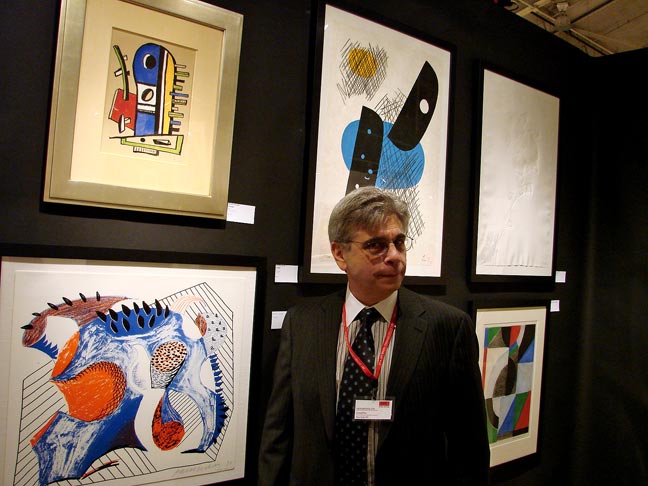 Leonard Fox of Leonard Fox Ltd., New York.


Art.


Art.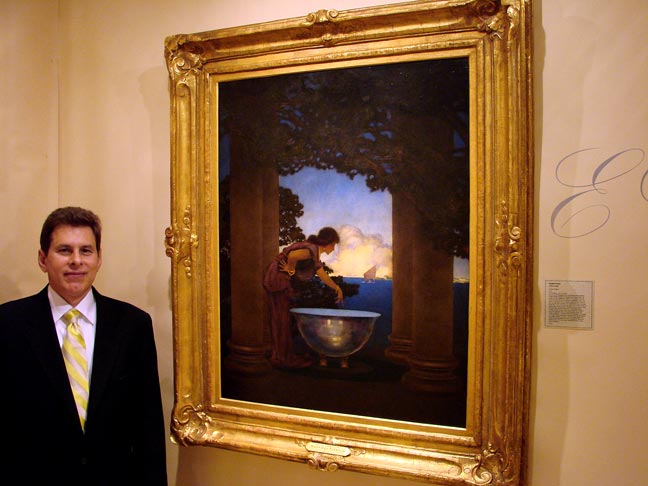 Thom Gianetto of Edenhurst Gallery, Palm Desert.
(Art - Maxfield Parrish - $5,500,000.)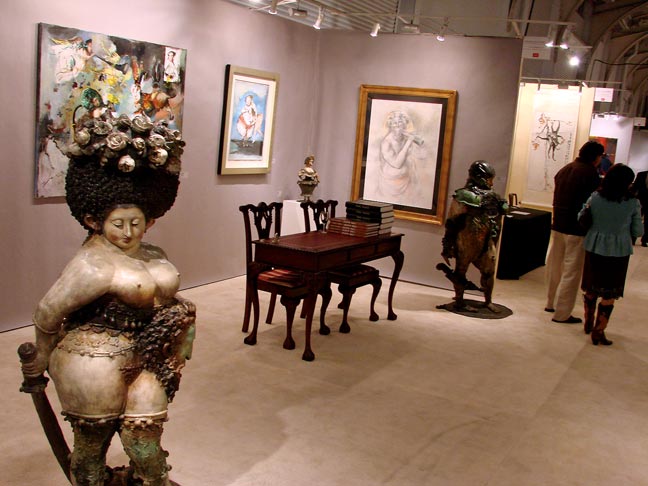 Art.


Art.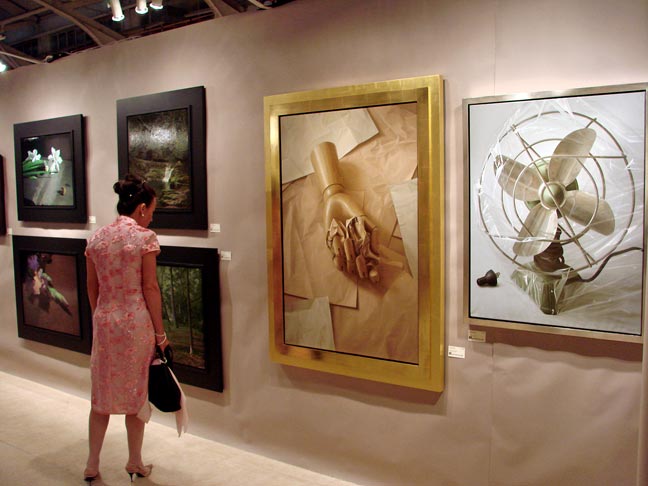 Art.


Handmade frames at Shawn Speck Picture Frames, Beverly Hills.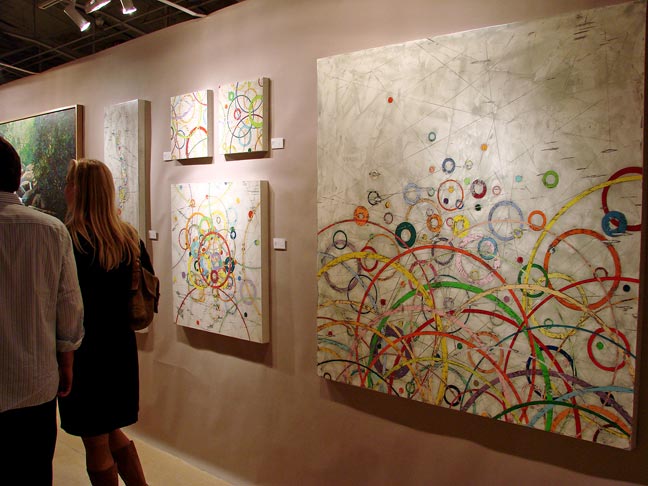 Art.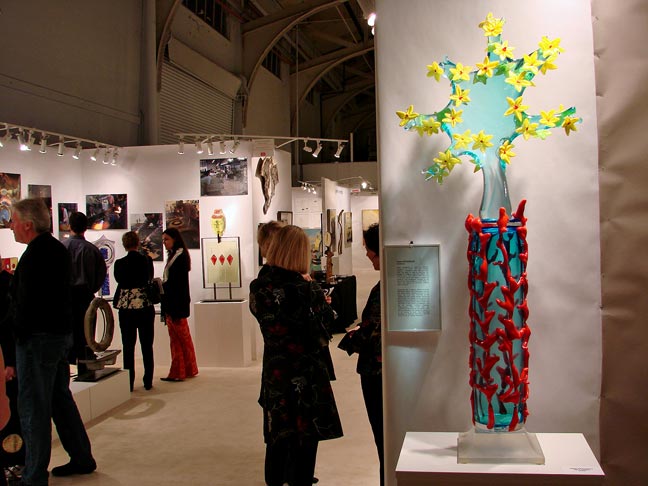 Art.


Art.


***
Charles Campbell Gallery: Frank Ryan - New Paintings.
Comment: Run into Steven Lopez and Eric Koehler of Charles Campbell Gallery at Art International. There's miscellaneous banter and so on and so forth, when it occurs to us that I'm on my way to a show at Live Worms and Charles Campbell Gallery is like right there, so we mosey on over to said gallery for a look at the current Frank Ryan show. 30-year old Ryan hails from Davis and paints in a traditional style, but sneaks dribs and drabs of cold hard reality into his works, giving his compositions sort of an updated Ashcan School look. Good stuff all the way around, but he's especially tight in smaller format.
Here we are (Eric Koehler, left).


Steven Lopez explains art.


Art.


Steven Lopez explains more art.


***
Live Worms Gallery, 1345 Grant Ave., San Francisco, CA 94133: Striking Twelve - Twelve Notorious Artists.
Artists: John Dowling, Roger Strobel, Rebecca Peters, Fanny Renoir, M. Carrington Arredondo, Riki Chen, Rosemary Manno, Ronald F. Sauer, Richard Whalen, Eugenio de Arnal, Tony Vaughan, Joie Cook
Comment: No pretense here. Artists who love making art and who love to see other people own it. How can I tell? How do they do it? They price it so other people can afford it. And when other people can afford it, they buy... and buy... and buy.
Curious artist circumstance #1832: Everybody likes art; everybody wants to own art. That's right-- everybody. But a lot of those everybody's, whatever their reasons, don't own any. Now think about the countless unsold works of art sitting around gathering dust in artist studios everywhere. The solution to this quandary is entirely up to you artists. It's that simple and no more complicated.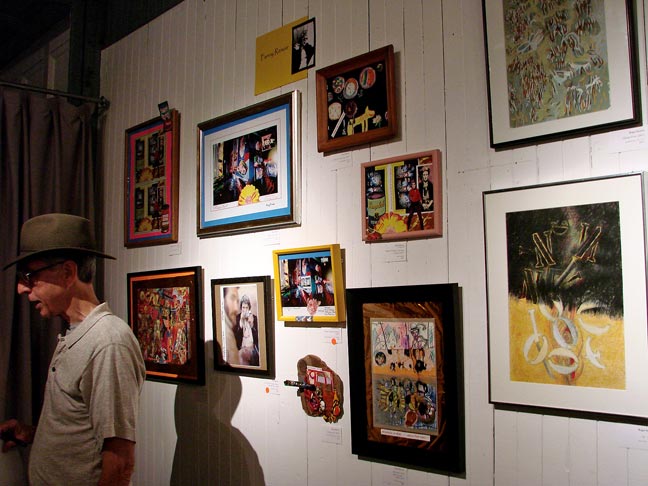 Art.


Art.


Art.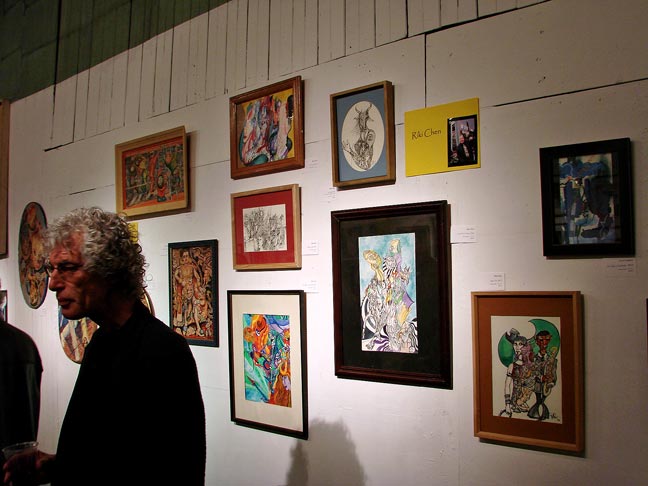 Art.


Art.


Art.


Art.


On the Ave.


***