SAN FRANCISCO ART GALLERIES - OPENINGS
GARAGE BIENNALE - ELEANOR HARWOOD
ELDERGIVERS - BROWN BEAR - MAVERIX STUDIOS
BACK TO THE PICTURE - THE CRUCIBLE
09.29.07
Eldergivers at Herbst International Exhibition Hall, The Presidio of San Francisco: 16th Annual Art With Elders Exhibit.
Comment: Art With Elders places professional artists in nursing homes and other long-term care facilities to teach residents how to paint in two-hour classes each week, fifty weeks per year. This exhibit is the upshot of that. The show will subsequently travel to the San Francisco Bulding, and then on to Genentech Headquarters.
Art.


Art.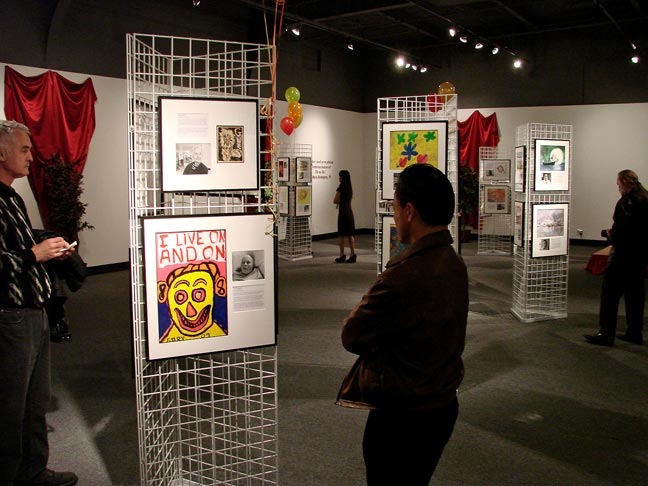 Art.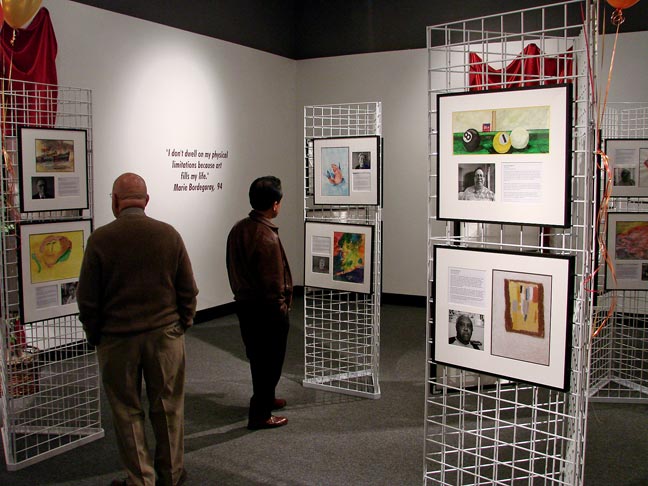 Art.


Art.


Turnout.


***
Brown Bear, 289 Divisadero St., San Francisco, CA 94117; 415.626.5779: Furry Little Devils.
Artists: Chandu Reading, Ewsoe, Regis, Eric Kneeland:
Comment: The verdict here? Silkscreens by Eric Kneeland. In other news, pretty much everything by everybody is more than affordable. Most under $200. Place your wagers.
Art (Eric Kneeland - kinda like 'em).


Art (Eric Kneeland - sorta like 'em).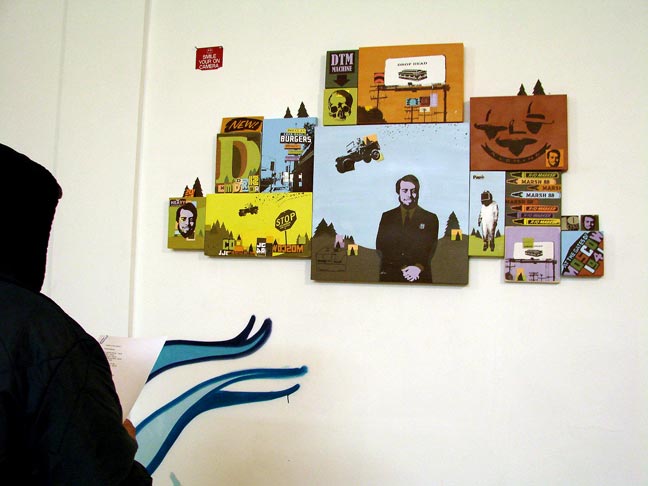 Art.


Art.


Art.


***
Maverix Studios: Art Auction Benefiting the Alzheimer's Association.
Comment: Animation production company Maverix Studios generously lends it's considerable lineup of artistic talent to fundraising once again, this time in support of the Alzheimer's Association. Thank you Maverix.
Art.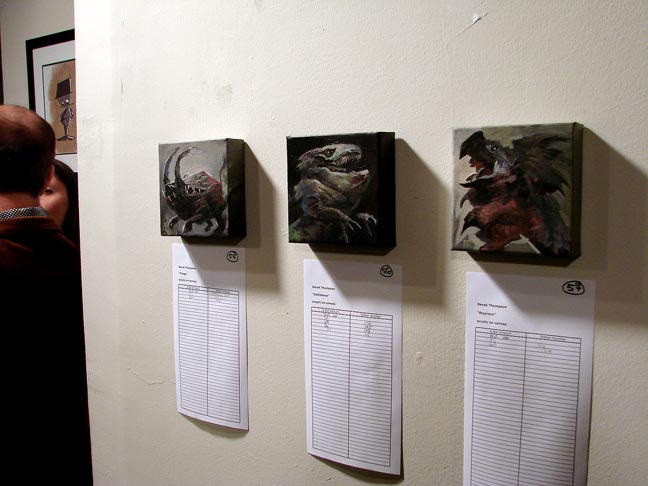 Art.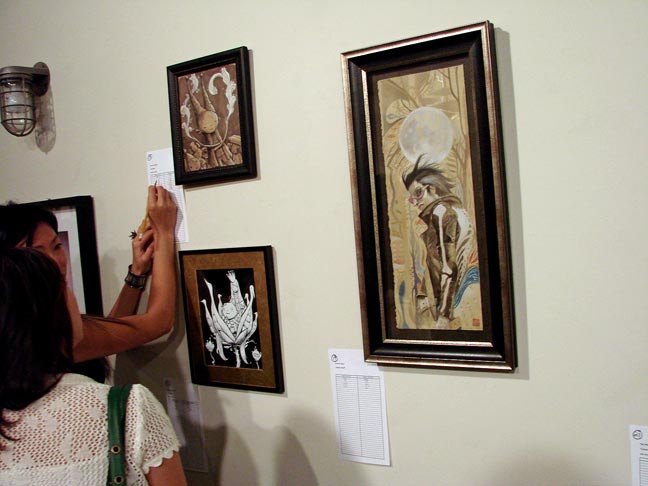 Bidding on art.


Art.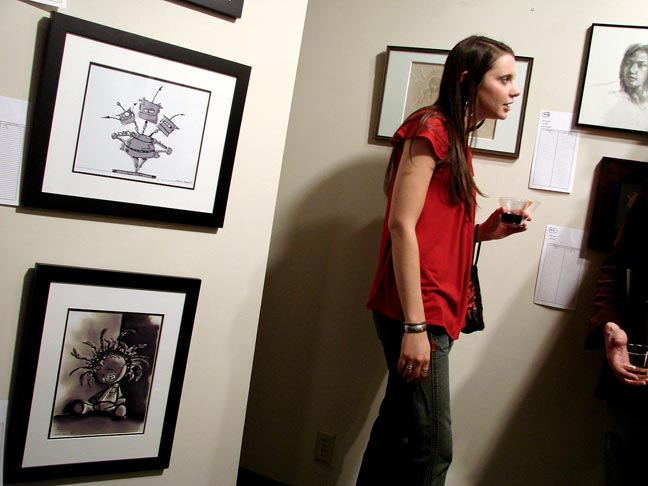 Art.


***
Back to the Picture, 1110 Howard St.: Hirsute.
Artists: Dan Arcos, Ivan Mancera.
Comment: Art show in conjuction with the Folsom Street Fair. Need I say more? OK. I will. Paintings, drawings, assemblage, silkscreens, fashion. And that, as they say, is that.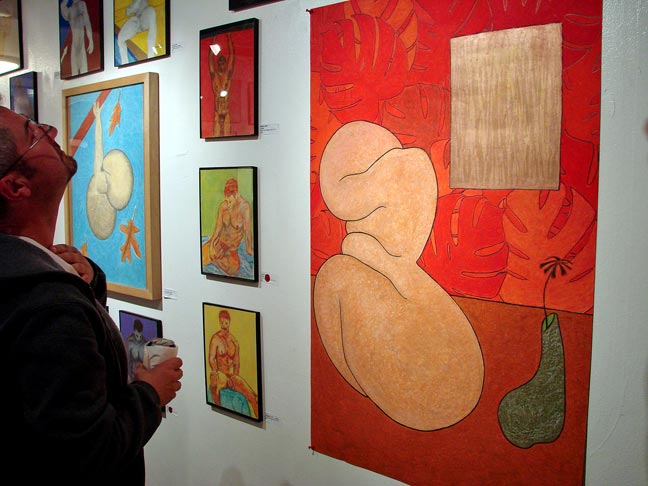 Art.


Art.


Fashion.


Art.


Art.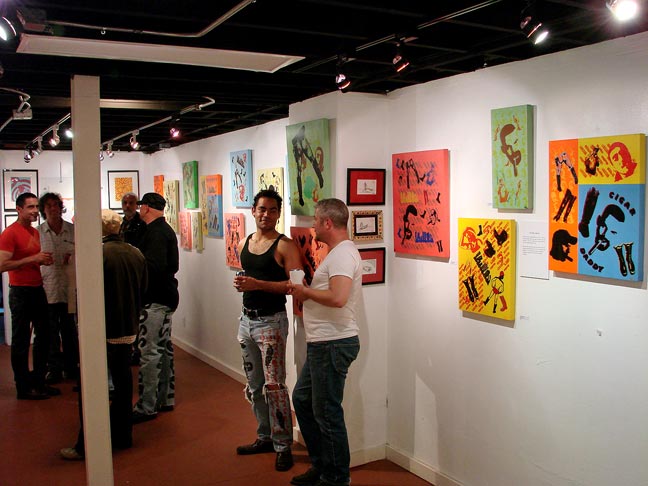 Ambience.


***
Eleanor Harwood Gallery: Albedo.
Artists: Lindsey White, Brion Nuda Rosch, Paul Wackers, Paul Urich, Susan Chen, Jennifer Mattson, Cameron Soren, Tracy Timmins, Charlie Callahan, Elise Irving, Alena Rudolph, Sean McFarland, Rebecca Miller, Liz Walsh, Dan Tierney, Kyle Knobel, Suzanne Husky, Hilary Pecis, Nicholas Mohanna, Tony Cox, Leslie Shows, Veronica De Jesus, Renee Gertler, Mat O'Brien, Stefano Calligaro, Chris Lux, more.
Comment: According to the opening arguments, the word "albedo" is defined as "the fraction of light reflected from a body or surface." From there they progress to specifics, like for example, ice and snow reflect more light than land or water reflect, so as ice and snow melt, less light gets reflected and more gets absorbed. See where they're going with this? It's art about global warming. Better pay attention.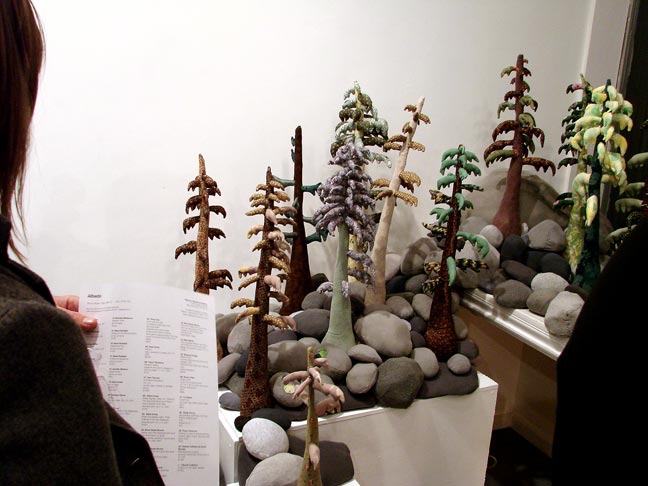 Stuffed sewn fabric landscape art (like it).


Art.


Art.


Art.


Art.


This one's certainly curious.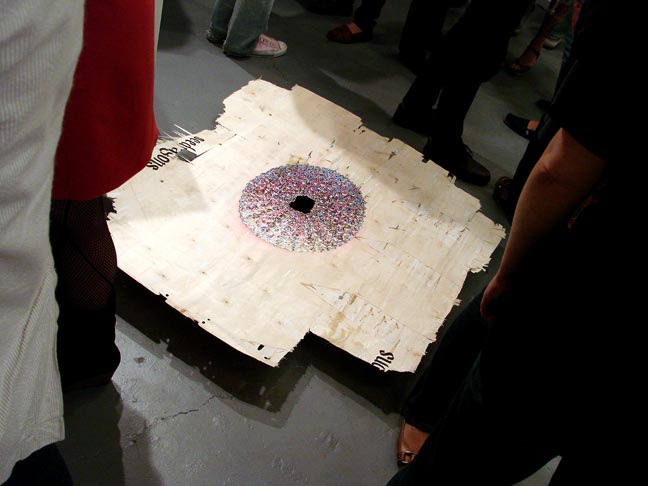 Art.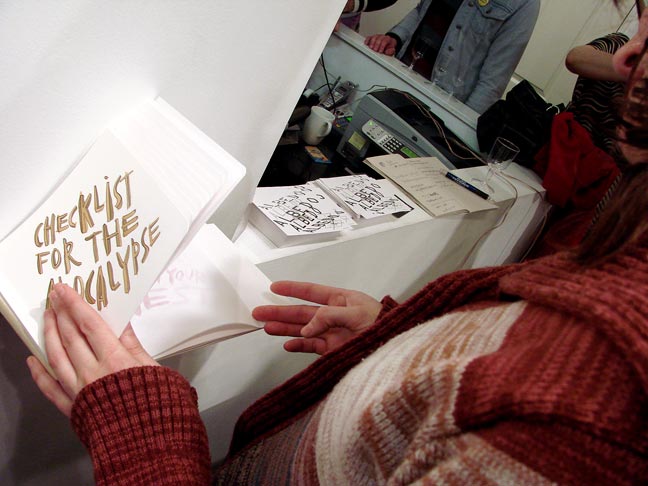 Ominous art.


Outside looking in (the story of my life).


***
Garage Biennale: Chain Reaction.
Artists: Goody B. Wiseman, Kathrine Worel, Scott Kildall, Freddy Chandra, Krishna Khalsa.
Comment: The title "Chain Reaction" refers to social networking, not the art. One artist is chosen to show; that artist in turn chooses the next artist, who then chooses the next artist, and so on and so forth until all the available slots have been filled. And then the artists make whatever art the want to make, and there's the relationship aspect, and the connectivity aspect, and discourse gets instigated, and in the end, everybody lives happily ever after. The moral of the story? This one's more about who you know than it is about who you are or what you make. Not an uninteresting concept.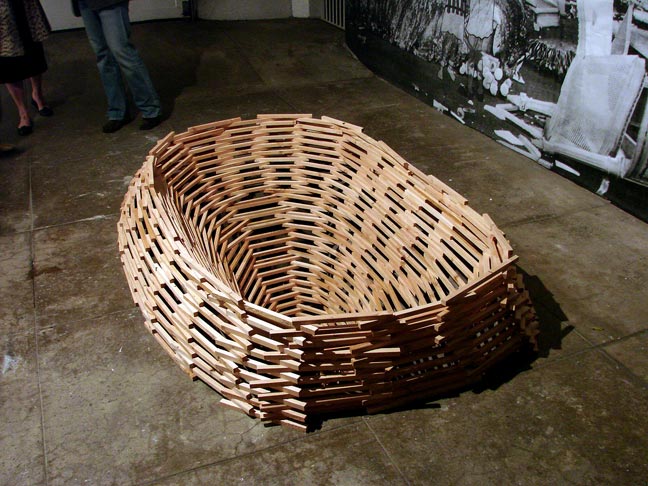 Art.


Art.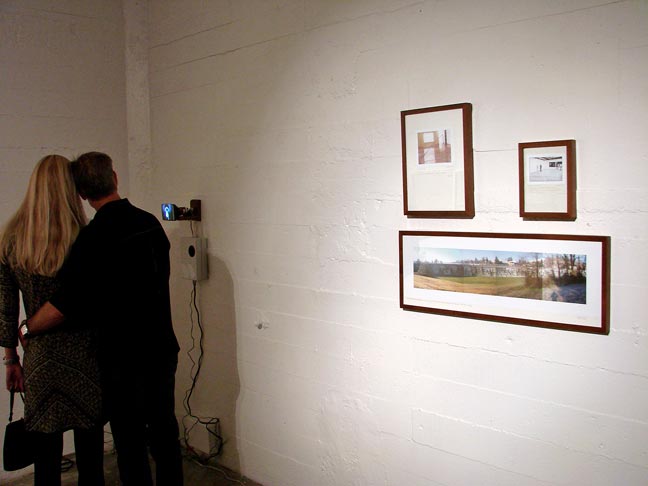 Art.


Art.


***
The Crucible: Private Party Along the Last Block of Broadway.
Comment: Sauntering back to the vee-hicle after the Garage Biennale, I notice a warm orange glow emanating from the general vicinity of the western horizon, which proceeds to get my goat, and which I subsequently commence to hound down. To my surprise, I discover that the typically austere last block of Broadway is cordoned off, and beyond said cordon, there's all kinds of revelry and shenanigans ensuing against a backdrop of smoke and flames rising up into the night sky-- like maybe it's a pagan sacrifice or something. I belly up to what appears to be the registration counter, ask what the deal is, and am informed that one of the block's residents has taken a serious fancy to those masters of flammability at The Crucible in Oakland, and requisitioned them to demonstrate their conflagrational moxie to the neighbors. Now that's one prodigious passle of potential patronage. Congratulations on the coup, Crucible! Sorry artsters-- can't show you anything more than the entrance 'cuz it's a private event.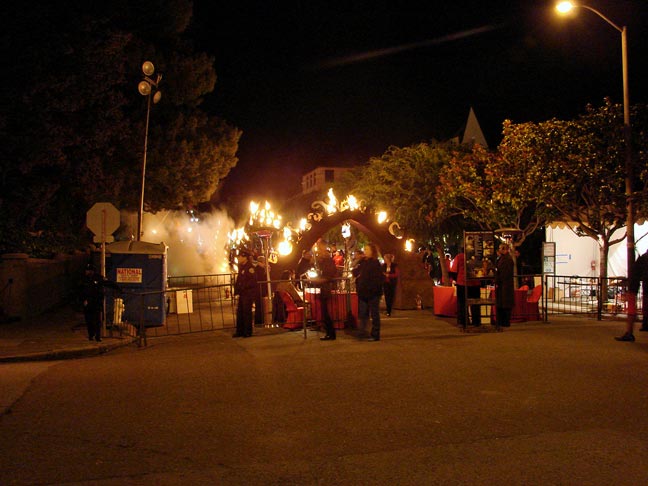 Fire show.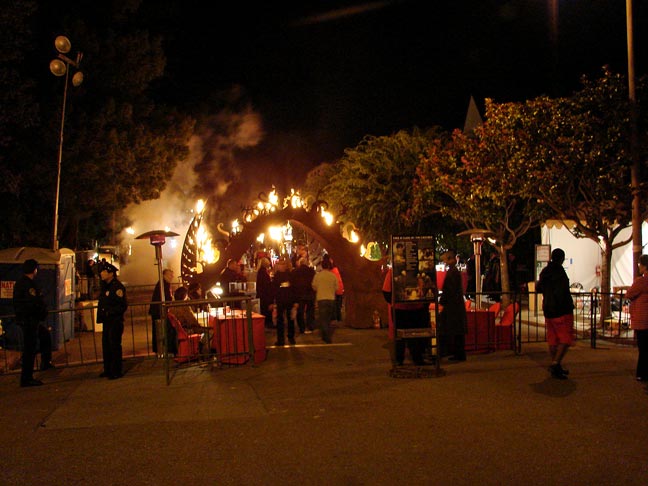 Fire show closer.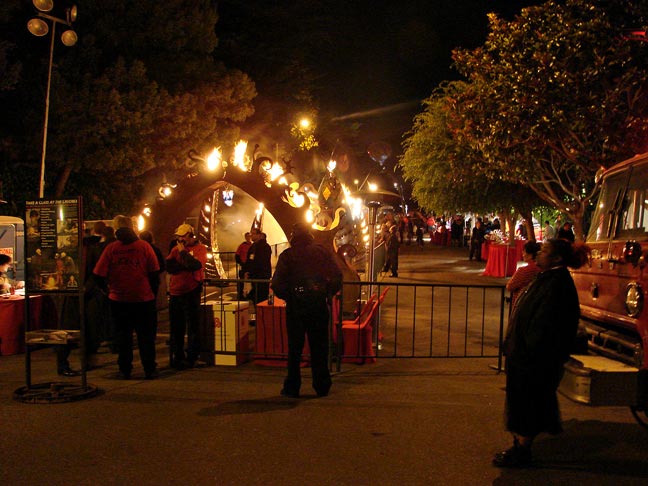 Fire show closer.


***