SAN FRANCISCO ART GALLERIES - OPENINGS
CONSULATE-GENERAL OF JAPAN - VARNISH FINE ART
SAN FRANCISCO ART INSTITUTE - SPACE GALLERY
CALIFORNIA INSTITUTE OF INTEGRAL STUDIES - RX GALLERY
THOREAU CENTER - GARAGE BIENNALE
09.28-30.06
Consulate-General of Japan: Michi Fujita - Four Seasons.
Comment: Osaka-born artist Michi Fujita, now living in Hillsborough, shows an appealing impassioned series oil paintings depicting various seasons of the year. Not sure whether the locations are real or concoctionary, however they certainly reflect Eastern sensibilities.
Art.


Michi Fujita - art.


Art.


Art.


***
Varnish Fine Art: Wayne Martin Belger - A Collection of Souls from the Borderland.
Comment: Wayne Martin Belger tells me he first decides what he's going to photograph, and then builds a pinhole camera to photograph it onto 4x5 photographic plates. The resulting images are excellent enough, but they're only the beginning. Belger's direction and sense of purpose are remarkable in that every aspect of his art is premeditated in intricate immaculate detail. Each camera looks the way it does for a reason; each piece of each camera is chosen for a reason. As if that's not enough, they're astoundingly well-machined, and complete stand-alone works of art in and of themselves (which Belger encourages you to touch and which are also for sale).
For example, his HIV Camera contains actual HIV positive blood; his Sons of Abraham (911) camera is crafted using steel that was once part of the World Trade Center; the Heart camera preserves the actual heart of an infant who died after being born prematurely, and so on. The HIV camera is used exclusively to photograph people who suffer from HIV or AIDS; the 911 camera is used exclusively to photograph Mosques, Churches, and Synagogues along with a Priest, Imam, or Rabbi holding a Quran, Torah, or Bible; the Heart Camera is used exclusively to photograph women in their 8th month of pregnancy.
One of the more remarkable shows I've had the pleasure of seeing-- ever. Don't miss it.
Wayne Belger - Heart Camera - Heart Camera photograph.


Deer Camera - Deer Camera photographs.


Wayne Belger - Yama Camera - Justin Giarla from Shooting Gallery.


***
RX Gallery: The Big Book of Possibilities Book Exhibition Party.
Comment: The premise-- "If you could give one thing to every person in the world, what would it be?" The conclusion-- this show.
Art.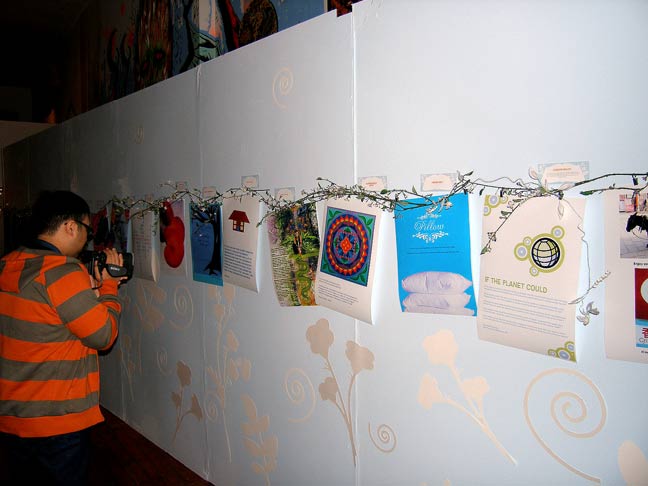 Art.


Art.


***
San Francisco Art Institute: The First Decade: 1946­1956, Alumni Photography from SFAI .
Photographers: Ruth Marion Baruch, John Bertolino, Zoe Lowenthal Brown, Ben Chinn, Eliot Finkels, Oliver Gagliani, Stephen Goldstine, Muriel Green, Bill Heick, Bob Hollingsworth, Leo Holub, Helen Howell, Philip Hyde, David Johnson, Pirkle Jones, Ira Latour, Cameron Macauley, Rose Mandel, Pat Harris Noyes, Ron Partridge, Gene Peterson, Nata Piaskowski, Bill Quandt, Gerald Ratto, Al Richter, Donald Ross, Walter Stoy, John Upton, George Wallace, Arnold Wheelock, Don Whyte, Harold Zegart, Stan Zrnich.
Comment: According to the ballyhoo, SFAI (formerly the California School of Fine Arts) is the proud progenitor of the first fine-art photography department in the United States, founded shortly after World War II by none other than Ansel Adams (with Minor White serving as Director, and staffed by such notables as Dorothea Lange, Lisette Model, Imogen Cunningham, and Edward Weston). This impressive retrospective includes works by students who participated in the first ten years of that program-- a number of whom are present at the opening tonight. In conjunction with the show, Chronicle Books has published The Moment of Seeing, Minor White at the California School of Fine Arts (by Stephanie Comer and Deborah Klochko with an essay by Jeff Gunderson; 9-3/4 x 10 in; 208 pp; 200 b/w photographs; Hardcover).
Photographs.


Photography.


Photos.


Photographers Bill Heick and Harold Zegart.


Photographer Ben Chinn inscribes Minor White book.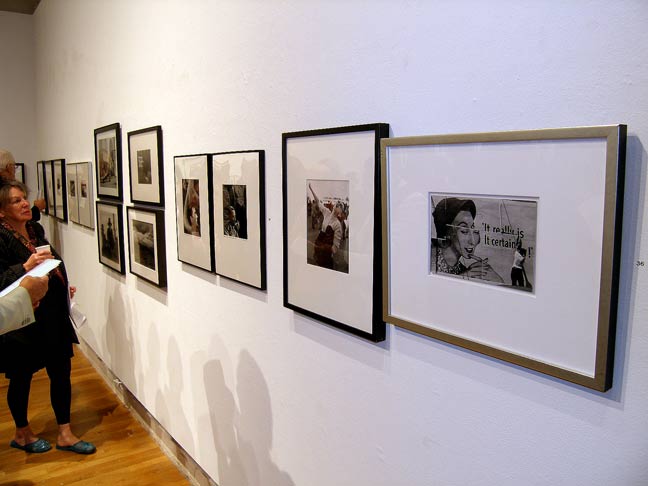 Photos.


Images.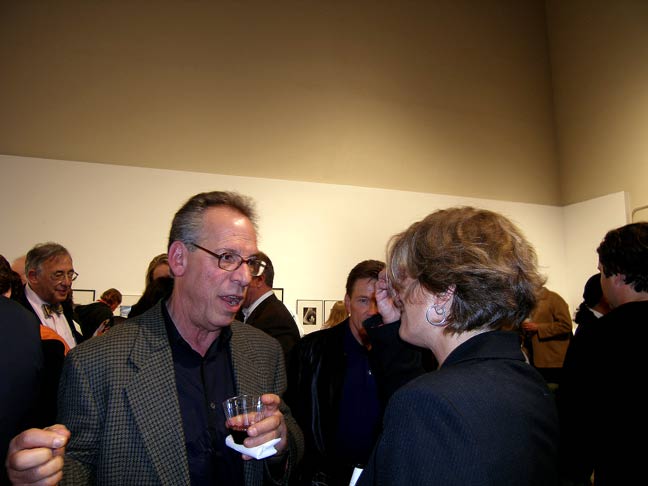 Dealer/collector/historian Paul Hertzmann
lent a number of photos to the show.


Memorabilia.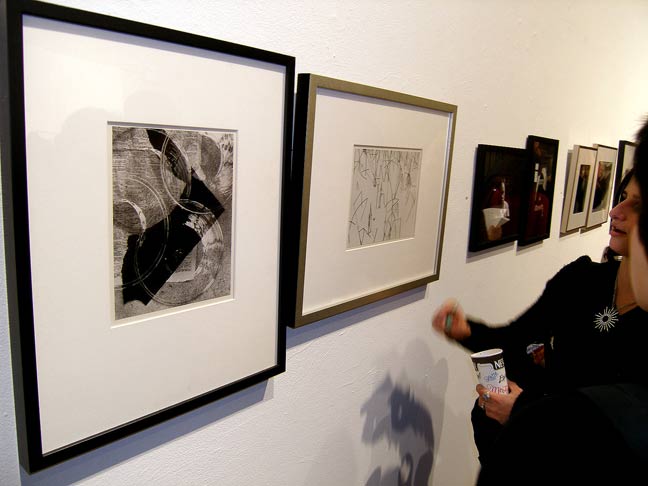 Photographs.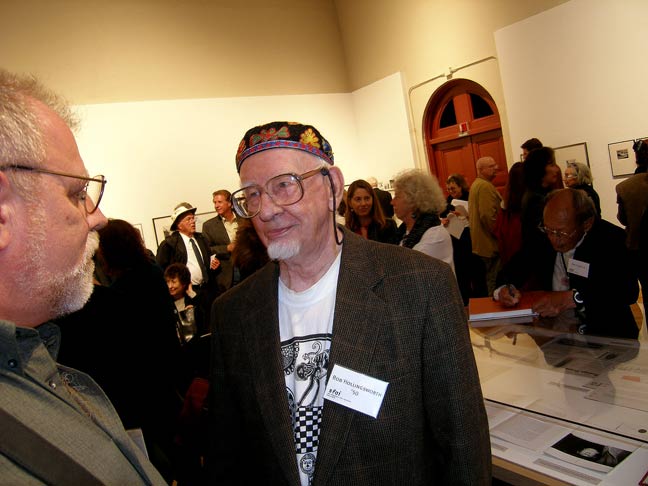 Photographer Bob Hollingsworth.


Photos.


Attendance figures.


***
California Institute of Integral Studies: Words, From Spoken to Seen - Recent Paintings by Wosene Worke Kosrof.
Comment: Suprisingly, the California Institute of Intergal Studies (CIIS) puts on some of the better art shows I see-- particularly this one and the last one (paintings from the Lucid Art Foundation, originally collected or painted by Gordon Onslow Ford). This time around, Ethiopia-born artist Wosene Kosrof (now living in Berkeley) shows abstract paintings that seamlessly integrate alphabetic characters into the compositions, especially characters of his native Amharic language, one of the oldest in the world. The best pieces are challenging, complex, and riotously kaleidoscopic, but they're all good. The only caveat? Tariffs trend a touch top-heavy.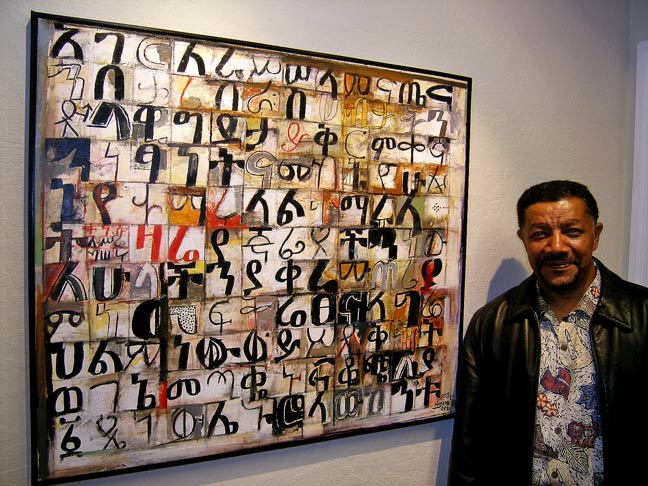 Wosene Worke Kosrof - art.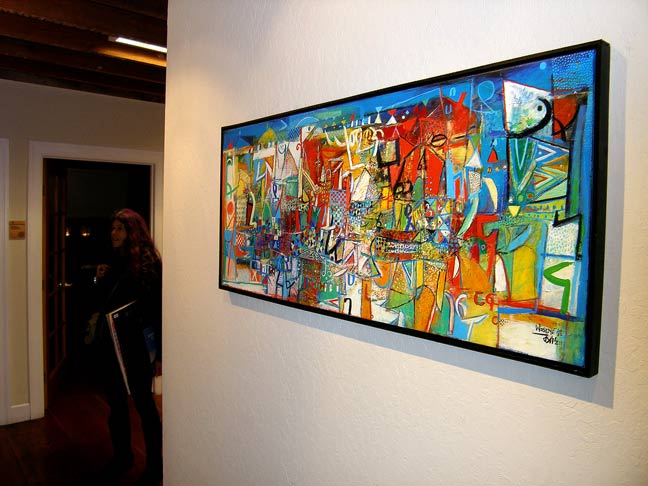 Art.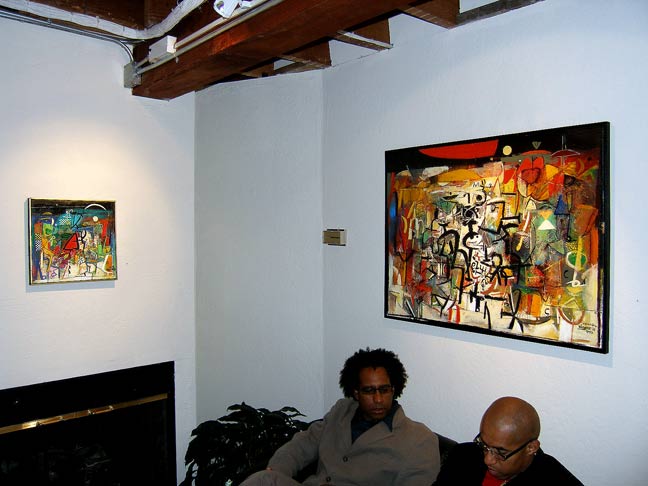 Art.


Art.


Art.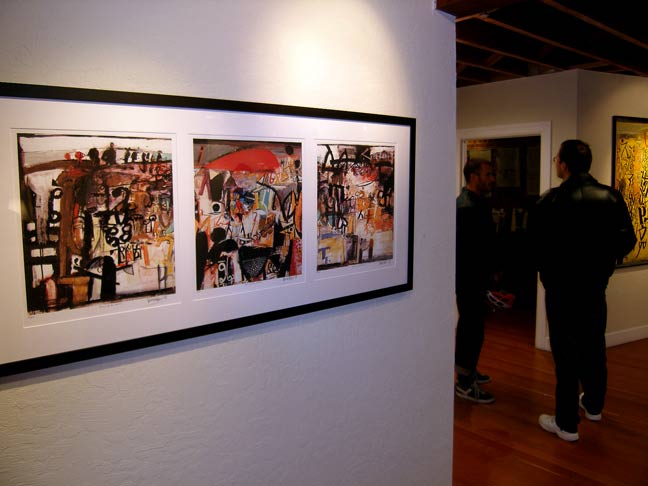 Art.


***
Space Gallery: Windy Brown - Between the Lines.
Comment: Windy Brown throws up a variety-pak, mainly paintings, featuring blacklight-sensitive highrise-scapes, atmospheric renditions of old building facades in varying states of retrogression, portraits, and more.
Art.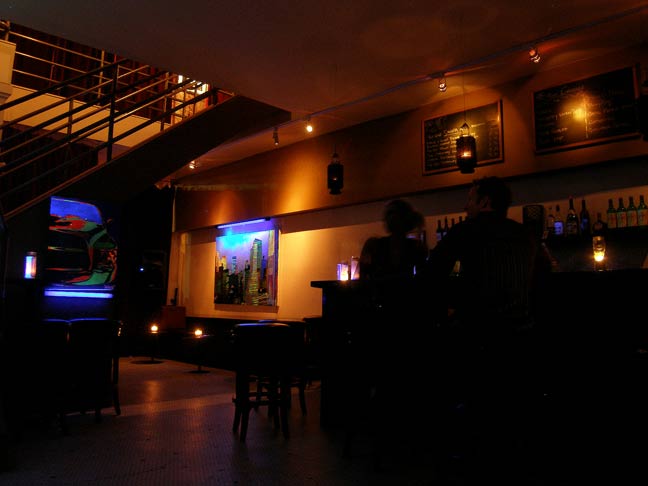 Art.


Art.


Art.


***
Addendum:
Nature-esque Patrick O'Kiersey abstracts at Thoreau Center.


Big broad Patrick O'Kiersey abstracts at Thoreau Center Gallery.


Last Patrick O'Kiersey big abstracts at Thoreau Center.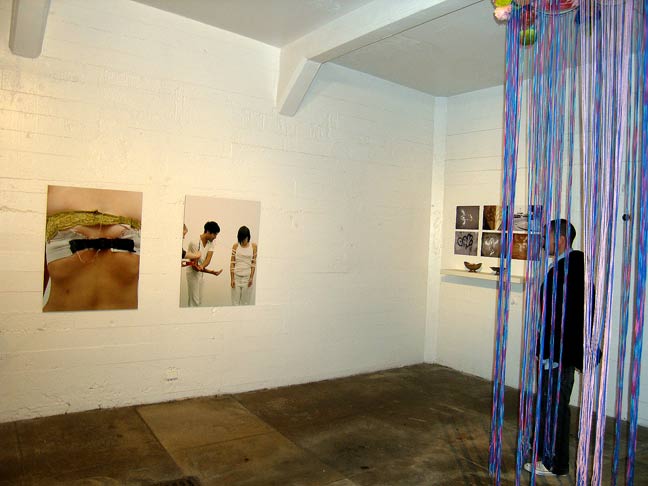 Last episode-- Garage Biennale Finale.


Beth Cook decodes dating through art at Garage Biennale.


Ta ta 'til next time from the Garage Biennale Finale.


***