SAN FRANCISCO ART GALLERIES - OPENINGS
RAYKO PHOTO - LITTLE TREE - BUCHEON
ARTSPAN OPEN STUDIOS - GALLERY 1988
EDO SALON - MILLION FISHES - GALLERY ONE - MARS BAR
10.05-06.07
Rayko Photo Center: Brenton Hamilton - Remembered Dreams Under a blue Night Sky; Naomi Vanderkindren - Of a Certain Place.
Comment: Two photographers demonstrate mastery of two vintage photographic processes. Maine resident Brenton Hamilton presents his curious hallucinatory visions in cyanotype while Naomi Vanderkindren antiques her images up via tintype. Sorry-- too late to see the show. This is the closing.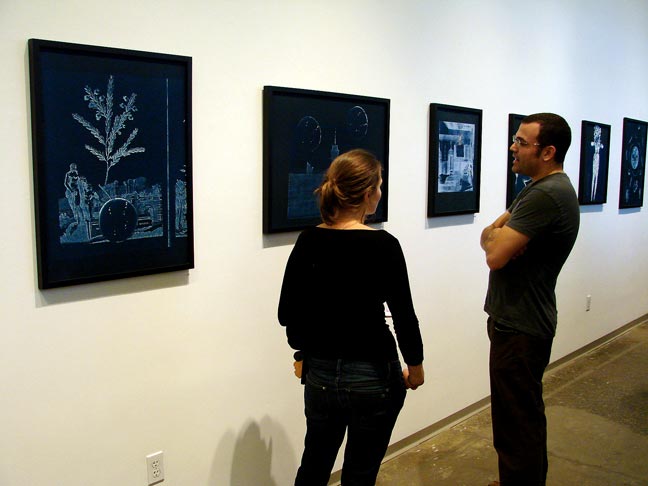 Photography (Brenton Hamilton).


Brenton Hamilton - photos.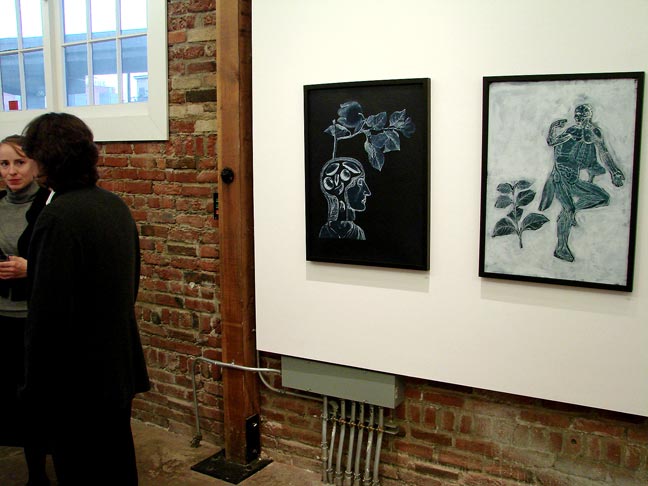 Photographs (Brenton Hamilton).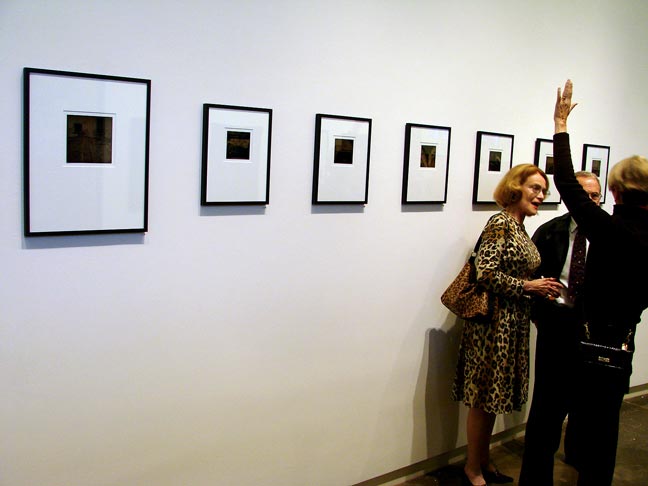 Images (Naomi Vanderkindren).


Image detail (Naomi Vanderkindren).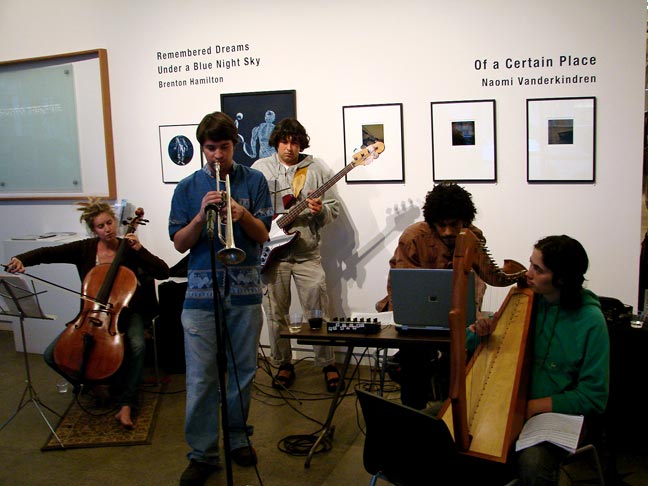 Tunes.


***
Little Tree Gallery: Rocky McCorkle - You And Me On A Sunny Day.
Comment: Rocky McCorkle tracks the lives of a fictional elderly couple through a series of carefully composed photographs, Hollywood in style, their impact heightened with intense use of color, and telling a story which continues to unfold. McCorkle plans the complete sequence, currently a work in progress, to total 24 photographs in all.
Photography.


Rocky McCorkle - photograph.


Photography.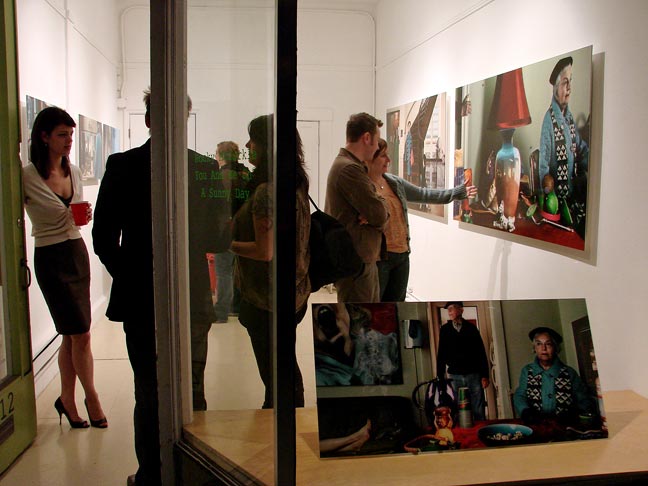 The basic idea.


***
Bucheon Gallery: Remember Jerome - A Large Group How of Friends and Artists Who Miss Jerome Caja.
Artists: Jerome Caja, Nicole Repack AKA Jocelyn Superstar, Rex Ray, J. John Priola, Scooter LaForge, Julie Blankenship, Jim Winters, John DeFazio, Timothy Cummings, David Faulk, Jessica Tanzer, Haluk Keceli as well as photographs by: Daniel Nicoletta, Michael Johnstone, Rick Gerharter, Jim James, Rink.
Comment: Artist, performer, personality, and irreverent extraordinaire, Jerome Caja, succumbed to AIDS in 1995, but his memory lives on in a large way as evidenced by the turnout and scope of the homage here tonight. He produced a substantial body of work during his brief lifetime, a healthy selection of which is on display and available for sale alongside the work of an ample cast of supporting artists. Not your everyday art show. Give it a look.
Art.


Art.


Art & testimonial.


Art.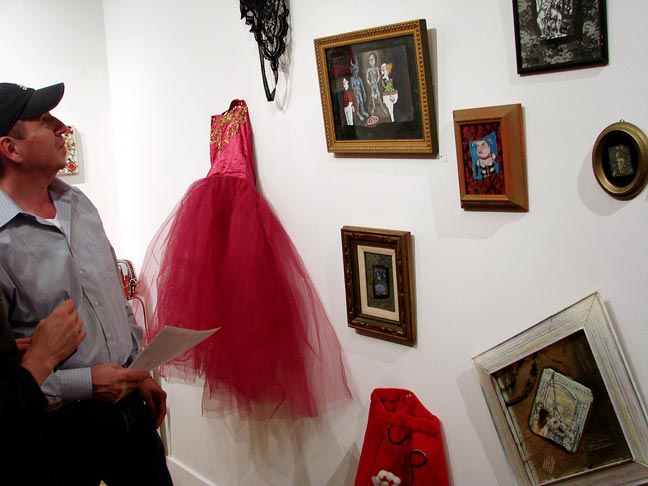 Art.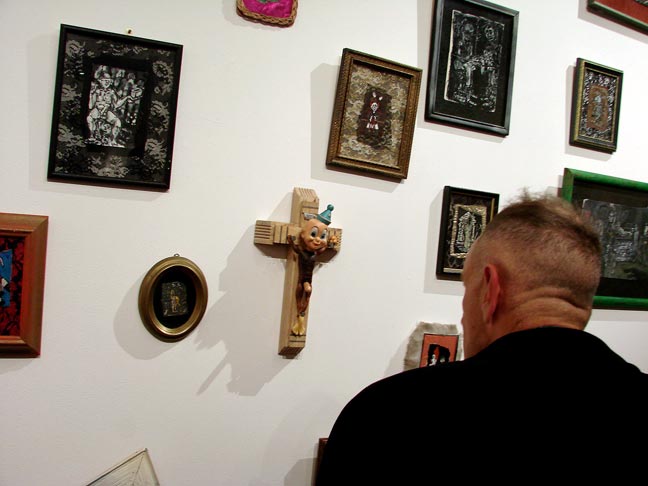 Art.


Art.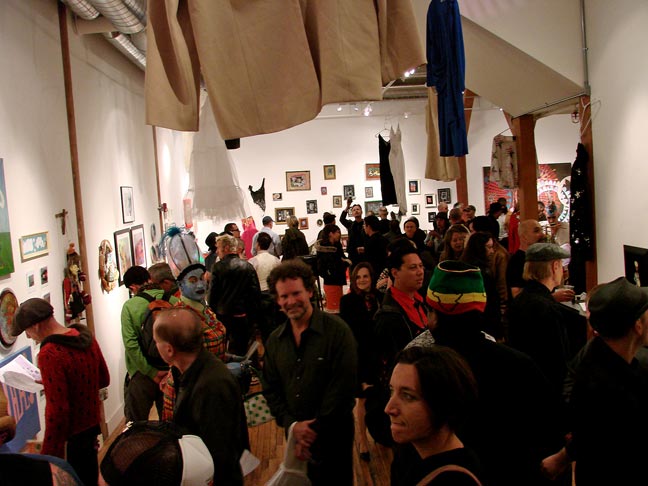 Turnout (and it's still early).


***
ArtSpan at SomArts Main Gallery: San Francisco Open Studios Private Preview Gala 2007.
Artists: Legions.
Comment: San Francisco Open Studios is now officially in session! Yes, it's that time of year again when hundreds of local artists open their studios to you for fun, adventure, excitement, food, beverage, party atmosphere, the thrill of the hunt, and of course, the opportunity to buy original works of art directly from artists. And believe me-- there's something for everyone.
Each weekend during the month of October, the artists in a different sector of The City open their studio doors to show and sell their work. This year's schedule is as follows-- October 13-14 spotlights Western SF; October 20-21, Central SF; October 27-28, Eastern SF; and the final weekend, November 3-4, Hunters Point Shipyard. For complete information, maps, artists, and details, visit the ArtSpan website. Happy arting!
Art.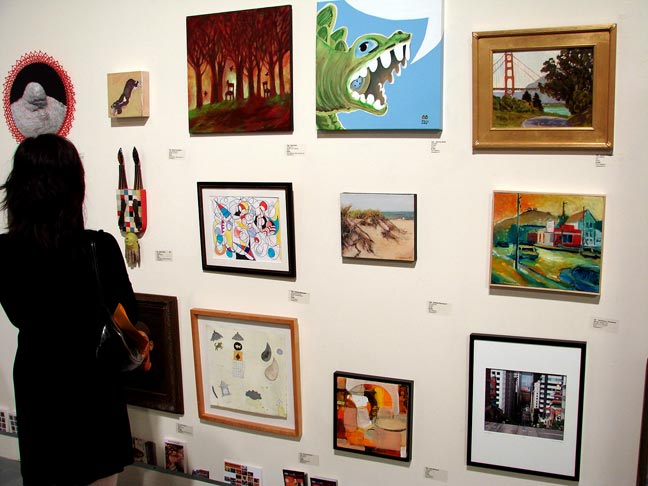 Art.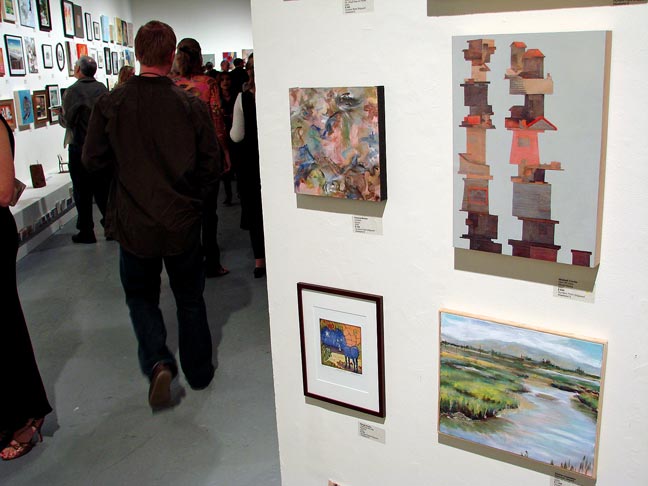 Art.


Art.


Cleft guard art.


Cloud art.


Therese Martin (ArtSpan Exec Director) - Sharon Reaves (volunteer).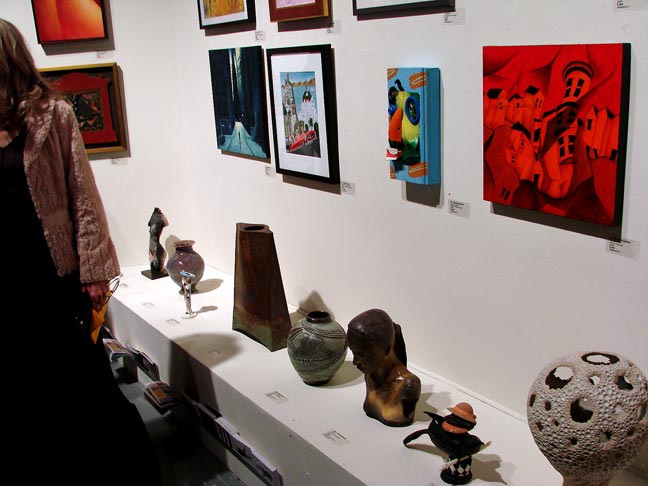 Art.


Art.


Art.


Art.


***
Gallery 1988: Apres Garde - An Art Show Curated by Anthony Ausgang.
Artists: Anthony Ausgang, Attaboy, Paul Arden, Harry Blitzstein, Dave Burke, Dame Darcy, Marcel DeJure, Andrew Foster, Germs, Walt Hall, Howard Hallis, Stephen Holman, Jason Maloney, The Pizz, KRK Ryden, Scott Saw, Sonik Mercury, Treiops Treyfid, Dani Tull, Keith Weesner.
Comment: According to the specifications, the term "Apres Garde" is defined as the opposite of Avant Garde-- a look back rather than a look forward. Here it refers to art that originates in the street among reactionary subcultures termed "urban" or "lowbrow" or "hot rod," for example, and of course, to those talented artistic practitioners blessed with the abilities to create it.
Art.


Art.


Art.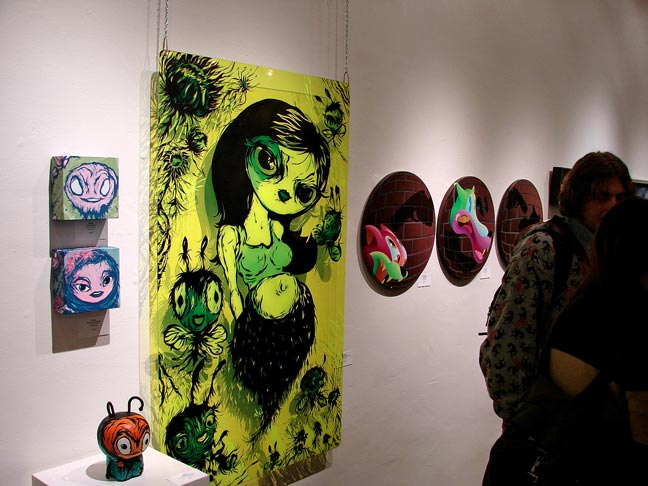 Art.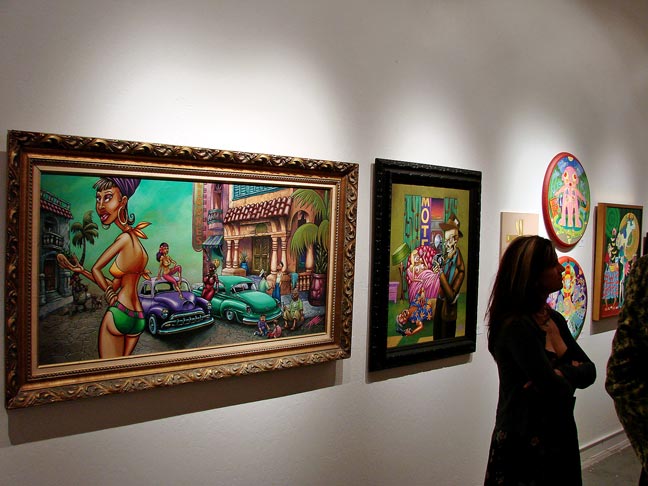 Art.


***
Gallery One: Recycle.
Artists: Megan V. Bauske, Elizabeth Corona, Alberto Cuedros, Dicky Davies, NoMe Edonna, Mark Faigenbaum, Kim Froshin, Ector Garcia, Richard Lang, Talia Lipskind, Diana Nucera, Lisa Perrott, Judith Selby, Kerry Thompson, Erin Wapple, Hannah Williams, Wayne Rich, more.
Comment: Art from found, reused, recycled materials. That's the theme of this exhibit dedicated to saving good old planet Earth, promoting environmental awareness through art, and highlighting the little things we can do to save it, like making trash cans with recycle options. I'm not sure what the protocol is for renting this space, but it can easily hold sveral hundred people.
Art.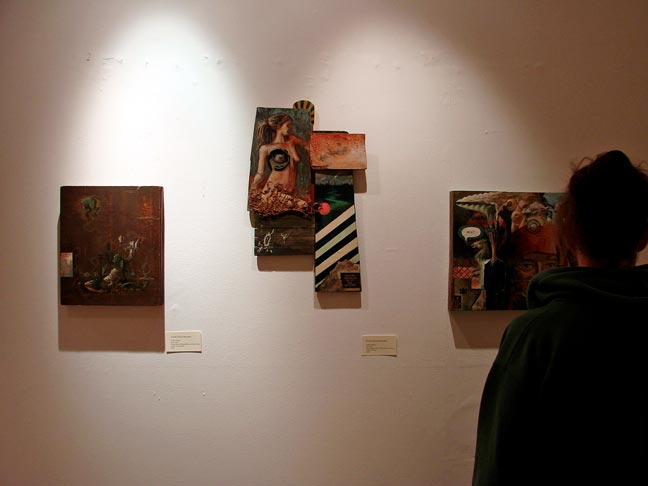 Art.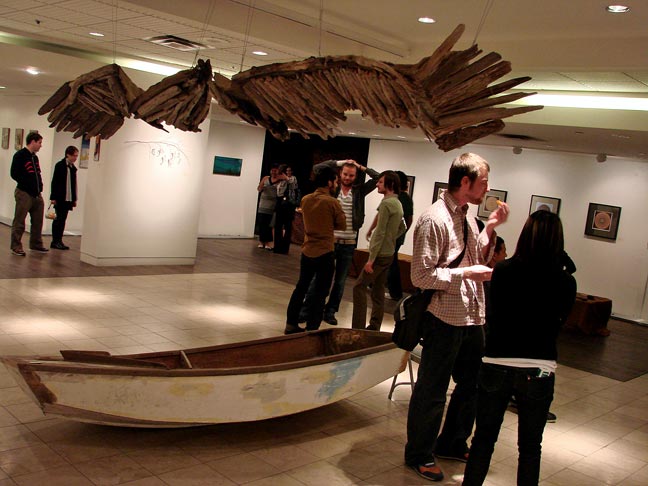 Art.


Art.


Art.


Art.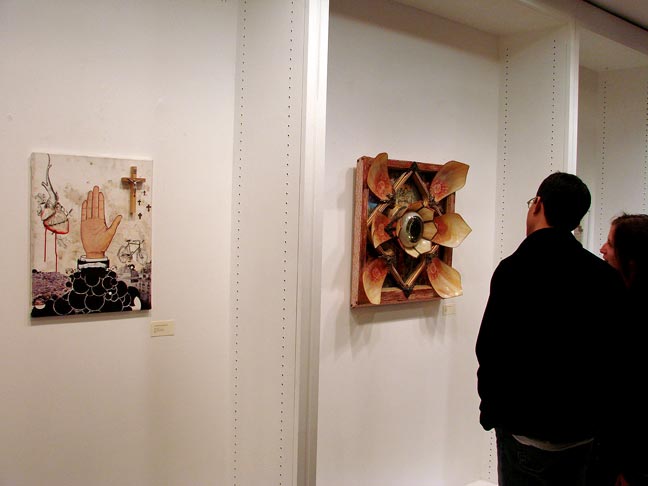 Art.


Art.


***
Addendum:
Kelly Ording works on paper at Edo Salon.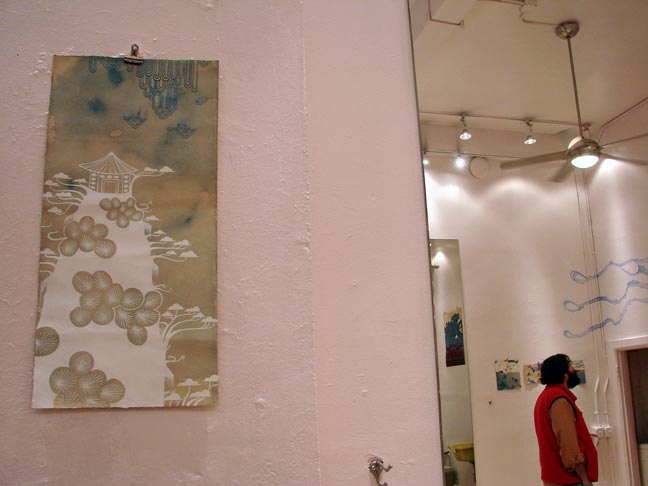 One more from Kelly Ording at Edo Salon.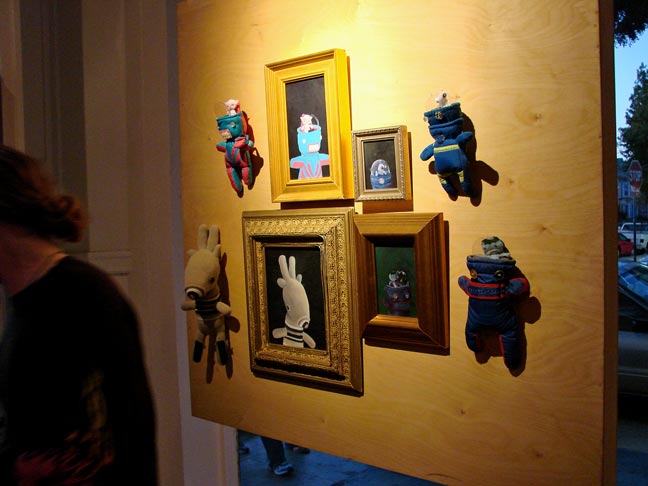 Resident artists show at Million Fishes.


Another from Million Fishes.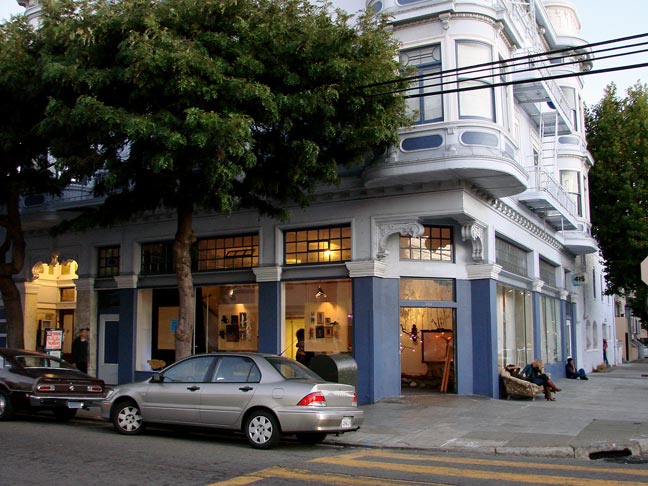 Million Fishes outer.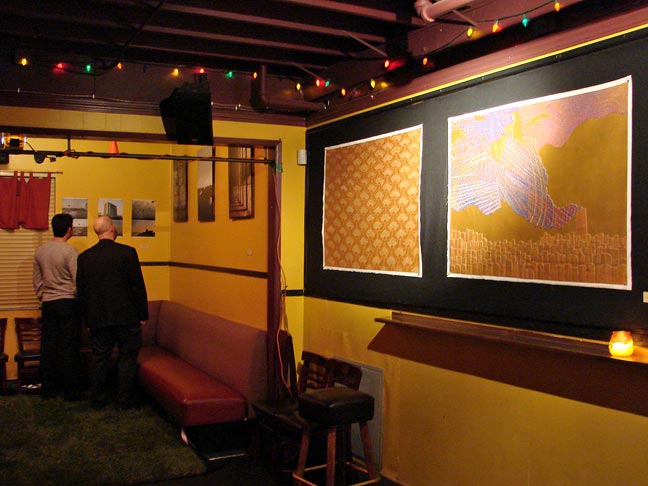 Cultivated group show at Mars Bar.


***