SAN FRANCISCO ART GALLERIES - OPENINGS
LITTLE TREE - NEEDLES & PENS - COLLAGE GALLERY
WHITE WALLS - SHOOTING GALLERY - VIRGIN MEGASTORE
RECEIVER - A.MUSE - MOVE ON ART! - SUPER 7 STORE
10.6-7.06
Little Tree Gallery: Tim Sullivan and Maggie Foster - We'd Both Be Better Off.
Comment: Quirky little California-and-the-state-its-in collaboration between Tim Sullivan and Maggie Foster manifests a plywood panel multi-bulb map of California wall lamp ($1600) and event-style publicity posters for California inmates executed in 2005 ($75 each/$250 for four) by Maggie Foster, and by Tim Sullivan, mirror tile prints of the Dead Kennedy's first album cover, Fresh Fruit for Rotting Vegetables ($50 each or 42 in a grid for $1700). By the way, profits from sales of the death penalty posters go to organizations working to abolish the death penality.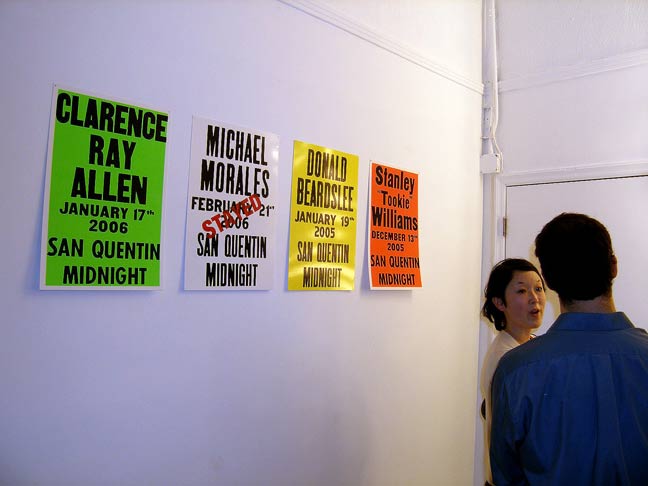 Execution broadsides (Maggie Foster - like 'em).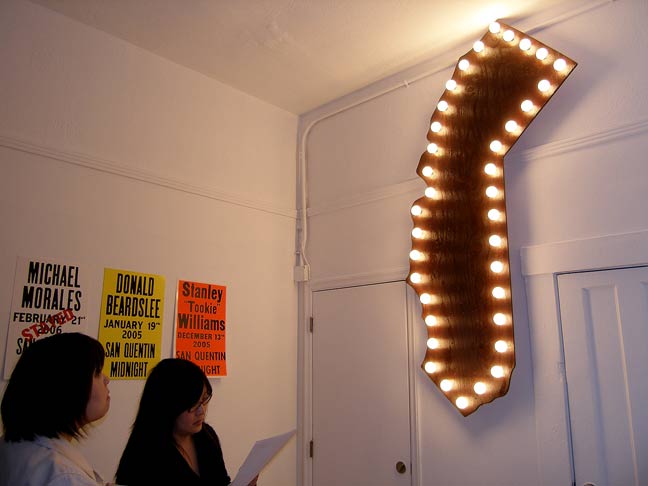 Cali lamp with flash (Maggie Foster).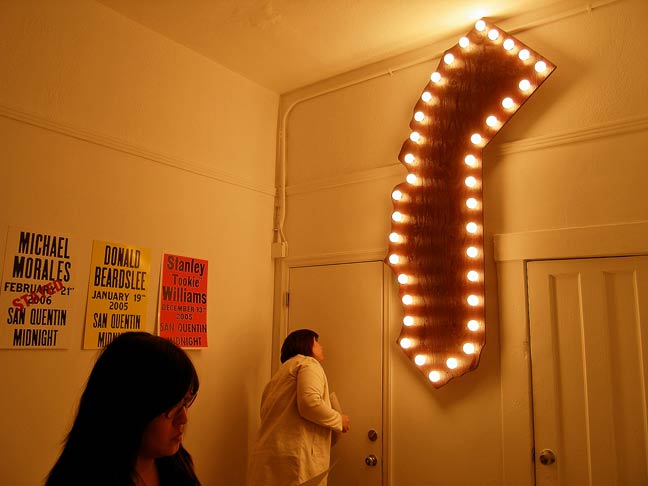 Cali lamp w/o flash (Maggie Foster - like it).


Dead Kennedy mirror art (Tim Sullivan).


Tim Sullivan - Jayne Mansfield (by Tim Sullivan) - Maggie Foster.


Maggie Foster - art.


***
Receiver Gallery: Keep A Breast Kings & Queens.
Artists: Brian Anderson, Esao Andrews, Felix Arguelles, Brian Brannon, Todd Bratrud, Dora Burnquist, Steve Caballero, Ron Cameron, Chris Cole, Dalek, Matt Dove, Todd Francis, Mark Gonzales and Rita Ackermann, Ben Horton, Wes Humpston, Bryce Kanights, Natas Kaupas, Andy Kessler, Dave Kinsey, John Lucero, Dennis Mc Nett, Kris Markovich, Chris Miller, Lance Mountain, Andy Mueller, Chris Pastras, Don Pendleton, Russ Pope, Bobby Puleo, Tino Razo, Chris Senn, Corey Sheppard, Craig Stecyk, Ed Templeton, Robert Williams, Jeremy Wray.
Castees: Desiree Astorga, Laurie Bergthold, Lindsey Brynes, Amy Caron, Shaney Jo Darden, Chrissy "redd" Flannigan, Robin Fleming, Staci Gabrielli, Rosa Gonzalez, Amy Gunther, Jardine Hammond, Ashley James, Cel Jarvis, Erin Kirkpatrick, Jenn Lasek, Holy Lyons, Bam Margera, Amy Markovich, Laura Martin, Mona Mukherjea Gehrig, Donna Murakami-Kanights, Jen O'brien, Judi Oyama, Pink, Philippa Hill Rattray, Tania Rockenfeller, Renee Ryan, Elissa Steamer ,Stacey Swift, Stefanie Thomas, Kristy Van Doren, Victoria Semarjian Wilkins, Kristine Witt, Magda Wosinska, Carissa Wray, Nicole Zuck.
Comment: People dedicated to skateboarding unite around art to raise funds for Keep A Breast, a nonprofit breast cancer awareness organization. Here's how it works-- skateboard world personalities have casts made of their breasts, and skateboard world artists decorate them. The casts themselves will be auctioned online at the Keep A Breast website after the show closes or you can buy photographs of the artists and "castees" now for $300 each. A most entertaining show, by the way, with considerable time, care, and skill going into decorating the casts.
Art.


Art.


Art.


Art.


Art.


Art.


Tunes.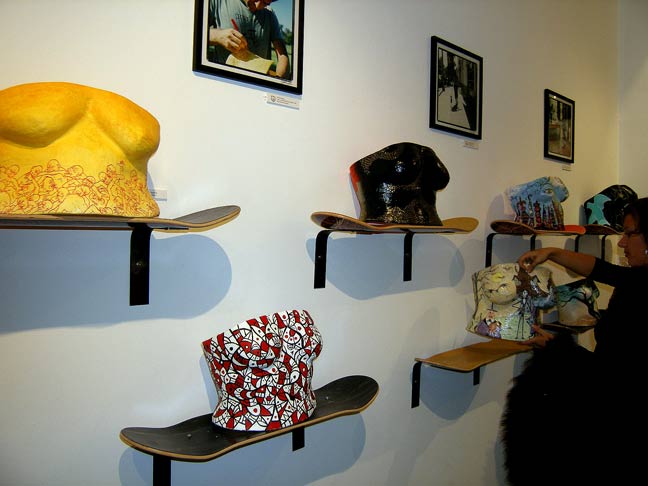 Art.


Art.


***
The Shooting Gallery and White Walls: A Day in the Life of a Painting.
Artists: Shawn Barber, Michael Hussar, Anne Faith Nicholls, Lee Harvey Roswell, Anthony Ausgang, Van Arno, Eric Joyner, Korin Faught, Andrew Brandou, Kevin llewellyn, Damon Soule, Mike Davis, Kim Cogan, Albert Reyes, Henry Lewis, Jeremy Fish, Sam Flores, Adam 5100, Brian Barneclo, Sylvia Ji, Eric Bailey, Mars One, Oliver Vernon, Bigfoot, David Choong Lee, Richard Colman, Andrew Shoultz, Coro, Wesley Burt Ryan Malley, more.
Comment: If you ever wonder how artists (good ones) make art, I can't think of a better place in San Francisco to educate yourself than at a Shooting Gallery/White Walls "Day in the Life of a Painting" show. This episode is expanded from one day to two-- lasting from 11 am to 11 pm Saturday and 11 am to 6 pm Sunday. Watch a number of the Bay Area's top artistic talents in action. You can look over their shoulders, ask 'em questions, take their pictures, study techniques, and all kinds of irritating stuff like that-- it only happens here.
Henry Lewis - art.


Shawn Barber - art.


Richard Colman - art.


Lee Harvey Roswell - art.


Sylvia Ji - art.


Ryan Malley - art.


David Choong Lee - art.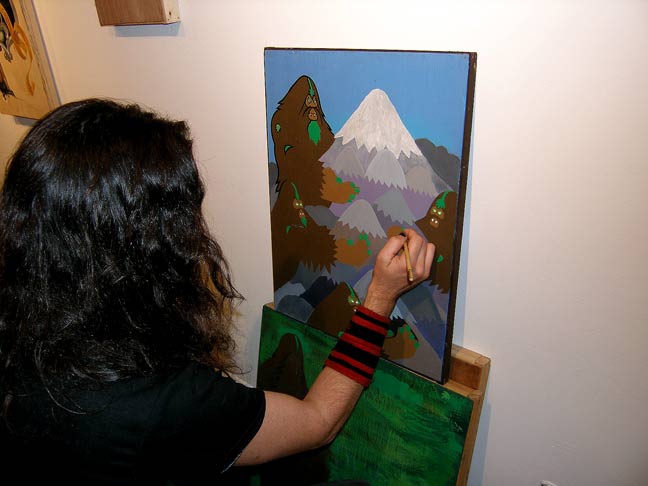 Bigfoot - art.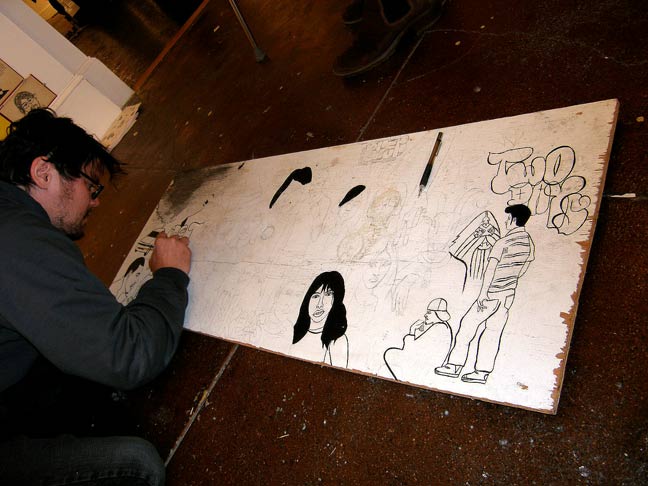 Albert Reyes - art.


***
Super 7: Happy Beauty - The Art of Mark Mothersbaugh.
Comment: First off, Super 7 has done a complete remodel-- huge improvement over the previous version. Tonight's featured guest is Devo front man Mark Mothersbaugh, now making art of the eclectic animatory mildly macabre variety, mainly small-edition prints and a new project called Mutatoy, an ersatz-terrarium populated with characters looking somewhat like a cross between the Michelin Man and the Pillsbury Doughboy. Priced $250-$1000; most $300-$500.
Mark Mothersbaugh - art.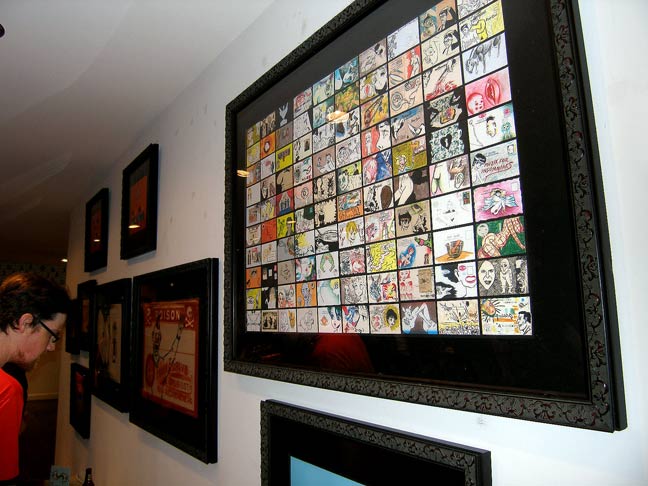 Art.


Mutatoy art.


Art.


Art.


***
Move On Art!: Jacob Kanduch - On-tol-o-gy.
Comment: Move On Art! relocates to North Beach, christening their rambling subterranean space with a solo show by the organization's founder, Jacob Kanduch.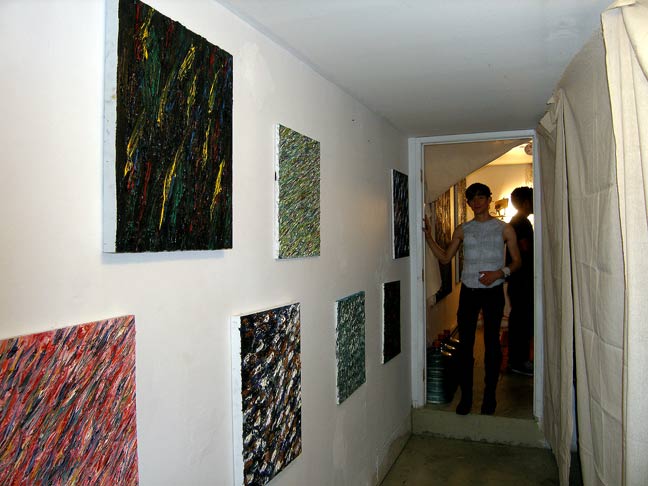 Art.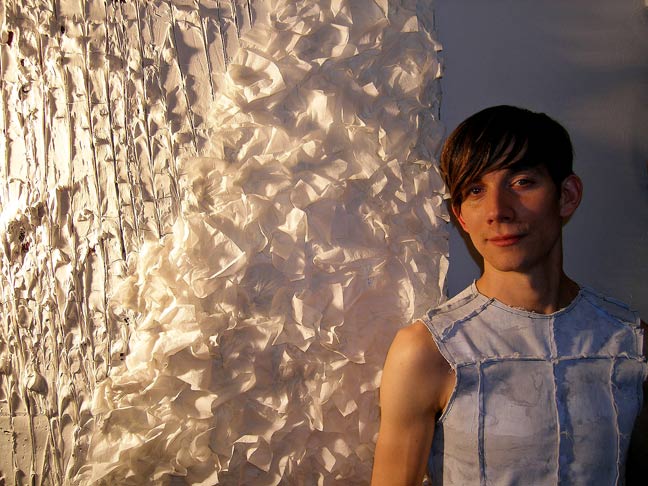 Jacob Kanduch - art.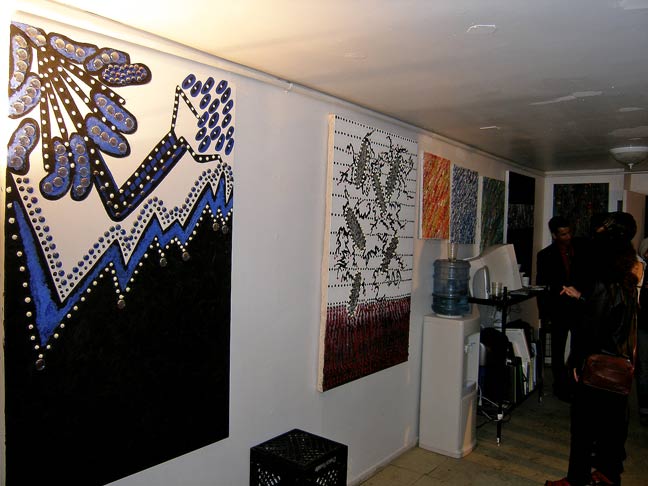 Art.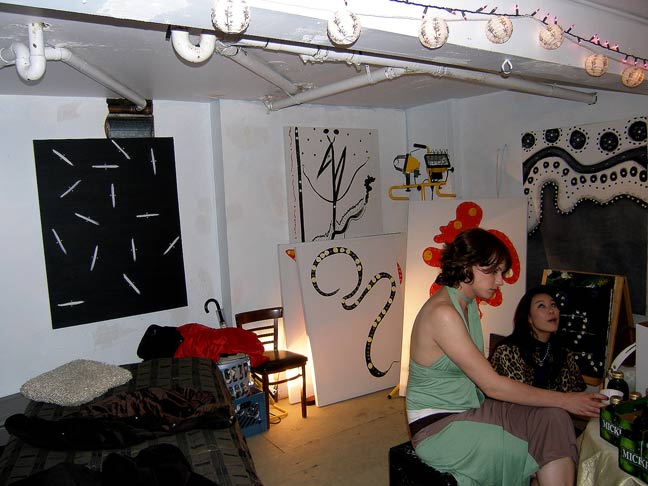 Art.


***
Addendum:
Photographer Barbara Traub signs copies of her new book at Virgin Megastore. Check it out-- excellent photo essay-- DESERT TO DREAM, A DECADE OF BURNING MAN PHOTOGRAPHY (Immedium, San Francisco, 2006; hardbound, dustjacket, 160 pages).


Lydia Daniller dance photographs at a.Muse Gallery.


Lydia Daniller dance photos at a.Muse.


a.Muse, 614 Alabama St, SF, CA 94110, 415. 279. 6281.


Mary Joy Scott drawings at Needles & Pens.


Breezy Culbertson & Andrew Scott of Needles & Pens.


Mary Joy Scott drawings at Needles & Pens.


One more Mary Joy Scott drawings at Needles & Pens.


Group photo show at Collage Gallery.


Collage Gallery inner.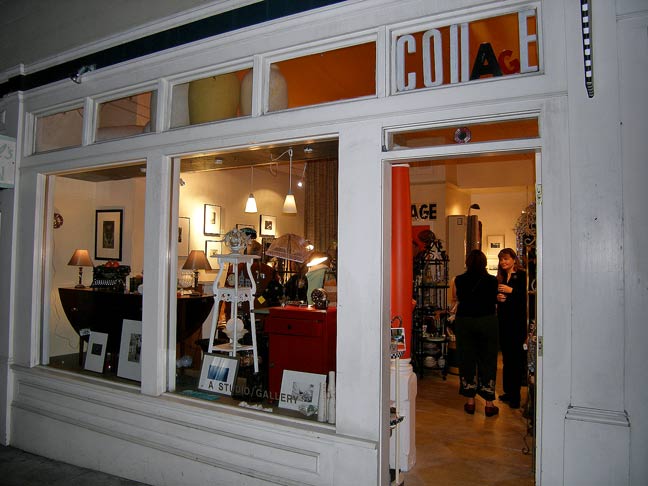 Collage Gallery outer.


***