<< Back to San Francisco Gallery Openings Reviews
Upcoming San Francisco Gallery Openings Calendar >>
***

Get your art fix fast: Instagram @alanbamberger
***
Don Soker Gallery: Julie Alland - Cryptic Flowchart
Comment by AB: Art meets science as Julie Alland exploits the magnetic properties of vintage casette tape and Ocean Beach black sand, embedding them as abstract patterns in fused glass panels. My favorites are her fused glass sculptures of vintage hand-labelled cassettes, each paired with a glass tape panel.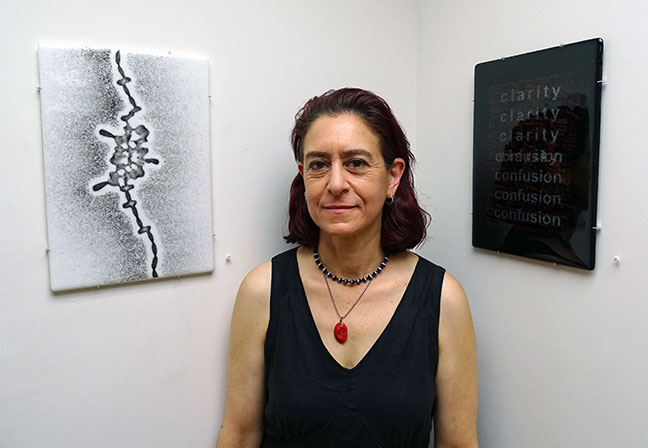 Julie Alland and her fused glass art at Don Soker Gallery.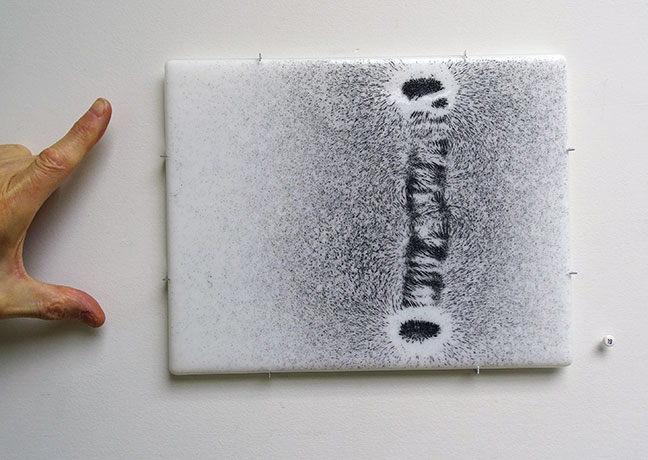 Magnetic Ocean Beach black sand in fused glass panel by Julie Alland.


Cassette tape fused into glass with cassette sculptures by Julie Alland.


Art in above image closer (kinda like it).


***
c2c Project Space: Justin Mata and Jacob Cartwright
Comment by AB: The art is mainly black & white with San Francisco artist Justin Mata blending thick textured paint with collage, while New York artist Jacob Cartwright gets detailed and precise as well as larger with color.

Jacob Cartwright and his art at c2c Project Space.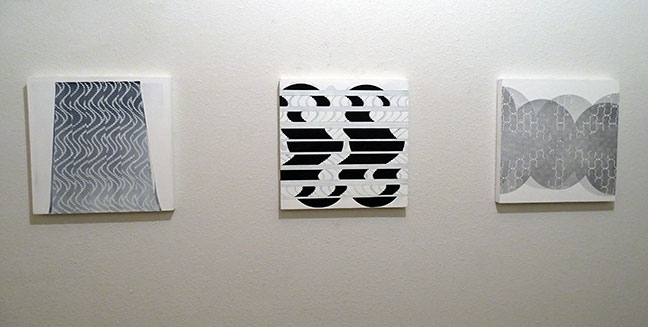 Precision art by Jacob Cartwright.


Pinkie cam detail of art in above image.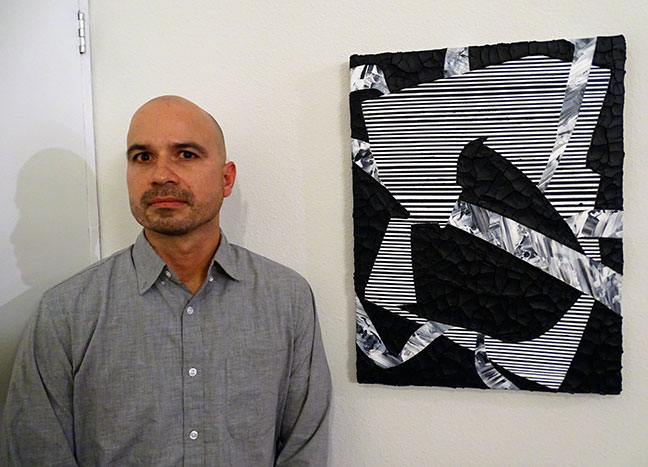 Justin Mata and his art at c2c Project Space.


Pinkie cam detail of art in above image.


Art by Justin Mata & Jacob Cartwright.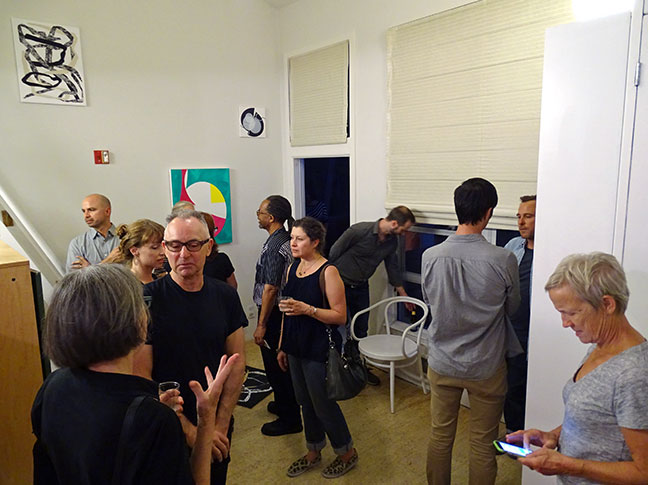 Ambiance - Justin Mata and Jacob Cartwright at c2c Project Space.


***
Adobe Books Backroom Gallery: The Infraordinary. Curated by Vomit Mangos
Artists: Marcela Pardo Ariza, Maria Dawn, Enar De Dios Rodríguez
Comment by AB: Three promising young talents. Marcela Pardo Ariza gets us thinking about pencils and protractors in 2 and 3-dimensions, Enar De Dios Rodrigues isolates snippets of text from books like "Life, A User's Manual," and Maria Dawn rounds it out with cryptic mixed-media works.

Art by Marcela Pardo Ariza at Adobe Backroom Gallery.


Marcela Pardo Ariza art.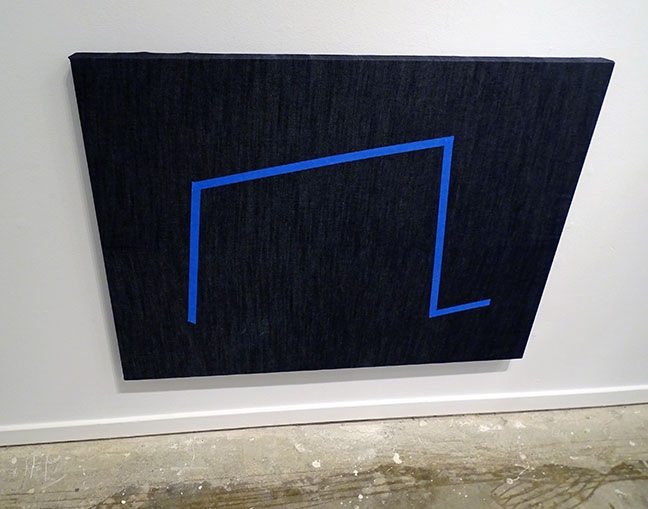 Art by Marcela Pardo Ariza (I think).


Art by Maria Dawn.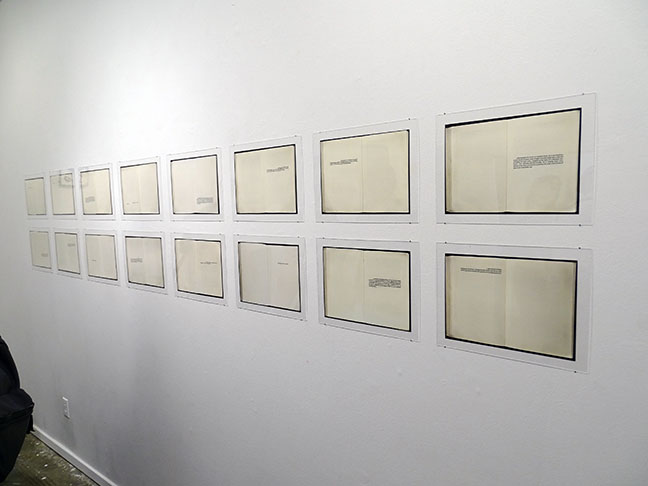 Isolated book texts by Enar De Dios Rodríguez.


Art in above image closer.


***
Needles & Pens: Lena Wolff - Shapes in Space
Comment by AB: Clean appealing collage by Lena Wolff occasionally transits the realm of Pennsylvania Dutch hex signs.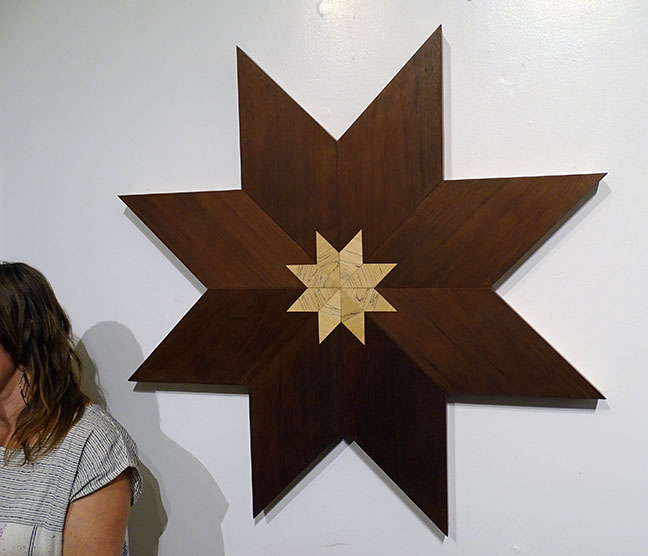 Wood construction by Lena Wolff at Needles & Pens.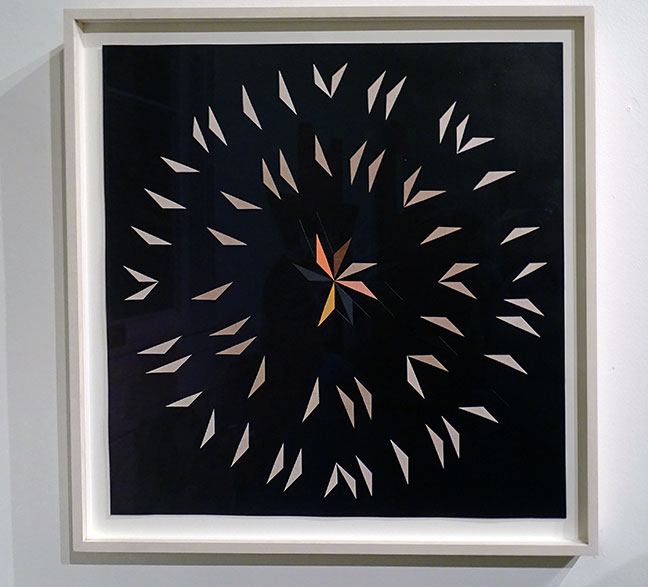 Collage art by Lena Wolff.


Art by Lena Wolff.


***
Mighty Box Gallery: Ryan Malley - Everyday Icons
Comment by AB: Normally we're the ones who drive by people who are standing around waiting. Thanks to Ryan Malley's mechanized paintings, here we can stand around and watch waiting people as they pass by us. Nicely done.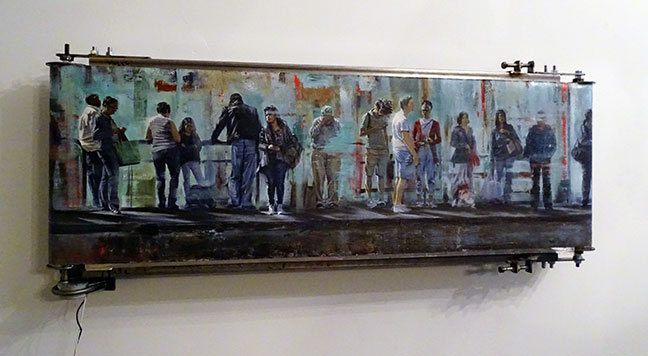 Mechanized painting of people waiting by Ryan Malley at Mighty Box Gallery.


Looking down on the rotation mechanism in above image - Ryan Malley art.


Larger than life mechanical painting by Ryan Malley.


Ryan Malley and his art in above image closer at Mighty Box Gallery.


Three-screen video journey down Market Street by Ryan Malley.


***
Root Division: 15th Annual Benefit Art Auction
Artists: Kathy Aoki, Alexis Arnold, Kimberley Arteche, Ana Bedolla, Ray Beldner, Nash Bellows, Erik Beltran, JD Beltran + Scott Minneman, Timothy Berry, Lisa K. Blatt, Laura Boles Faw, Jennifer Brandon, Pegan Brooke, Lizzy Brooks, Nancy D. Brown, Jamie Brunson, Natalya Burd, Mary Burger, Natasha Carlos, John Casey, Elizabeth Cayne, Charles Coates, Aliza Cohen, Leigh Ann Coleman, Holly Coley, Randy Colosky, Alice Combs, Susanna Corcoran, Susa Cortez, Madelyn Covey, Torreya Cummings, Pablo D'Antoni, Christian Davies, Rea Lynn de Guzman, Eliza Dennis, Katie Dorame, Leeza Doreian, Kathryn Dunlevie, Eelus, Dave Eggers, Amy Ellingson, Marshall Elliott, Megan Ender, Eva Enriquez, Rodney Ewing, Mitra Fabian, Peter Foucault, Hunter Franks, Adam Friedman, Joan Karissa Gallego, Julie Garner, Mark Garrett, Linda Geary, Casey Gray, Tracy Taylor Grubbs, Sarah HaBa, Nathan Haenlein, Michael Hall, Lauren Hartman, Fred Hayes, Victoria Mara Heilweil, Taraneh Hemami, Dana Hemenway, Howard Hersh, Liz Hickok, Sarah Hirneisen, Amy M. Ho, nif hodgson, Terry Hoff, Rhonda Holberton, Sarah Hotchkiss, Shisi Huang, Nicholas Hullibarger, Melissa Hutton, Clint Imboden, Misako Inaoka, Kelly Inouye, Rhonwyn Kaiser, Sara Kerr, Kyong Ae Kim, Sarah Klein, Mary Anne Kluth, Amelia Konow, Keira Kotler, Michael Krouse, Carrie Lederer, Jennie Lennick, Carey Lin, Malena Lopez-Maggi, Cathy Lu, Paula Lucia, Claire R. Lynch, Whitney Lynn, Michelle Mansour, Kara Maria, Molly McCracken Kumar, Dennis McNulty, Stephanie Metz, Masako Miki, Robert Minervini, Doris Mitsch, Jeff Morris, Joshua Nissen King, Jacqueline Sherlock Norheim, Felicita Norris, Raphael Noz, Kelley O'Leary, Joseph Painter, Erik Parra, Elena Patino, Alejandra Perez, Yulia Pinkusevich, Silvia Poloto, Carissa Potter-Carlson, Mel Prest, Nicholas Price, Freya Prowe, Genevieve Quick, Amanda Quiroz, Michelle Ramin, Sarah Ratchye, Alice Raymond, Rachelle Reichert, Eric Rewitzer, Kate Rhoades, Walter Robinson, Lordy Rodriguez, Ignacio Rojas, Sawyer Rose, Aaron Rosenstreich, Julia Sackett, Ron Moultrie Saunders, Julian Schnabel, Zachary Royer Scholz, Centa Schumacher, Tamra Seal, Courtney Sennish, Emmanuel Sevilla, Jenn Shifflet, Rebecca Shortle, Saree Silverman, Rebecca Simon, Brian Singer, Jessica Snow, Lisa Solomon, Patricia Sonnino, Lindsay Stripling, Kevin E. Taylor, Sarah Thibault, Margaret Timbrell, Tobias Tovera, Amy Trachtenberg, Kirsten Tradowsky, Chris Treggiari, Gina Tuzzi, Indira Urrutia, Matthew Usinowicz, Naomi Vanderkindren, Katherine Vetne, Ven Voisey, Catherine Wagner, Xiao Wang, John Wentz, Brooke Westfall, Stephen Whistler, Nancy White, Melissa Wyman, Mary Elizabeth Yarbrough, Bijan Yashar, Amber Jean Young, Jeff Zygmunt
Comment by AB: It's all over now, but this is consistently one of the better fundraiser auctions in The Bay Area in terms of art, artists and selling prices. Quality art by over 150 artists is up for bids. Don't miss next year's. Get on their email announcement list now.

Photograph by Catherine Wagner (always good) at Root Division Annual Auction.


Low-maintenance pets by Walter Robinson.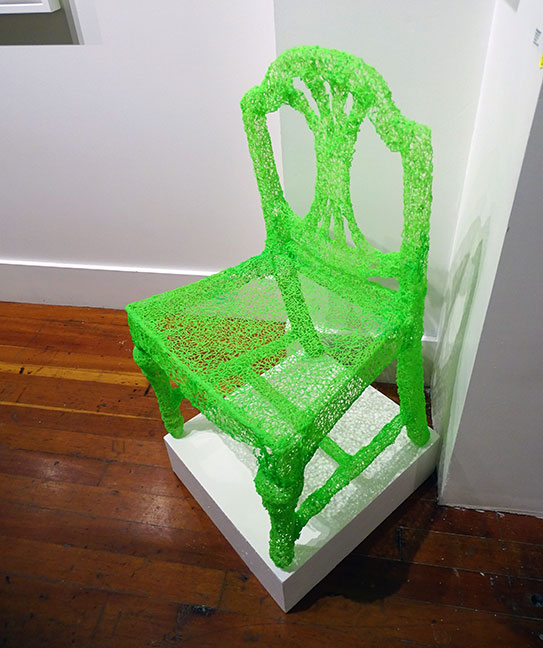 Delicate spun plastic chair by Megan Ender (valued at only $500).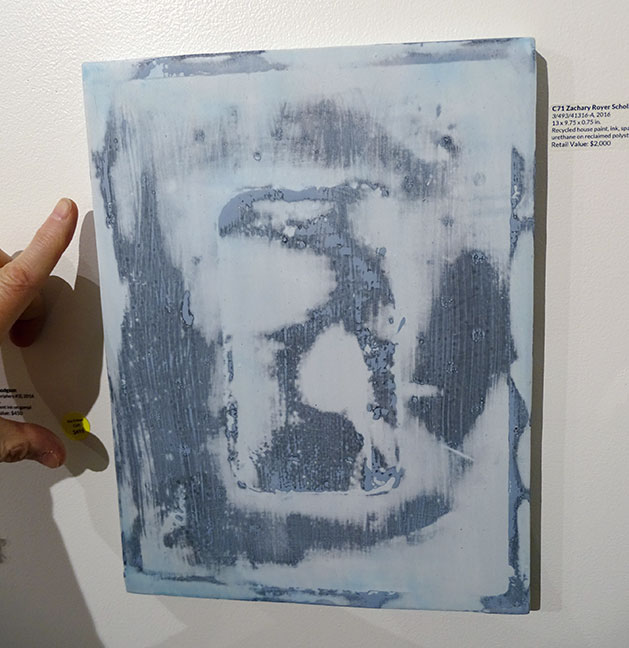 Art by Zachary Royer Scholz up close.


Spare pair of legs - art by Felicita Norris.


Sculpture by Randy Colosky.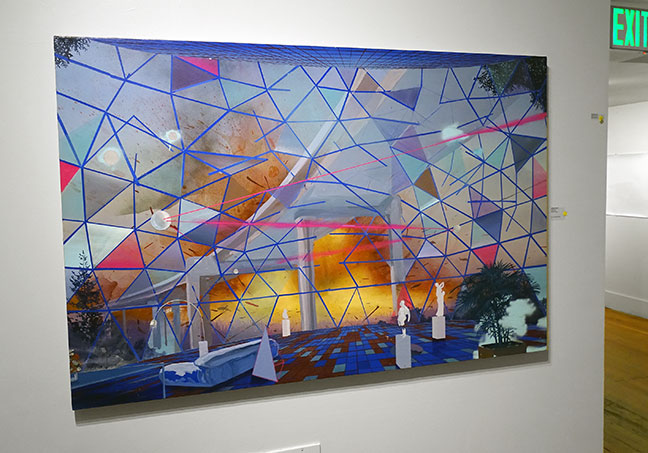 Robert Minervini art.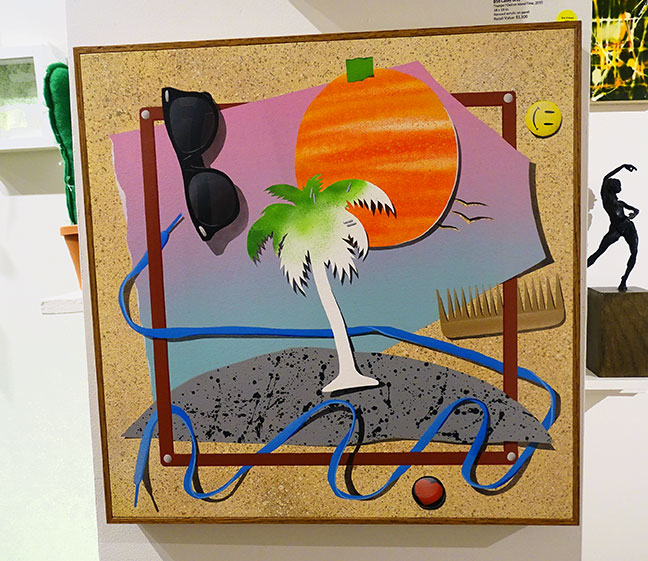 Screen print by Casey Gray.


Art by Jenn Shifflet.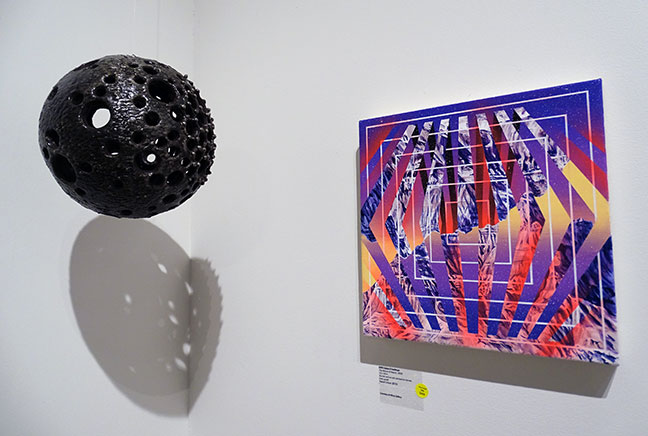 L-R, art by Sawyer Rose and Adam Friedman.


Long view - no shortage of choices at Root Division Benefit Art Auction.


***
Hashimoto Contemporary: Seonna Hong - In Our Nature
Comment by AB: Nice little vignettes feature mini-heroes and heroines confronting the challenges of an abstract reality, but basically trapped in the same composition over and over again. Perhaps that's their fate, or perhaps progress the plotline a little more next time around. And then as their adventure approaches an end, you can begin preparations to serve up another.

Art by Seonna Hong at Hashimoto Contemporary.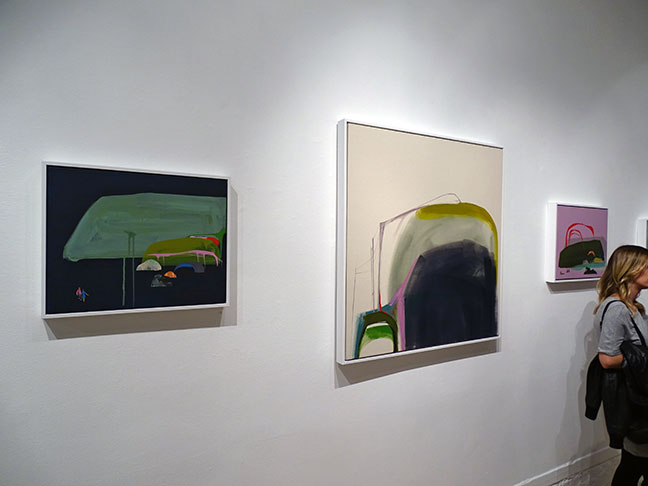 Seonna Hong art.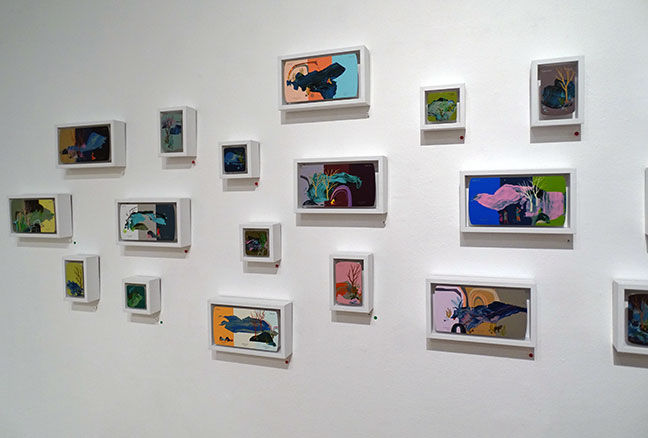 Mini-paintings on paint color samples by Seonna Hong.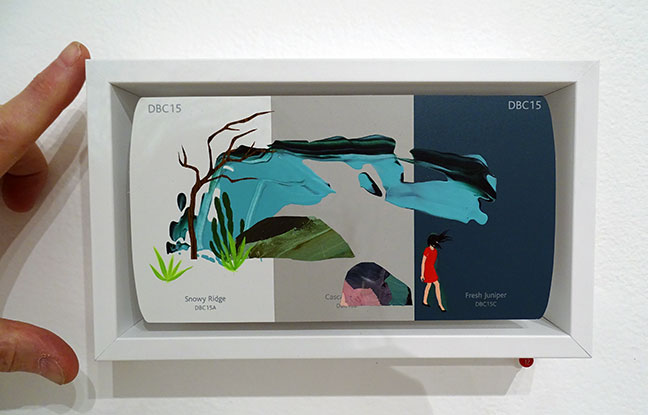 Art in above image closer.


Art by Seonna Hong at Hashimoto Contemporary.


***
Spoke Art Gallery: Dancer - Martine Johanna
Comment by AB: In this month's episode of Sundry Sirens, we find our enchantress immersed in miscellaneous states of reverie and reflection.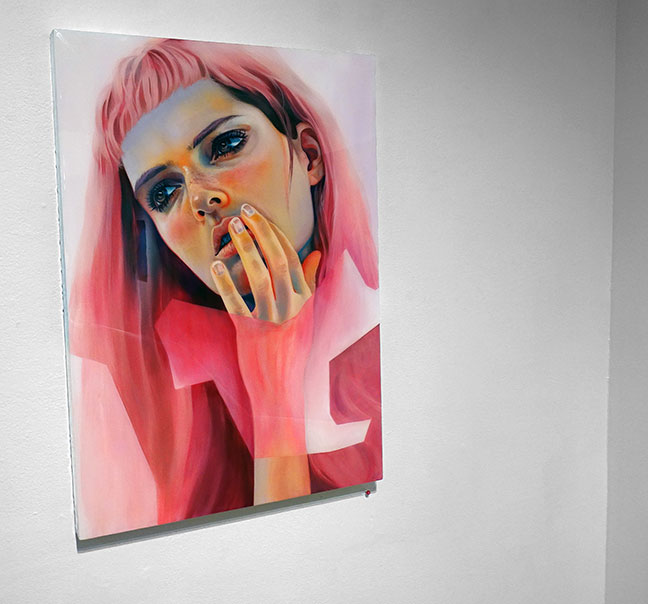 Art by Martine Johanna at Spoke Art Gallery.


Martine Johanna art.


Art by Martine Johanna.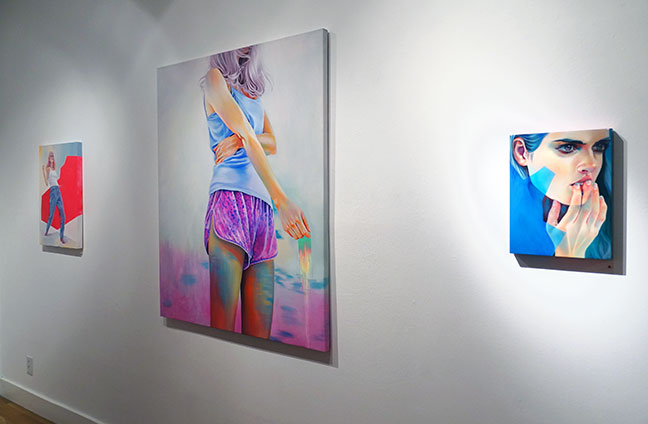 Paintings by Martine Johanna.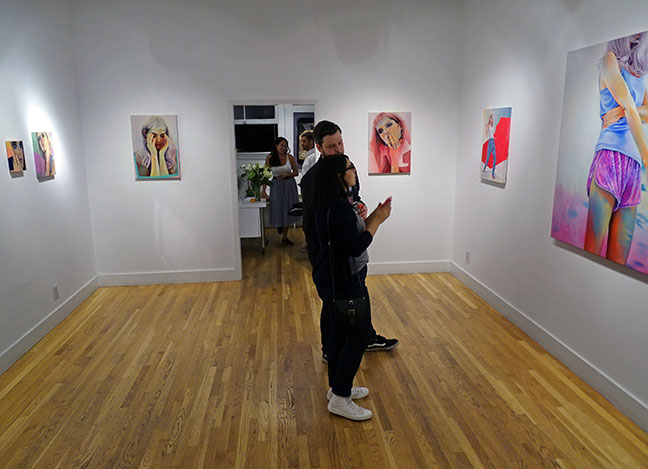 Installation view - Martine Johanna art show at Spoke Art Gallery.


***