SAN FRANCISCO ART GALLERIES - OPENINGS
LIGHTHOUSE FOR THE BLIND AT CITY HALL - JOHN PENCE
TOGONON - HAINES - WARNOCK - BABYLON FALLING
CONSULATE GENERAL OF MEXICO - ADOBE BOOKS
RED INK - HAMBURGER EYES - ADOBE BOOKS
10.11.07
San Francisco Arts Commission Gallery and Lighthouse for the Blind and Visually Impaired: INSIGHTS 2007.
Artists: Phoebe Barkan, Earl J. Bell, Jr., Charles Curtis Blackwell, Pat Clark, Virginia Knepper Doyle, Pete Eckert, Rosemarie Fortney, Carmelo C. Gannello, Donna Jean Gilberti, Quin Graddy, Felicia Griffin, Bruce Hall, Sharon Haynes, Annie Hesse, Pedro Hidalgo, Tara Arlene Innmon, Michael Jameson, Jeffrey Kneut, Beryl Knighton, Laura Landry, Genesse McGaugh, Dominique Moody, Angel Munoz, Mari Newman, Ketra Oberlander, Gary Oliver, Barbara Romain, Nicole Rubio, Romaine Samworth, Shirley Sanchez, Elisa Serafini, Thomas H. Slack, Tamar Solomon, Michael Sutton, John Theiss, Alison Ulman, Elva Iacono Vergari, Richard Wawro, Kurt Weston.
Comment: As part of the "Art in City Hall" program, the 18th annual INSIGHTS 2007 exhibition features 120 works of art by 43 artists who are either blind or visually impaired. This is the largest INSIGHTS to date, presenting an impressive array of art including paintings, sculptures, photography, ceramics, weavings, quilts, assemblage, mosaics, and more. What's even more impressive as is the overall quality of the work.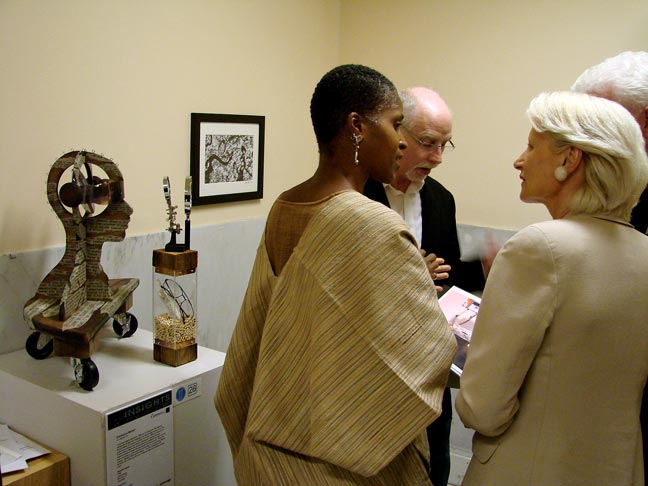 Art.


Art.


Photographs (Kurt Weston - like 'em).


Art.


Art.


Art.


A small percentage of the turnout.


***
John Pence Gallery: Travis Schlaht - Recent Oil Painting.
Comment: Travis Schlaht does it all-- landscapes, figures, portraits, still lifes, interiors, fruit, vegetables, fish, furniture, etc. You name it; this dude paints it. Prices range $2000-$11000.
Art.


Art.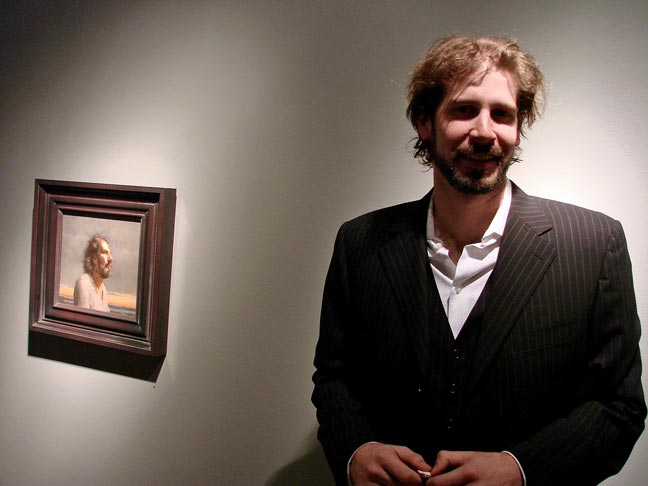 Travis Schlaht - art.


Art.


Art.


The gallery.


***
Togonon Gallery: Mary Lovelace O'Neal - Adventures & Misadventures.
Comment: Mary Lovelace O'Neal, born in Jackson, MS in 1942 and currently living in Oakland, CA and Santiago, Chile, has been active as an artist since the mid-1960's. Here, she offers up a substantial selection of work-- intense, energized, and impassioned-- ranging from pure abstract to semi-representational. Good show; go see.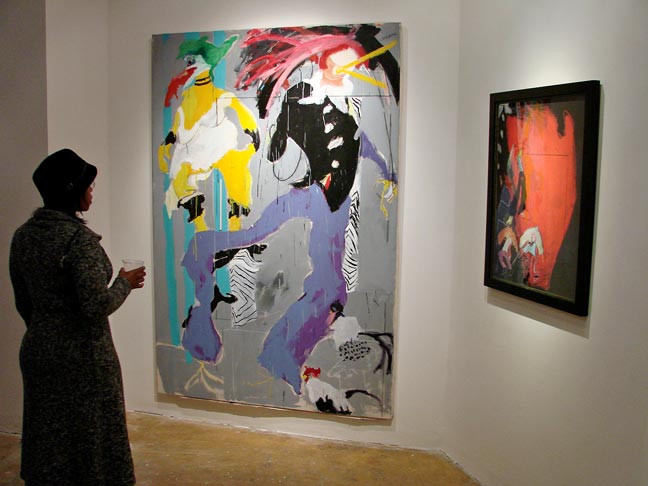 Art.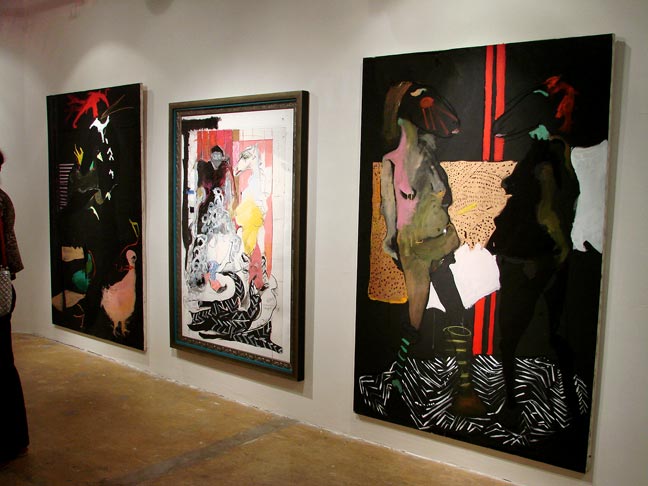 Art.


Art.


Art.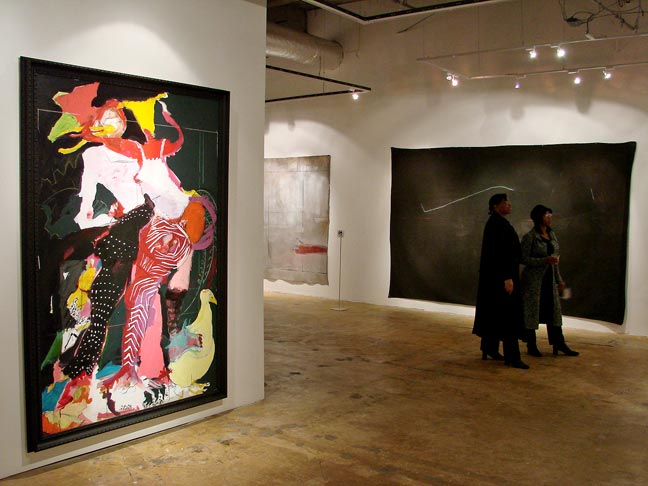 Art.


***
Haines Gallery: The Temporal Moving Image.
Artists: Nam June Paik, Alan rath, Kota Ezawa.
Comment: Superior selection of video works with Nam June Paik's brazen voltaic video bots commandeering the joint. However for those with more delicate sensibilities, the hypnotic eyeball examplars of Alan Rath soundly silently satisfy, not only with respect to their video components, but also because they're so impeccably architectured and engineered. Meanwhile, in the theater, Kota Ezawa's "Lennon Sontag Beuys" repeats in 2 minute 10 second loops.
Not to be a poo head or anything, but considering Al Gore's recent coup in the Nobel Peace Prize department, it's likely time to start thinking about how much energy our art uses. Wouldn't you agree?
Art (Alan Rath).


Art (Alan Rath).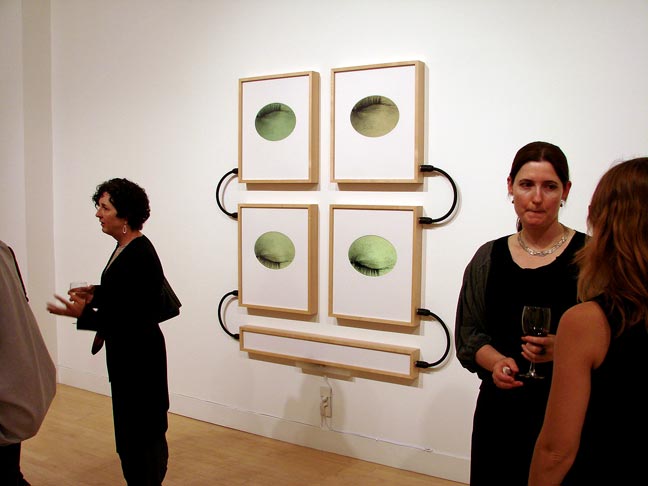 Art (Alan Rath - like it).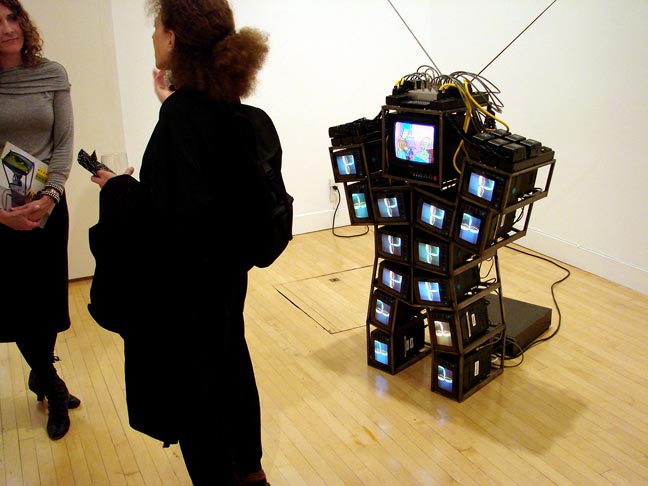 Art (Nam June Paik).


Art (Nam June Paik).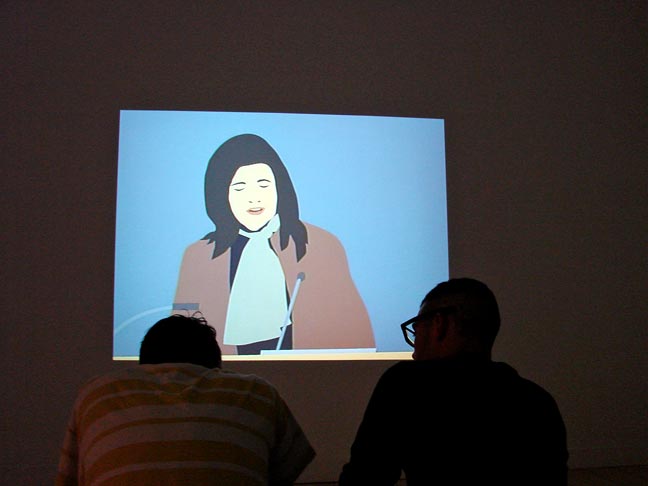 Art (Kota Ezawa).


***
Warnock Fine Arts: Tino Rodriguez & Virgo Paraiso - A Thirst for Otherness.
Comment: Partners Tino Rodriguez and Virgo Paraiso pony up a plethora of intricate imaginative alluring reveries. Escape available here.
Art.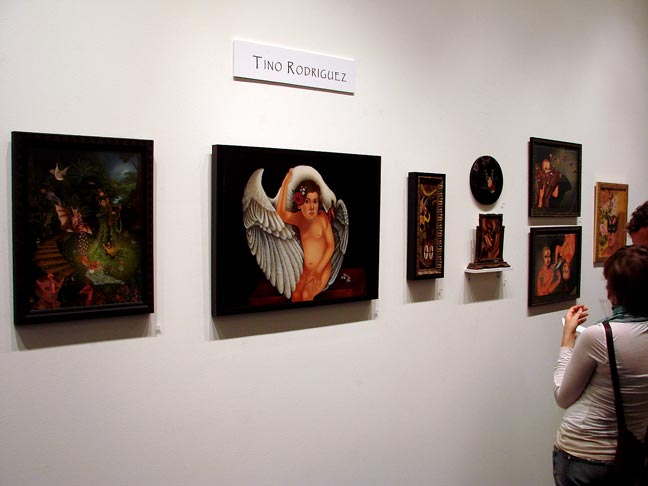 Art.


Art.


Art.


***
Babylon Falling: Robert Bowen - Six Demon Bag.
Comment: Tight articulated lowbrow testimonials by Robert Bowen seasoned with sundry trademarks-- Disney characters and a Pillsbury Doughboy. Recently opened Babylon Falling offers a capable cull of alternative books, toys, fashion, dvds, and artwork.
Art.


Art.


Inner.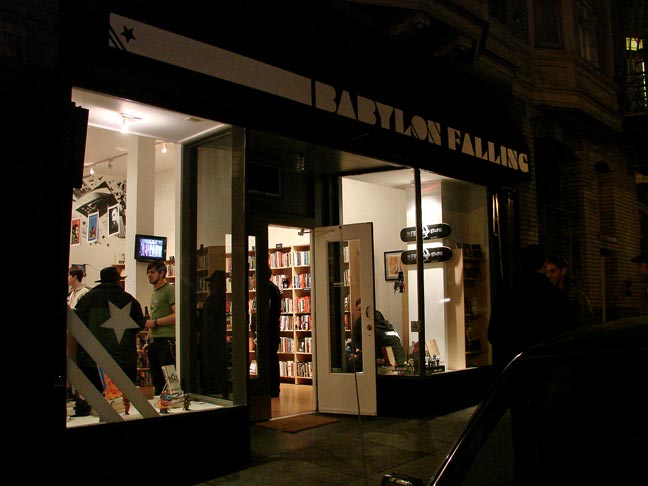 Outer.


***
Consulate General of Mexico in San Francisco: Ana Labastida - The Defense of the Delicate.
Comment: Ana Labastida tells me tonight's art and installations call attention to those fragile facets of life that we must all be concerned about preserving. To accentuate her message, she creates much of her sensitive imagery with indelicate ingredients like concrete and broken glass, as if to say that anything can be handled with care. Her wall display of glass-winged insects fluttering around a forest diorama is certainly worth a look.
Glass shard insect art - like it.


Art.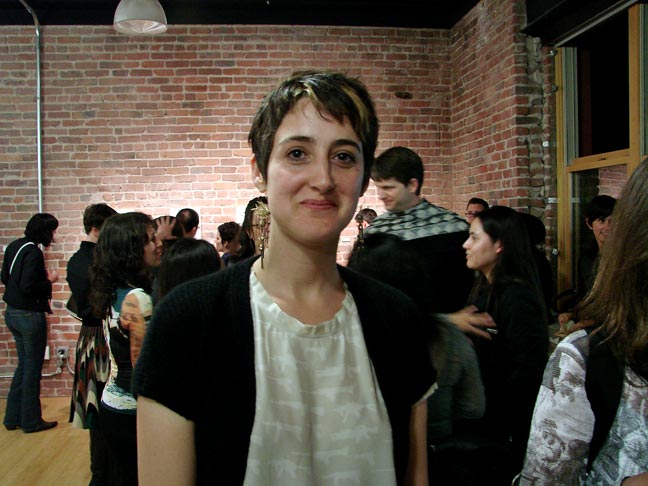 Ana Labastida.


Art.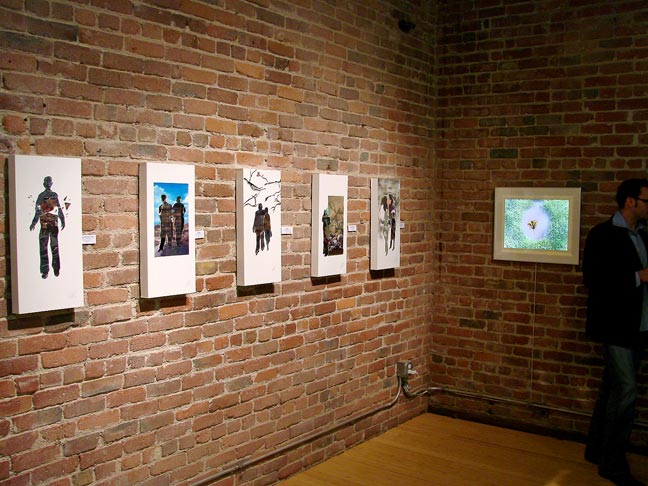 Art.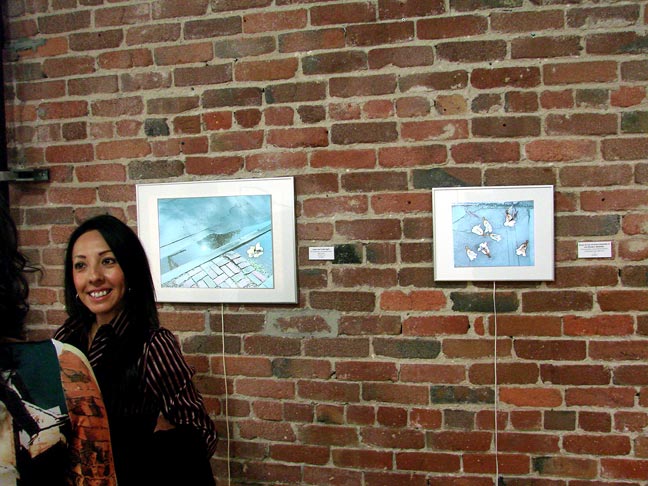 Art.


***
Red Ink Studios: A Mid-Market Area Documentary.
Comment: The Sixth Street Photography Workshop offers opportunities in photography to homeless and low-income adults and youth. They also document the lives and circumstances of those who make up San Francisco's low-income and homeless community, particularly in the mid-Market Street area. They've been actively archiving images for the past twelve years, and tonight's show at Red Ink is a sampling of that.
Photography.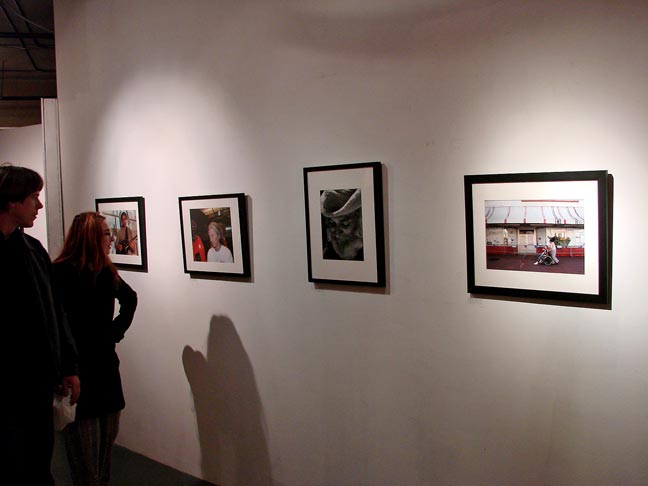 Photos.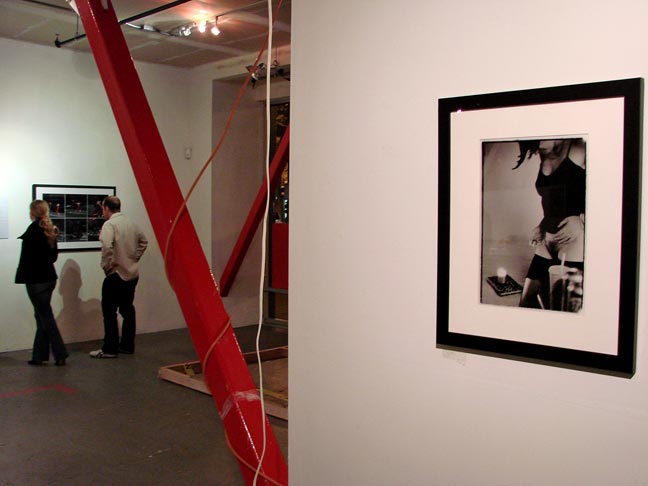 Images.


Photographs.


Photography.


***
Photo Epicenter: Oscar Mendoza + Alexander Martinez - Flawless Victory.
Comment: According to the briefing, the phrase "Flawless Victory" refers to a video game, the object of which is to defeat an opponent without taking a hit yourself. The images on display here represent that ideal outcome to roommates Oscar Mendoza and Alexander Martinez. It's that simple and no more complicated.
What it is.


Photography.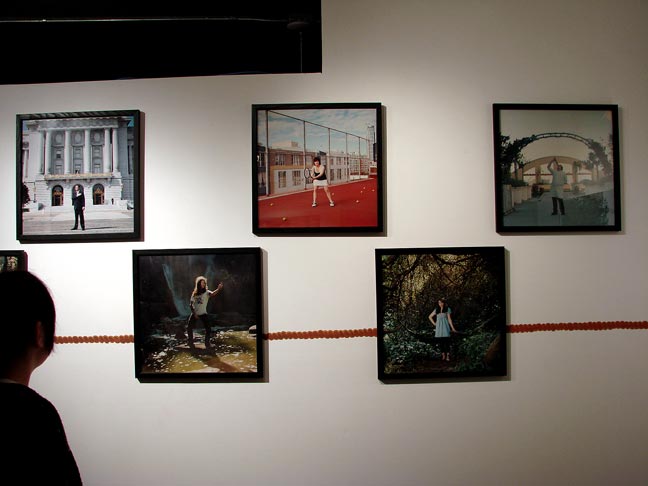 Photos.


Images.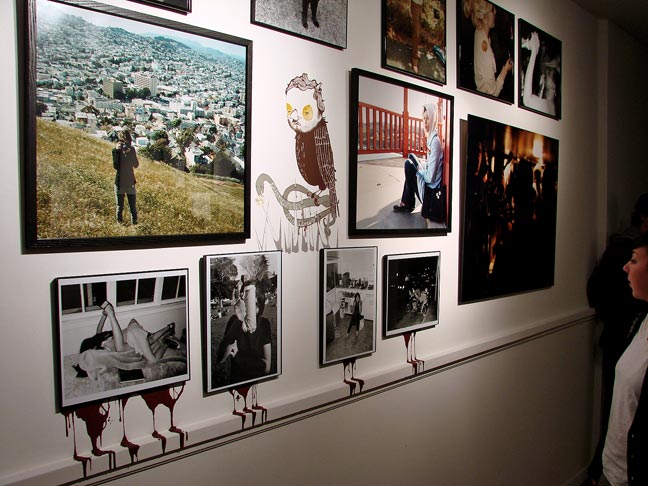 Photographs.


Photos.


On the veranda.


***
Adobe Books Backroom Gallery: Barbara Garber - Tread.
Comment: First solo show for Barbara Garber who exploits the opportunity to unveil a pair of sandals that, when you put 'em on, dispense California poppy seeds as you walk. Accompanying the fertile footgear is a mock up of what Dolores Park might look like all poppied up after a flip-flop seeder saunter.
Poppy seeder prototypes.


Poppy seeders bagged and ready to wear.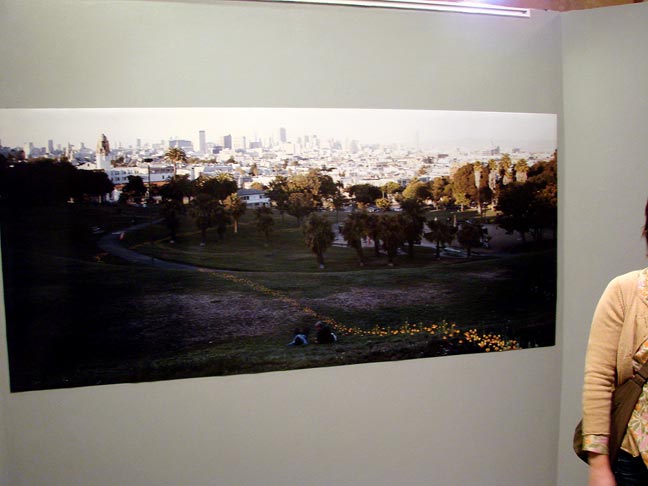 Dolores Park after a hypothetical seeding.


Tunes (Barbara Garber, center).


***
Silverman Gallery: T.V. Honey.
Artists: Desiree Holman, Joan Jonas, Lynda Benglis.
Comment: Curated by CCA Dean Larry Rinder, it's all about The Box and those magic moments it interminably inflicts upon us. The event centerpiece is a fast action three-screen video and related drawings by Desiree Holman, the video culminating in a trippy hallucinogenic green-aura dance number. Rounding out the scorecard are two vintage seventies videos by Joan Jonas and Lynda Benglis.
Video art (Desiree Holman - like it).


Art (Desiree Holman).


Curator Larry Rinder interviewed (art - Desiree Holman).


Vintage video art.


Art (Desiree Holman).


***