SAN FRANCISCO ART GALLERIES - OPENINGS
JOHN PENCE - FIFTY CROWS - LUGGAGE STORE GALLERY
MISSION 17 - BACK TO THE PICTURE - SPACE
69 BELCHER STUDIOS - TRACE STUDIO & GALLERY
10.13.06
John Pence Gallery: Water Street Atelier.
Artists: Juliette Aristides, Robert Armetta, Jonathan Bowers, Dennis Cheaney, Jacob Collins, James Connolly, Tony Curanaj, Carl Dobsky, Shawn Fields, Douglas Flynt, Michael Grimaldi, Nicholas Hiltner, Sarah Lamb, Kate Lehman, Patricia Lind, Edward Minoff, Nita Moore, John Morra, Richard Piloco, Nicholas Raynolds, Travis Schlaht, Karelyn Siegler, Jonathan Simon, Timothy Stotz, Dan Thompson, Michelle Tully, Bennett Vadnais, Patricia Watwood, Sam Wisneski, Robert Zeller.
Comment: Artist Jacob Collins founded the Water Street Atelier in 1996 (at his studio on Water Street in Brooklyn) to train and educate artists in the techniques, methodologies, and traditions of classical realistic painting. This group show not only showcases work by Water Street Atelier graduates, but is also a testament to the prodigious range of painting skills taught there. The Atelier's not on Water Street anymore, but it continues under Jacob Collins's leadership, retaining the name, the vision, the quality level of the students, and superior professionalism in teaching.
Art.


Art.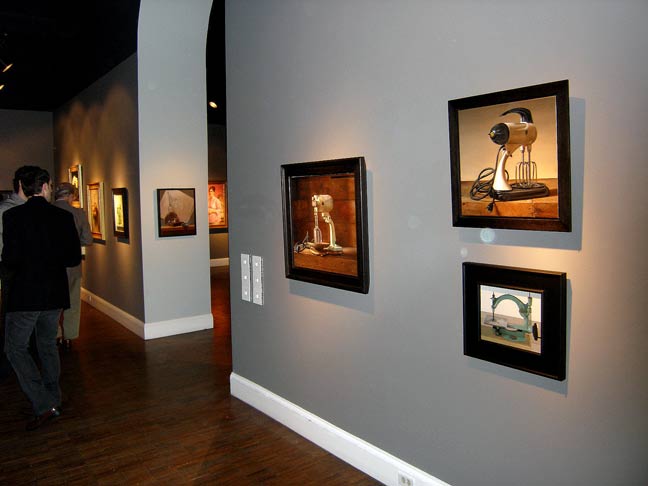 Art.


Art.


Art.


***
FiftyCrows Social Change Photography: Cruzando.
Artists: Marcela Taboada, Victor Cobo, Klea McKenna.
Comment: The photographers whose work appears in Cruzando (Spanish for Crossing) document the travails of three distinct Mexican Indian tribes in terms of faith, dreams, family, ancestry, limited resources, migration, and other aspects of their difficult existence.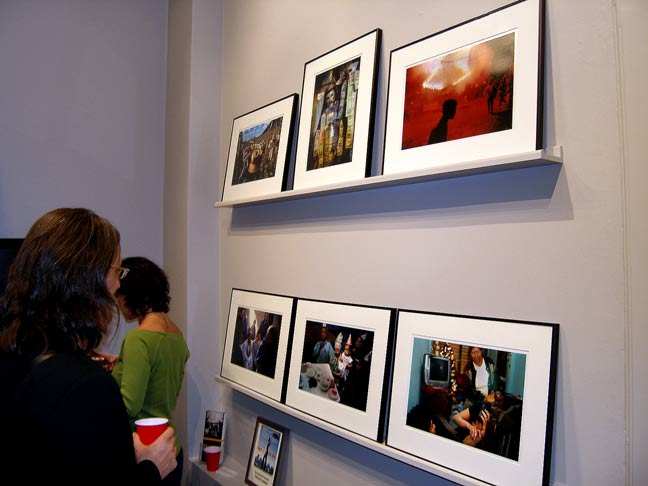 Photography.


Photographs.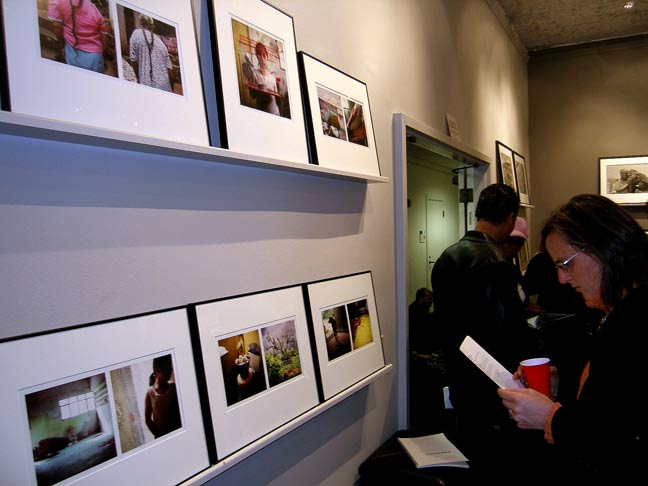 Images.


Photos.


***
Luggage Store Gallery Annex: Dan Flanagan - Crestfallen, A Selection of Americana.
Comment: Dan Flanagan's multifaceted art is born of his observations on life in iconic America, in this case revolving around emblems, mottos, sports, and pocket knives. The three entirely different mediums of art on display are carved and painted wood signs, antique and armorial in form, with concocted sayings and symbols; watercolors of pocket knives, each knife labeled by style (Flanagan collects pocket knives); and a row of handmade "baseballs," each with its own story. Prices are reasonable considering the quality of the art and experience of the artist-- many pieces ownable for low to mid-hundreds of $$. If I recall correctly, the "baseballs" are only $250 each.
The Luggage Store Gallery Annex at 509 Ellis St. is where the Luggage Store began. It became the Annex only after the gallery moved to a larger space on Market St. Now it's back in business with spiffed up interior, snappy new signage by Ricardo Richey, regular shows, and its tenure as the "Annex" is officially over.
Dan Flanagan - emblem art (like 'em).


"Baseball" art (like 'em).


Art.


Art.


Convocation.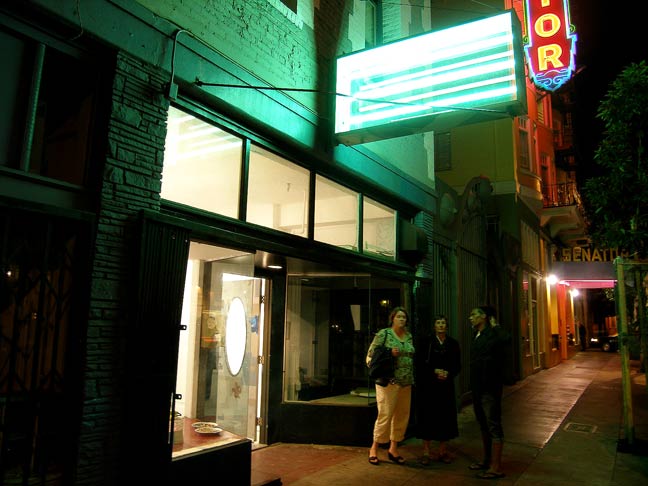 Out on the Ave.


***
California Modern Gallery: Sometimes... Somewhere.
Artists: Ray Buffalo, Rene Fressola, Pierre Guettier, Trevor Ito, Kevin Pincus.
Comment: Abstract art rooted in expressionistic action painting of the 1940's and 1950's. All are paintings save for nine peppy colored pipe cleaner compositions, painstakingly cut, linearly configured, and glued onto wood panels by Rene Fressola.
Pipe cleaner art (Rene Fressola, left).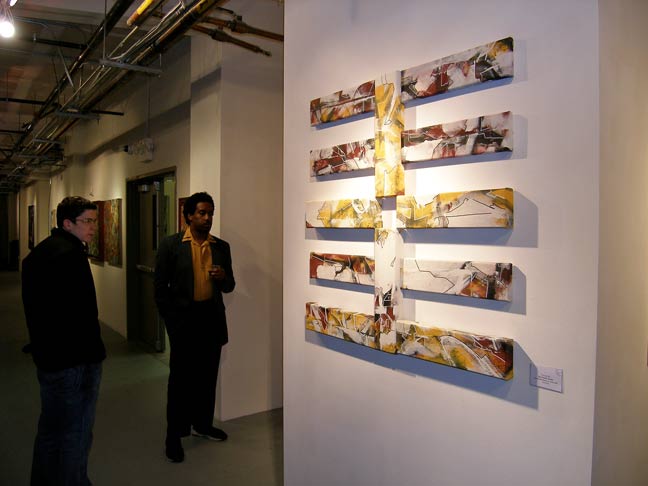 Art.


Art.


Art.


***
69 Belcher Street: Belcher Artists Open Studios 2006.
Artists: Carlo Abruzzese, Paul Ferney, Tracy Taylor Grubbs, Bret Hansen, JoAnn Johnson-Deal, Lester Marks, Neil Motteram, Hadley Northrop, Sean Poreda, William Salit, Charles H. Stinson, Rebecca Szeto, Marcia Teusink.
Comment: The main galleries feature work by the above artists. For this event, all Belcher artist studios are also open to the public. My favorites-- savvy accomplished lighthearted sculptures by Sean Poreda, however they're so flawlessly precise, I cogitate on whether they're "digitally" sculpted. Does that render Poreda an artist or a designer? Does anybody care? I do-- I like to know what I'm gettin'.
Update posted 12.01.06: Got an email from Sean Poreda today. He sculpts 'em by hand. No computers involved. Nice. Now we all know what we're gettin'.
Art (Sean Poreda sculpture).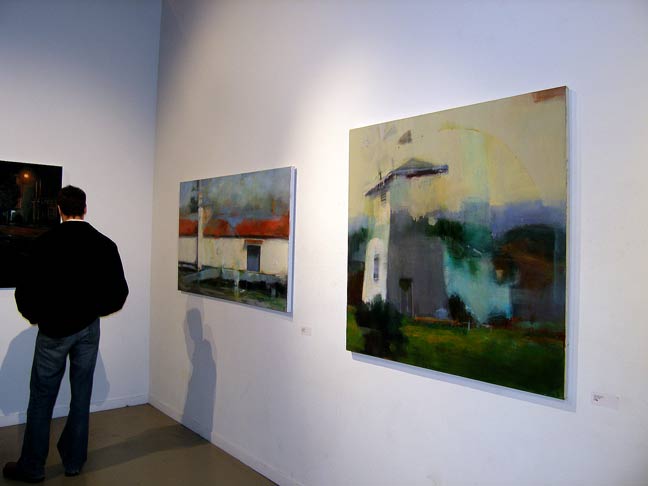 Art.


Art (Sean Poreda sculpture).


Art.


Art.


Art.


***
Trace Studio and Gallery: Paris - San Francisco Artist Exchange.
Artists from Paris: Jean-Jacques LaPoirie, Véronic Roux Voloir, Liliane Maurin, Rena Tzolakis, Marcel Roger, Jacqueline Fauchère-Fruchère, Ludovic DeVita, Patrick Lipski, Tracy Mead, Sonia Burel, Polska, Jean Chazy, Danielle Loisel, Isabelle Gaudin, Claudine Capdeville, Jean-Robert Franco, Jacques Pibot.
Artists from San Francisco: Annie Margaret Arrasmith, Dominique Bayart, Jonah Burlingame, Mitchell Durkee, Diane Rollins Feissel, Cheryl Finfrock, April Hankins, Gina Jacupke Andrzej, Michael Karwacki, Michele King, Jamie Krueger, Camilla Newhagen, Silvia Poloto, Ellen Rosenthal, Ari Salomon, Catherine Small.
Comment: Sixteen San Francisco artists welcome seventeen Paris artists for a joint group show. Then they whip out the vice versa and do the same thing in Paris.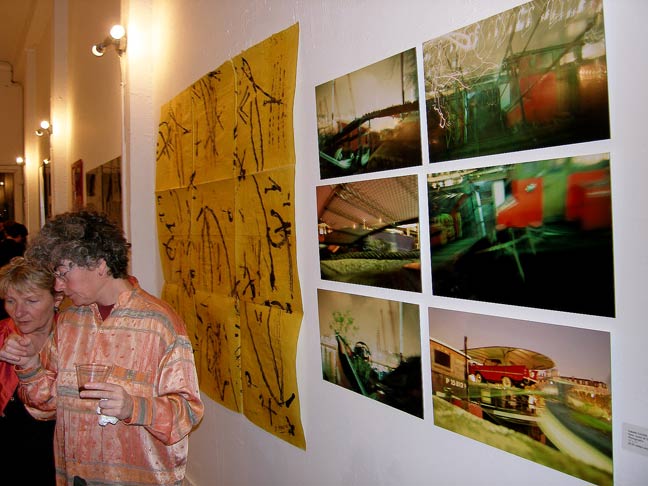 Art.


Art.


Art.


Art.


Art.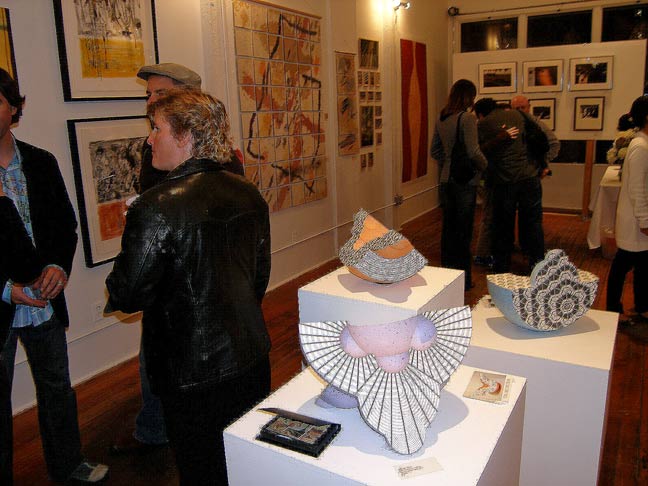 Art.


Hair-on-plastic-wrap art.


Head count.


***
Space Gallery: We Will All Be Well - Benefit Art Auction for Monica Canilao.
Contributing artists: Joey Alone, Carl Auge, Megain Brian, Ashley Brown, Monica Canilao, Whitney Coffinshaw, Skott Cowgill, Mike brodie, Davie V. D'Andrea, Justin Durand, Eve Ekman, Jeremy Forson, Kyle M. Garner, Michael Guidetti, Matt Hart, Leif Hedendal, Camille Johnson, Leslie Kulesh, Lauren La Motte, Vanessa Maida, Lisa Mancini, Ivy McClelan, Gaelan McKeown, Matt Momchilov, Ariel Oakley, Juliette Oken, Adam Opet, Michael Page, Caroline Paquita, Hilary Pecis, Oona Phillips, Kyle Ranson, Scott Rideout, Daniela Riffo, Henry Rodriguez, Ariel Roman, Erik Ruin, Moses Saarni, Paul Schiek, SHAM, Manny Silva, Martin Sorrondeguy, Jill Storthz, Deth P. Sun, Mike Taylor, Ali Ulrich.
Comment: Monica Canilao has some steep medical bills to contend with (don't worry-- she's all well and healthy), and she and her friends have donated all kinds of art to raise $$ and help pay down the debt. The place is packed and I can hardly move, let alone take pictures. I'm gonna to assume the event was a success and I'm gonna additionally assume that good buys were had, but more help is very likely needed, so if you'd care to contribute, contact the gallery for further information.
Art (Monica Canilao).


Art.


Art.


Art.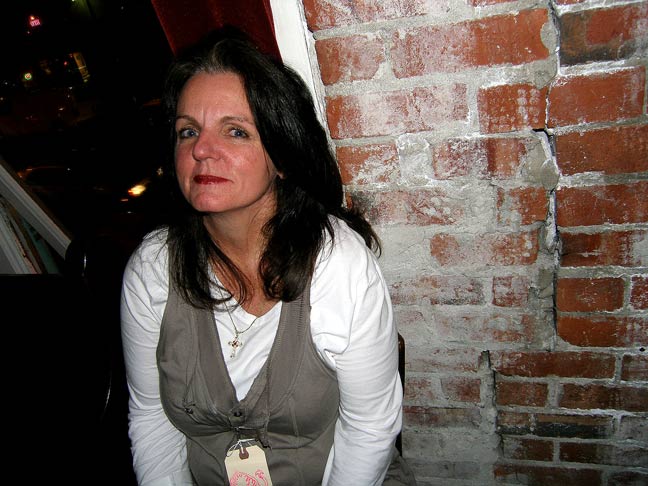 Monica Canilao's Mom.


Art (Monica Canilao).


Art.


Very partial attendance figures.


***
Addendum:
Amateur internet video assessed at Mission 17 Gallery.


Merits of amateur internet video examined at Mission 17.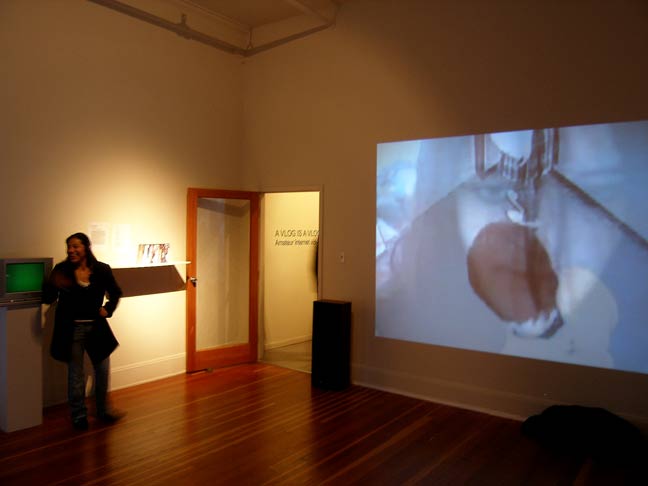 One more from "A Vlog is a Vlog" at Mission 17 Gallery.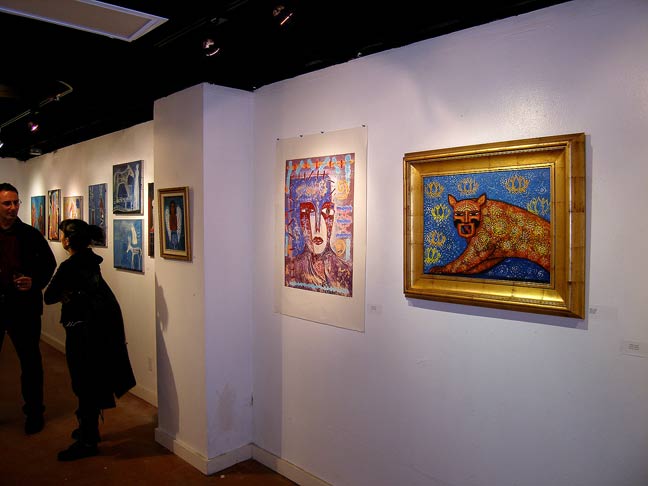 Calixto Robles prints and paintings atBack to the Picture.


Another Calixto Robles art at Back to the Picture.


One more Calixto Robles at Back to the Picture.


***