SAN FRANCISCO ART GALLERIES - OPENINGS
BRAUNSTEIN/QUAY - GALERIA DE LA RAZA
WHITE WALLS - SHOOTING GALLERY - ROOT DIVISION
10.13.07
Braunstein/Quay Gallery: David Ruddell - New Work.
Comment: According to the documentation, David Ruddell uses the boat as a metaphor for the journey through life. Fair enough. His vessels approximate rowboat or kayak hulls with no distinguishing features-- some closed, some open, some painted, some natural-- constructed mainly of thin wood strips tacked together, occasionally finessed with stretched glazed fabric. He then mounts them against spartan color-field backdrops. A challenging presentation that's gratifyingly contemplative overall, especially from a distance, but the detailing occasionally runs a little rough on the zoom in.
Art.


Art.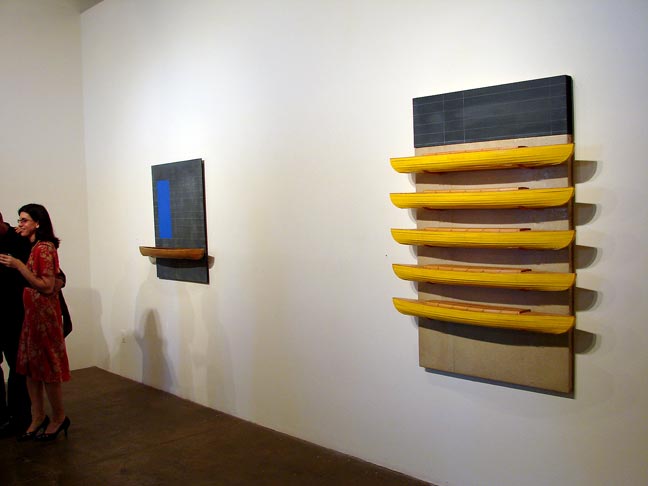 Art.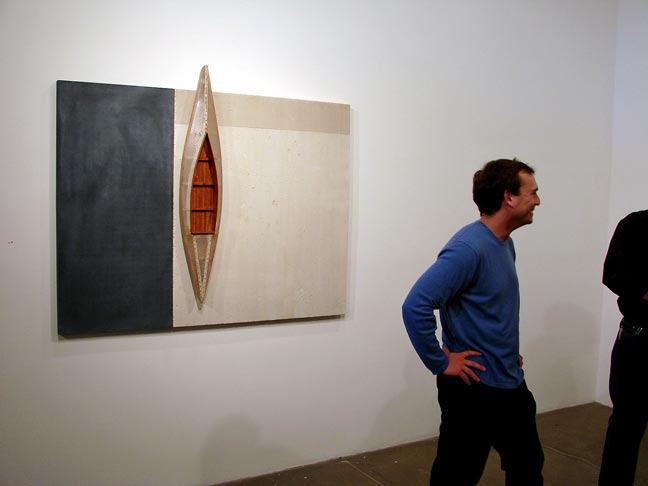 Art.


Art.


Art.


***
Galeria de la Raza: Oaxaca - Aqui No Pasa Nada (Oaxaca - Nothing is Going on Here).
Artists: Demian Flores, Cabeza de Juarez, Antonio Turok, Resistencia Visual, Radio Planton.
Comment: Photography, video, soundtracks, and art pieces effectively document and comment on social and political conflicts that arose in Oaxaca during the summer of 2006 when Mexican President Felipe Calderon requisitioned the army to squelch a popular uprising.
Political art.


Political art.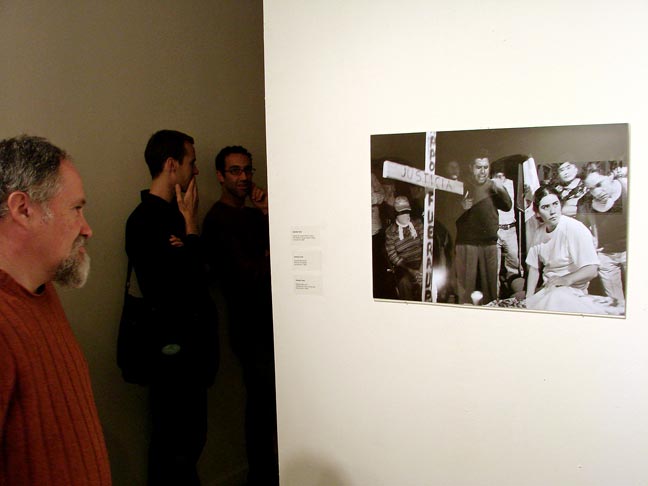 Political art.


Political art.


Political art.


Political art.


Political art.


Political art.


***
Root Division: Preview Reception for Root Division's 6th Annual Art Auction.
Comment: Art by over 125 established and emerging area artists goes on the block Friday, October 19th in support of Root Division's artist and art education programs. Plus it's a good party. Plus it's a delectable array of creative endeavors, and a prime opportunity to augment those collections. Don't believe me? Witness this...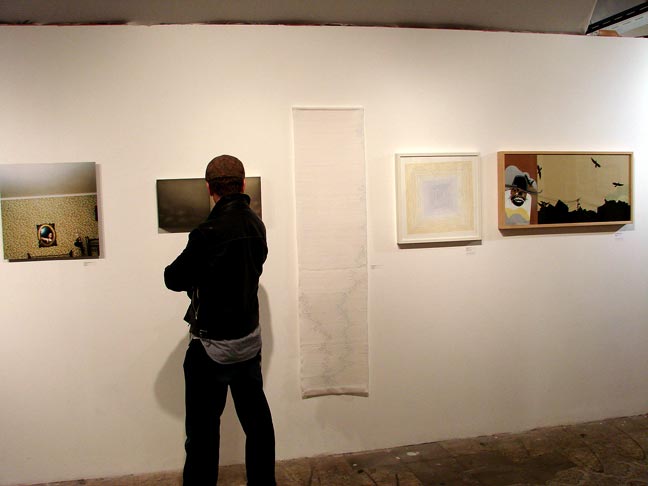 Art.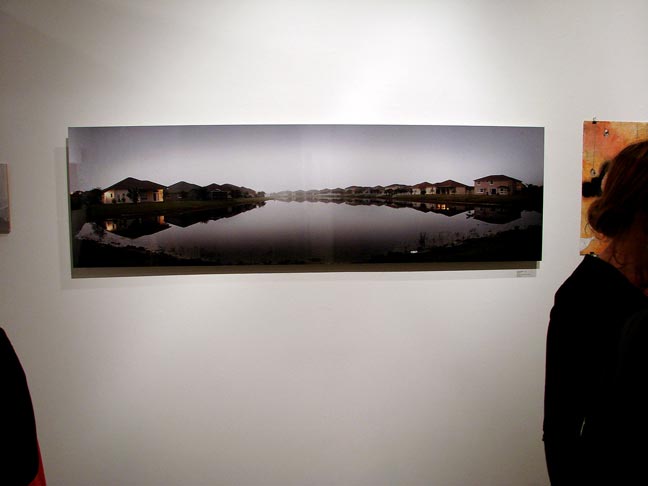 Art.


Art.


Art.


Art.


***
White Walls Gallery: Joel Dugan - Ocea.
Comment: First off, let me say that there's hardly a better way to end an evening of artful adventures than at the Shooting Gallery/White Walls culture complex, especially when my normally preposterous schedule is abnormally manageable and I've got time to hang around. Always enjoyable. Anyway, tonight Joel Dugan convincingly conveys the brisk misty invigorating maritime grandeur of rural Maine and Nova Scotia to provincial San Francisco in a series of paintings, sculptures, and a fully habitable installation, the whole shebang largely inspired by Samuel Tayllor Coleridge's "The Rime of the Ancient Mariner." My favorite? The sculptures, particularly the lighthouse.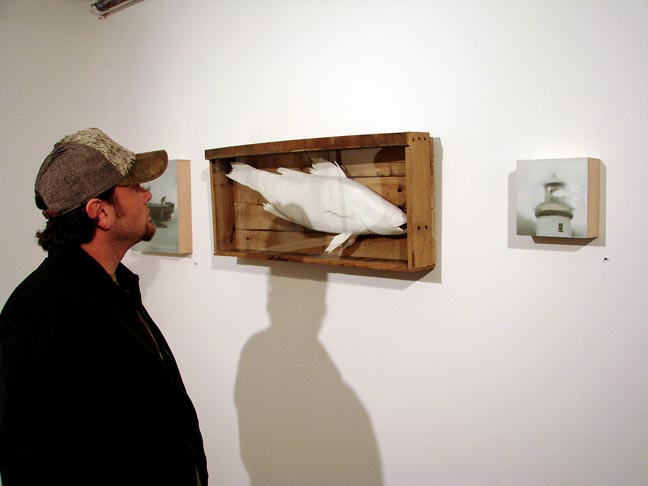 Art.


Art.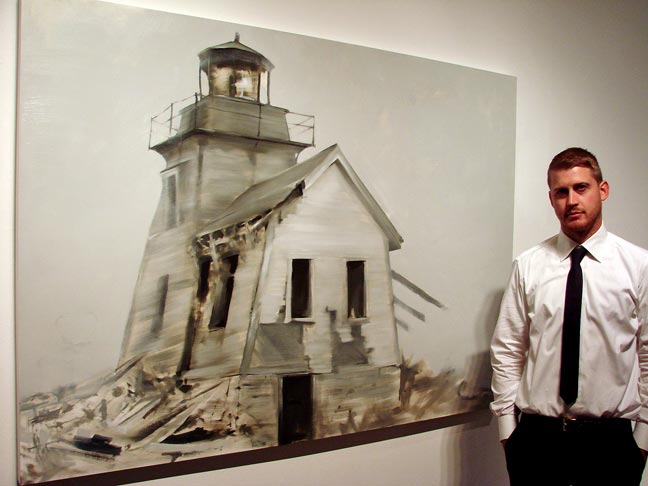 Joel Dugan - art.


Lighthouse art (like it).


Habitable art.


Art.


Art.


Art.


***
The Shooting Gallery: Mirror Mirror on the Wall.
Artists: Kakula, Kris Lewis, Travis Louie.
Comment: As you might surmise from the show's title, it's all about portraiture, three distinct perspectives, all worthy, the most remarkable of which has got to be the haunting humanoid melds of Travis Louie. They appear so flawless from technical and aesthetic standpoints, I can't believe they're not prints of originals. No matter how close I look, there's no hint of brushwork anywhere. So I ask gallery owner Justin Giarla what the deal is, and he refers me to Travis Louie for a quick educational Q&A. Louie tells me he was trained as a photo retoucher, and today basically employs those skills to create his own "photographs" from scratch, super delicately dexterously rendered in acrylic on board in the subtlest gradations of black and white. Then he presents 'em in period-style frames, the aberrant upshots looking like miscreants straight out of Victorian horror stories. Oh... almost forgot... to enhance the experience, he identifies and describes 'em too... at length. Go see.
Art (Travis Louie).


Art (Travis Louie).


Travis Louie - art.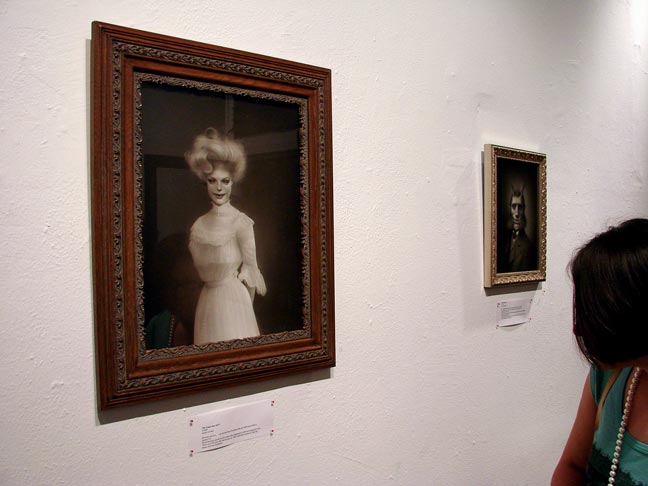 Art (Travis Louie).


Art (Travis Louie).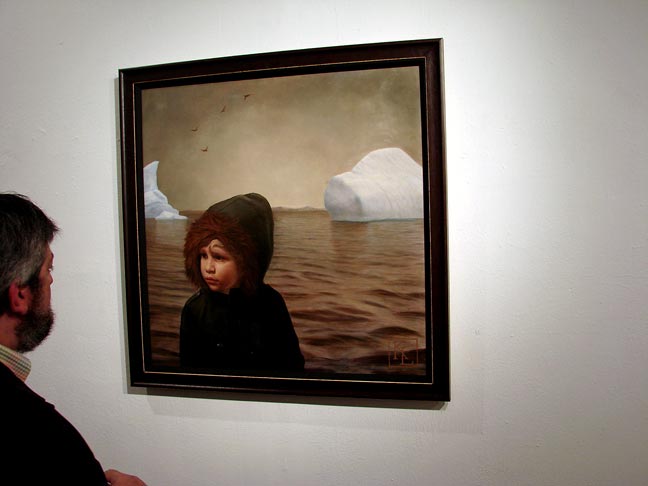 Art (Kris Louis).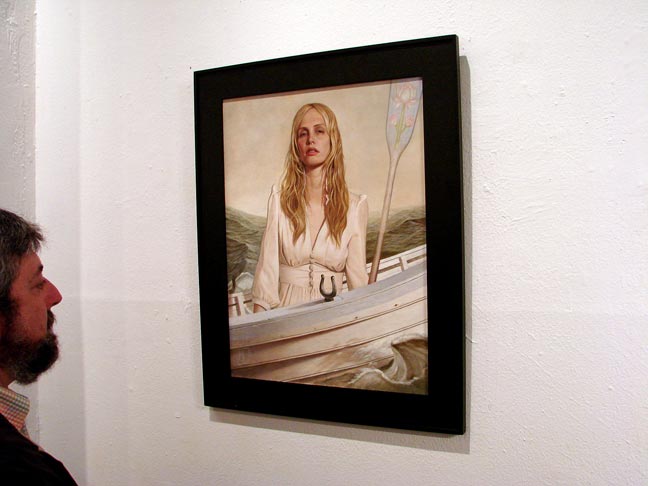 Art (Kris Louis).


Art (Kakula).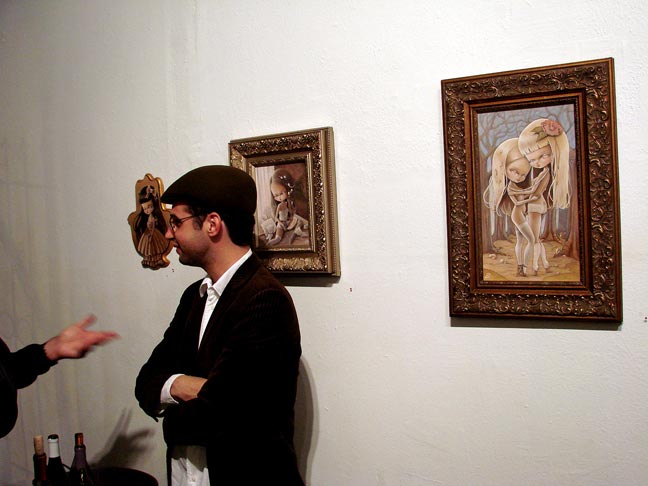 Art (Kakula).


***