SAN FRANCISCO ART GALLERIES - OPENINGS
SOMARTS CULTURAL CENTER - GIANT ROBOT - ARC CAFE
LUGGAGE STORE - LOLA GALLERY - NEEDLES & PENS
RECORD COLLECTOR - WORKSPACE LIMITED
BACKSTAGE SALON - STUDIO GALLERY - GALLERIA TEMPEST
10.14-15.05
***
Announcement: For those of you who can't get enough of me (don't all raise your hands at once), I'll be part of a panel discussion called "Survival Strategies for Struggling Artists" this Wednesday, October 19, from 3 - 5 pm, at The Foundation Center, 312 Sutter Street. My topic-- "Selling Art Online"-- about 15 minutes.
***
SoMarts Cultural Center co-sponsored by Galeria de la Raza: Rituals in the Journey of Life and Death - Dia de los Muertos - Day of the Dead 2005.
Artists: Carlos Loarca, George Aguilar, Adrian Arias, Pam Bolton, Cindy Cleary, Jos Sances, Carla Oden, many more.
Comment: I'll be blunt on this one-- the SoMarts Day of the Dead exhibit is one of my favorite shows of the year, and one of the best shows San Francisco has to offer-- especially on opening night. Go see. If you've never been to one of these, trust me-- it doesn't disappoint, and it gifts you with a whole lot to think about. Installation art at its selfless best honoring those who have gone before us. Runs through November 2.
Art.


Art.


Art.


Art.


Hurricane Katrina art.


"Death of a Liver" art (left) - Military casualty art (right).


Art.


Art.


Artist explains art.


Art.


Art.


Art.


***
Workspace Limited: Grand Opening Celebration of San Francisco's Newest Non-profit Arts Facility.
Comment: The Grand Opening of a significant new non-profit arts facility which includes approximately 75 artist studios. This premier event features The San Francisco Community Orchestra-- and they're good-- my first symphony-in-a-warehouse experience ever. Approximately twenty studio spaces are still available with sizes ranging from 150 to 2000 square feet. Studios are on the second floor; workshops and art making facilities on the first floor. I've seen lots of warehouse studio spaces over the years and these are exceptionally nice. Special added bonus-- below-market rent.
Studio.


Studio.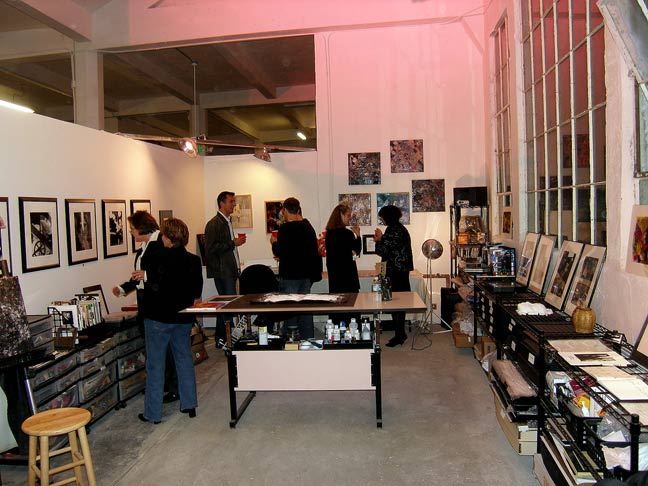 Studio.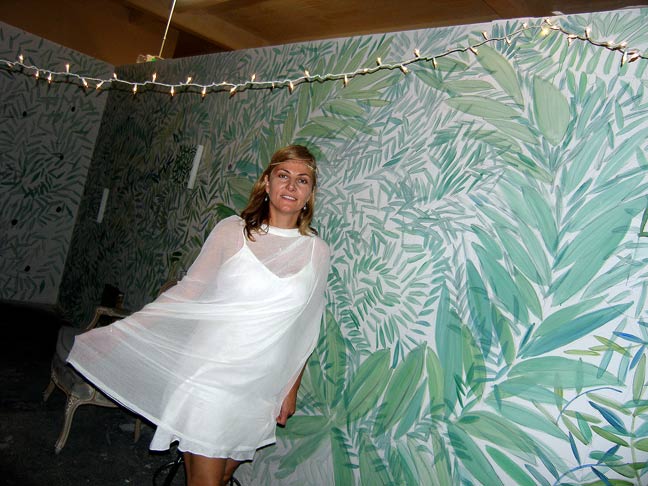 Caroline Stechschulte in her hand-painted studio.


Tunes.


Frontage.


***
Arc Cafe: Dancing Gods - Timeless Photography by Ted Pushinsky; Galactical Drawings by Matt Furie.
Comment: Modest but meaty display at the mellow tucked away Arc Cafe, homesteading on deceased dotcom dominion. Veteran photo pro and Hamburger Eyes mainstay Ted Pushinsky (Newsweek, SF Chronicle, SF Examiner, etc.) shows a tight gritty retrospective sampler plate. Matt Furie drawings-- small, strange, and competent.
Photography (Ted Pushinsky).


Matt Furie - art.


Photographs (Ted Pushinsky).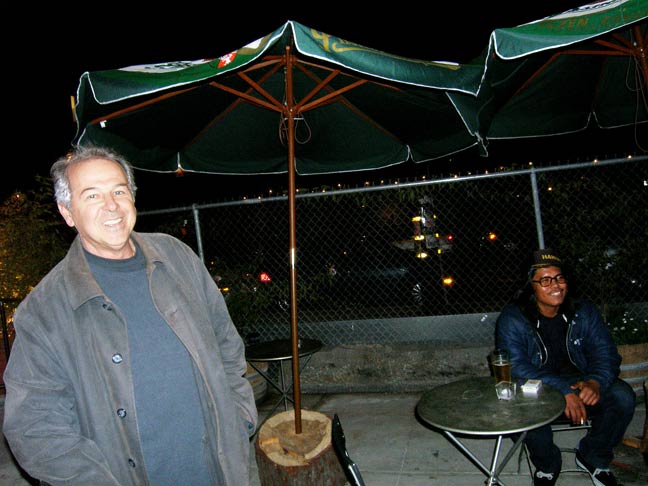 Ted Pushinsky (left) - Ray Potes (right).


Ted Pushinsky photo survey ($10) - Dave Potes.


***
Backstage Salon: Rock+Roll Scrapbook - Victoria Smith.
Comment: Music photography by Victoria Smith (Rolling Stone, Teen, Vogue, etc.) including a nostalgic 2001 image of dear departed Hippie icon, Avalon Ballroom head man, Family Dog patriarch, and art dealer (owned Atelier Dore Gallery, 771 Bush Street from circa 1981 to 2003), Chet Helms. Bye Chet-- nice knowing you.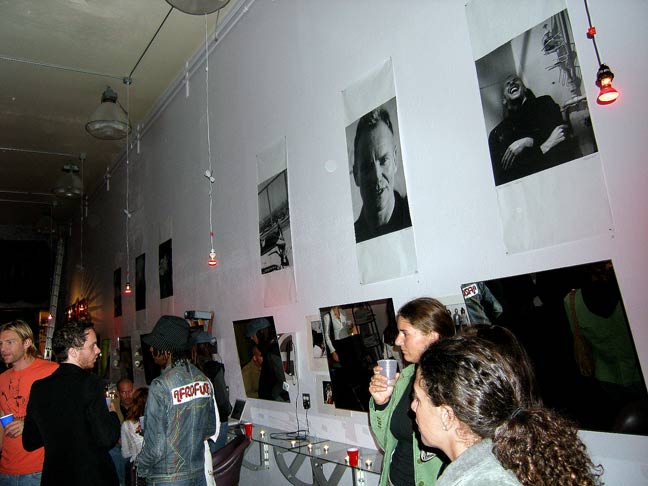 Photos.


Victoria Smith (right).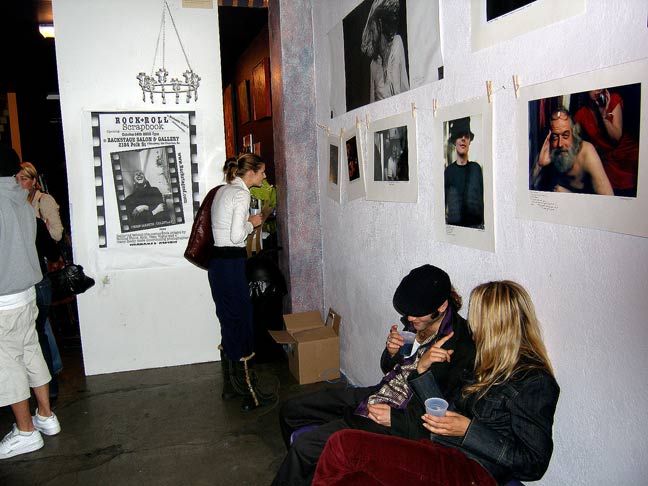 Photography (Chet Helms image far right).


Photographs.


***
Luggage Store Gallery: Writing Letters - Work by Joe Amhrein, Tauba Auerbach, Steve Powers (aka ESPO).
Comment: New York artist Steve Powers incorporates pop culture catchwords and images into his "modern day cave paintings," using those words and images to reflect on core human emotions and experiences like love, hate, jealousy, and trying to understand art. He's there at the opening, gas mask and all, painting away, so we can see how he does it. New York artist Joe Amhrein makes art out of words co-opted from critical art writing, and his background as a sign painter allows him to do this exceptionally well. (Myself, I'd rather abduct critical art words and rocket 'em off to planet Zork-- permanently-- except mine, of course.) Tauba Auerbach's statement is so impeccably abstruse I can't extract a shred of sense out of it. Tauba-- suggestion-- if you make a claim like "various languages we use to encode our world in order to systematize it and make it manageable, consistently take on lives of their own and we often end up at 'their' mercy," give an example of such a language, how we encode it, and how we end up at its mercy. Make it fast, keep it simple, and we all lived happily ever after.
Abstrusities aside, this is another entertainingly thought-thick show courtesy of one of my favorite San Francisco galleres, The Luggage Store. By the way, I'm not sure who made this piece, but as I get to the top of the stairs and step into the gallery, the first thing I see is a large inflated distorted limousine scrunched angular into the back end of the gallery, reminding me of how pathetically little it takes to boost the self-esteem of the overwhelming majority of the American populace.
Art (Joe Amhrein - like it).


Art (Tauba Auerbach - like it).


Art (Steve Powers - like it).


Joe Amhrein - art.


Tauba Auerbach - art.


Stever Powers - art - I asked him to smile; can you tell?


Art (Joe Amhrein).


Art (Tauba Auerbach - like that suspended 'yes').


Angular ego enhancement art.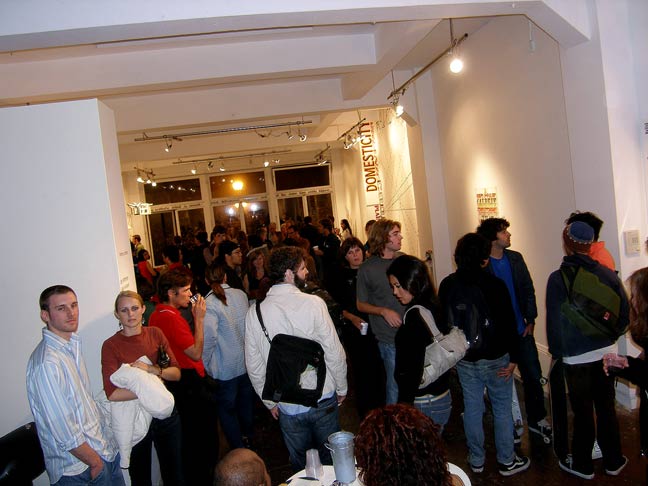 Meniscus.


***
Needles and Pens: Paintings and Installations from Allyson Melberg and Jeremy Taylor.
Comment: I thought the gallery was between shows and they were in the process of putting up the next show. Silly me.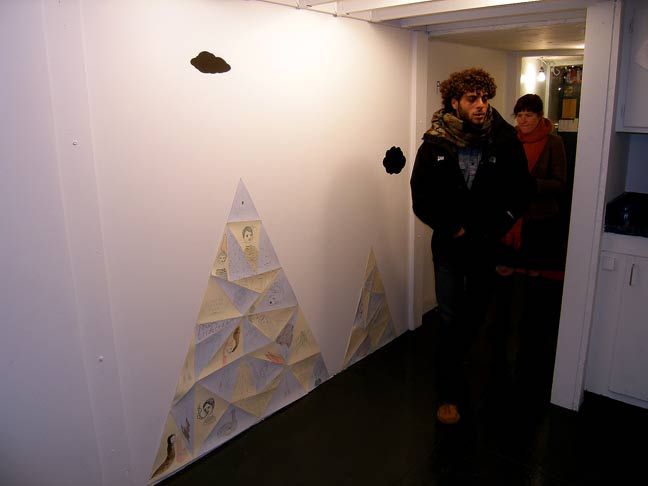 Art.


Art.


Art.


***
Record Collector, 485 14th Street, San Francisco, CA 94103; 415.864.4243: Highway Tigers - Photographs by Alissa Anderson.
Comment: Unassuming agreeable cull of photos by Alissa Anderson.
Photographs.


Photos.


***
Giant Robot San Francisco: The New Naturalists - Work by Carson Ellis, Kelly Lynn-Jones, Brook Caballero.
Comment: The most interesting artworks here are several Brook Caballero watercolors. He composes them on a computer and then paints the images entirely as watercolors. I had trouble figuring out what they were until I asked him because, to me anyway, the subject matters looked different than art evolved entirely in-brain.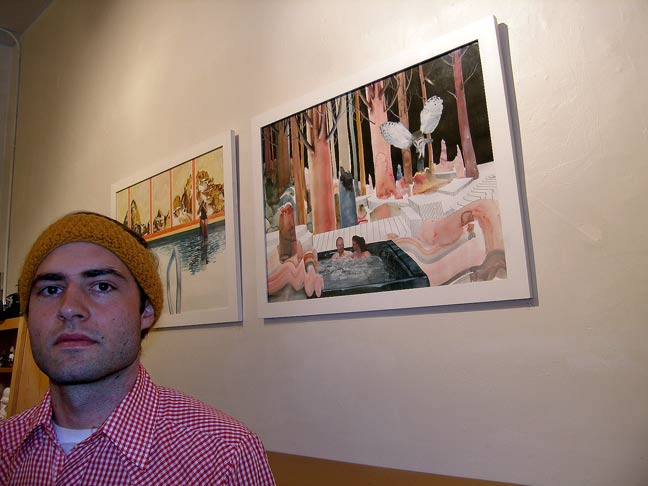 Brook Caballero - art.


Art.


Art.


***
Addendum:
Jessica Pezalla installation at The Lola Gallery.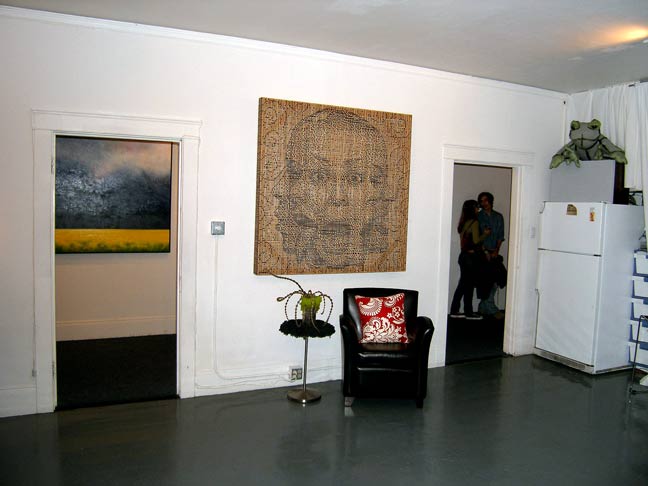 One more Lola Gallery - I like that basketweave portraiture.


Bobbie Pires - George Bush Voodoo Dolls at Studio Gallery.


One more Bobbie Pires - voodoo art. Wonder if they work?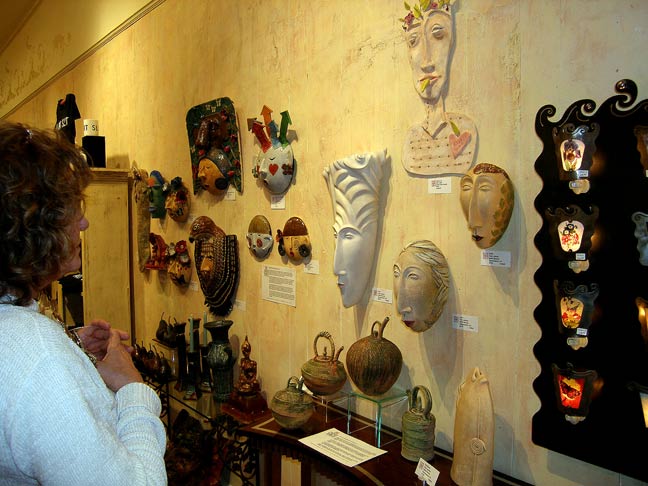 Copious mask art show at Galleria Tempest.


Hmmm. Maybe I should make it official. (Galleria Tempest)


Galleria Tempest frontal.