SAN FRANCISCO ART GALLERIES - OPENINGS
301 BOCANA GALLERY - ART EXPLOSION STUDIOS
REPORTED BY KATHRYN WARD
10.15.06
301 Bocana Gallery, 301 Bocana St., San Francisco, CA 94110; 415.225.5427: Alexis D. Grant ­ Neighborhood Paintings.
Comment: Alexis is a recent grad from CCA. She began this project as a student; it ultimately became her thesis. Alexis describes the series as plein air paintings done in her neighborhood of Bernal Hill. As she worked on these paintings she began to have interactions with her neighbors. They might ask whether she'd painted so and so's car or invite her in to have KFC or invite her to see various neighbors' art collections. So, the project evolved into a collaboration between her and the neighbors.
She began the project by painting portraits of houses, then one day she also included a car. She soon became interested in connotations of different cars, for example as indications of class, particularly in a neighborhood like Bernal Hill where you might find, as Alexis mentioned, "...a doctor living next to a mariachi player." The reception that took place on Sunday, October 15th was conceived as an opportunity for the neighbors to actually meet. 301 Bocana was chosen as the site for this meeting because it's in "the neighborhood." Congratulations Alexis on creating an event which brings people together!
Car Stack.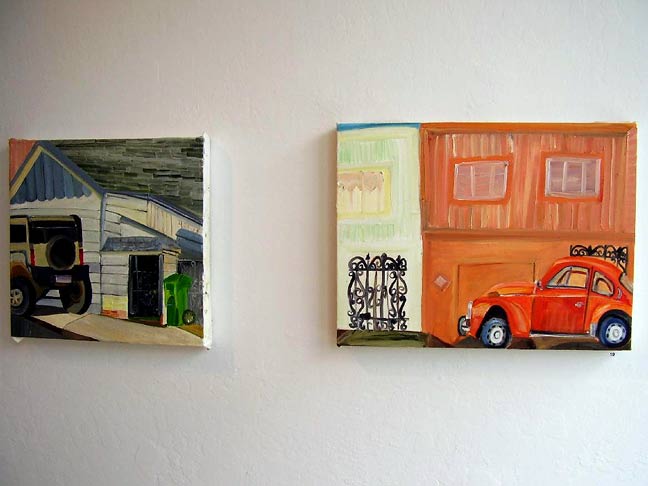 Hummer & Sylvia's Bug.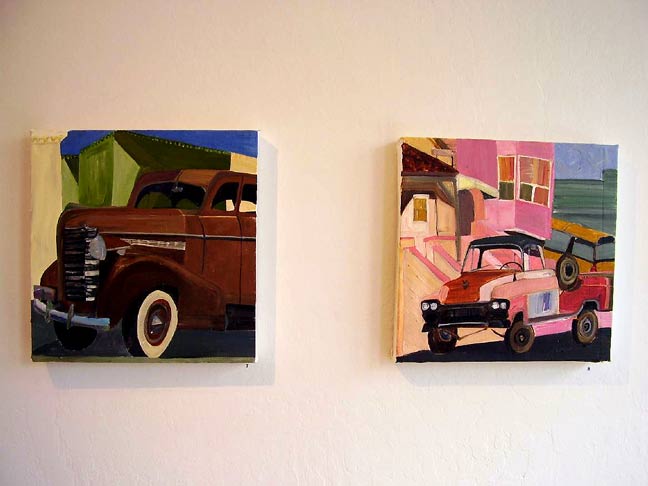 Buick & Racer.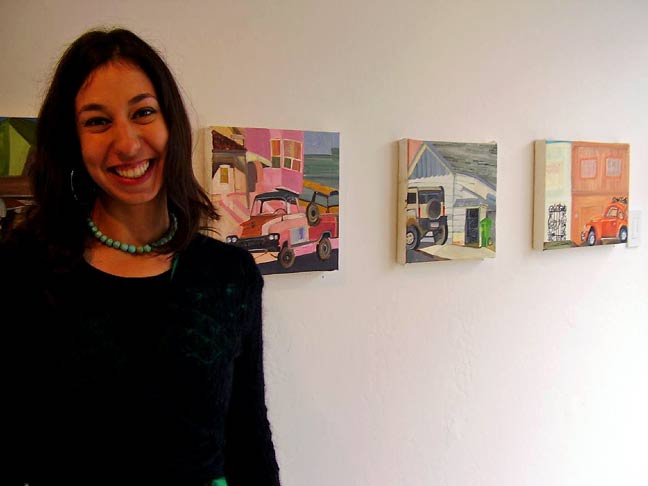 Alexis Grant - art.


Red Ford Galaxy and Valiant.


One-Ton Panel Truck on Bernal Hill & Red Ford Galaxy.


Waiting For Work & Turquoise Pick Up.


3rd Orange Gremlin & Honda Civic.


Green VW & Oregon GMC.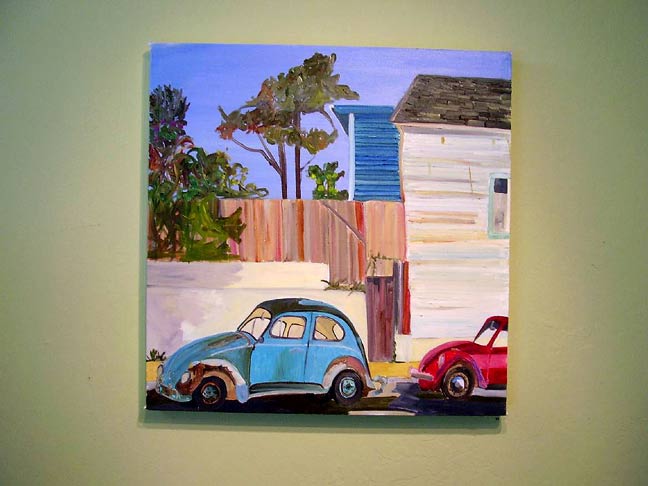 Beetles.


Cooper Mini.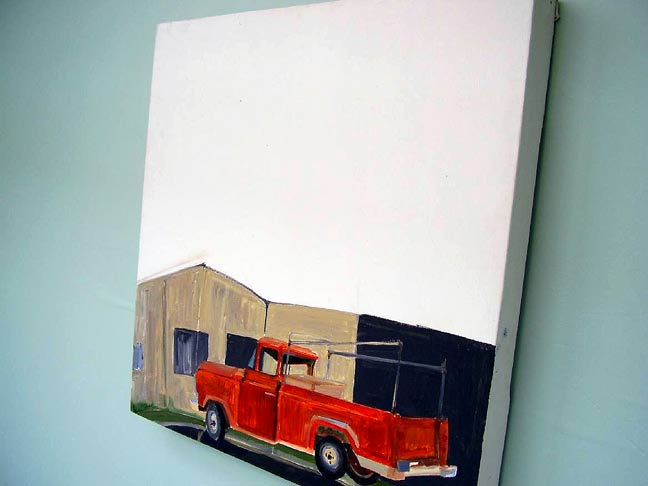 Do you like my friend's truck?


Teresa's House.


***
Art Explosion - 17th Street Location: Open Studios.
Artists: Linda Adreveno, Thomas Albany, Rebecca Bazell, Barbaralynn Brodsky, Jeff Caldwell, Carla Caletti, Dominique Caron, Emily Citraro, Jerome Doran, Devon Dunham, Daniele Erville, Jhaya Esser, Georgianne Fastaia, Laura Faw, Kenya Fernandez, Jon Fischer, Karen Gerdes, Akane Goda, Alice Gould, Andrea Guerra, Vikki Highland-Scott, Dmitri Hochstatter, Phillip Hua, Emily Hung, Ivy Jacobsen, Nancy Ellen Jones, Ellen Lee, Laura Lengyel, Jimmy Little, Carmen de la Mano, Erika Meriaux, Margret Meyer, Katherine Mitchell, Amanda Moeckel, Roxanne Moreno, Paul Morin, Priscilla Otani, Melisa Phillips, Sri Prabha, Lucky Rapp, Alejandra Rassvetaieff, Catherine Reed, Martha Rodriguez, Steve Scotten, Allyson Seal, Christina Shonkwiler, Wendi Spiers, Tim Svenonius, Kirsten Tradowsky, Sylvain Vailler, Francoise Vespa, Geoff Wolfe.
Comment: Open Studios = a lot of art in one spot. I have to say that I am sorry to those of you who are not represented. Too many artists and too little time. Thank you to all for making it an interesting Sunday.
Art (Phillip Hua).


Devon Dunham's "The Zip Code Project," an installation to create awareness and discussion about the issues of sexual offenders living within the community again including registration issues and address information not necessarily being up to date.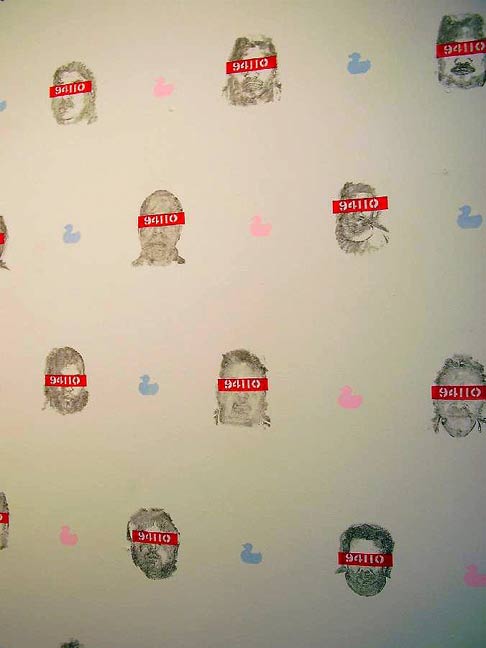 Devon Dunham installation detail.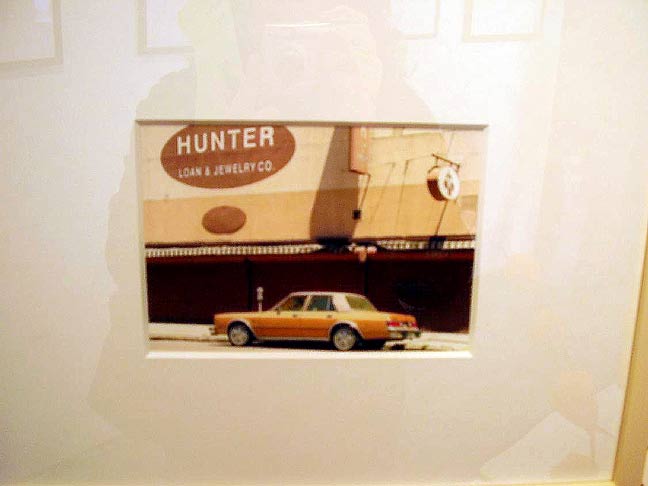 "Hunter, Stockton 2005" by Priscilla Otani. The images here do not do Priscilla's photographs justice. Her images pay close attention to color in the composition. Priscilla grew up in Japan and she told me that she associates these colors with what she feels is a very distinct American color palette.


"The Big F, Oakland 2006" (Priscilla Otani).


Art (Rebecca Bazell).


Universal (Kirsten Tradowsky).


"Universal" detail (Kirsten Tradowsky).


Kirsten Tradowsky & "Spectators."


Autumn Skyline No. 2 (Ivy Jacobsen).


Ivy Jacobsen - "Magic Hour."


Premiere Collection de Vestes by Lucky Rapp. According to Lucky's statement, she explores themes such as the beauty of imperfection and aging.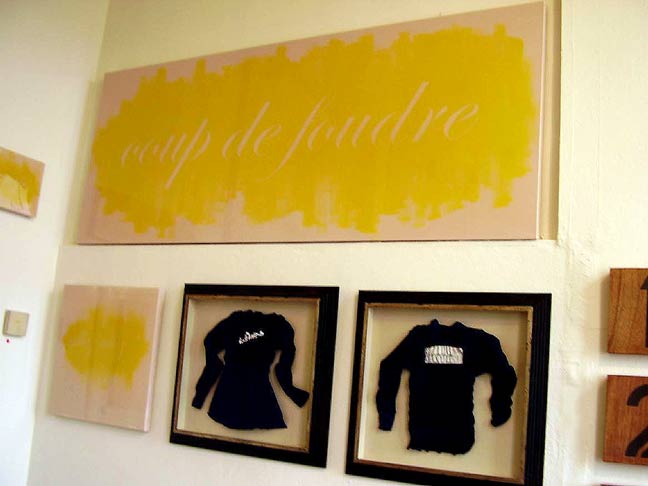 Coup de Foudre, Allez Allez, Love T-shirt, If I Were King
(Lucky Rapp).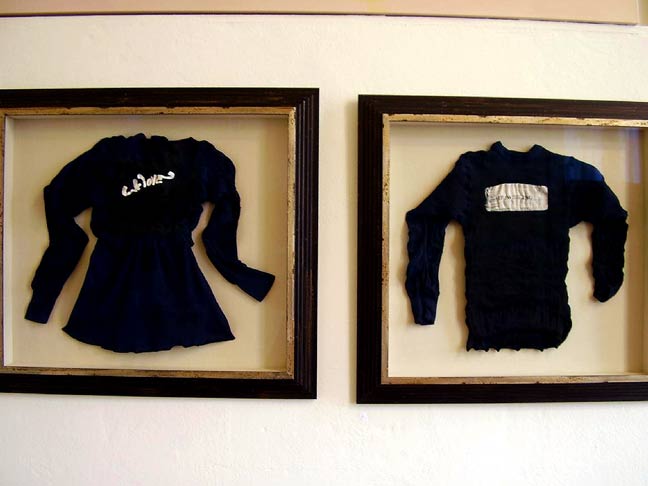 Love T-shirt, If I Were King (Lucky Rapp).


Gold on Red (Amanda Moeckel). Glitter is my favorite especially paired with these baroque types of patterns.


Damask #1 (Amanda Moeckel).


Art (Paul Morin).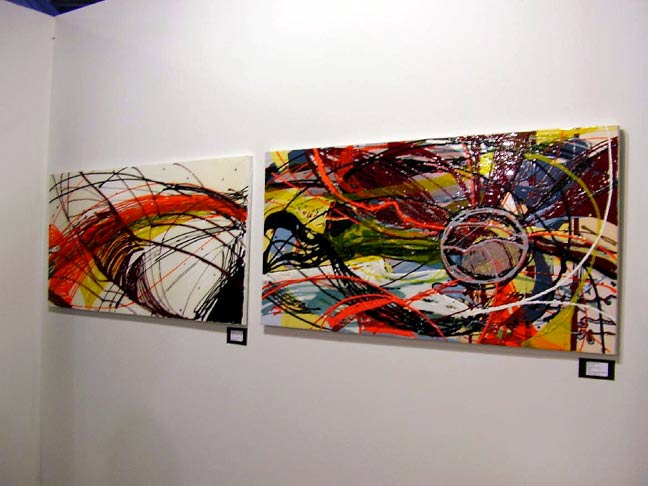 T Line & Reconstruction (Victoria Anne Highland).


***