SAN FRANCISCO ART GALLERIES - OPENINGS
SAN FRANCISCO ART INSTITUTE - RENA BRANSTEN
SCULPTURESITE - MMGALLERIES - BAXTER & COOK
AFRICAN AMERICAN HISTORICAL AND CULTURAL SOCIETY
10.18.07
San Francisco Art Institute: Allora & Calzadilla - Sediments, Sentiments (Figures of Speech).
Comment: Jennifer Allora and Guillermo Calzadilla create an apocalyptic aftermath of sorts, a huge foam and plaster rubble sculpture representing the ultimate spoils of war, or in other words, what the world's gonna look like if those bellicose boneheads who have nothing better to do with their time, money, and citizens' lives than meddle with or invade other countries don't wise up fast. For tonight's opening, the various cracks and crevices of Allora's and Calzadilla's warning to the warring are stuffed with opera students from the San Francisco Conservatory of Music singing operatic renditions of infamous agressive inflammatory political rhetoric. Make love not war? That armistice cry is currently the most distant of memories, if indeed it was ever uttered at all.
The basic idea (fore).


The basic idea (aft).


Art with ensconced opera singers.


Ensconced opera singer.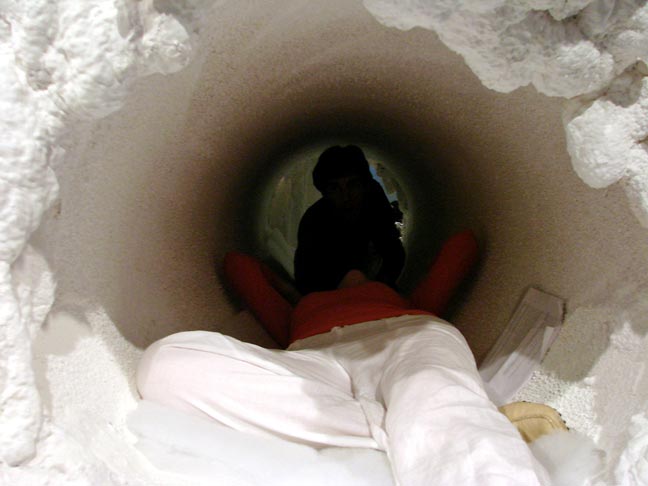 Ensconced opera singers.


Art.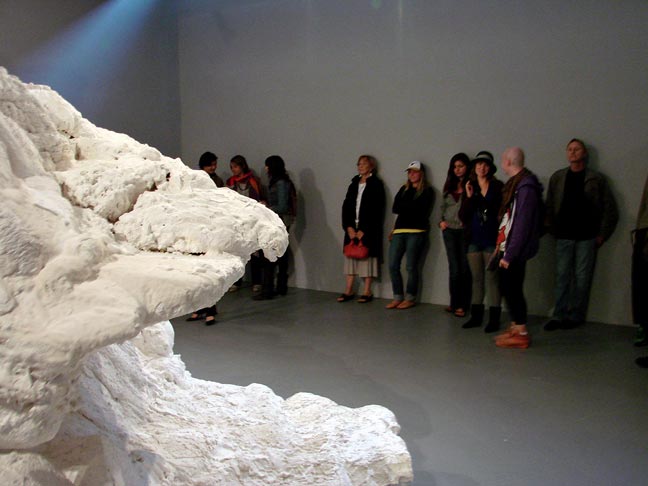 Art.


Art.


***
Rena Bransten Gallery: Hung Liu - Daughters of China, 1938.
Comment: One thing about Hung Liu-- she stays on point. Here she continues her aesthetic retrospective investigations into social, political, cultural, and historic roles of women, in this instance against the backdrop of war, specifically the Sino-Japanese War, but incidentally referencing the repercussions of all wars, no matter who, what, when, or where.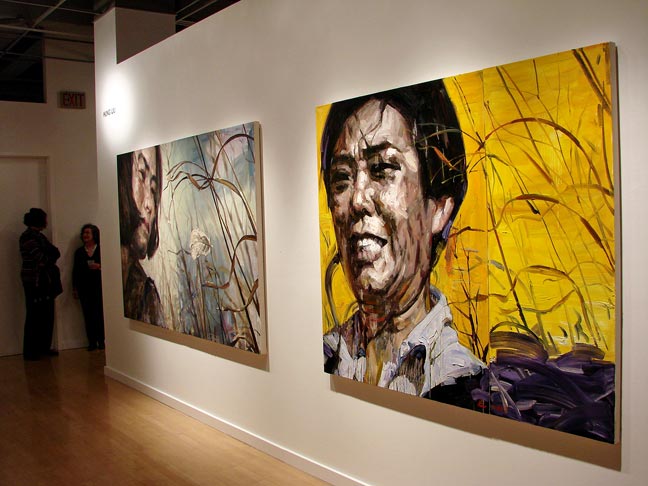 Art.


Art.


Travis Schlaht - art.


Hung Liu.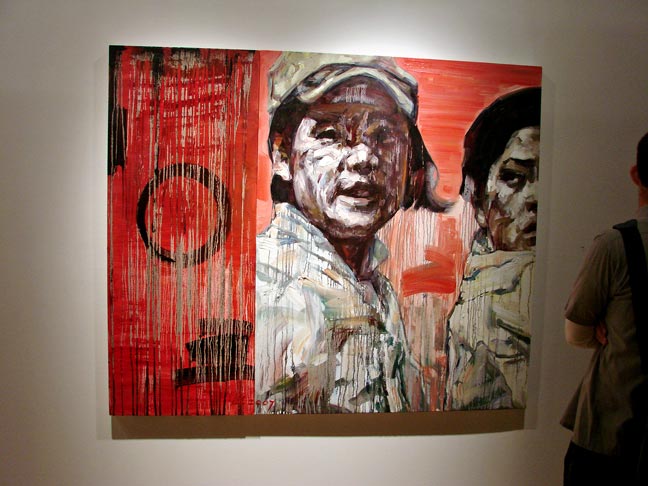 Art.


Art.


Art.


Art.


Long view.


***
Sculpturesite Gallery: Brad Howe - At This Moment.
Comment: Los Angeles sculptor Brad Howe demonstrates considerable range, mainly with with clean freeform brushed and painted stainless steel and aluminum works-- freestanding for floors or pedestals-- but also with pieces styled to hang from ceilings and mount on walls. Elegant in their neutrality; ideal for ultramodern interiors, corporate or otherwise.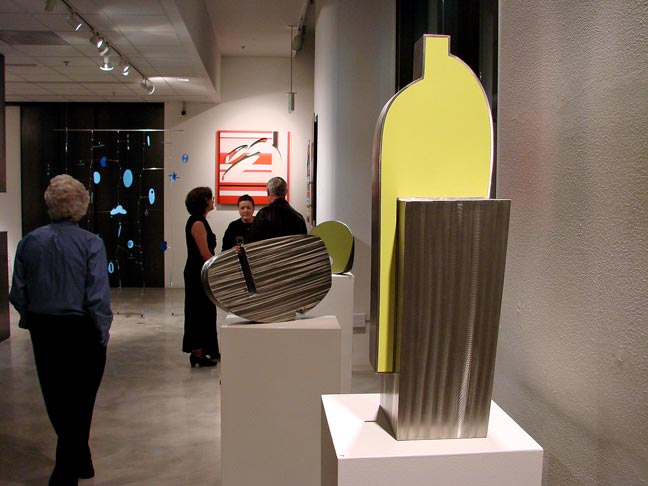 Sculpture.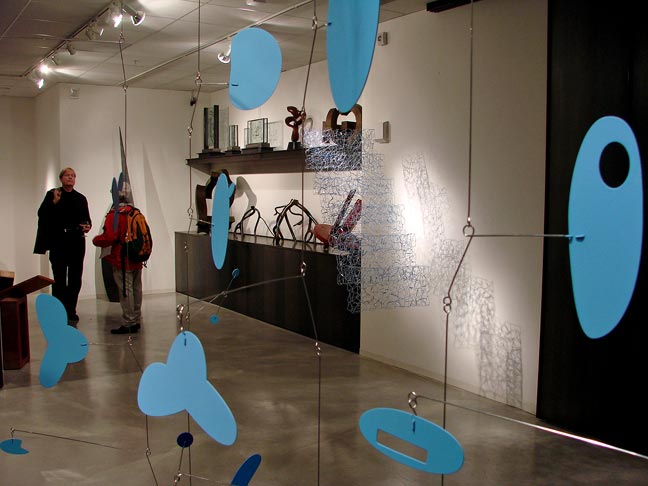 Sculpture.


Brad Howe - sculpture.


Sculpture.


Sculpture.


Sculpture.


Sculpture.


***
MMGalleries: Mirabile Visu (Wonderful to Behold).
Artists: Rhianna Almendras, Serena Cole, Catherine Haley Epstein, Laurie Lipton, Michele Muennig, Christina Pettersson, Linda Wallgren.
Comment: Group figurative extravaganza-- paintings, drawings, works on paper, multiples. Linda Wallgren's disquieting doll paintings are distinct enough to warrant a walk-by.
Doll art (Linda Wallgren).


Doll art a little closer (Linda Wallgren - sorta like 'em).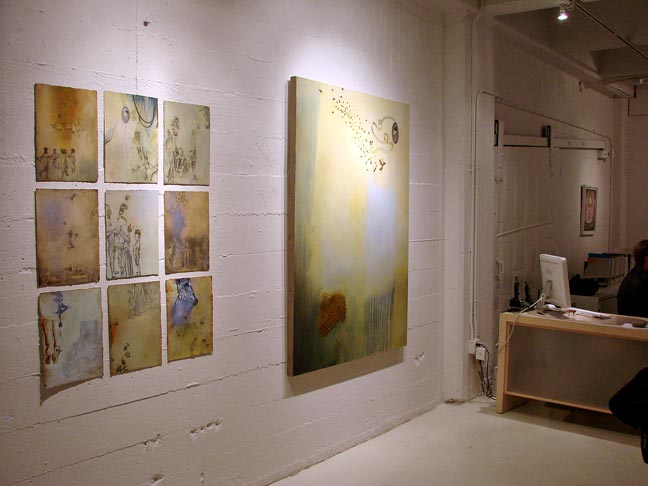 Art.


Art.


Art.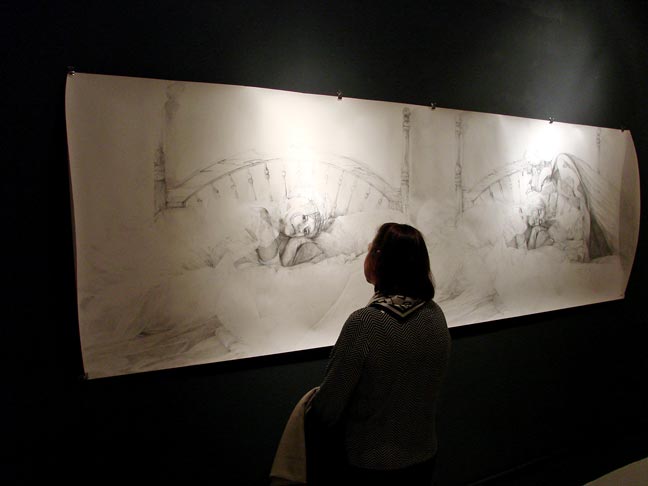 Art.


Art.


***
Baxter and Cook Art Advisors and Lawanna Cathleen Design: Tandem Grand Opening.
Comment: Holly Baxter and Jana Cook along with Lawanna Cathleen Design throw an inaugural bash to show off their new digs at The Showplace. The immediate vicinity is so crammed with celebrants, I can hardly photograph anything, but here's what I got...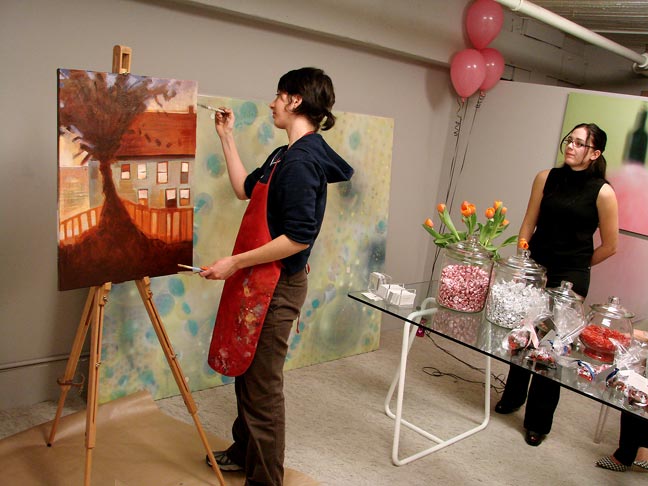 Live painting.


Live painting.


Location.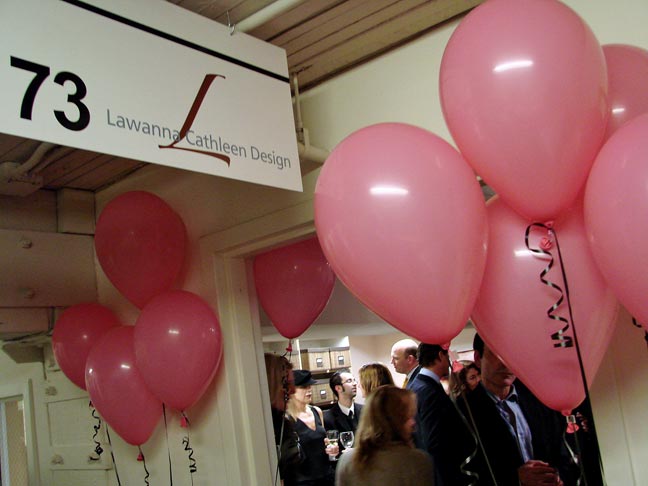 Location.


***
San Francisco African American Historical and Cultural Society: Quilt Art - Black Bay Area Quilters; The Color(')s Within - The Inner Splendor of the Black Female.
Artists: Color(')s Within-- Jason Austin, Glodean Champion, Kimara Dixon, and Virginia Jourdan. Black Bay Area Quilters-- Reverand Judy Wortham-Saul, Remar, Rachel D.K. Clark, Jean Burks.
Comment: Barely manage to catch the tail end of this one. The quilt (and fashion) show upstairs in the library is well worth a visit, as is the art, photography, and video tribute to black women downstairs in the main gallery.
The Color(')s Within (downstairs).


The Color(')s Within (downstairs).


Quilts in the library.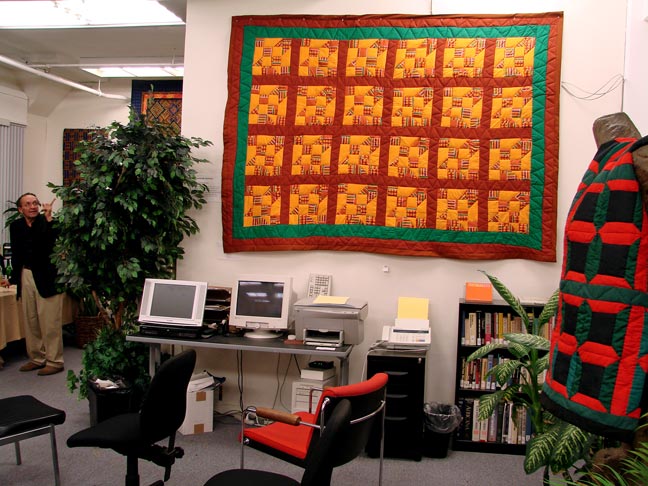 Quilts in the library.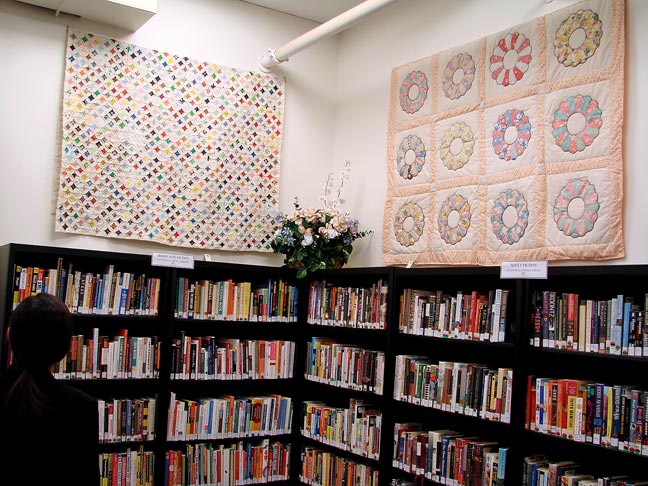 Quilts in the library.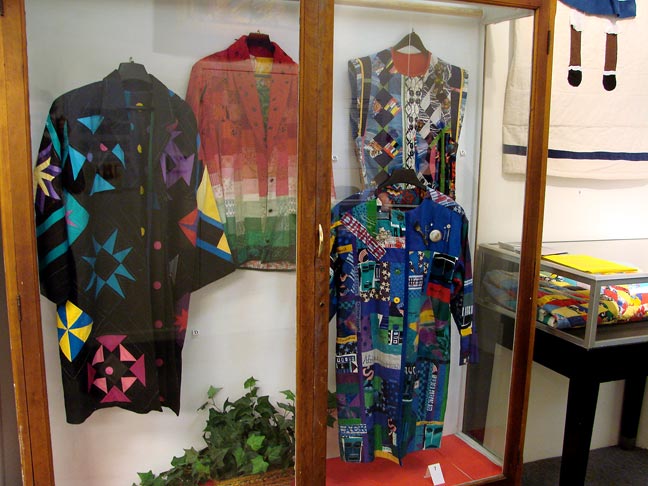 Wish I could have got a better shot of these (like 'em).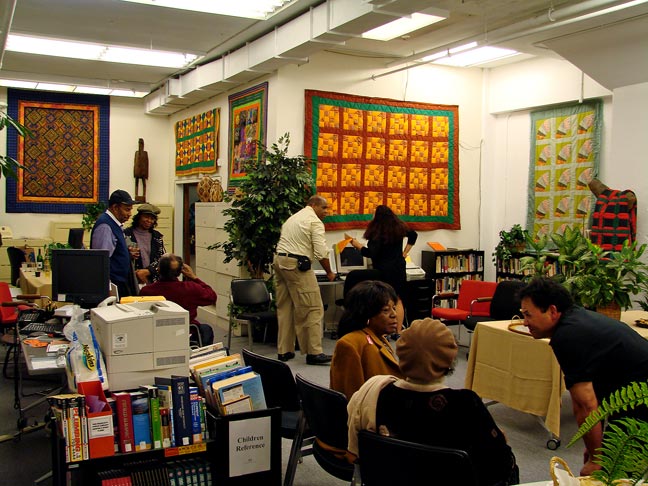 Quilt show overview.


***