SAN FRANCISCO ART GALLERIES - OPENINGS
RENA BRANSTEN - HAINES GALLERY - GARAGEGALLERY
YERBA BUENA CENTER FOR THE ARTS - SOAP GALLERY
TRIPTYCH RESTAURANT - TRIPLE BASE - PARK LIFE
10.19.06
Rena Bransten Gallery: Rebeca Bollinger - There to Here; On the Road Again - Beat Culture, Bush Era.
Artists (Beat Culture): Devendra Banhart, Colter Jacobsen, Erik Frydenborg, Oliver Halsman Rosenberg, Ian McDonald, Jay Nelson, Geof Oppenheimer.
Comment: Photography, video, and video installation by Rebeca Bollinger in the front gallery, the main attraction being a video projected onto a screen that's been sectioned into squares and rectangles layered over one another so that when the video plays, you get sort of a three dimensional effect. Assuming I've successfully hacked the press release, this "sculptural TV" suggests a different way of looking at the same stuff we look at all the time but never stop to think about. Fair enough.
In the rear gallery is a group show of local talent supposedly themed on Beat Culture, but I've seen similar stuff by the same artists at other venues, and I sure don't get the connection-- either with the Beat Culture or with each other (except, of course, they're all local). But no biggie-- the art's got legs and the artists all deserve to show downtown. Next stop, a solo show or two? Could be. Especially those symmetric pastel vented Ian McDonald ceramics. And Jay Nelson's big pencil drawing is pretty tasty too-- I could see a show of those.
Video art (Rebeca Bollinger).


Video art (Rebeca Bollinger).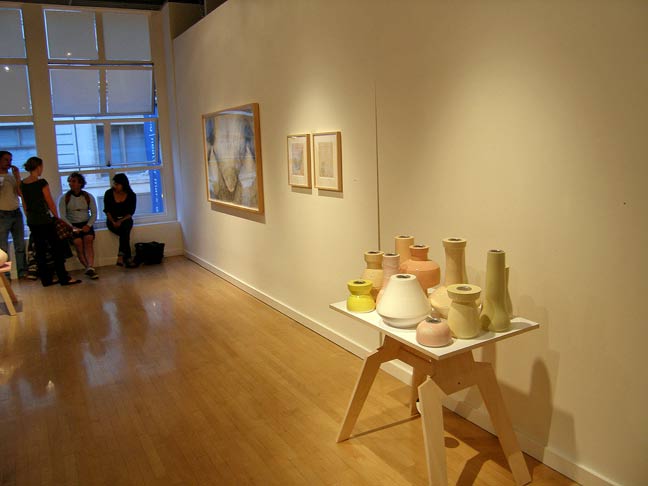 Vented Ceramics (Ian McDonald - like 'em).


Pencil drawing (Jay Nelson - like it).


Art (Geof Oppenheimer).


Art (Oliver Halsman Rosenberg).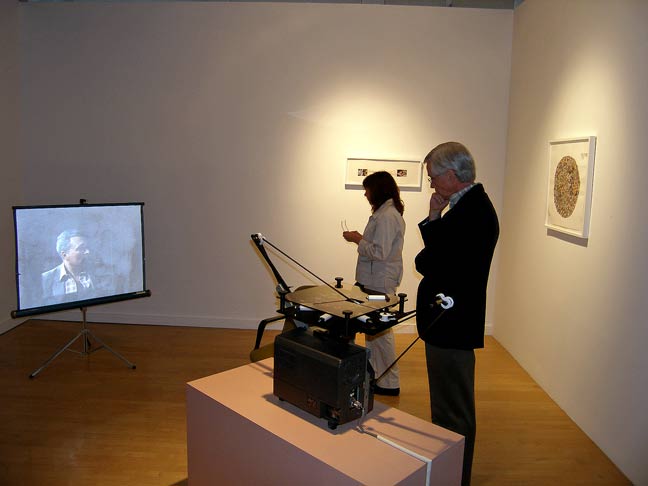 Art (Geof Oppenheimer).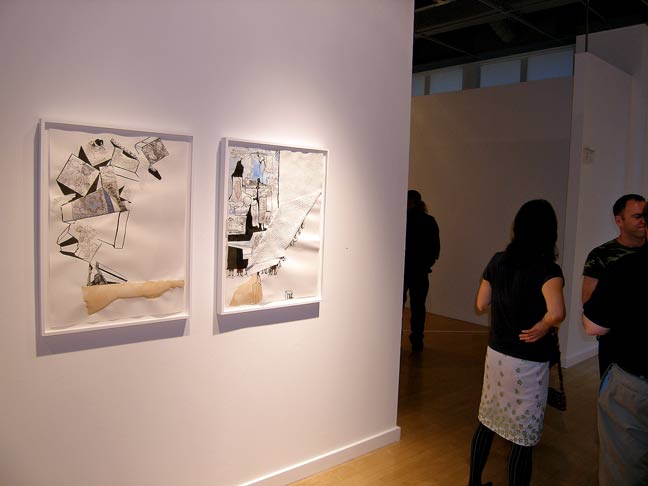 Art (Erik Frydenborg).


***
Haines Gallery: David Klaman - New Work; Gabrielle Teschner - Everything You Think Is True.
Comment: David Klaman paints classic subject matters, many reminiscent of nineteenth century landscape and interiorscape painting, and then overlays them with abstract elements like dot matrix patterns or solitary white lines. Or he paints abstract elements using classic techniques more typical of what you might see in antique than contemporary art (including stretching and nailing canvases the old fashioned way, and then enhancing the illusion by hanging those canvases together, salon style). You're never quite sure whether you're in the present, the past, or both. But you are sure the art is skillfully and convincingly executed.
In the Project Room, Gabrielle Teschner precision-cuts short phrases into vintage maps, usurping each map's imprimatur and redirecting it with her own interpretation. I ask her to explain the concept, but she gets all art-talky and quickly shreds my cerebellum. Handy artist tip #6454: Always craft a simple several-sentence explanation for the lightweights. Klaman does. He tells me fast and easy what his art's about and I feel all puffy like I get it, although there's surely much more to it than that.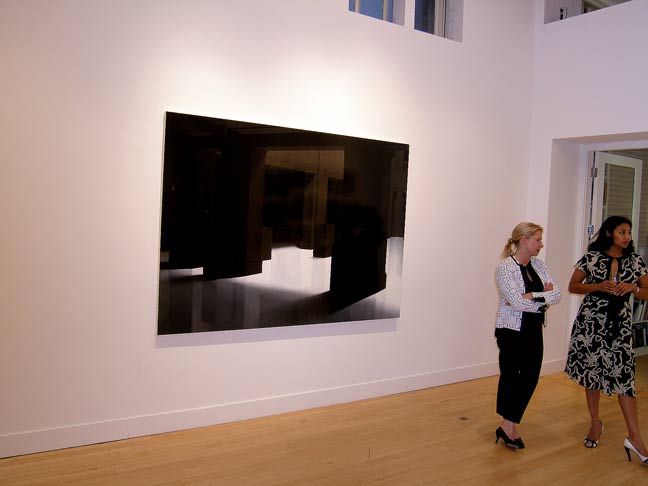 Art (David Klaman).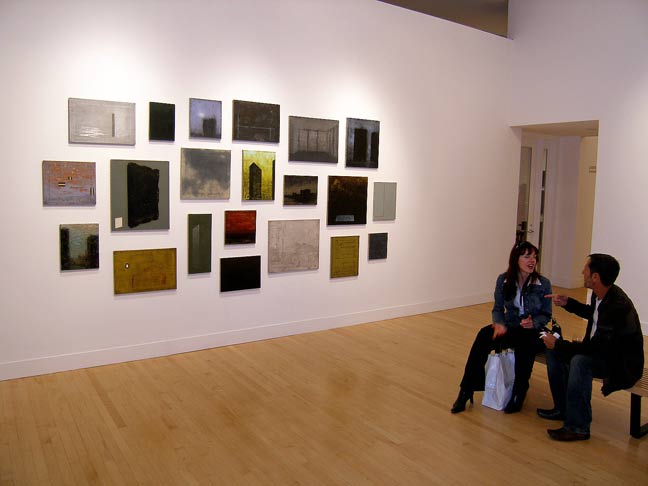 Art (David Klaman).


David Klaman - art.


Art (David Klaman).


Gabrielle Teschner - art.


Art (Gabrielle Teschner).


Art (Gabrielle Teschner, rear - David Klaman, fore).


***
Yerba Buena Center for the Arts: Oakland - East Side Story.
Artists: April Banks, Serena Cole, Marcel Diallo, Kamara Dixon, Tia Factor, Josh Keyes, Barney Haynes and North Pitney, Jon Brumit, Zach Houston, Laurenn McCubbin, Estria Miyashiro, Favianna Rodriguez, Keba Konte, Tim Kunze, Chris Loomis, Eesuu Orundide, Ben Reisman, Casey Jex Smith, Shawn Smith, Kevin Slagle, Sue Costabile, Scott Hove, Suzy Poling, Laetitia Sonami.
Comment: A survey about art making and art options in Oakland with special focus on artist-run aggregates like Mama Buzz, Ego Park, Lobot Gallery, The Black New World, and West Oakland's Village Bottoms Cultural District. Mixed bag overall with periodic high points such as "The Creature," a complicated motorific kinetic specimen by Barney Haynes and North Pitney, a pair of haunting portrait watercolors by Serena Cole, and fish and game trophy-catch parodies made from small cut painted rectangular plywood pieces by Shawn Smith. Helpful artist hint number #6644b: When you get invited to show your art at a museum, submit the absolute most mungo mega primo primetime best shit you've ever made. Museums are far more challenging places to show art than galleries, and if you're up to it, you just might snag yourself a free pass to the next level of your art career.
Wanna help caption the art with artist names? Please email me. Thank you.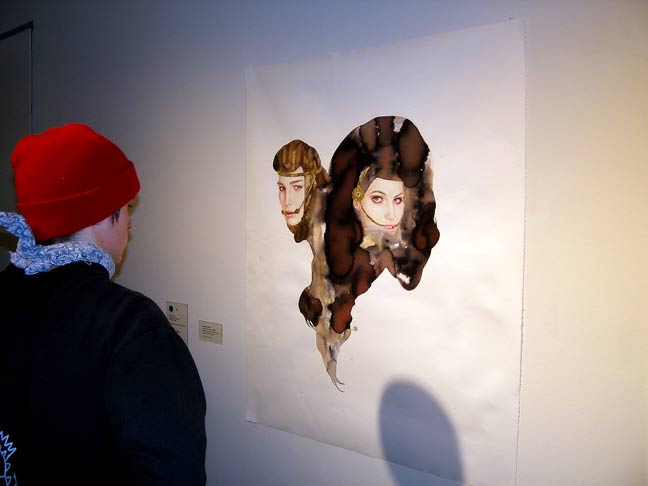 Art (Serena Cole - like it).


Trophy catch parody art (Shawn Smith - like it).


Art (Barney Haynes and North Pitney - like it).


Sounds of Oakland through plunger headphones art (Laetitia Sonami).


Art (Tim Kunze).


Poster art (like 'em).


Art (Josh Keyes).


Complimentary show posters-- free while they last.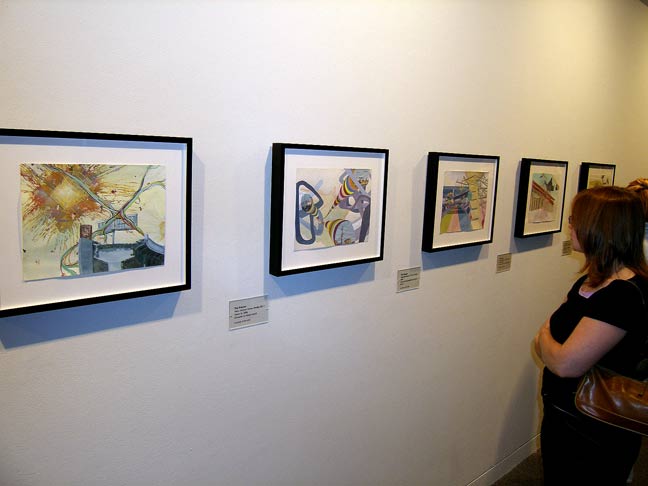 Art (Tia Factor).


Art (Casey Jex Smith).


Rope art (Scott Hove).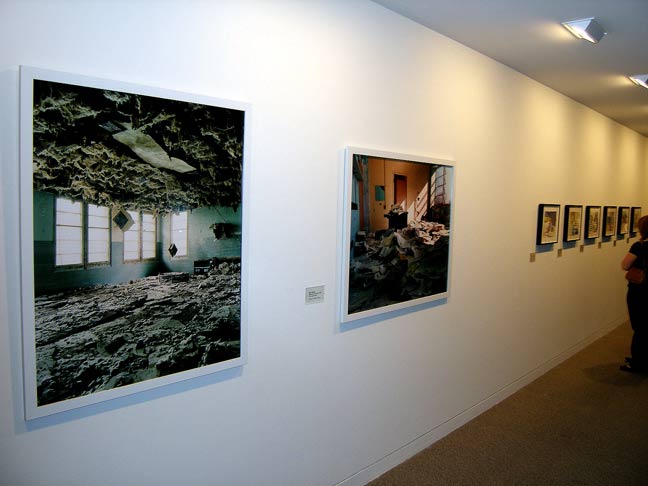 Art (Suzy Poling).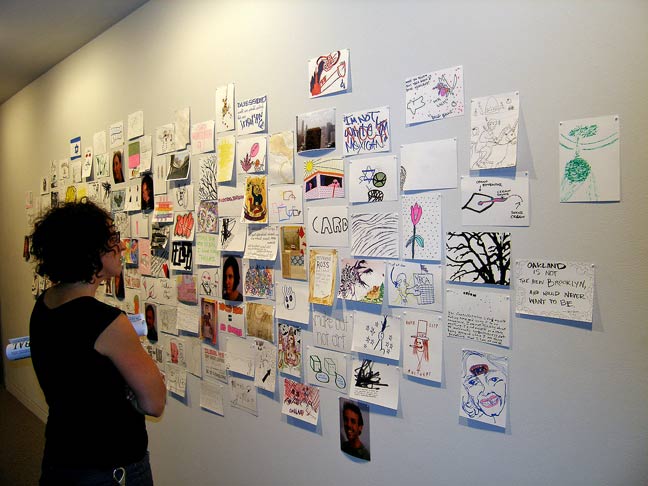 Art.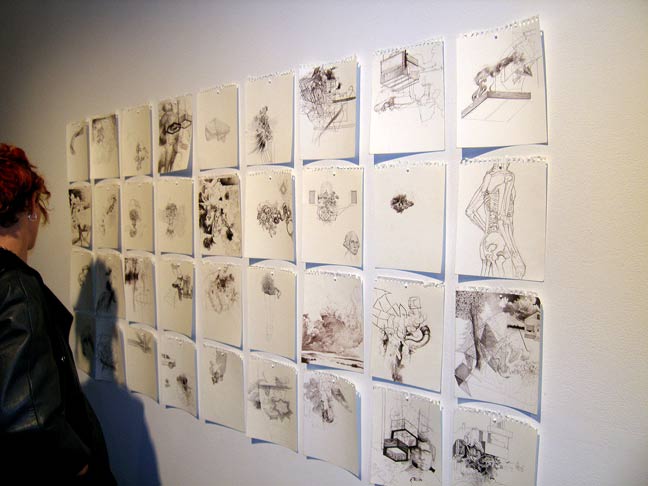 Art (Casey Jex Smith).


***
GarageGallery: Andrea Pott's 7th Annual "Buy Fine Art Before You're 60" Show.
Comment: "Undiscovered photographers from all walks of life." GarageGallery is half Saab showroom and half Saab repair shop. There's art all over the place, but for this show, you walk through the showroom toward the back, take a right through the doorway into the repair area, follow the yellow "crime scene" tape through the shop to a stairway that leads up to a spacious loft area. And that's where you find a copious photographic cornucopia by a variety of artists. Plus plenty of food, people, chit chit, sales table, etc., etc. For the yogically inclined, a number of the photographs are hung at waist level.
Photographs (kinda like 'em).


Photos.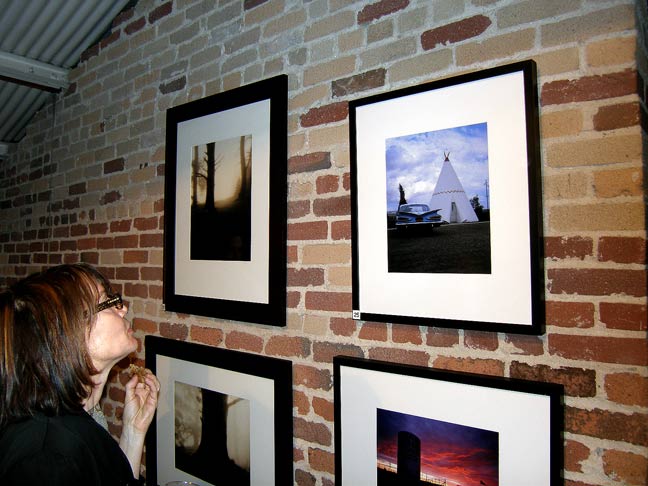 Photography.


Low gallery.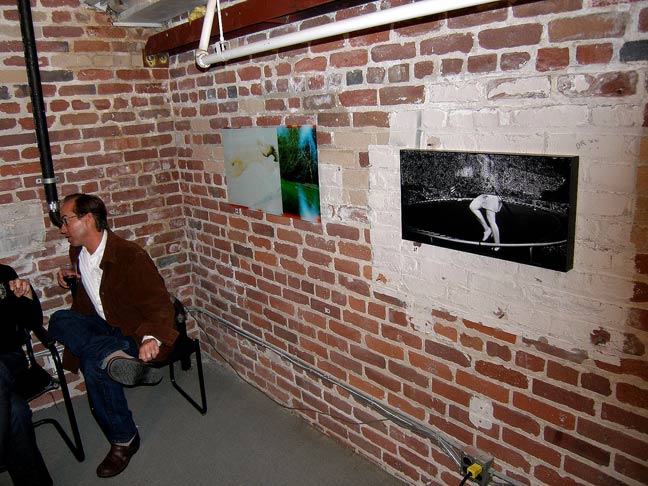 Photographs.


Head count partial.


***
Soap Gallery: Flora & Flesh.
Artists: Robert Cattan, Eric Loucks, Ilene Sandler, Audrey Chavez.
Comment: Four diverse art and photography takes on nature and the human form.
Art.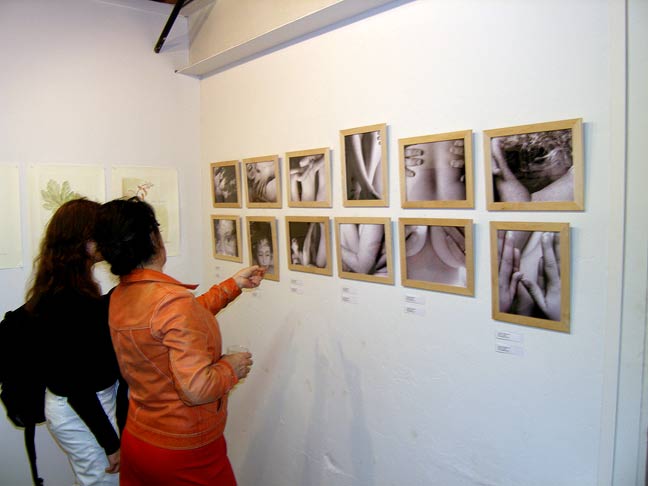 Art.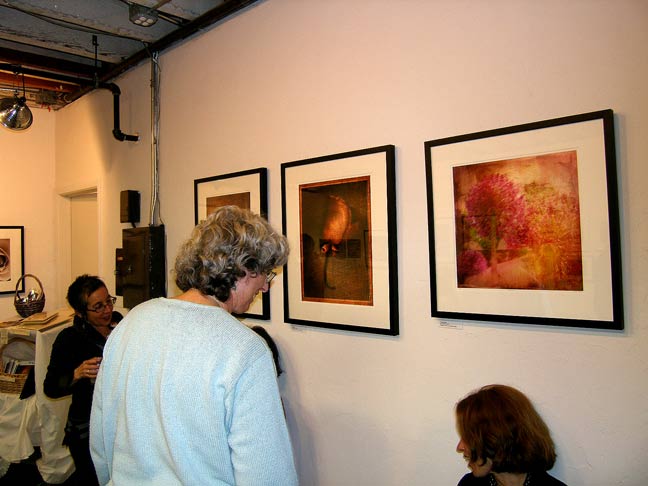 Art.


Art.


***
Triptych Restaurant: Tom Stone - Photographs.
Comment: Tom Stone takes portrait photographs of homeless people. It's that simple and no more complicated. Each photograph is paired with a brief text about the subject. You don't often see portraits of the homeless, and you really don't often see so many all at once-- which affords you the opportunity to compare, contrast, cogitate, assess, and reflect. Interesting show; go see. It'll make you think.
Tom Stone - photography.


Photographs.


Images.


Photos.


***
Triple Base Gallery: Tara Lisa Foley - Give Me a Simple Life.
Comment: Tara Foley paints and draws, usually. Here she creates an environment complete with fresh turf, soundtrack, and commendably competent fiberglass trees. She tells me the installation examines the relationship between nature and that which is manmade.
Here we are; let's go in.


Installation art.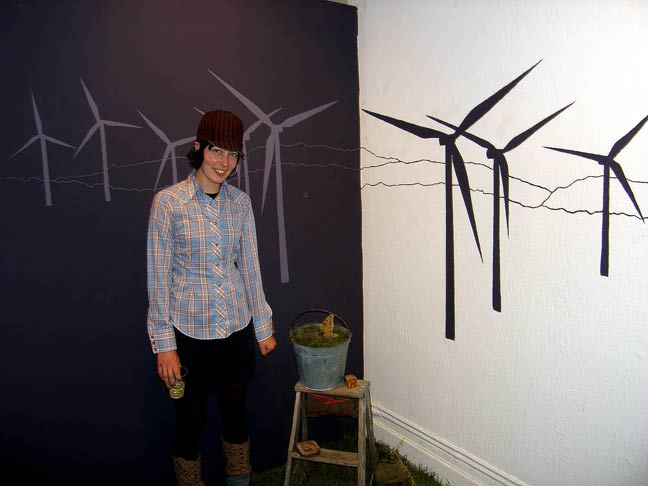 Tara Lisa Foley - art.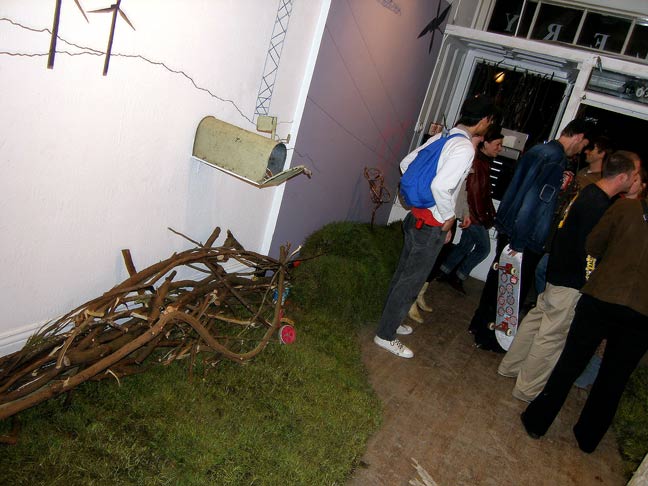 Art.


***
Park Life: Grand Opening Party featuring art by Andrew Schoultz.
Comment: Derek Song, formerly of Giant Robot, spawns his own store, Park Life, offering original art, fashion, books, toys, limited edition artist prints, stationary, music, and more. Stop by-- sizeable space, plenty of quality merchandise to see and buy.
And now for a brief word about Andrew Schoultz. This dude is getting so good, his art's beginning to melt my brain. Each successive piece seems better than the last. In fact, the eyeball-scorcher he's standing next to (see image below) virtually vibrates off the wall. The show is anchored by a mural-sized work-- about twenty feet across and wrapped around two walls of the rear room-- entirely deliberately harmoniously composed to the point where you just kinda stand in front of it like a dope and drool (it's off to hang at New Jersey's Hunterdon Museum of Art immediately after a brief three-day stint here).
So here's the deal. Schoultz is such a relentlessly prodigious art machine, that I'll dare suggest Yerba Buena Center for the Arts give him a room and let him have at it. If anyone can totally inundate and obliterate blank space with art, he can. He gives his all too-- no slapdash shit here. Plus since he's local, it would be kinda nice for a hometown museum to definitively debut the mindbending scope of his abilities rather than one back East. It's only a matter of time, you know. Capiche? Excellent.
The biggun (Andrew Schoultz).


The biggun - detail.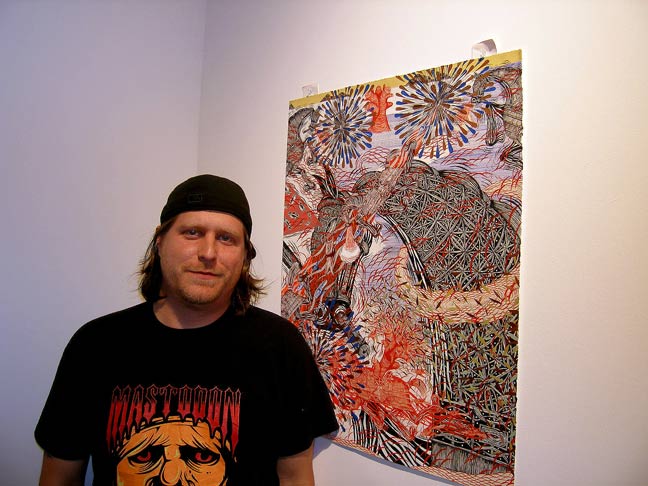 Andrew Schoultz - art.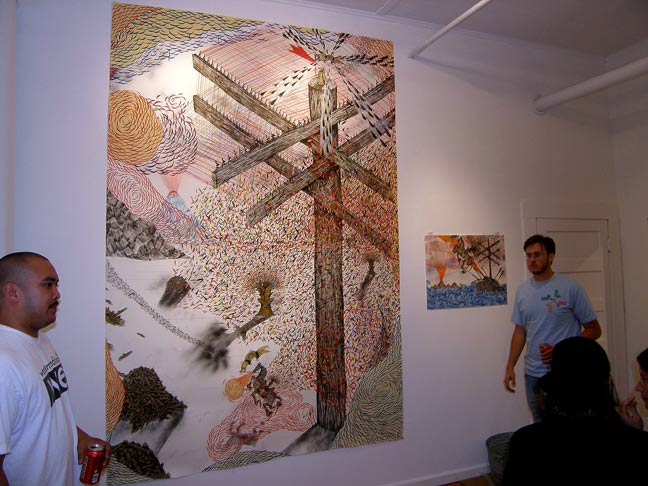 Art.


Layout.


Front desk.


Esplanade.


***