SAN FRANCISCO ART GALLERIES - OPENINGS
ROSS MIRKARIMI - RATIO 3 - MISSION 17
ELECTRIC WORKS - ART ENGINE - SOAP GALLERY
1890 BRYANT - TRIPLE BASE - QUEEN'S NAILS ANNEX
10.19.07
Supervisor Ross Mirkarimi: Stefanie Atkinson - The Bravery Project, Documenting the Journey Through Breast Cancer.
Comment: Stefanie Atkinson documents women living with breast cancer. The images here track two women as they transit the complexities of daily life, treatment, and the road to recovery.
Photography.


Photos.


Photographs.


Images.


Photos.


***
Ratio 3 Gallery: Takeshi Murata - Escape Spirit VideoSlime.
Comment: OK. I am so thoroughly burned out on videos with interminably droning soporific soundtracks-- essentially the hypno-equivalent of static-- that have absolutely nothing to do with the videos they accompany. According to the spreadsheet, Takeshi Murata's intriguing visuals are sliced, diced, and transmogrified film footage of nature and chimpanzees, the amorphous abstract upshot inciting to suggest the devolution of a species, all of which is fine with me. But what does the ferkin' soundtrack have to do with it?
Video art.


Video art.


Video art.


Video art.


***
Mission 17 Gallery: David Kwan - Emergence.
Comment: Video and sound installations by David Kwan focus on the evolution of elements into systems, or something like that (the statement's not exactly an easy hack). Basically, Kwan overlays select snippets of audio and video in ways that appear or are intended to simulate the evolution of aggregates... I think. The good news? The soundtracks are actually relevant to the show's theme and installations.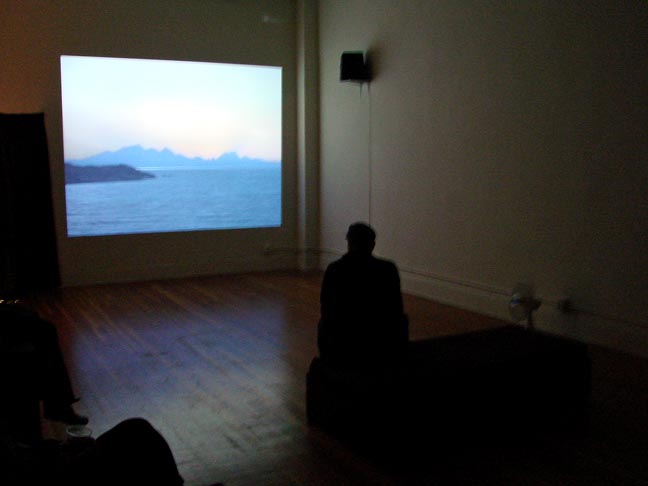 Video art.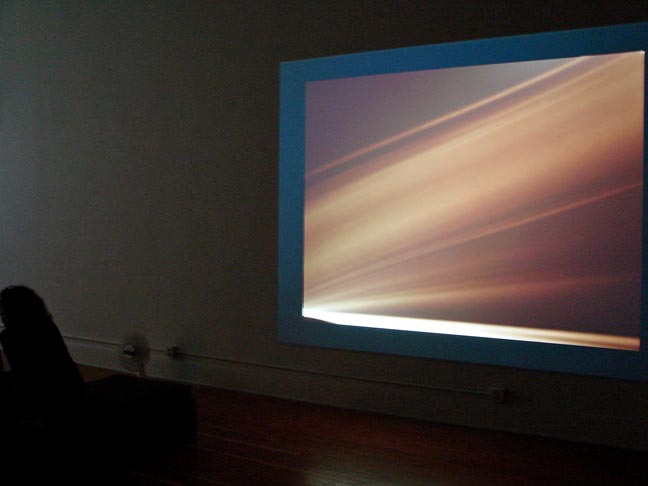 Video art.


***
Electric Works: Nathan Redwood - Recent Works.
Comment: Dynamic broad-brush paintings by Los Angeles artist Nathan Redwood overflow with action, sometimes waxing representational, other times entirely abstract, but at all times, giving viewers the impression that something momentous is going on and that they're smack in the middle of it. Redwood lays the paint on brash, inclining veteran artsters such as myself to expect impasto on the zoom-in, but the works almost completely lack surface texture, indicating a laudable level of technical mastery. Interesting stuff; go see.
Art.


Art.


Art.


Art.


Art.


Art.


***
Art Engine Gallery: Chain Reaction II.
Artists: Goody B. Wiseman, Kathrine Worel, Scott Kildall, Freddy Chandra, Krishna Khalsa.
Comment: Based on and affiliated with the 5th Pavilion Garage Biennale show of several weeks back, the idea is that one artist is selected to exhibit, who in turn selects the next artist who in turn selects the next until you have five artists, which in this instance amounts to a full docket. Of note are crisp vibrant digital collages by Scott Kildall which, I'm told, represent re-enactments of famous art performances, and Kathrine Worel's life-size rocking horse (it's life-size because it's a bona fide genuine unadulterated 100% taxidermized horse, formerly a live horse in a previous lifetime). You gotta pony up $60K to corral it for your rumpus room; methinks Worel would rather keep it.
Art (Krishna Khalsa).


Freddy Chandra explains his art.


Art (Scott Kildall - kinda like 'em).


Taxidermy rocking horse art (Kathrine Worel).


Art (Goody B. Wiseman).


***
Soap Gallery: Common Enemies, Common Interests.
Artists: Jonathan Casella, Peter Max Lawrence, Cameron Soren, Julian Lucas, Brandon.
Comment: Mixed bag show includes drawings by the owner's 8 year-old nephew, Julian Lucas, and some kicky collage work by Jonathan Casella and Brandon. Prices admirably affordable-- most under $300, many under $100.
Art.


Art.


Jonathan Casella - art.


Art.


Art.


***
1890 Bryant Street Studios: Open Studios Opening Night.
Comment: 1890 Bryant Street artists throw one of the best open studios opening night events in town, with music, delectables, performances, and of course, two huge floors of art. I would suspect the balance of the weekend's festivities are equally entertaining as tonight's.
Art.


Performance.


Art.


Performance (she's good).


***
Triple Base Gallery: The Clouds Carved the Mountains, A Dialogue Between Sound and Space.
Artists: Drew Bennett, Joshua Churchill.
Comment: This one's a little slapdash for my tastes, the assertion being that the gallery is transformed into "an environment ripe with visual and musical inspiration." Is that so? Just because you say it is, it is? Hmmm. When I think of "an environment ripe with visual and musical inspiration," I think of maybe the War Memorial Opera House or Davies Symphony Hall.
Art.


Art.


Art.


View Northwest.


View Northeast.


***
Queen's Nails Annex: Tony Labat - BULK.
Comment: Interesting I should go to QNA immediately after Triple Base because the two shows share the same premise-- artist(s) transform an art gallery into something other than an art gallery, in Tony Labat's case, into "BULK Social Space." And Labat does it right-- real right-- hands down convincing anyone who transgresses the threshold tonight that they're in a club, not a gallery, complete with bar, bartenders, cocktails, tables, seating, dance floor in back, tunes, video, and wallpaper consisting of spam email subject lines (not all that different from the lame-o "spam" lines you're typically blitzed with at clubs and bars). Labat's show runs through December 1, with a calendar of evening events at BULK that includes video mixes, talent shows, movie night, poker night, guest chef, and more. Woah! The best.
For announcements of BULK events, send your email address to queensnailsannex@sbcglobal.net. Apologies on the image quality-- mob scene.
BULK Social Space frontal.


Inside looking toward the bar.


The bar.


Tables with seating along the walls & spam wallpaper art.


Song, dance, video.


***