SAN FRANCISCO ART GALLERIES - OPENINGS
SAN FRANCISCO ART DEALERS ASSOCIATION DE YOUNG MUSEUM RECEPTION
ELDER ARTS DE YOUNG MUSEUM RECEPTION
SAN FRANCISCO INTERNATIONAL FASHION WEEK OPENING PARTY
10.19-20.05
Eldergivers at the de Young Museum: Elder Arts 2005 - Triple Art Event Celebrating the Visual Art of Older Adults and the opening of the new de Young Museum.
Artists: Many.
Comment: The "Triple Art Event" consists of three distinct exhibtions of paintings, drawings, photographs, and sculptures-- the 14th Annual Art With Elders (AWE) Exhibit featuring 90 works of art selected from arts programs in Bay Area nursing homes and long-term care facilities; Elder Arts Celebrations (EAC) showing 100 works of art by alumni, faculty, and students over the age of 65 from prominent Bay Area art schools; and a selection of paintings and drawings by Wayne Thiebaud, Eldergivers' 2005 Bay Area Elder Artist of the Year.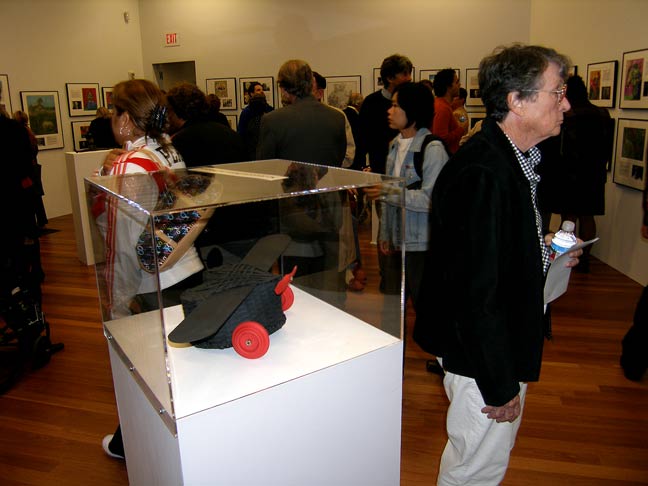 Art.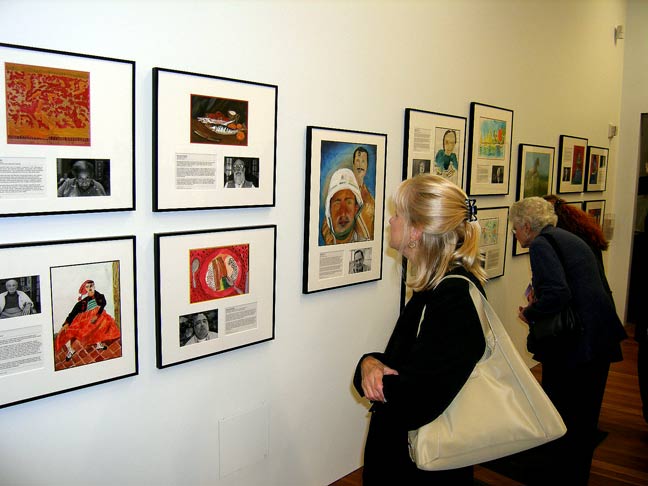 Art.


Art.


Thiebauds.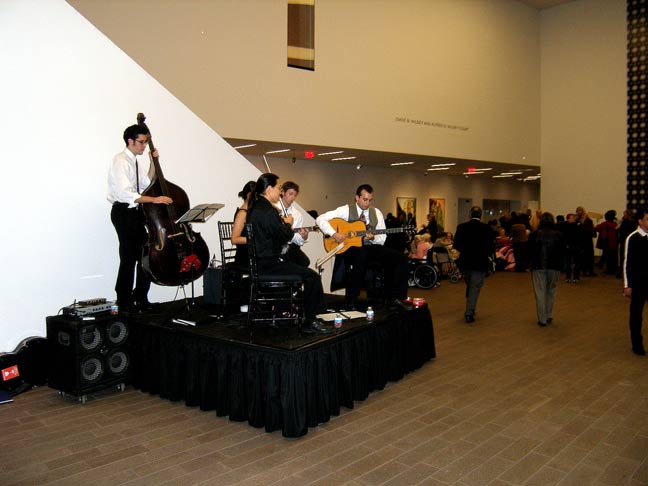 Tunes.


Attendee partial with Gerhard Richter mega-mural.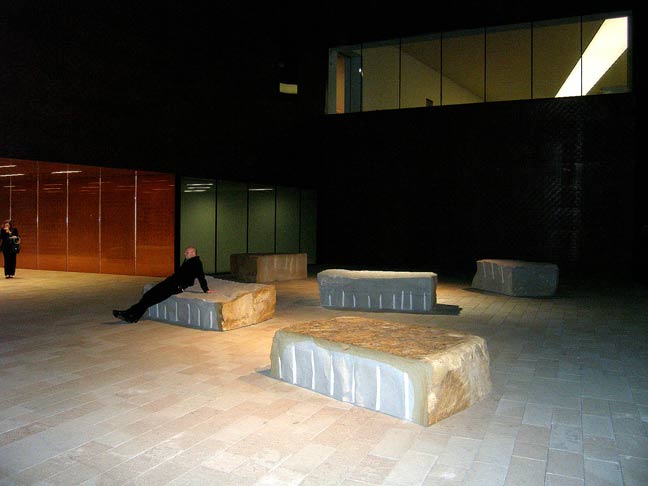 Outer.


Outer.


Outer.


***
BlackBook Magazine and GUESS (90 Grant Avenue, San Francisco, CA 94108; 415.781.1589) Present The Official San Francisco International Fashion Week Launch Party.
Comment: So artsters, here's what's interesting here. Local creative Kelly Tunstall has a table set up where she's augmenting, signing, and selling her original T-shirts, all proceeds going to benefit Not Too Young To Care. That's not exactly headline news, but listen-- as an artist, the more you get yourself out there (apropos, ancillary, and otherwise), the more people see you, the more people see your art, the more people meet you, the more people talk to you, and-- here's the important part-- the more you tilt The Great Karmic Equation in your favor. You never know who's gonna come by, take your picture, link your website, and write about your art, do you?
While I'm on this jag, I talk to astonishingly plenitudinous multitudes of artists who refuse to do anything unless they're sure-- in advance-- that they will make sales, buff their careers, get shows, or otherwise benefit materially. In other words, they refuse to take risks. With that kind of mindset, especially in the art world, you are toast. Believe it.
Meanwhile back at the party, to learn more about San Francisco International Fashion Week, go TerraSF.
Kelly Tunstall.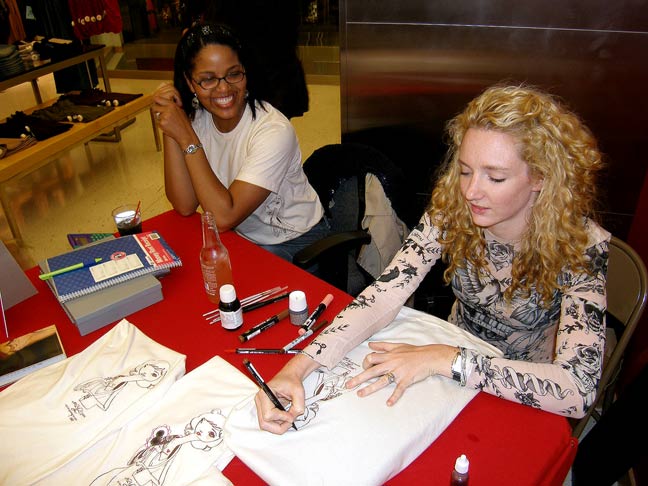 Kelly Tunstall instant T-shirt enhancement.


Sisters wanted their picture tooked. OK.


Sponsor.


Joel Garzoli of Garzoli Gallery and Gina Domizio.


Tunes.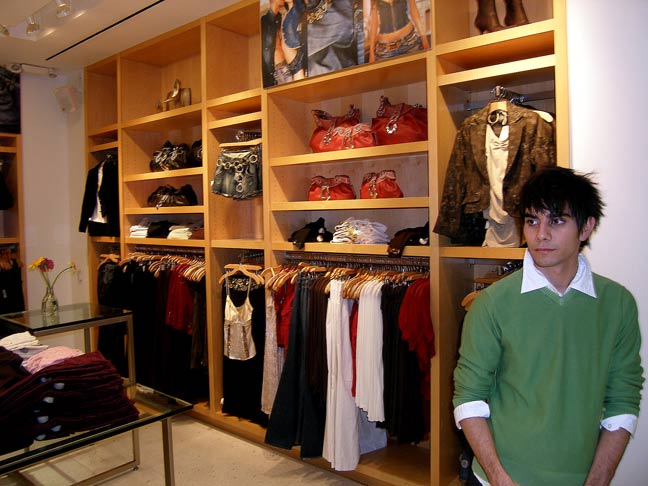 Togs.


***
San Francisco Art Dealers Association (SFADA): Art World Opening Celebration for the new de Young Museum.
Comment: Here is one of those rare instances where the press release actually understates the gravity of the event that it's flogging. Believe it or not, calling this party "the biggest West Coast art world blow out in years" did not adequately prepare me for what I beheld. This was a Gathering of the Tribes and of the Chieftans thereof from the far corners of the art-o-sphere, for purposes of peace, the likes of which I could never have imagined. I counted 5 generations of artists, 4 generations of art dealers, the de rigeur bevy of sundry synchophants (times ten), full access to the new museum, and last but not least, copious abundant perpetual F&B (food and beverage) including a wine bar on the Observation Level. I usually spend 5 to 15 minutes per event before blanching; this one nailed me for the duration. It was truly a confluence the likes of which I may never see again-- let alone participate in.
So I'm talking to Sandow Birk and his lovely companion, and ask what he's been up to lately. He tells me he currently has a solo show at the San Jose Museum of Art and that he'll be lecturing there Sunday. Sometimes I am so flippin' clueless-- wait-- make that most of the time. In my defense, however, not that I need one, I'm better on panorama than pinpoint-- a "big picture" kinda guy. Plus, in the words of glibness guru, Ross Perot, "The devil's in the details," and I don't like devils.
Sandow Birk and companion.


Robert McChesney (painting since WPA days aka pre-1940).


Editorial comment.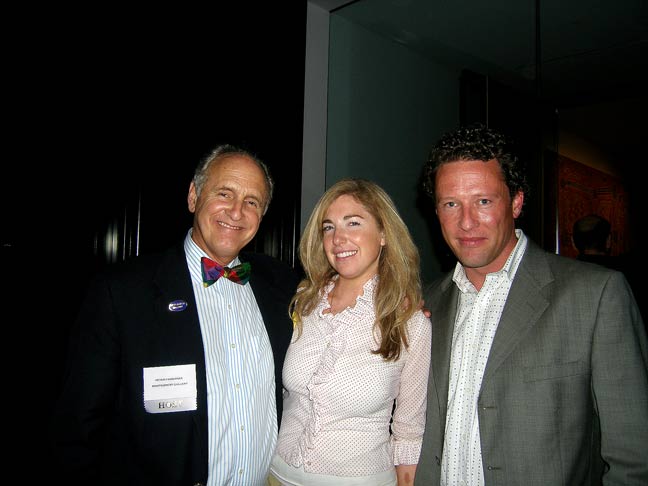 Peter Fairbanks, Montgomery Gallery (left) - Charles Linder, Linc Art (right).
You will only see this pairing here.


Master art conservator Dennis Calabi (cognoscenti approved).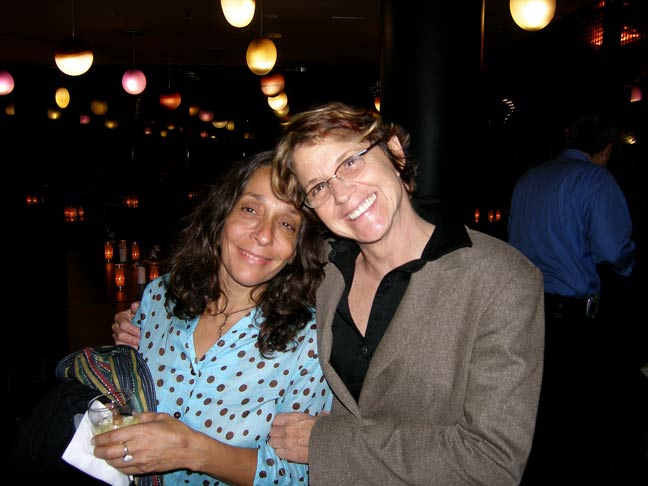 Laurie Lazer, Luggage Store (left).


Hey, pal... can't you see she's taken?


Steven Lopez (left) - Eric Koehler (right), Charles Campbell Gallery.


Q: Why is this man smiling?


A: See above.


Lise Swenson, Inaugural de Young Museum Artist-in-Residence.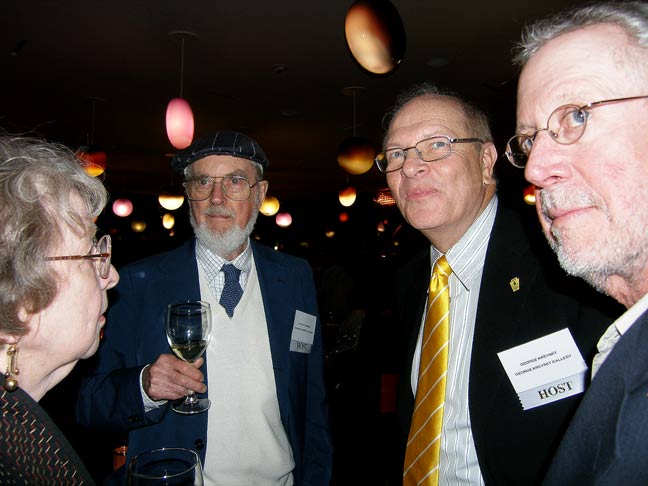 Charles Campbell, Charles Campbell Gallery (left center).
George Krevsky, George Krevsky Gallery (right center).


Dee Dee Wilsey (who made this all possible).


Amusement.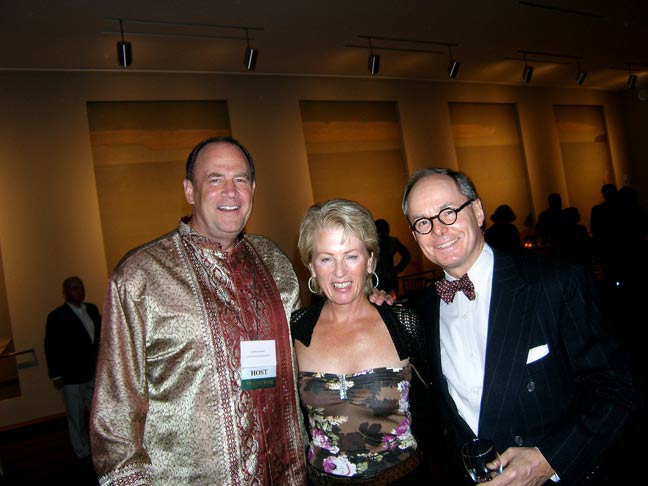 Larry Evans, Larry Evans Gallery (left) - Martin Muller, Modernism Gallery (right).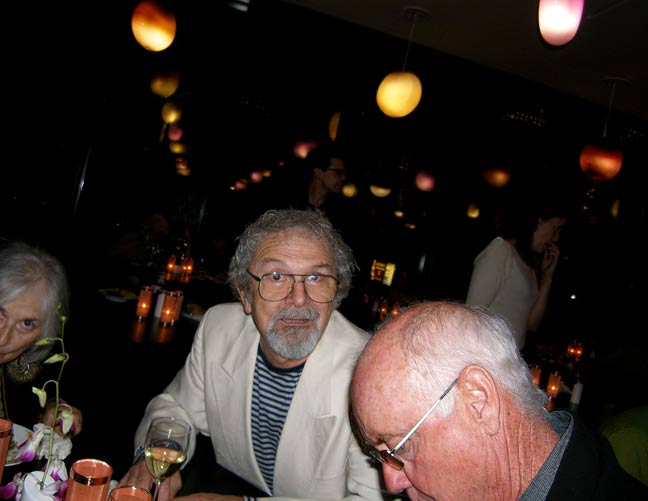 Mel Ramos (center).


Raymond Saunders (center left) asks Robert Bechtle (center right)
to sign his souvenir T-shirt.


Raymond Saunders (left) asks Mildred Howard (right)
to sign his souvenir T-shirt.


Steve Zavattero, Heather Marx Gallery - Laura Grigsby, Dolby Chadwick Gallery.


de Young Director Harry Parker (left).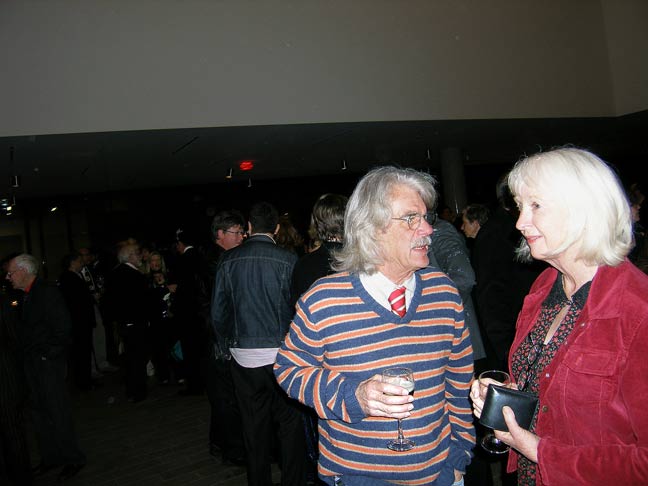 Richard Shaw.


Mark Stock (center).


Enrique Chagoya (center).


Very partial upper.


And that was only the beginning...